100 Apple Recipes to Make This Fall
Posts may contain affiliate links, meaning that I may earn a commission if you use a link provided.
100 apple recipes for Fall – from apple desserts to apple dinners and breakfasts, here are 100+ delicious apple recipes ideas to last you all season long.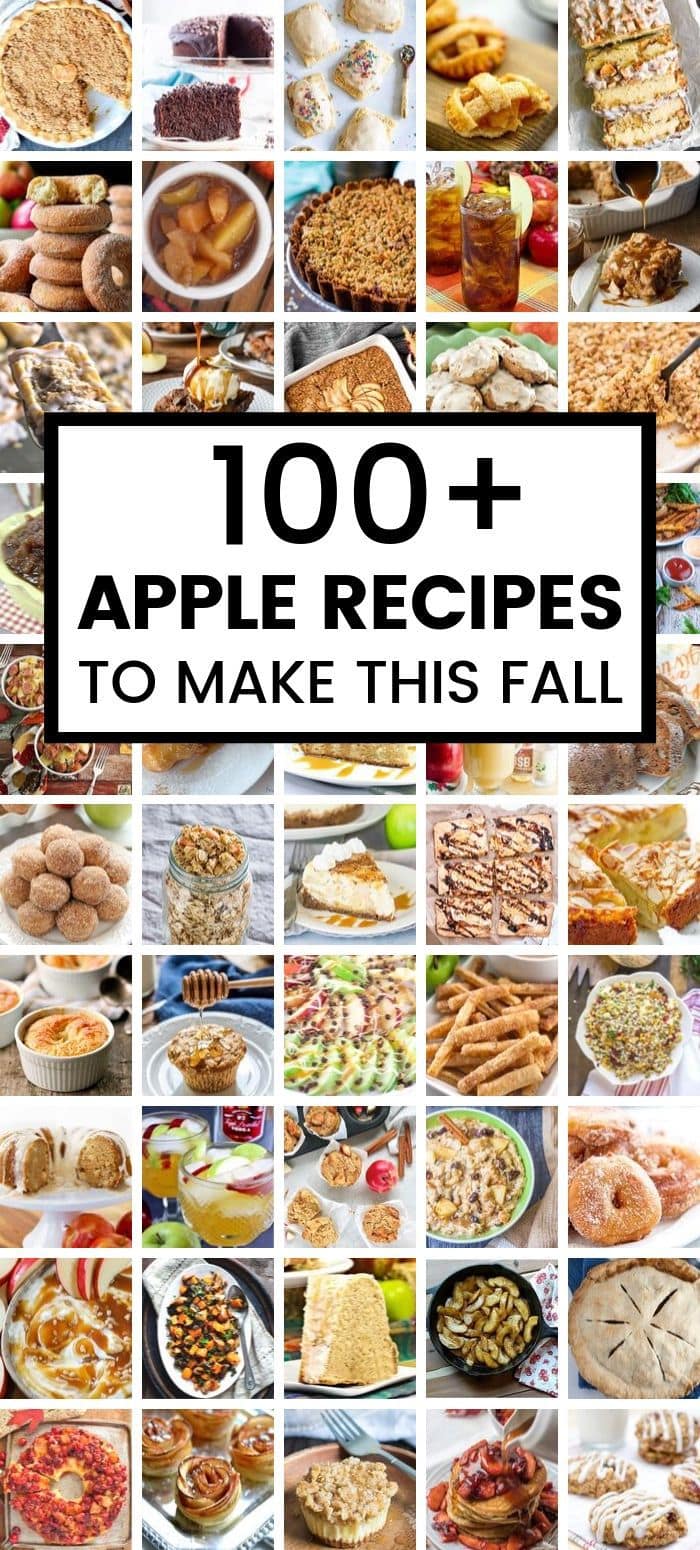 As we find ourselves heading into Autumn, I often find myself craving something you know… autumn-y.
When it comes to Autumn recipes, nothing screams Autumn like apple recipes.
Apple Recipes
If you too are on the hunt for some terrific apple recipes to whip up this Fall you are in luck. Below you will find over 100 awesome apple recipes.
From sweet to savory, sides to smoothies, there really are autumn apple recipe ideas here for everyone.
What can I do with lots of apples?
Maybe you went apple picking and are wondering what to do with all the fresh apples that you picked.
There are plenty of options to use apples in a variety of recipes:
Use apples in breakfast recipes such as apple muffins, apple doughnuts, and apple oatmeal
Make apple dessert recipes such as apple cakes, apple pies, and apple cookies
Incorporate apples in your main course by pairing them with pork or sausage for a savory meal
Enjoy apples at snack time with apple pie bites and apple chips
Read on for all these easy apple recipes and more!
What goes well with apples?
One of the great things about apples is that they pair well with a lot of different things. That is what makes it possible to enjoy apples in such a wide variety of recipes.
Apples pair well with:
Herbs & Spices: cinnamon, nutmeg, cloves, ginger
Fruit: pears, cranberries, cherries
Nuts: pecans, walnuts, almonds
Cheese: cheddar, ricotta, cottage, gorgonzola, goat cheese
Other: caramel, maple syrup, honey, oats, peanut butter, raisins, rum
You will see all these ingredients and more in the list of 100+ apple recipes below.
Apple Recipes to Make This Fall
Over 100 amazing apple recipes to enjoy this Autumn. Including apple breakfast recipes, apple dinner recipes, apple desserts, apple snacks, and apple drinks.
Which of these tasty autumn apple recipes did you decide to whip up? I would love to hear how you enjoyed it in the comments below!