Today I want to share with you a super easy crockpot apple cider recipe.
What better time than autumn to enjoy a nice hot apple cider?
We are now well into autumn, and there is a definite chill in the air. After a long day I find there is nothing better than curling up with a comfy blanket and a nice warm glass of apple cider.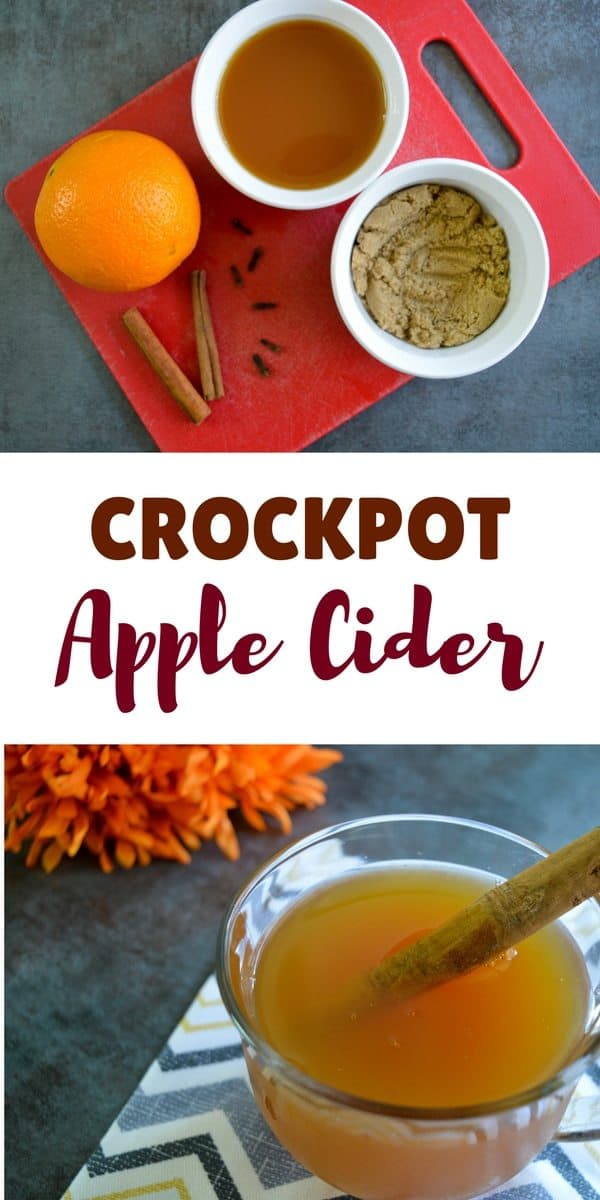 Growing up, hot apple cider was always a Fall staple at our house. In fact, I cannot think back to a Thanksgiving where my mother didn't make apple cider. There is something about that nice warm mug of apple cider that is very soothing. Plus, I was always known to chew on my cinnamon stick after it had soaked up all the apple-cidery goodness.
Below you will find my recipe for easy hot apple cider that you can prepare right in your slow cooker
.
It is one of my favorite Fall apple recipes that is perfect for Thanksgiving or any chilly autumn night. As an added bonus, it fills the house with a lovely cinnamon scent that just screams autumn.
Make a batch of this apple cider sangria for the adults to enjoy as well!
Let's get cooking…
Slow Cooker Apple Cider Ingredients:
1 orange
½ gallon apple cider
2 cinnamon sticks
6 cloves
¼ cup brown sugar
Next, stick cloves into the orange.
Then, add brown sugar, cinnamon sticks, and apple cider into the crockpot. Stir well to mix.
Add orange to crockpot and let cook on low for 4-6 hours.
Serve in a mug with a cinnamon stick.
That is it – I told you it was simple!
I hope that you enjoy this simple crockpot apple cider recipe. You can print out the ingredient list and instructions using the recipe card below.
Check out these other tasty apple recipes:
Easy Crockpot Apple Cider
Total Time:
5 hours
10 minutes
Easy crockpot apple cider recipe perfect to warm you up on a chilly Fall evening.
Ingredients
1 orange
6 cloves
¼ cup brown sugar
2 cinnamon sticks
½ gallon apple cider
Instructions
Stick cloves into the orange.
Add brown sugar, cinnamon sticks, and apple cider into crockpot. Stir well to mix.
Add orange, cook on low for 4-6 hours.
Serve with cinnamon stick (optional)