A BBQ chicken dip made with shredded chicken, cream cheese, sour cream, BBQ sauce, and cheese. This BBQ dip makes a great party appetizer or game day snack.
For another easy party dip, try this Zesty Rotel Sausage Dip— it is super simple to make with just 3 ingredients!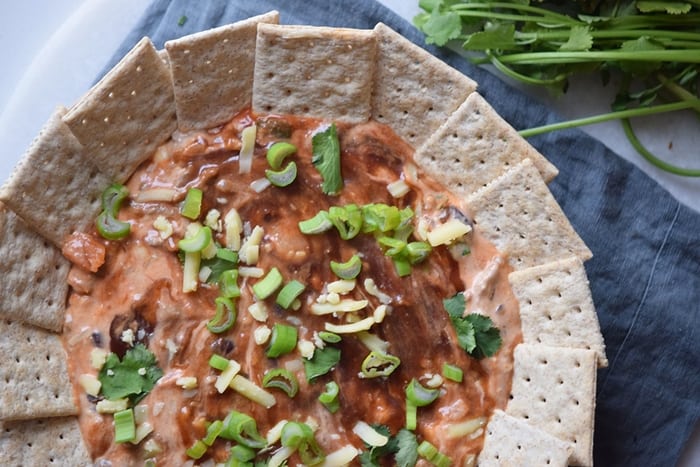 What better way to celebrate the start of Football season than with a creamy and delicious dip recipe perfect for munching on during the game?
Whether you are looking for game day recipes or great party appetizers, you will love our slow cooker buffalo chicken dip and this easy-baked BBQ chicken dip.
Although this tasty chicken dip does call for more ingredients than I like to list in the recipes I share, it truly is a simple dip to make. Simply combine all the ingredients and let the oven work its magic.
I like to use crockpot shredded chicken in this recipe. But you can easily use rotisserie chicken, baked chicken or chicken cooked on the stove top as well. Any chicken that can be shred or chopped will work.
More great game day recipes:
BBQ Chicken Dip
This creamy BBQ chicken dip makes a great party appetizer or game day snack.
Ingredients
3 tomatoes, chopped
1 onion, chopped
¼ cup sour cream
1 tbsp dried thyme
1 tbsp garlic powder
1 cup cooked chicken breast, shredded
½ cup cream cheese, softened
2 scallions, chopped & divided
¼ cup shredded cheddar cheese
¼ cup BBQ sauce
additional shredded cheese and chopped scallions for garnish (optional)
Instructions
Preheat oven to 375°F.
In a large bowl, combine tomatoes, onion, sour cream, thyme, and garlic.
Mix in chicken, cream cheese, scallions, cheddar cheese, and BBQ sauce.
Transfer to a lightly greased baking dish and bake for 15 – 20 minutes, or until the cheese is melted.
Remove from oven and allow to cool briefly before serving.
Garnish with additional scallions and shredded cheese, if desired.
Notes
Serve with crackers, tortilla chips, or veggie sticks for dipping.
Pin for Later: