Posts may contain affiliate links, meaning that I may earn a commission if you use a link provided.
These 7 layer dip cups are packed to the brim with 7 layers of your favorite taco toppings: refried beans, guacamole, salsa, shredded cheese, olives, onions, tomatoes, and jalapenos. It's the perfect party dip!
This Tex-Mex inspired dip recipe is the perfect party appetizer. The layers of ingredients pair beautifully together. The dip is flavorful, hearty, and great for feeding a crowd.
Looking for more party dip recipes? Try my two most popular dip recipes: crockpot buffalo chicken dip and cream cheese rotel dip.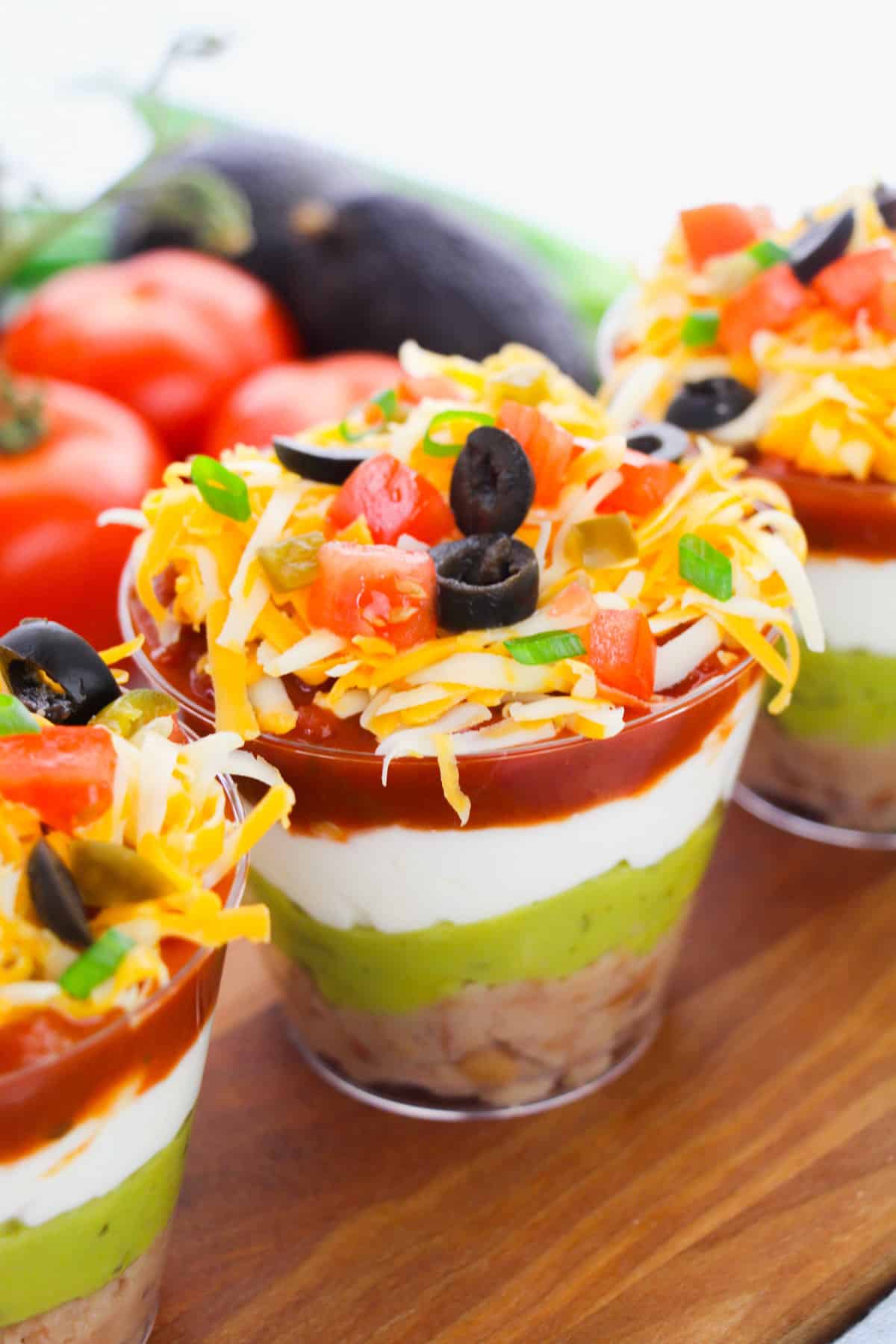 Have you ever been to a get-together and spied someone double dipping? Yikes! It happens all the time, but individual dip cups solve that problem.
Not only that, but serving this 7-layer dip in individual portions allow your guests to mix and mingle without being tied to the chips and dip. No double dippers and more conversation — I call that a win!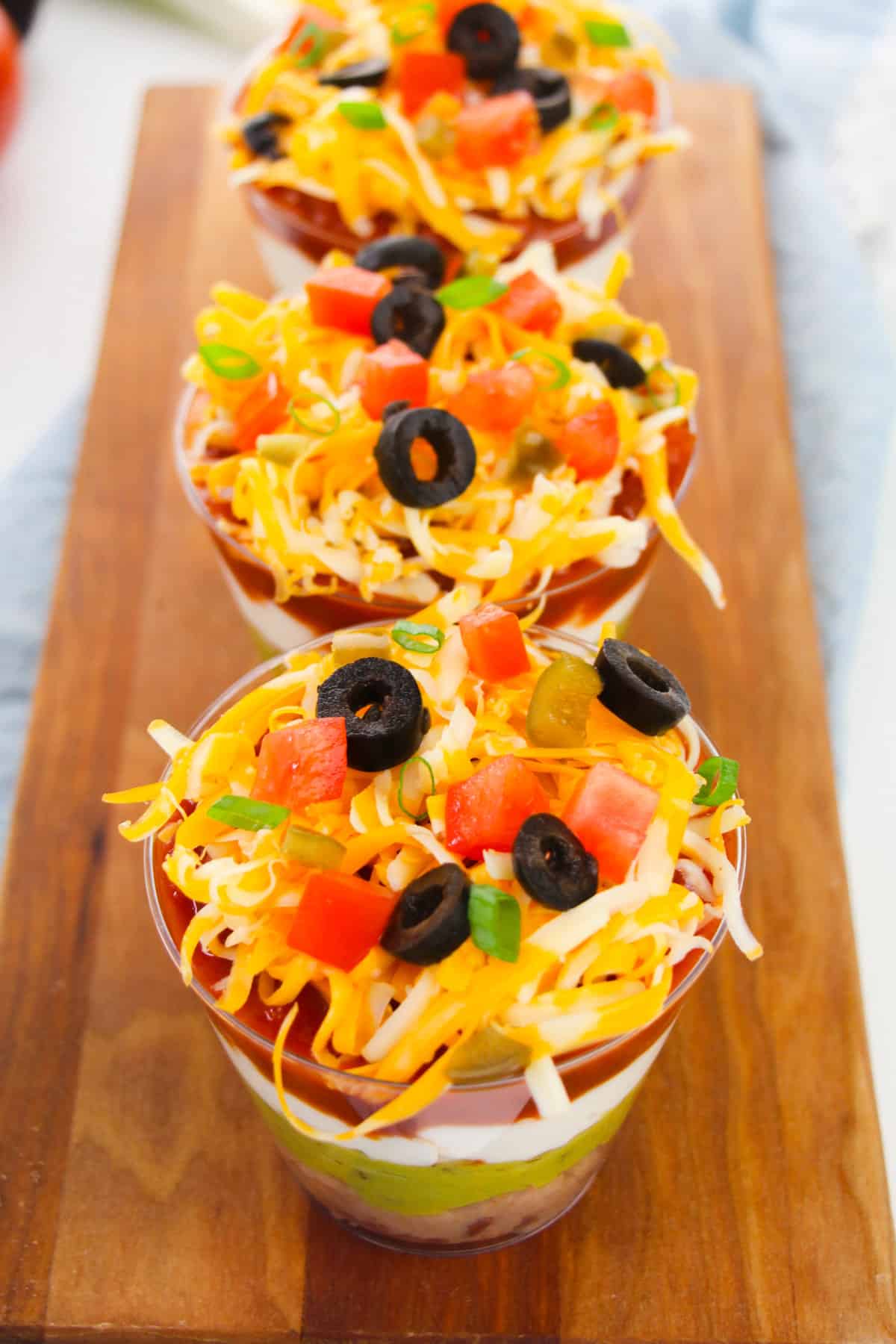 The delicious dip is a must-have dip for Game Day (especially if you're doing a Mexican food theme), but it is also great for potlucks, reunions, and other gatherings. Instead of a big bowl of ingredients that gets messy right away, each guest gets their own cup of pretty layered dip.
However, if you'd rather just make a big bowl of this stuff than individual servings, here's the recipe for my easy layered taco dip.
Ingredients
This section includes ingredient notes and substitution options. Get all measurements, ingredients, and instructions in the printable recipe card at the end of this post.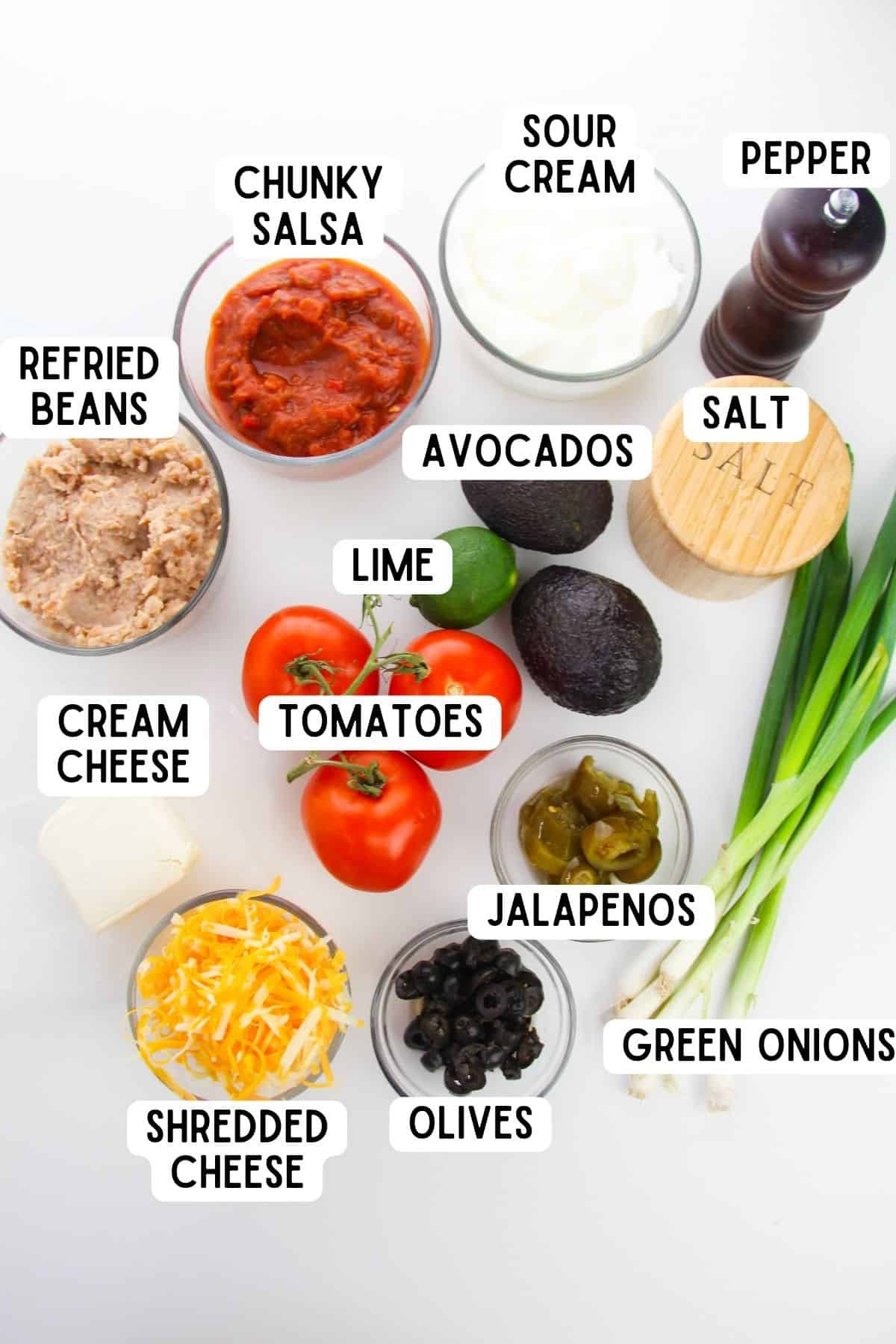 Refried Beans — Canned refried beans work just fine, but homemade ones are incredible, too.
Avocados — Make sure they're good and ripe. You'll need to peel and pit them to make the guacamole. Alternatively, you can opt to use store-bought guacamole as a shortcut.
Lime Juice — This gets added to the avocados to make the guac. Lime juice helps balance the flavors and slows down the browning process.
Salt and Pepper — Add them to taste to the mashed avocado and lime juice.
Sour Cream — You can't have taco dip without a creamy layer of sour cream. It helps cool the taste buds if you're adding jalapeno peppers. Feel free to substitute plain Greek yogurt for the sour cream if you prefer.
Salsa — Make sure to get a chunky salsa and drain the excess liquid. You don't want a thin one that will make your dip watery. Medium salsa is my personal favorite, but mild salsa or hot salsa works well, too.
Shredded Cheese — Use shredded Mexican blend cheese or shredded cheddar. Pepper jack cheese is a great choice as well.
Black Olives — Canned sliced olives offer a pop of salty, briny flavor amongst the savory flavors.
Green Onions — Sliced green onions give the dip a fresh flavor.
Tomatoes — To minimize extra liquid, opt for Roma tomatoes if you can find them. They have a lower water content and will hold up better if you're refrigerating these for a while before serving.
Jalapeno Peppers — Optional, but for anyone who likes a kick of heat in their dip, they're a must!
Equipment You'll Need for Individual Seven Layer Dip Cups
To make this easy 7 layer dip in cups, you'll need the following tools and supplies:
9-ounce clear plastic cups
mixing bowls
knife
cutting board
citrus juicer
How to Make Individual 7-Layer Dip Cups
This section shows you how to make the recipe with step-by-step photos and instructions. For the full printable recipe, see the recipe card below.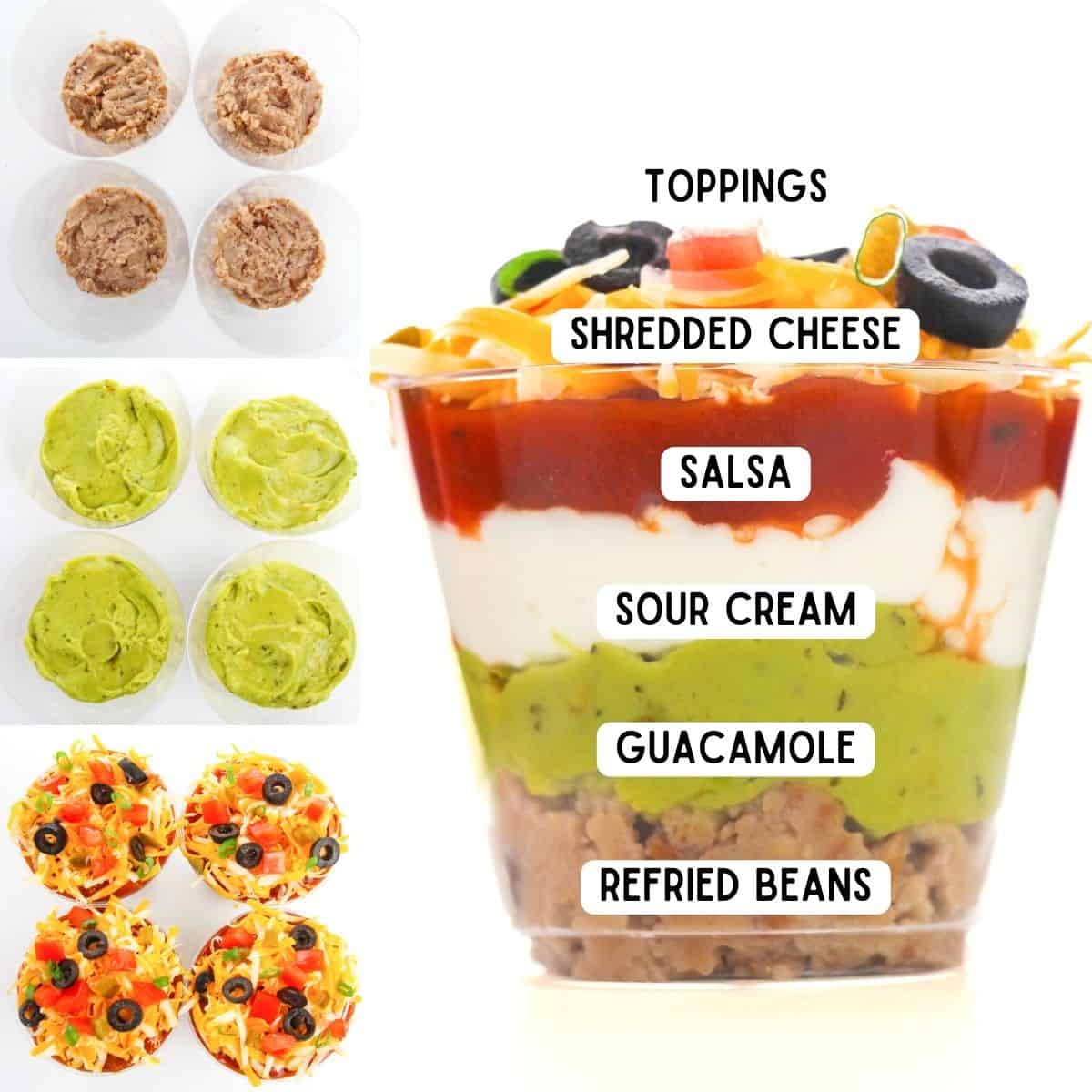 Step 1: Make the fresh guacamole. First, peel and pit the avocados. Add the avocados and lime juice to a small mixing bowl. Season with salt and pepper then use a fork to mash it all up.
Step 2: Set up 8 (9-ounce) cups to hold the dip. Layer bean dip first, dividing the refried beans evenly between the cups. Next, add a layer of guacamole on top of the bean layer to each cup followed by a layer of sour cream.
Step 3: Drain excess liquid from the salsa, and spoon it into the cups.
Step 4: Top the salsa layer with shredded cheese, sliced olives, green onions, diced tomatoes, and jalapenos (optional).
Step 5: Place the appetizer cups in the fridge until you're ready to serve them. Garnish each cup with a single tortilla chip right before serving, if desired.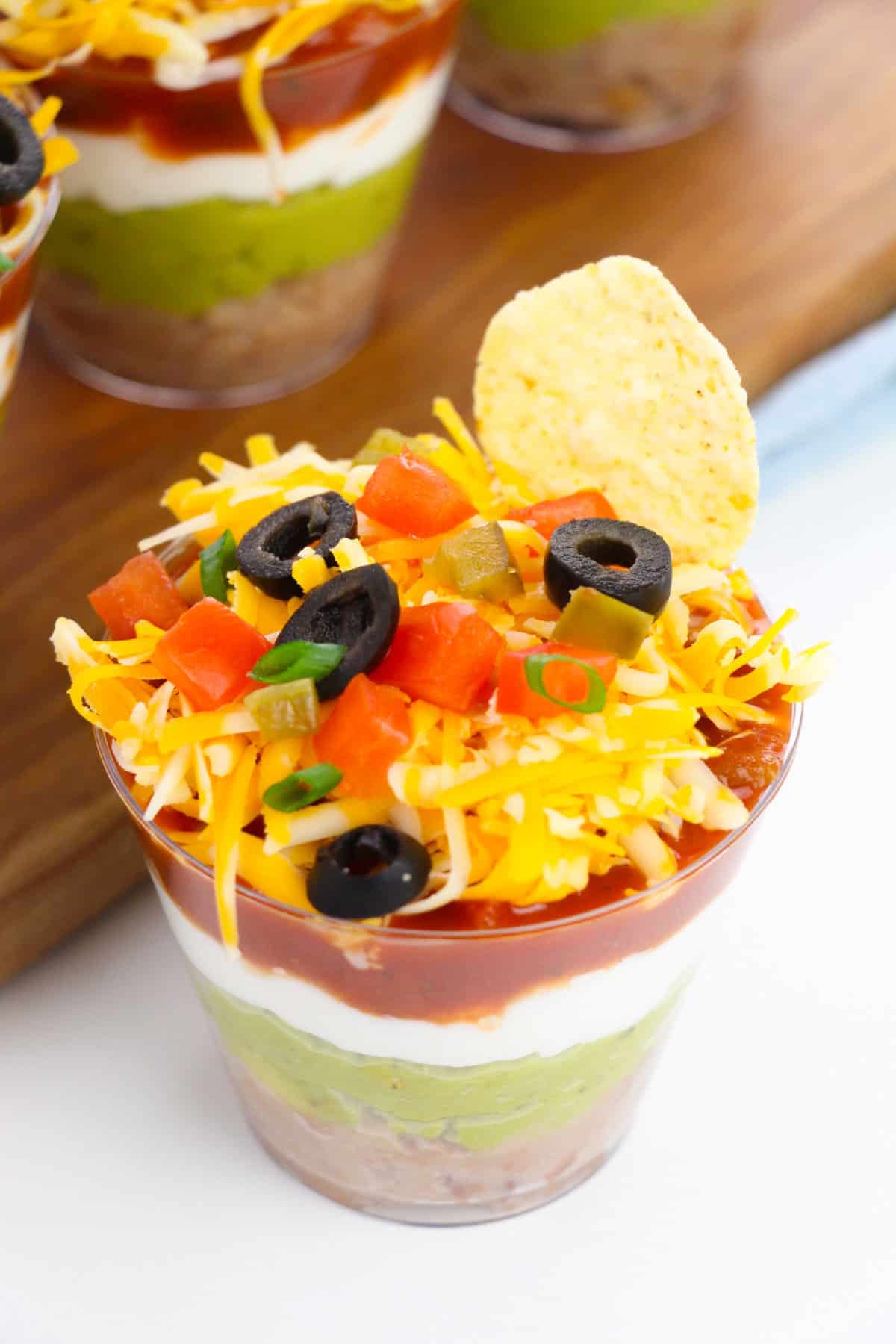 Serving Suggestions
Serve this easy 7 layer taco dip with tortilla chips or Fritos (the scoop kind stands up to this hearty dip)! Wheat crackers would also be delicious. If you have any leftovers, pour the ingredients over a taco bowl or stuff them in a burrito. Yum!
Storage and Freezing
Refrigerator Instructions: Although it tastes best the first day, you can store leftover 7 layer dip in the refrigerator for up to 3 days. Make sure the cups are tightly covered with plastic wrap or placed in an airtight container.
Freezing Instructions: I do not recommend freezing leftover dip cups. It will not thaw well, and the ingredients don't really lend themselves to freezing.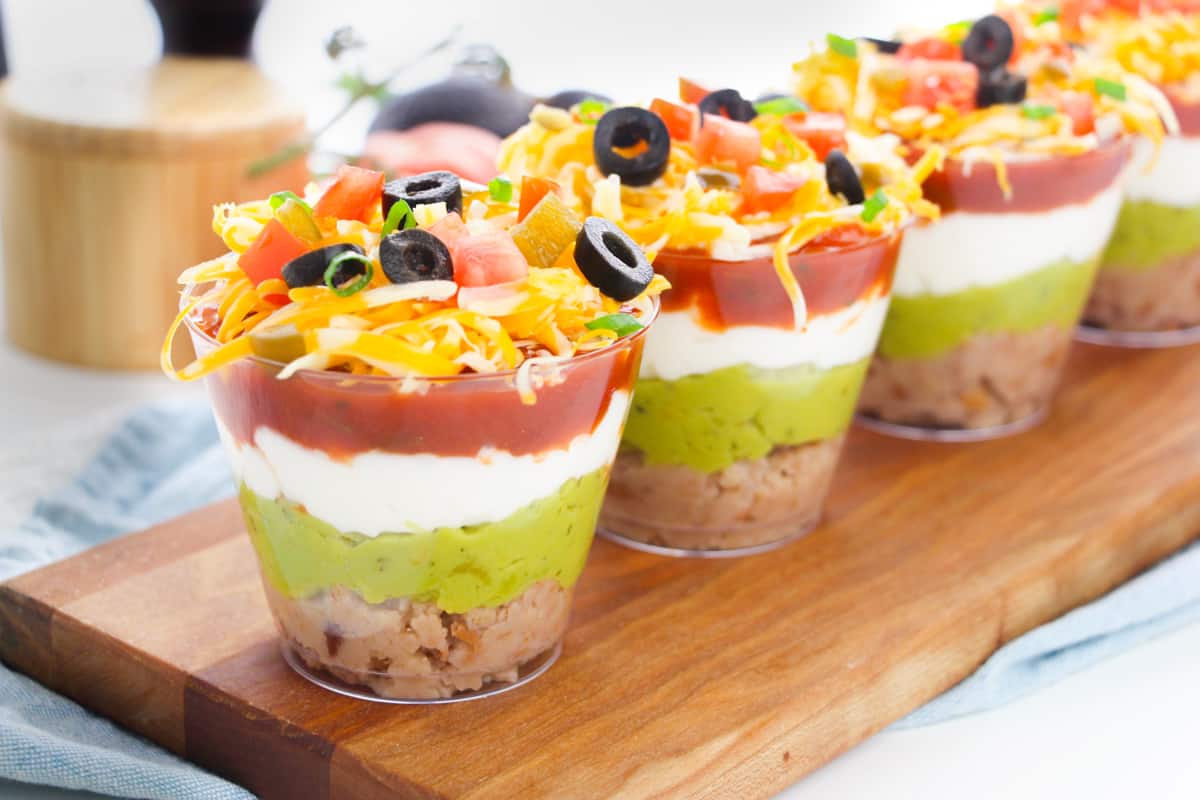 Taco Dip Cups Tips and Tricks
You can assemble these dip cups a day or two ahead of time to make things easier. Leave off the green onions, tomatoes, and olives until the day you serve them for best results.
To keep the guacamole from browning, make sure it is trapped between two layers and completely covered so that it doesn't get exposed to the air.
There's no need to heat the refried beans. Just dish them into the cups straight out of the can.
For pretty presentation, place each of your ingredients in zip-top baggies, cut off the corner, and pipe the ingredients into the cups. Your layers will look much neater this way.
Put the cups in a muffin tin to keep them steady and organized on the food table.
Additions and Variations
Add taco seasoning. For an extra kick of flavor, mix in a little taco seasoning into the refried beans or the sour cream.
Upgrade your homemade guacamole. I used a very simple recipe for the homemade guac, but feel free to dress it up with jalapenos, garlic, and cilantro if you'd like.
Substitute pre-made guacamole. Save time by buying some guac at the store. No one will ever know!
Swap the onions and tomatoes for fresh pico de gallo. You'll still get the freshness but with added flavor.
Ditch the refried beans. If you don't like them, try black beans mixed with taco seasoning for the bottom layer instead.
Add a layer of taco meat. Brown some ground beef and add taco seasoning according to the package directions. Spoon a couple of tablespoons into each cup once the meat is cooled. It'll make the dip more flavorful and filling.
Cut out some of the fat. Instead of full-fat sour cream and shredded cheese, use the low-fat versions.
Skip the tomatoes. Since this dip already has salsa, you can skip adding extra tomatoes if you'd like.
Add ranch seasoning. Mix in a tablespoon of ranch seasoning with the sour cream layer to add a hint of delicious ranch flavor.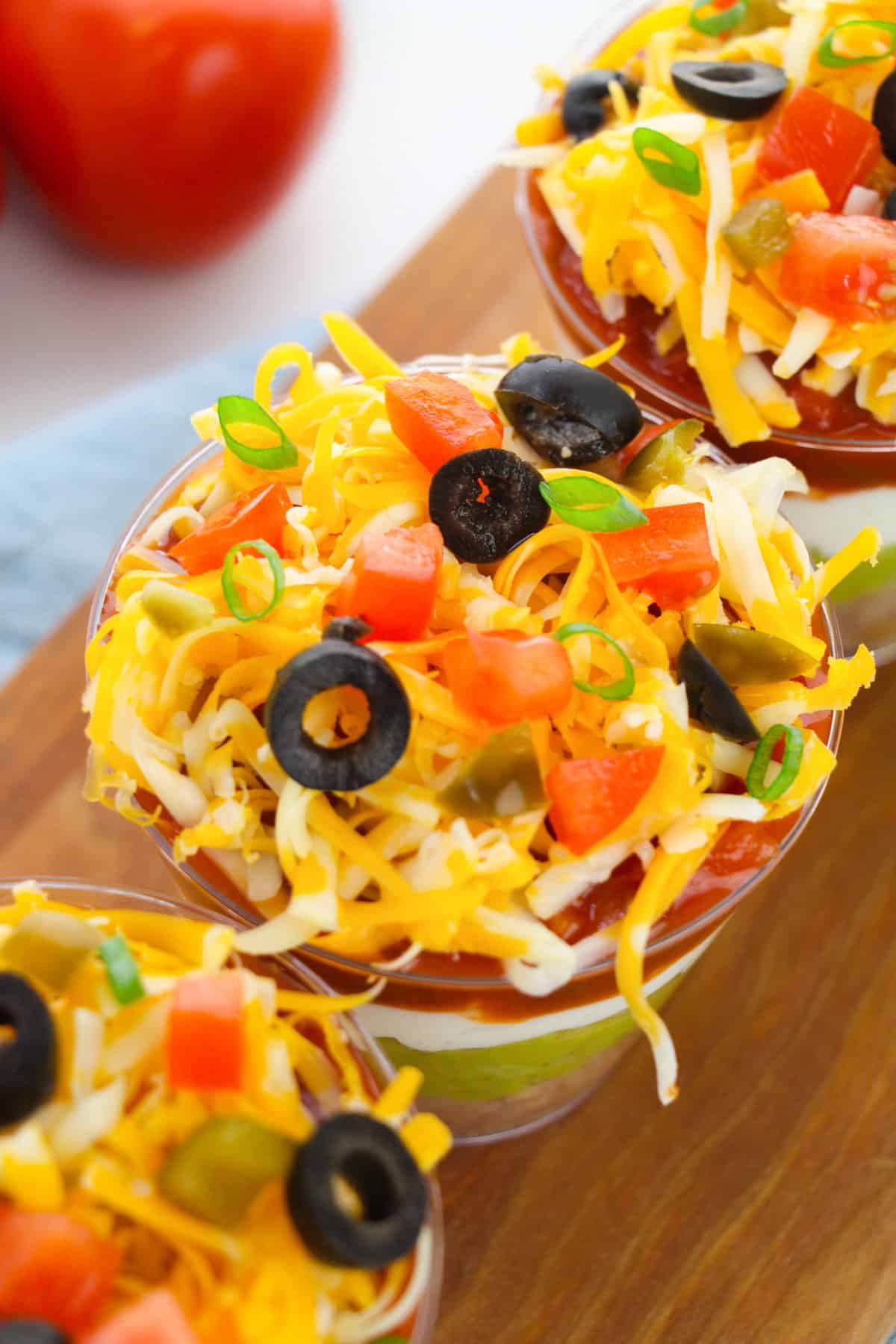 7 Layer Dip Cups FAQ
Why is it called 7 layer dip?
7 layer dip gets its name from having 7 delicious layers. Some people add an extra layer or two or leave an ingredient out, but in general, the dip should have seven layers of ingredients to eat through.
What is in a 7 layer dip?
You can adapt the dip to your liking, but this recipe calls for refried beans, homemade guacamole, sour cream, salsa, shredded cheese, olives, green onions, tomatoes, and jalapenos (optional).
How do you keep guacamole from turning brown in 7 layer dip cups?
As long as the guacamole is between two other layers and completely covered, it should be good for 2-3 days without turning brown. It's important not to expose the guacamole to air, so make sure it's not the top layer.
What can I do with leftover taco dip?
Add leftover 7 layer dip to a taco salad, roll it up in a burrito, or store the leftover dip cups in the fridge. They'll keep for up to 3 days but taste best if consumed within a day or two of making them.
Delicious Dip Recipes
Get ready for game day or a fun family get-together with these delicious and easy party dips.
Recipe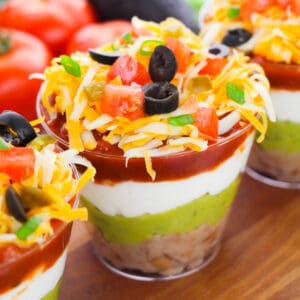 Recipe
7 Layer Dip Cups
These 7 layer dip cups are packed with your favorite taco toppings like refried beans, guacamole, salsa, shredded cheese, olives, onions, tomatoes, and jalapenos. It's the perfect party dip!
Ingredients
1 16-ounce can refried beans
2 ripe avocados peeled and pitted
juice of 1 lime
salt and pepper to taste
1 8-ounce container sour cream
1 cup chunky salsa
1 cup shredded Mexican blend or cheddar cheese
1 2.25-ounce can sliced olives
3-4 green onions sliced
¼ cup diced tomatoes
2 Tablespoons diced jalapeno peppers optional topping
Instructions
To make the guacamole layer, combine the avocados and lime juice in a small mixing bowl. Add salt and pepper, to taste. Use a fork to mash together; set aside.

Divide the refried beans into the bottom of each small cup, followed by the guacamole and sour cream.

Drain any excess liquid from the salsa, then spoon it into the cups.

Top with shredded cheese, olives, green onions, diced tomatoes, and (optional) jalapenos.

Refrigerate until ready to serve. Garnish each cup with a single tortilla chip before serving, if desired.
Notes
You can also add diced jalapeno, minced garlic, and/or chopped cilantro to your homemade guacamole, if desired.
Try mixing some taco seasoning into the sour cream or refried bean layer for an extra pop of flavor.
Pre-made guacamole is a great shortcut for this recipe.
Nutrition
Serving: 1g | Calories: 187kcal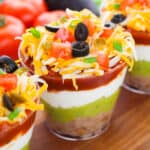 Did You Make This Recipe?
Share it with me on Instagram @crayonsandcravings and follow on Pinterest @crayonsandcravings for even more!