Posts may contain affiliate links, meaning that I may earn a commission if you use a link provided.
The best Missipissip Sin Dip recipe! Cream cheese, sour cream, crispy bacon, fresh scallions, melted cheese, and a blend of savory seasonings combine to create a dip that is out-of-this-world delicious. Baked inside a warm and inviting bread bowl, this rich and creamy dip tastes fantastic and looks absolutely stunning. Perfect for entertaining!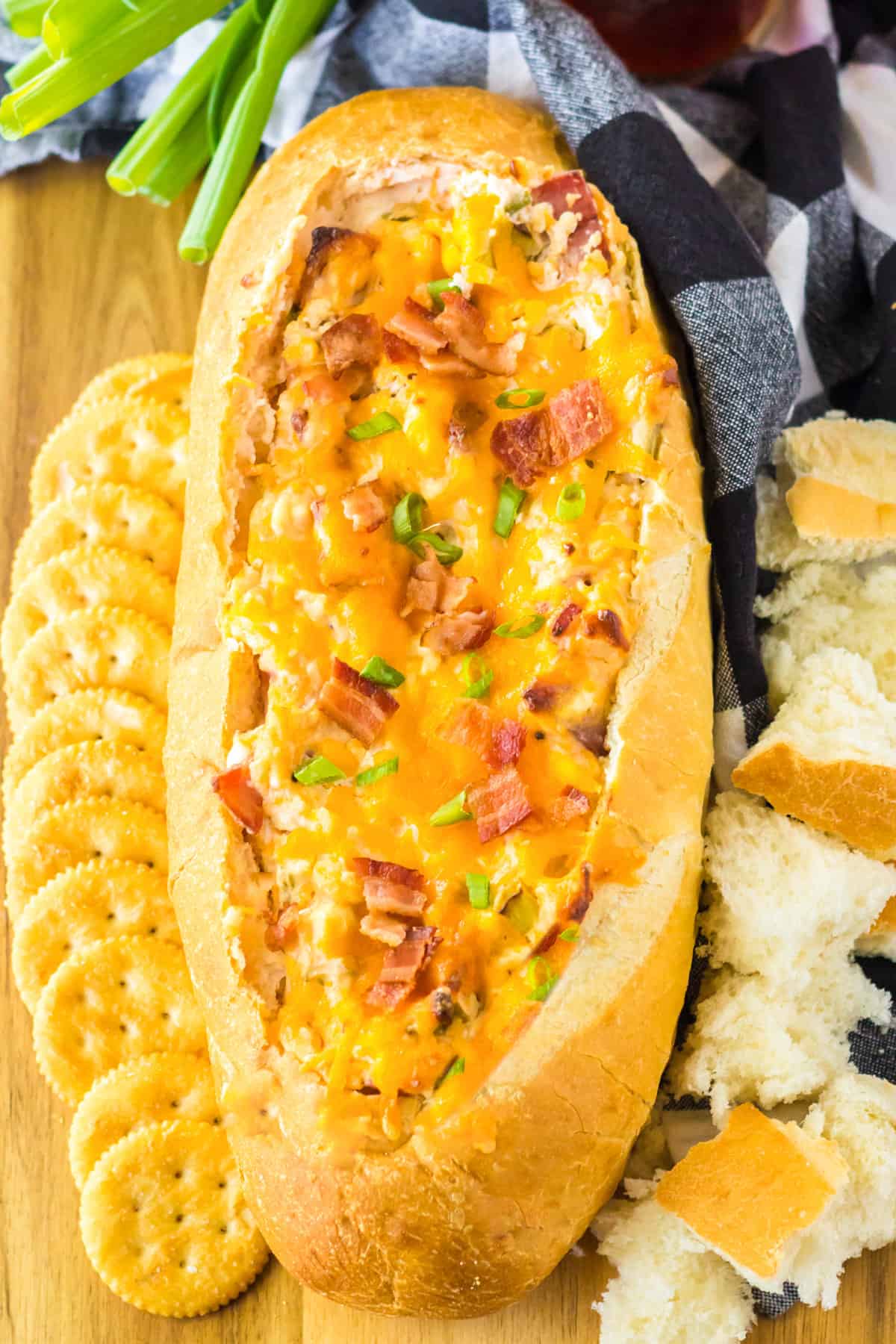 When it comes to game day appetizers, nothing beats the ooey-gooey goodness of Mississippi sin dip. It's the type of sinfully delicious food that football fans love. Easy to whip up and always a crowd pleaser, this dip has a way of disappearing fast, making it a hit at parties and potlucks. Trust me, if you're looking for a dish that people line up for and you never have to bring leftovers home, this is the one to bring to the table.
Whether you're cheering on your favorite team, going to a holiday party, or just in the mood for a cheesy snack for family movie night, this French bread dip has got you covered. This taco dip (without cream cheese) and my crockpot buffalo chicken dip are great for parties and tailgating, too.
Let's get started on that cheesy goodness known as Mississippi sin dip!
Ingredients
This section includes ingredient notes and substitution options. Get all measurements, ingredients, and instructions in the printable recipe card at the end of this post.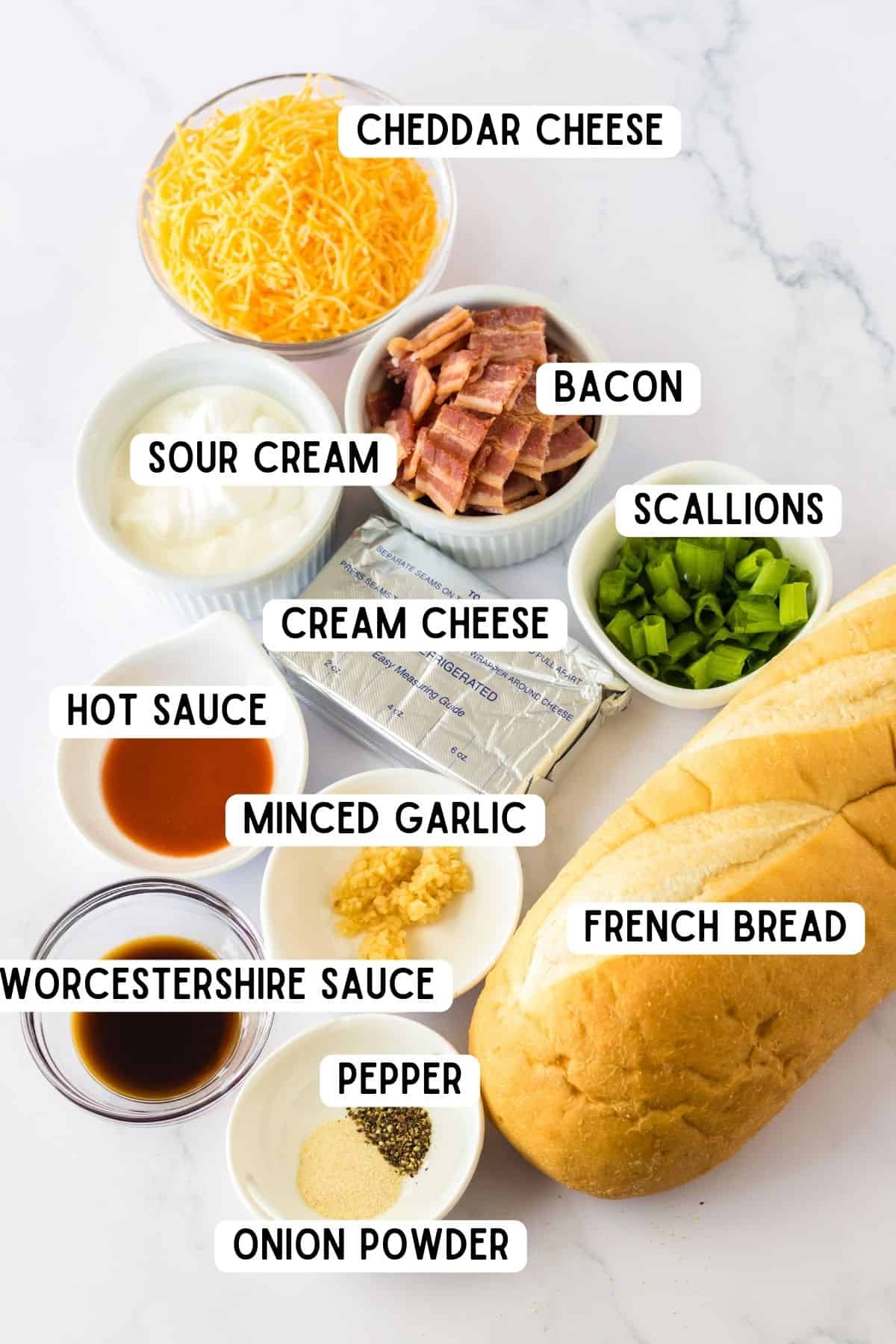 Sour Cream — Adds a tangy element to the dip.
Cream Cheese — Serves as the thick base for the dip and keeps it creamy. Let it soften to room temperature to make mixing easier.
Bacon — For smoky, savory flavor and a bit of crunch to the dip. Who doesn't love salty bacon? If you have leftover ham, you can also use that.
Shredded Cheddar Cheese — You can use packaged cheese that's already shredded, but I prefer freshly shredded cheese. Sharp, medium, or mild cheddar (or any combination of these) all work for this recipe.
Scallions — These green onions add mild onion flavor and a pop of color. Chives may be used in place of the scallions.
Minced Garlic — Fresh or jarred is fine for this recipe.
Hot Sauce — Use your favorite brand of hot sauce to add a little kick of heat. You can adjust the amount to your liking. I prefer a tablespoon, but you can use a dash of hot sauce or omit it, if you prefer.
Worcestershire Sauce — This sauce gives the dip depth of flavor with its savory, umami taste.
Seasonings — I used onion powder and black pepper.
Loaf of French Bread — Optional, but highly recommended! It serves as the container for the dip, and the pieces of bread that you hollow out make excellent dippers.
Equipment Needed
To make this cheese dip, you'll need the following kitchen tools:
knife and cutting board for chopping
serrated knife for hollowing out bread
mixing bowl
How to Make Mississippi Sin Dip
This section shows you how to make the recipe with step-by-step photos and instructions. For the full printable recipe, see the recipe card below.
Step 1: Preheat your oven to 350°F. Line a baking sheet with aluminum foil or parchment paper to make cleanup easier. (Or if you're not making the dip in a bread bowl, spray a baking dish with cooking spray).
Step 2: Add the sour cream, softened cream cheese, worcheshire sauce, hot sauce, garlic, onion powder, and pepper to a large mixing bowl. Beat together until well combined.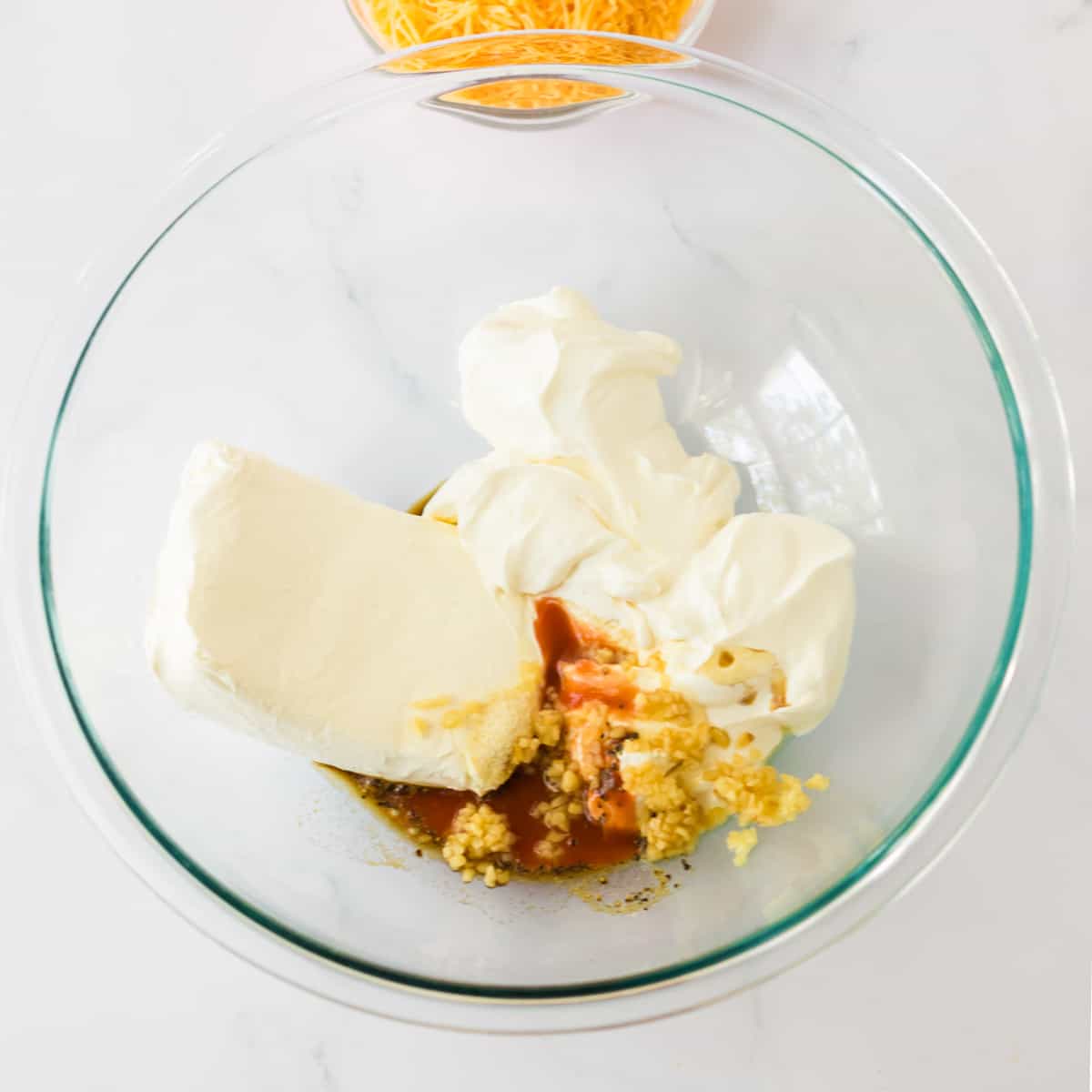 Step 3: Stir in the crumbled bacon, shredded cheddar cheese, and chopped scallions.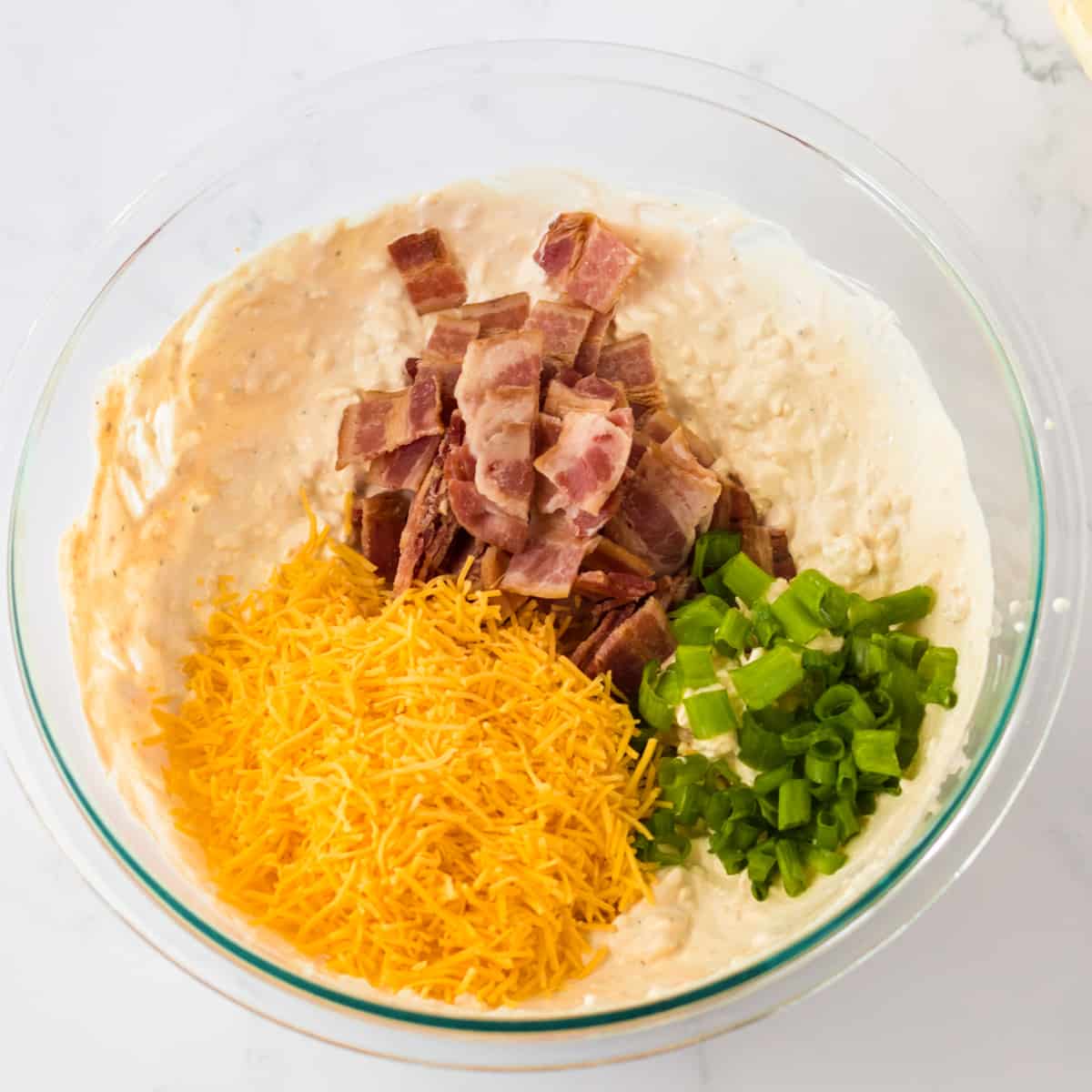 Step 4: Use a serrated knife to cut off the top of the bread bowl and hollow out the inside. Save the bread pieces you've removed to cube for dipping.
Step 5: Place the bread bowl on the baking sheet and fill with the cheesy dip mixture. If you're not using a bread bowl, scoop dip into a baking dish. Sprinkle the top of the dip with extra shredded cheese, bacon crumbles, and scallions, if desired.
Step 6: Bake the dip for 30 minutes or until hot and bubbly. Serve the delicious dip with cubed bread, crackers, fresh veggies, or your favorite chips.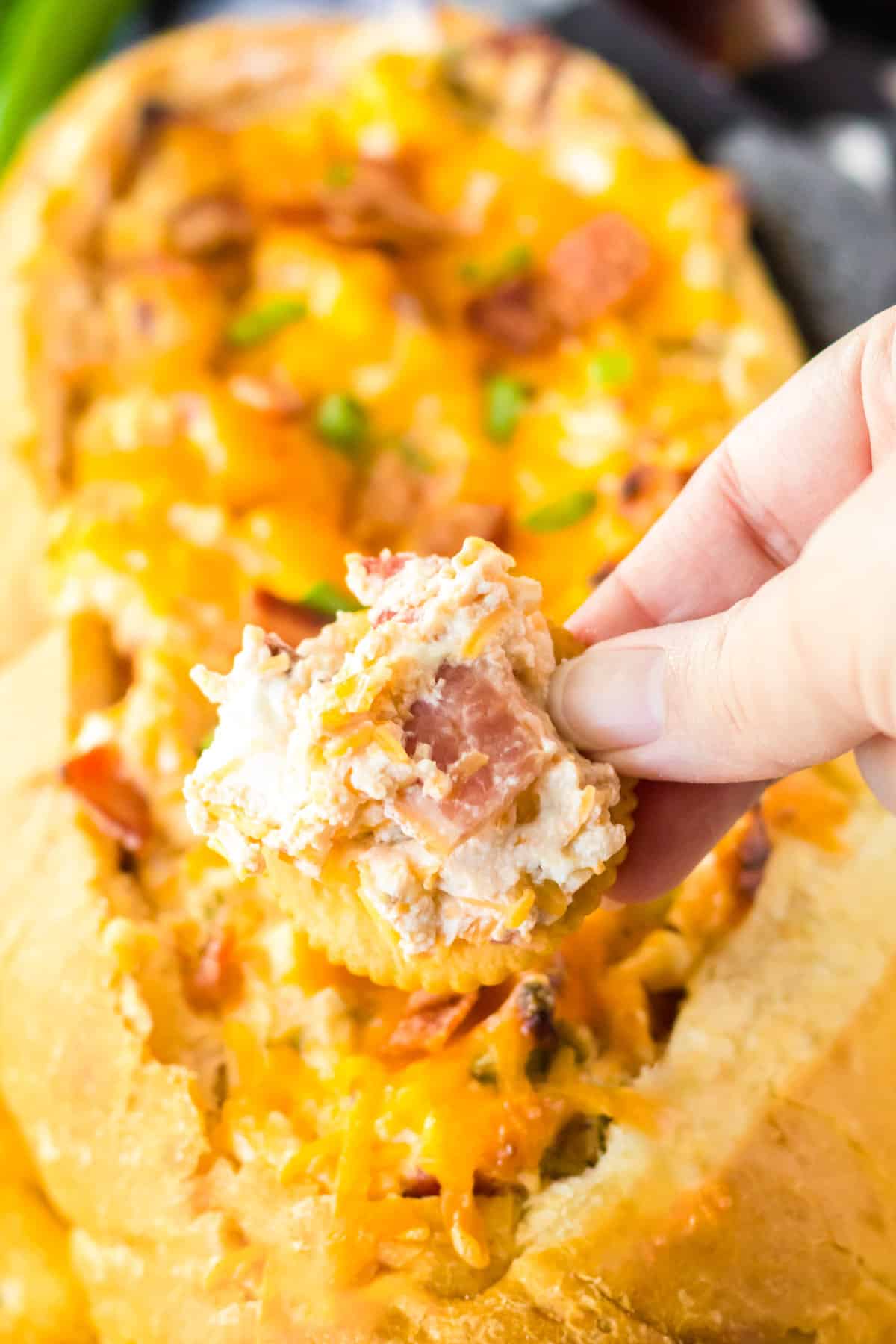 Serving Suggestions for Mississippi Sin Dip with Bacon
This is such a great tailgate dip that can be served with lots of different foods for dipping and dunking. Keep it low carb by skipping the bread bowl and serving with sturdy veggies like celery, thick sliced cucumbers, carrot chips, or bell peppers.
For crackers, I like Ritz or Chicken in a Biskit. Thick chips like Fritos scoops or Tostitos scoops hold up better to this dip than regular potato chips or tortilla chips. Pork rinds are great, too.
It's also a perfect dip for serving with crostini.
Storage and Freezing
Refrigerator: I recommend storing leftover Mississippi sin dip without the bread bowl in an airtight container in the fridge for up to 3 days. Reheat the cheese mixture in the microwave in 30-second increments until warmed through.
If you're refrigerating it with the bread bowl, wrap leftovers tightly in plastic wrap and store in the fridge. You can enjoy it cold or remove from the plastic wrap, wrap the bread loaf in foil, and warm it in the oven at 350°F until heated through.
Freezer: I do not recommend freezing this dip. It contains sour cream and cream cheese which separate and get watery when thawed from frozen.
Tips and Tricks
Freshly shredded cheddar cheese melts much better than packaged shredded cheese. The packaged versions contain preservatives to keep the shreds from clumping together in the bag, but it doesn't melt as smoothly.
Using a hand mixer adds air to the dip and makes it easier to scoop. If you don't have one, though, you can just use lots of elbow grease!
Bake the dip in an 8×8 casserole dish if you're skipping the bread bowl.
Cover the dip with foil if it's browning too quickly in the oven.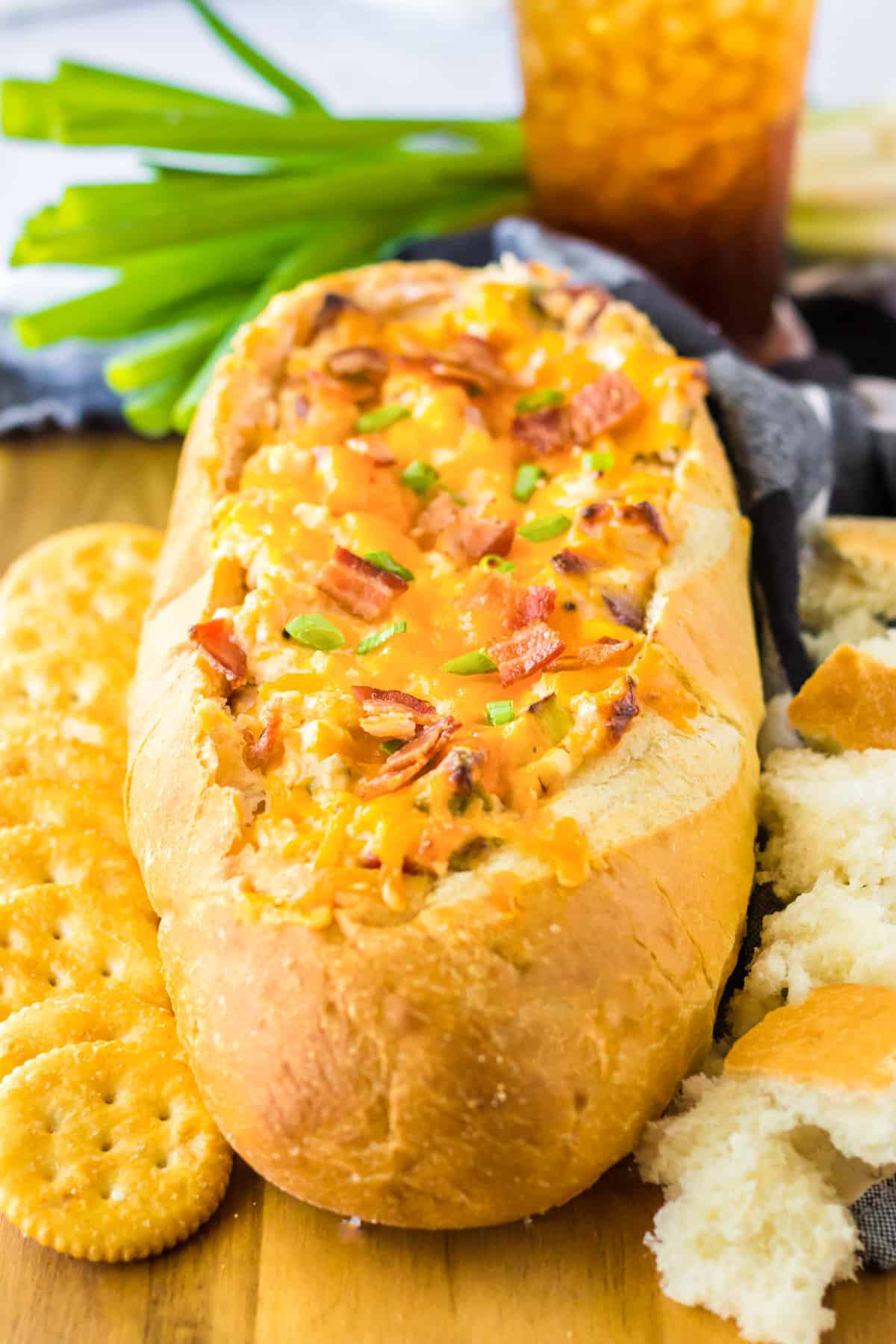 Additions and Variations
Try different meats. This dip is delicious with many different types of meats. Substitute the bacon with diced or cubed ham, shredded chicken, or sausage. Many people like it with shrimp or crab! All meats need to be precooked before adding to the dip.
Add peppers for heat. Want to add a little more spice? Chop some fresh jalapenos to add (seeds removed) or toss in a can of drained diced green chiles. A pinch or two of red pepper flakes can also increase the spice level.
Swap out the bread. Instead of French bread, try this with a loaf or round of sourdough bread, Italian bread, or even pumpernickel bread. Any whole loaf of crispy and firm fresh-baked bread will do. Making mini dips in smaller loaves of bread is another good option.
Mississippi Sin Dip Recipe FAQ
Can I make Mississippi Sin Dip ahead of time?
Yes, you can mix all the ingredients together (for the dip only — not the bread bowl), cover with plastic wrap, and store in the fridge up to 2 days in advance. Then, make your bread bowl and bake it the dip before you're ready to serve so that it's ooey, gooey, and warm when you dive in.
Do I have to bake it in a bread bowl?
Not at all! It's mostly for presentation and because the dip is delicious with bread. But if you want to skip the bread bowl, just scoop the dip into an 8×8 baking dish, and bake it at 350°F for 30 minutes or until cheese is completely melted.
Can I make Mississippi Sin Dip in the slow cooker?
Definitely. Just add all the ingredients (minus the bread, of course) to a small crockpot on low, and let it cook for a couple of hours until the cheese is completely melted.
How long can this dip sit out?
According to the USDA, foods that contain perishable ingredients should not sit out at room temperature for more than 2 hours. Since it starts out hot, it will cool to room temperature in about half an hour, for a total of leaving it out for no more than 2 hours 30 minutes.
More Delicious Dips to Try
A party isn't really a party until the dip arrives! Here are a few more of my favorites that are easy to make and great for any gathering:
Recipe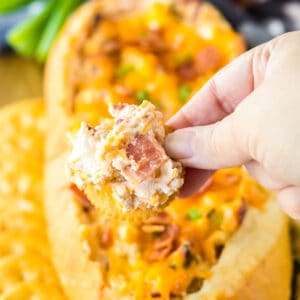 Recipe
Mississippi Sin Dip
Rich and creamy Mississippi Sin Dip with bacon, cream cheese, sour cream, and cheddar cheese baked inside a warm bread bowl makes a perfect party appetizer for game day, holidays, or any occasion.
Ingredients
16 ounces sour cream
8 ounces cream cheese softened
1 clove garlic minced
1 Tablespoon hot sauce
1 teaspoon Worcestershire sauce
½ teaspoon onion powder
¼ teaspoon pepper
1 pound bacon cooked and chopped (or crumbled)
2 cups cheddar cheese shredded
¼ cup scallions (or chives) chopped
1 loaf French bread optional
Instructions
Preheat oven to 350℉.

In a large bowl, use a hand mixer to combine the sour cream, softened cream cheese, garlic, hot sauce, worcestershire sauce, onion powder, and pepper.

Stir in the bacon, shredded cheese, and scallions.

Cut off the top of the bread bowl and hollow out the inside. Save and cube the bread for dipping.

Place the bread bowl on a baking sheet and fill the loaf with the dip mixture. Top with additional shredded cheese, bacon, or scallions, if desired.

Bake for 30 minutes or until hot and bubbly.

Serve with cubed bread, crackers, fresh veggies, or your favorite dippers.
Notes
Leftover ham can be used in place of the bacon.
Try adding jalapenos for a spicy kick.
Baking in a bread bowl is optional. You can also bake the dip in a baking dish instead.
Refrigerate leftovers in an airtight container for up to 3 days.
Nutrition
Calories: 562kcal | Carbohydrates: 26g | Protein: 18g | Fat: 43g | Saturated Fat: 20g | Polyunsaturated Fat: 4g | Monounsaturated Fat: 14g | Trans Fat: 0.1g | Cholesterol: 102mg | Sodium: 817mg | Potassium: 257mg | Fiber: 1g | Sugar: 4g | Vitamin A: 858IU | Vitamin C: 2mg | Calcium: 254mg | Iron: 2mg
Did You Make This Recipe?
Share it with me on Instagram @crayonsandcravings and follow on Pinterest @crayonsandcravings for even more!