Posts may contain affiliate links, meaning that I may earn a commission if you use a link provided.
This southern praline recipe creates a sweet, salty, and chewy treat! Crunchy pecans are swirled throughout a brown sugar caramel to create an easy homemade candy perfecting for the holiday season- or any time of the year.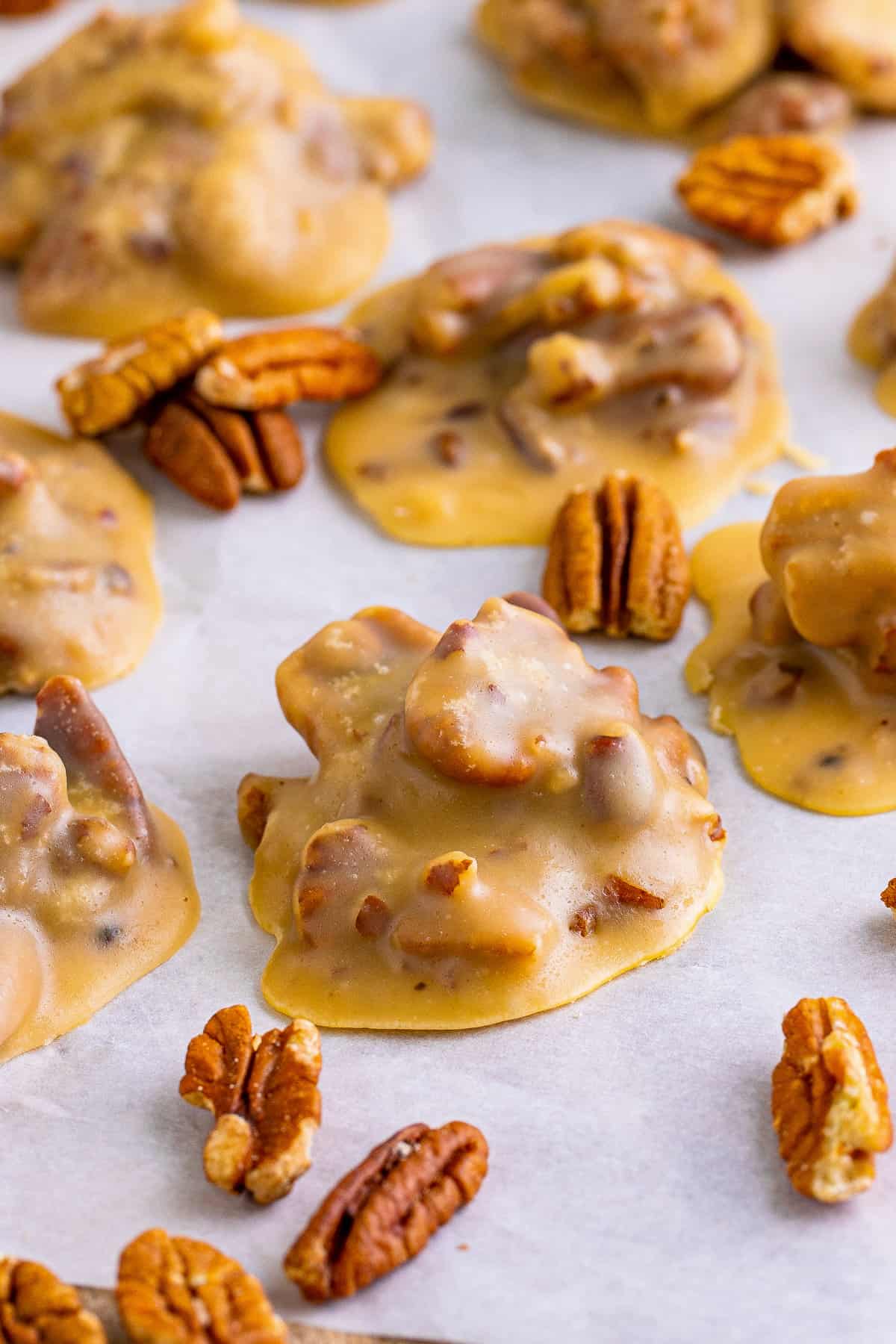 If you love homemade candy recipes you will most definitely want to try chocolate covered honeycomb and Martha Washington candy. Or if you are looking for a super easy recipe these 4 ingredient crockpot peanut clusters are perfect for you!
Although I'm not from the South, I'm fortunate to have a Southern friend who generously shared her family's Southern pecan praline recipe with me. With a caramel-like flavor, the classic candy is delicious on its own or when added to Christmas cookie platters. Either way, the gooey and rich combination of sugar, butter, and pecans is sure to be a huge hit.
The best part is that you can make this easy praline recipe with just a few simple ingredients. In fact, this pecan pralines recipe is a great way to use up any pecans you might have left over from making pecan pie or pecan pie cheesecake.
We Love This Recipe Because It's…
The perfect balance of salty, nutty, buttery, and sweet.
A great way to use up leftover pecans from different recipes.
Fun to eat and even more fun to share.
Ingredients
This section includes ingredient notes and substitution options. Get all measurements, ingredients, and instructions in the printable recipe card at the end of this post.
Pecans— Use either chopped pecans, pecan halves, or a combination of the two.
Sugar— This recipe calls for a combination or light brown sugar and granulated sugar.
Butter— Combines with the brown sugar to create a tasty, gooey caramel.
Light Corn Syrup— Helps to keep this smooth and prevent grainy pralines.
Heavy Cream— a.k.a. heavy whipping cream, adds a rich creaminess to the pralines' caramel base.
Vanilla— Just a dash for added flavor.
Sea Salt— Helps balance out the sweetness of the candy and enhances all of the other nutty, rich flavors.
How to Make Homemade Southern Pecan Pralines
This section shows you how to make the recipe with step-by-step photos and instructions. For the full printable recipe, see the recipe card below.
Step 1: Add your butter, brown sugar, white sugar, heavy cream, corn syrup, and salt to a large pot or Dutch oven. Place over medium-low heat and cook, stirring occasionally, until the butter melts and the sugar dissolves.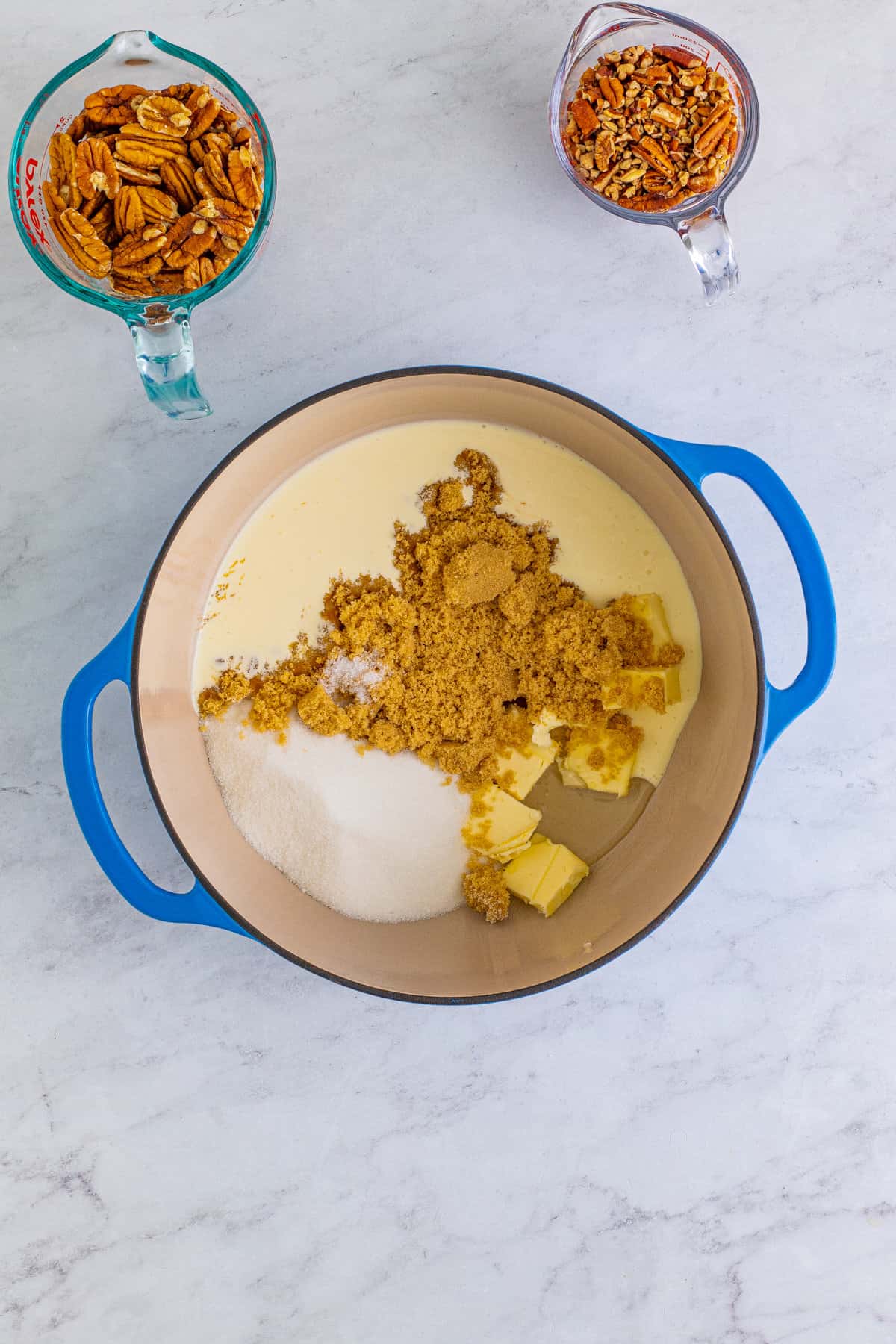 Step 2: Increase to medium heat and bring the sugar mixture to a boil, continuing to stir occasionally. Once the sugar mixture reaches 236 degrees F (the soft-ball stage) remove from heat.
Step 3: Stir in the pecans and vanilla, then allow the mixture to sit undisturbed as it cools to 170 degrees F.
Step 4: Use a wooden spoon to stir the praline mixture for about a minute to help it cool further. You will see the mixture begin to thicken.
Step 5: Dollop onto a lined large baking sheet and allow the candy to harden for at least 8 hours before serving or storing.
How to Store Pecan Praline Candy
Countertop: Pecan pralines can be stored in an air-tight container and left on the counter for up to 10 days. I recommend placing sheets of parchment or wax paper between layers to prevent them from sticking together.
Freezer: For longer storage, freeze pralines in an airtight container for up to 2 months. Just make sure that you let your southern pralines thaw completely before enjoying them.
Tips for the best pecan pralines
Use a larger pot than you think you need. The sugar mixture will boil and could potentially bubble over if you use a pot that's too small.
Don't skip the candy thermometer. It is necessary for the candy mixture to reach the right temperature at each stage.
Prep everything before you start. You have to move quickly during certain steps and you don't want to be lining your baking sheets or measuring your pecans at that crucial moment.
Use a cookie scoop. A #XX cookie scoop is my go-to for portioning the praline mixture out.
​Recipe Additions & Variations
Drizzle with chocolate. For an extra sweet treat drizzle milk, dark, semi-sweet, or white chocolate over the top of your pecan candy.
Add butter extract. Add a few drops of butter extract in with the vanilla for an extra buttery taste.
Sprinkle with sea salt. If you're a big fan of the sweet and salty flavor combination, try adding a pinch of salt to the top of your pralines before they harden.
Frequently Asked Questions
What are Pecan Pralines?
Old-Fashioned Pecan Pralines are a sweet, caramel-based pecan candy that became popular in New Orleans. The nutty candy is like a cross between a chewy no-bake cookie and a homemade candy.
What do pecan pralines taste like?
The creamy southern candy is similar to nut brittle, but softer and chewier. And obviously made with pecans rather than peanuts.
What kind of pecans are best for making pecan pralines?
This completely depends on personal preferences. Use whole or halved pecans for a crunchier praline or use chopped pecans for less texture. Personally, I think that a combination of the two makes the perfect pecan pralines.
Why do my pralines have white spots?
White spots forming on pecan pralines are formed by the sugars crystallizing. This is normal so don't worry – they do not affect the taste or texture.
More Incredible Homemade Candy Recipes
Or visit this post to see all of my easy Christmas candy recipes!
Recipe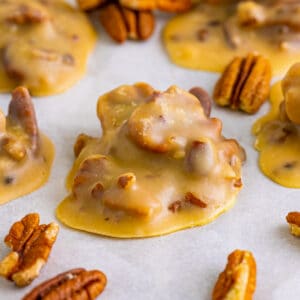 Recipe
Southern Pecan Pralines
The best southern praline recipe! These melt-in-your-mouth homemade candies are perfectly rich and chewy and full of irresistible caramel flavor.
Ingredients
½ cup unsalted butter cut into tablespoons
1 ½ cups granulated sugar
1 ½ cups light brown sugar packed
1 ½ cups heavy cream
1 Tablespoon light corn syrup
¼ teaspoon fine sea salt
2 cups pecan halves
1 cup chopped pecans
2 teaspoons vanilla extract
Instructions
Line 3 sheet pans with foil or parchment paper, spray with cooking spray, and set aside.

In a large pot or a Dutch oven, combine the butter, granulated sugar, brown sugar, heavy cream, corn syrup, and salt. Place over medium-low heat; let the butter melt and sugars dissolve, stirring occasionally.

Increase to medium heat, and bring to a low boil while continuing to stir occasionally (be sure to scrape the bottom of the pan so nothing sticks). Cook and stir occasionally until a candy thermometer reaches 236°F (soft ball stage), about 6-7 minutes.

Remove from the heat, and mix in the pecans and vanilla extract. After stirring them in, do not mix further. Allow the praline mixture to cool to 170°F, which should take about 15 minutes.

Stir the mixture with a wooden spoon until it begins to thicken, about 1 minute.

Drop by heaping tablespoons onto the prepared sheet trays. Allow them to rest at room temperature until fully hardened, about 8 hours or overnight.
Notes
I like to use a mix of whole and chopped pecans but you can use either/or. Store in an airtight container at room temperature for up to 10 days.
Nutrition
Calories: 185kcal | Carbohydrates: 19g | Protein: 1g | Fat: 12g | Saturated Fat: 4g | Polyunsaturated Fat: 2g | Monounsaturated Fat: 5g | Trans Fat: 0.1g | Cholesterol: 18mg | Sodium: 22mg | Potassium: 58mg | Fiber: 1g | Sugar: 18g | Vitamin A: 229IU | Vitamin C: 0.2mg | Calcium: 21mg | Iron: 0.3mg
Did You Make This Recipe?
Share it with me on Instagram @crayonsandcravings and follow on Pinterest @crayonsandcravings for even more!