Chocolate Rum Balls Recipe
Posts may contain affiliate links, meaning that I may earn a commission if you use a link provided.
This chocolate rum balls recipe makes sweet, nutty, chocolatey rum balls that literally melt in your mouth. They're the perfect decadent treat for the holiday season.
The holidays are coming up soon, and that means it's time to plan your cookie trays and holiday tins for gift-giving and get-togethers. These delicious chocolate rum balls are the perfect addition to your Christmas goodies. They're moist, chewy, boozy, rich, and chocolatey. Plus, they have a nice little crunch from the nuts as well.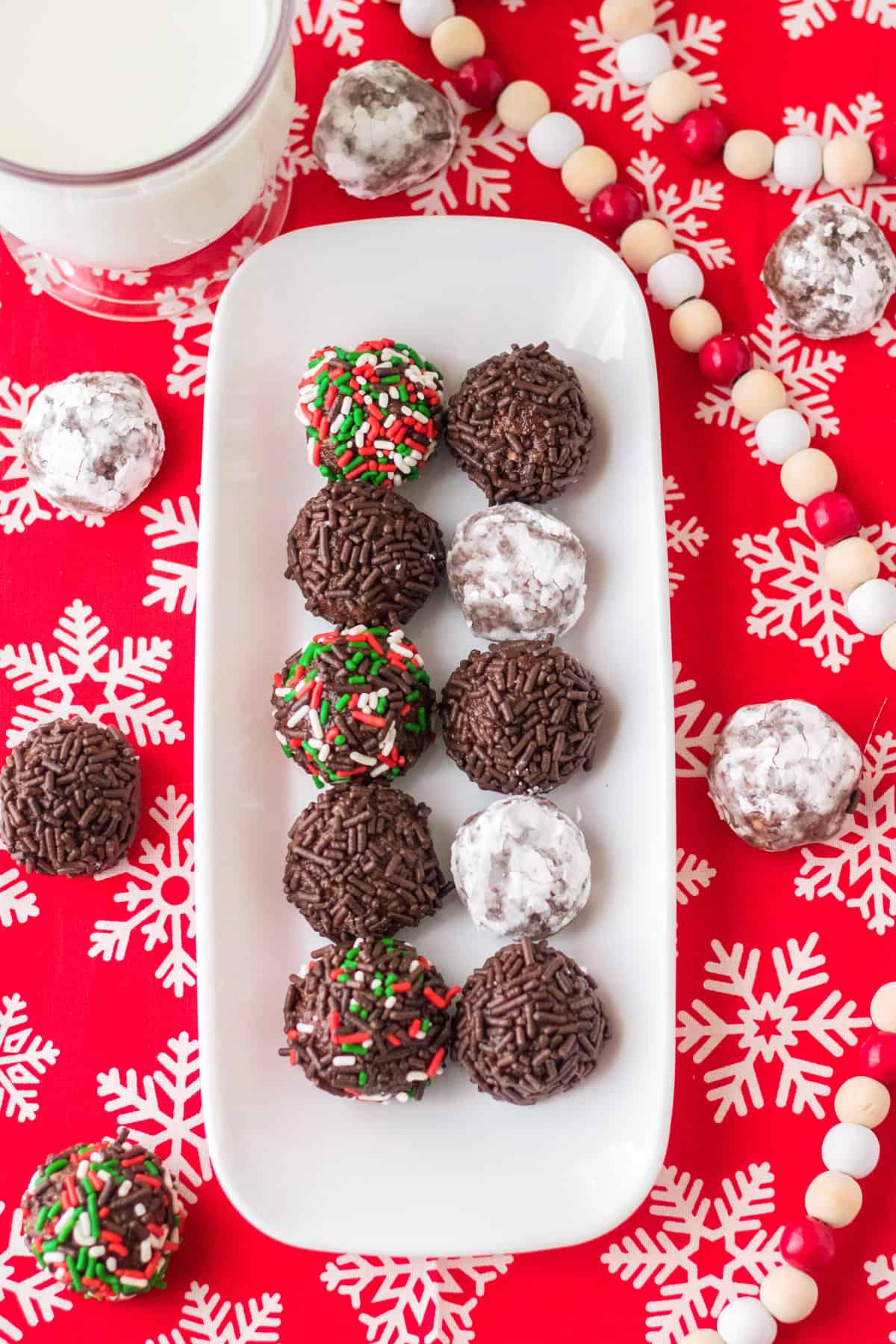 The best part? Unlike other holiday treats, these actually get better the next day so the rum mellows out and the flavors develop. They're the perfect make-ahead dessert.
It's an easy no-bake recipe that's adaptable to lots of different flavors by swapping out some of the ingredients. And if you enjoy rum balls, you'll absolutely love my rich, fudgy Dark Chocolate Truffles with Peppermint Schnapps.
Let's get started on making some rum balls for the holiday season! Your family and friends will love them along with other fun Christmas cookies.
Ingredients for Chocolate Rum Balls
This section includes ingredient notes and substitution options. Get all measurements, ingredients, and instructions in the printable recipe card at the end of this post.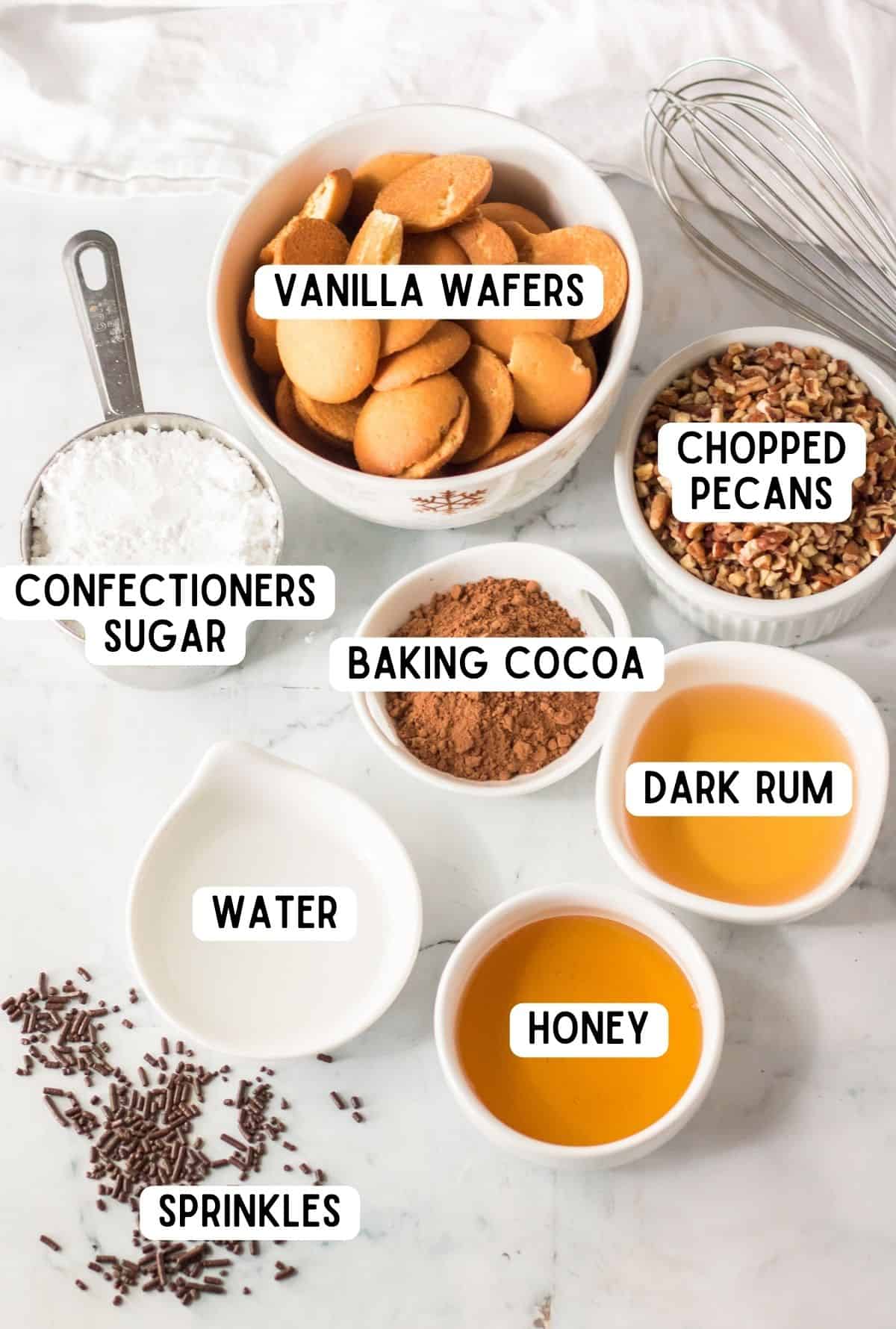 Vanilla Wafers — Crushed vanilla wafer cookies are the base for these rum balls. Graham crackers or another crushed cookie-like shortbread would work as well.
Pecans — Pecans are delicious in these rum balls and are perfect for the holidays! However, you can substitute walnuts or almonds if you have those on hand instead.
Confectioners Sugar — You'll need some confectioners sugar (aka powdered sugar) for adding to the mixture and extra to roll the balls in if you're not rolling them in sprinkles.
Baking Cocoa — The unsweetened cocoa powder gives the rum balls their chocolatey flavor.
Rum — I'd recommend dark rum or spiced rum for the best flavor.
Honey — This adds extra sweetness and flavor. You can experiment with different types of honey like orange blossom honey instead of clover. Alternatively, you can use corn syrup.
Water — Water adds a little extra liquid to make the ingredients stick together, but you can substitute rum for the water to make them boozier if you'd like.
Sprinkles — Use chocolate sprinkles or colorful holiday sprinkles to add more sweetness and for a prettier presentation.
Equipment You'll Need to Make No Bake Rum Balls
How to Make Rum Balls
This section shows you how to make the recipe with step-by-step photos and instructions. For the full printable recipe, see the recipe card below.
Step 1: Grab a large bowl, and mix the dry ingredients — crushed vanilla wafers, pecans, 1 cup confectioners' sugar, and cocoa powder — together.
Step 2: Mix the wet ingredients — rum, honey, and water — together in a small bowl.
Step 3: Stir the wet ingredients into the dry ingredients.
Step 4: Use a cookie scoop or Tablespoon to scoop out and roll the mixture into approximately 1-inch balls. Then, roll the balls in confectioners' sugar or sprinkles.
Tip: If coating your rum balls in sprinkles have a bowl of water handy to dab on the balls if you are having difficulty getting the sprinkles to stick on.
Step 5: Chill the small balls in the fridge on a cookie sheet lined with parchment paper or wax paper for 30 minutes before serving.
Serving Suggestions
Enjoy one (or several) of these traditional rum balls with a mug of hot chocolate (like our Slow Cooker Salted Caramel Hot Chocolate), a cup of coffee (try this Caramel Macchiato), or a good old-fashioned hot buttered rum during your Christmas celebrations.
Storage and Freezing
Store chocolate rum balls in an airtight container in the fridge or at room temperature in a cool place for up to a week. They're better kept in the fridge to prevent the rum from evaporating. The balls will also hold their shape better in the refrigerator.
To freeze rum balls, place them in an airtight container or zip-top freezer bag for up to 2 months.
Easy Rum Balls Recipe Tips and Tricks
The rum balls will develop a more mellow flavor as they sit in the airtight container over a few days. So don't be afraid of doubling the batch for your holiday party. The rum balls are so flavorful after sitting at least overnight!
Crush the cookies and the nuts in the food processor to make quick work of it.
Is your mixture too dry? Add a little more rum or water to the mixture before rolling it into balls.
Is the mixture too soft to form into balls? Place the bowl in the fridge for a few minutes and it will firm right up.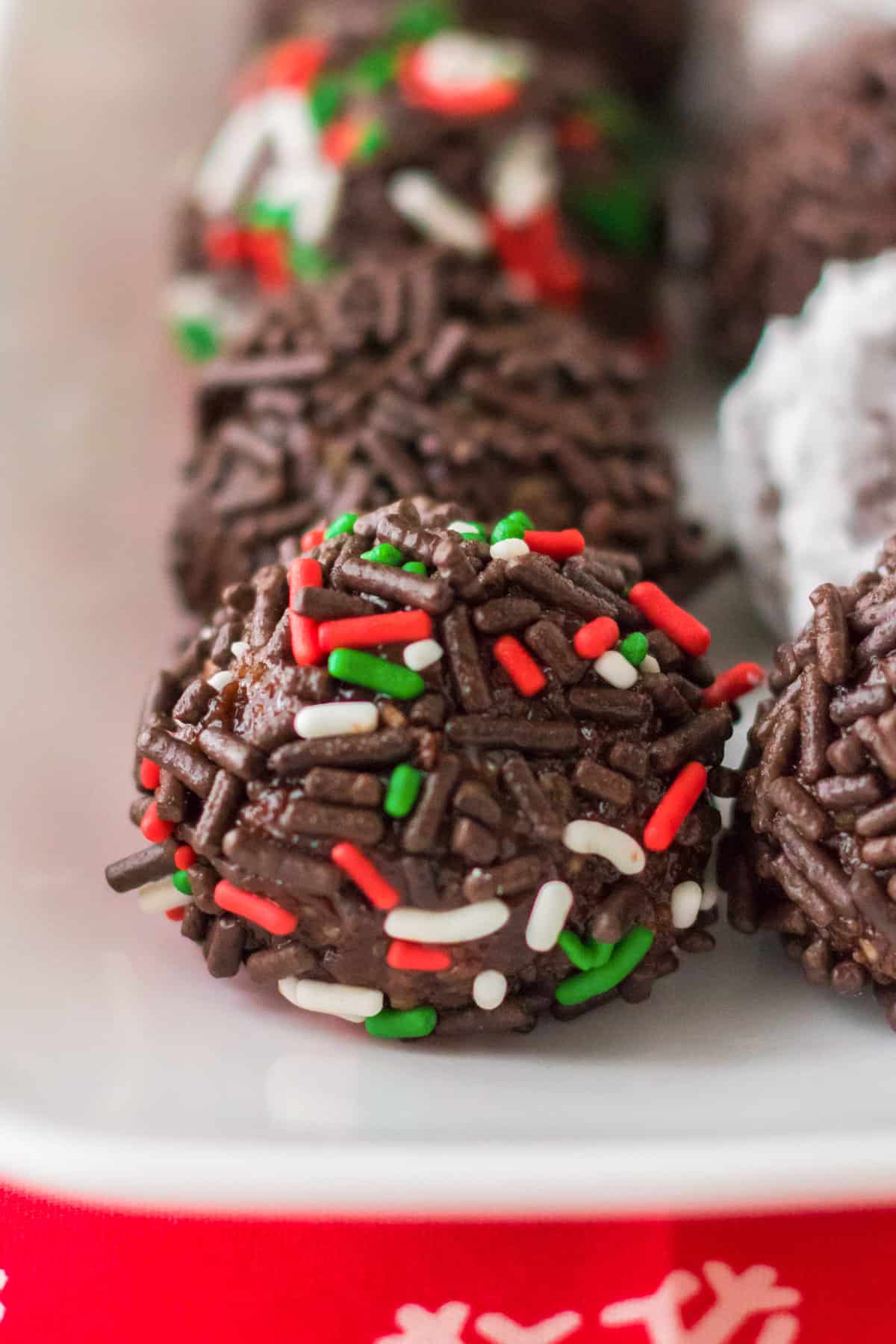 Additions and Variations
Swap out the vanilla wafers. Instead of the 'Nilla wafers, you can try chocolate wafers, shortbread cookies or even graham crackers! Crushed chocolate animal crackers are a fun option, too.
Try coconut rum balls. Use coconut rum or spiced rum and then add shredded coconut or coconut flakes to the dry ingredients for texture.
Make them sparkly. Instead of powdered sugar, roll the balls in sparkling sugar. They'll look like beautiful (and tasty) snowballs!
Swap pecans for different nuts. Walnuts, almonds, or pistachios could work.
Make them nut-free. If you're allergic to pecans or just don't like nuts in your rum balls, omit them! Then, either add more cookie crumbs or reduce some of the liquid to compensate. These delicious treats will simply be more fudge-like without the nuts.
Try different toppings. Crushed nuts, shredded coconut, melted coconut, crushed cookies, or sanding sugar are all fun choices.
Make a kid-friendly version. If you want rum balls that you can serve to your kids, replace the rum with 2 teaspoons of rum flavoring or rum extract, and add some additional water or honey to make up the rest of the liquid.
Dip in melted chocolate. After forming the balls chill them in the fridge for 30 minutes or so. Once the rum balls have gotten firm in the fridge, dip them in melted chocolate to make them extra decadent.
Swap out the rum. Try bourbon, peppermint schnapps, or even whiskey to make the balls instead of traditional rum.
Chocolate Rum Balls Recipe FAQ
What are rum balls made of?
Rum balls are very forgiving, so you can swap out ingredients easily or work with a little more of this and a little less of that. But in general, I make chocolate rum balls with vanilla wafers, nuts, powdered sugar, cocoa, rum, honey, and water.
Why are my rum balls sticky?
You may have added too much liquid or had too little of the dry ingredients in your mixture. It's an easy fix, though; simply roll the balls again in powdered sugar or cocoa (or a mixture of both) to make them less sticky to the touch.
What can I use instead of vanilla wafers to make rum balls?
Shortbread cookies, animal crackers, or graham crackers are all fine substitutes for the vanilla wafers.
Does the alcohol evaporate from rum balls?
No, these are no-bake treats, so the alcohol does not cook off. There is only a little rum in each ball, but these are definitely for adults only.
More No-Bake Holiday Recipes
Any of these homemade treats are an excellent gift for the holidays!
Recipe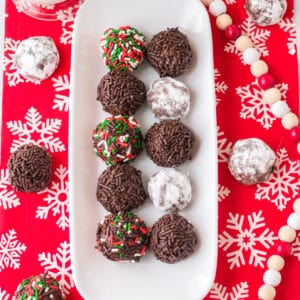 Recipe
No Bake Chocolate Rum Balls
This recipe for chocolate rum balls makes sweet, nutty, chocolatey rum balls that melt in your mouth. They're the perfect decadent treat for holiday baking.
Ingredients
2 ½ cups crushed vanilla wafers
1 cup pecans ground
1 cup confectioners sugar
2 Tablespoons plus 2 teaspoons baking cocoa
¼ cup dark rum
3 Tablespoons honey
2 Tablespoons water
Additional powdered sugar and sprinkles for rolling
Instructions
In a large bowl, mix to combine the vanilla wafer crumbs, ground pecans, confectioners sugar, and cocoa.

In a small bowl, whisk together the rum, honey, and water.

Stir the rum mixture into the crumb mixture.

Roll into about 1-inch balls.

Roll the balls in additional powdered sugar or sprinkles.

Chill in the fridge for 30 minutes, or until firm.
Notes
While you can crush the wafers and pecans by hand with a rolling pin and freezer baggie, I find that using a food processor makes quick work of turning them into a fine crumb.
Store rum balls in an airtight container in the fridge or at room temperature for up to a week. I prefer them in the refrigerator.
Roll the balls in powdered sugar, sprinkles, crushed up vanilla wafers, or more crushed pecans for different variations.
Substitute the water for 2 more Tablespoons of rum if you'd like.
Sprinkles not sticking? Trying dabbing some water on the outside of the balls.
Maple syrup, corn syrup or Karo syrup can be used in place of the honey.
Nutrition
Serving: 1g | Calories: 96kcal
Did You Make This Recipe?
Share it with me on Instagram @crayonsandcravings and follow on Pinterest @crayonsandcravings for even more!