Old Fashioned Hot Buttered Rum
Posts may contain affiliate links, meaning that I may earn a commission if you use a link provided.
Old fashioned hot buttered rum is rich and smooth with warming spices and notes of vanilla that'll warm you up from the inside out. Get cozy with this classic drink this winter!
Nothing warms your bones like an old-fashioned drink. Hot buttered rum is just what you need on cold days or for your holiday get-togethers like Christmas parties and New Year's Eve celebrations. And this drink is a surefire winner that's quick and easy to whip up for just a couple of people or for a crowd.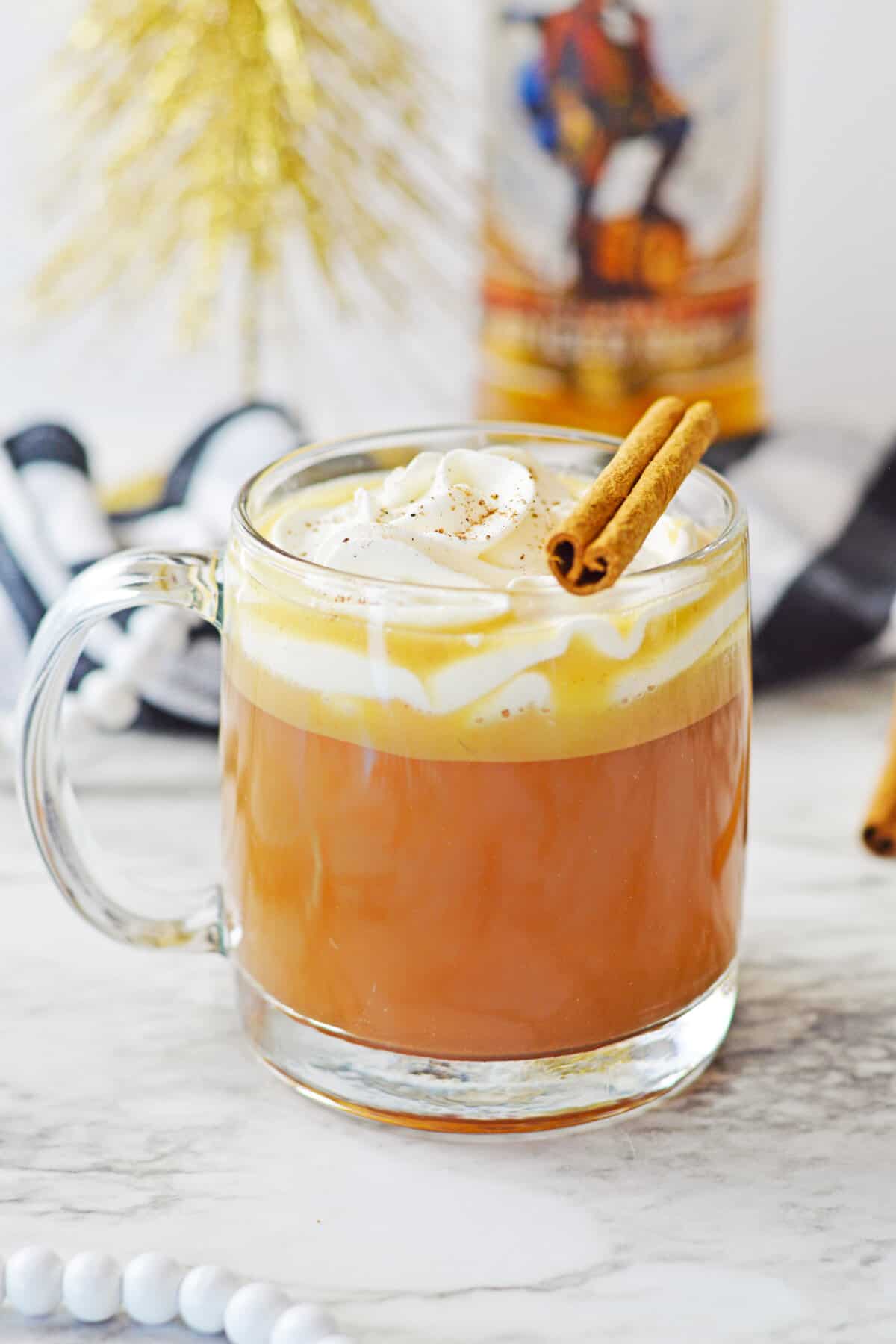 Americans, particularly in New England, have been enjoying the hot since colonial days, with many family cookbooks offering up their own versions of this drink. While it's not a cocktail you'd ask for at a bar, it's the perfect drink for a cozy evening at home as an after-dinner drink or a nightcap.
Most recipes call for a handful of mostly staple ingredients, including butter, brown sugar, cinnamon, cloves, nutmeg, vanilla, and salt. Of course, you'll need some rum as well. The whipped cream is optional, but highly recommended. It melts into the hot drink a bit making it rich and creamy.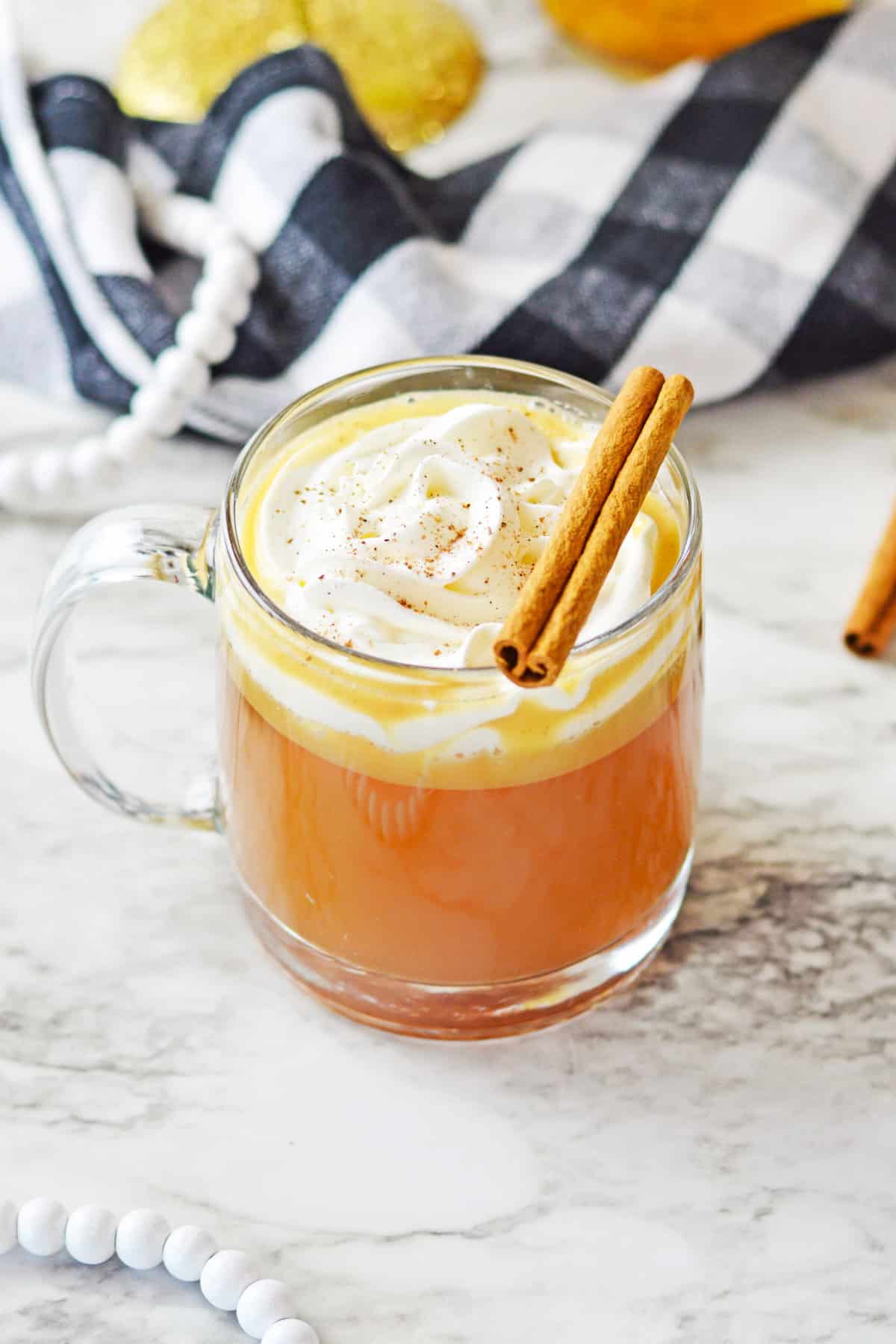 For more winter drinks, try our Christmas Cookie Cocktail that tastes like a frosted sugar cookie or this Boozy Apple Cider that's perfect for any fall or winter holiday.
But for now, let's get started on this warm and perfectly spiced winter drink. Here's what you'll need:
Ingredients
This section includes ingredient notes and substitution options. Get all measurements, ingredients, and instructions in the printable recipe card at the end of this post.
Butter — Unsalted butter, softened to room temperature. You'll add a pinch of salt later.
Brown Sugar — Use light brown sugar or dark brown sugar, whichever is your preference. I usually use light because that is what I have on hand but dark brown sugar has a richer molasses flavor that pairs well with this drink.
Warming Spices — Cinnamon, ground cloves, and nutmeg make this boozy drink a holiday dream.
Salt — Just a pinch will bring out all the sweet flavors and warm spices even more.
Vanilla Extract — This helps create a richer flavor, but you can omit it, if you prefer.
Water or Cider — To amp up the flavor, use cider, especially if you're making any non-alcoholic versions for others.
Rum — You'll want to use a high-quality dark rum. Spiced rum adds loads of flavor, but other dark rum, Caribbean rum, or gold rum are all great choices, too. You can even do half one type and half another. Just avoid using a light rum or white rum.
Whipped Cream — Homemade whipped cream or Reddi-wip straight from the can will add a delicious creamy touch to this festive drink.
Equipment You'll Need
How to Make Old Fashioned Hot Buttered Rum
This section shows you how to make the recipe with step-by-step photos and instructions. For the full printable recipe, see the recipe card below.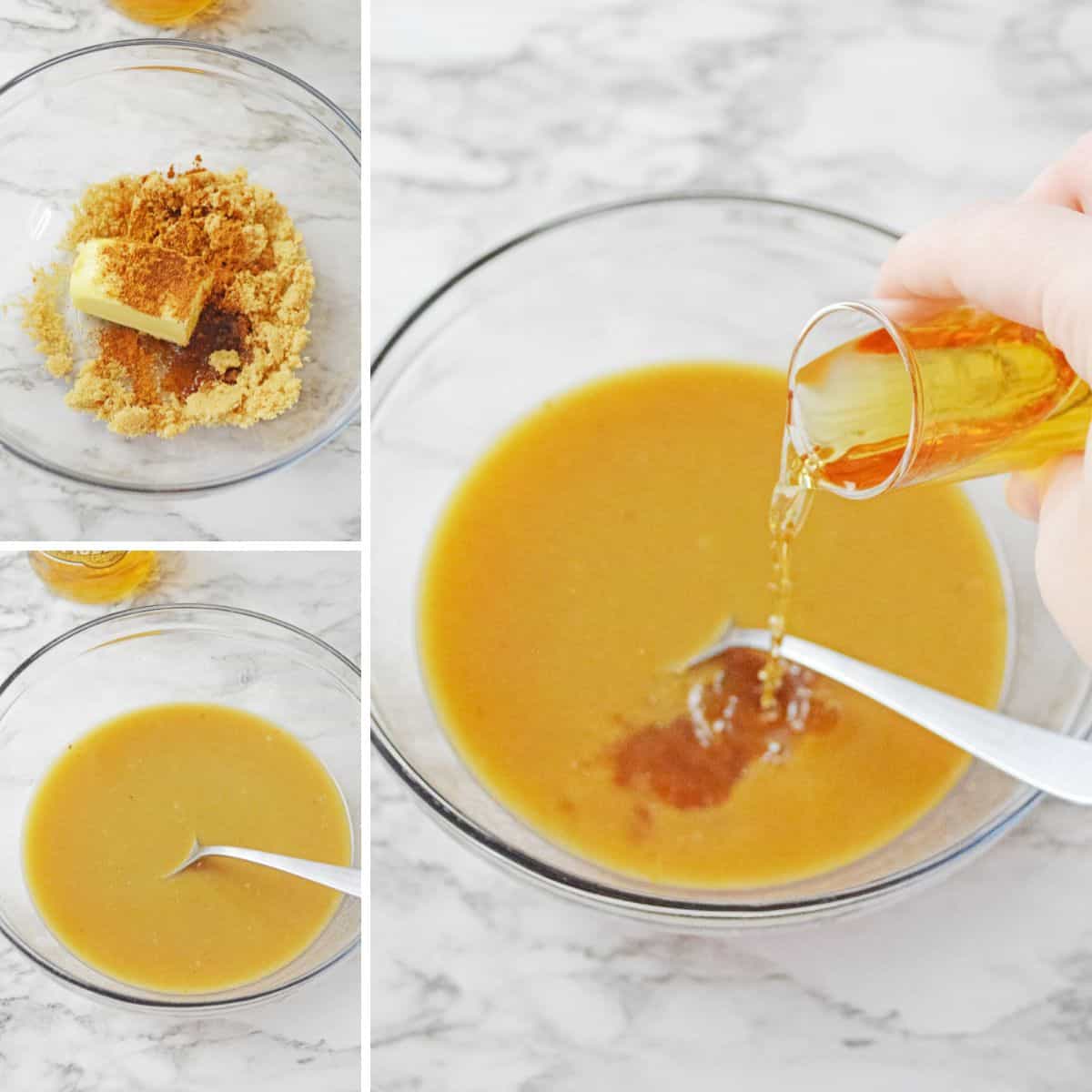 Step 1: In a heat-safe bowl, mix to combine the brown sugar, softened butter, vanilla extract, and spices.
Step 2: Grab a small saucepan and bring a cup of water or apple cider to a boil. Either works fine, but if you plan on serving this drink without rum (as a mocktail), cider will add more flavor.
Step 3: Pour the boiling water or cider over the butter and spices in the bowl, stirring to combine. Make sure that the brown sugar is dissolved.
Step 4: Add rum and stir to combine.
Step 5: Pour into two mugs. Top your hot drink with whipped cream and a sprinkle of cinnamon or nutmeg. A cinnamon stick would look cute in this classic cocktail and add extra flavor, too!
Serving Suggestions
Serve your hot buttered rum cocktail with whipped cream and a generous sprinkle of nutmeg or cinnamon. Want something to nibble on while you enjoy your drink? Try some of my delicious Christmas cookies to make a holiday cookie tray.
Storage
Although best enjoyed immediately, you can store the old-fashioned hot drink in an airtight container in the refrigerator for a few days. Warm through before serving. If possible, leave out the rum and just refrigerate the other ingredients to prevent the alcohol from cooking off while reheating.
Hot Buttered Rum Mix
Better yet, you can make hot buttered rum mix, or "butter batter," by mixing together the butter, sugar, vanilla, and spices. Store the batter in an airtight container in the refrigerator. When ready to enjoy, spoon 2 Tablespoons of the spiced butter into a mug, add 4 ounces (1/2 cup) boiling water and stir to combine, then stir in 1.5 ounces (3 Tablespoons) of rum.
Your homemade hot buttered rum mix will keep for a couple of weeks in the fridge or up to 2 months in the freezer.
Tips and Tricks
Make sure you add the rum at the very end, right before serving. Do not add it while cooking because the alcohol will cook off.
Easily double, triple, or quadruple the recipe for a holiday gathering. Just add all the ingredients except the rum to a slow cooker and cook on low for 4-5 hours. It makes a great after-dinner drink. Set the rum aside and let each guest pour their own desired amount into their cups.
Use dark rum if you want to control the spices since spiced rum will add even more notes of cinnamon, cloves, and nutmeg.
Each of these drinks has about 1.5 ounces of rum, but you can adjust the amount to your liking.
Additions and Variations
Make it alcohol-free. Skip the rum and use imitation rum extract to make this a non-alcoholic beverage. You'll need about a tablespoon per mug.
Try butterscotch hot buttered rum. Sub half of the rum with butterscotch schnapps and add a drizzle of butterscotch sundae sauce to make this drink extra sweet.
Add pumpkin pie spice. Instead of cinnamon, cloves, and nutmeg, add an equal amount of pumpkin pie spice instead. Apple pie spice would be a great option as well.
Swap out the alcohol. Although rum is the traditional option, try it with maple whiskey or the butterscotch schnapps mentioned above for a fun twist on a classic.
Add a drizzle of maple syrup. It'll make it extra sweet!
Recipe FAQ
What alcohol goes in hot buttered rum?
Rum is the alcohol of choice for hot buttered rum.
What does hot buttered rum taste like?
It's delicious, kind of like a spiced Christmas cookie or cinnamon roll in a mug (but with a kick). You'll get the silky richness of the butter along with warm spices, vanilla, and smooth rum. It's the perfect drink for the holiday season.
Who invented hot buttered rum?
According to the Daily Gazette, the cozy drink was popular in Colonial America because rum was the day-to-day drink of choice. They drank it all day long, and it was an essential part of holiday celebrations. Warming the drink to make buttered rum and hot toddies came about naturally during the colder months when hot beverages were desirable for warming up.
What rum is good for buttered rum?
Dark rum is common for hot buttered rum because of its rich molasses flavor. Spiced rum like Captain Morgan Original Spiced Rum is a great choice if you like lots of warm spicy flavor. For other options, try gold rum, Jamaican rum, or a half-and-half mixture of spiced rum and one of the more mellow flavors. I would avoid light or white rum though as these aren't great choices for the classic hot cocktail.
What's the difference between a hot toddy and hot buttered rum?
While hot buttered rum requires both butter and rum, a hot toddy is made with bourbon or another type of whiskey in addition to honey and lemon.
More Christmas Cocktails
Recipe
Recipe
Hot Buttered Rum
Old fashioned hot buttered rum is a smooth winter cocktail made with warming spices and vanilla that'll will warm you up from the inside out.
Ingredients
¼ cup unsalted butter softened
⅓ cup brown sugar
⅛ teaspoon cinnamon
⅛ teaspoon ground cloves
⅛ teaspoon nutmeg
pinch of salt
½ teaspoon vanilla extract
1 cup water or apple cider
3 ounces rum ⅓ cup
whipped cream for topping
extra cinnamon or nutmeg for topping
Instructions
To a heat safe bowl, add softened butter, brown sugar, vanilla, and spices. Mix well to combine.

In a small saucepan, bring 1 cup of water or apple cider to a boil.

Pour the boiling water over the spiced butter and stir well to combine.

Stir in rum.

Pour into mugs and top with whipped cream and, optionally, a sprinkle of cinnamon or nutmeg.
Notes
Dark rum or spiced rum is best for this cocktail. Light or dark brown sugar can be used.
Nutrition
Serving: 1g | Calories: 435kcal
Did You Make This Recipe?
Share it with me on Instagram @crayonsandcravings and follow on Pinterest @crayonsandcravings for even more!