Peanut Butter Fritos Candy
Posts may contain affiliate links, meaning that I may earn a commission if you use a link provided.
Your family is going to love this sweet, salty, crunchy treat! Combine smooth and creamy peanut butter and crunchy Fritos for a snack that's irresistibly delicious and perfect for a holiday dessert tray or gifting.
Frito Candy may sound a little weird, but I promise it's delicious! You have to give the homemade candy recipe a try to find out for yourself just how good this fabulous treat is. It's a perfect combination of salty and sweet that everyone who tries it loves.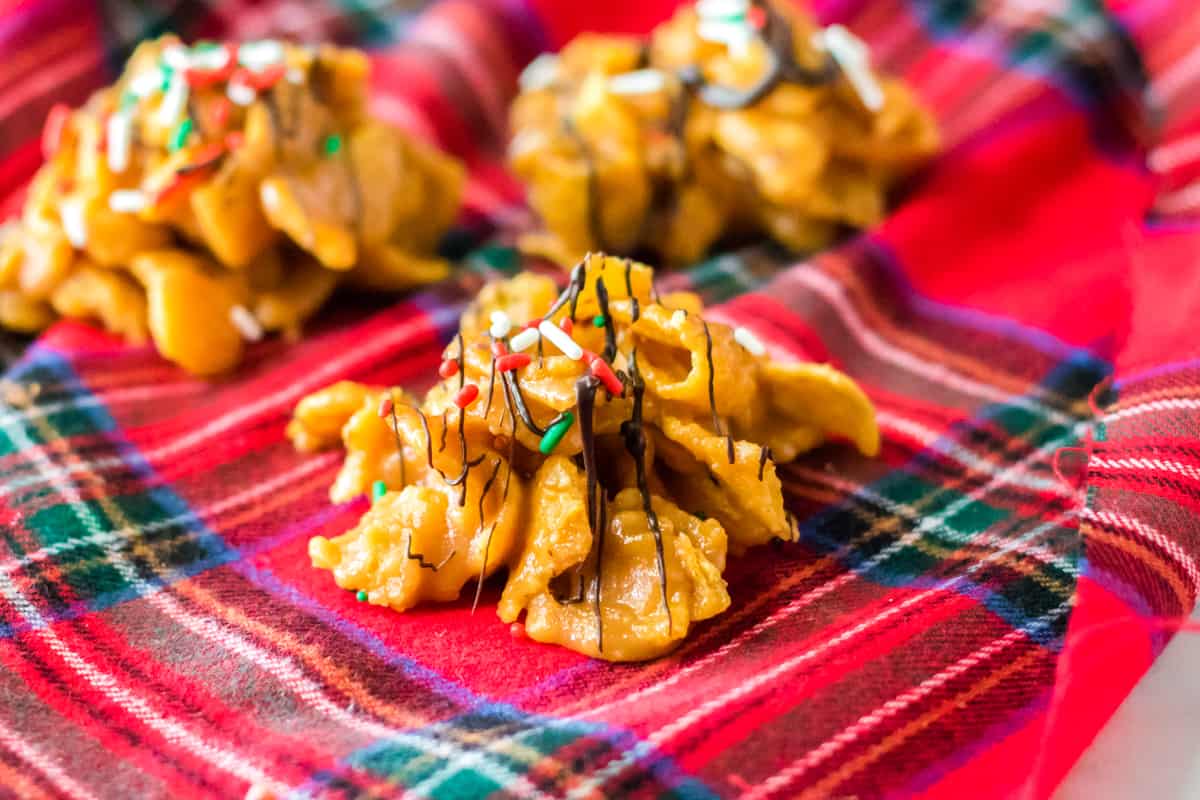 The creamy caramel peanut butter base pairs perfectly with the salty, crunchy Fritos, creating a candy that has everything you could want. The chocolate drizzle over the top adds a little richness. It doesn't have to be a little drizzle, though. Measure that chocolate with your heart!
The sprinkles are optional, but they do make the frito candies look extra festive if you're making holiday candy for friends and neighbors. It's such an easy candy for gift giving. Plus, they're no bake cookies. All you need is a few minutes on the stovetop or microwave.
Wondering what they taste like? If you've ever had my Peanut Butter Cornflake Cookies, it's like that but with a salty twist. Make some right now to satisfy your sweet and salty cravings.
Psst… if you love Fritos, you need to try my Crockpot Frito Pie recipe. It's hearty, comforting, and super kid-friendly.
Ingredients for Fritos Cookies
This section includes ingredient notes and substitution options. Get all measurements, ingredients, and instructions in the printable recipe card at the end of this post.
Sugar — Granulated sugar (white sugar) helps sweeten up this fun sweet and salty snack.
Light Corn Syrup — Use white corn syrup for this recipe. It helps the ingredients stick together and creates a sort of peanut butter caramel that's oh-so-good on the Fritos.
Peanut Butter — Your favorite creamy peanut butter works just fine here! Chunky peanut butter is okay, too, and will make your candy even crunchier.
Fritos — This recipe calls for regular Frito corn chips.
Chocolate — Chocolate almond bark, melting chocolate, or chocolate chips to melt and drizzle over the peanut butter candy when finished. You can use milk chocolate, semi-sweet, or dark chocolate.
Sprinkles — Sprinkles are totally optional, but they add color and flair, especially if you're making them for the holidays.
Equipment You'll Need to Make Fritos Candy
Gather your tools to get started on this sweet and salty treat!
Measuring cups
Baking sheet
Parchment paper
Cookie scoop
Spatula
Airtight container for storage
How to Make Peanut Butter Fritos Candy
This section shows you how to make the recipe with step-by-step photos and instructions. For the full printable recipe, see the recipe card below.
Step 1: Line a baking sheet with parchment paper or a silicone baking mat and set it aside.
Step 2: Combine corn syrup, 1 cup sugar, and peanut butter in a large pot over medium heat. Cook, stirring often, until everything is well combined and the mixture begins to bubble for about a minute.
Step 3: Remove the pot from the heat, and gently stir in the Frito chips.
Step 4: Once the Fritos are incorporated, immediately spoon the mixture onto the lined baking tray using a cookie scoop or a large spoon. You can make the Frito candy as big or as little as you'd like, but I prefer between 1.5 to 2 Tablespoons worth. Allow the candy to set for about 30 minutes.
Step 5: Melt the chocolate in the microwave in 30-second intervals until it's smooth and completely melted.
Step 6: Use a fork to drizzle the melted chocolate over the peanut butter Frito candies. Top with sprinkles to make this sweet treat extra festive! Let candy cool completely before serving.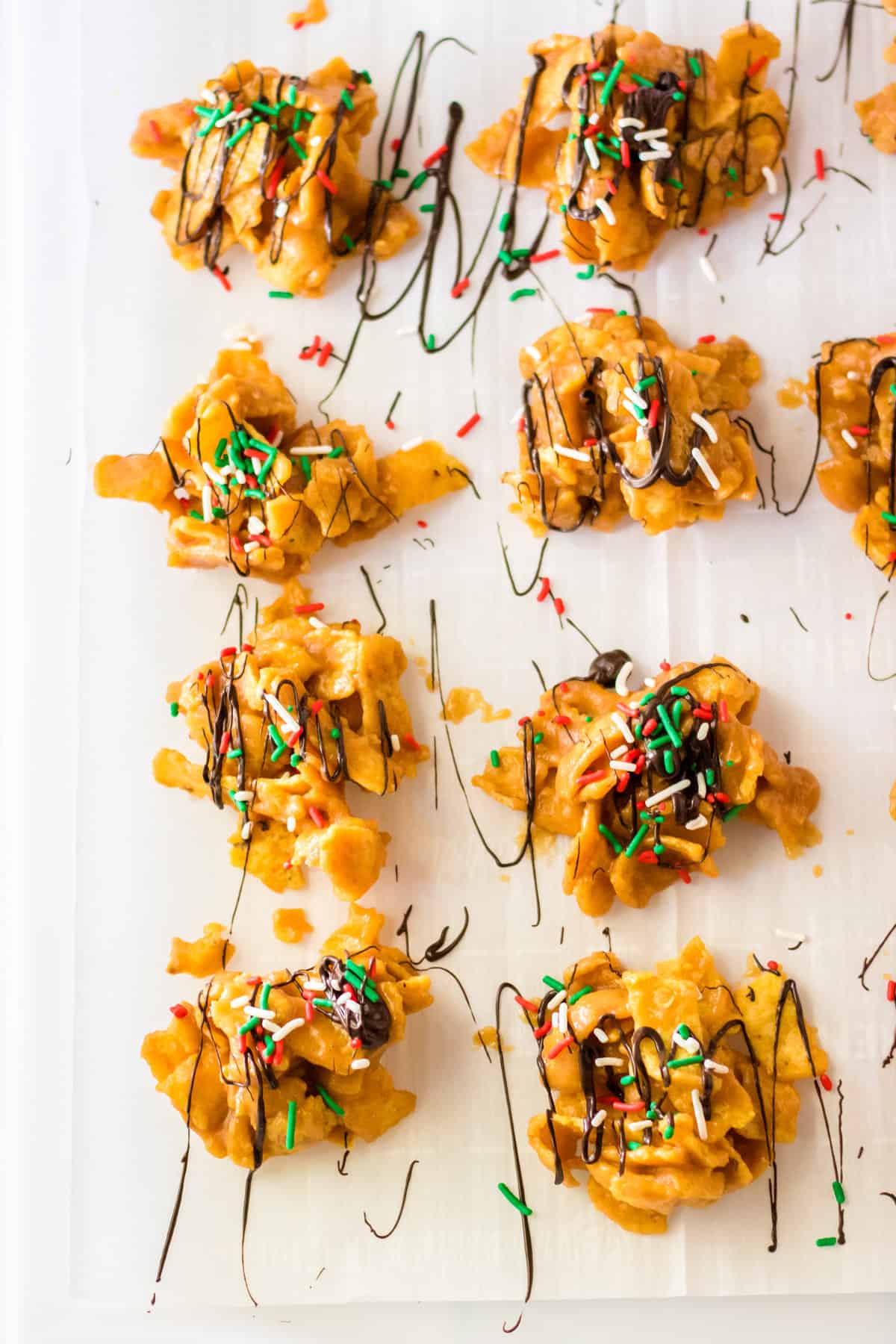 Storage and Freezing
Room Temperature: Store peanut butter Fritos in an airtight container at room temperature for up to 5 days.
Refrigerator: This sweet and salty candy will stay fresh even longer when refrigerated. It'll keep for up to a week in an airtight container in the refrigerator. This will also make them a little less sticky when handling.
Freezing instructions: Add peanut butter Frito candy to a freezer-safe container in layers separated by parchment paper. Freeze for up to 3 months. Thaw on the counter overnight.
Fritos Candy Recipe Tips and Tricks
Cook this in the microwave instead of on the stovetop if you'd like. Add the sugar and corn syrup to a microwave safe bowl, microwaving in 60-second increments until the ingredients begin to bubble. Remove from the microwave, and stir in the peanut butter until it's melted. Then add your chips, and make your candy!
Adapt this candy to your liking. If you prefer more salty than sweet, add more Fritos. If you prefer sweet flavors to dominate, use fewer chips.
Let the cookies set for 30-60 minutes before serving. It'll make them easier to handle.
Stir the peanut butter mixture frequently on the stovetop to avoid scorching. Boil for no more than one minute.
Use parchment paper or a silicone baking mat rather than wax paper, as wax paper may melt and stick to the bottom of the candies.
Additions and Variations
Make Frito bars instead of cookies. If you'd prefer dessert bars, you can pour the peanut butter-covered Fritos into a baking pan and then drizzle with chocolate. After it sets up a bit, cut it into bars.
Use crunchy peanut butter. Want even more crunch in your Frito candy? Use crunchy peanut butter instead of the smooth peanut butter. You'll get loads of crunch in every bite.
Add toffee bits. They'll make this candy a little sweeter, and the flavor pairs perfectly with peanut butter.
Try white chocolate chips instead of milk chocolate. Or try a drizzle of both! You can never have too much chocolate, after all.
Experiment with different flavors of Fritos. BBQ Fritos may be surprisingly good when paired with peanut butter! Let me know if you try it!
Add chocolate chips to the Frito candy. Instead of drizzling with chocolate, you can add chocolate chips right into the peanut butter and corn chip mixture once it cools a little.
Peanut Butter Fritos Recipe FAQ
Can I use Fritos scoops?
You can use them, but you may want to break them up a little since you'll have a lot of gaps in your candy otherwise. However, you'll still get the same delicious flavor, so really, you can't go wrong here!
What do peanut butter Fritos taste like?
The flavor and texture is somewhat similar to cornflake candy or cornflake cookie, if you've ever had that. Except in this case, you get that delicious salty-sweet flavor combination. The saltiness comes from the chips, and the sweetness comes from the sugar, corn syrup, peanut butter, and chocolate.
How long can I freeze Frito candy?
You can freeze it for up to 3 months. Let it thaw on the counter overnight before serving.
More Peanut Butter Dessert Recipes
Love this easy dessert recipe? Get your peanut butter fix with these tasty treats:
Recipe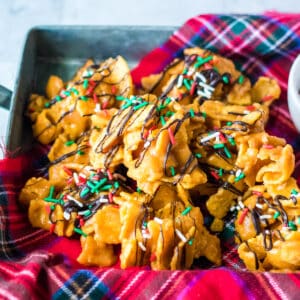 Recipe
Peanut Butter Fritos Candy
An irresistible combination of sweet and salty flavors, you'll wonder where this idea has been all your life. Combine sweet, creamy peanut butter with salty Fritos for the ultimate treat!
Ingredients
1 cup granulated sugar
1 cup light corn syrup
1 cup creamy peanut butter
14 ounces Fritos I used a 9.25 ounce bag and a half
1 cup of chocolate chips or melting chocolate
Sprinkles optional
Instructions
Line a baking sheet with parchment paper or a silicone mat and set aside.

To a large pot, add the sugar, corn syrup, and peanut butter. Cook over medium heat, stirring often, until everything is incorporated and it begins to bubble.

Remove the pot from the heat and gently stir in the Fritos.

Immediately spoon the mixture out onto the lined baking tray using a cookie scoop or large spoon.

Allow the candies to set for 30 minutes at room temperature.

In a small microwaveable bowl, melt the chocolate in 30-second intervals until smooth and melted.

Using a fork, drizzle the melted chocolate over the candies. Top with sprinkles, if desired.

Serve once completely cooled and set.
Notes
You can make these as big or small as you would like. I like to use a 1.5 – 2-Tablespoon sized scoop. Store in an airtight container for up to 5 days, fridge for up to 1 week, or freeze for up to 3 months.
Nutrition
Serving: 1g | Calories: 262kcal
Did You Make This Recipe?
Share it with me on Instagram @crayonsandcravings and follow on Pinterest @crayonsandcravings for even more!