Christmas Tree Charcuterie Board
Posts may contain affiliate links, meaning that I may earn a commission if you use a link provided.
Celebrate the holiday season with a stunning Christmas tree charcuterie board made with simple ingredients you can find in your local grocery store. It's ready in just 10 minutes and will look amazing on your holiday table!
Our Pull-Apart Crescent Roll Christmas Tree, Buffalo Chicken Dip Crockpot Recipe, and Crockpot Little Smokies are also big winners at holiday gatherings.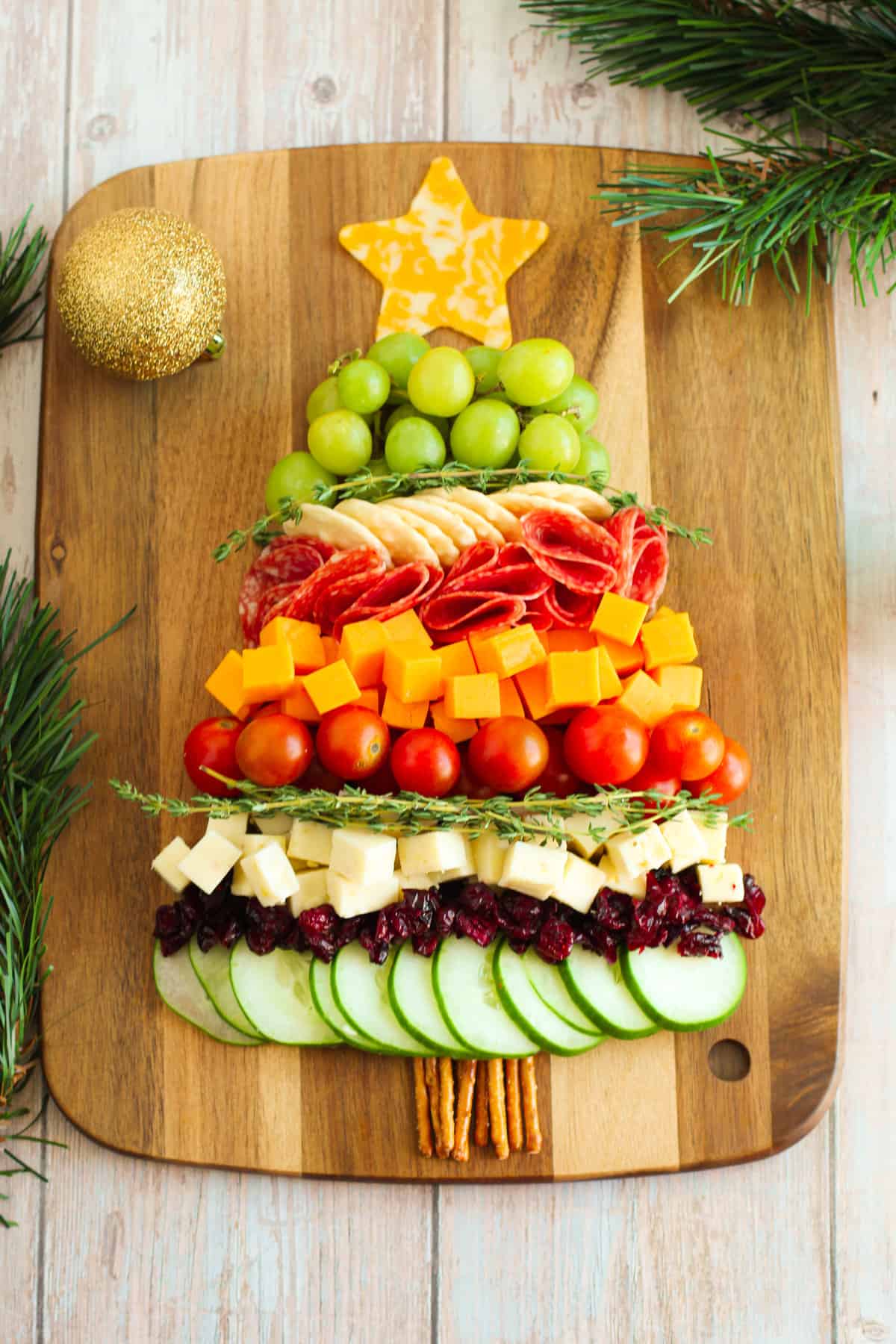 With so many holiday parties coming up, you need an easy holiday appetizer that's festive and impressive. I've got you covered! This simple holiday charcuterie board has that wow factor but can be put together in just 10 minutes. How easy is that?
It's the perfect pairing of flavors like savory salami and cheese combined with dried cranberries, and green grapes bursting with sweetness. Even the kids will love it!
This appetizer is easy to "refill" as your guests eat, so you don't have to worry about running out. I'm all about taking the stress out of the holidays wherever possible.
The best part? It's the perfect meat and cheese board for those who are new to making charcuterie. You won't find any fancy or expensive ingredients here. It's made with practical foods you can easily find and that your kids will love.
Ingredients
Let's gather what we need to make this Christmas tree cheese platter.
This section includes ingredient notes and substitution options. Get all measurements, ingredients, and instructions in the printable recipe card at the end of this post.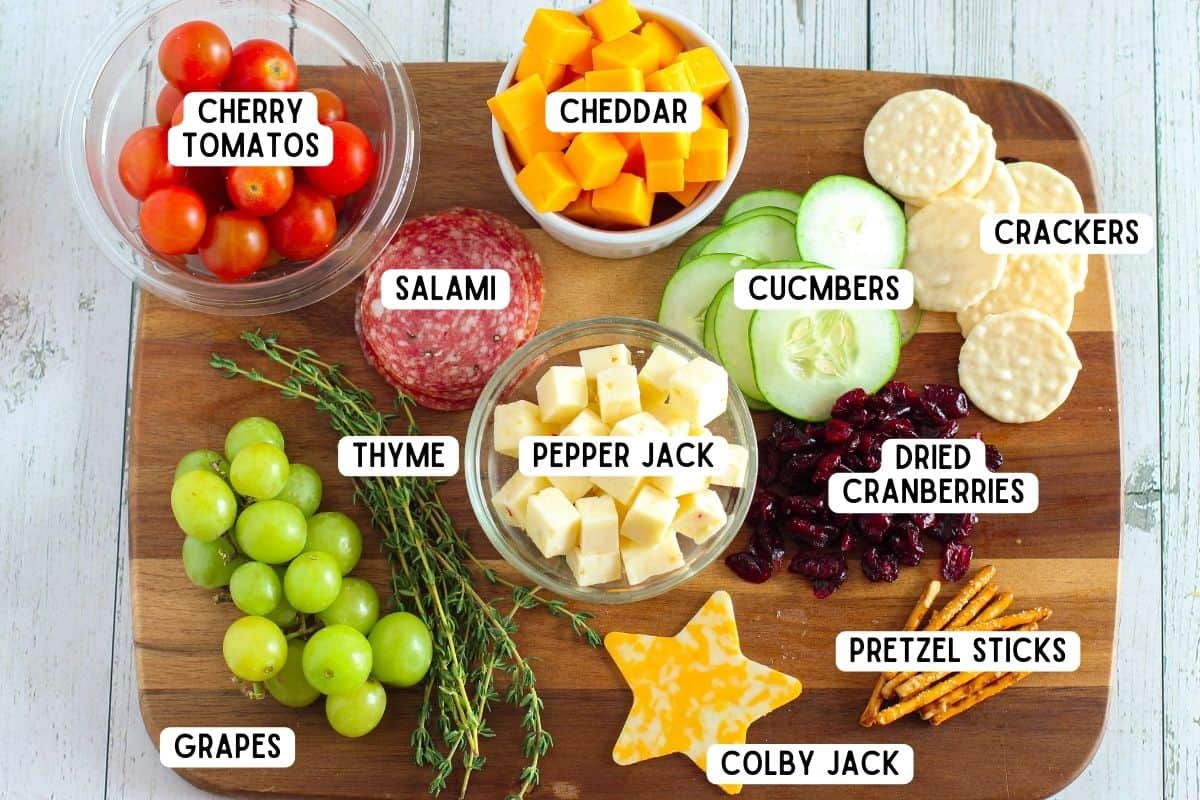 Colby Jack Cheese — You'll need one slice of Colby cheese to make the star cutout. Of course, you can use a different type of cheese such as white cheddar.
Green Grapes — Firm, chilled green grapes add a bright pop of fruity flavor to your festive board.
Crackers — Any round crackers will do, such as Good Thins or Ritz crackers.
Salami — Choose hard salami rather than Genoa salami here. Hard salami is firmer and less greasy, which will hold up better on your cheese board.
Cheddar Cheese — Cut an 8 ounce block of cheddar cheese into small cubes. Save yourself some time by buying cheese that's already cubed if you're in a hurry!
Cherry Tomatoes — Cherry tomatoes have a sweet flavor that pairs beautifully with meats and cheeses. However, grape tomatoes — while firmer and less sweet — can work in a pinch.
Pepper Jack Cheese — Add a little kick of spice to your holiday charcuterie board with yummy pepper jack!
Dried Cranberries — They'll offer beautiful deep red color and some sweetness. Fresh cranberries or sugared cranberries would also be fabulous here.
Cucumber — Leave the peel on the cucumber to get that beautiful green color. You could also use green apple slices here, but soak them in lemon juice first to prevent browning.
Pretzel Sticks — Pretzel sticks are the perfect size, shape, and color to make the tree trunk.
Sprigs of Thyme — These are purely for decoration because the sprigs look like little Christmas tree branches, but you can leave them out or use sprigs of rosemary, if you prefer.
Equipment You'll Need for a Charcuterie Christmas Tree
You don't need much to pull together a festive Christmas tree charcuterie board, but here are some of my favorite tools:
How to Make a Christmas Tree Charcuterie Board
This section shows you how to make the recipe with step-by-step photos and instructions. For the full printable recipe, see the recipe card below.
Step 1: With a star-shaped cookie cutter, cut a star shape out of the slice of cheese. Place the star at the top of the wooden cutting board where the top of the tree will be.
Step 2: Under the star, add a bunch of green grapes.
Step 3: Below the grapes, place a row of round crackers on their side in an angled row.
Step 4: Fold the sliced salami in half, and then fold it in half again. Place the flowered edges face up. Add several in a row to create the next layer of the tree.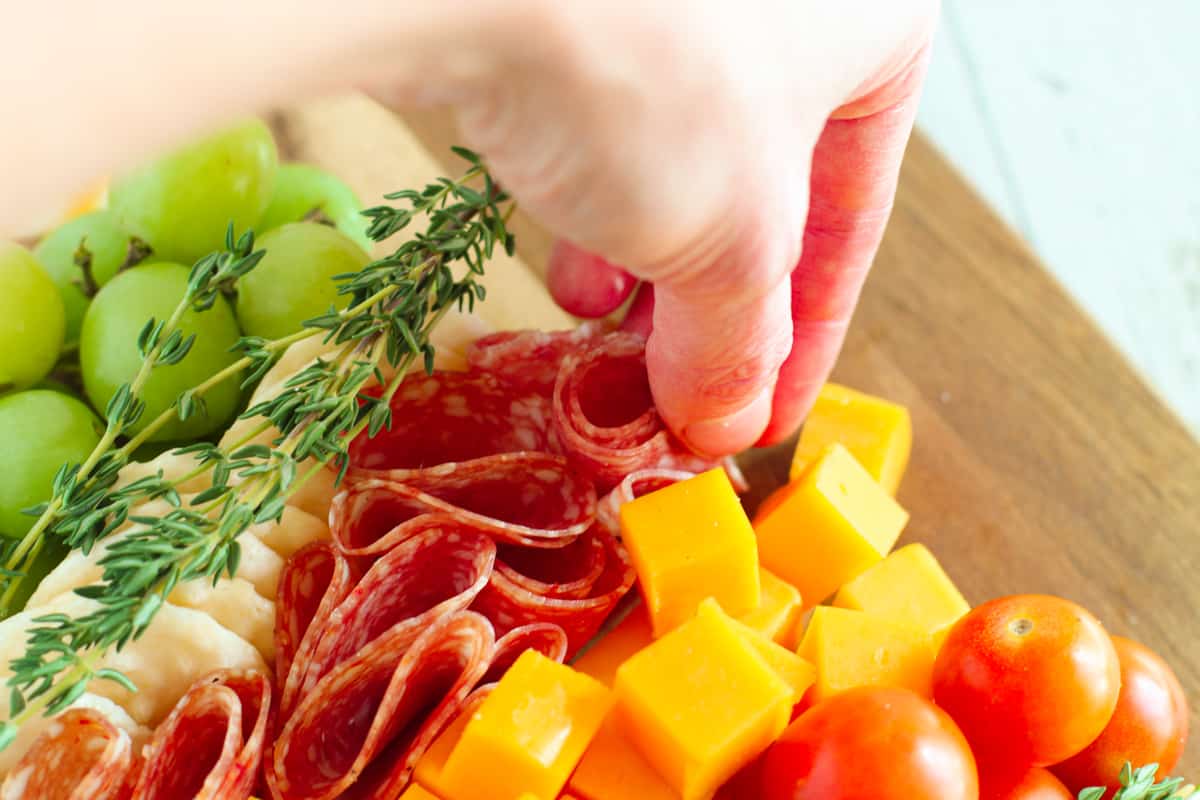 Step 5: Add cheddar cheese cubes under the salami in a row that is slightly longer than the meat to begin to create the triangled shape of the tree.
Step 6: Add cherry tomatoes below the cheddar, again creating a slightly longer row.
Step 7: Do the same with the cubed pepper jack cheese, the dried cranberries, and then the sliced cucumbers.
Step 8: Add pretzels sticks under the cucumbers to create a tree trunk.
Step 9: Add sprigs of fresh thyme between some of the layers to give the look of tree branches.
Serving Suggestions
Wine is often served with charcuterie, though beer or even whiskey are becoming popular. According to Food & Wine, the key is matching or contrasting the flavors in the cheese. Non-alcoholic drink options include tea, coffee, and citrus sodas. Serious Eats offers advice on pairing spirits and cocktails with charcuterie.
Looking for more appetizer ideas? Skip to the bottom of the post right before the recipe card for some favorites! Don't forget to bring along some Christmas cookies — you'll find lots of easy ones here.
Storage and Freezing
Refrigerating: Remove the crackers from the cheese board. Wrap leftovers tightly with plastic wrap or place them in an airtight container and store in the refrigerator for up to 3 days.
Freezing: I do not recommend freezing charcuterie with all the ingredients still assembled together. However, you can freeze the meats and cheeses wrapped separately for up to 2 months.
Charcuterie Tree Tips and Tricks
If you have a hard time with your salami staying put in the Christmas tree shape, place the "flowers" on toothpicks.
Use circle or star mini cutters to add "ornaments" to your tree using sliced cheese.
Swap out the ingredients to suit your family's tastes. You'll find some recommendations below, but this is a very approachable charcuterie board that's great for your first time making one!
Cheese is best served at room temperature to really bring out the flavors, but the meats should be chilled until you're ready to serve the charcuterie.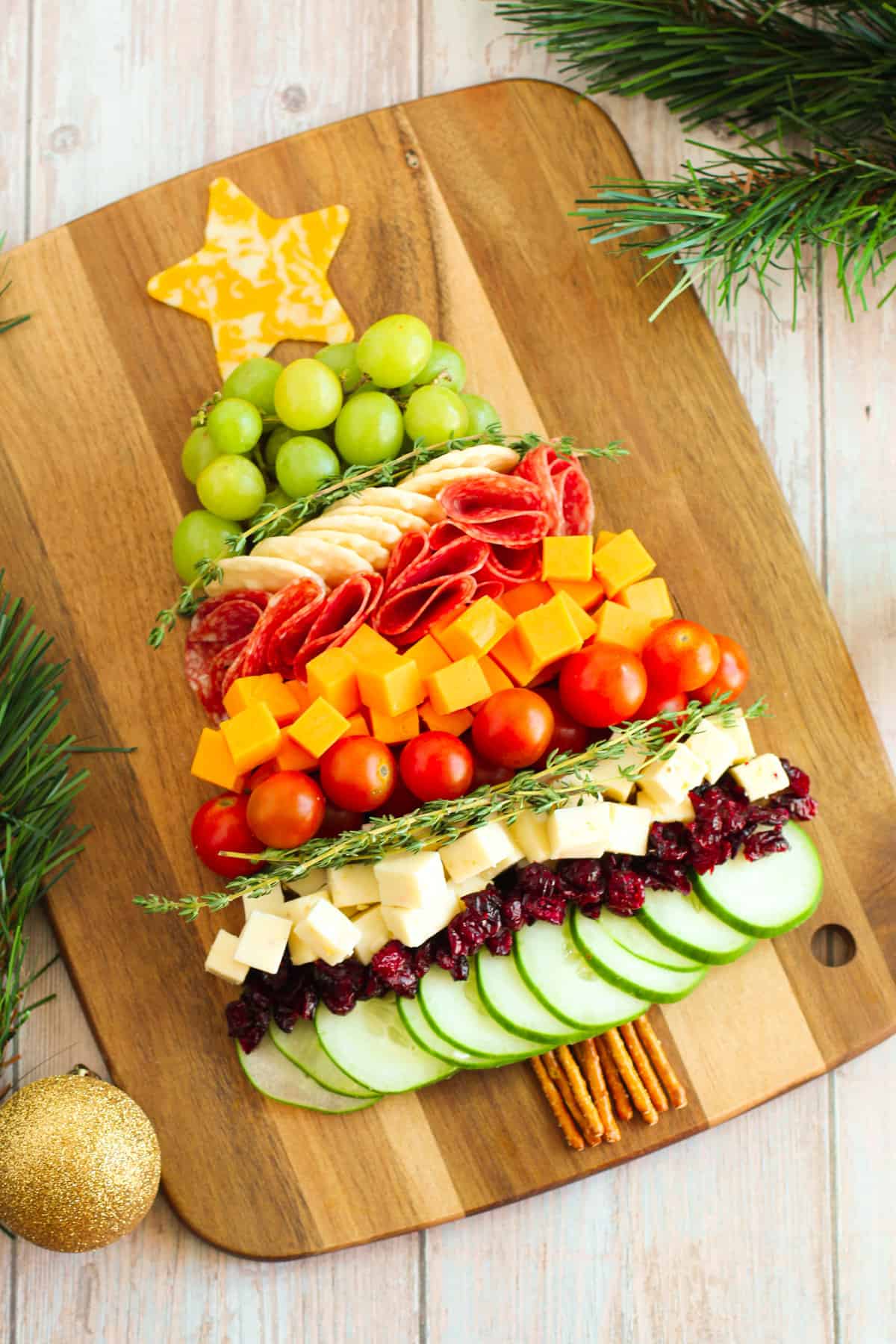 Additions and Variations
This Christmas tree cheese board is all about the colors and the way they're arranged in the shape of a Christmas tree. Here are some alternate ingredients and ideas to try if you don't like the ones presented. Seasonal produce tastes best, but use what you like!
Try different types of cheese. Instead of those listed, try provolone, Havarti, or another favorite cheese.
Use different red produce. Instead of cranberries and tomatoes, try raspberries or cherries.
Change the green produce. Green olives, edamame, cubed green apples with the skin facing out, or pears could all work on this board.
Swap out the meat. Not a fan of salami? Opt for prosciutto or some of your favorite meats instead!
Christmas Tree Charcuterie FAQ
What should I put on a Christmas charcuterie board?
A mix of sweet and savory flavors works best for a festive charcuterie board. Popular items include meats, cheeses, fruit, vegetables, nuts, crackers, jams, jellies, and chocolate. This recipe calls for cheese, grapes, crackers, salami, tomatoes, cranberries, cucumbers, pretzels, and sprigs of thyme. Super easy!
How far in advance can you make a charcuterie board?
Charcuterie is best served as fresh as possible, but feel free to make it a few hours or even a day ahead of time. Leave out crackers, breads, and nuts, and keep the board tightly wrapped in the refrigerator until ready to serve. Add the crackers, etc. right before serving.
Should charcuterie be served cold?
Meats should be served chilled, and some produce, such as grapes, often taste better chilled. Cheeses are best served at room temperature to bring out their flavors.
How long can a charcuterie board sit out?
The FDA cautions that 2 hours is the maximum for cold foods to be out on the table. Any longer, and you risk contamination and increased bacterial growth. If you're in a place where the temperature is higher than 90°F, food cannot stay out more than 1 hour.
More Delicious Holiday Appetizers
Make the most of your family get togethers this Christmas season with some of these simple appetizers:
Recipe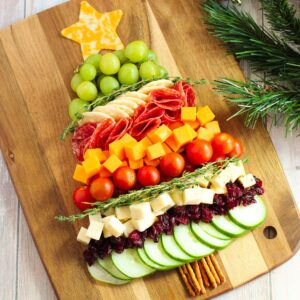 Recipe
Christmas Tree Charcuterie Board
Create an impressive and festive Christmas tree charcuterie board using easy-to-find ingredients available in any supermarket. This easy appetizer is ready in 10 minutes and looks so cute!
Ingredients
1 slice of colby jack cheese
1 cup green grapes
10-12 round crackers
8 ounces hard salami sliced
8 ounces cheddar cheese cubed
1 cup cherry tomatoes
8 ounces pepper jack cheese cubed
⅔ cup dried cranberries
1 cucumber sliced
10-12 pretzel sticks
sprigs of fresh thyme for decorating
Instructions
Use a star shaped cookie cutter to cut a star out of a slice of Colby jack cheese. Place the star at the top of a wooden cutting board.

Beneath the star, add a bunch of green grapes.

Place crackers on their side in an angled row.

Fold sliced salami in half and half again. Place the flowered edges face up. Add several in a row to create the next layer of the tree.

Add cheddar cheese cubes underneath in a row that is slightly longer than the salami to begin to create the triangled shape of the tree.

Add cherry tomatoes as the next layer, again creating a slightly longer row.

Do the same with cubed pepper jack cheese, followed by dried cranberries and sliced cucumbers.

Add mini pretzel sticks at the bottom of the tree to create a trunk.

Garnish with sprigs of fresh thyme to resemble tree branches.
Notes
The cutting board in the photos is approximately 11.5 x 15 inches. You can use a different size board and adjust the size of your tree accordingly.
Nutrition
Serving: 1g | Calories: 394kcal
Did You Make This Recipe?
Share it with me on Instagram @crayonsandcravings and follow on Pinterest @crayonsandcravings for even more!