Posts may contain affiliate links, meaning that I may earn a commission if you use a link provided.
Drizzled with chocolate and topped with sprinkles and mini marshmallows, this chocolate covered popcorn has an ice cream sundae vibe.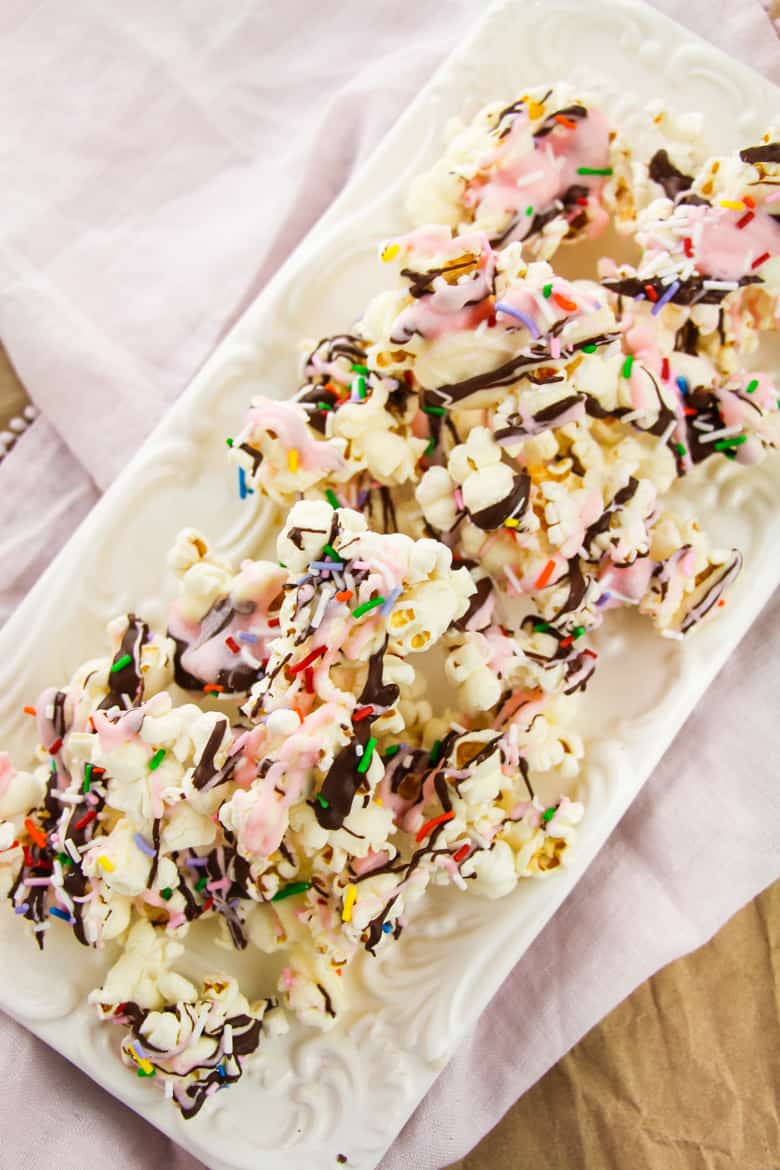 If you came to our house and looked in our pantry (aka kitchen cabinets), you would find popcorn. No matter the day, we always keep popcorn stocked.
It is delicious, easy to prepare, and makes for a yummy snack.
But popcorn can transform from a snack to dessert in seconds with a bit of marshmallows or melted chocolate.
And to take it a step further, chocolate covered popcorn can be tweaked with different toppings and mix-ins. (Have you seen our unicorn popcorn? Oh my goodness… it is amazing).
Sundae Chocolate Covered Popcorn
Today I want to share this drool-worthy ice cream sundae themed popcorn recipe.
It is easy to make using popcorn, melting chocolate and white chocolate, strawberry candy melts, sprinkles, and mini marshmallows.
We popped our own popcorn in the air popper, but you can use whichever popcorn you prefer.
You will start by spreading out your popcorn in an even layer on a lined baking sheet.
Then, melt your chocolate and candy melts. Use a spoon to drizzle them on top of the popcorn generously.
Quickly top with rainbow sprinkles and mini marshmallows, before the chocolate starts to set.
Finally, set the baking sheet aside and give the chocolate time to fully set. Once set, transfer to airtight bags or containers until serving.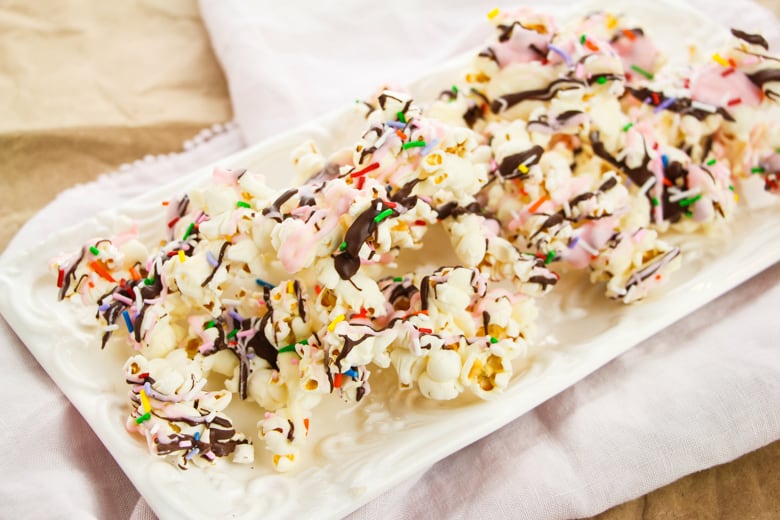 Enjoy your sundae popcorn as a mid-day treat or dessert on its own, or use it to top your ice cream sundae. Either way, you will love this sweet treat!
Related >> Cake Batter Popcorn
Possible Substitutions
Feel free to add additional "toppings" to your popcorn sundae.
If your family loves nuts, add some nuts. Or maybe they are crazy for M&M. Just have fun with it!
Like Ice Cream Sundaes?
Any fan of ice cream sundae needs to try this crazy ice cream sundae nacho recipe at least once in their lives!
Recipe
Recipe
Sundae Popcorn
Drizzled with chocolate and topped with sprinkles and mini marshmallows, this chocolate covered popcorn has an ice cream sundae vibe.
Ingredients
5 cups popcorn air-popped preferably
1/2 cup chocolate almond bark or chocolate chips
1/2 cup vanilla almond bark or white candy melts
1/2 cup strawberry candy melts
2 Tablespoons sprinkles/jimmies
2 Tablespoons mini marshmallows
Instructions
Line a baking sheet with parchment paper or wax paper. Spread popcorn on baking sheet in an even layer.

Place each variety of chocolate / candy melts into a individual microwave safe bowl. One at a time, melt in the microwave in 15-20 second intervals, stirring after each interval, until completely melted.

Drizzle the melted chocolates on the popcorn and then sprinkle on the sprinkles and mini marshmallows while the chocolate is still wet.

Allow chocolate to set before serving or packaging (shouldn't take longer than 1 hr).
Notes
- You can pop your own popcorn or use store bought - If you are in a hurry, you can shorten the time it takes the chocolate to set by placing the popcorn in the refrigerator.
Nutrition
Serving: 1g | Calories: 266kcal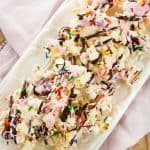 Did You Make This Recipe?
Share it with me on Instagram @crayonsandcravings and follow on Pinterest @crayonsandcravings for even more!
This recipe was shared on Meal Plan Monday.