Slow Cooker Salsa Chicken
Posts may contain affiliate links, meaning that I may earn a commission if you use a link provided.
This Slow Cooker Salsa Chicken recipe has only 3 ingredients and just needs 5 minutes of prep. The slow-cooked shredded salsa chicken is perfect for everything from tacos and nachos to burrito bowls and salads!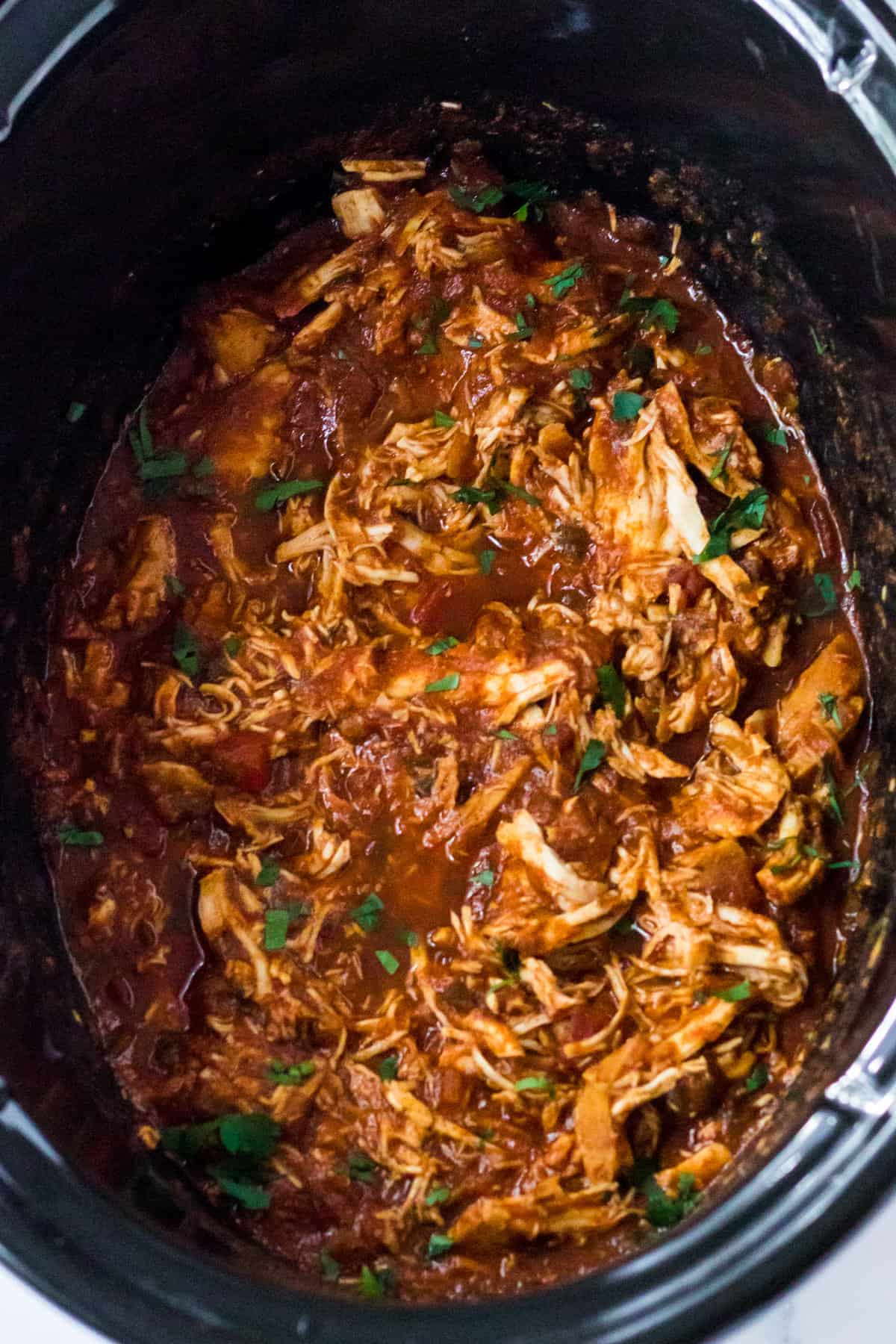 Want to switch things up for Taco Night? This crockpot salsa chicken is one of the easiest recipes to make. Just dump it all in, and let the crockpot do the work for a delicious meal on busy weeknights. For another easy taco tuesday recipe try these tasty 4 ingredient slow cooker queso chicken tacos.
Made with simple ingredients like chicken breasts, salsa, and taco seasoning, this easy dinner recipe is packed with flavor and can be adapted to your family's tastes.
The best part is that you can use it to make loads of different dishes. Add the chicken to hard or soft tacos, serve it over rice, pile it onto a baked potato, or make a healthy taco salad. You have so many options from one simple recipe.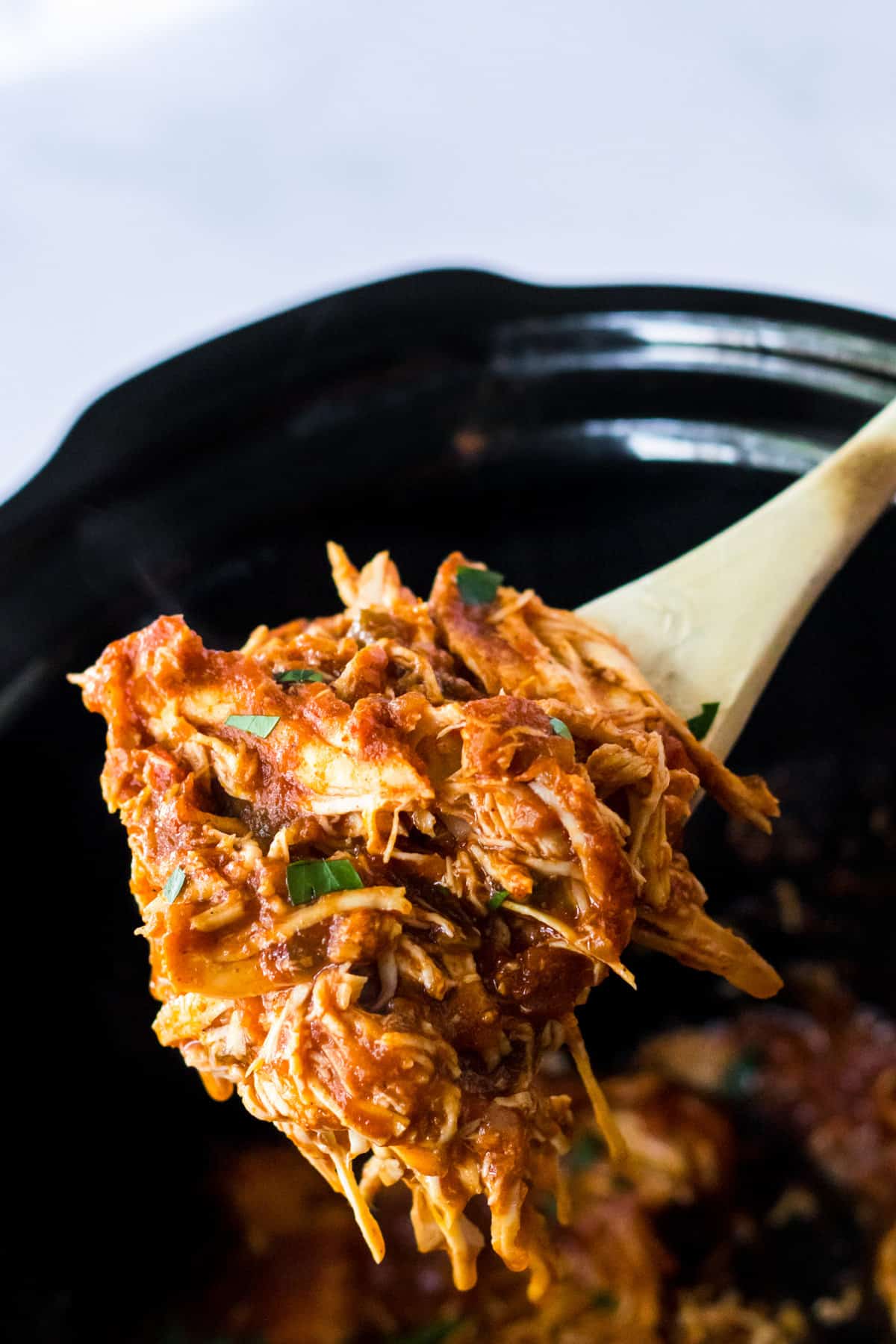 For more easy recipes you can make in the slow cooker, try this Crockpot Brown Sugar Chicken or Crockpot Marry Me Chicken. Both are super simple to make but are impressive enough to serve to guests when you have company.
For now, let's get to the crockpot salsa chicken recipe. Make it for dinner tonight or for your meal prep for this week.
Ingredients for Slow Cooker Salsa Chicken
This section includes ingredient notes and substitution options. Get all measurements, ingredients, and instructions in the printable recipe card at the end of this post.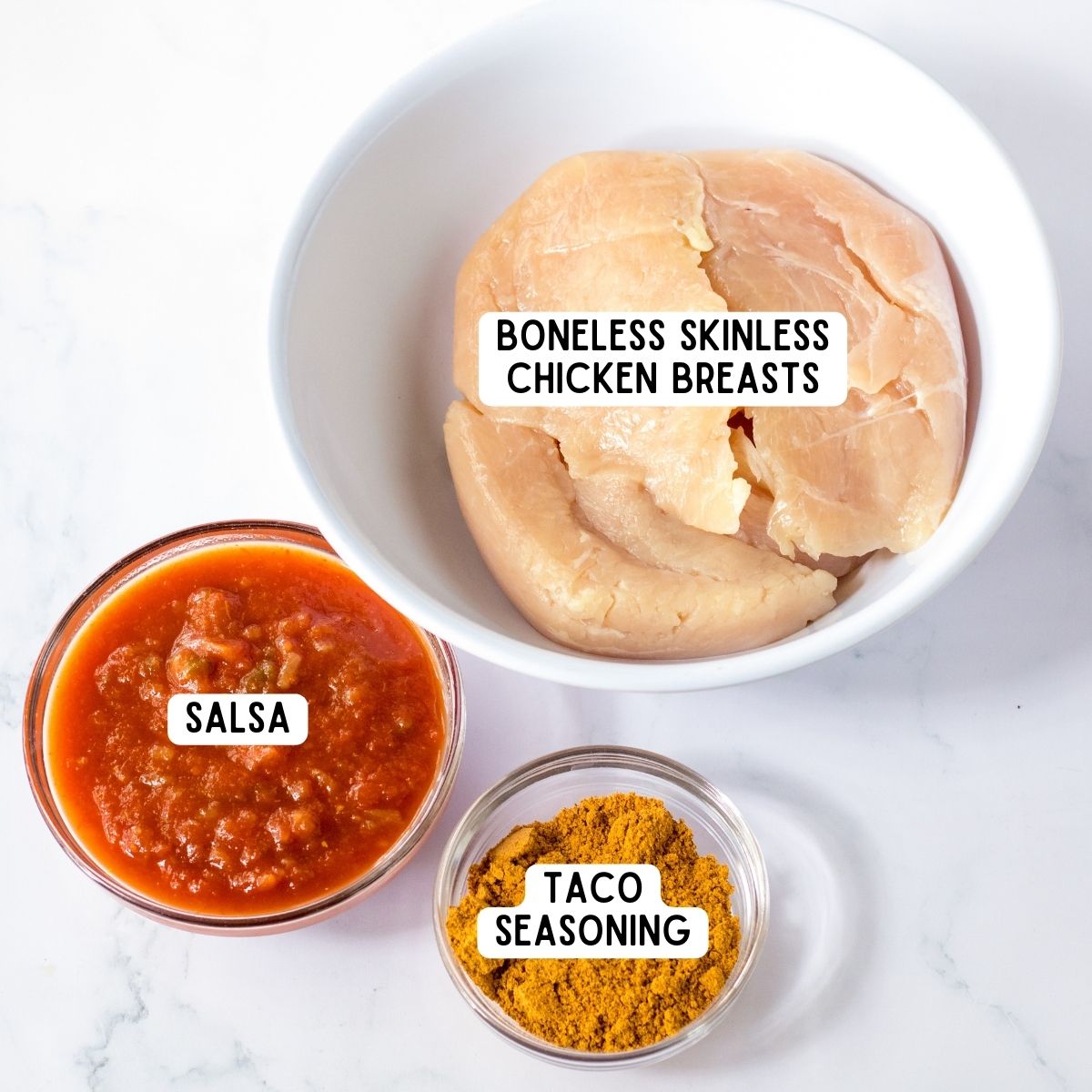 Boneless Skinless Chicken Breasts — Use boneless chicken breasts to make shredding it easier. You can also use boneless chicken thighs if you want; they have more flavor. Remember to trim the fat off.
Salsa — Use a bottle of your favorite salsa or homemade salsa. You'll need one jar – about 2 cups total.
Taco Seasoning — You'll need 1 envelope of taco seasoning. Use mild, medium, or spicy — your choice! Homemade taco seasoning also works well. A 1-ounce envelope equals about 3 tablespoons of homemade seasoning.
Equipment You'll Need
6-quart slow cooker
two forks for shredding
How to Make Salsa Chicken in the Crockpot
This section shows you how to make the recipe with step-by-step photos and instructions. For the full printable recipe, see the recipe card below.
Step 1: Spray the crockpot with cooking spray. Add the raw chicken breasts to the bottom of the crockpot in an even layer.
Step 2: Sprinkle taco seasoning over the chicken, and then pour the salsa on top.
Step 3: Cover and cook on low for 4-6 hours (preferred) or on high for 3-4 hours. The chicken is ready when it reaches an internal temperature of 165°F and shreds easily.
Step 4: Use two forks to shred the chicken. Stir the chicken back into the salsa.
Step 5: Serve salsa chicken in tacos, burritos, quesadillas, or burrito bowls. Enjoy!
Serving Suggestions
Salsa chicken is so versatile. Spread it over a bed of tortilla chips to make nachos, stuff it into tacos or burritos, serve it over white rice, cauliflower rice, or Mexican rice, or make a delicious burrito bowl. For a lighter meal or healthy lunch, serve the chicken in lettuce wraps or over a nice, big salad. Don't forget to add your favorite toppings such as avocado, shredded cheddar cheese (or a Mexican blend), and a dollop of sour cream.
My Watermelon Fruit Salad is the perfect sweet and refreshing side dish to go with your Taco Tuesday meals.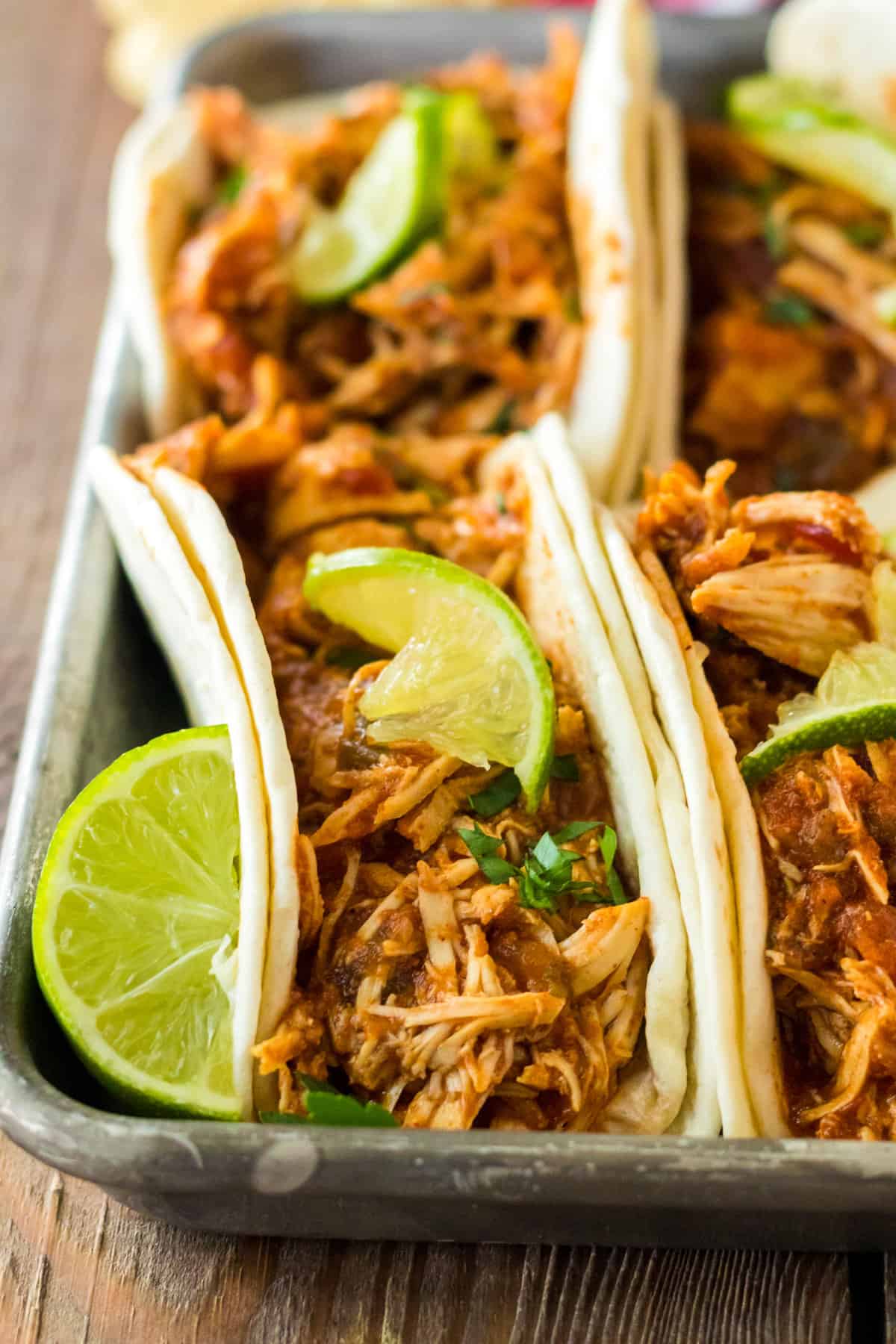 Storage and Freezing
Refrigerator: Store leftover salsa chicken in the fridge in an airtight container for up to 3 days.
Freezer: This easy slow cooker salsa chicken freezes beautifully! Put it in a freezer bag with as much of the air squeezed out as possible. Freeze for up to 3 months. Thaw in the fridge overnight.
Crock Pot Salsa Chicken Tips and Tricks
Cooking times can vary when it comes to slow cookers. To ensure your chicken is cooked through, check the internal temperature with a meat thermometer in the thickest part of the chicken. It should read 165°F.
To shred chicken faster, use a hand mixer! In just seconds, you'll have it all shredded and ready to go.
Let the shredded chicken rest in the salsa for 5-10 minutes before serving so it can soak up even more flavor.
To make cleanup easier and avoid sticky messes in your crockpot, try using a slow cooker liner.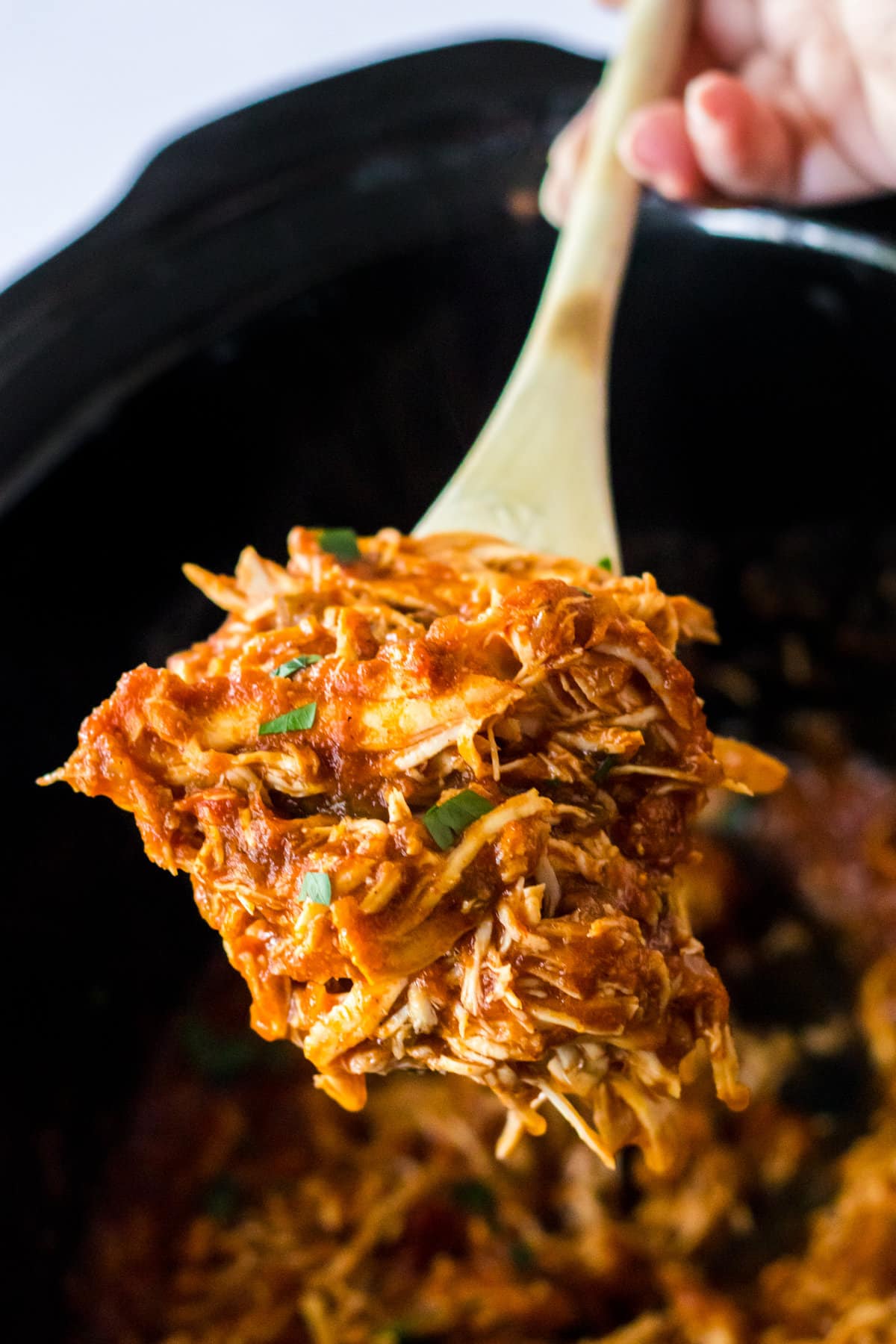 Additions and Variations
Add black beans and corn. Make this slow-cooker salsa chicken recipe heartier by adding a can of black beans and/or sweet corn about an hour before the chicken is done. Be sure to drain the beans and/or corn first.
Brighten it up. Garnish the chicken with fresh cilantro and lime wedges. A squeeze of lime juice over the top right before serving adds brightness to this delicious dish.
Lower the sodium. If you're watching your salt, use reduced sodium taco seasoning instead of regular. You can also make your own taco seasoning blend without salt using spices like chili powder, cumin, oregano, onion powder, garlic powder, etc.
Make it spicy. If you like heat, spice this dish up by using hot salsa or adding diced jalapenos along with the chicken in the slow cooker. You can also use spicy taco seasoning!
Easy Salsa Chicken Recipe FAQ
Can I use boneless chicken thighs instead of chicken breasts for this slow cooker salsa chicken recipe?
Yes, you can. They'll be delicious. Remember to trim any fat off the chicken thighs before putting them in the slow cooker.
Can I use frozen chicken?
No, you should always thaw chicken before slow cooking it, per food safety guidelines from the USDA. Frozen chicken may stay in the danger zone for too long before it reaches a safe temperature, increasing the risk of food-borne illness.
Is it better to cook chicken on high or low in the slow cooker?
I recommend cooking chicken on low in the slow cooker whenever possible. The low setting allows the chicken to cook slowly, resulting in tender, more juicy meat. The high setting can sometimes cook the chicken too quickly, making it tough or dry. That said, if you're in a pinch and need to cook the chicken faster, the high setting can come in handy. Just make sure to check it regularly to prevent overcooking.
How do you keep chicken from drying out in the slow cooker?
Overcooking is usually the reason for dry chicken, so cooking it on low is the best option, particularly if you're working with a new slow cooker and you're not familiar if it runs on the hotter or cooler side. Your chicken will also come out dry if you use a slow cooker that's too large. For this recipe, a 5-6 quart slow cooker works just fine. Finally, adding liquid helps keep the chicken moist, though the chicken will also release some of its own juices while cooking. For this recipe, the salsa provides the needed moisture.
Can I use homemade salsa instead of jarred salsa?
Of course! It'll give the chicken a delicious fresh flavor. You'll need 2 cups of homemade salsa for the recipe.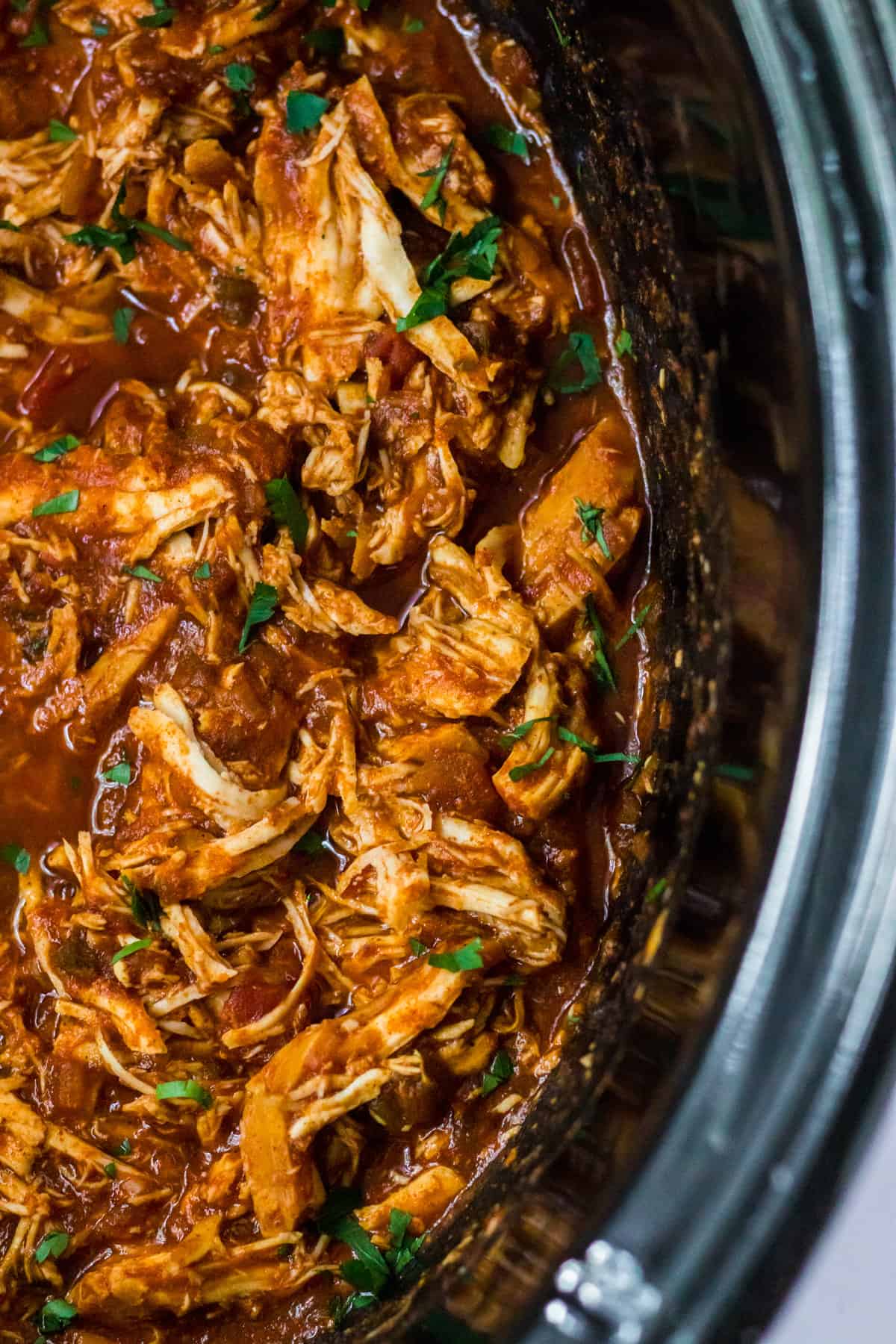 More Slow Cooker Chicken Recipes
Using your crockpot is such a time saver on busy days. Try one of these chicken slow cooker recipes the next time you want an (almost) effortless meal.
Recipe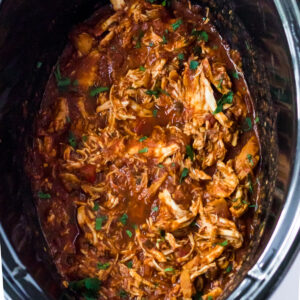 Recipe
Slow Cooker Salsa Chicken
This Slow Cooker Salsa Chicken is the best recipe ever! It only has 3 ingredients, cooks in the slow cooker and makes the most versatile chicken! You can use this chicken on everything from nachos, to tacos, burritos to quesadillas, and my favorite, burrito bowls!
Ingredients
2 pounds boneless skinless chicken breasts
1 16-ounce jar salsa
1 envelope taco seasoning (1 ounce)
Instructions
Place the chicken breasts in the bottom of the slow cooker in an even layer.

Top with taco seasoning and salsa.

Cover and cook on low for 4-6 hours or high 3-4 hours, or until chicken is cooked through (reaches an internal temperature of 165 degrees Fahrenheit) and shreds easily.

Use two forks to shred the chicken. Stir the chicken back into the sauce and serve.
Notes
Serve in tacos, burritos, lettuce wraps, or over rice.
I like to garnish our salsa chicken with cilantro and serve with a quezze of fresh lime juice.
You can spice this up by using hot salsa or adding diced jalapenos to the slow cooker.
Keep leftovers in an airtight container in the fridge for up to 3-4 days.
Nutrition
Calories: 203kcal | Carbohydrates: 8g | Protein: 33g | Fat: 4g | Saturated Fat: 1g | Polyunsaturated Fat: 1g | Monounsaturated Fat: 1g | Trans Fat: 0.02g | Cholesterol: 97mg | Sodium: 1053mg | Potassium: 754mg | Fiber: 2g | Sugar: 4g | Vitamin A: 851IU | Vitamin C: 5mg | Calcium: 29mg | Iron: 1mg
Did You Make This Recipe?
Share it with me on Instagram @crayonsandcravings and follow on Pinterest @crayonsandcravings for even more!