Slow Cooker Queso Chicken Tacos
Posts may contain affiliate links, meaning that I may earn a commission if you use a link provided.
The whole family is going to love these easy Slow Cooker Queso Chicken Tacos! All you need is your crockpot and 4 simple ingredients: chicken breasts, Rotel, a packet of taco seasoning, and queso dip. They slow cook together to make flavor-packed shredded chicken perfect for cheesy chicken tacos, a burrito bowl, or nachos.
If easy crockpot meals are your jam, you will also love these easy crockpot recipes, all with 5 ingredients or less: Mississippi Pork Roast, Slow Cooker Salsa Chicken, and Fall Apart Slow Cooker Pork Chops.
When life gets super busy and you're trying to decide if you're going to cook dinner or go through the drive thru, these Rotel chicken tacos can really save the day. They're so easy to put together, super kid-friendly, and delicious served in loads of different ways. If you've got 5 minutes of prep, they're totally hands off for the rest of the day.
You can easily tweak this recipe for your family's taste buds. Dial up the heat, add veggies, throw in some black beans and corn to make it more filling — whatever works for you.
Let's get to the queso chicken recipe now, shall we? Taco night is about to get an upgrade!
Ingredients for Crockpot Queso Chicken Tacos
This section includes ingredient notes and substitution options. Get all measurements, ingredients, and instructions in the printable recipe card at the end of this post.
Chicken Breasts — Boneless, skinless chicken breasts are the base for this easy slow cooker recipe. I have had success using anywhere between 2 and 3 pounds of chicken.
Taco Seasoning — You'll need an envelope of your favorite brand of taco seasoning or about 2-3 tablespoons of homemade taco seasoning.
Rotel — The combination of tomatoes and green chilies adds the perfect amount of heat and helps keep the chicken moist while cooking.
Queso Cheese Dip — The Mexican cheese dip gives this dish its creamy, cheesy goodness. Queso blanco or salsa con queso are both great options. Feel free to add more or less queso dip as desired for your personal preferences.
Flour tortillas, taco shells, tortilla chips, and your favorite toppings are optional, for serving.
Equipment You'll Need for Crockpot Queso Chicken
To make this easy chicken dish, you only need your slow cooker and a pair of forks for shredding the chicken. Alternatively, you can use a hand mixer to shred the chicken quickly.
How to Make Slow Cooker Queso Chicken Tacos
This section shows you how to make the recipe with step-by-step photos and instructions. For the full printable recipe, see the recipe card below.
Step 1: Spray your slow cooker with non-stick cooking spray (optional), and place chicken breasts in a single layer in the bottom of the crock pot. Top with taco seasoning and Rotel.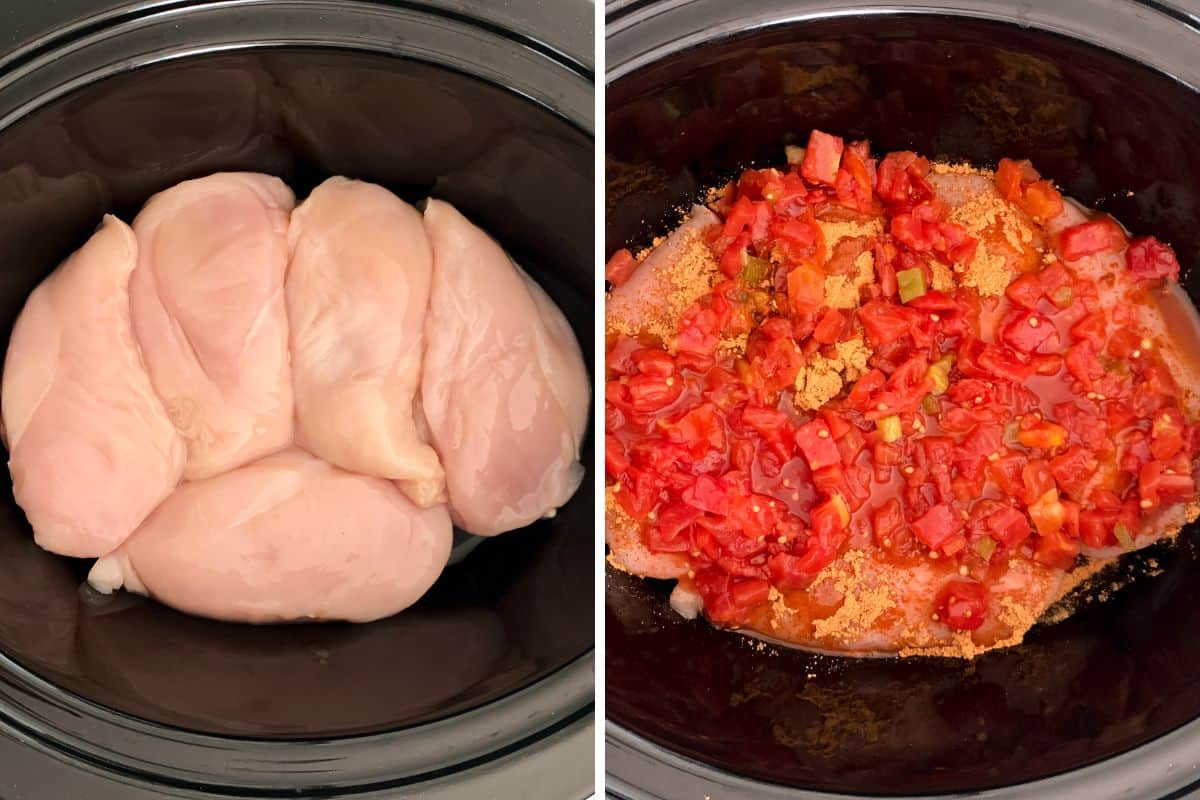 Step 2: Cook the chicken on low for 6-8 hours or on high heat for 3-4 hours. It's done when it has reached an internal temperature of at least 165°F and shreds easily with two forks.
Step 3: Discard about 3/4 of the liquid from the crockpot. Then, shred the chicken with two forks and stir in the jar of queso. Put the lid back on the crockpot and cook the chicken mixture on low for 15 minutes, or until the cheese is heated through.
Serving Suggestions
You're going to love how flexible this easy chicken queso recipe is. Pile it high on rice, or stuff it into soft tortillas or hard taco shells for an amazing meal on Taco Tuesday along with our yummy easy layered taco dip.
Got a crowd coming over? Spread it over nachos, sprinkle with a few extra toppings, and watch them disappear. You could even serve the chicken as a dip with tortilla chips!
Don't forget to add a few of your favorite taco toppings to this easy dinner!
Suggested Toppings:
Fresh cilantro
Diced avocados or guacamole
Fresh or pickled jalapenos
Sour cream or Greek yogurt
Shredded lettuce
Freshly squeezed lime juice
Chopped tomatoes or pico de gallo
Sliced black olives
Diced red or green onions
Shredded cheddar cheese
Salsa
Extra queso
Storage and Freezing
Refrigerator: Keep leftover queso chicken in an airtight container in the refrigerator for up to 3 days.
Freezer: While it's best eaten within a few days, you can also freeze leftovers. Place them in a freezer-safe bag or airtight container and freeze for up to 2 months. Thaw in the refrigerator overnight and reheat in the microwave in 30-second increments until warmed through.
Cheesy Chicken Tacos Tips and Tricks
Use a hand mixer instead of 2 forks if you want to shred the chicken quickly. Remember to remove most of the liquid first.
Don't overcook the chicken. Start checking for doneness at the minimum required cooking time in case your slow cooker runs hot.
Add a splash of chicken broth or a tablespoon of queso when reheating to keep it from drying out in the microwave.
Additions and Variations to this Slow Cooker Queso Chicken Tacos Recipe
Add black beans and corn. Add a drained can of black beans and a cup of frozen corn during the last hour of cooking for extra texture and a pop of color.
Make it extra-spicy. Spice it up with some chopped jalapeños or additional canned green chilies.
Squeeze in more veggies. Add in some bell peppers, onions, or zucchini during the last 2 hours of cooking to incorporate more veggies into your meal.
Swap Rotel for salsa. Not a fan of Rotel? Don't have any on hand? You can use the same amount of salsa instead.
Make it low carb. Use low carb tortillas to make tacos or serve the spicy chicken over a nice, big salad.
Rotel Chicken Tacos FAQ
Can I use chicken thighs instead of chicken breasts?
Yes, you absolutely can. Boneless skinless chicken thighs are often juicier and more flavorful than chicken breasts. You may need to reduce the cook time since chicken thighs are smaller. Use a meat thermometer to ensure they reach 165°F in the thickest part of the meat.
Why is my queso chicken watery?
If it's watery, it's probably because you forgot to remove most of the liquid before adding the jar of queso. Remember to remove about 3/4 of the liquid before stirring in the queso.
Is this chicken spicy?
The spiciness of the dish can be adjusted according to your preferences. If you like less spicy chicken, opt for mild taco seasoning, Rotel, and queso. If you love a spicy kick, go for hotter versions of these ingredients. You can also add jalapenos or more green chiles to make it hotter.
Can I use frozen chicken breasts?
Cooking chicken from frozen in the slow cooker can cause the chicken to stay at an unsafe temperature range for too long, per the USDA. Always defrost your chicken completely before adding it to the slow cooker.
Can I use homemade taco seasoning?
Of course. To make an easy homemade taco seasoning, mix together 1 Tablespoon chili powder, 1/4 teaspoon garlic powder, 1/4 teaspoon onion powder, 1/4 teaspoon crushed red pepper flakes, 1/4 teaspoon dried oregano, 1/2 teaspoon paprika, 1.5 teaspoons ground cumin, and 1 teaspoon each of salt and black pepper.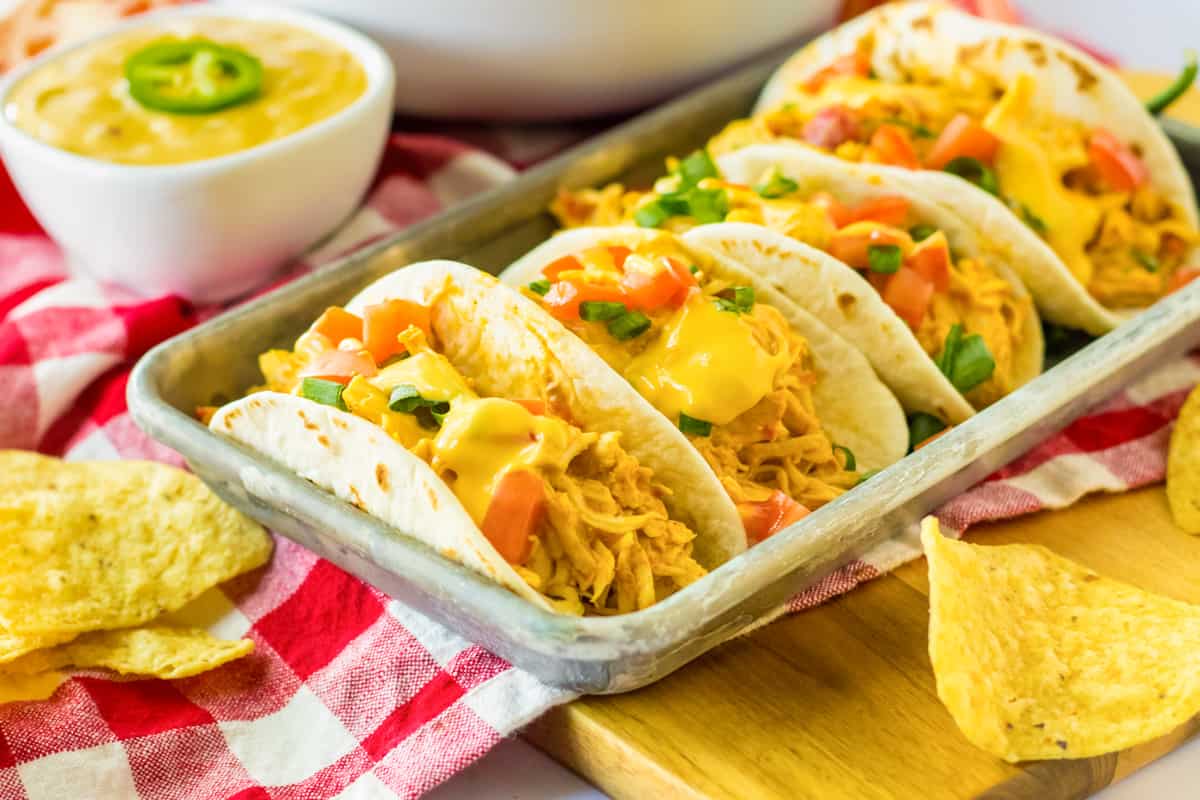 More Crockpot Chicken Recipes
Get dinner ready with minimal effort by making one of these easy slow cooker recipes for a delicious weeknight meal.
Recipe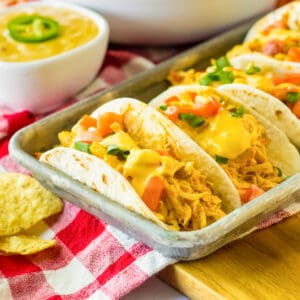 Recipe
Slow Cooker Queso Chicken Tacos
You will love this cheesy shredded chicken recipe with only 4 easy ingredients and 5 minutes of prep! It's perfect for tacos, burrito bowls, nachos, and salads.
Equipment
6 quart or larger slow cooker
Ingredients
2 pounds boneless skinless chicken breasts
1 ounce taco seasoning (1 envelope)
10 ounce Rotel diced tomatoes with green chilies (1 can)
15 ounces queso cheese dip (1 jar)
Instructions
Place the chicken breasts in the bottom of the slow cooker in an even layer. Sprinkle with taco seasoning and top with Rotel (undrained).

Cover and cook on low for 6-8 hours or high for 3-4 hours, or until chicken is cooked through (reaches an internal temperature of 165℉) and shreds easily.

Using a ladle or large spoon, remove and discard about ¾ of the liquid from the slow cooker. Shred the chicken using two forks. Stir in the jar of queso. Cover and cook on low for 15 minutes, or until cheese is heated through. Serve over rice or in tortillas with your favorite taco toppings.
Notes
Do NOT drain the Rotel when adding to the crockpot. Add it to the slow cooker with the juice and then drain excess liquid after it is done cooking.
Store leftovers in an airtight container in the refrigerator for up to 3 days.
Nutrition
Calories: 385kcal | Carbohydrates: 11g | Protein: 41g | Fat: 19g | Saturated Fat: 10g | Polyunsaturated Fat: 1g | Monounsaturated Fat: 1g | Trans Fat: 0.02g | Cholesterol: 150mg | Sodium: 1722mg | Potassium: 818mg | Fiber: 2g | Sugar: 7g | Vitamin A: 1004IU | Vitamin C: 9mg | Calcium: 277mg | Iron: 1mg
Did You Make This Recipe?
Share it with me on Instagram @crayonsandcravings and follow on Pinterest @crayonsandcravings for even more!