Crockpot Parmesan Garlic Chicken Pasta
Posts may contain affiliate links, meaning that I may earn a commission if you use a link provided.
Craving pasta? You have to try this Crockpot Garlic Parmesan Chicken Pasta recipe made popular on TikTok. Tender chicken, cream cheese, and the flavorful Buffalo Wild Wings Parmesan Garlic Wing Sauce combine to create an irresistibly creamy sauce that pairs perfectly with rotini noodles. It's super easy to make, and the entire family will love it!
For another super easy crockpot meal idea give this 3-ingredient slow cooker salsa chicken recipe a try.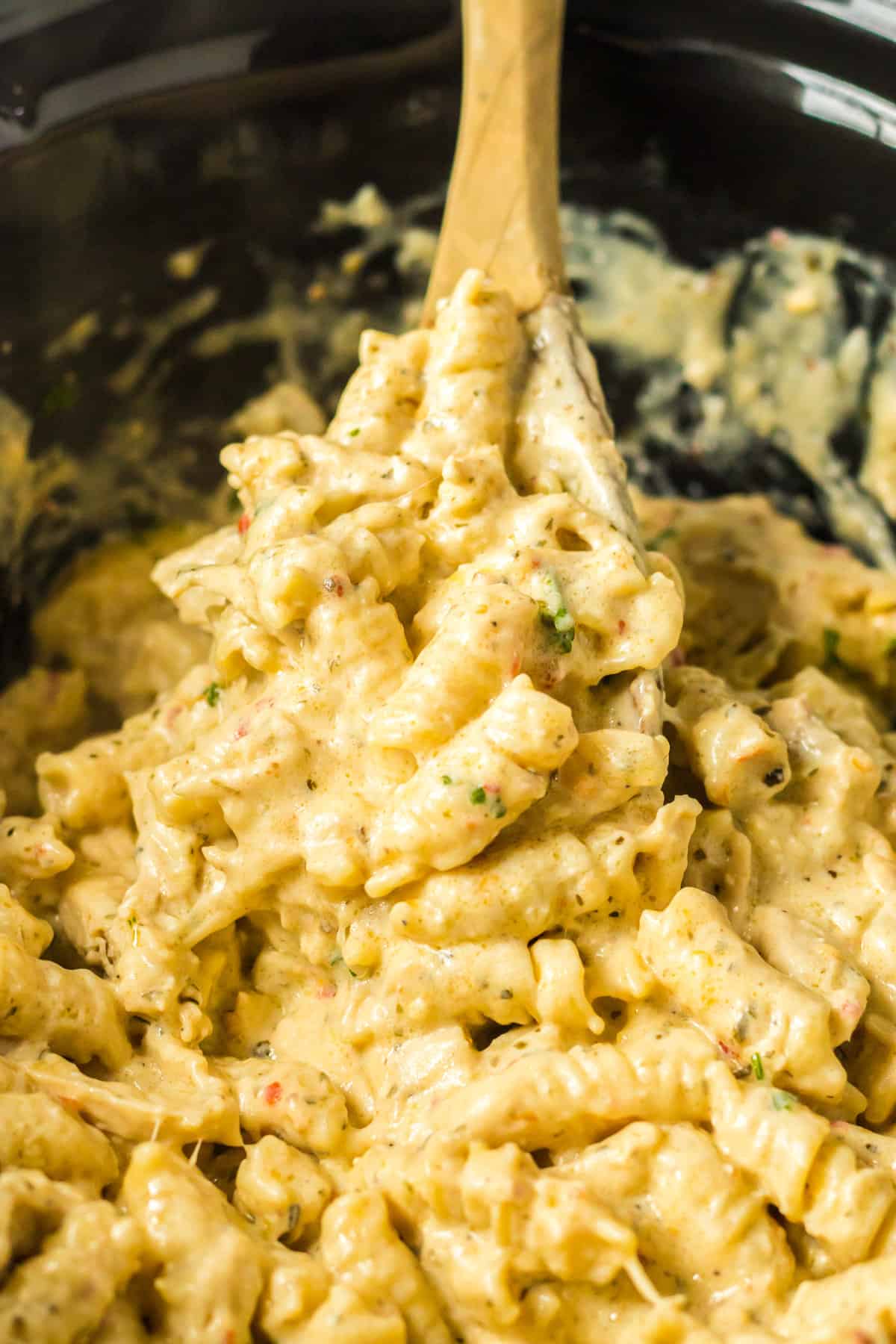 If you're looking for an easy dump-and-go crockpot meal to add to your menu rotation, make it this slow cooker parmesan garlic chicken pasta. It's a hearty meal that the whole family will love and is ideal for busy weeknights.
With just 6 simple ingredients (plus an optional garnish), this pasta dish comes together effortlessly. The star of the show is a bottle of Buffalo Wild Wings Parmesan Garlic Sauce, which you can find at many grocery stores. Dress it up with cream cheese, milk, and lots of fresh parmesan to create the creamiest, most delicious sauce that's perfect over pasta. Cheese and garlic are a match made in flavor heaven — don't you think?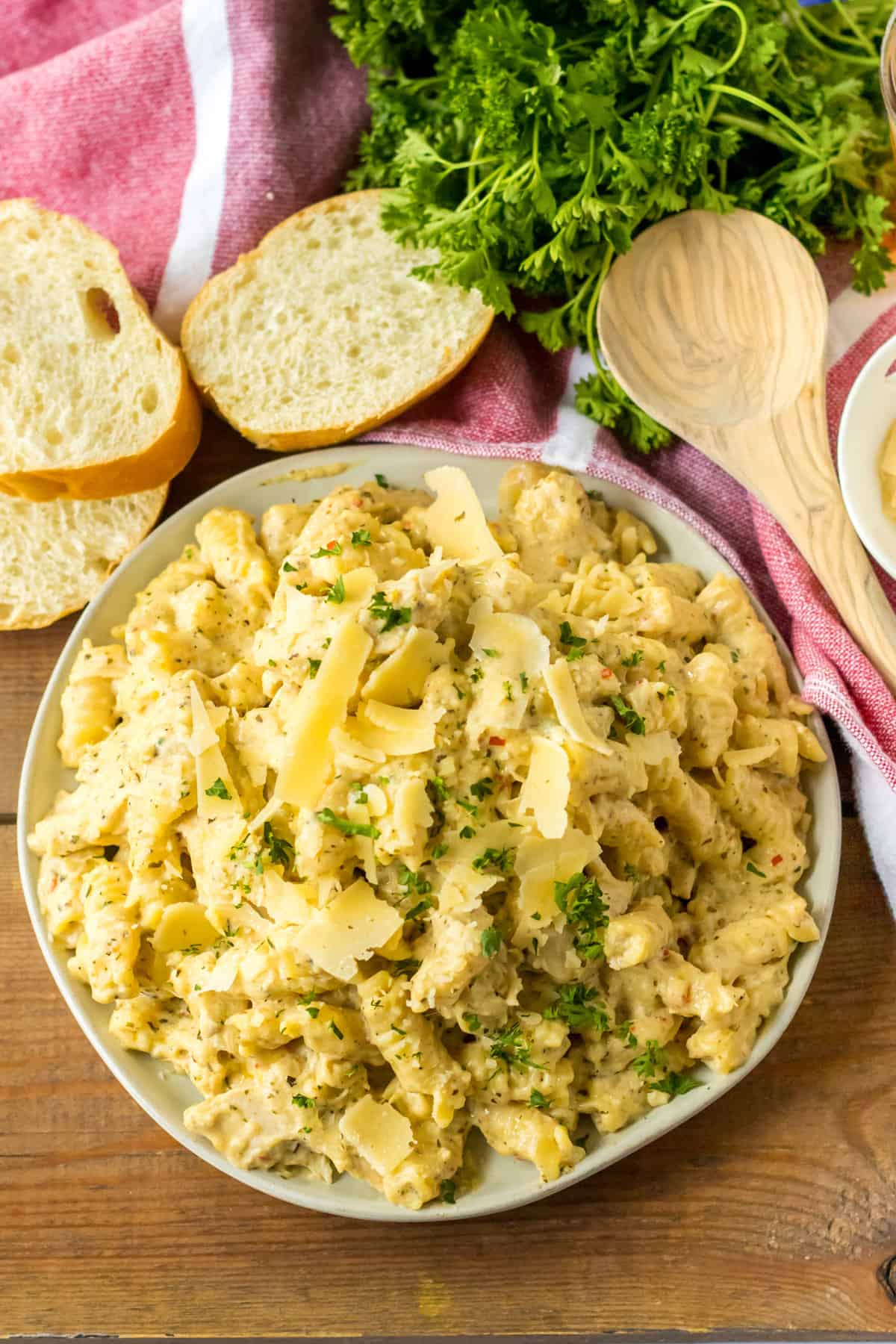 For more quick and easy crockpot meals, try my Slow Cooker Hot Honey Chicken Sandwiches and Slow Cooker Marry Me Chicken. Both are super yummy, and you can make either with chicken breasts or chicken thighs.
For now, let's get to this parmesan chicken pasta recipe.
Ingredients for Buffalo Wild Wings Garlic Parmesan Pasta
This section includes ingredient notes and substitution options. Get all measurements, ingredients, and instructions in the printable recipe card at the end of this post.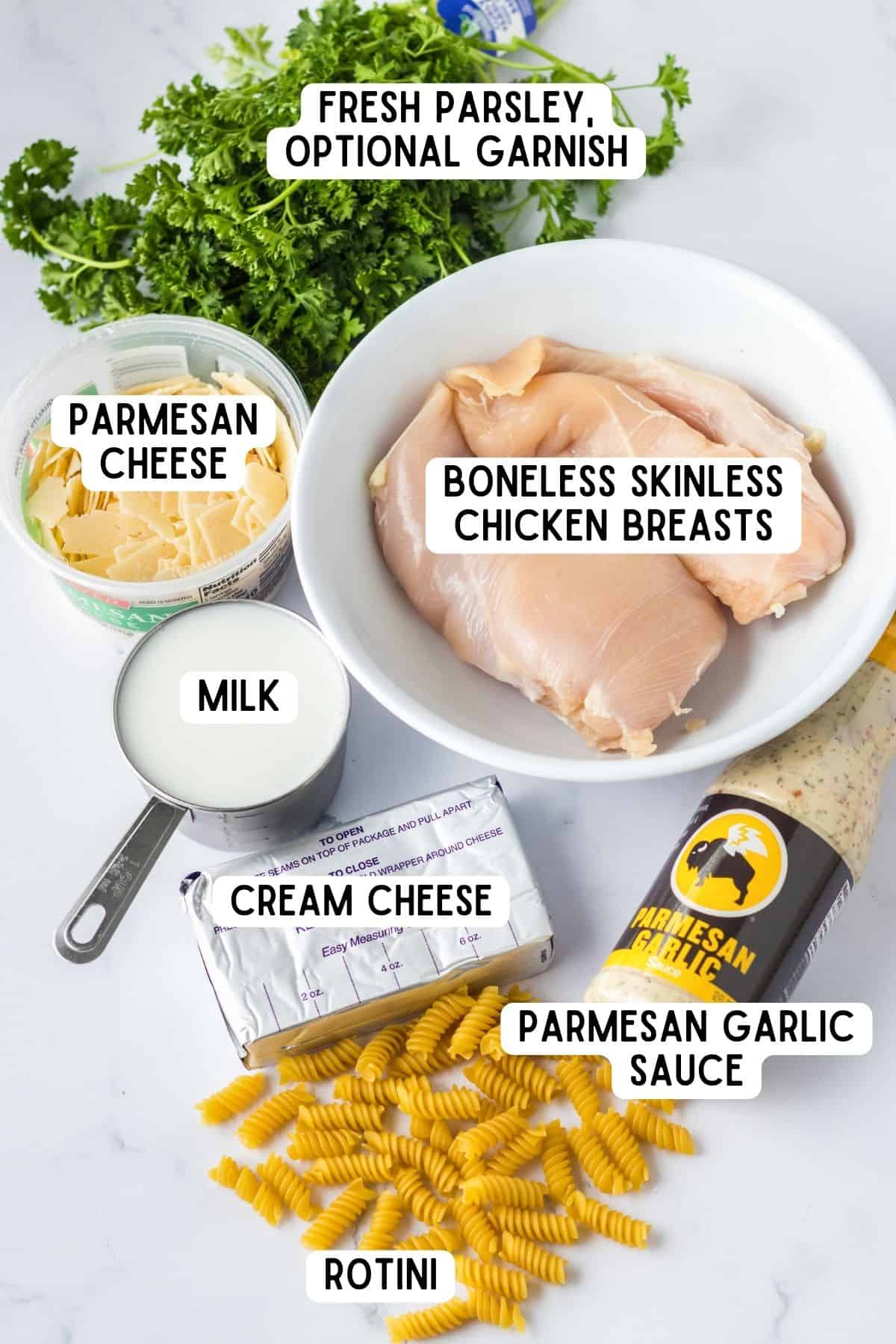 Boneless Skinless Chicken Breasts — A great source of protein that easily takes on the flavors of the cheesy, garlicky sauce. Boneless, skinless chicken thighs can be substituted, but you may need to adjust the cooking time.
Parmesan Garlic Wing Sauce — The star of the show when it comes to flavor! I use the Buffalo Wild Wings brand of parmesan garlic wing sauce, but you can use any brand you'd like, keeping the amounts equal. You don't even need to go to a BWW restaurant to get the sauce, it should be available at your local grocery store.
Milk or Heavy Cream — Either works, but you'll get a richer sauce with heavy cream. If you go with milk, whole milk will produce the best results.
Cream Cheese — This ingredient helps thicken up the sauce and adds richness to it.
Parmesan Cheese — To enhance the cheesy flavor of the dish because, really, can you ever have too much cheese? I don't think so! Freshly shredded parmesan is the most flavorful, but feel free to save time and use the pre-packaged stuff.
Rotini Pasta — The pasta of choice for this recipe, its spiral shape holds the sauce well, ensuring each bite is full of flavor. You can also substitute it with other types of pasta like shells or rotini.
Fresh Parsley — Optional, but it adds a fresh, bright pop of color to the dish.
Equipment
To make this slow cooker parmesan garlic chicken pasta, you'll need the following tools from your kitchen:
6-quart slow cooker (or larger)
liquid measuring cups
colander
How to Make Crockpot Garlic Parmesan Chicken Pasta
This section shows you how to make the recipe with step-by-step photos and instructions. For the full printable recipe, see the recipe card below.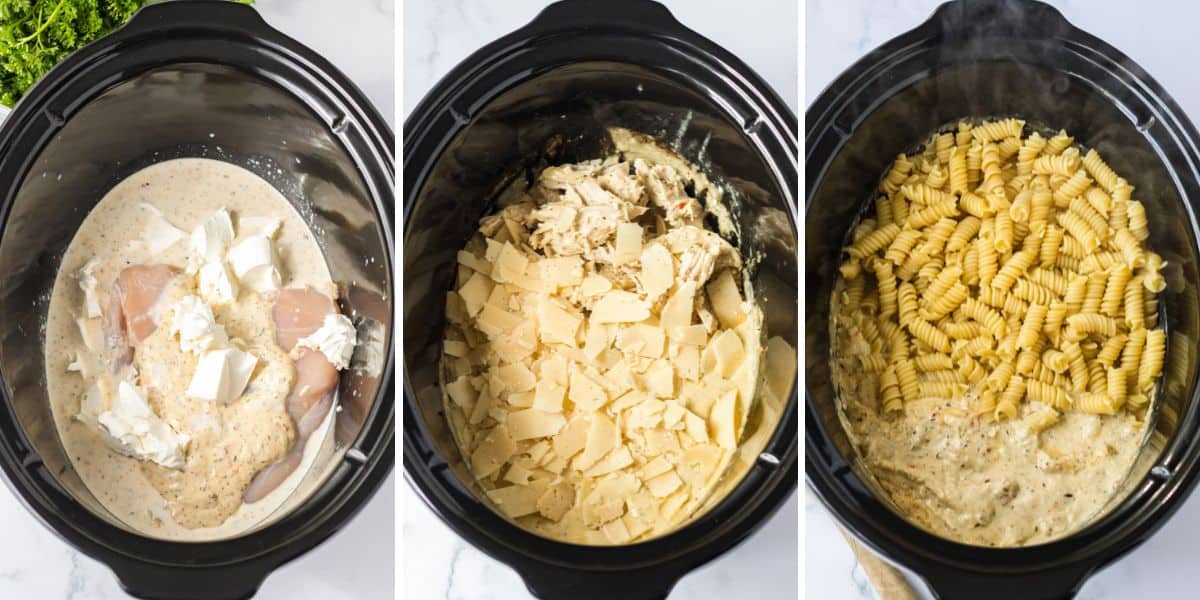 Step 1: Place the boneless skinless chicken breasts in the bottom of the slow cooker. If foods tend to stick to the crock of your slow cooker, you can spray it lightly with cooking oil first.
Step 2: Pour the entire bottle of parmesan garlic sauce evenly over the chicken.
Step 3: Fill the empty sauce bottle with your choice of milk or heavy cream, shaking it to incorporate any leftover sauce. Pour this mixture into the slow cooker.
Step 4: Place the cream cheese blocks on top of the chicken breasts.
Step 5: Cook chicken on the low setting for 4-6 hours or high for 3-4 hours, or until the chicken is fully cooked and easily shredded.
Step 6: Shred chicken with two forks, then mix the shredded chicken and parmesan cheese into the sauce.
Step 7: Cook your preferred pasta (rotini or any other type) al dente according to the package instructions. Drain the cooked pasta, and pour pasta into the crockpot, stirring to combine until everything is evenly coated with garlic parmesan sauce.
Step 8: If desired, garnish the finished dish with extra parmesan cheese and fresh parsley.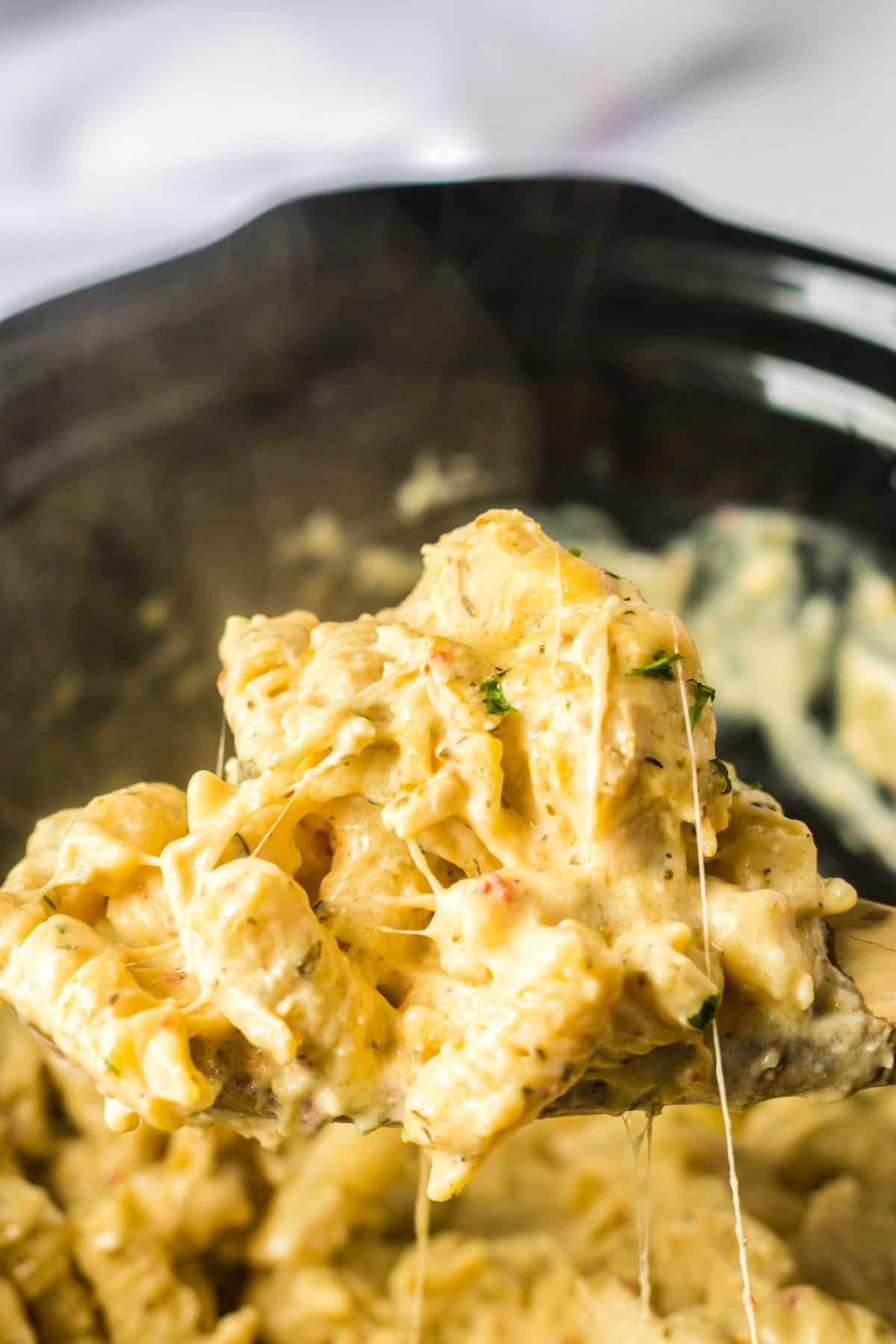 Serving Suggestions
Looking for sides to go with this parmesan chicken pasta recipe? You can't go wrong with a side of warm Italian seasoned bread to soak up that delicious sauce or a simple mixed green salad to bring some freshness to the table. Try pairing it with some steamed or roasted veggies, like green beans or asparagus, for a well-rounded meal.
Enjoy this delicious meal with a chilled glass of white wine, like Sauvignon Blanc or Pinot Grigio.
Storage and Freezing
Refrigerator: Store leftovers in an airtight container in the refrigerator for up to 3 days. To reheat the dish, warm it in a saucepan over low heat or in the microwave, adding a splash of milk or cream to thin the sauce if necessary.
Freezer: If you want to freeze this meal, I recommend leaving out the pasta since the texture and taste of pasta are altered when it is frozen. Just freeze the chicken and sauce for up to 2 months.
When you're ready to prepare the Buffalo Wild Wings Garlic Parmesan Chicken Pasta, thaw it in the fridge overnight and warm it up on the stovetop or in the crockpot. Prepare your pasta, and mix everything together. You may need a little extra milk or heavy cream to thin out sauce that has been frozen.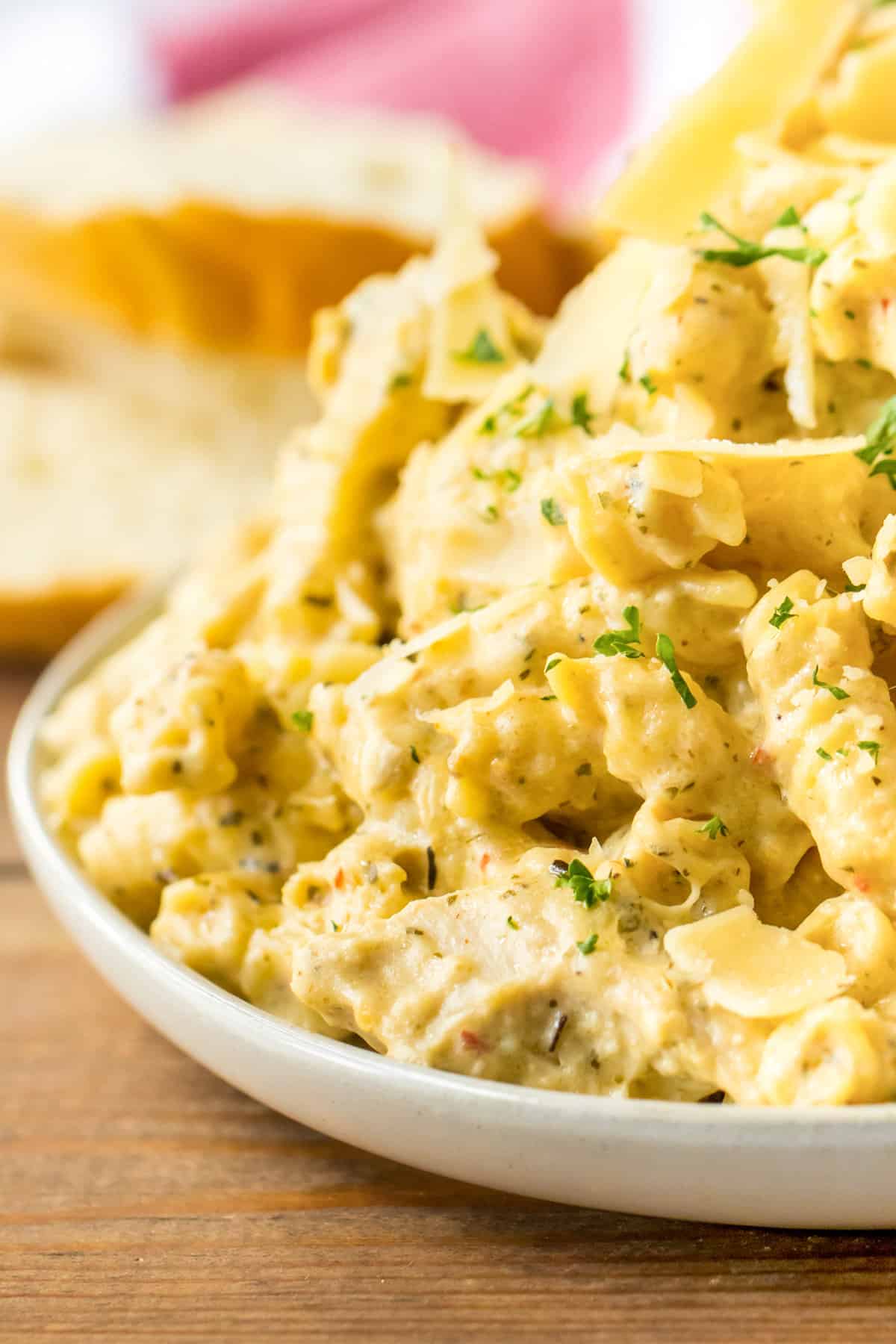 Tips and Tricks for Crockpot Parmesan Garlic Chicken Pasta
Avoid overcooking the pasta: It will continue to cook in the sauce and will become too mushy if it's overcooked. You're looking for al dente pasta, which means there should still be a bit of bite to the noodle.
If you prefer a thinner sauce, add a little more milk or cream to the slow cooker. For a thicker sauce, consider reducing the liquid or adding more cream cheese.
The sauce will thicken considerably in the fridge. You may need to thin it out with milk or heavy cream when reheating.
Serve the chicken breasts whole or cubed if you prefer not to shred them.
This saucy chicken would be fabulous over rice or mashed potatoes if you're not in the mood for pasta!
Additions and Variations
Make it low carb. Reduce the carbs in this dish by eliminating the pasta. For example, you can serve the parmesan garlic chicken over zoodles or a big pile of broccoli instead.
Add sun-dried tomatoes. Add 1/2 cup of chopped sun-dried tomatoes to the dish for an additional layer of flavor and texture.
Boost it with veggies. Add some spinach or broccoli to the creamy garlic sauce to fit some green veggies into your diet. You can toss in some frozen broccoli about an hour before you plan on serving the pasta. For spinach, add it about 30 minutes before serving to give it time to wilt.
Make it with mushrooms. Sauté 1 cup of mushrooms to add to the slow cooker near the end of the cooking process. It'll give it a meatier texture and a delicious earthy flavor.
Use different cheeses: Experiment with different types of cheese for a unique twist on the dish. For instance, try using Asiago or Pecorino Romano instead of (or in addition to) Parmesan.
Spice it up: For a little heat, add a pinch or two of red pepper flakes or a couple of dashes of hot sauce to the creamy sauce mixture.
Make it gluten free. Make sure your parmesan garlic sauce is free of gluten, and grab a box of gluten-free pasta of your choice to make this meal.
Lighten it up. While this will never be a "skinny" dish, you can save a little on calories and fat by using low-fat cream cheese and 2% milk.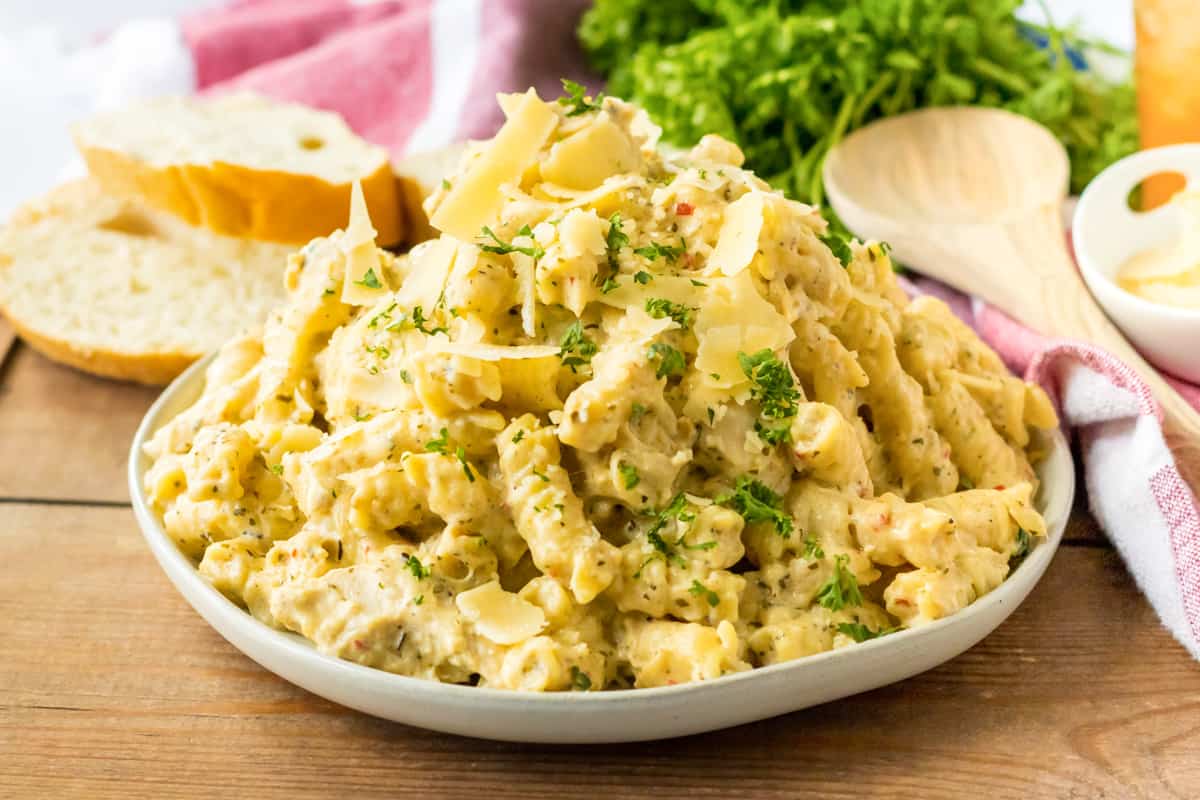 Parmesan Garlic Chicken Pasta FAQ
Is it OK to put raw chicken in a slow cooker?
Yes, it is perfectly fine to put raw chicken in a crockpot. The slow cooker will cook the chicken thoroughly over an extended period of time, ensuring that it is safe to eat. You can always use a meat thermometer to check the chicken to ensure it reaches a safe temperature — that's 165°F for all poultry, according to the USDA.
Do I need to brown the chicken before it goes in the crockpot?
Browning the chicken before adding it to the crockpot is not necessary for this recipe. If you prefer, though, you can sear the chicken in a hot pan with a little oil before placing it in the slow cooker. This will add an extra layer of flavor, but it is not required for the dish.
Can I use frozen chicken?
I don't recommend cooking frozen chicken directly in a slow cooker. It will take too long for the chicken to reach a safe temperature, increasing the risk of bacterial growth. Instead, thaw the chicken in the refrigerator before placing it in the crockpot.
Is this garlic parmesan chicken spicy?
I don't think the dish is spicy, but that's subjective. Some people find the BBW Parmesan Garlic Wing Sauce to be spicy. Do a little taste test before adding the entire bottle to the slow cooker. If it's too strong for your liking, pour in only half of the bottle, and add extra milk and parmesan cheese to compensate.
Can I add vegetables to this chicken pasta?
Yes, adding vegetables like frozen broccoli is a great idea. Add them about an hour before serving to ensure they are cooked through.
Can I use a different type of pasta?
Absolutely! You can use any pasta you prefer, such as shells, bowtie pasta, or penne pasta. Just make sure to cook it al dente before adding it to the slow cooker.
More Delicious Pasta Recipes
I hope you enjoyed this easy crockpot recipe. Nothing hits the spot when you're hungry like good ol' pasta. Here are a few more of my favorite pasta dishes that are perfect for feeding a crowd.
Recipe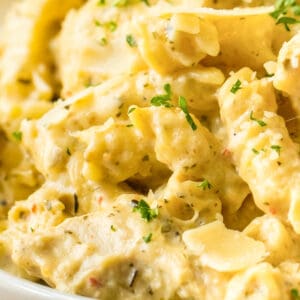 Recipe
Slow Cooker Garlic Parmesan Chicken Pasta
Crockpot garlic parmesan chicken pasta combines tender chicken and rotini in a creamy, flavorful garlic parmesan sauce. This family-friendly meal is easy to make and irresistibly delicious!
Ingredients
1 pound boneless skinless chicken breasts
12 ounces Parmesan Garlic wing sauce
1 cup whole milk or heavy cream
8 ounces cream cheese cut into blocks
4 ounces parmesan cheese shaved or shredded
16 ounces rotini or pasta of your choice
fresh parsley optional garnish
Instructions
Place the chicken breasts in the bottom of your slow cooker.

Pour the bottle of parmesan garlic sauce over the chicken.

Fill the sauce bottle with milk and shake to get out any remaining sauce. Pour into the slow cooker.

Add the cream cheese on top of the chicken.

Cook on high for 3-4 hours or low for 4-6 hours, until the chicken is cooked through and shreds easily.

Shred the chicken using two forks. Stir the shredded chicken and parmesan cheese into the sauce.

Cook pasta al dente according to the instructions on the box. Add drained pasta to the slow cooker and stir to combine.

Garnish with additional parmesan cheese and parsley if desired.
Notes
Try adding some frozen broccoli to your slow cooker an hour before serving.
Store in an airtight container for up to 3 days. When reheating, I recommend stirring in a bit of milk to help thin out the sauce.
Nutrition
Calories: 857kcal | Carbohydrates: 67g | Protein: 38g | Fat: 48g | Saturated Fat: 17g | Polyunsaturated Fat: 1g | Monounsaturated Fat: 6g | Trans Fat: 0.01g | Cholesterol: 124mg | Sodium: 1789mg | Potassium: 577mg | Fiber: 2g | Sugar: 8g | Vitamin A: 744IU | Vitamin C: 1mg | Calcium: 334mg | Iron: 1mg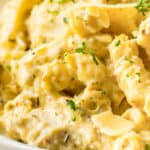 Did You Make This Recipe?
Share it with me on Instagram @crayonsandcravings and follow on Pinterest @crayonsandcravings for even more!