11 Delicious and easy-to-make dessert salads and fluff recipes that the whole family will enjoy. From old-fashioned classics such as Watergate Salad and Strawberry Pretzel Salad to new favorites like Pumpkin Fluff, we have something for everyone.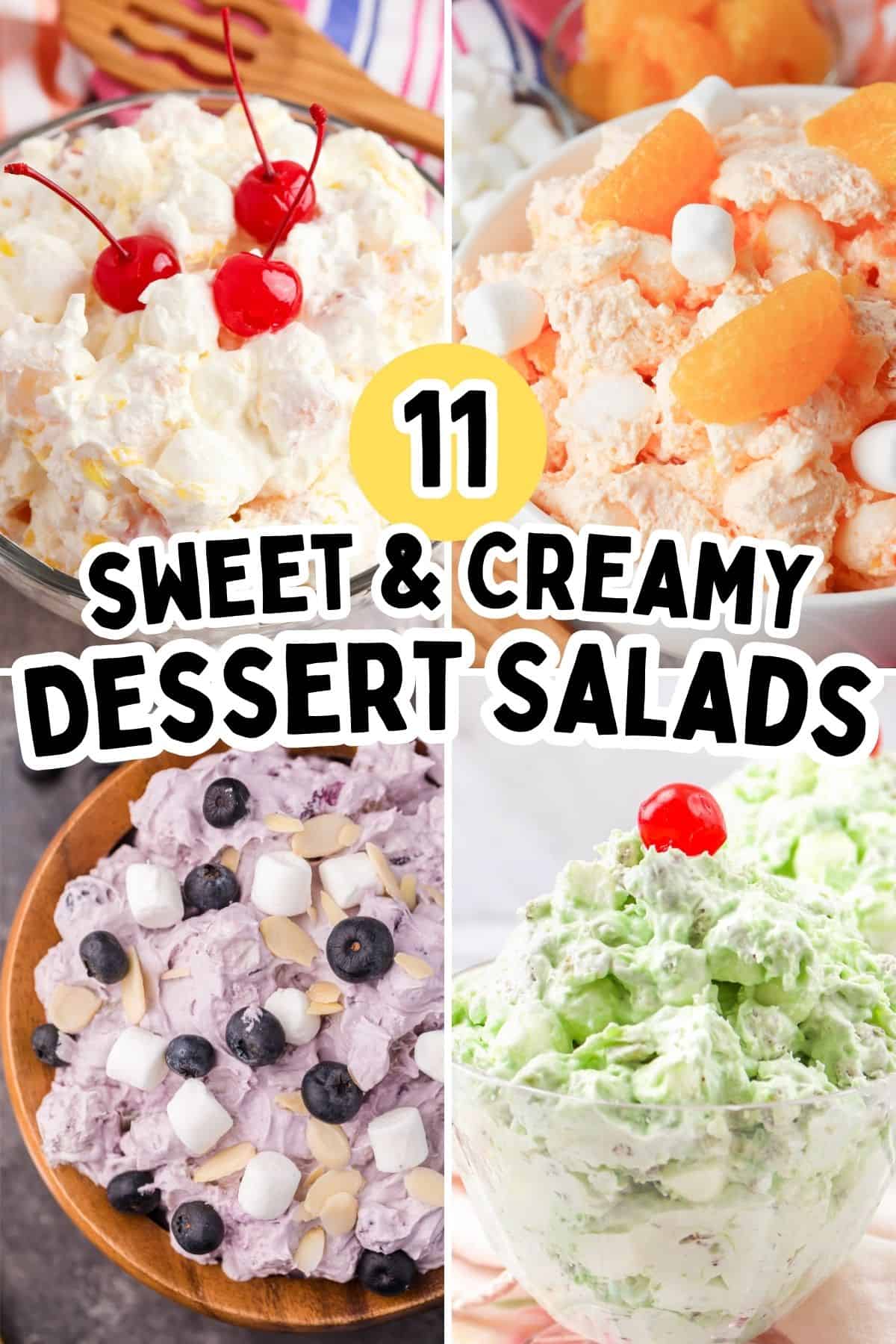 I'll also be answering some of the most frequently asked questions about dessert salads and fluffs, such as what are dessert salads, what fruits to use, and how to make them more visually appealing.
Whether you're looking for a light and refreshing dessert for a summer cookout or a sweet treat to enjoy year-round, these sweet and creamy dessert salad recipeare sure to be a hit with your whole family. So, let's get started and discover some new favorite dessert salad recipes!
Dessert Salad FAQ
What is a dessert salad?
A dessert salad is a sweet dish that typically combines canned fruit or fresh fruit with other ingredients such as whipped cream or cool whip, gelatin, pudding, nuts, or marshmallows.
They can be served as a side dish, a light dessert, or a sweet treat any time of day.
What kind of fruits are good for dessert salads?
Dessert salads typically use canned fruit, pie filling, or fruit cocktail, although some recipes call for fresh fruits. Pineapple, mandarin ornages, cherries, blueberries, and strawberries are some of the more poular fruits used.
How do you make a dessert salad?
Dessert salads are very easy to make. For most of the recipes you will simply need to stir together a few basic ingredients in a mixing bowl.
How do you make a dessert salads look pretty?
While there is no arguing that dessert salads are delicious, they aren't always the most beautiful dessert to look at. Luckily, I have an easy fix for this: just before serving, stir the salad well and add to a nice serving bowl. Then, add a bit of fresh fruit, nuts, maraschino cherries, or other ingredients to the top of your salad as a garnish.

The Best Dessert Salad Recipes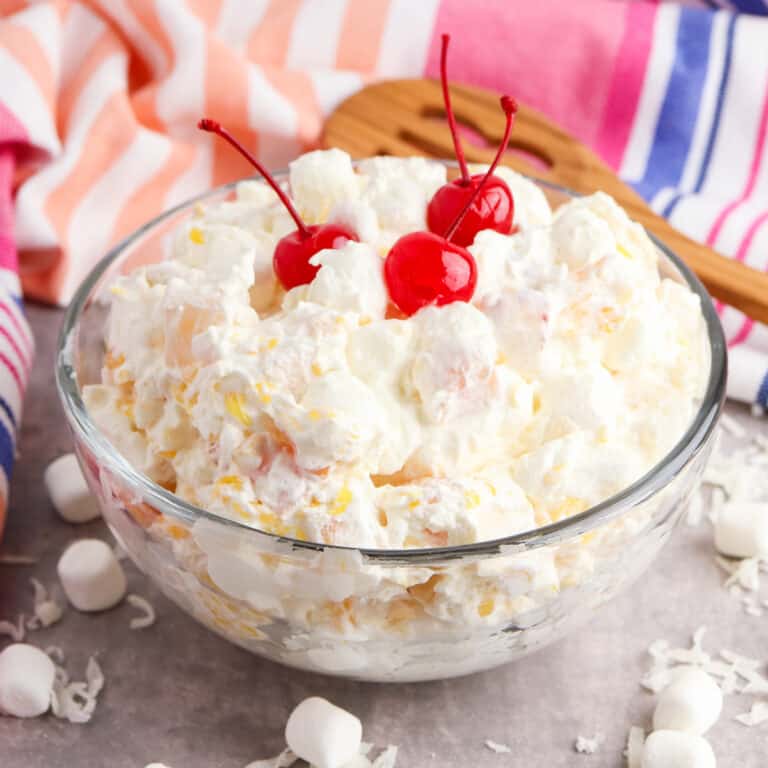 1. Marshmallow Fruit Salad
Also known as Ambrosia Salad or Mixed Fruit Salad, this creamy fruit salad is a classic dish that never goes out of style. Fruit cocktail, mandarin oranges, pineapple chunks, coconut flakes, soft marshmallows, and fluffy whipped topping combine to make this retro treat.
Get the Marshmallow Fruit Salad recipe.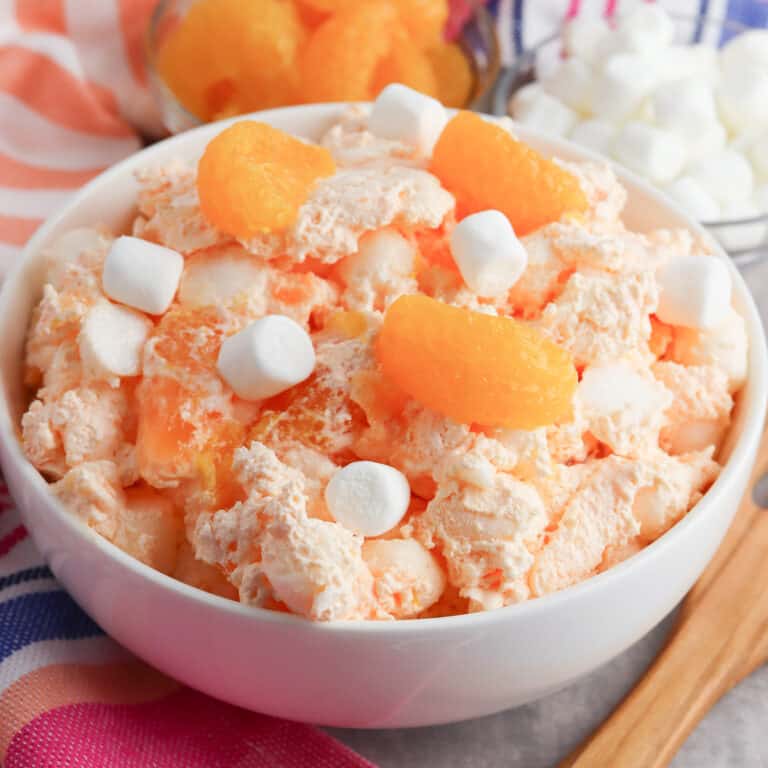 2. Orange Fluff Salad
Orange fluff salad with mandarin oranges is a crowd favorite anytime it is served up. With its bright orange flavor and cool, fluffy texture, everyone is sure to come back for seconds. Plus, it's super eay to make with just 4 simple ingredients (plus water)!
Get the Orange Fluff Recipe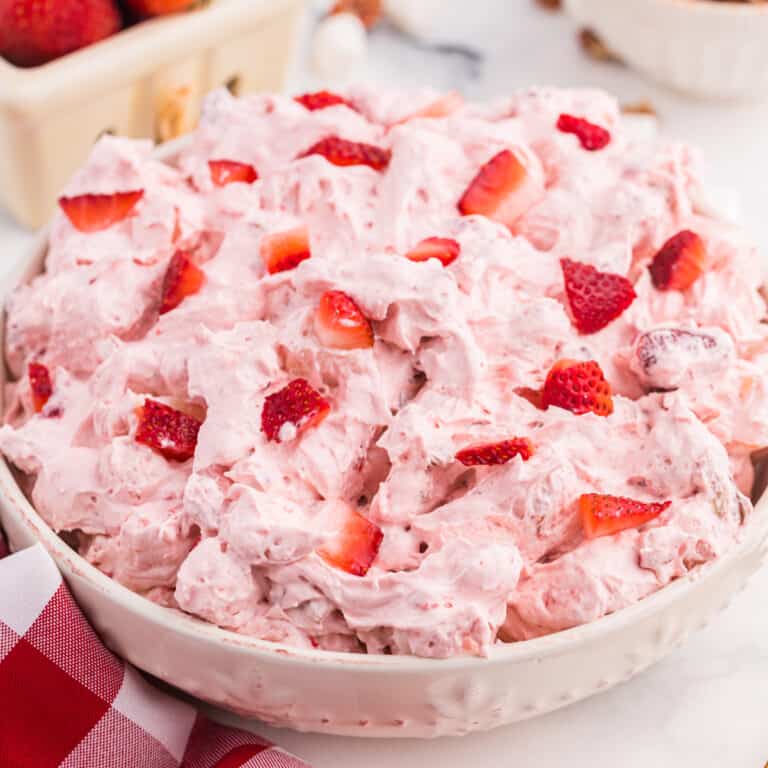 3. Strawberry Fluff Salad
Strawberry fluff is a delicious dessert salad recipe made with strawberry pie filling, pineapple chunks, Cool Whip, mini marshmallows, fresh berries, and a few other simple ingredients. If you are new to creamy dessert salads, this pink fluff recipe is a perfect place to start.
Get the Strawberry Fluff Salad recipe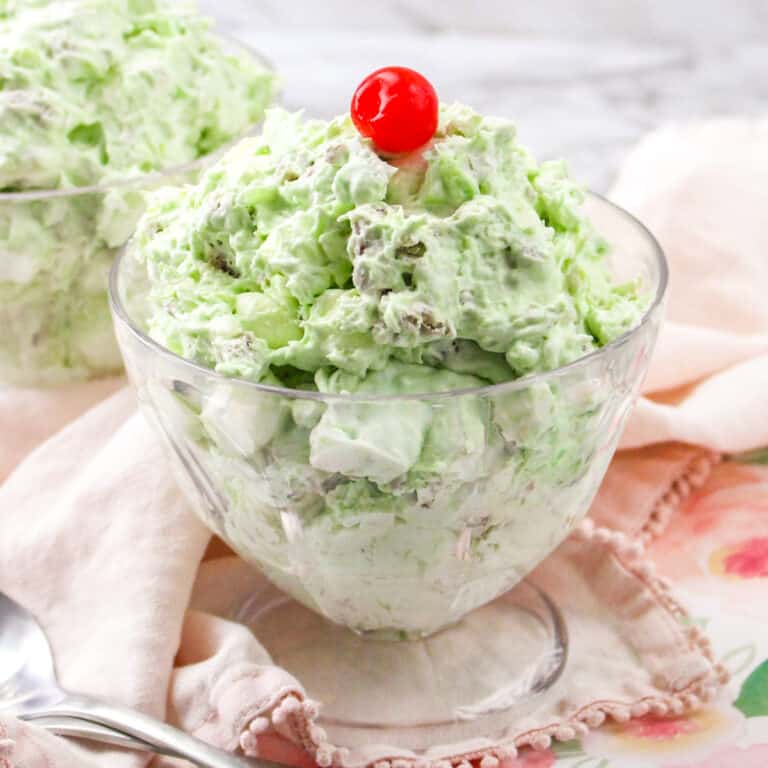 4. Watergate Salad
This classic pistachio dessert salad features a delicious combination of pistachio pudding, crushed pineapple, mini marshmallows, pecans, and creamy whipped topping. The retro dessert has been served at holiday parties and special occasions since the 1970's. When a dessert has been around that long you know that it has got to be good!
Get the Watergate Salad Recipe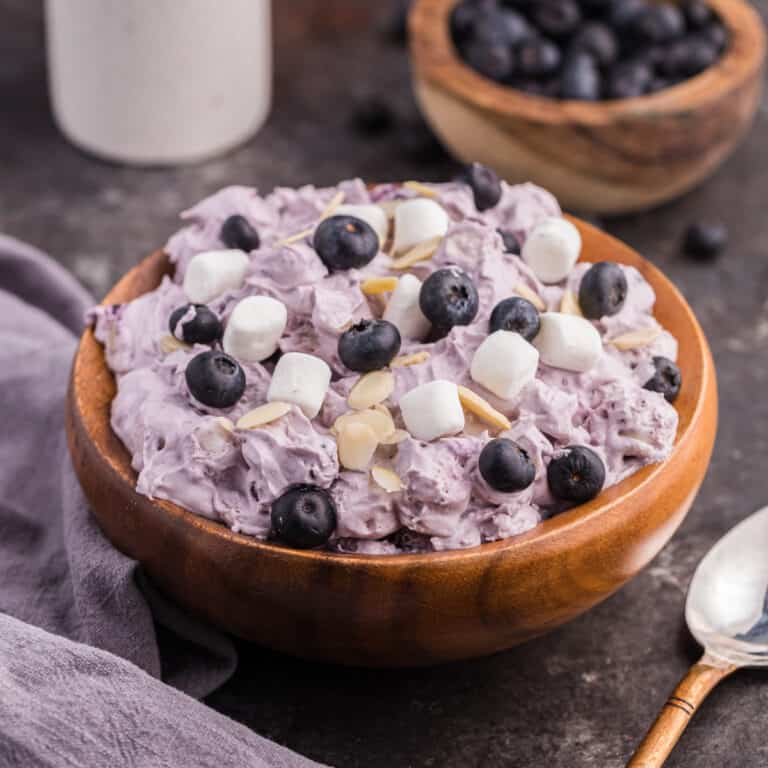 5. Blueberry Fluff Salad
Blueberry-lovers will go wild for this cool and creamy no-bake dessert salad. Made with blueberry pie filling, pineapple chunks, and sliced almonds, the salad takes just 5 minutes to make and is perfect for summer parties and backyard BBQs.
Get the Blueberry Fluff Salad recipe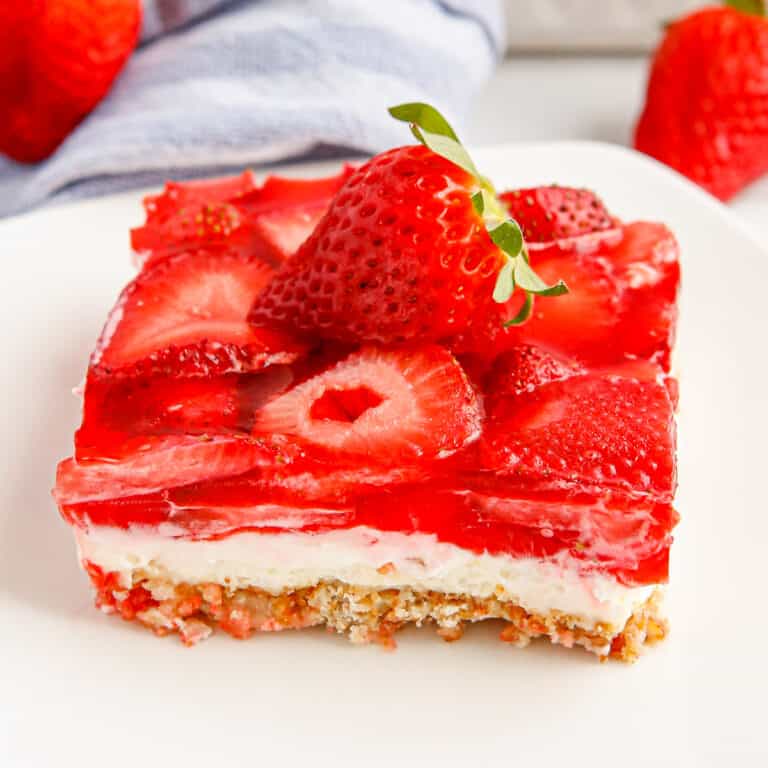 6. Strawberry Pretzel Salad
Old-fashioned strawberry pretzel jell-o salad is a delicious layered dessert made with fresh strawberries, cream cheese, crushed pretzels, strawberry jello, and cool whip. The classic jello salad makes a perfect make-ahead side dish or dessert for the holidays, church potlucks, or any special occasion.
Get the Strawberry Pretzel Salad recipe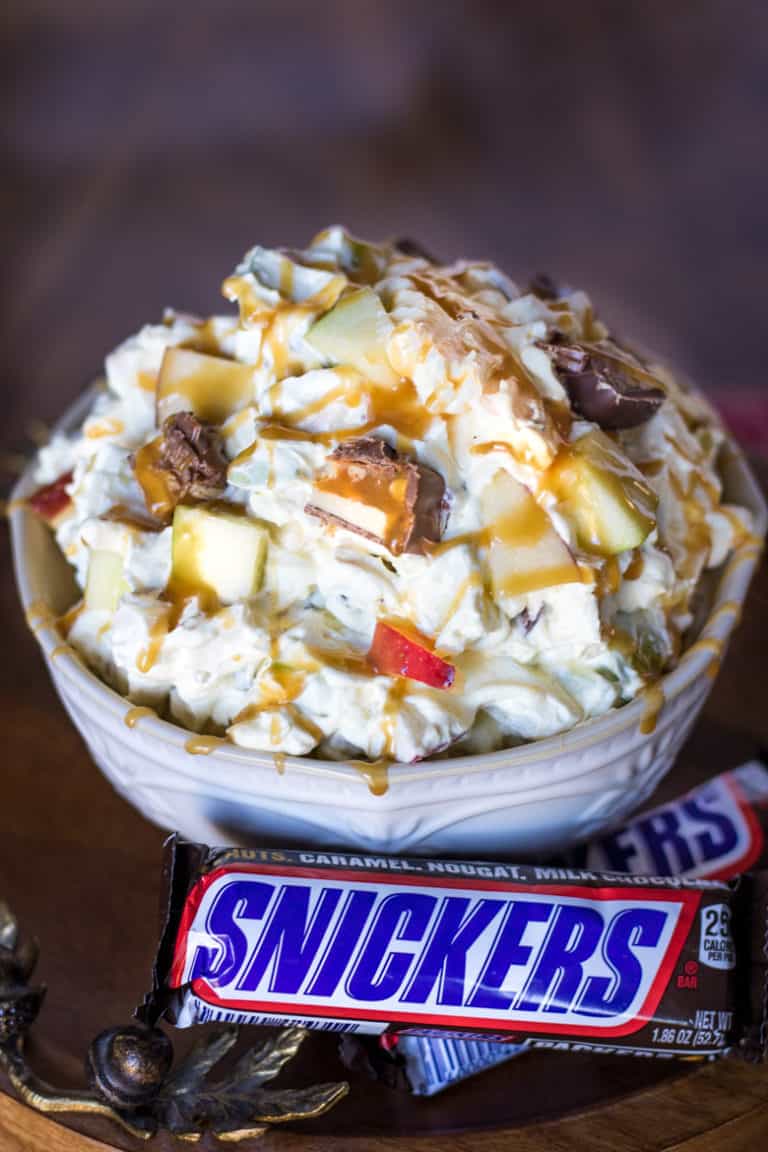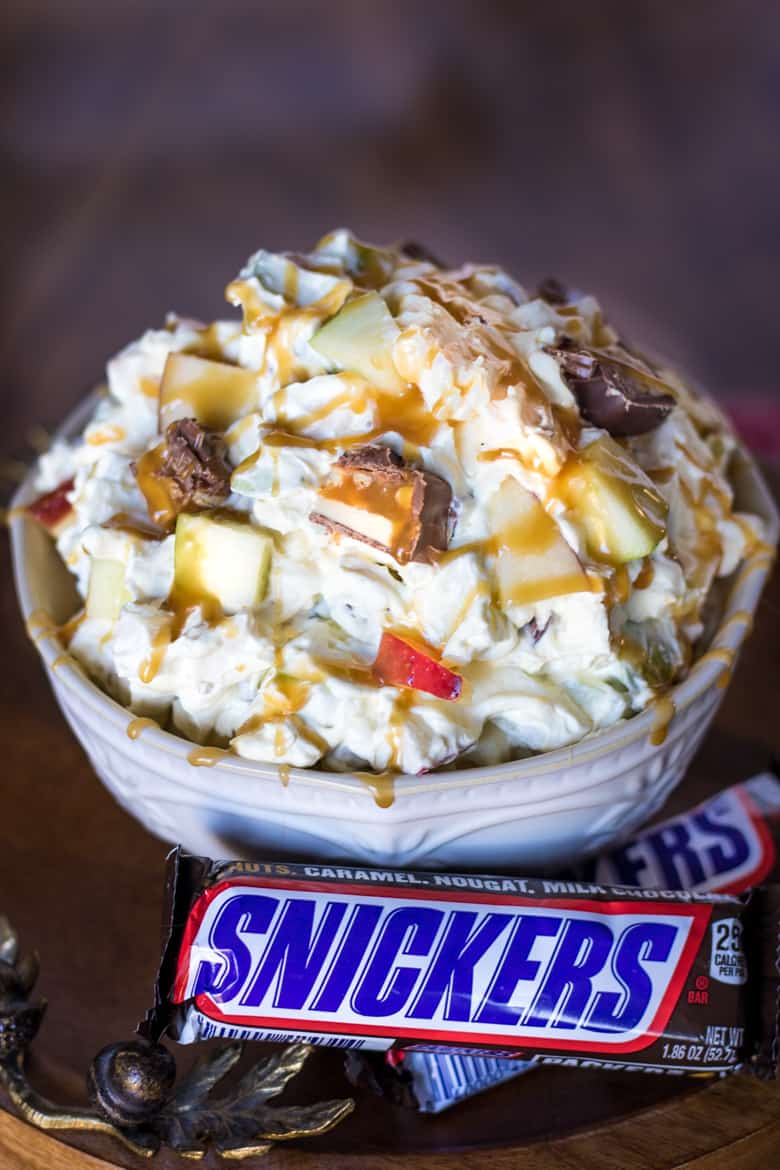 7. Snickers Salad
Snickers caramel apple salad is an easy dessert salad made with crunchy apples, creamy vanilla pudding, Cool Whip, and chopped candy bars. The sweet treat is sure to become a family favorite!
Get the Snickers Salad recipe
8. Banana Split Fluff
This fluffy dessert salad features a delicious mixture of fruits. Pineapple, bananas, and maraschino cherries, combine with chocolate chips and all your favorite banana split sundae toppings for a show-stopping dessert
Get the Banana Split Fluff recipe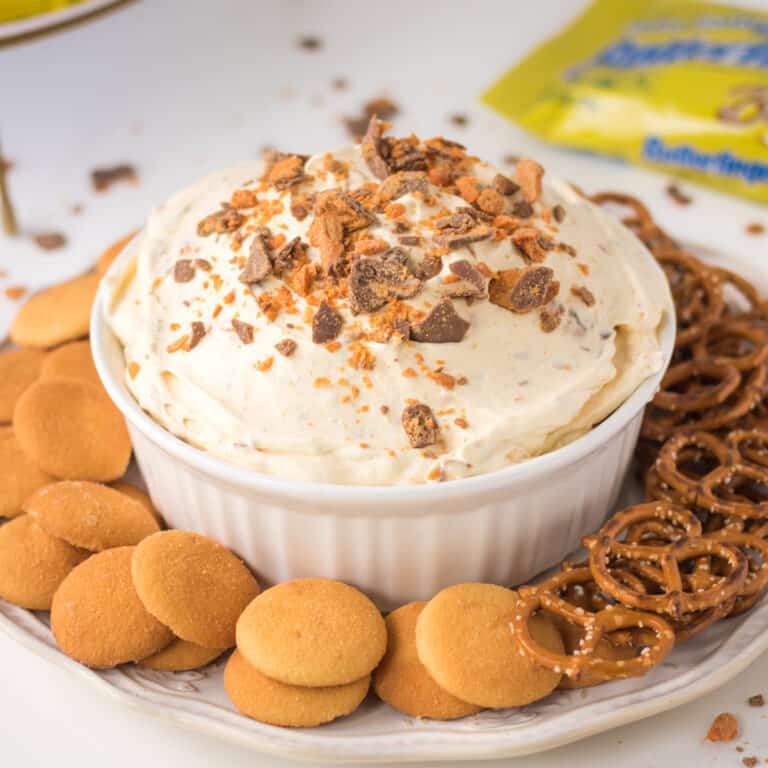 9. Butterfinger Fluff
Butterfinger Fluff is a cool and creamy dessert dip made using pudding mix, whipped topping, and crushed Butterfinger candy bars. Pair with vanilla wafers, pretzels, or fruit for dipping for an easy no-bake dessert.
Get the Butterfinger Fluff recipe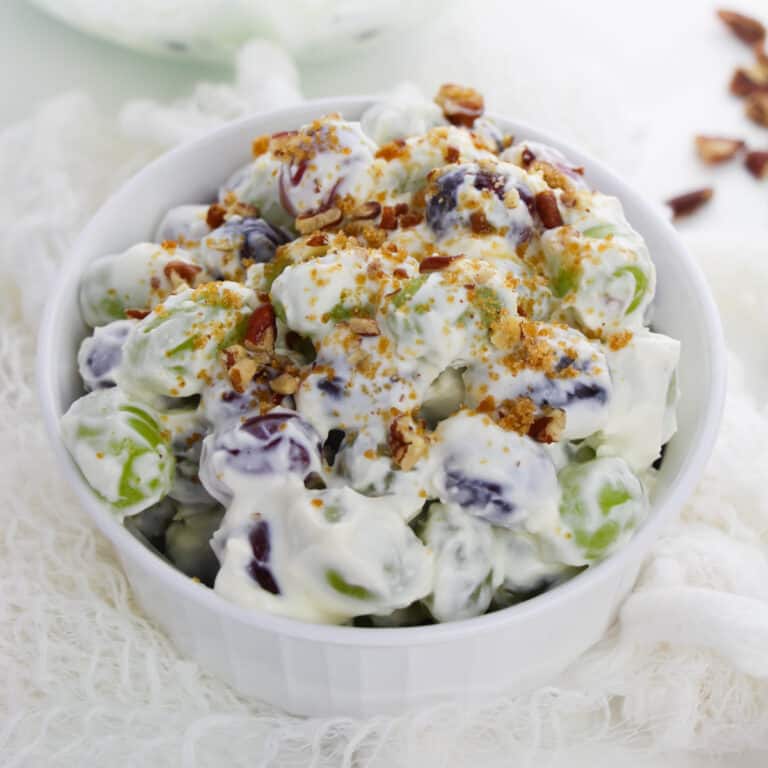 10. Creamy Grape Salad with Yogurt
Juicy red and green grapes are tossed in a creamy yogurt and cream cheese dressing and then sprinkled with crunchy pecans and a little bit of brown sugar for the ultimate grape dessert. The easy recipe takes jsut minutes to make and is a perfect side dish or dessert salad for BBQs, potlucks, or really any occasion.
Get the easy Grape Salad recipe
11. Pumpkin Fluff
Pumpkin fluff is made with Cool Whip, creamy pudding, pumpkin puree, and pumpkin pie spice. Perfect for Fall, pair the light and fluffy treat with graham crackers, apples, or vanilla cookies for dipping and enjoy.
Get the Pumpkin Fluff recipe
12. Oreo Fluff Salad
This easy 4-ingredient oreo fluff recipe is full of classic cookies and cream flavor. Pair the cookie salad with fruit, pretzels, or cookies for dipping- or eat with a spoon! However you enjoy it, one thing is for certain – you are going to love it!
Get the Oreo fluff recipe
Try out some of these delicious recipes and let us know which one is your favorite!