Posts may contain affiliate links, meaning that I may earn a commission if you use a link provided.
This layered taco dip is one of the BEST party appetizers, and it's quick and SO easy to make. With 5 minutes and 7 simple ingredients, you'll whip up a crowd-pleasing dip that's perfect for any get-together.
Whether you're going to a party or making snacks for friends and family on movie night or Game Day, you can't go wrong with this 7 layer dip recipe. Guests will gobble it up in no time, and it takes only minutes to make.
It's also an amazing idea for Meatless Mondays if you try to do a meatless meal in your home every week (which I highly recommend for saving money)!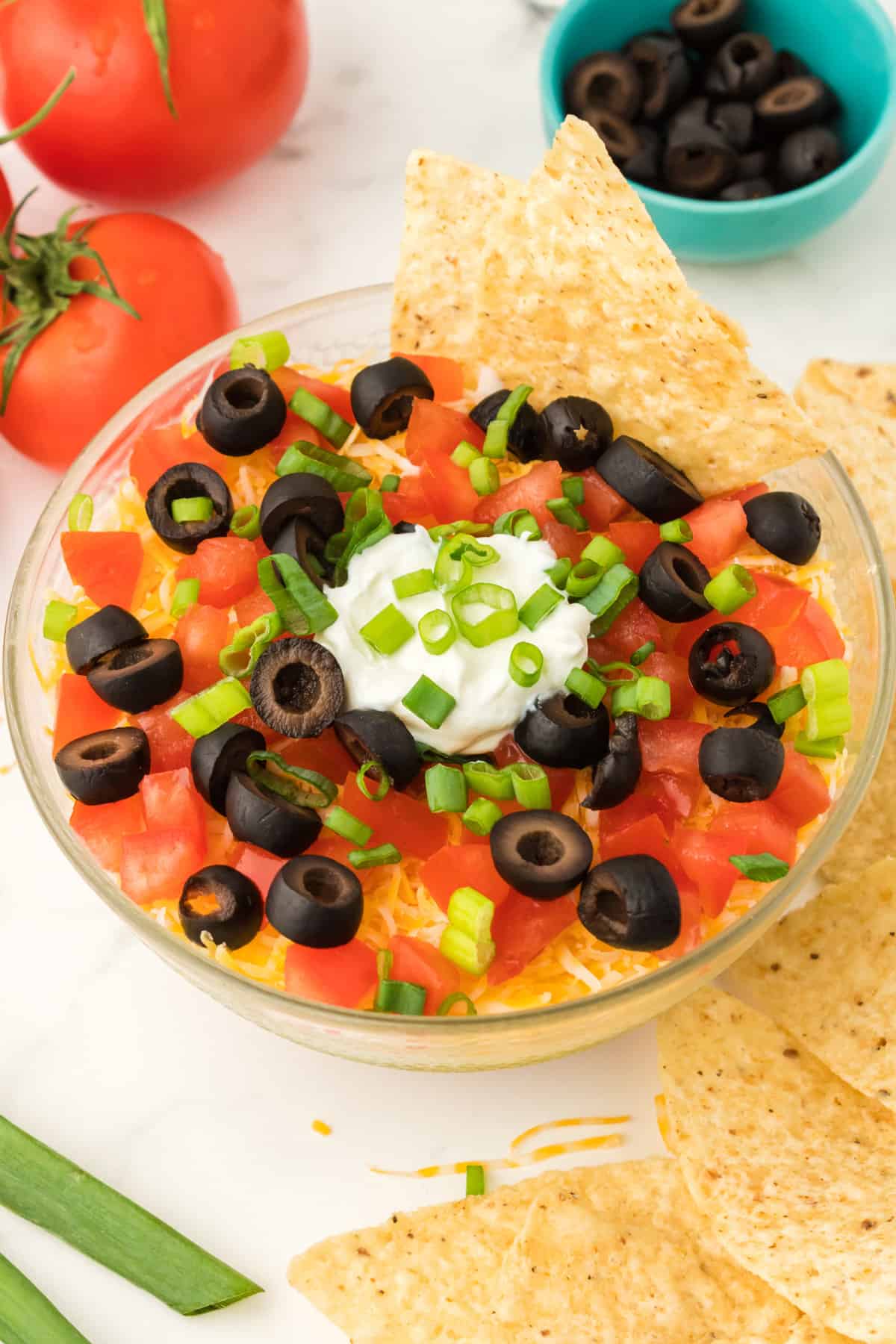 This no-cook dip is made with layers of refried beans, creamy guacamole, sour cream, and your favorite taco toppings. Serve the cool, layered dip with tortilla chips, sliced veggies, or crackers for dipping.
The best part is that you can customize this dip recipe completely. Use more or less of each ingredient or even add or swap out ingredients according to your tastes.
More yummy dips that you can make to go alongside this taco dip recipe are our super simple Rotel Salsa, creamy French onion chip dip, and for a heartier option, this Ultimate Cowboy Caviar Recipe.
Let's get to the appetizer recipe, shall we?
Seven Layer Dip Ingredients
This section includes ingredient notes and substitution options. Get all measurements, ingredients, and instructions in the printable recipe card at the end of this post.
Refried Beans— I used canned refried beans, but if you have some leftover homemade refried beans, measure out about 16 ounces on your kitchen scale. Feel free to add some seasonings to your beans to make them more flavorful, like cumin, chili powder, or a spoon or two of taco seasoning.
Guacamole— Store-bought or homemade guacamole are both great in this recipe.
Sour Cream— Full fat sour cream will give you the richest flavor, but you won't see much of a difference in taste if you want to save a few calories and go with light sour cream instead.
Shredded Cheese— This recipe calls for shredded cheddar cheese, but you can also use a Mexican blend or pepper jack cheese, if you prefer.
Tomatoes— Fresh diced tomatoes add color, texture, and flavor. You can also use Pico de Gallo here instead.
Black Olives— Either slice them or buy them pre-sliced. I love the salty flavor they add!
Green Onions— Fresh green onions give that yummy onion taste without being too strong.
Tortilla Chips— For scooping up all that delicious dip. The scoop-shaped tortilla chips are amazing for this recipe and hold up really well to such a thick dip.
Equipment You'll Need
Ready to make this easy taco dip? Here are the kitchen tools you'll need to get started:
Dish or shallow bowl for serving
Measuring cups and spoons
Knife
Cutting board
How to Make Layered Taco Dip
This section shows you how to make the recipe with step-by-step photos and instructions. For the full printable recipe, see the recipe card below.
Step 1: In a bowl or casserole dish, add refried beans and use the back of a spoon or a rubber spatula to smooth the beans into an even layer. Repeat with the guacamole on top of the beans and then a layer of sour cream.
Note: I like to reserve a dollop of sour cream for topping the dip, but this is completely optional.
Step 2: Sprinkle with a layer of shredded cheese, followed by a layer of tomatoes.
Step 3: For the next layer, add the black olives and finally the green onions.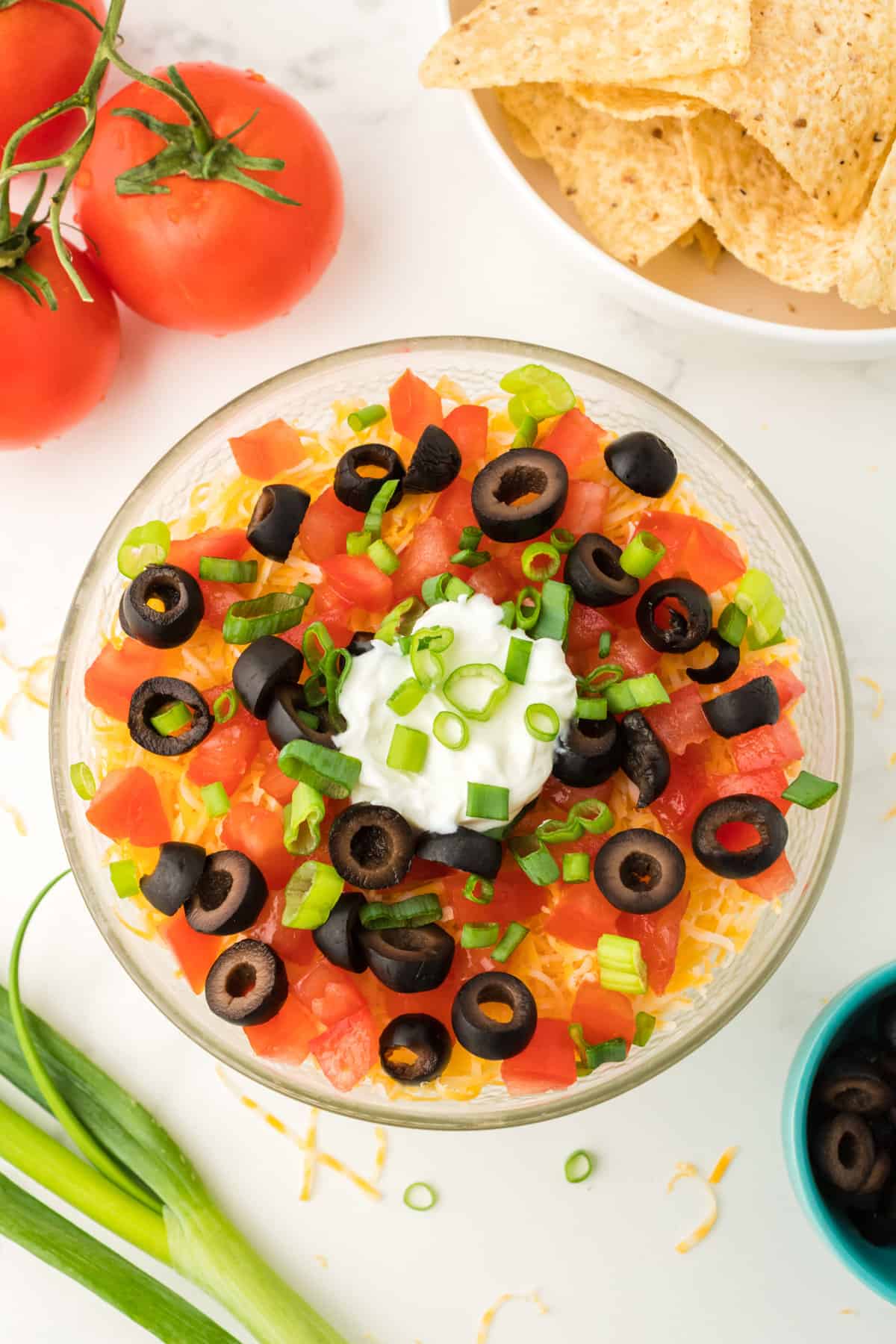 Step 4: Cover and refrigerate until serving, at least an hour. Serve with sturdy tortilla chips, and enjoy!
Serving Suggestions
This easy taco dip recipe is great for a Mexican-themed night! For the main course, try these Sheet Pan Shrimp Fajitas or our Easy Cheesy Taco Pasta Bake. Looking for drink ideas? Grapefruit Margaritas all around! These Blue Lagoon Margaritas and Peach Margaritas are incredible, too.
Storage and Freezing
Leftovers can be stored in the refrigerator for up to 3 days. Put in an airtight container or cover your bowl tightly with plastic wrap.
I do not recommend freezing this layer taco dip recipe.
Recipe Tips and Tricks
If you want to add a layer of shredded lettuce, wait until right before serving to add it. Otherwise, the lettuce will brown, making your dip look rather unappetizing.
Want to make this recipe in advance? Make it up to a day ahead of time and store it in an airtight container or a bowl covered tightly with plastic wrap.
There's no need to heat the beans before making this dip. If you're using homemade refried beans, make sure you let them cool completely before layering with the other ingredients.
Squeeze a little lime juice over the dip right before serving to brighten up the flavors.
Mix the beans with a tablespoon or two of taco seasoning mix if you want to add some more taco flavor to the dip.
Additions and Variations
Add meat. To add protein and make this dip more filling, add a layer of seasoned ground beef after the refried beans and before the layer of guacamole.
Make it spicy. To add a little spice to this dip, season the beans with a bit of cayenne pepper, use Pico de Gallo instead of diced tomatoes, or add a layer of jalapenos.
Try a Southwestern spin. Layer corn and black beans seasoned with taco seasoning to make a southwestern style dip, somewhat similar to cowboy caviar.
Use different cheeses. Swap out the cheddar for a different type of cheese like pepper jack or Mexican blend.
Make it low carb. This taco dip is so easy to adapt to a low-carb diet. Simply leave out the beans and substitute a layer of taco meat instead. Serve with bell peppers, tortilla chips made with low-carb tortillas, or slices of cucumber or zucchini.
Swap out the beans. Try refried black beans instead of the traditional refried pinto beans to change up the flavor a little bit.
Recipe FAQ
What are the seven layers in 7 layer dip?
The seven layers are refried beans, guacamole, sour cream, shredded cheese, diced tomatoes, black olives, and green onions. This may vary slightly from one recipe to the next.
How long can party dip sit out?
Food safety guidelines recommend not leaving food like this taco dip with sour cream out at room temperature for more than 2 hours.
Do you serve this layered taco dip recipe hot or cold?
This dip is served cold because it's made with sour cream and guacamole. Because it's served cold, it also means it's great for making ahead to take to a party!
Can this version of the layered taco dip be frozen?
No, this dip can't be frozen. It would change the texture and taste. Besides, this comes together in just 5 minutes, so there's no reason not to make it fresh whenever you want to enjoy some.
More Delicious Dip Recipes
Need more yummy dips for your Super Bowl parties or family get-togethers? Try one of these easy appetizers at your next gathering.
Recipe
Recipe
Easy Layered Taco Dip
This layered taco dip is the ultimate party snack! It's easy to make and always a crowd-pleaser. Serve with plenty of tortilla chips to scoop up every bite of this creamy, cheesy goodness.
Ingredients
1 16 ounce can refried beans
8 ounces guacamole
8 ounces sour cream
1 cup shredded cheddar cheese
¼ cup diced tomatoes
2 Tablespoons sliced black olives
1 green onion finely chopped
Tortilla chips for serving
Instructions
In a baking dish or shallow bowl, add refried beans and use the back of a spoon or a rubber spatula to spread into an even layer. Repeat with the guacamole and then the sour cream, reserving a dollop of sour cream for topping the dip (if desired).

Sprinkle with a layer of shredded cheese followed by the diced tomatoes, then black olives, and finally the green onions.

Cover and refrigerate for at least one hour before serving. Serve with sturdy tortilla chips and enjoy!
Notes
Slice your own olives or purchase pre-sliced canned olives for an easy shortcut. Make a day ahead if you want. Store covered in the refrigerator until ready to serve. Leftovers can be kept for up to 3 days in the refrigerator.
Nutrition
Serving: 1g | Calories: 189kcal
Did You Make This Recipe?
Share it with me on Instagram @crayonsandcravings and follow on Pinterest @crayonsandcravings for even more!