Chocolate Peanut Butter Chip Cookies
Posts may contain affiliate links, meaning that I may earn a commission if you use a link provided.
These chewy chocolate peanut butter chip cookies start with a box of cake mix for an easy 5-ingredient cookie recipe that bakes up in no time. They're the perfect dessert when you're in a pinch and need something quick and easy or are simply craving a rich and chocolatey cookie and a tall glass of cold milk.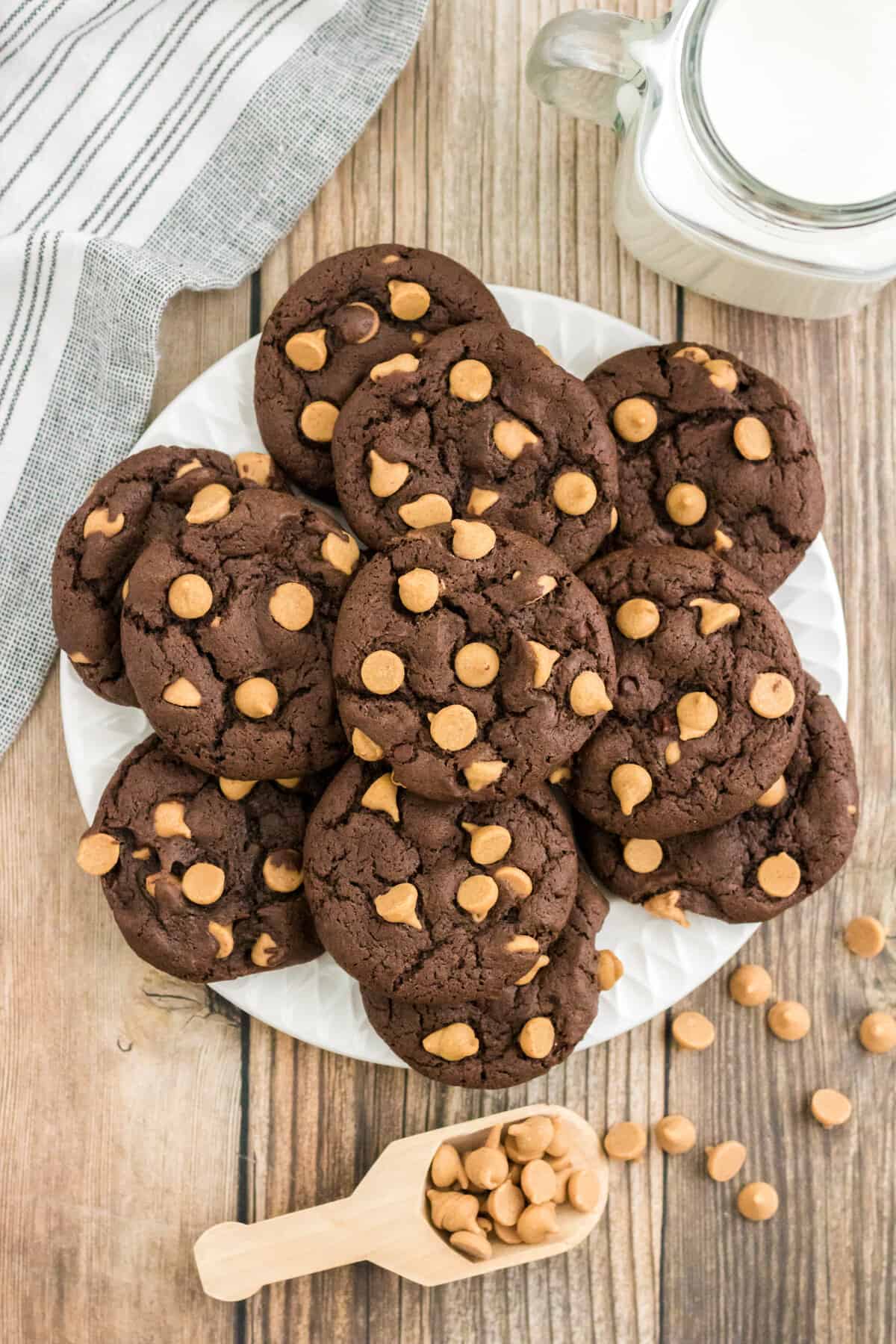 Looking for a failproof dessert that brings together the two best flavors in the world — chocolate and peanut butter? If you're nodding your head, you have to try these soft and chewy chocolate peanut butter chip cookies. You start with a box of cake mix, so you know the recipe is ridiculously easy.
This chocolate peanut butter cookie recipe can be your go-to for those moments when you forgot that you said you'd make a dessert for a bake sale or potluck. Just mix up 5 simple ingredients, chill the dough, and pop them in the oven for the best soft cookies that look — and taste — like they came straight from the bakery.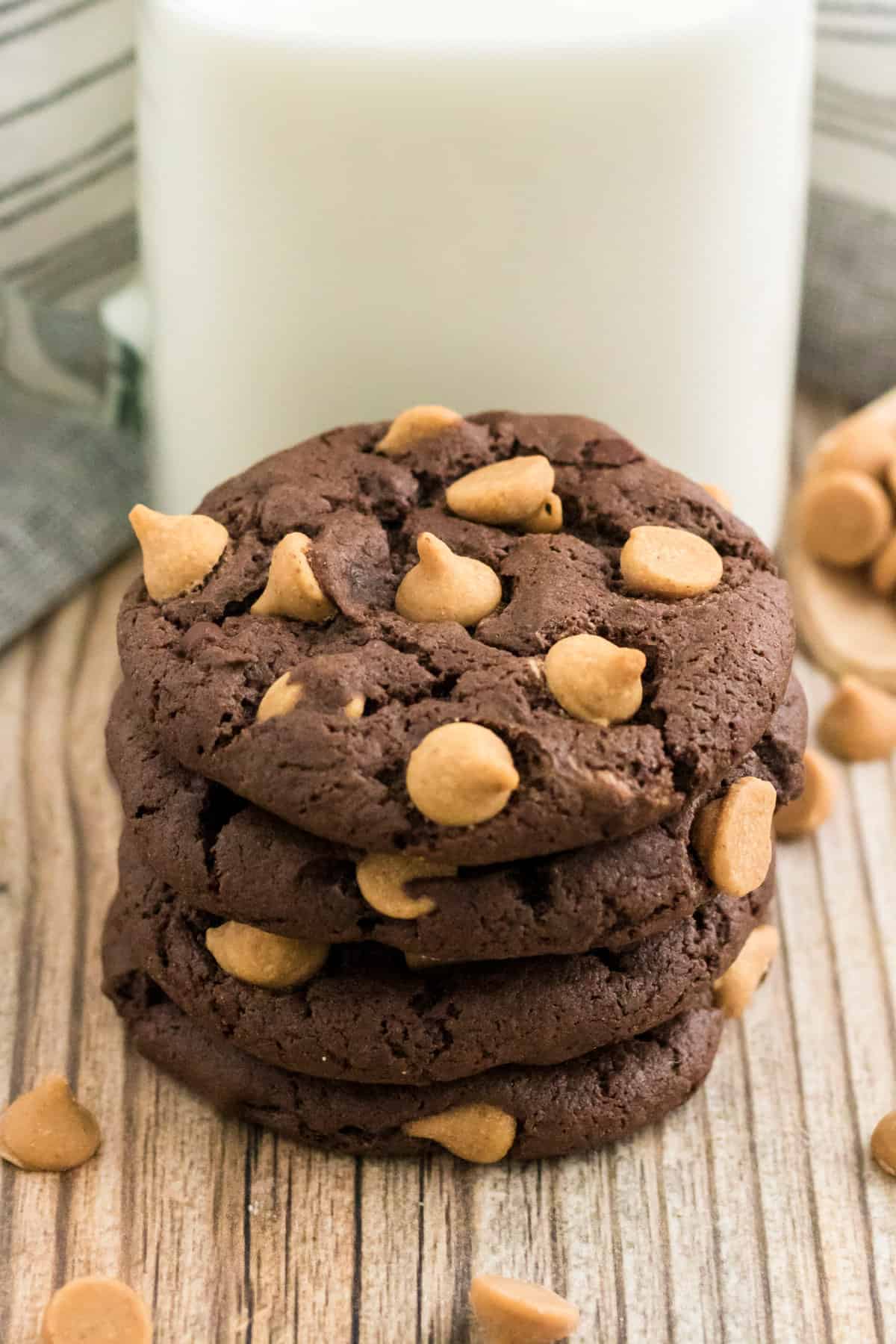 While you're here, check out the recipes for these yummy lemon cake mix cookies or strawberry cake mix cookies. If it's the holiday season, you'll want to try these snickerdoodle cake mix cookies, too.
So, if you're all about that sweet life (and let's be honest, who isn't?), grab your mixing bowl and cake mix and whip up a batch of these chocolate cake mix cookies with peanut butter chips. They're sure to become a family favorite!
Ingredients
This section includes ingredient notes and substitution options. Get all measurements, ingredients, and instructions in the printable recipe card at the end of this post.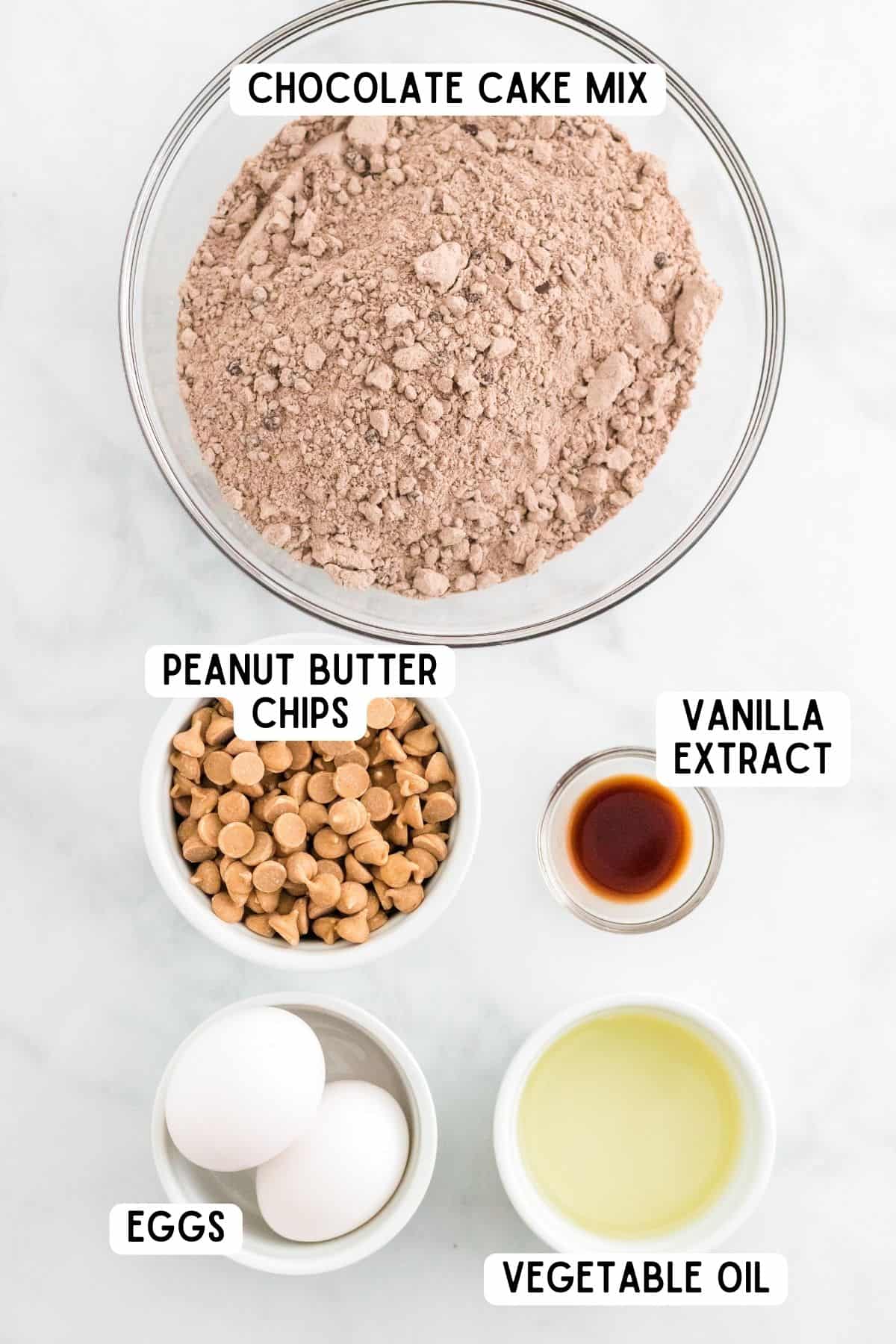 Chocolate Cake Mix — Boxed cake mix is used as a shortcut to replace the dry ingredients in chocolate cookies such as all purple flour, sugar, unsweetened cocoa powder, baking powder, and salt. I like to use devil's food cake mix for a deep chocolate flavor, but you can use milk chocolate, double fudge, or any other type.
Eggs — Eggs bind all the ingredients together. Let them come to room temperature for easy mixing.
Vegetable Oil — Canola oil works, too.
Pure Vanilla Extract — A little vanilla extract gives the cookies a little extra depth of flavor and that classic bakery scent.
Peanut Butter Chips — Reese's peanut butter chips give the cookies that delicious nutty flavor. Remember to reserve some to place on top of the cookie dough balls so they'll look picture perfect. You can replace them with semi-sweet chocolate chips or milk chocolate chips, if you prefer.
Equipment You'll Need
To whip up a batch of chocolate peanut butter chip cookies made with cake mix, grab these kitchen tools:
measuring cup and spoons
mixing bowl
cookie scoop (optional, but recommended)
plastic wrap
parchment paper – I am obsessed with these parchment sheets that fit my pans perfectly.
How to Make Chocolate Peanut Butter Chip Cookies with Cake Mix
This section shows you how to make the recipe with step-by-step photos and instructions. For the full printable recipe, see the recipe card below.
Prepare the dough: Add the chocolate cake mix, eggs, oil, and vanilla to a large mixing bowl. Mix well. Stir in about two-thirds of the chips. Cover the bowl with plastic wrap and chill for at least 20 minutes.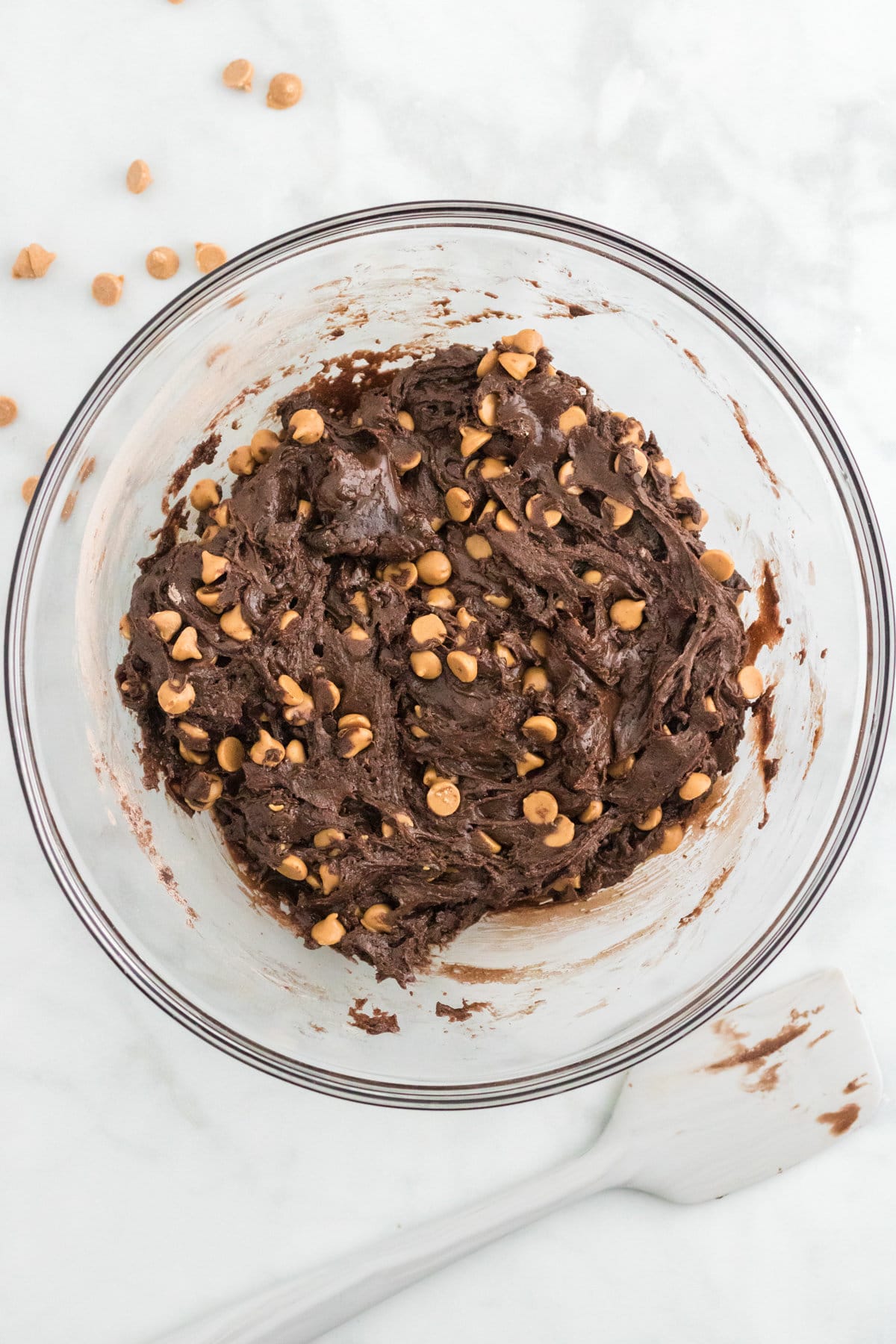 Get ready: Preheat the oven to 350°F while the dough is chilling. Line your baking sheets with parchment paper — do not spray with cooking oil because that will cause the dough to spread too much and flatten the cookies.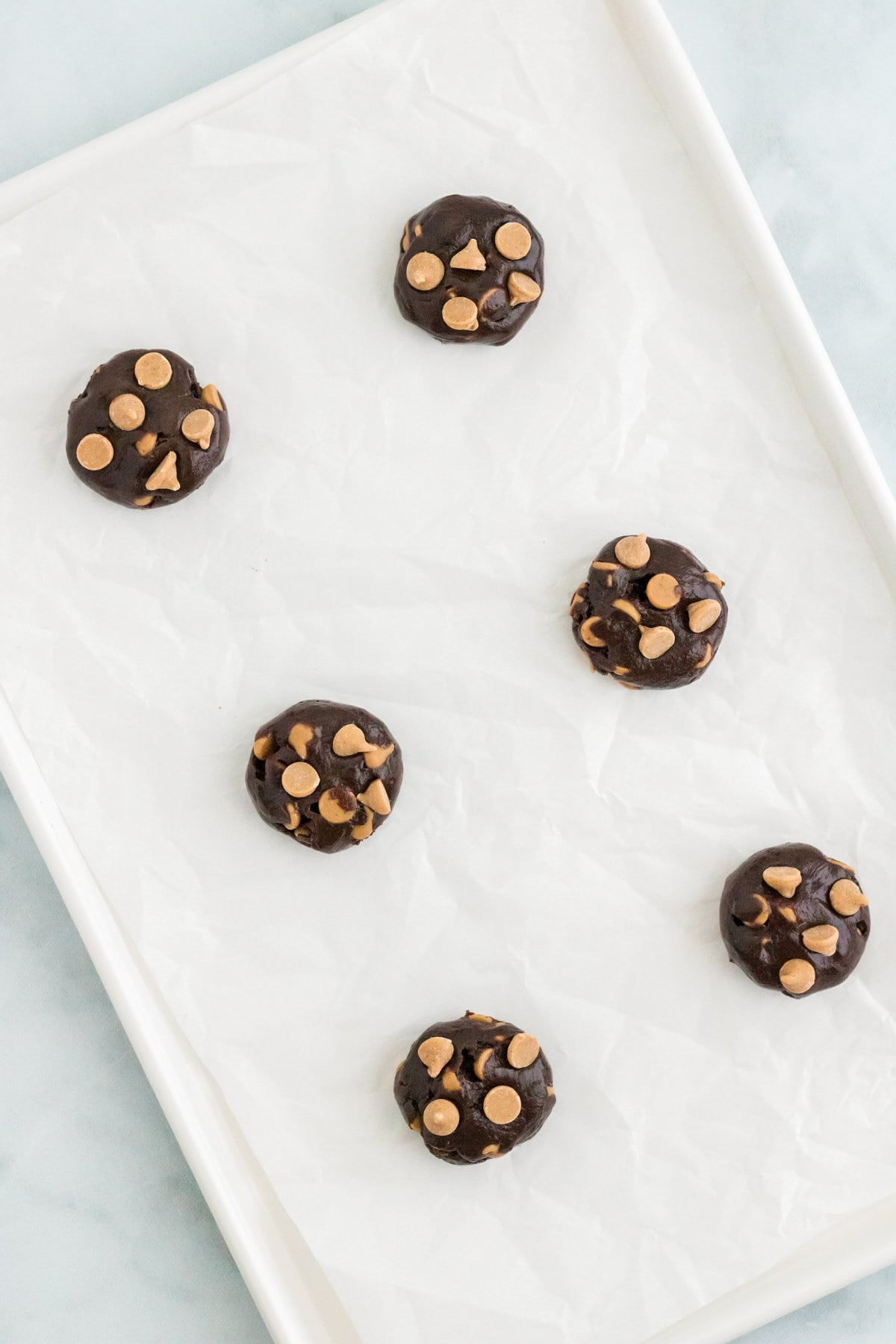 Bake the cookies: Use a cookie scoop (or Tablesoon) to portion the dough and roll it into balls. Place the balls of dough 2 inches apart on the cookie sheet. Press a few extra peanut butter chips on top of the cookies before putting them in the oven. Bake at 350°F for 8-10 minutes, until the tops of the cookies are set.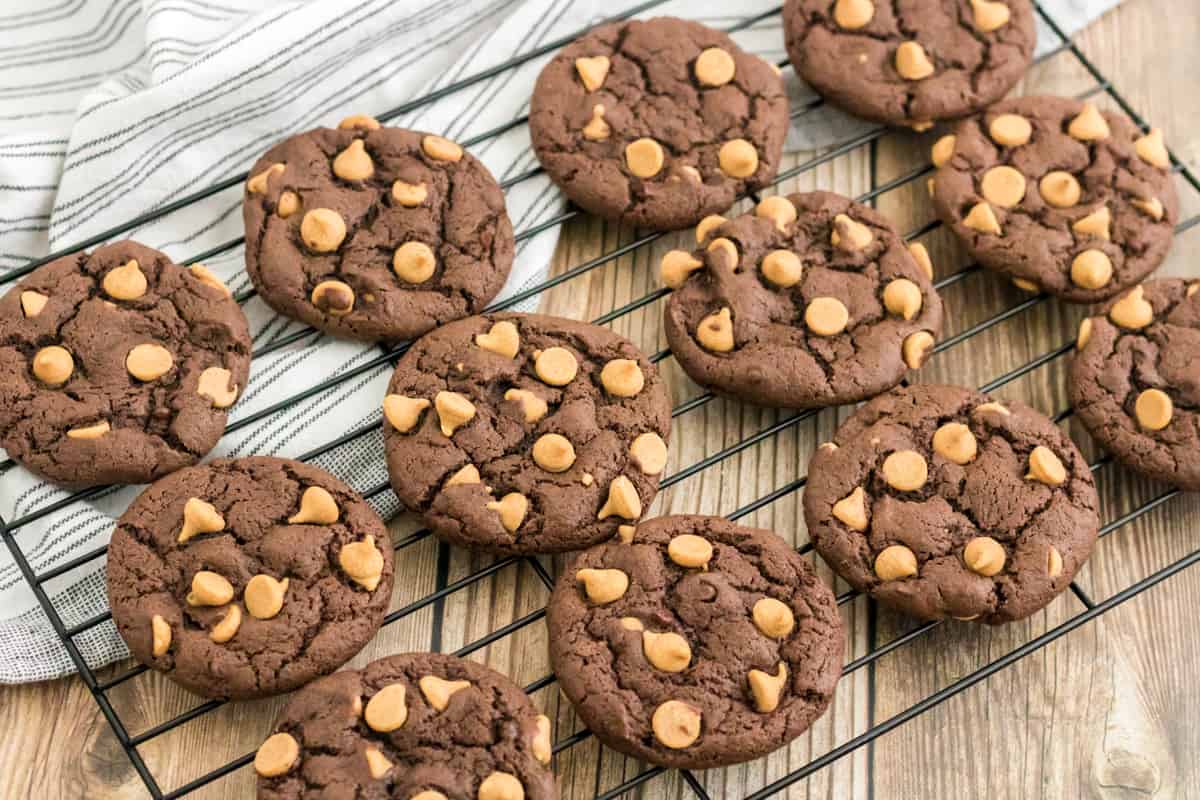 Cool the cookies: Allow the warm cookies to cool on the cookie sheet for 10-15 minutes before moving them to a cooling rack to completely cool.
Serving Suggestions
These chewy chocolate cookies are best served with a tall glass of milk. If it's fall or winter and you want to feel cozy, try them with a big mug of white hot chocolate.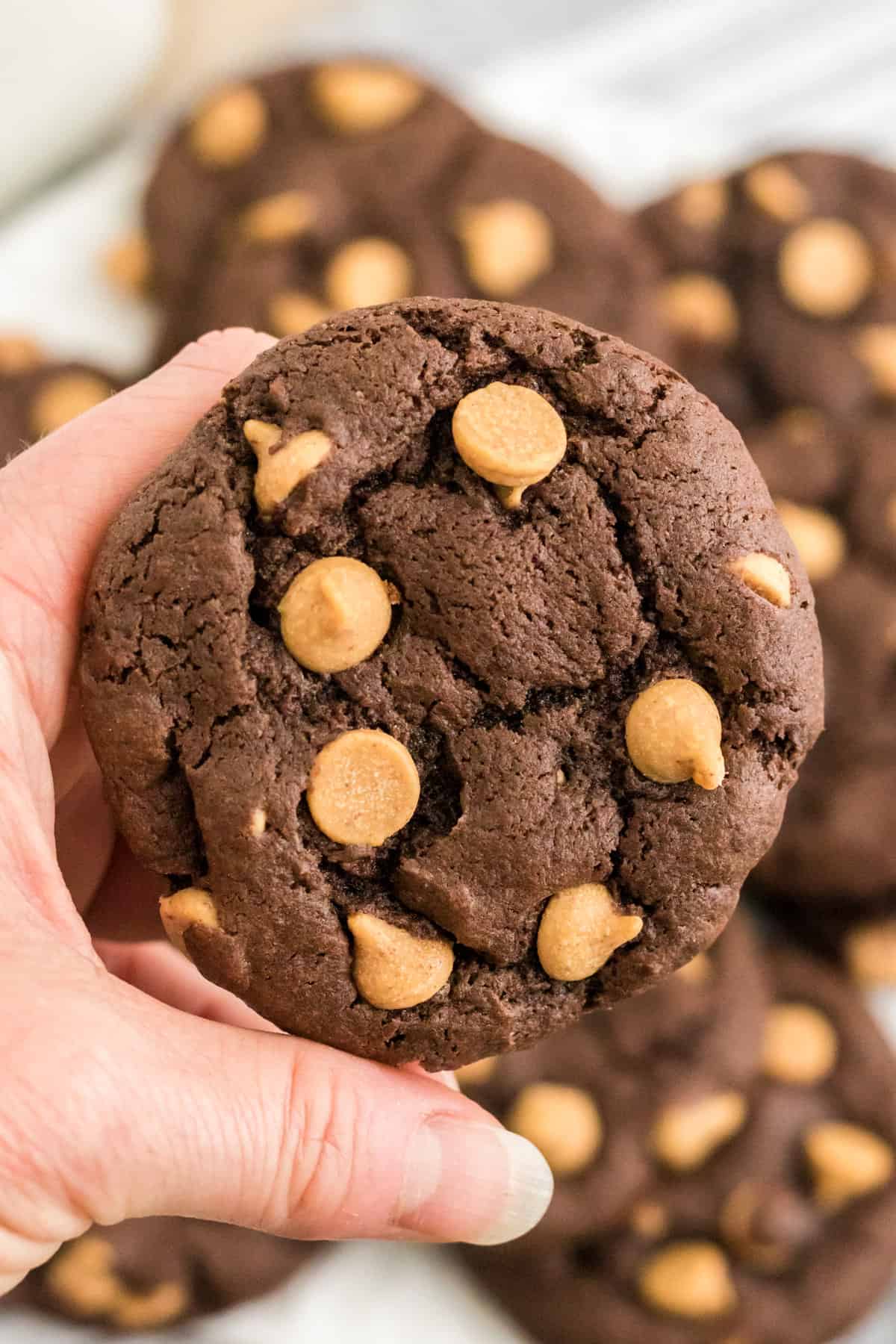 Storage and Freezing
Store chocolate peanut butter chip cookies in an airtight container at room temperature for up to 5 days.
To freeze, wrap cookies individually in plastic wrap or foil and place in a heavy-duty freezer bag for up to 3 months. Thaw cookies at room temperature for at least 30 minutes before serving. Y
The dough also freezes well. Flash-freeze cookie dough balls on a cookie sheet then transfer to a freezer baggie or freezer-safe container.
Tips and Tricks for Chewy Chocolate Peanut Butter Cookies
Do not overbake the cookies. They won't look quite done when you take them out of the oven, but they'll finish baking as they cool on the cookie sheet. This also gives them time to set up before moving them to the cooling rack, as they're rather delicate when you first take them out of the oven.
Chilling the dough may seem like a hassle, but it makes the dough much easier to scoop and keeps the cookies from spreading too much while baking.
Use a cookie scoop for perfectly portioned cookies every time. A #60 cookie scoop holds a tablespoon of dough and is just right for making cake mix cookie recipes.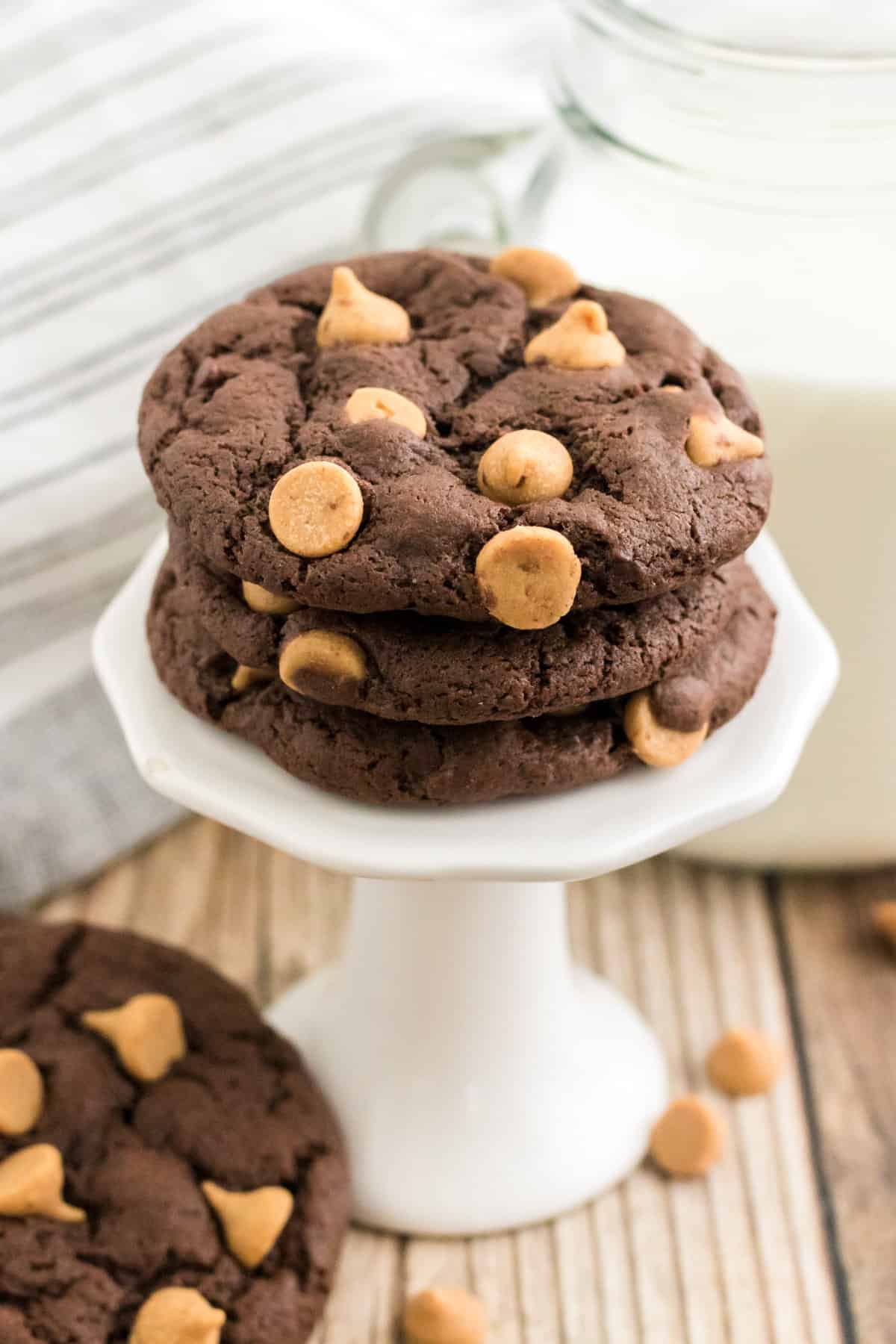 Additions and Variations
Use candy pieces: Instead of peanut butter chips, you can top your delicious chocolate cookies with Reese's Pieces for a similar flavor or M&Ms if you want extra chocolate.
Switch up the cake flavor or baking chips. You can make so many different variations of cake mix cookies. Some favorites are:
Red velvet cake mix cookies with white chocolate chips
Spice cake cookies with butterscotch or cinnamon chips
Chocolate cake mix cookies with peppermint chips (great for Christmas!)
Add different mix-ins and toppings. Feel free to add in some extras like chopped nuts, chocolate chunks, chopped candy, mini marshmallows, or a sprinkle of sea salt on top.
Make 'em bigger: As written, the recipe makes about 24 smaller cookies. If you want like large, bakery-style cookies, use 2 Tablespoons of dough per cookie. You will get about 12 large cookies this way.
Peanut Butter Chip Chocolate Cookies Recipe FAQ
Can I use a different type of cake mix?
You bet! The combination of chocolate and peanut butter is one of our favorites, but the flavor combinations are endless. Vanilla or yellow cake mixes are both yummy with the creamy peanut butter morsels.
Can I chill the dough overnight?
Yes, you prepare the dough and chill it overnight before baking.
Why are my cookies flat?
Overspreading can happen if you don't chill the dough first or if you use cooking spray instead of parchment paper.
More Peanut Butter Cookie Recipes
Can't get enough peanut butter? Me neither! Here are a few more of my favorite peanut butter cookies and treats.
Recipe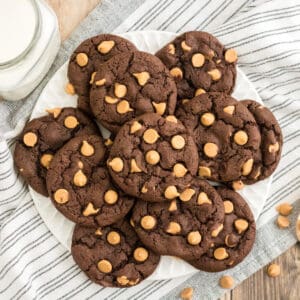 Recipe
Chocolate Peanut Butter Chip Cookies
Grab a box of chocolate cake mix to whip up these soft and chewy chocolate peanut butter chip cookies. Swap out the cake mix and baking chips for endless flavor variations!
Ingredients
15.25 ounce chocolate cake mix
2 large eggs
⅓ cup vegetable oil
1 teaspoon vanilla extract
1 cup peanut butter chips
Instructions
In a large bowl, combine the chocolate cake mix, eggs, oil, and vanilla. Mix well. Stir in about ⅔ of the peanut butter chips, reserving the rest for later.

Cover the bowl with plastic wrap and chill in the refrigerator for at least 20 minutes.

Preheat oven to 350℉. Line cookie sheets with parchment paper and set aside.

Scoop about 1 Tablespoon of dough at a time, roll into a ball, and place 2 inches apart on the baking sheets. Press a few additional peanut butter chips into the top of the cookies, if desired.

Bake for 8-10 minutes, until the top of the cookies are set. Do not overbake.

Remove the cookies from the oven and allow them to cool on the baking sheet for 10-15 minutes before transferring to a cooling rack to cool fully.
Notes
Canola oil can be used in place of vegetable oil.
Use a cookie dough scoop for uniform-sized cookies. A #60 cookie scoop holds 1 Tbsp of dough and is perfect for this recipe.
Do not grease your cookie sheets with nonstick cooking spray – it can cause the cookies to overspread.
If your cookie dough is too sticky and difficult to work with pop it back in the fridge to chill some more.
Nutrition
Calories: 110kcal | Carbohydrates: 13g | Protein: 2g | Fat: 6g | Saturated Fat: 1g | Polyunsaturated Fat: 3g | Monounsaturated Fat: 2g | Trans Fat: 0.02g | Cholesterol: 14mg | Sodium: 154mg | Potassium: 65mg | Fiber: 0.4g | Sugar: 7g | Vitamin A: 20IU | Calcium: 29mg | Iron: 1mg
Did You Make This Recipe?
Share it with me on Instagram @crayonsandcravings and follow on Pinterest @crayonsandcravings for even more!