2-Ingredient Pumpkin Spice Cake
Posts may contain affiliate links, meaning that I may earn a commission if you use a link provided.
Get all the autumn vibes and flavors of fall with this super easy 2 ingredient pumpkin cake. Just mix, bake, and top with your favorite frosting. It'll become your favorite fall treat. Perfect for Thanksgiving or whenever you are craving some Fall flavor.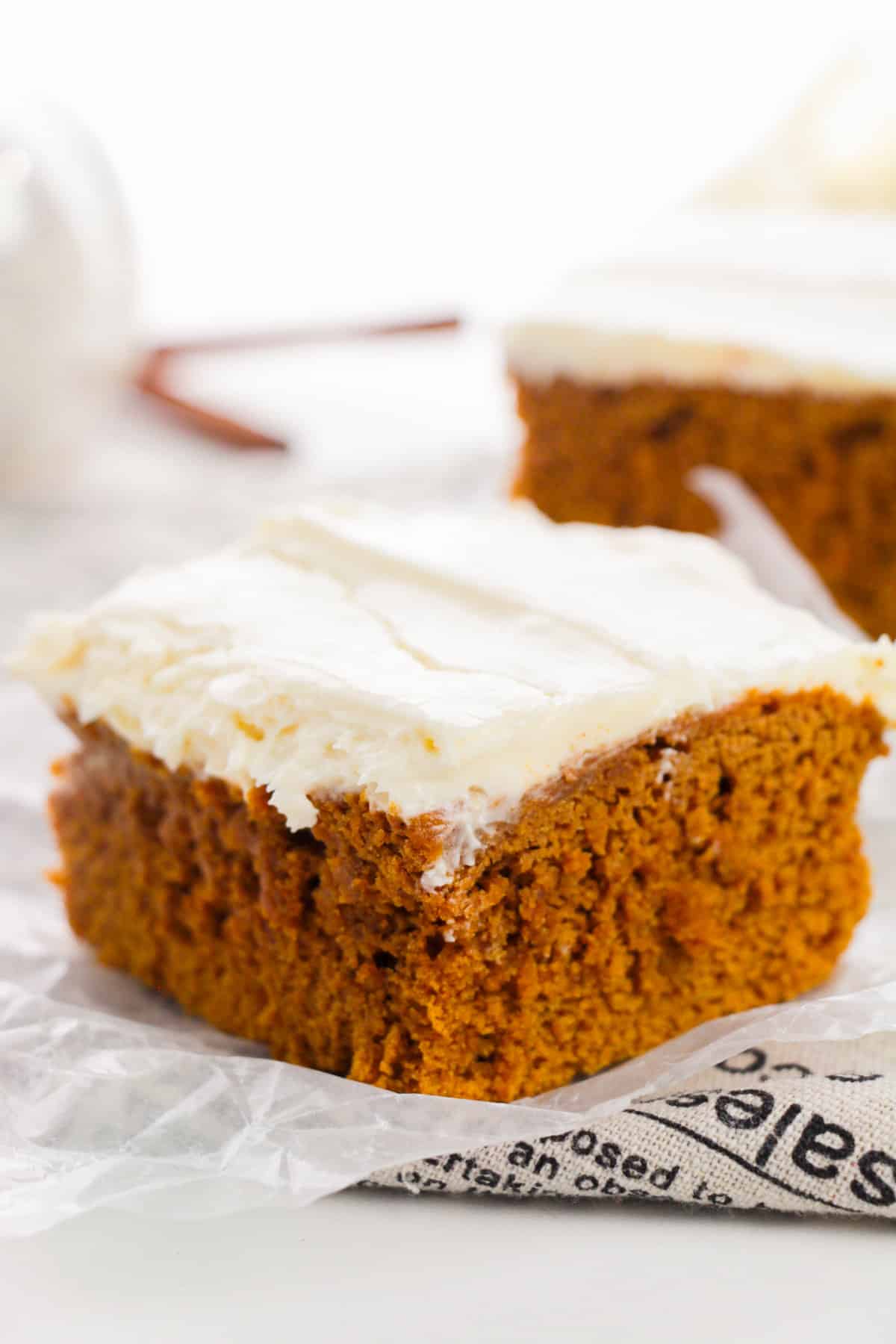 Looking for an easy recipe that you can whip up in a flash to satisfy your sweet tooth? Try this simple 2-ingredient pumpkin cake made with just a box of cake mix and a can of pumpkin puree. It's moist, delicious, and couldn't be easier to make. Plus, it tastes amazing whether it's room temperature, chilled, or warmed in the microwave.
The spice cake mix has all the warm fall spices you need, like cinnamon, nutmeg, ginger, and allspice, so there's no digging through the spice rack to find what you need. In fact, buy a few boxes of spice cake mix because you'll want to make these spice cake bars and this simple apple crisp with cake mix this fall, too.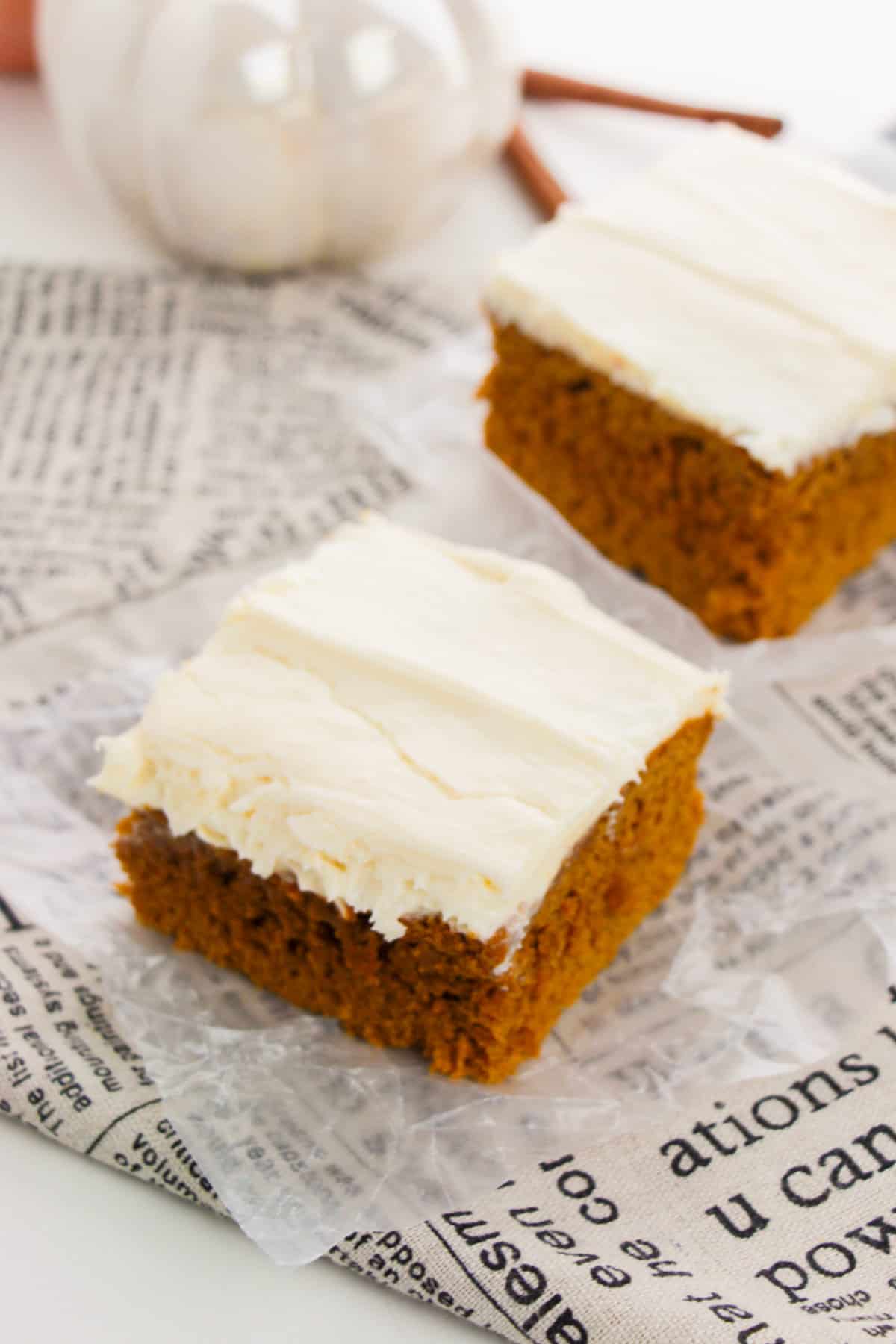 You also don't have to worry about oil, butter, milk, or eggs because the pumpkin puree provides all the moisture you need for a yummy cake.
Top it with frosting, your favorite glaze, or Cool Whip or eat it as-is. You really can't go wrong with this 2-ingredient treat for pumpkin season.
Ready to make it? Let's get started!
Ingredients for 2 Ingredient Pumpkin Cake
This section includes ingredient notes and substitution options. Get all measurements, ingredients, and instructions in the printable recipe card at the end of this post.
Spice Cake Mix — The flavors of the boxed cake mix pair perfectly with the pumpkin puree to give this cake the flavor of pumpkin pie. However, you can make it with a yellow, vanilla, or chocolate cake mix, too.
Pure Pumpkin Purée — Make sure you get pure pumpkin puree and NOT pumpkin pie filling. The spice cake mix has all the warming spices you need for the perfect flavor.
Equipment You'll Need
Here's what you'll need to bake your pumpkin spice cake:
parchment paper or cooking spray
mixing bowl
cake tester or toothpick
How to Make Two-Ingredient Pumpkin Cake
This section shows you how to make the recipe with step-by-step photos and instructions. For the full printable recipe, see the recipe card below.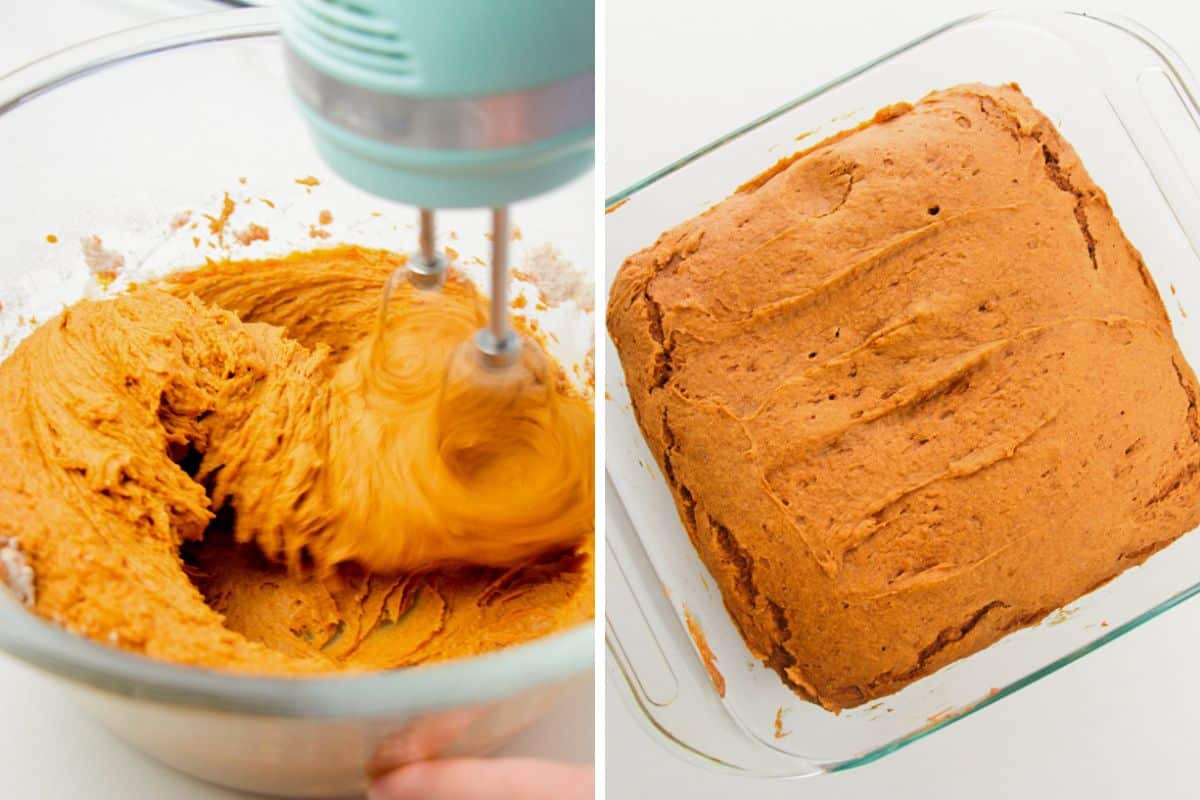 Step 1 — Prep: Heat the oven to 350°F. While it's warming, grease your cake pan with non-stick cooking spray or line the pan with parchment paper and set it aside for now.
Step 2 — Mix it up: Combine cake mix and pumpkin puree in a large mixing bowl using an electric mixer. Do not follow the instructions on the cake mix box. You only need the two ingredients mentioned (cake mix and pumpkin).
Step 3 — Bake the cake: Pour the prepared cake batter into the cake pan (it will be thick) and bake at 350°F for 25-28 minutes, until a cake tester or toothpick inserted in the center comes out almost entirely clean. A few crumbs are okay. Do not overbake.
Step 4 — Let it cool: Allow the cake to sit at room temperature until completely cooled before frosting. You don't have to frost it, but a cream cheese frosting or simple vanilla glaze can take this cake to the next level.
Serving Suggestions
Serve this easy pumpkin cake topped with vanilla or cream cheese frosting, a glaze, or a big dollop of whipped cream. It also goes great with a cup of coffee or some hot chocolate!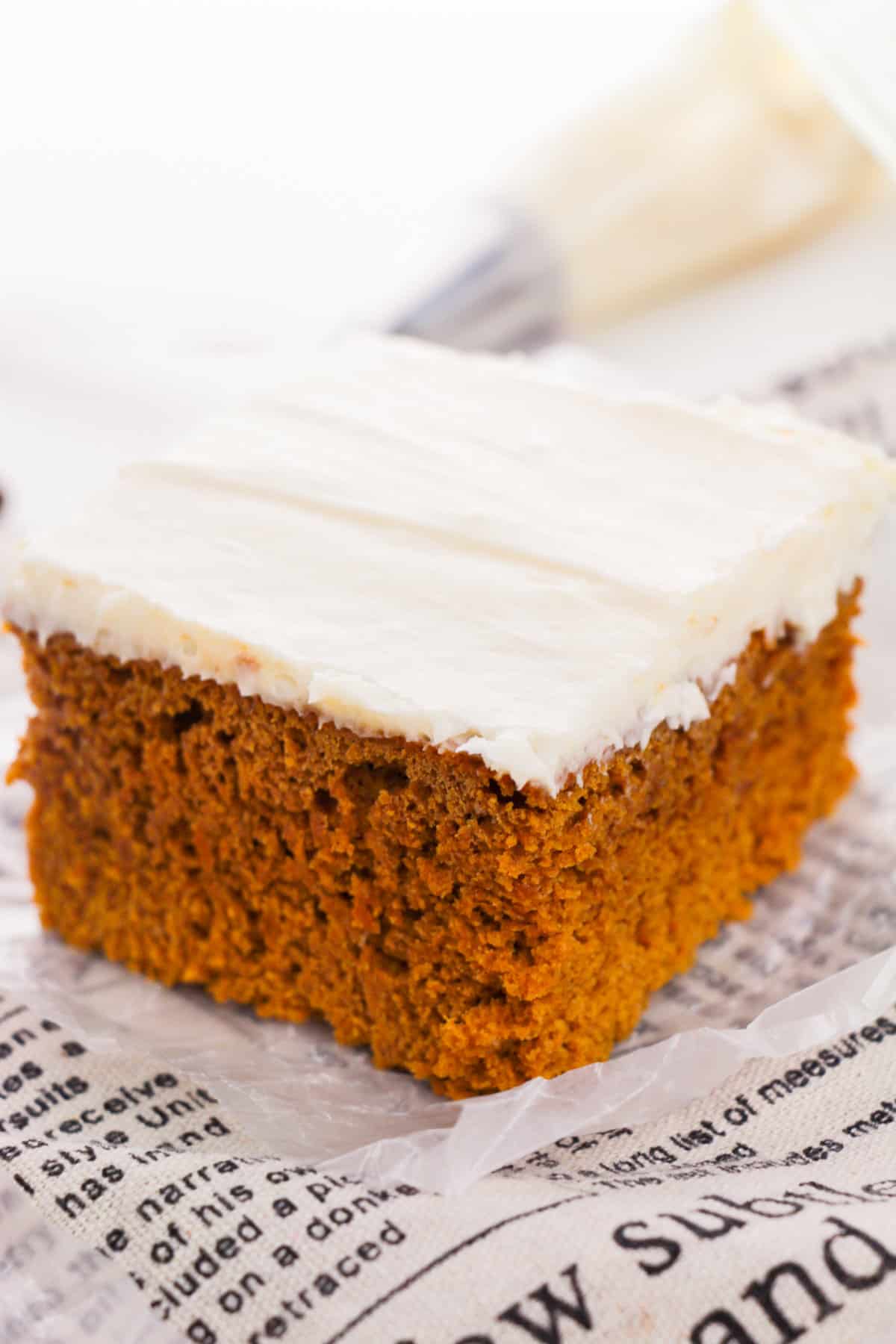 Storage and Freezing
Room Temperature: Store pumpkin spice cake in an airtight container at room temperature for up to 3 days.
Refrigerator: To prolong freshness, store leftover pumpkin cake in the refrigerator for up to 7 days.
Freezer: This cake freezes beautifully! Place it in a freezer safe container or wrap individual pieces with plastic wrap and stash in a zip-top bag for up to 3 months.
Pumpkin Cake Recipe Tips and Tricks
The batter will be very thick instead of pourable like cake mix when it's prepared the usual way. Don't worry — it'll bake up just fine!
If it's too difficult to mix, or if you'd like for the cake to be a little fluffier, you can mix in 2 eggs with the pumpkin puree and dry cake mix.
Serve this cake room temperature, chilled, or warmed in the microwave for 20-30 seconds. It's delicious any way you slice it.
Bake up a batch of pumpkin muffins by adding the batter to muffin tins instead of a cake pan.
Additions and Variations
Add mix-ins. Add some texture, crunch, or flavor by mixing in some nuts (walnuts or pecans), chocolate chips, butterscotch chips, or raisins with this two-ingredient cake.
Swap out the cake mix. Not a fan of spice cake mix? Can't find it at your stores? Swap it out for a yellow cake mix, vanilla cake mix, or chocolate cake mix. You'll need to add 2-3 teaspoons of pumpkin spice to these to get a similar flavor, though.
Top with icing. Although it's delicious as is, this cake is even more scrumptious when you add a layer of cream cheese frosting or a simple vanilla glaze.
Add vanilla extract. A splash of vanilla gives this cake more of a bakery flavor.
Make it gluten-free. To make a gluten-free pumpkin cake, use a gluten-free spice cake mix. If the amount of dry mix is different than 15.25 ounces, you may need to reduce the amount of pumpkin puree a little.
Pumpkin Spice Cake FAQ
Can I use a different cake mix?
Yes, you can. It's delicious with yellow, white, or even chocolate cake mix. If you're using anything other than spice cake, however, you'll want to add a couple of teaspoons of pumpkin pie spice or a combination of cinnamon, ginger, nutmeg, and allspice.
Can I use fresh pumpkin puree instead of canned?
I haven't tested this recipe with fresh pumpkin puree, but it may have a higher moisture content than canned pumpkin puree. If you use fresh, try to drain as much moisture from the puree as possible.
How do I know when the cake is done?
The cake is done when a cake tester or toothpick inserted into the center comes out almost entirely clean. Be careful not to overbake it, as it can become dry.
More Easy Pumpkin Recipes
Craving pumpkin everything this fall? Here are a few more of my favorite easy pumpkin desserts.
Recipe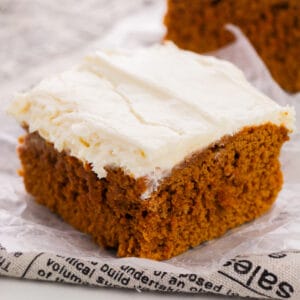 Recipe
2 Ingredient Pumpkin Cake
An easy 2-ingredient pumpkin cake recipe packed with Fall flavor. Just mix, bake, and top with your favorite frosting. So good!
Ingredients
15.25 ounce spice cake mix
15 ounce pumpkin puree
Instructions
Preheat oven to 350℉. Grease an 8 x 8 inch cake pan with non-stick cooking spray or line with parchment paper and set aside.

In a large bowl, beat together the cake mix and pumpkin puree until well combined.

Pour the cake batter into the prepared baking dish and bake for 25-28 minutes, or until a cake tester inserted in the center comes out almost entirely clean. Do not over bake.

Allow the cake to cool at room temperature before frosting (optional).
Notes
The cake is delicious on its own or with vanilla frosting, cream cheese frosting, or a simple vanilla glaze.
Try adding some chopped walnuts or pecans to the batter for some crunch, if desired.
Nutrition
Calories: 226kcal | Carbohydrates: 40g | Protein: 3g | Fat: 7g | Saturated Fat: 2g | Polyunsaturated Fat: 1g | Monounsaturated Fat: 4g | Sodium: 318mg | Potassium: 261mg | Fiber: 2g | Sugar: 24g | Vitamin A: 7355IU | Vitamin C: 2mg | Calcium: 57mg | Iron: 3mg
Did You Make This Recipe?
Share it with me on Instagram @crayonsandcravings and follow on Pinterest @crayonsandcravings for even more!