Cream Cheese Caramel Apple Dip
Posts may contain affiliate links, meaning that I may earn a commission if you use a link provided.
With 4 simple ingredients and 10 minutes of prep, you can make a scrumptious cream cheese caramel apple dip. Pair with crisp apple slices, and you have a shareable dessert that will be a huge hit at all your fall gatherings.
Caramel cream cheese apple dip is the perfect sweet treat for fall. Nothing says autumn quite like the classic combination of apples and caramel, but this year, we're giving this duo a decadent twist.
This flavorful dip recipe combines sweet cream cheese and brown sugar for a smooth, rich dip that's topped with gooey caramel sauce and crunchy nuts. It's great for any autumn get-together — tailgates, bonfires, parties, or just a cozy night at home.
To make this caramel apple dip recipe, you'll need just a few simple ingredients. Cream cheese provides a rich, creamy base while brown sugar adds sweetness and a bit of molasses flavor. Then, the caramel sauce and nuts are piled on top, adding even more decadent flavor. The crunchy nuts contrast nicely with the creamy dip underneath.
Tart, crisp apple slices pair perfectly with this delicious dip that's ready in 10 minutes or less. And if you love dessert dips like this one, try my chocolatey hot cocoa dip with strawberries or your favorite cookies.
For now, let's take a look at what you need for this homemade caramel apple dip.
Ingredients for Caramel Cream Cheese Apple Dip
This section includes ingredient notes and substitution options. Get all measurements, ingredients, and instructions in the printable recipe card at the end of this post.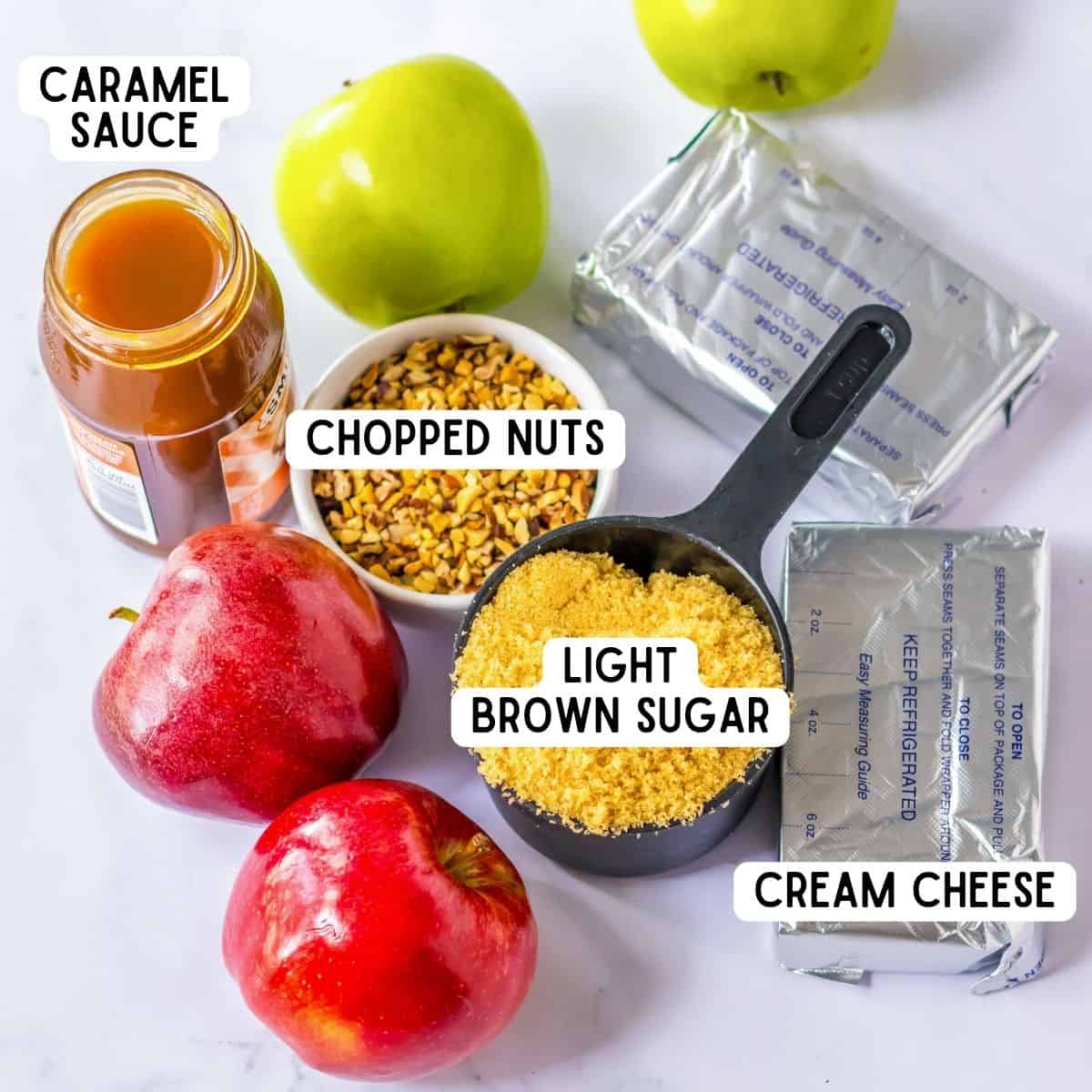 Cream Cheese — Let it soften to room temperature to make mixing easier and to avoid clumps.
Brown Sugar — This is used to sweeten the cream cheese and gives it a caramel-like molasses flavor. I prefer light brown sugar, but dark brown sugar works fine, too.
Caramel Topping — The gooey caramel topping is what makes this caramel apple dip. Use a thick caramel sauce like you find near the apples in the grocery store or, for a thinner version that's easier to pour, try caramel sundae topping.
Chopped Nuts — Chopped peanuts and/or chopped walnuts are my favorite, but chopped pecans work, too, depending on your flavor preferences. They add a nice crunch to contrast with the creamy dip.
Fresh Apples — Crunchy green or red apples are the perfect dippers for this caramel and cream cheese dip. Granny Smith apples or other tart apples are an excellent choice if you want to offset the sweetness of the dip. Otherwise, any firm green or red apples will do.
Equipment Needed
Want to get started on this dip inspired by caramel apples? Here are the tools you'll need:
hand mixer
8-inch or 9-inch serving dish or pie pan
measuring cups
rubber spatula
How to Make Caramel Apple Dip with Cream Cheese
This section shows you how to make the recipe with step-by-step photos and instructions. For the full printable recipe, see the recipe card below.
Add the softened cream cheese and brown sugar to a large bowl. Use an electric hand mixer to mix cream cheese and sugar together until well combined.
Spread the cream cheese mixture into the bottom of your dish.
Cover with caramel.
Sprinkle with chopped nuts.
Serve the sweet dip with sliced apples for dipping. Enjoy!
Serving Suggestions
Pair this caramel apple cream cheese spread with tart apples like Granny Smiths or sweet ones such as Honeycrisp, if that's your preference. Pretzel sticks or graham crackers would be delicious dippers as well.
This dip would also be amazing on a spread with our Apple Snicker Salad and Caramel Apple Nachos — two more fall desserts that require no baking at all and are always crowd pleasers.
Storage
Refrigerator: Store leftover caramel apple dip in an airtight container in the fridge for up to 2-3 days.
I do not recommend freezing this dip.
Tips and Tricks
Consider these tips for the best caramel cream cheese dip.
For thick caramel sauces, you may need to heat it in the microwave at 50% power in 15-second increments until it's pourable.
Serving the dip at room temperature makes it easier for dipping your cut apples into. However, you should not leave the dip out longer than 2 hours.
Create individual dipping cups by spooning small portions of each ingredient into condiment cups or small plastic cups.
Slice apples right before serving to prevent browning.
Additions and Variations
Add vanilla extract or cinnamon for extra flavor. Boost your dip with a teaspoon of vanilla or a teaspoon of cinnamon (or both)!
Try a different topping. Instead of chopped nuts, sprinkle toffee bits, chopped Butterfingers, or Heath Bars are great options. You can also add mini chocolate chips to make it more decadent.
Swap out your dippers. In addition to sliced apples, you can also pair this caramel apple dip with cookies, pretzels, vanilla wafers, graham crackers, or other fresh fruit, like pears.
Easy Caramel Apple Dip Recipe FAQ
How do you keep sliced apples from turning brown?
While many people swear by tossing the apples with a little lemon juice, my favorite way to prevent apples from browning is soaking the apple slices in a mixture of 1/2 teaspoon of kosher salt per cup of water. Allow the apples to soak for 5 minutes and then rinse with cold water and allow to dry.
What kind of caramel should I use to make this dip?
It's up to you! You can use a thick caramel dip that's often found in the produce section near the apples in grocery stores if you're traveling with it. The thicker consistency will help the caramel layer stay nicely on top of the cream cheese mixture without getting too runny. For a thinner caramel topping (that will still thicken set up when refrigerated), you can use ice cream sundae caramel sauce instead.
What kind of apples go best with homemade caramel apple dip?
Slightly sour and tart apple varieties pair best with the caramel apple cream cheese dip. Good options include Granny Smith, Honeycrisp, Pink Lady, or Braeburn. Their tanginess contrasts nicely with the rich dip.
Can I make this caramel apple cheesecake dip ahead of time?
Yes, you can prepare the cream cheese caramel dip ahead of time. Make the cream cheese layer and top with caramel and nuts up to a day or two ahead of time. Just be sure to wait to slice the apples until right before serving to prevent browning. The pre-made dip can be stored tightly covered in the refrigerator until ready to serve alongside fresh apple slices.
More Dessert Dip Recipes
Love this delicious caramel apple dip? Satisfy your sweet tooth with some of our other delicious dessert dips!
Cookie dough dip — Perfect for anyone who loves chocolate chip cookies. Graham crackers or apple slices are the perfect dippers.
Funfetti cake dip — This fun dip is like a celebration in a bowl! Kids will love pairing this one with Teddy Grahams or animal crackers.
Peanut butter cup dip — Creamy, peanut buttery dip that's so yummy with pretzels (for a sweet and salty combo) or cookies.
Recipe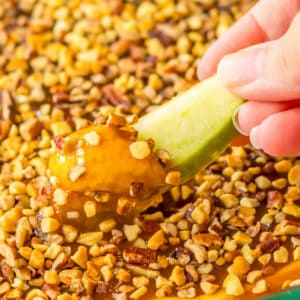 Recipe
Cream Cheese Caramel Apple Dip
Caramel apple dip is simple to make but incredibly delicious! Just 4 ingredients is all you need to create this amazing dip. Cream cheese and brown sugar combine to create the base, then you simply pile on the caramel and chopped nuts.
Ingredients
16 ounces cream cheese softened
1 cup light brown sugar
12-14 ounces caramel topping
1 cup chopped nuts
apple slices for dipping
Instructions
In a large mixing bowl, use an electric mixer to beat together the cream cheese and brown sugar until well combined.

Spread the cream cheese mixture into an 8- or 9-inch baking dish or pie pan.

Pour the caramel on top.

Top with the chopped nuts.

Serve with apple slices for dipping.
Notes
Store leftover caramel apple dip covered tightly with plastic wrap or in an airtight container in the refrigerator for up to 3 days.
Toffee pieces or chopped-up Butterfingers are a delicious addition to the recipe. Just sprinkle them over the top of the caramel.
Try adding a little vanilla extract or ground cinnamon to the cream cheese mixture for added flavor, if desired.
Nutrition
Calories: 327kcal | Carbohydrates: 38g | Protein: 4g | Fat: 19g | Saturated Fat: 8g | Polyunsaturated Fat: 5g | Monounsaturated Fat: 4g | Cholesterol: 38mg | Sodium: 221mg | Potassium: 136mg | Fiber: 1g | Sugar: 36g | Vitamin A: 535IU | Vitamin C: 0.3mg | Calcium: 75mg | Iron: 0.5mg
Did You Make This Recipe?
Share it with me on Instagram @crayonsandcravings and follow on Pinterest @crayonsandcravings for even more!