Crockpot Pumpkin Spice Latte
Posts may contain affiliate links, meaning that I may earn a commission if you use a link provided.
Use your slow cooker to whip up a big batch of this crockpot pumpkin spice latte that's every bit as delicious as the version you get at your local coffee shop. It's rich, creamy, and packed with irresistible fall flavors. Perfect for holiday parties, too!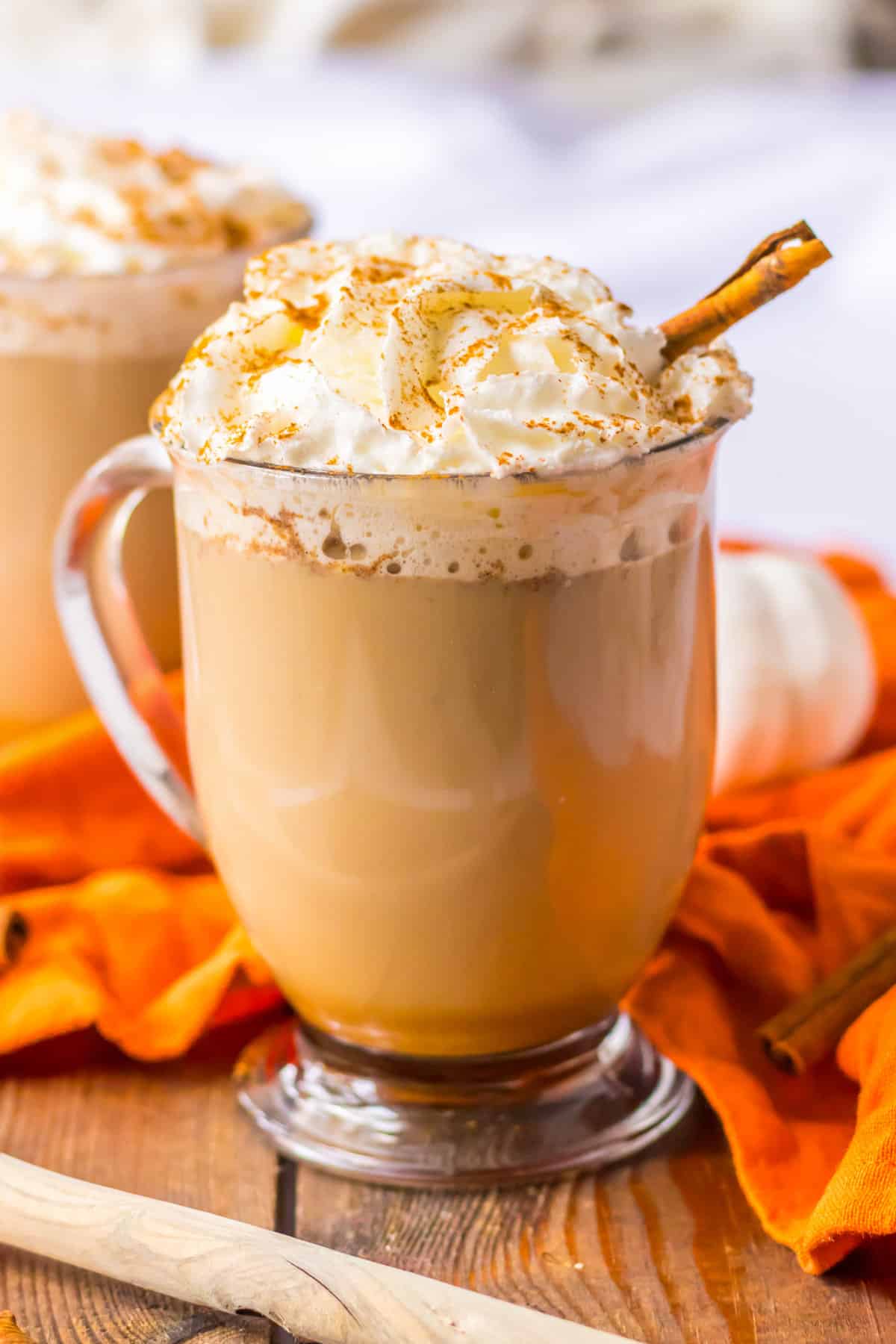 Slow Cooker Pumpkin Spice Latte
Drink up with the coziest drink of the season: a big mug of pumpkin spice latte topped with loads of whipped cream and a generous sprinkle of cinnamon. There's no need for an espresso machine or a trip to Starbucks when you can make it yourself (and all of your friends) in one big batch.
Using the slow cooker is a great way to make a large batch of the seasonal drink for a holiday party or lazy mornings at home. Plus, you will love the scent that fills the house as it simmers away.
In love with lattes? You'll also want to try this incredible crockpot gingerbread latte during the Christmas season. If you're looking for more hot beverages for a crowd, try my crockpot apple cider or this yummy crockpot salted caramel hot chocolate.
But now, let's get to the ingredients you'll need for this slow cooker pumpkin spice latte recipe so you can have one today!
Ingredients
This section includes ingredient notes and substitution options. Get all measurements, ingredients, and instructions in the printable recipe card at the end of this post.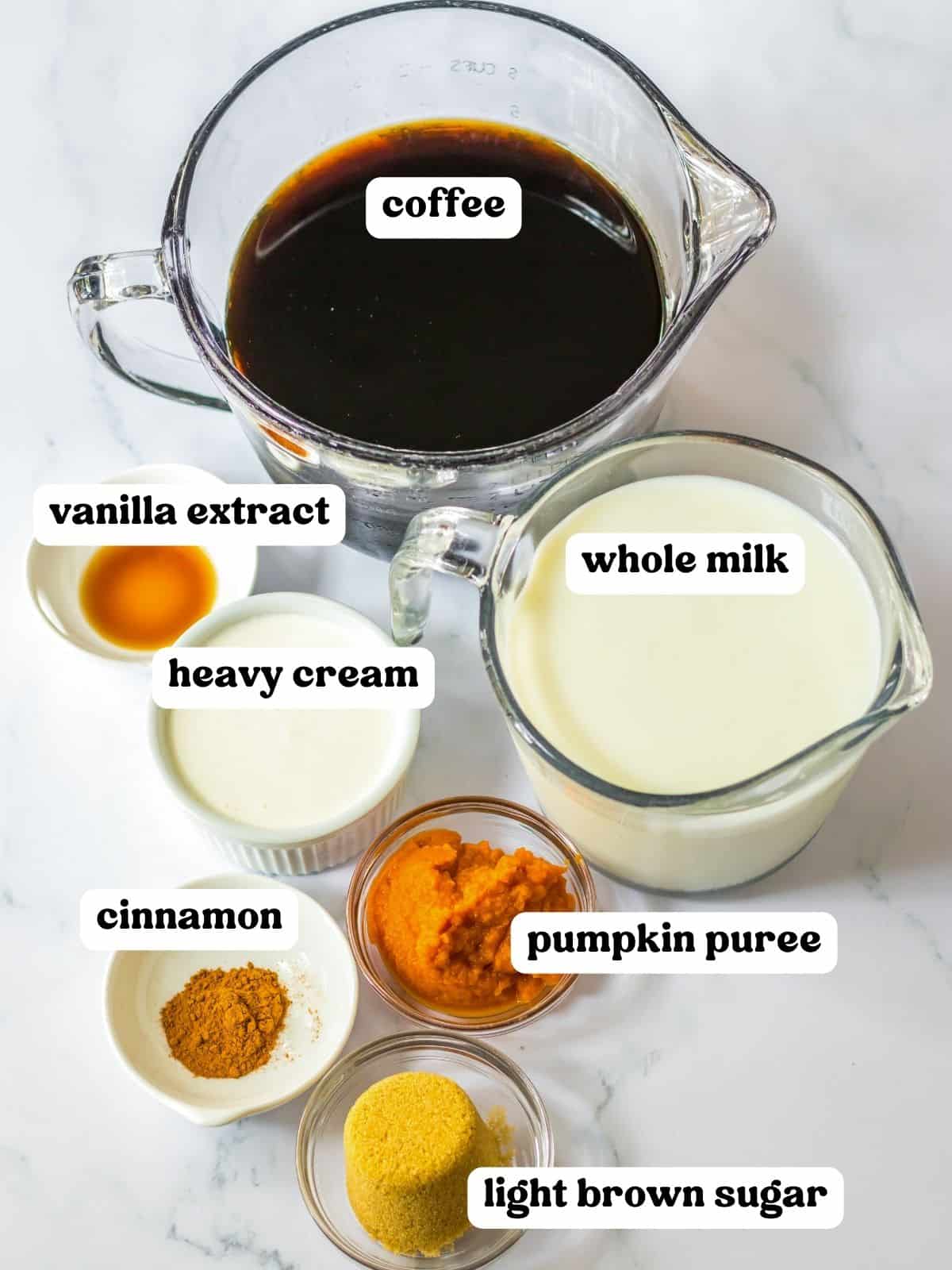 Brewed Coffee — Brew up a batch of your favorite coffee. If you like a strong coffee flavor in your lattes, make sure the brew is strong. If you prefer a milder coffee flavor, regular brew is fine.
Milk — I recommend whole milk to make this delicious latte smooth and creamy. You can use 2% milk, 1% milk, or skim milk as well but your latte won't be as creamy.
Heavy Whipping Cream — Add a little heavy cream to amp up the richness and creaminess.
Canned Pumpkin Puree — Unlike some lattes, this one actually incorporates real pumpkin! Make sure you've got pure pumpkin puree and not pumpkin pie filling.
Brown Sugar — Light brown sugar has a molasses or caramel-like flavor that's perfect for sweetening up this drink.
Vanilla Extract — Use pure vanilla extract, not imitation vanilla. The vanilla complements the pumpkin and warm spice flavors.
Pumpkin Pie Spice — To give the latte its signature flavor! If you don't have any, you can make your own blend using cinnamon, ground ginger, allspice, ground nutmeg, and cloves.
Whipped Cream — Add it to the top of your lattes just before serving. The light, fluffy texture and flavor are perfect with the rich latte.
Ground Cinnamon — A sprinkle of cinnamon adds an extra boost of those warm spices and makes the drink look decorative. You can substitute with cinnamon sugar for extra sweetness or use another pinch of pumpkin pie spice if you prefer.
Equipment
Ready to make a homemade PSL? Here's what you'll need to gather from your kitchen:
How to Make Crockpot Pumpkin Spice Lattes
This section shows you how to make the recipe with step-by-step photos and instructions. For the full printable recipe, see the recipe card below.
Add all the ingredients (except the whipped cream and cinnamon for garnish) to the crockpot. Whisk everything together until it's smooth and well combined.
Put the lid on the crockpot, set the heat to low, and cook for 2 hours, stirring occasionally.
Give the slow cooker pumpkin spice latte mixture one final good stir, then serve in mugs. Top with whipped cream and additional cinnamon, if desired. Drink up!
Serving Suggestions
Enjoy a mug of homemade pumpkin spice latte with some warm cookies for the ultimate fall treat! These thick snickerdoodle cookies or soft gingerbread cookies are perfect for an after-dinner snack on Thanksgiving or Christmas or any day when you want to feel cozy and warm when it's chilly out.
It's also the perfect drink to serve up with breakfast, like these gingerbread pancakes!
Storage and Freezing
While it's best enjoyed within a few hours of making it, you can store leftover pumpkin spice latte in an airtight container in the fridge for up to 3 days. Shake or whisk well, and reheat gently on the stove top or in the microwave.
I do not recommend freezing this drink since the fat in the milk and cream will separate after freezing and thawing.
Crockpot Pumpkin Latte Tips and Tricks
To make sure the other flavors don't overtake the coffee flavor, start with a strong brewed coffee.
Use decaf coffee if you want to skip the caffeine.
Adjust the sugar to your preferences. Add more if you prefer a sweeter drink or use less if you prefer your coffee drinks less sweet.
Double this recipe if you're making it for a large group. Just make sure your slow cooker is big enough to accommodate all the liquid.
This drink is best served fresh, but you can get it started a couple of hours before a gathering and then set it to warm to keep it hot for a few hours.
Additions and Variations
Drizzle for more decadence. Want to add even more sweetness? Drizzle the top with caramel sauce or chocolate sauce to make it extra rich.
Make an iced latte. Do you prefer cold coffee drinks? After everything is cooked, let it cool to room temperature and then refrigerate it to cool further. Serve over ice. (You could even add some of this latte to an ice cube tray so your drink doesn't get watered down!)
Add toppings. Some mini marshmallows, mini caramel chips, or some chocolate shavings will look and taste amazing. You can also include a cinnamon stick in each mug!
Try a maple version. Sweeten it with maple syrup instead of brown sugar for all the comforting flavors of fall.
Crock Pot Pumpkin Spice Latte FAQ
Can I use a different type of milk for this crock pot pumpkin spice latte recipe?
We haven't tested it with anything other than dairy milk, but I think that you should be able to sub coconut milk, almond milk, or oat milk. If you try it, let us know how it works for you!
How do I keep this warm for a party?
Once it has cooked for 2 hours, you can set the crockpot to warm and let it sit for a couple hours. Just be sure to stir it occasionally to prevent a film from forming on top.
More Pumpkin Spice Recipes
Get even more of that pumpkin spice goodness this fall with these delicious recipes.
Recipe
Recipe
Crockpot Pumpkin Spice Latte
Rich and creamy pumpkin spice lattes made right in your slow cooker! Perfect for holiday parties or cozy Fall mornings as home.
Ingredients
5 cups brewed coffee
4 cups whole milk
½ cup heavy whipping cream
½ cup light brown sugar
½ cup canned pumpkin puree
1 teaspoon pumpkin pie spice
1 teaspoon vanilla extract
whipped cream optional topping
ground cinnamon optional topping
Instructions
Add the coffee, milk, heavy cream, brown sugar, pumpkin puree, pumpkin pie spice, and vanilla extract to the crockpot. Whisk to combine.

Cover and cook on low for 2 hour, stirring occasionally.

Stir and serve. Top with whipped cream and a sprinkle of cinnamon, if desired.
Notes
Use decaf coffee for a caffeine-free drink.
Feel free to adjust the amount of sugar to your personal taste.
You can keep the drink on the warm setting for a couple of hours while serving if necessary. Just continue to give it a stir occasionally.
Nutrition
Calories: 247kcal | Carbohydrates: 28g | Protein: 6g | Fat: 13g | Saturated Fat: 8g | Polyunsaturated Fat: 0.5g | Monounsaturated Fat: 3g | Cholesterol: 42mg | Sodium: 78mg | Potassium: 429mg | Fiber: 1g | Sugar: 27g | Vitamin A: 3733IU | Vitamin C: 1mg | Calcium: 240mg | Iron: 1mg
Did You Make This Recipe?
Share it with me on Instagram @crayonsandcravings and follow on Pinterest @crayonsandcravings for even more!