Posts may contain affiliate links, meaning that I may earn a commission if you use a link provided.
Espresso (or strong coffee) is stirred with a homemade gingerbread syrup and frothed milk to make this warm and comforting gingerbread latte recipe. Sweet molasses combines with warm spices like ginger, cinnamon, and nutmeg for that classic gingerbread flavor we all know and love.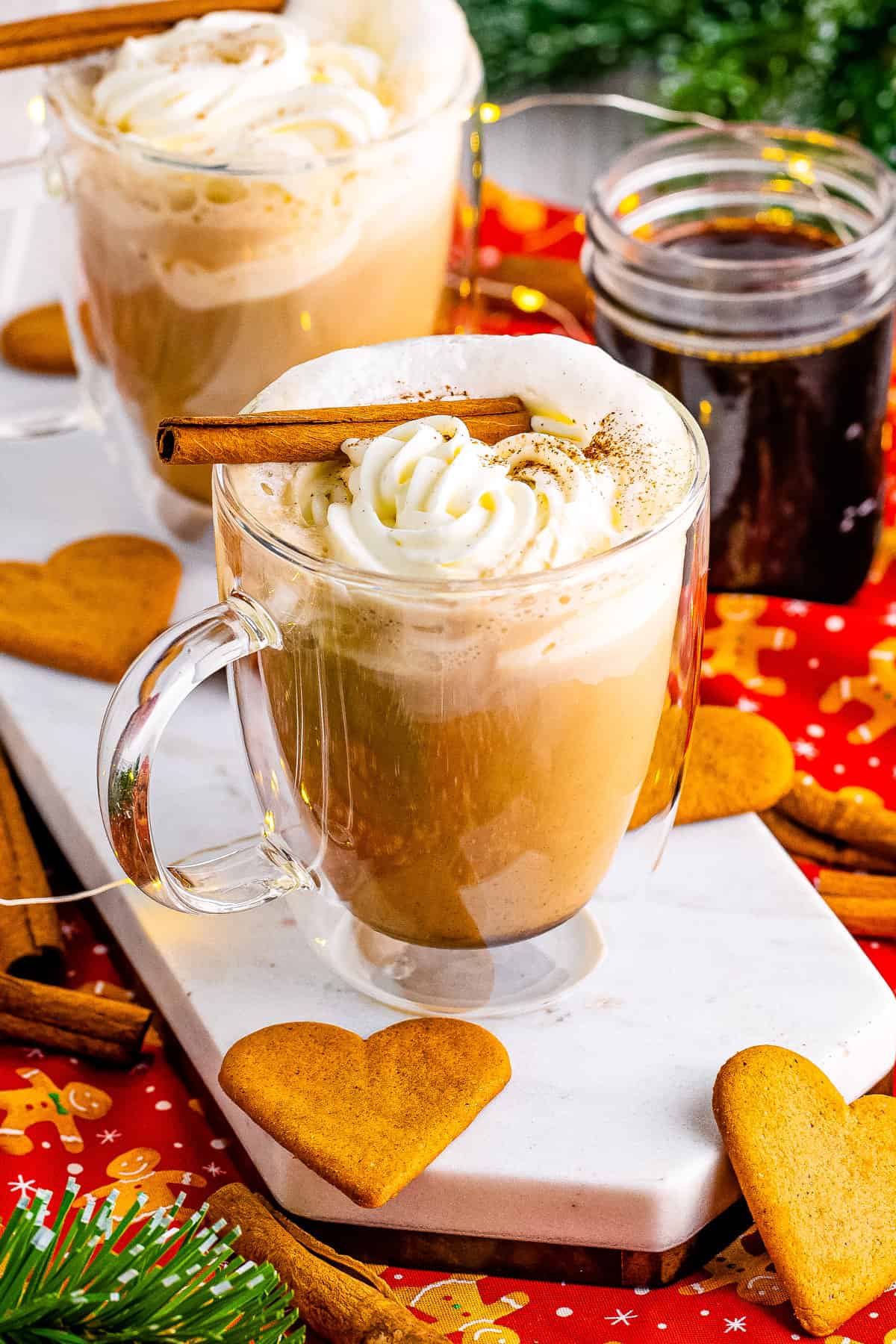 With Christmas just around the corner and holiday spirit in the air, festive drinks are on the menu. There's nothing better than a cozy gingerbread latte that's just like the one Starbucks used to offer.
Unfortunately, this fan favorite has been retired from the holiday drinks menu for the past few years. But if you want to get your gingerbread latte fix, this recipe is the next best thing to the Starbucks version — even better, actually!
Enjoy a latte with my Soft Gingerbread Cookies for an extra special holiday treat on Christmas morning.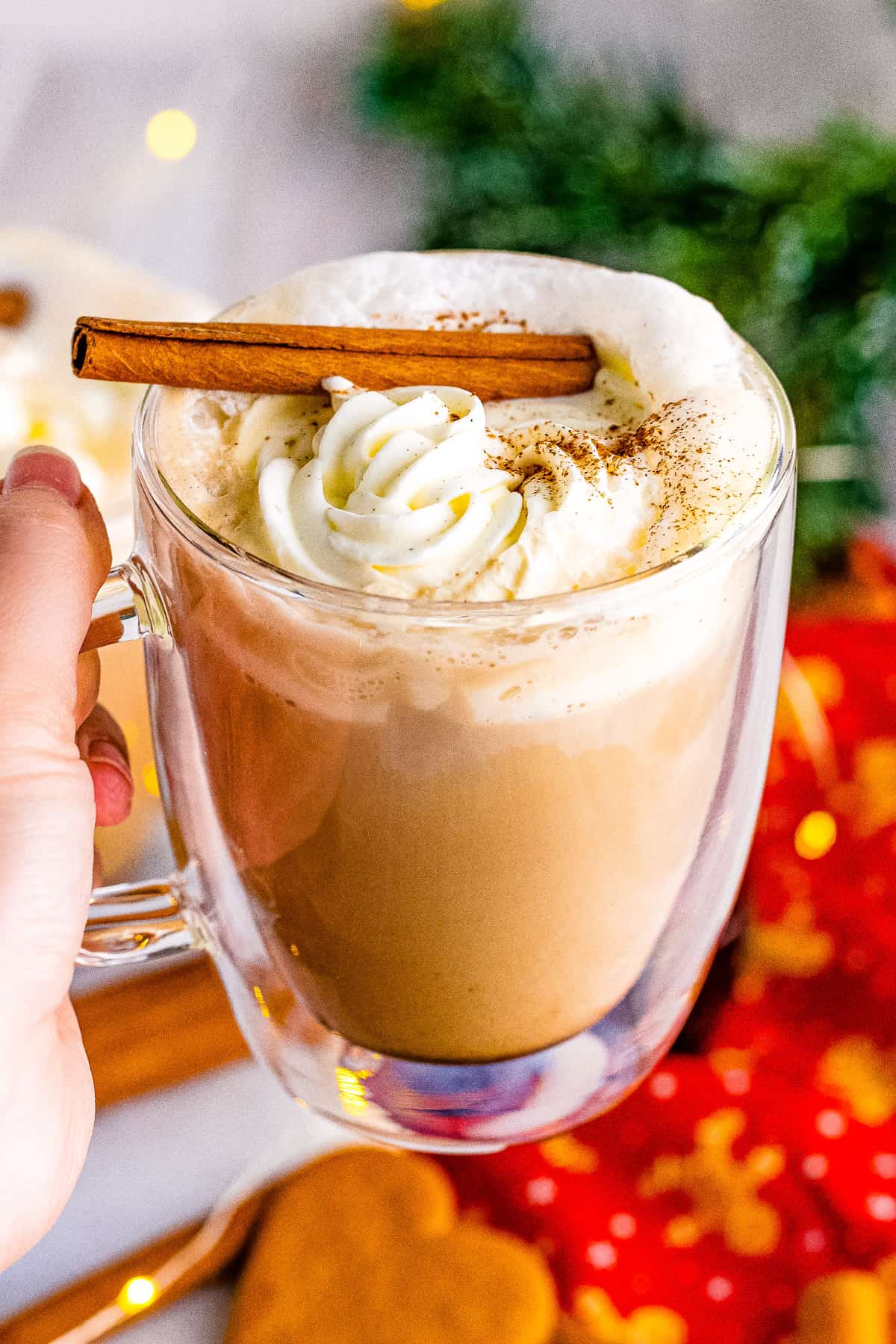 First, you'll start by making your own gingerbread syrup. It's easy, I promise, and it keeps beautifully in the fridge so you can enjoy some delicious gingerbread lattes later in the holiday season. Once the simple syrup is done, the rest of the latte is easy peasy. Not only is this copycat Starbucks gingerbread latte recipe more budget-friendly than going to a local coffee shop, but you can enjoy it in your pajamas.
Want to make them for a crowd? Try this Slow Cooker Gingerbread Latte instead, but double, triple, or quadruple the recipe (depending on the size of your crock pot).
Now, let's get started on a yummy gingerbread latte!
Ingredients
This section includes ingredient notes and substitution options. Get all measurements, ingredients, and instructions in the printable recipe card at the end of this post.
For the gingerbread syrup:
For the latte:
Equipment You'll Need for a Starbucks Copycat Gingerbread Latte
Here's what you'll need to whip up this gingerbread latte recipe in a jiffy!
How to Make a Gingerbread Latte
This section shows you how to make the recipe with step-by-step photos and instructions. For the full printable recipe, see the recipe card below.
Step 1: Start with making the gingerbread syrup first. Add the water, sugar, brown sugar, molasses, ginger, cinnamon, nutmeg, cloves, and salt to a medium saucepot. Stir to combine.
Step 2: Cook over medium-low heat until it begins to simmer, stirring occasionally. Once it starts simmering, stir constantly for 5 minutes. It's very important to stir the entire time or else the sugars will scorch and burn. After simmering and stirring for 5 minutes, remove from the heat and stir in the vanilla. Set the syrup aside.
Step 3: Add espresso or strong coffee to your mug.
Step 4: Add 2 tablespoons of gingerbread syrup and some frothed milk. Top with whipped cream and a pinch each of cinnamon and nutmeg. Feel free to add more gingerbread syrup if you'd like a stronger gingerbread flavor.
Serving Suggestions
I recommend serving this homemade gingerbread latte in a cute holiday mug with loads of whipped cream and a pinch of cinnamon and nutmeg over the top. You can also add a cinnamon stick or crumble a gingerbread cookie over the top for extra flavor and holiday flair.
If you're looking for something sweet to go along with your latte, look no further than a hunk of my Gingerbread Monkey Bread, some Biscoff cookie butter truffles, or a big piece of Old Fashioned Gingerbread Cake.
Storage and Freezing
Refrigerator: The homemade gingerbread syrup will last up to 1 month in the fridge in an airtight container. Warm syrup in the microwave or on the stove before adding to your lattes.
Freezer: You can freeze this gingerbread simple syrup for up to 6 months or more in a freezer safe container. Thaw in the fridge overnight, and then reheat as instructed above.
Gingerbread Latte Copycat Recipe Tips and Tricks
Additions and Variations
Crumble a gingerbread cookie on top. That'll definitely add more gingerbread flavor to this cozy drink.
Make it boozy. Add some Baileys Irish Cream to your latte! You'll need about 1/4 cup per latte—don't forget to reduce the milk by 1/4 cup if adding the Baileys.
Insert a cinnamon stick. It'll add even more holiday flavor while you sip on your latte.
Make it vegan. Use plant-based milk and whipped cream to turn this into a vegan gingerbread latte.
Enjoy an iced gingerbread latte. Prefer iced coffee? Let the espresso shots cool, and then add the gingerbread syrup and milk. There's no need to froth the milk if you're serving it cold.
Starbucks Gingerbread Latte Recipe FAQ
What is in a Starbucks Gingerbread Latte?
Starbucks lists the following ingredients on their site: milk, espresso, gingerbread syrup, whipped cream, vanilla syrup, and nutmeg. However, the drink has been retired for a few years now.
What is gingerbread syrup made of?
This delicious gingerbread syrup is made with water, white sugar, brown sugar, molasses, ginger, cinnamon, nutmeg, cloves, vanilla, and a pinch of salt. You'll love it!
Can you froth plant-based milk?
Yes, you can, though it's a little more difficult. For plant-based milk like oat milk or almond milk, get Barista blend milks which are thicker and easier to froth. The thicker, the better.
More Hot Holiday Drinks
Recipe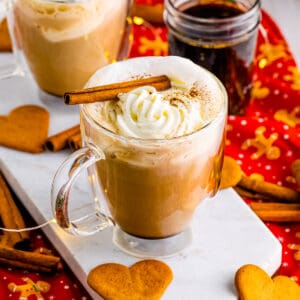 Recipe
Gingerbread Latte
Whip up a cozy gingerbread latte just like the one you used to get at Starbucks. Espresso, homemade gingerbread syrup, and frothed milk make this drink creamy, dreamy, and perfectly spiced.
Ingredients
For the Gingerbread Syrup:
¾ cup water
½ cup granulated sugar
⅓ cup dark brown sugar packed
¼ cup molasses
1 ¼ teaspoon ground ginger
½ teaspoon ground cinnamon
¼ teaspoon ground nutmeg
pinch ground cloves
pinch salt
2 teaspoons vanilla extract
For each Latte:
2 shots hot espresso or ½ cup strong coffee
2 Tablespoons gingerbread syrup
¾ cup frothed whole milk
whipped cream for serving
ground cinnamon and/or nutmeg for serving
Instructions
Place the water, sugar, brown sugar, molasses, ginger, cinnamon, nutmeg, cloves, and salt into a medium-sized saucepot. Stir to combine.

Place over medium-low heat and bring to a simmer, stirring occasionally. Once at a low simmer, constantly stir for 5 minutes. Take off the heat and stir in the vanilla. Set aside.

Add espresso or coffee to your mug.

Add gingerbread syrup and frothed milk. Top with whipped cream, cinnamon, and nutmeg, if desired.
Notes
The gingerbread syrup is enough to make 9 lattes if you use 2 Tablespoons of syrup per latte. I believe this is the perfect amount of sweetness, but use more or less to your taste!
The syrup will last up to about 1 month in the fridge in a sealed container. Before using, make sure to warm it again in a saucepot or in the microwave, stirring well to distribute the spices.
Make sure to heat the milk to 170°F, or it will not froth properly. I love using a handheld frother, but you can also use a whisk, whisking vigorously until the milk is frothed. As long as it is at the correct temperature, it will froth and hold.
Nutrition
Serving: 1g | Calories: 482kcal
Did You Make This Recipe?
Share it with me on Instagram @crayonsandcravings and follow on Pinterest @crayonsandcravings for even more!