21+ Homemade Popsicle Recipes to Make this Summer
Posts may contain affiliate links, meaning that I may earn a commission if you use a link provided.
The best homemade popsicle recipes to cool off with this summer–over 21 easy ice pop recipes!
Popsicles make the perfect cool and refreshing summer treat. I like the make all different kinds of popsicles with my son all throughout the summer. You will find our favorites below.
From fresh fruit popsicles recipes to indulging chocolate pops–you will find an ice pop for everyone.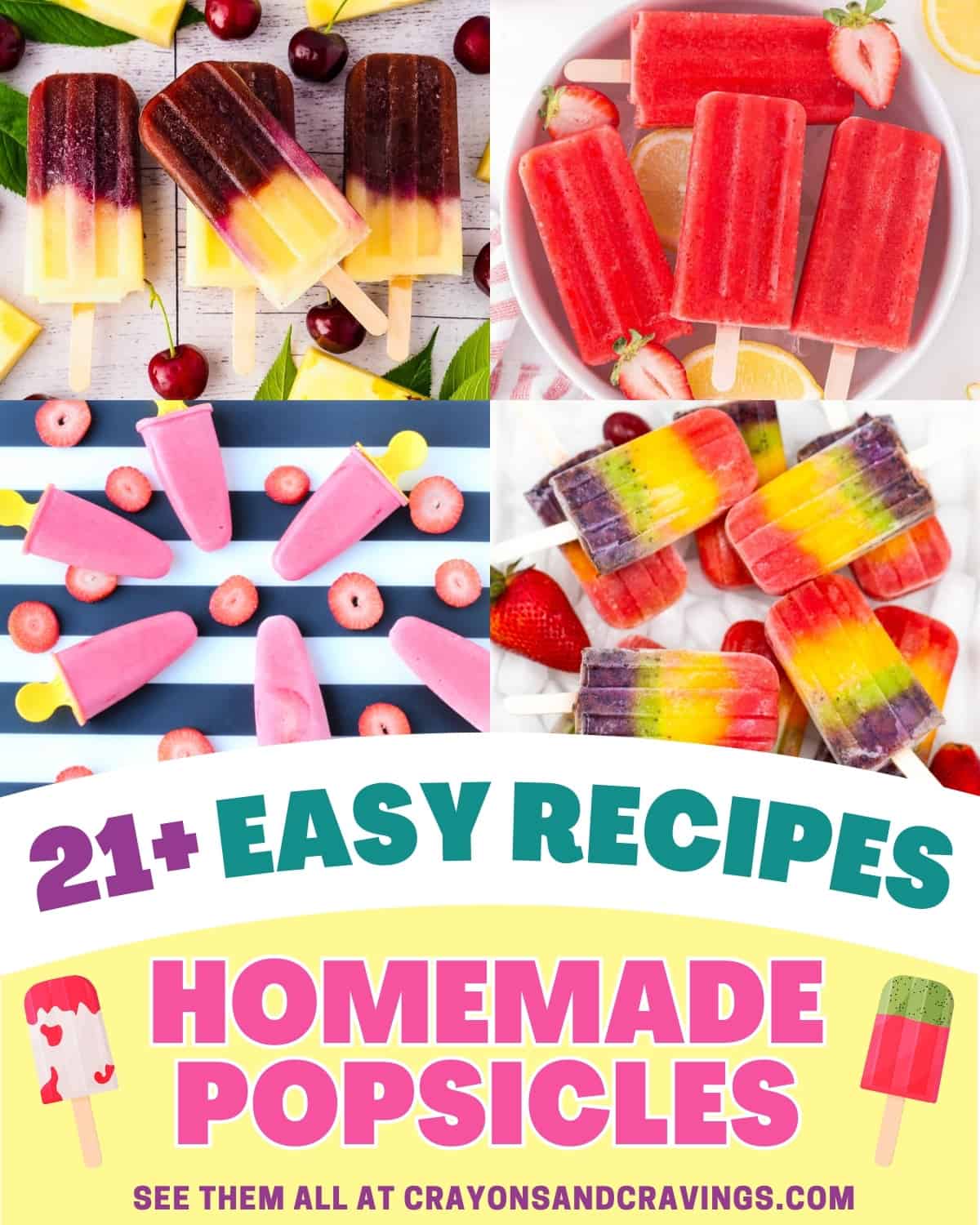 These tasty popsicles are so quick and easy to make, the most difficult part is waiting for them to freeze so that you can enjoy them.
Ingredients
There are many options when it comes to ingredients for homemade popsicles.
You can make healthy popsicles with fresh or frozen fruit. A single fruit can be used or you can mix fruits for more delicious and exotic flavor blends.
You can even layer your ingredients to create beautiful striped ice pops.
Adding yogurt to your pops creates tasty creamy popsicles.
Or maybe you are craving something more indulgent? Check out the root beer float and chocolate popsicles recipes below–you are going to love them!
Making popsicles for a summer party or BBQ? Consider adding alcohol to your pops for a tasty boozy summer treat– for only those 21+ of course.
Homemade Popsicle Supplies
Just like the many popsicle ingredient options, there are also a number of options for ice pop molds.
You can go the DIY route and use paper cups and popsicle sticks.
Or, you can pick up some ice plastic popsicle molds which come in a variety of shapes and colors. They also make disposable ice pop baggies which are perfect for serving at a BBQ or other party to minimize clean-up.
Bset Homemade Popsicle Recipes
The best homemade popsicle recipes to cool off with this summer--over 21 easy ice pop ideas for kids and adults, from healthy to indulging!
This homemade popsicle recipe round-up was originally published on 8/5/2016.