If you want to make a dessert for Halloween or Thanksgiving that truly feels like fall, these pumpkin spice cupcakes with buttercream frosting are perfect.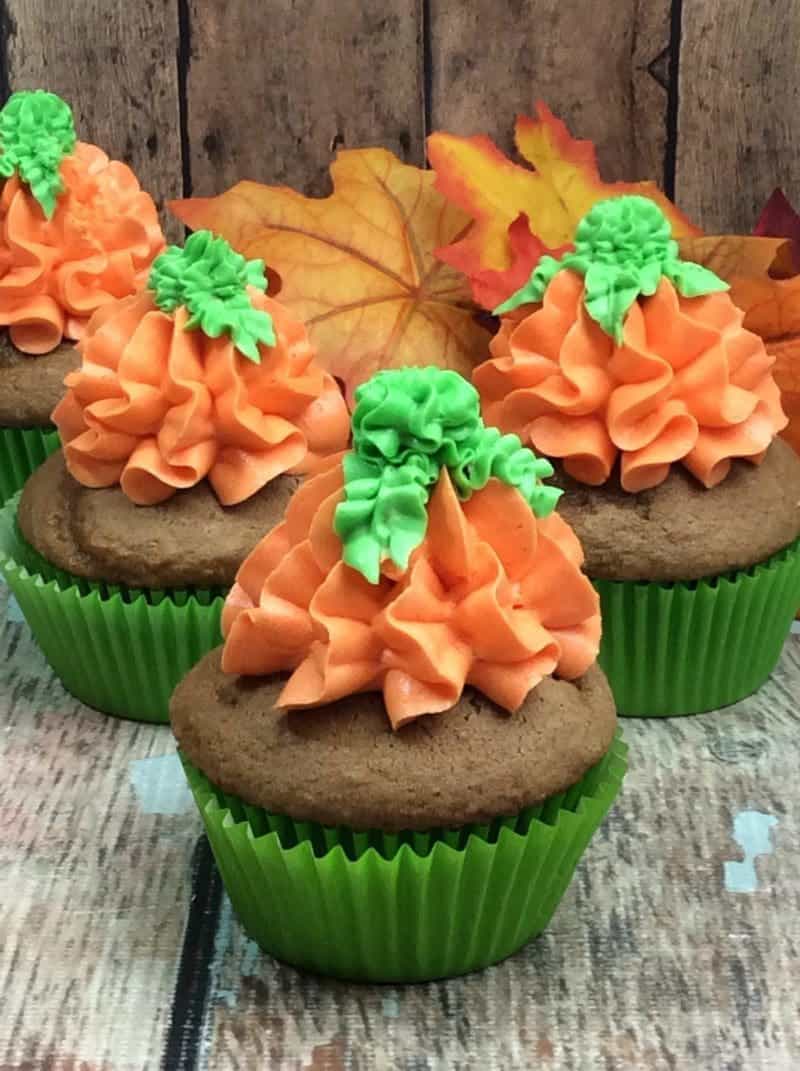 Who said cupcakes had to be for kids? Cupcakes have steadily grown in popularity and more and more people are experimenting with flavor combinations. If you're looking for something that can be enjoyed by both kids and adults, these pumpkin spice cupcakes are a great option.
These pumpkin cupcakes are frosted to appear as if they have pumpkins on top. But, you could certainly frost them differently to make them appear more elegant. However, if you're making cupcakes that will be enjoyed by everyone in the family, this frosting technique is both easy and delicious.
The pumpkin puree in this recipe will give you cupcakes that are incredible moist. Everyone will wonder how you were able to make a cupcake so moist.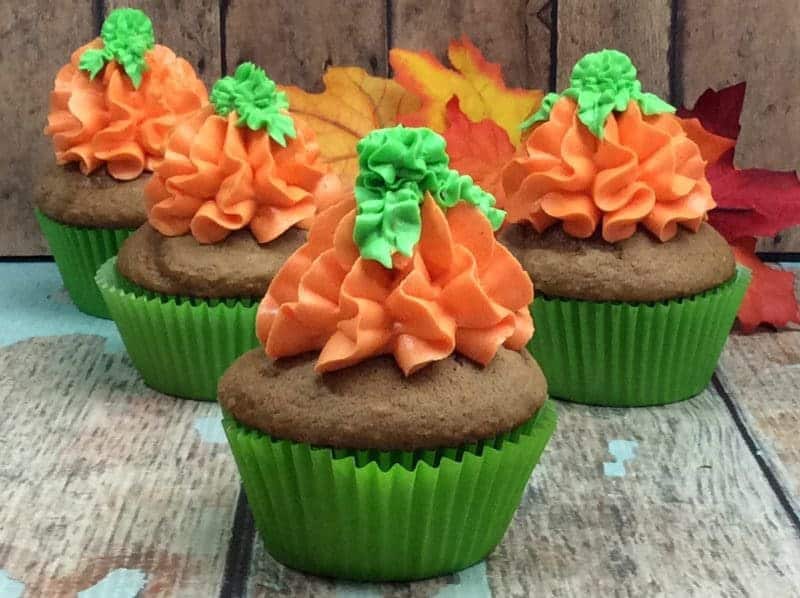 If your family loves the tang of cream cheese, you can also substitute the buttercream frosting in this recipe for cream cheese frosting. The combination of cream cheese and pumpkin is simply amazing. And, if you're worried about the spices in these cupcakes, don't be. You can cut back on or add more spices to create a spice level that you enjoy.
These pumpkin spice cupcakes can also be made in advance and frozen. You can then thaw them overnight and top with your desired frosting. This is a perfect suggestion if you're making these for Thanksgiving. It's one less thing you have to worry about when getting your big meal together.
If you want to make a dessert that truly feels like fall, these pumpkin spice cupcakes are perfect. The spices, pumpkin flavor, and creamy frosting will make them an instant hit.
If you are looking for additional Autumn recipes, check out these Pumpkin French Toast Sticks, this Easy Crockpot Apple Cider or this Quick and Easy Applesauce.
Ingredients
Cupcakes:

1 cup + 2 tbsp flour
1/2 tsp cinnamon
1/4 tsp ground nutmeg
1/4 tsp ground ginger
1/4 tsp ground cloves
1/4 tsp salt
1/2 tbsp baking powder
1/4 tsp baking soda
1/4 cup unsalted sweet cream butter, softened
1/2 cup sugar
2 tbsp + 2 tsp brown sugar
1 egg, room temperature
6 tbsp whole milk
1/2 cup pumpkin puree
Buttercream Frosting:
1 cup unsalted sweet cream butter, softened
1/2 cup powdered sugar
3-5 tbsp heavy whipping cream
1 tsp vanilla
3 piping bags
1 large star tip #8b
1 small star tip #4b
1 leaf tip #67
orange gel food coloring
green gel food coloring
Instructions
Cupcakes:

Preheat oven to 350 degrees and line cupcake pan with cupcake liners.
In a large bowl, combine flour, cinnamon, nutmeg, ginger, cloves, salt, baking soda and baking powder. Using a whisk, mix until combined, then set aside.
Using a mixer, beat the butter, sugar, and brown sugar until creamy.
Add the egg and mix until combined.
Mix in the milk and pumpkin puree until combined
Gradually stir in the flour mixture.
Scoop batter into each cupcake liners until 3/4 full.
Bake for 22 minutes
Remove from oven and set aside to cool while you prepare the frosting.

Frosting:

Using a mixer, combine the butter, powdered sugar, heavy whipping cream and vanilla, and mix until light and fluffy but stiff.
Split frosting into two bowls. Use orange gel food coloring to make one orange, and green gel coloring to make one green.
Scoop orange frosting into piping bag fitted with #8b tip and create an orange pumpkin in the center of the cupcake.
Scoop green frosting into a piping bag fitted with #4b tip and add a stem in the middle of the pumpkin.
Scoop green frosting into a piping bag fitted with #67 tip and pipe leaves around the edge of the stem.
7.8.1.1
42
https://crayonsandcravings.com/pumpkin-spice-cupcakes/