Inside: My best nursery storage and organization tips to maximize baby's storage!
This shop has been compensated by Collective Bias, Inc. and its advertiser. All opinions are mine alone. #MoreHuggiesMoreSavings #CollectiveBias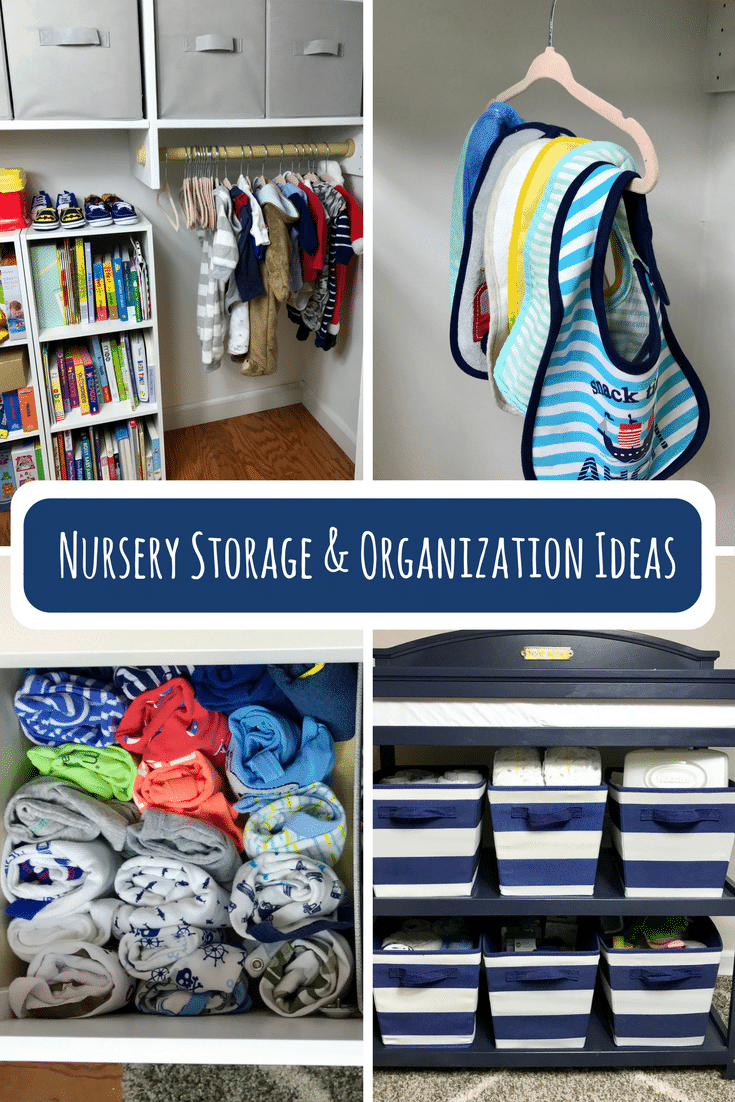 While I was pregnant, I put a lot of thought and energy into finding ways to make the most of the limited space in our small nursery.
Thanks to our thoughtful and generous family and friends, our little guy had acquired lots of baby gear as well as quite an extensive wardrobe before he was even born.
Now that he has arrived, his wardrobe and toy collection only continues to grow And grow. And grow.
Organization–and sneaking storage in every nook and cranny I can find–has allowed us to fit all baby's things in his small room neatly.
So listen up mamas, because today I am going to share my best nursery and storage and organization tips with you!
Sort clothing by size
Designate one drawer for your little one's current size clothing and another drawer for the next size up.
Clothing more than one size up can be stored in additional drawers, if you have them available.
If you are short on drawers, go ahead and place clothing that doesn't yet fit your little nugget in storage bins in the closet or under the bed (more on under-the-bed storage in a bit).
For hanging clothing, use hanging dividers to separate different sizes of clothing.
Sorting my little guy's clothing by size, and storing each size separately, has allowed me to easy phase-out sizes as soon as he grows out of them, and move in the next size.
Organize drawers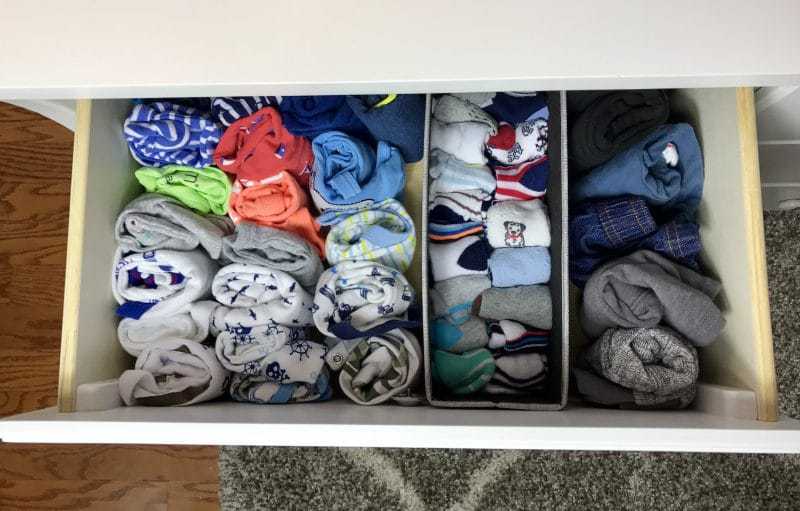 This next one is seriously my favorite nursery storage and organization tip ever.
Fold or roll each piece of clothing so that it stands upright in the drawer.
This will allow you to open the drawer and see every piece of clothing without touching a single thing. It will be super easy to find what you are looking for, plus it looks very neat and organized.
Use fabric bins or drawer organizers to separate items such as socks, hats, washcloths, etc… This too helps keeps everything nicely organized and easy for you to find when you have 5 minutes to get out the door and a baby on your hip!
Create storage under the crib
This nursery storage tip is a total game-changer.
What is the one thing that every nursey has in it?
Bingo–a crib!
There is a ton of storage real estate down underneath that crib.
Need a place to store clothing that doesn't yet fit baby? Searching for a place for all that extra bedding? What about diapers? Invest in an inexpensive fabric storage bag and pack it with whatever needs storage.
A fabric under-the-bed storage container like the one I use is great because it is soft enough for me to shove under the crib without needing to lift the crib up. Plus, it fits basically all of my son's extra sheets, mattress covers, and blankets.
Adjust the closet to maximize storage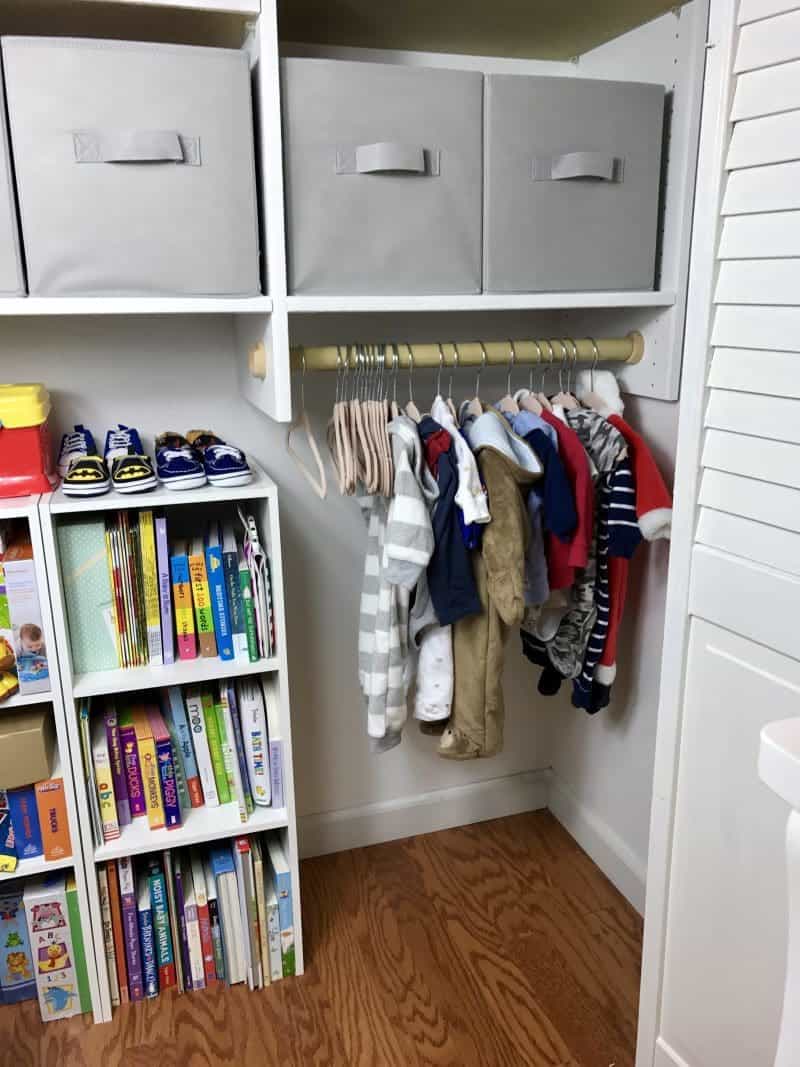 A single bar across the top of the closet for hanging clothing may work well for us grown-ups, but it may not be best for baby. It doesn't make sense for your little one's closet to be set up the same as your closet. After all, a baby's clothing is just a fraction of the length of your clothing.
Need a lot of space for hanging clothing? Instead of having a single clothing rod to hang clothes on, add a second rod and double your hanging space instantly.
Or, if you need would prefer more shelf space for storage, you can place shelving in the bottom half of the closet.
We have our nursery closet setup with adjustable shelving and removable organizers, which allows us to move things around and add or remove hanging clothing bars as needed.
Another space-saving closet tip is to use velvet hangers. We use them in our closet and bought a set of baby size velvet hangers for our son's closet as well.
Hang bibs on a hanger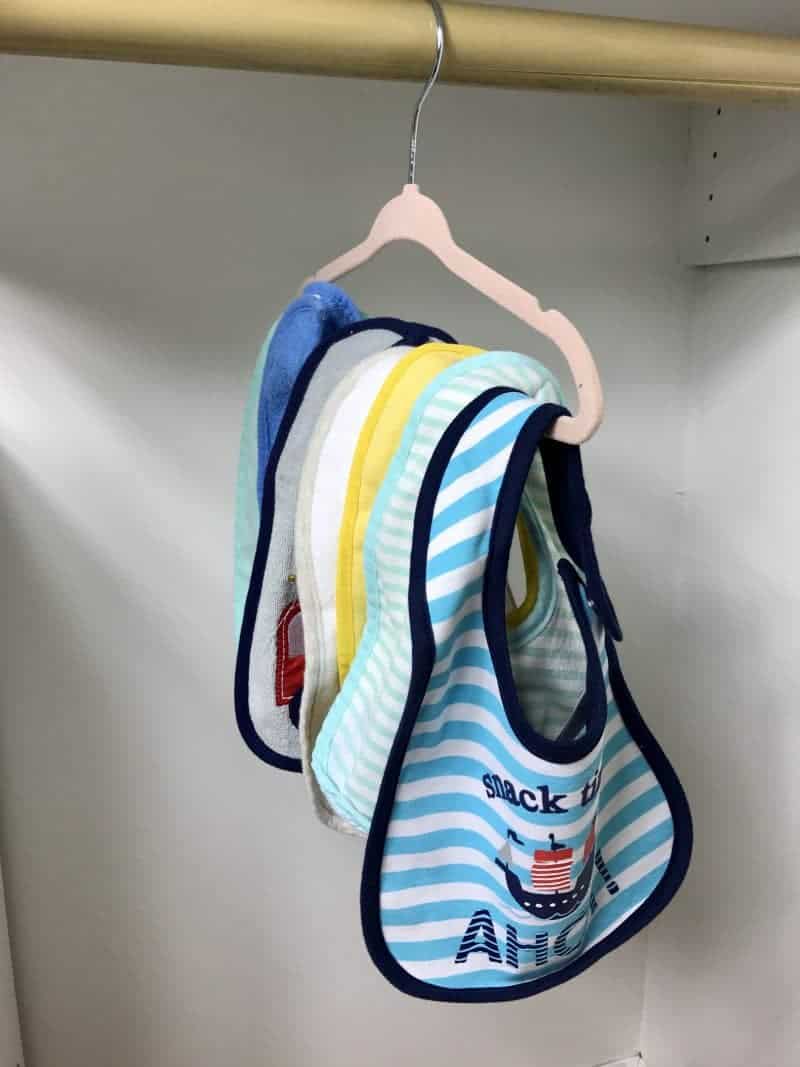 This nursery storage and organization hack is a fun one!
Instead of stacking a bunch of bibs on top of each other in a drawer or bin, hang those bibs up on a hanger!
Hanging bibs keeps them organized and makes it easy to find the one you are looking for quickly (I am not the only mama that likes to coordinate outfits and bibs, am I?).
Plus, bibs will take up less precious drawer or shelf space this way.
Get a changing table with storage underneath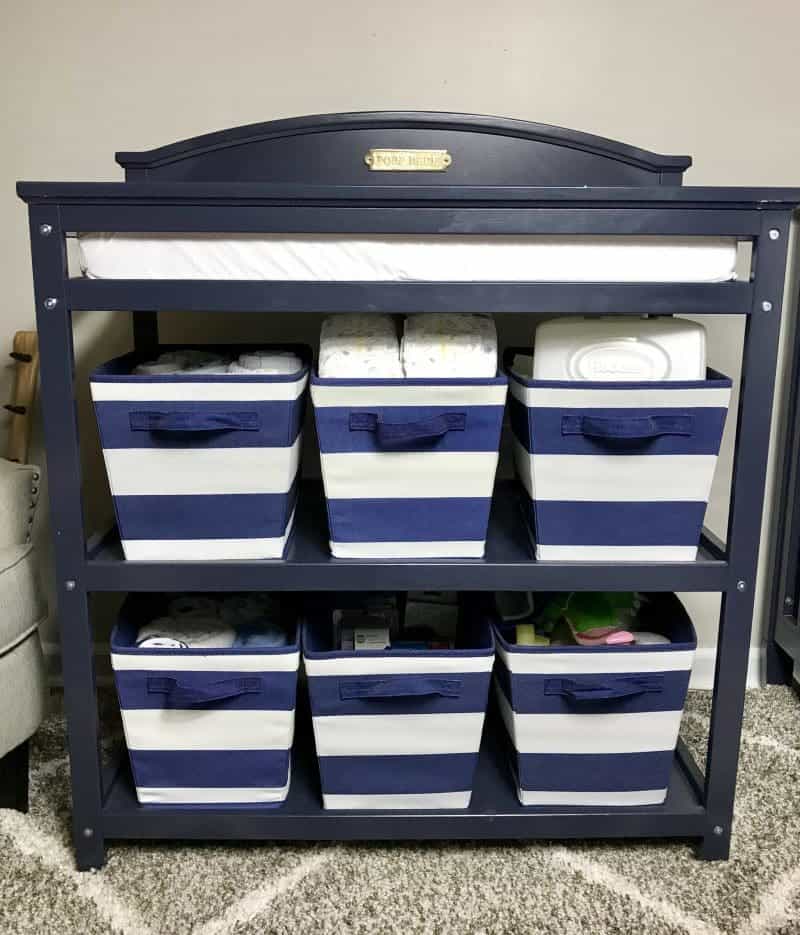 I highly recommend a changing table with storage underneath. Cubbies or storage bins under your changing table are a great place to store things like diapers, wipes, diaper cream, bath supplies, and swaddle blankets.
>> Related: How to Set Up a Diaper Changing Station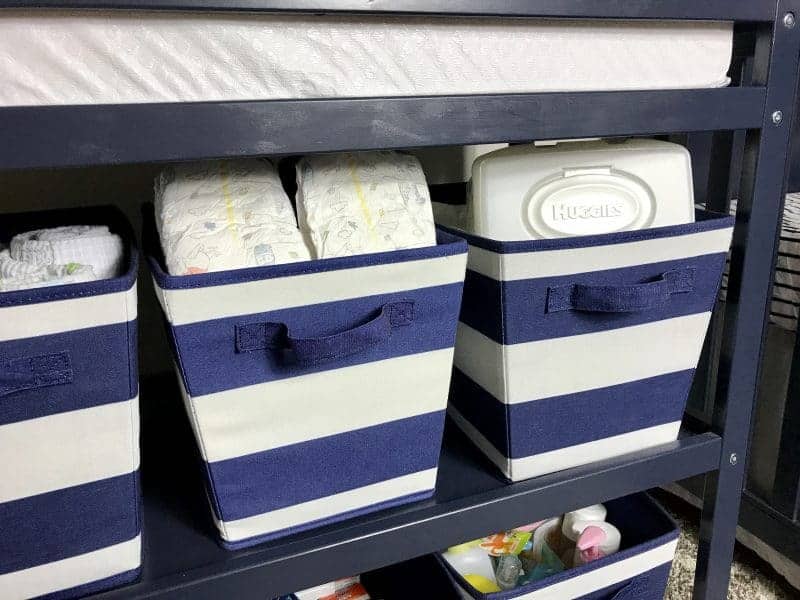 The changing table we got for our son's nursery has 2 shelves, which we were able to fit 6 decent-size storage bins on.
These bins have been great for storing my stockpile of diapers and wipes.


As a new mom, I realized how quickly spending money on diapers and wipes adds up. So I stock up on Huggies® diapers and wipes whenever I can get them for a great price.
Just this past week I was able to snag 2 gigantic boxes of Huggies Natural Care Baby Wipes
and 1 huge box of Huggies Little Snugglers Diapers from Sam's Club while they were on sale. Plus, I have found that buying diapers in bulk at Sam's Club always saves me money!
If you aren't a Sam's Club member, you should consider joining because they have an amazing offer going on now for new members that I wish I got when I joined: Get a $20 e-gift card and exclusive instant savings when you join online today! (valid through 1/31/20)
Embrace storage bins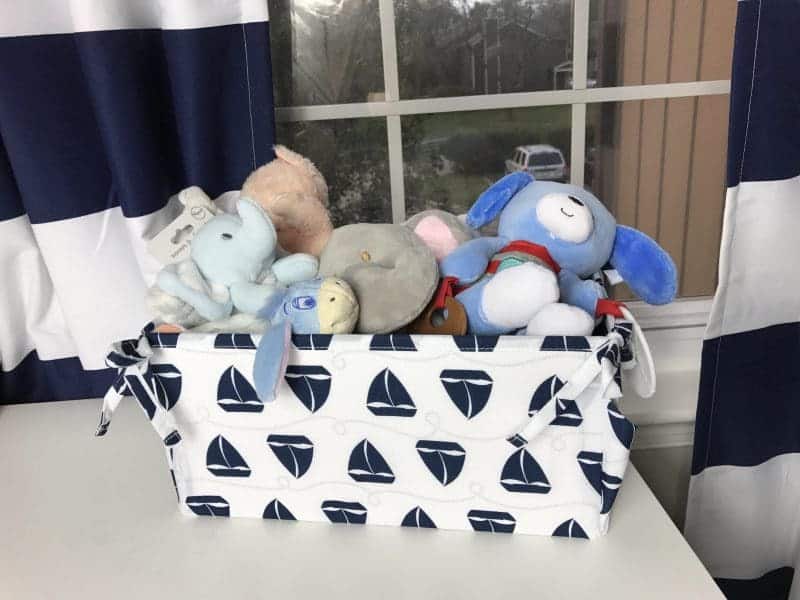 Before I let you go, I have one last nursery storage idea for you.
Have a bunch of toys that you need a place for? Pop them in a large storage bin.
Stuffed animals taking over the room? Stick 'em in a storage bin.
Storage bins keep items corralled and organized, while also keeping them easy to access.
What are your nursery storage and organization tips?
I hope that these nursery storage and organization help you maximize the space in your little one's nursery.
If you have any great storage or organization tips please share them with us in the comments below! We would love to hear them.
Happy organizing!