This post is sponsored by BabbleBoxx.com on behalf of Boston Market.
Boston Market Thanksgiving meal options can deliver a fully-prepared, pre-cooked, Thanksgiving dinner right to your doorstep for a stress-free Thanksgiving.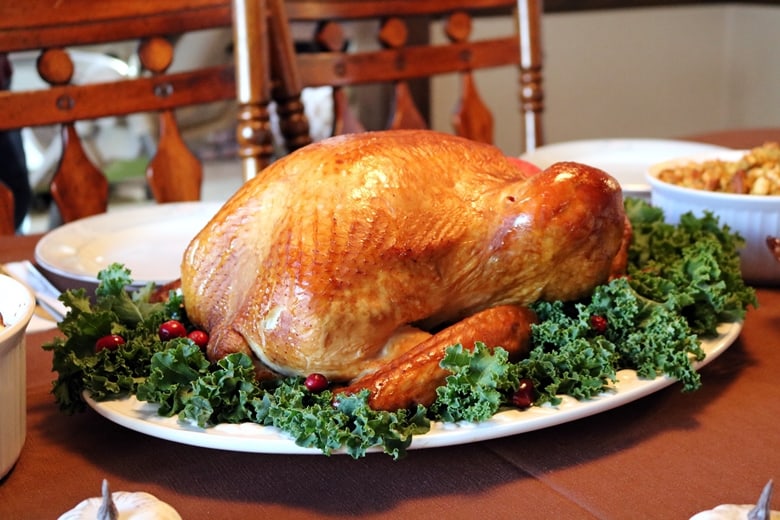 Now that we are into November, Thanksgiving is just a few short weeks away.
Whether you are hosting a big Thanksgiving dinner or simply enjoying Thanksgiving at home with your immediate family, cooking a Thanksgiving dinner with all the fixin's is time consuming and can even be stressful. Instead of spending time visiting with family and friends you end up stuck in the kitchen all day.
Then there is the turkey. I want to let you in on a little secret — I have never cooked a turkey. To be honest, I wouldn't know even know where to start if you placed a raw turkey in front of me.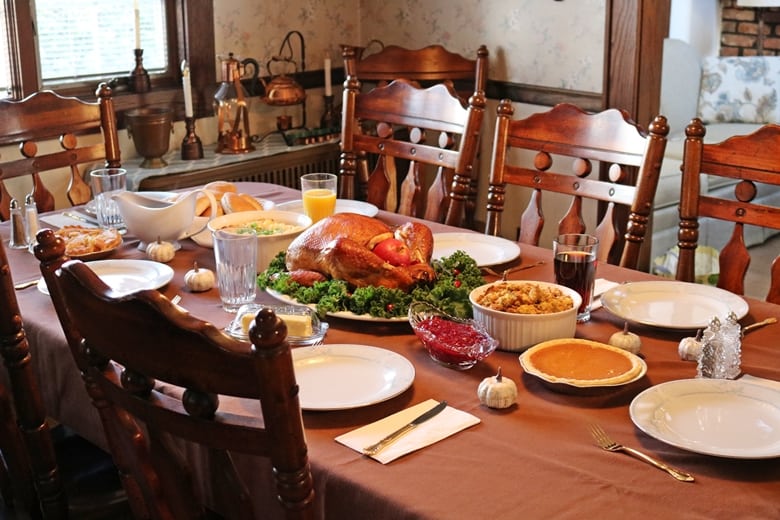 Boston Market has the ultimate stress-free Thanksgiving dinner solution: Boston Market Heat & Serve Thanksgiving meals.
Boston Market Thanksgiving Home Delivery
You can pick up a pre-cooked Heat & Serve Thanksgiving meal at your local Boston Market or have Thanksgiving dinner shipped to your doorstep with their Thanksgiving Home Delivery program.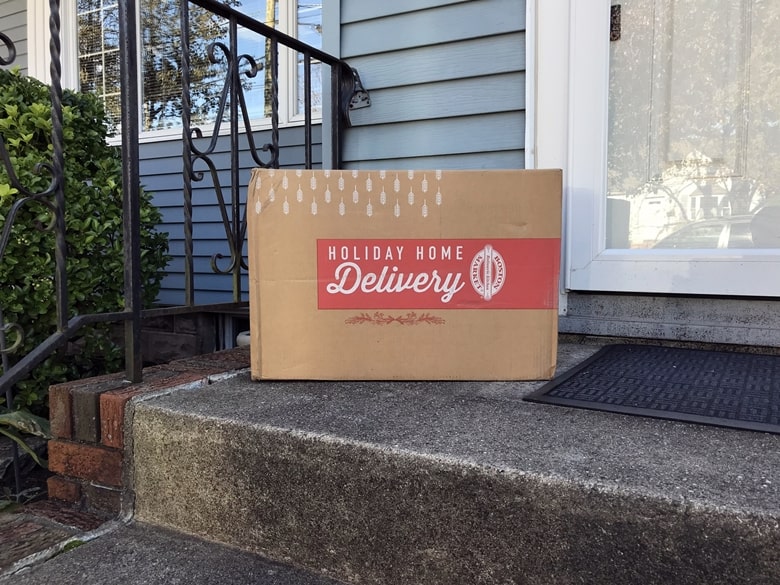 That's right, Boston Market will ship a fully-prepared, pre-cooked, Thanksgiving Dinner right to your doorstep. This way you can skip the cooking and focus on the important part of Thanksgiving: being thankful for what you have and enjoying sharing a meal with the people in your life. Isn't that what Thanksgiving is all about anyway?
My mother typically hosts our Thanksgiving dinners, and while the family is enjoying spending time together and chatting she is stuck in the kitchen pretty much the entire day. This year I wanted to give her a break so that she could enjoy Thanksgiving with family.
So, this year I had a Boston Market Whole Roasted Turkey Meal for 12 shipped to her doorstep.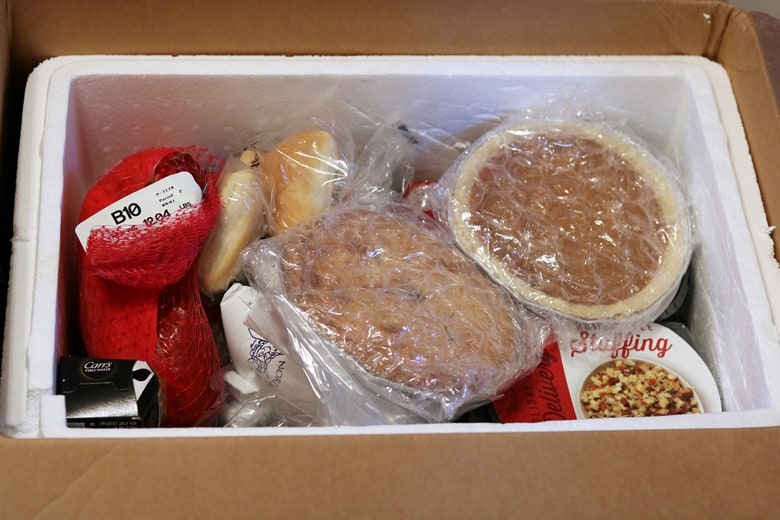 The meal arrives packaged in a cooler and covered in ice packs.
Preparing Boston Market's pre-cooked Thanksgiving dinner is as easy as letting the items thaw then popping them in the oven to heat up. A card with all the heating instructions comes right in the box, making it easy peasy.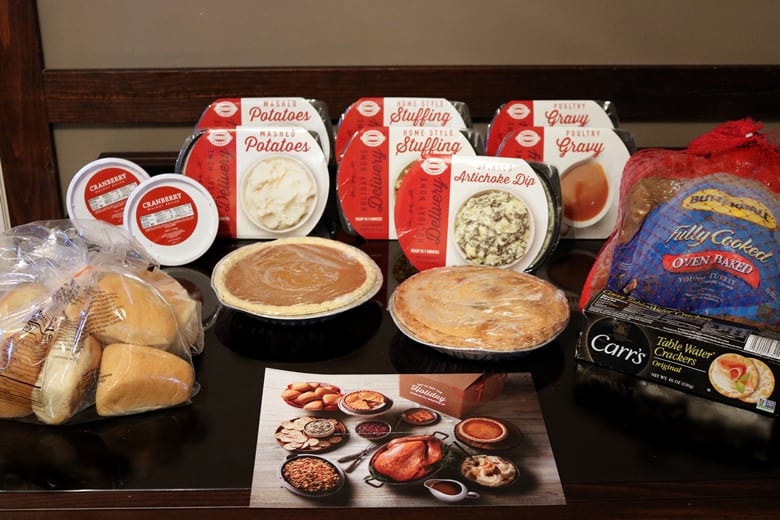 Boston Market's Whole Roasted Turkey Meal for 12 ($119.99) includes:
Whole Roasted Turkey
Spinach Artichoke Dip and Crackers
Mashed Potatoes and Gravy
Home Style Stuffing
Cranberry Walnut Relish
Dinner Rolls
Pumpkin Pie
Apple Pie
The best part is that instead of being stuck in the kitchen cooking, my mother was able to visit and enjoy time with her guests.
She was even able to enjoy some of the delicious spinach artichoke dip and crackers.
Our family truly enjoyed our Boston Market Home Delivery Thanksgiving dinner. All of food was amazing, from the spinach artichoke dip appetizer down the the apple pie and pumpkin pie for dessert. Get more incredible Thanksgiving Dessert Ideas here.
If you are looking to make your Thanksgiving easier, I would absolutely recommend Boston Market's Thanksgiving meal options.
Or, maybe you have someone in your life that lives too far or is otherwise unable to make it out to your Thanksgiving dinner. How wonderful would it be to surprise them with a fully cooked Thanksgiving dinner shipped to their doorstep that they can simply heat up and enjoy?! No one should be without a traditional Thanksgiving dinner.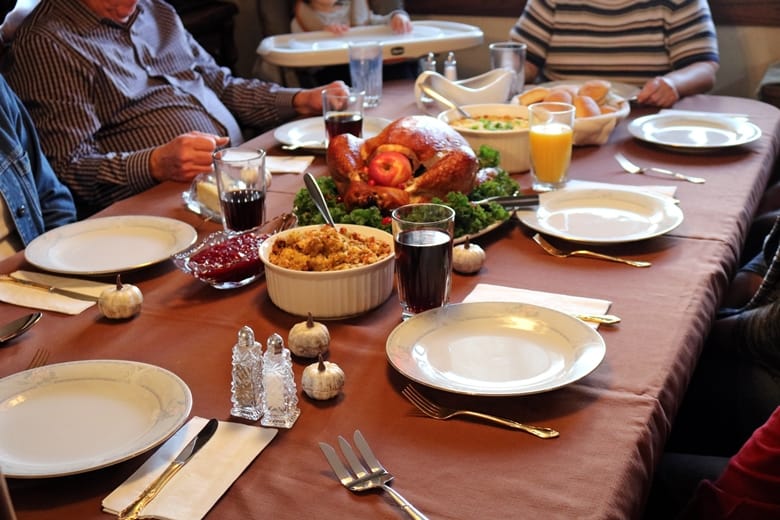 Boston Market Thanksgiving Meal Options
Boston Market offers several Thanksgiving meal options to fit everyone's needs.
Holiday Heat & Serve
Order pre-cooked Heat & Serve complete meals, entrees, sides and/or pies to feed 4-12 people and then pick them up at your local Boston Market the week of Thanksgiving.
Holiday Catering
Boston Market also offers buffet-style dinners that can be delivered or picked up at Boston Market. Prices start at $10.49 per person.
A La Carte
Maybe you aren't looking for a full Thanksgiving dinner, but would just like an extra side dish or appetizer? Order chilled, fully-cooked main dishes, appetizers, side dishes, or pies ahead of time and pick up at your local Boston Market.
Thanksgiving Day Meals
Almost all Boston Market locations will be open on Thanksgiving Day to offer guests a traditional Thanksgiving meal featuring roasted turkey breast or rotisserie chicken, 2 sides, a dinner roll, and a slice of either apple or pumpkin pie for $12.99. You can also stop by Boston Market Thanksgiving Day to pick up last minute dinners, pies, hot sides or appetizers to accompany your Thanksgiving meal.
Thanksgiving Home Delivery
Have a complete Thanksgiving dinner shipped to your doorstep. Choose from 8 pre-cooked signature Boston Market Thanksgiving Heat & Serve meal options that will ship frozen. Once fully thawed, they meals will be ready to heat and serve within 2-3 hours.
Learn more about Boston Market's Thanksgiving meal options at BostonMarket.com.
Pin for Later: