Apple Danish with Crumb Topping
Posts may contain affiliate links, meaning that I may earn a commission if you use a link provided.
An apple danish recipe with a delicious crumb topping and drizzle of icing. This tasty apple crumb danish makes for a sweet breakfast or brunch option.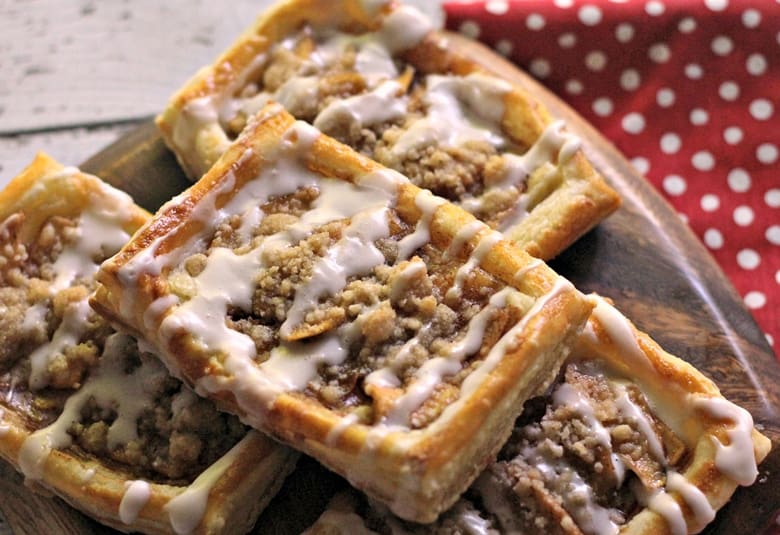 I love indulging breakfasts such as old-fashioned doughnuts, brioche French toast, and these apple Danish pastries.
Paired with a hot cup of coffee or caramel macchiato, an apple danish makes for a perfect start of the day.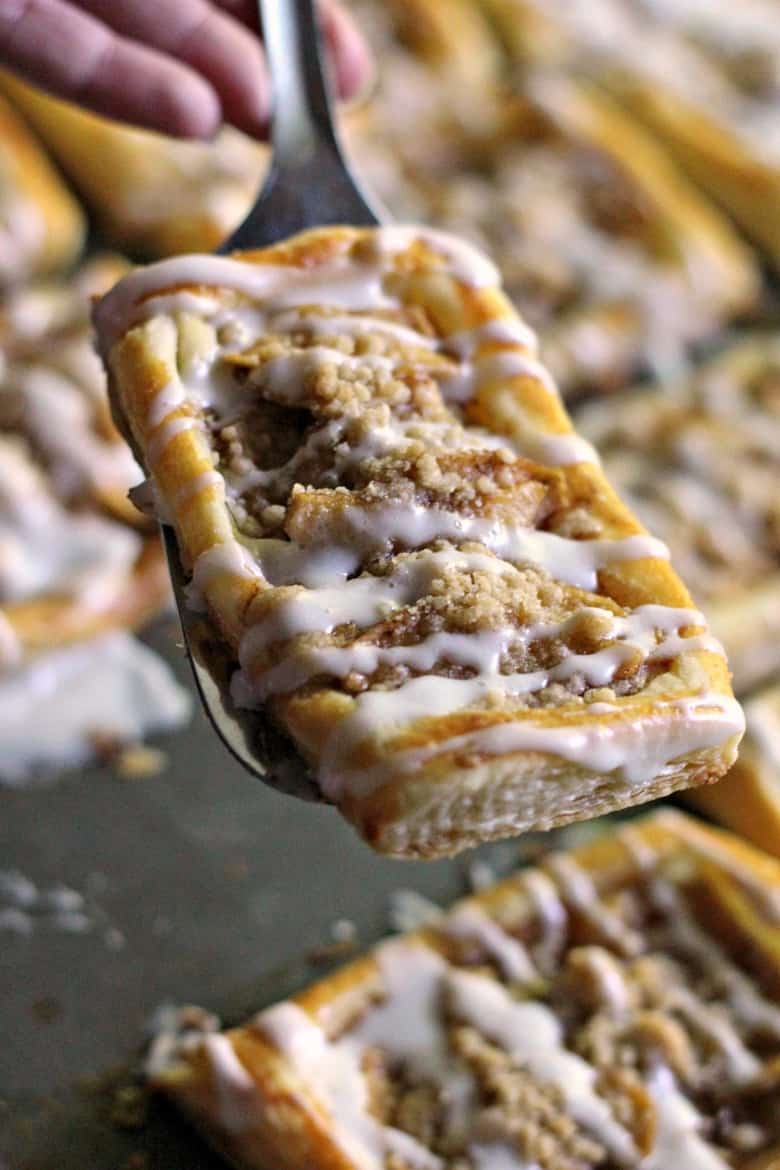 I like to make a batch of these apple danishes over the weekend, so that we can enjoy them throughout the coming week.
But these danishes aren't just great for a quick and easy breakfast at home, they are also great for serving at breakfast or brunch parties. Just put out a tray of the pastries and watch the guests snatch them up.
As with glazed doughnuts, these apple crumb danishes are sweet enough that they make for a great dessert option as well.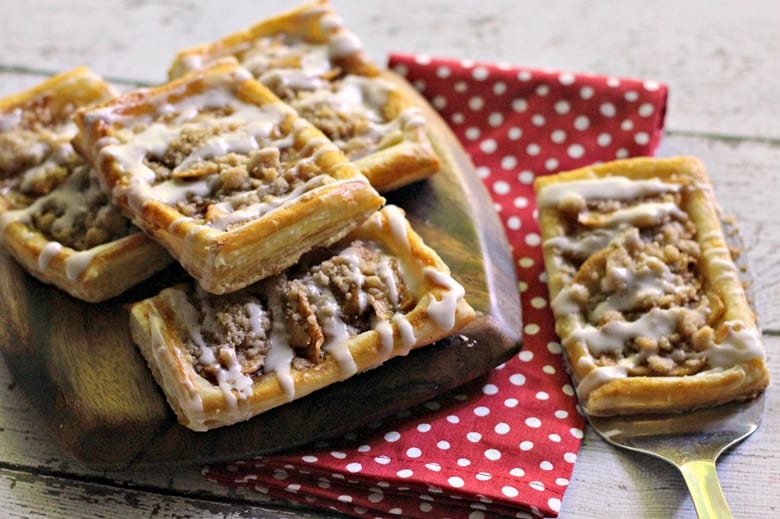 How to Make an Apple Danish with Puff Pastry
These apple pastries couldn't be any easier to make.
Start by gathering your ingredients:
puff pastry
apples
brown sugar
butter
powdered sugar
cornstarch
cinnamon (or apple pie spice)
heavy cream
water
egg
all-purpose flour
You probably noticed that I take a little short cut by using store-bought puff pastry as the dough.
The puff pastry can be found in the frozen food section of the grocery store. Just be sure to thaw it out according the the directions on the package before you start making your danishes.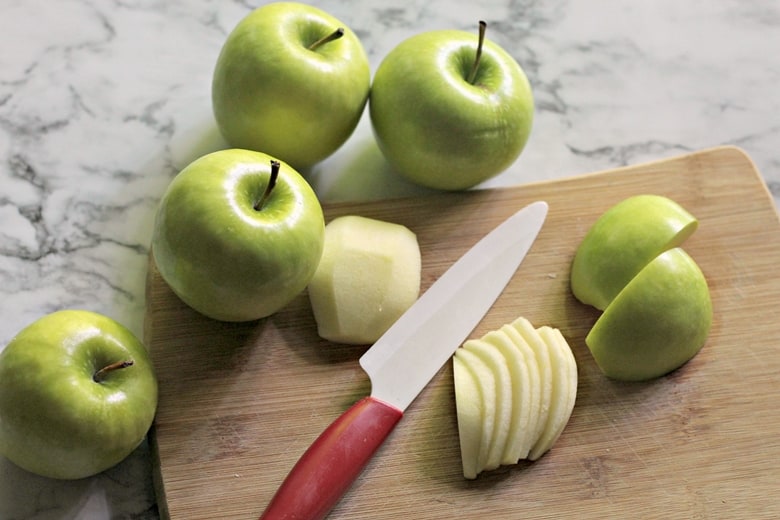 When you are ready to start making your apple danishes, begin by chopping your apples into thin slices.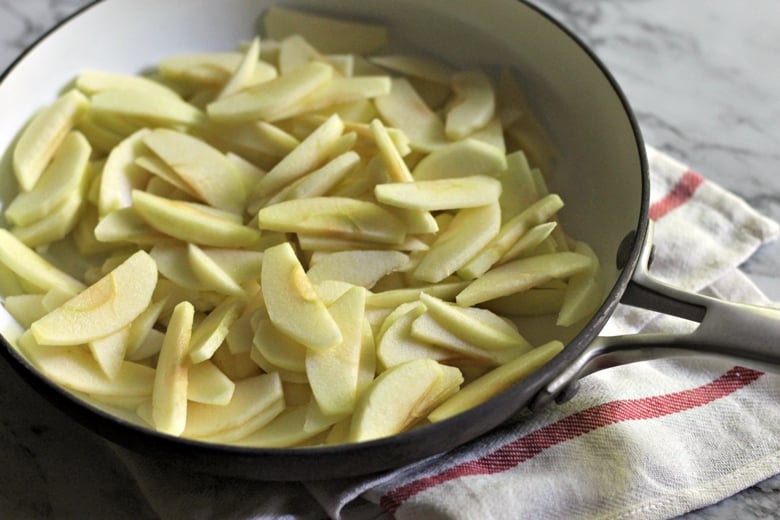 While Granny Smith apples are my number one choice for this recipe, if you have other apples on hand that you want to use up you can go ahead and use those instead.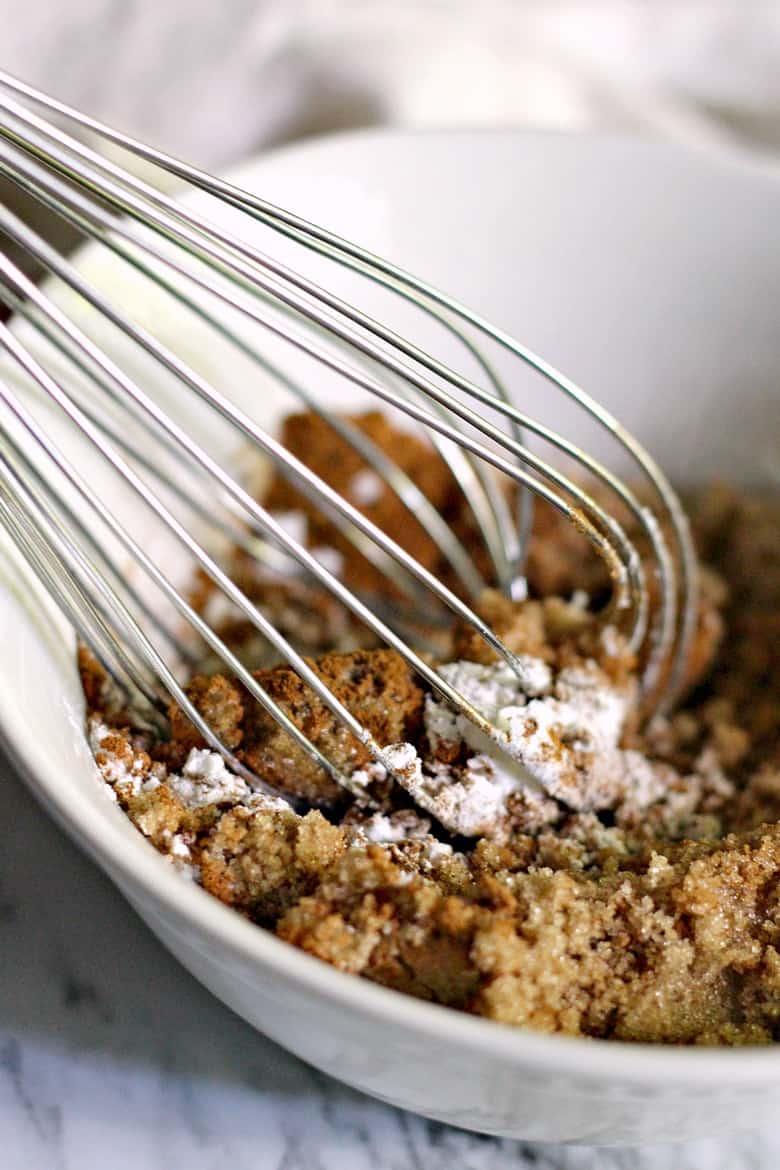 Next you will prepare the apple filling by whisking together brown sugar, cornstartch, and cinnamon. Then, you will cook the apples along with butter and the brown sugar mix in a large frying pan.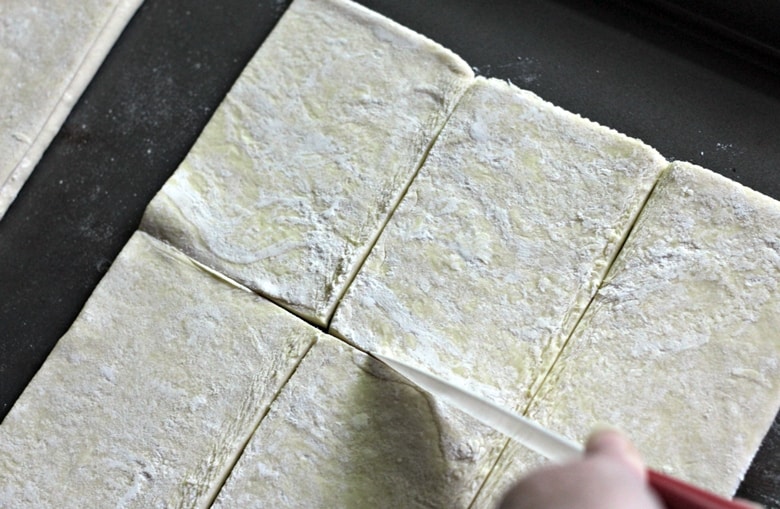 While the apple filling cools you can prepare your puff pastry. Lay out the puff pastry and cut it into 12 rectangular pieces.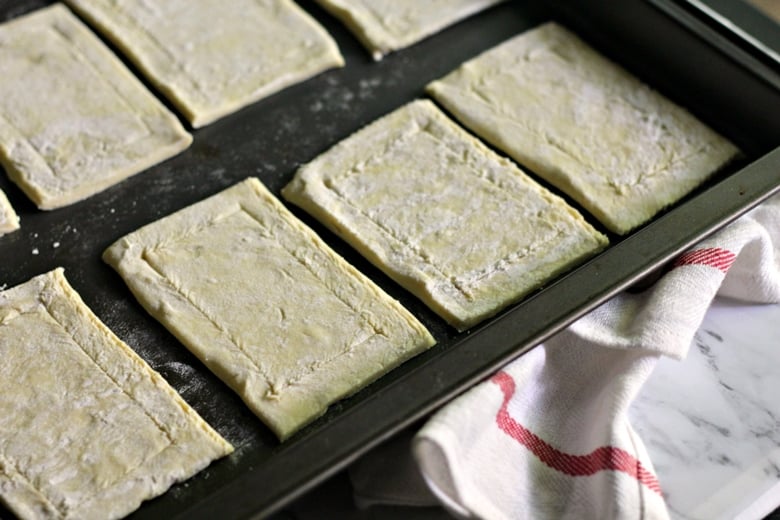 Then, you will use a knife to create a border around the middle of each piece of puff pastry, to surround the area that the apple fill will go.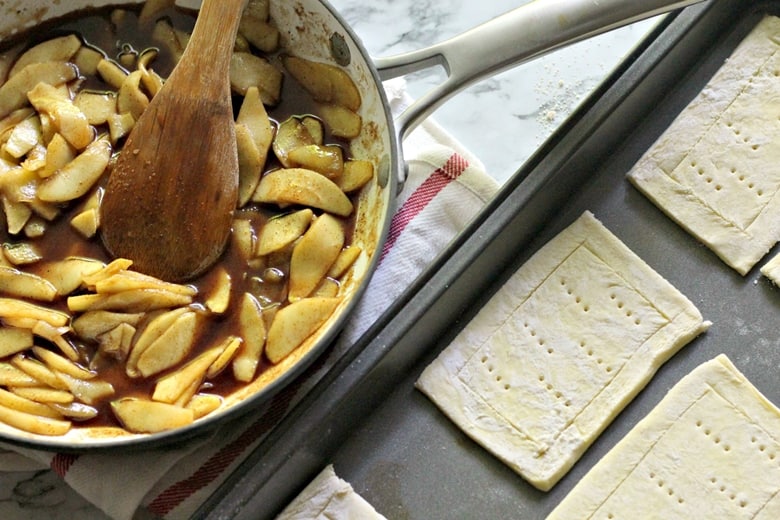 And use a fork to poke some holes in the center area of each pastry.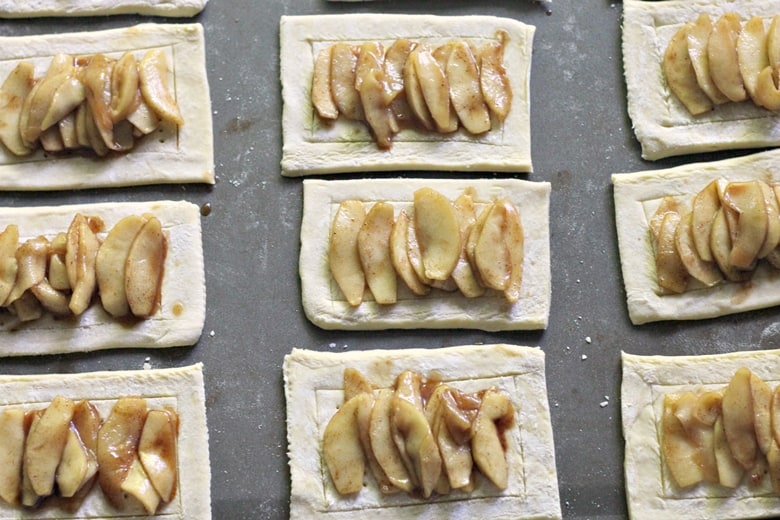 Once the apple filling has cooled it gets spooned into the center area of each pastry.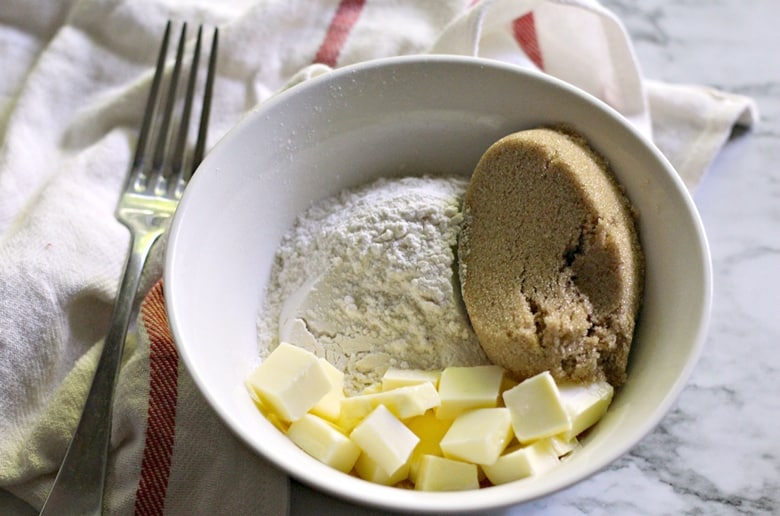 To make the crumble topping, use a fork to mix butter, brown sugar, and flour until it is nice and crumbly.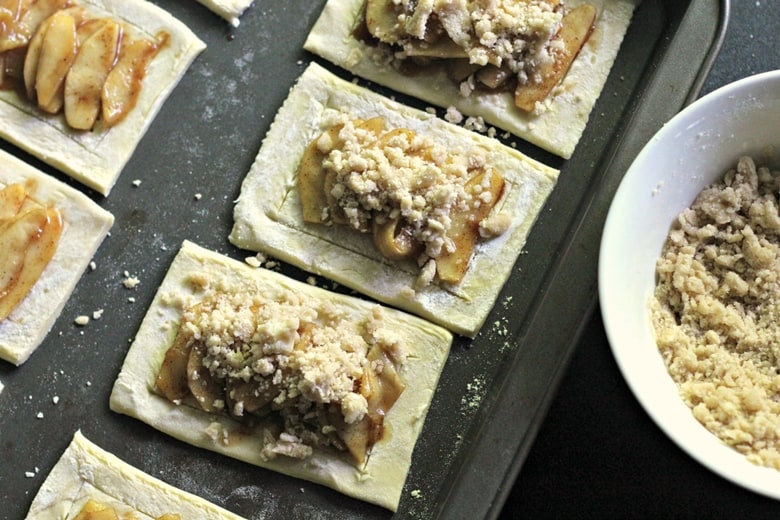 Sprinkle the crumb topping on top of the apple filling on each pastry.
Do a quick egg wash over the border of the puff pastry, then bake until they are golden brown.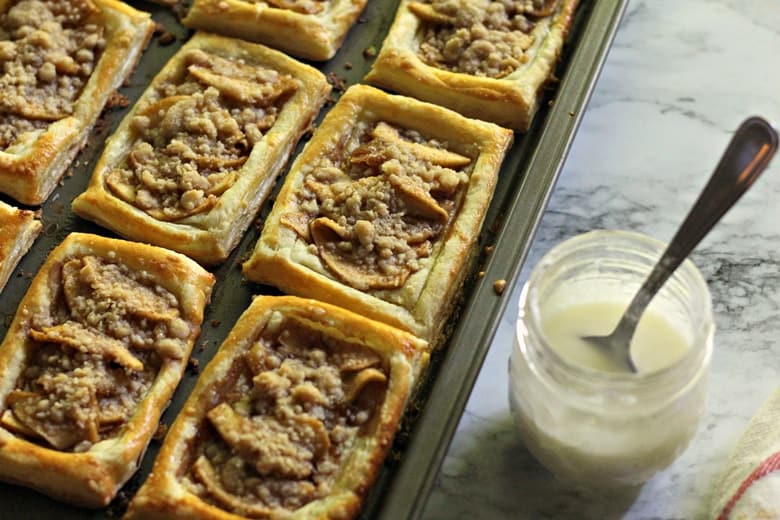 While the danishes cool combine powdered sugar and heavy cream to make the icing.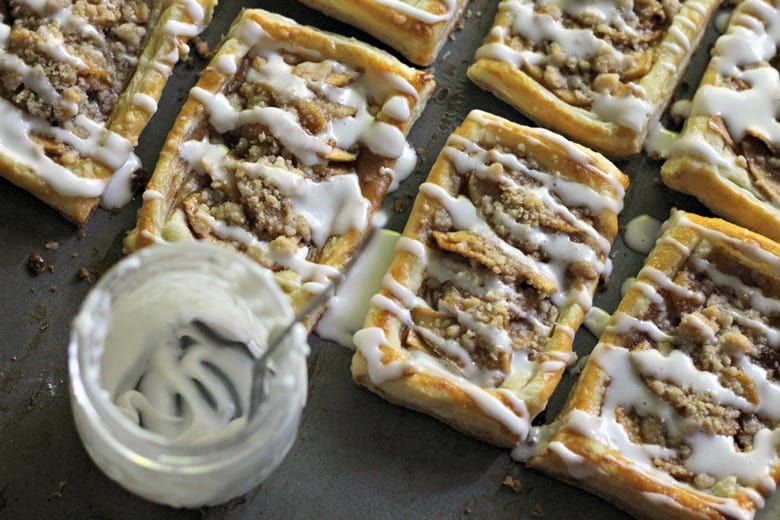 Once the danishes have cooled, drizzle them with the icing.
Don't they look incredible?!
Enjoy!
More Delicious Breakfast & Brunch Options
Recipe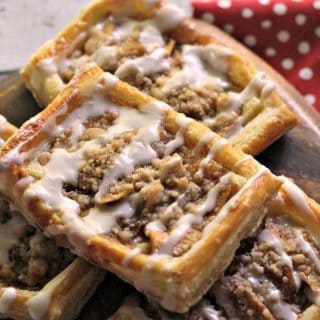 Recipe
Apple Danish
This delicious apple danish recipe with a crumb topping and icing makes for a sweet breakfast treat or an amazing apple dessert.
Ingredients
For the Pastry:
17.3 ounce box puff pastry two sheets of pastry in the box, thawed according to package directions
6 medium Granny Smith apples; cored peeled, and sliced thin
1 Tablespoons butter
1/3 cup brown sugar
3 Tablespoons cornstarch
1 tsp cinnamon
For the Crumb Topping:
2 Tablespoons butter
3 tablespoons brown sugar
1/4 cup all-purpose flour
For the Egg Wash:
1 large egg
1 Tablespoons water
For the Icing:
1/2 cup confectioners' sugar
2 Tablespoons heavy cream
Instructions
Preheat oven to 400.

In a medium frying pan, melt butter over medium heat. Add apples to the pan and cook for 5 minutes, stirring occasionally.

In a small bowl, whisk together brown sugar, cornstarch, and cinnamon. Stir the mixture into the cooked apples in the pan and cook for an additional 3-5 minutes over medium heat until the apples are softened. Remove from the heat and set aside to cool to room temperature.

Unfold the puff pastry sheets and lay out on a flat surface. Use a knife to cut along the fold marks to create three equal sized strips. Cut each strip in half to make a total of 12 rectangles. Arrange the puff pastry rectangles on a large, ungreased cookie sheet leaving at least 1 inch of space between each rectangle.

Using a paring knife, lightly score a border around each pastry rectangle, about ¾ in. in from the edge. Use a fork to poke a few holes into the center area of each pastry. This process allows the outside border to rise and puff up while the center stays shorter and holds the filling.

Spoon the cooked apples onto each rectangle of pastry dough, without placing any on the outside scored border of the pastry. Be careful not to add too much of the liquid from the apples.

In a small bowl, use a fork to combine crumb topping ingredients. Mix until completely combined and crumbly in texture. Sprinkle the crumble topping over the apples.

In another small bowl, whisk the egg and water together. Use a pastry brush to apply a thin layer of the egg wash to the outside border of each pastry. Discard any leftover egg mixture.

Bake pastries for 20 minutes, until they are golden brown. Remove from oven and allow to cool on a baking rack for 10 minutes.

In a small bowl, combine powdered sugar and heavy cream; stir until smooth. Using a spoon, drizzle icing over the danishes.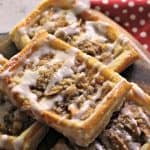 Did You Make This Recipe?
Share it with me on Instagram @crayonsandcravings and follow on Pinterest @crayonsandcravings for even more!
Pin Apple Danish for Later: