TubShroom: The Bathroom Accessory I Can't Live Without
Posts may contain affiliate links, meaning that I may earn a commission if you use a link provided.
This post is sponsored by TubShroom but the content and opinions expressed here are my own.
TubShroom, an inexpensive device that prevents clogged tub drains, has become a bathroom accessory that I cannot live without.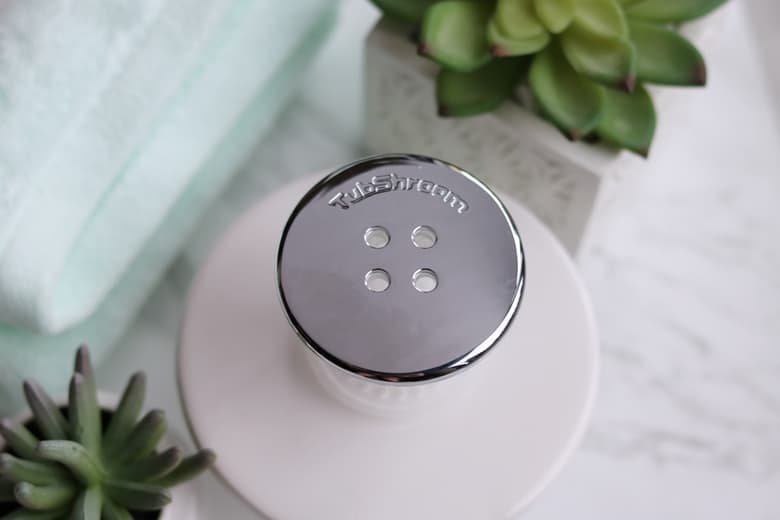 After being in a battle with hair clogs in our tub drain for years, I am thrilled to share the inexpensive hair clog solution that I have found with you.
But first, let's back up a bit so I can tell you a little bit about my hair clog woes before I was introduced to TubShroom.
My Battle With Hair Clogs in Bathtub Drain
As long as I can remember I have battled with hair clogs in our tub drain.
Every few weeks the cycle would begin. I would be trying to enjoy a nice shower (one of the only times I am alone all day) but then I would realize that the shower water is starting to back up and form a pool at my feet. Argh!
At this point I would typically beg my husband to use one of those disposable plastic drain snake tools to pull the nasty hair glob out of the pipes, or (gag) do it myself. We have also used those liquid drain cleaners in the past, but I am just not comfortable using such strong chemicals in the same tub that I give my baby a bath in. No thank you.
TubShroom Drain Hair Catcher
Enter TubShroom.
This small silicone gadget prevents hair from going down into the tub drain.
And it works amazingly well.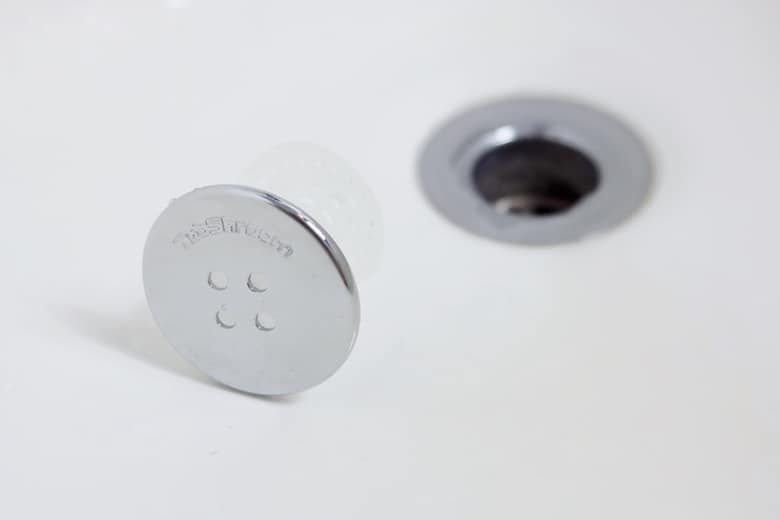 No installation is required. Simply place the device into your tub drain and use the shower as normal. TubShroom will work it's magic to protect your drain.
Short hair, long hair, pet hair, any hair — this little guy catches it all. All while still allowing water to flow freely down the drain.
Since TubShroom prevents hair from sneaking down into our drain in the first place, we no longer need to try and fish globs of hair out of our drain (yuck!) or rely on toxic chemicals.
Plus, TubShroom saves us money in the long run, since we no longer need to purchase liquid drain cleaner or disposable drain cleaning tools every few weeks. Not to mention how much better this bathtub hair catcher is on the environment than those toxic chemical cleaners.
Every few days I simply remove the hair that was collected around the TubShroom and pop it back in the drain so that it can continue to work its magic. It really couldn't be any simpler to use.
TubShroom Styles & Varieties
Available in a variety of colors, you can certainly find a TubShroom perfect to suit your style.
I love the look of the Chrome Edition TubShroom and how it matches our chrome bathroom fixtures, but there are many other colors to choose from.
Also available are SinkShroom and ShowerShroom, designed to prevent hair clogs in sinks and showers respectively.
And for those with little ones who take baths, StopShroom is a perfect solution. It works as a tub drain stopper to cover the drain so that water fills the tub. The best part is, the StopShroom is fully compatible with TubShroom and goes right over it!
Where To Buy TubShroom
TubShroom can be purchased online here or in-store at Bed Bath & Beyond and Target.
Pin for Later: