Posts may contain affiliate links, meaning that I may earn a commission if you use a link provided.
Packed with apples, oats, and apple pie spice and topped with a sweet cinnamon glaze, these apple oat muffins are a delicious on-the-go breakfast or after school snack.
Apple season is almost here, and I'm sharing lots of fabulous apple recipes to help you make the most of your trip to the orchard or farmers market haul. These apple oatmeal muffins are baked to golden perfection, moist, and full of flavor and texture. They're packed with healthy oats, apples, and warming spices making them perfect for autumn.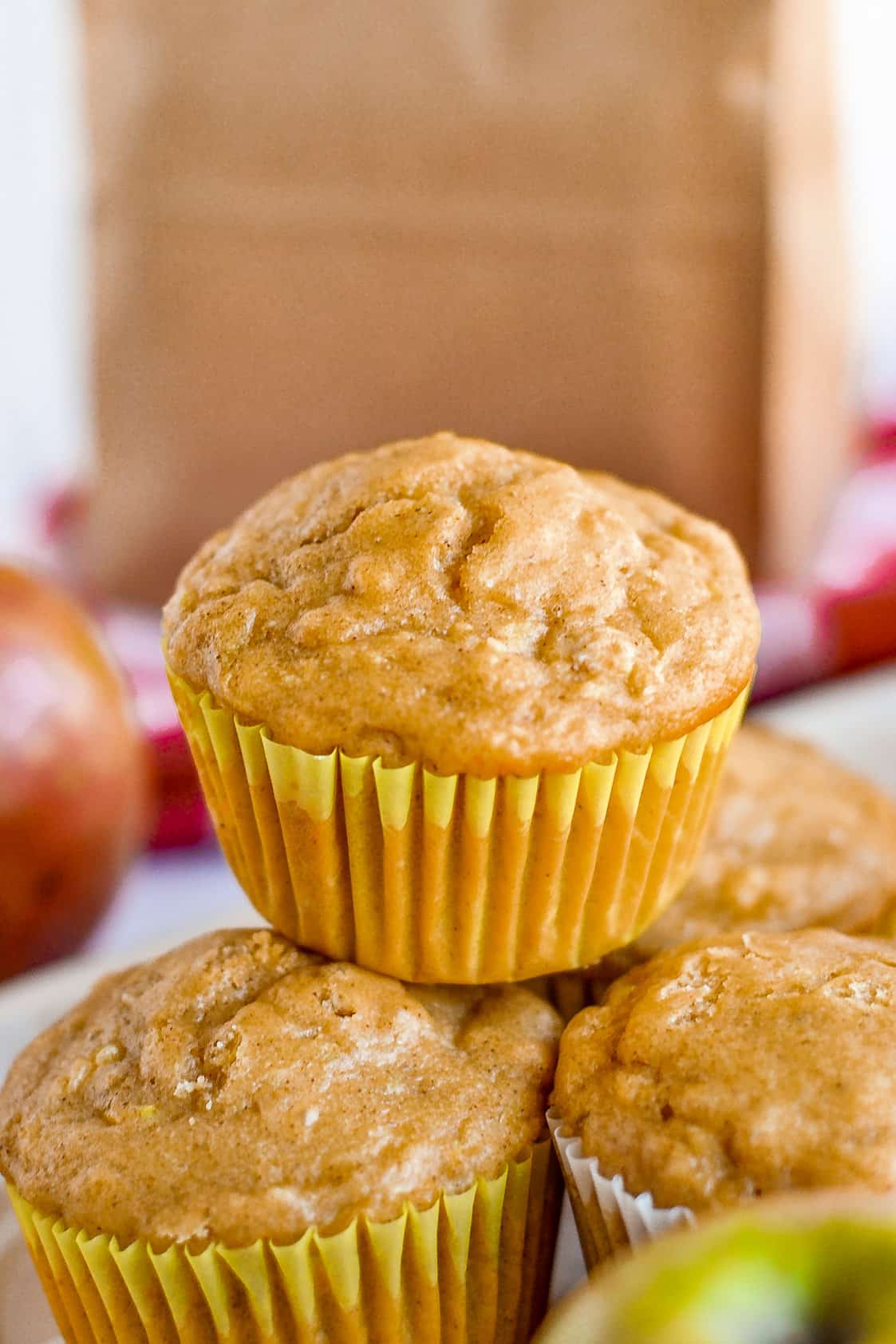 And yes, they're made with real, fresh apples!
It's a great recipe to double and freeze some muffins for later. Perfect for lunchboxes or quick breakfasts before school or work, your family will gobble up these apple muffins.
I also included the recipe for an optional cinnamon sugar glaze. While the muffins are great on their own, they turn into a truly dessert-worthy treat when topped with the sweet glaze.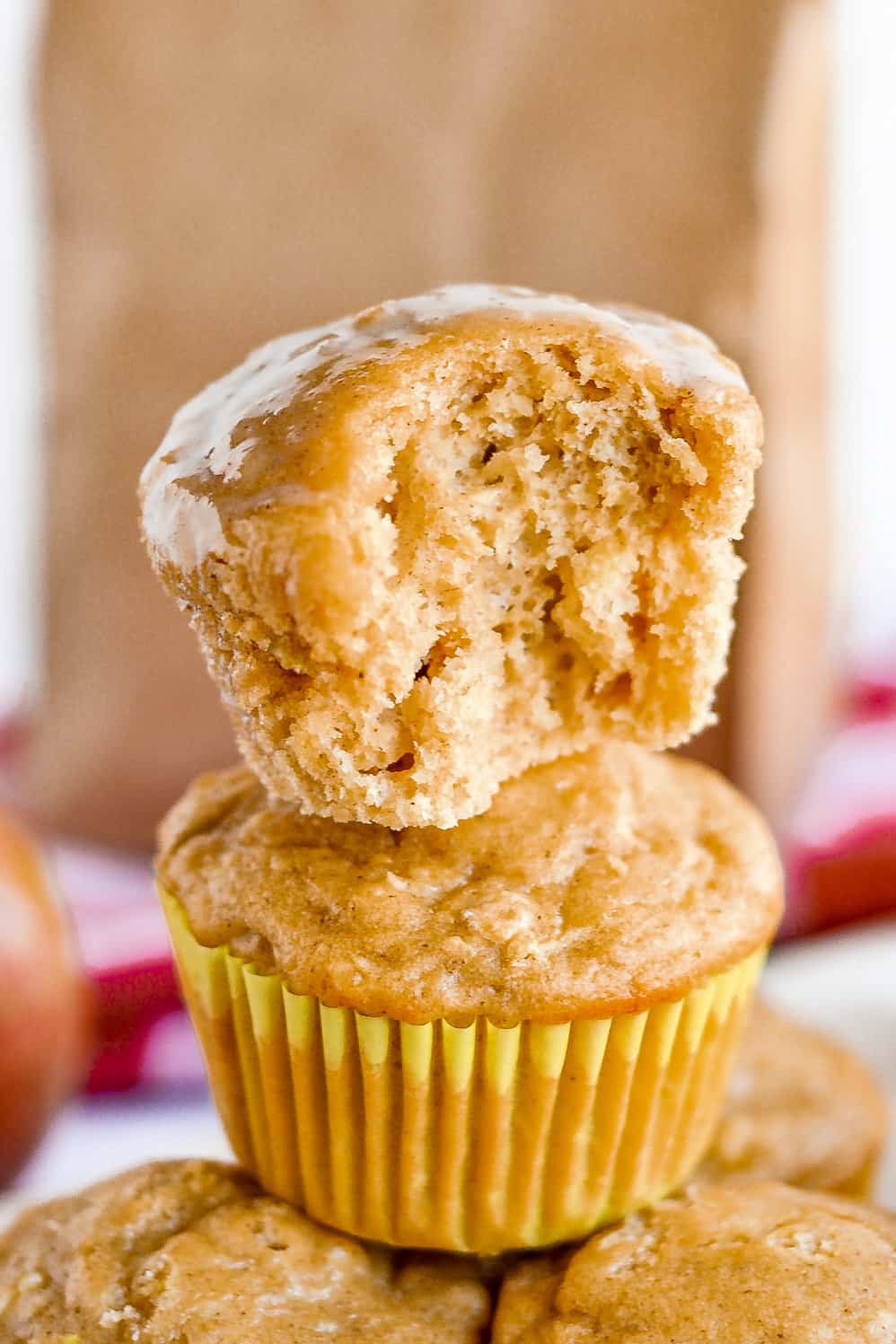 If you're looking for more apple recipes for fall, you're in the right place. Make homemade apple pie filling to enjoy in a pie, in an apple dump cake, or with some ice cream. And these apple pie crescent rolls will be so cute for the holidays!
For now, let's grab our supplies and make some apple cinnamon oatmeal muffins for those busy mornings when you need something quick and delicious.
Ingredients
This section includes ingredient notes and substitution options. Get all measurements, ingredients, and instructions in the printable recipe card at the end of this post.
For the Muffins:
All-purpose flour — For dense muffins, all-purpose flour works best. For lighter, sweeter muffins, you may use cake flour instead. You'll need to add two tablespoons more per cup if substituting cake flour.
Baking powder — This will help the muffins to rise.
Apple pie spice — Apple pie spice, pumpkin spice, Chinese 5 spice, or a combination of cinnamon and nutmeg are all great fall flavors. I have a recipe for homemade apple pie spice if you want to make your own.
Salt — A little salt enhances the flavor of the other ingredients.
Buttermilk — The acidity from the buttermilk makes for taller, fluffier muffins. If you don't have buttermilk on hand, read our note below in the tips section for making your own with regular milk and lemon.
Eggs — Eggs serve as a binding agent for the flour and other ingredients.
Vegetable oil — Canola or regular "vegetable" oil work best for muffins. You want an oil with a neutral taste.
Maple syrup — Make sure you get pure maple syrup, not pancake syrup.
Brown sugar — Light brown sugar or dark brown sugar may be used according to your preference. Dark brown sugar has a deeper molasses flavor than light brown sugar.
Apple — I prefer Granny Smith, Honeycrisp, or Pink Lady apples, but use whatever fresh apples you have on hand. You can leave the skin on or peel it.
Oats — I would recommend old-fashioned oats / rolled oats for this recipe but quick cook oats can be used as well if that is all you have on hand.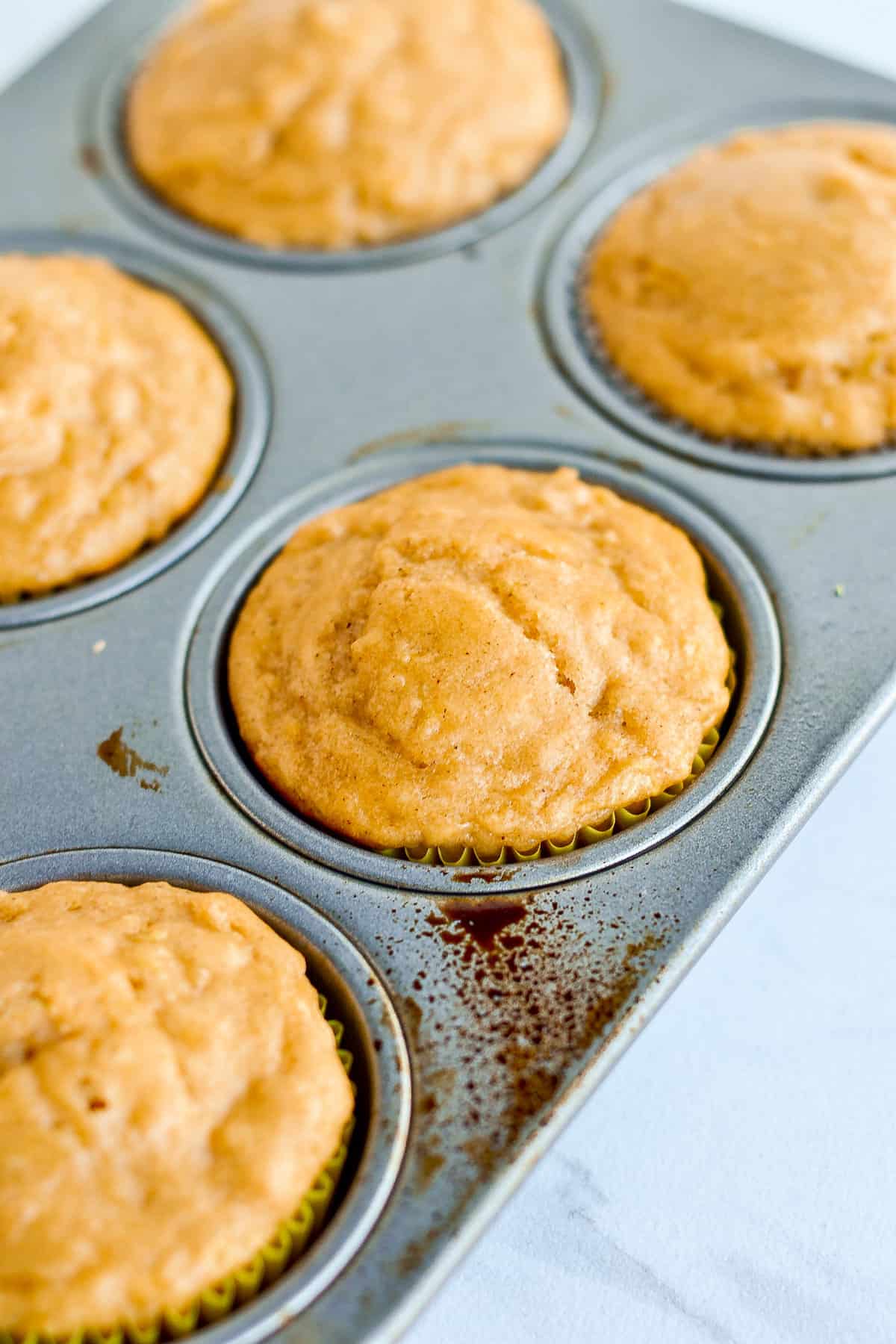 For the Glaze:
Confectioners' sugar — Also known as powdered sugar or icing sugar, this will help create the sweet vanilla cinnamon glaze to go on top of the muffins.
Milk — Any milk will do, but I tend to prefer whole milk for baking.
Vanilla — Pure vanilla extract offers the most flavor, but imitation vanilla works, too.
Cinnamon — This warm spice pairs perfectly with the apple oat muffins. You could also sub the apple pie spice or pumpkin spice here instead of plain cinnamon, if you prefer. You can also eliminate the cinnamon from the glaze if you prefer a simple vanilla glaze.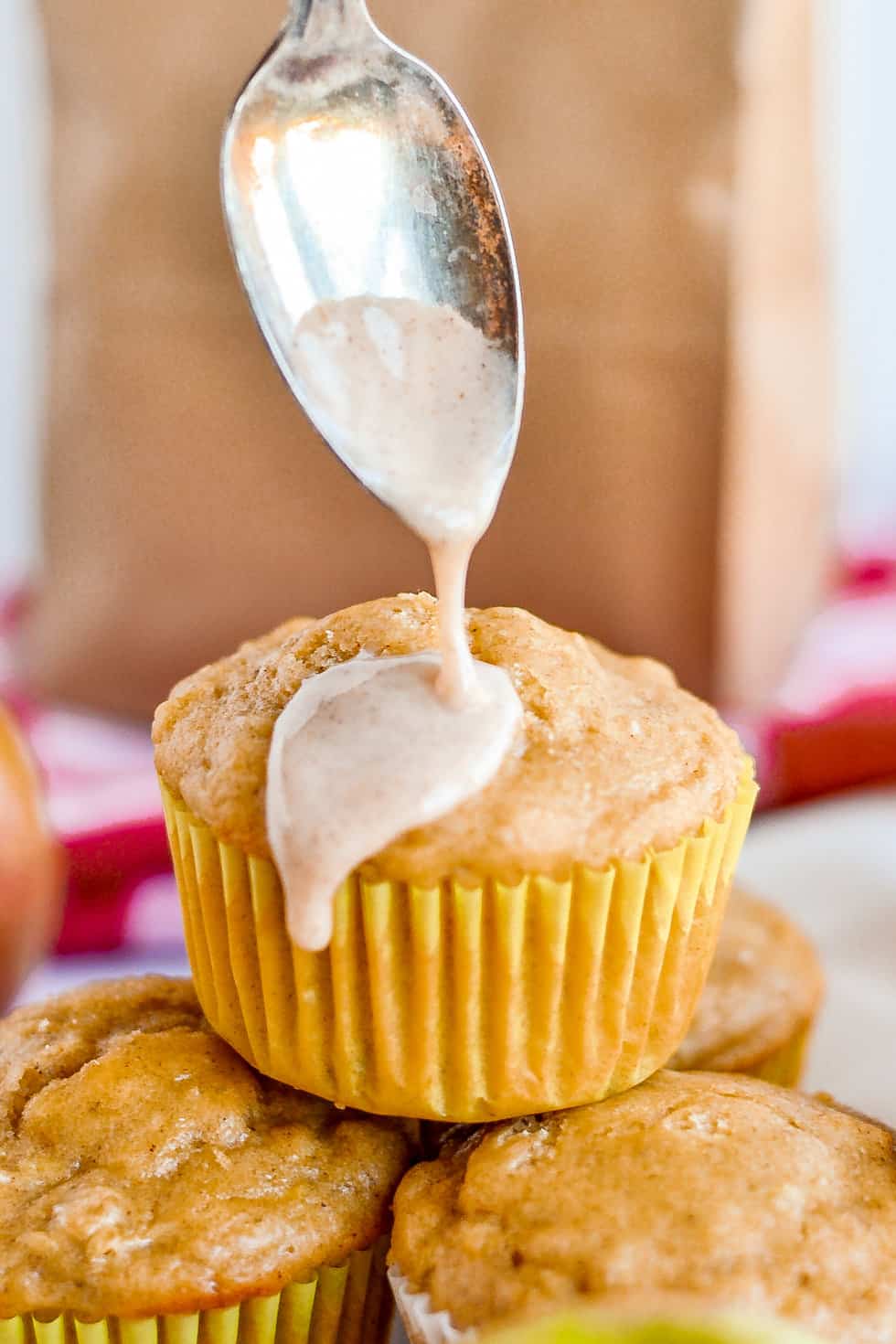 Equipment You'll Need
Get your kitchen tools together to make these marvelous apple cinnamon muffins. Here's what you'll need:
Mixing bowls
Measuring cup
Measuring spoons
Whisk
Cupcake liners
Serving Suggestions
The best way to enjoy apple oat muffins is with a tall glass of milk or a cup of coffee along with some fresh fruit. If you want to add protein to your breakfast or snack, serve them alongside eggs or with some delicious Greek yogurt.
For unglazed muffins, set out some salted butter, jam, or preserves to go with the muffins. Yum!
Storage and Freezing Apple Cinnamon Oatmeal Muffins
Store these apple cinnamon muffins at room temperature in an airtight container for up to 3 days.
Remember to let the muffins cool completely before storing them. To prevent sogginess, place a paper towel under the muffins and on top of them to absorb excess moisture.
Freeze muffins in a gallon-sized freezer-safe bag for up to 3 months. I recommend leaving the glaze off of any muffins you want to freeze. It's simple enough to whip up the glaze when you thaw the muffins later.
Apple Oat Muffins Tips and Tricks
Save yourself some time and skip peeling the apple. You won't even notice the skin in the muffins.
Grate the apple right when needed, directly over the batter. If grated ahead of time, it may start to brown. To prevent this, toss the grated apple with a little lemon juice.
If you don't have apple pie spice, make your own! It's super simple. Combine 1.5 teaspoons of cinnamon with 1/4 teaspoon of nutmeg, allspice, or ginger.
Out of buttermilk? No problem! Make your own by combining a cup of milk with the juice of 1 lemon. Let it sit for 5 minutes before pouring into the flour mixture.
Don't overmix the muffin batter. It will make your muffins chewy. Stir until the ingredients are well-combined, and fold in the apple and oats gently.
Additions and Variations
Add nuts. For a little crunch and some extra protein, add crushed walnuts or pecans to the muffin batter.
Make a crumb topping. Instead of the glaze, make a streusel topping for your apple oat muffins. The topping from my Apple Crumb Cake would be amazing on these muffins!
Make them vegan. Substitute the milk for almond milk, the butter for vegan butter, and a flax egg for each of the eggs the recipe calls for.
Add raisins. They'll give the muffins a little extra texture and sweetness.
Apple Oat Muffins FAQ
What are the best apples to use in muffins?
Use any kind of apples you like. I prefer Granny Smith, Honeycrisp, or Pink Lady apples for these muffins. There's a lot of leeway here though so feel free to choose a tart apple or a sweet apple for this particular recipe.
Do oat muffins need to be refrigerated?
No, these muffins should be kept at room temperature, as refrigerating them may alter the texture.
Do glazed muffins need to be refrigerated?
No. Even if you add the glaze to these muffins, they are still safe at room temperature for up to 3 days. The only exception would be if your home is particularly hot or humid, then you may be better off refrigerating your muffins.
Why are my muffin bottoms soggy?
Muffin bottoms get soggy if the muffins are allowed to cool in the pan for too long or if they are placed into a container before cooling fully. Remove your muffins from the pan after 5 minutes and let them to cooly fully on a wire rack.
More Delicious Muffin Recipes
Do you love an easy grab and go breakfast? Here are a few more fabulous muffin recipes to try:
Recipe
Recipe
Apple Oat Muffins
Packed with apples, oats, and apple pie spice and topped with a sweet cinnamon glaze, these apple oatmeal muffins are a delicious on-the-go breakfast or after school snack.
Ingredients
For the muffins:
2 cups all-purpose flour
1 Tablespoon + 1 teaspoon baking powder
2 teaspoons apple pie spice
½ teaspoon salt
1 cup buttermilk
2 large eggs
¼ cup vegetable oil
2 Tablespoons maple syrup
½ cup brown sugar packed
1 apple cored and grated
½ cup oats quick cooking or rolled oats
For the glaze (optional)
1 cup confectioners sugar sifted
2-3 teaspoons milk
¼ teaspoon vanilla extraxt
½ teaspoon ground cinnamon
Instructions
Preheat your oven to 375°F. Grab a 12-count muffin tin or two 6-count muffin tins. Grease the muffin cups with cooking spray or butter or line them with muffin liners.

Mix the flour, baking powder, apple pie spice, and salt together in a large bowl.

Add the buttermilk, eggs, oil, maple syrup, and brown sugar to the flour mixture. Whisk to combine.

Use a spatula or spoon to fold in the grated apple and the oats gently. Do not overmix.

Spoon batter into muffin tins, filling them about 3/4 of the way full.

Bake for 15-20 minutes, or until the centers are set and the tops are lightly golden brown.

Remove the muffins from the oven and allow them to cool for 5 minutes in the pan, and then move them to a wire rack to finish cooling.

For the optional glaze: In a medium mixing bowl, whisk together the powdered sugar, milk, vanilla, and cinnamon until smooth. Drizzle the glaze over the muffins.
Notes
I like to use Granny Smith or Honeycrisp apples, but you can really use any variety for this particular recipe.
You can grate the apples with the skin on or peel the apples first if you prefer.
Pumpkin pie spice or Chinese 5 spice may be substituted for the apple pie spice.
Muffins will stay fresh for up to 3 days when stored in an airtight container at room temperature.
Nutrition
Serving: 1g | Calories: 233kcal
Did You Make This Recipe?
Share it with me on Instagram @crayonsandcravings and follow on Pinterest @crayonsandcravings for even more!