A sweet and fluffy homemade strawberry muffins recipe, made from scratch with chunks of fresh strawberries.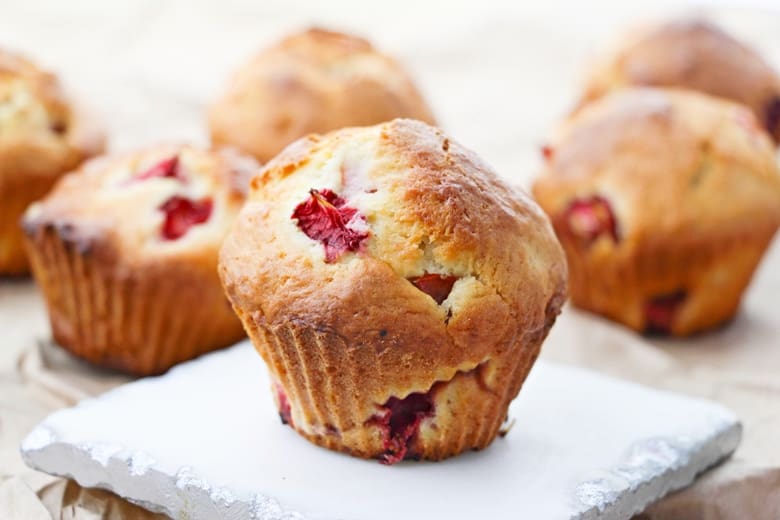 Strawberry season has finally arrived.
After you get your fill of eating them straight out of the package, why not make some delicious baked goods?
Along with strawberry jello pie, Strawberry pound cake, and strawberry scones, these strawberry muffins are one of our favorite ways to use fresh strawberries.
The Best Strawberry Muffins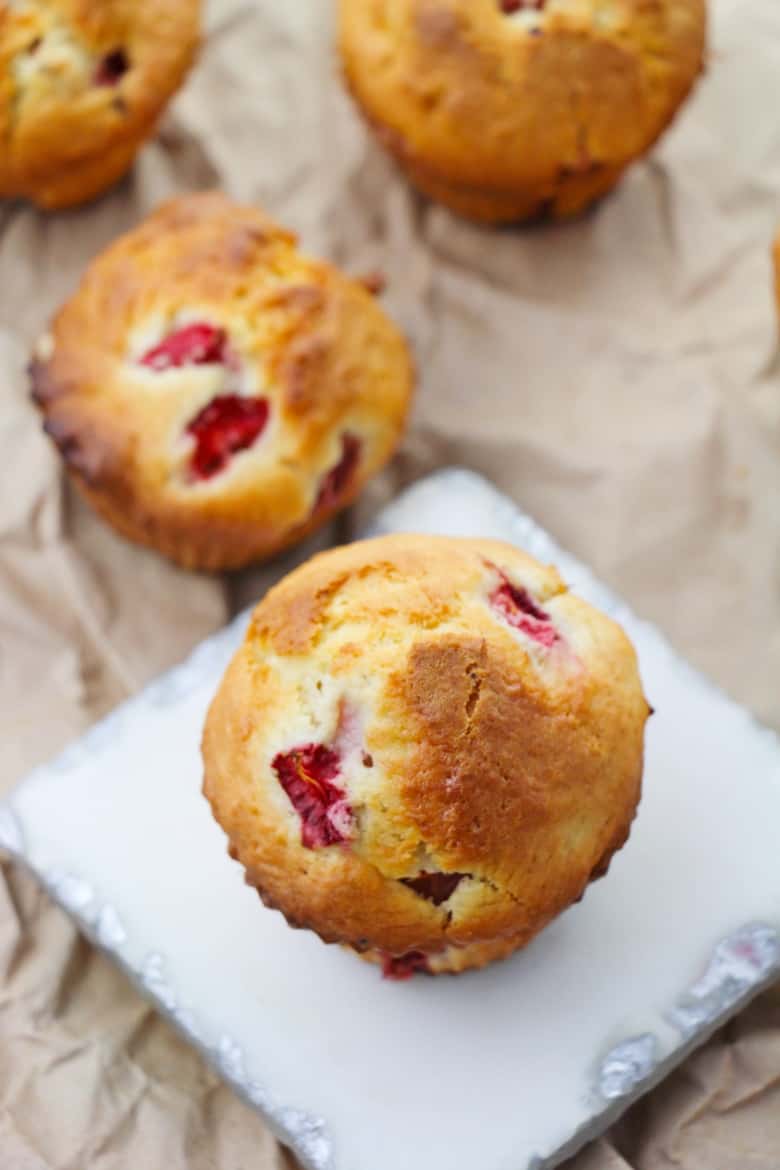 These strawberry muffins are to die for. If you're used to those little packs of muffin mix, you're going to be pleasantly surprised. Homemade strawberry muffins taste so much better when you make them with real strawberries.
These beauties are made with the real deal.
If you love strawberries, you're going to love this delicious muffin recipe.
How to Make Strawberry Muffins
This muffin recipe is simple, using basic ingredients you probably already have on hand.
For this recipe, you will need the following ingredients:
butter
eggs
buttermilk
sugar
flour
baking powder
salt
lemon juice
strawberries
If you want the freshest strawberries possible, look for a local farm. Many farms will allow you to pick the strawberries yourself, which not only allows you to get the best selection but also lowers the price. It's also a great activity for the family to enjoy together on the weekend.
Instructions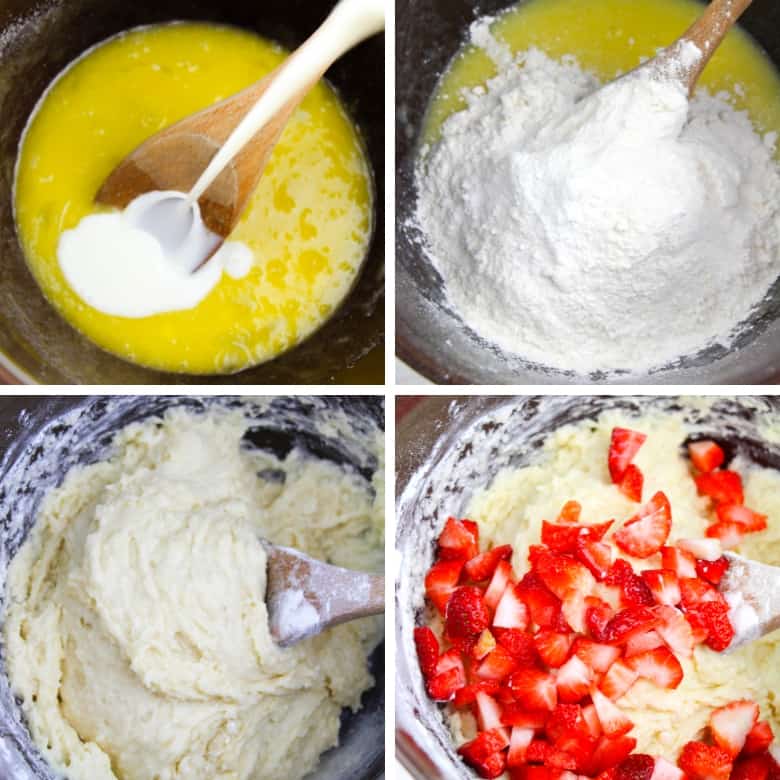 Once you have gathered your ingredients, grab a small bowl and combine your dry ingredients: sugar, flour, and salt. Set aside dry ingredients while you prep your wet ingredients.
In a large bowl, mix butter, eggs, buttermilk and sugar until light and frothy. Then, add the dry ingredients to the bowl and stir until just combined. Do not overmix!
Add chopped strawberries, gently folding them into the batter.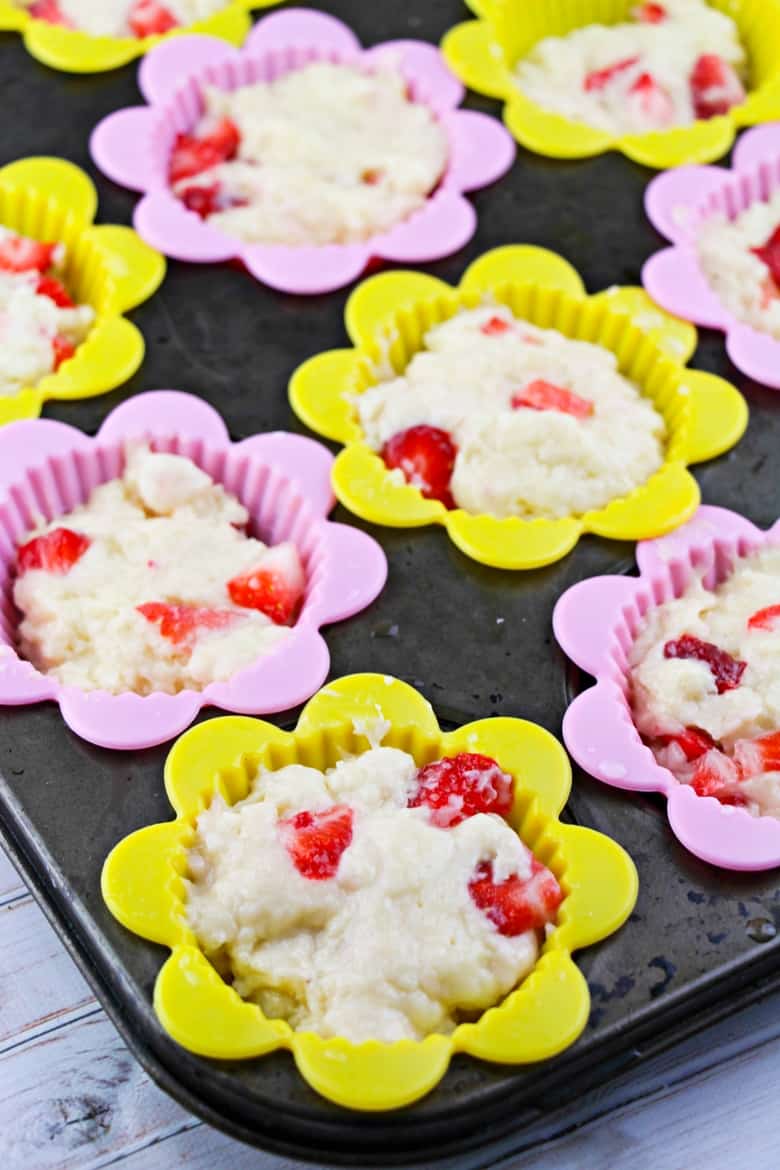 Scoop batter into lined muffin tin, about 1/4 cup per liner.
Bake at 375 F until slightly golden, and a toothpick inserted at the center comes out clean (about 15-18 minutes).
Serve warm with butter and enjoy!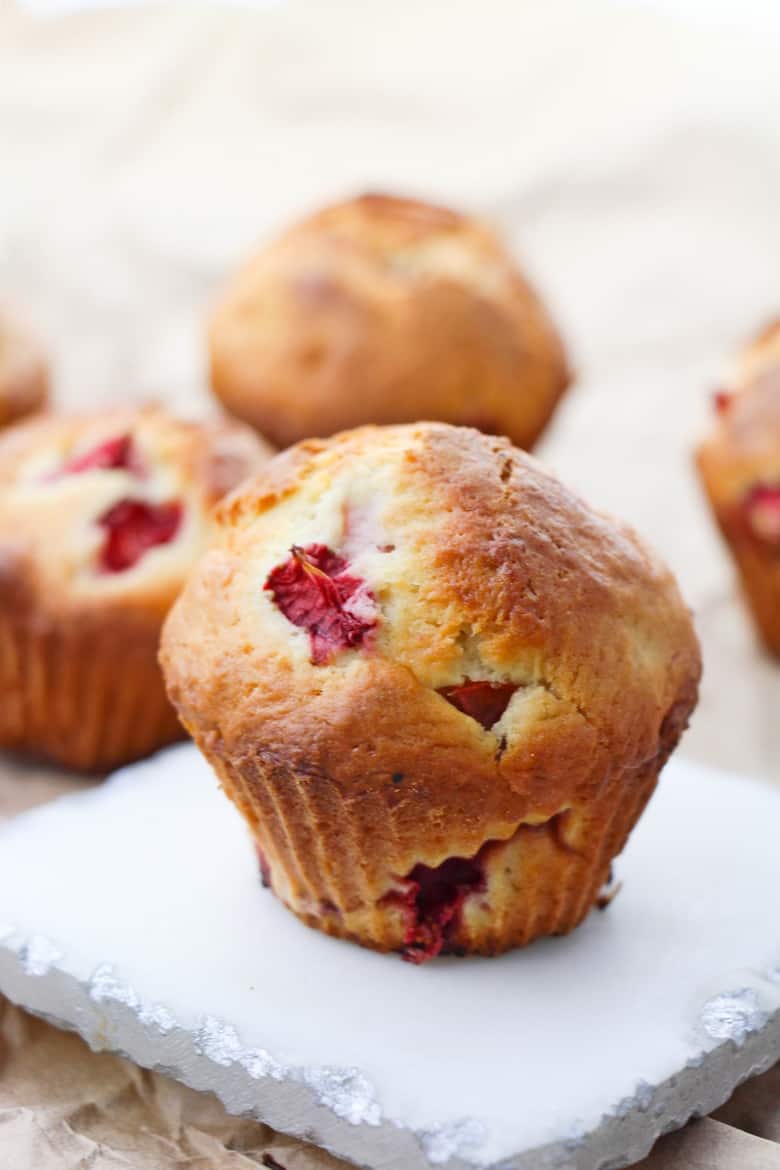 More tasty muffin recipes
I love muffins — I really think that they make the perfect breakfast. They are delicious and filling, plus they are easy to grab and enjoy on the go on which is a lifesaver on busy mornings.
Plus, there are so many different ways to make muffins. From classics like coffee cake muffins and lemon poppy seed muffins to savory varieties like bacon muffins, to muffins with fresh fruit like lemon and blueberry muffins, double chocolate banana muffins, and these delicious strawberry muffins, there is a muffin recipe out there for everyone!
Strawberry Muffins
Sweet and fluffy homemade strawberry muffins, made from scratch with chunks of fresh strawberries.
Ingredients
2 cups flour
2 teaspoon baking powder
½ teaspoon salt
¼ cup melted butter
2 eggs
½ cup buttermilk
¾ cup white sugar
1 teaspoon lemon juice
1 cup chopped strawberries
Instructions
Preheat oven to 375 F. Line a muffin tin with muffin liners and set aside.

In a small bowl, combine the flour, baking powder and salt. Stir and set aside.

In a large bowl, mix the butter, eggs, buttermilk, sugar, and lemon juice until light and frothy. Add the dry ingredients and stir until just moistened.

Add in the strawberries and stir until mixed throughout.

Scoop ¼ cup of batter into each muffin liner.

Bake for 15-18 minutes, until slightly golden and an toothpick inserted in center comes out clean.
Recommended Products
As an Amazon Associate and member of other affiliate programs, I earn from qualifying purchases.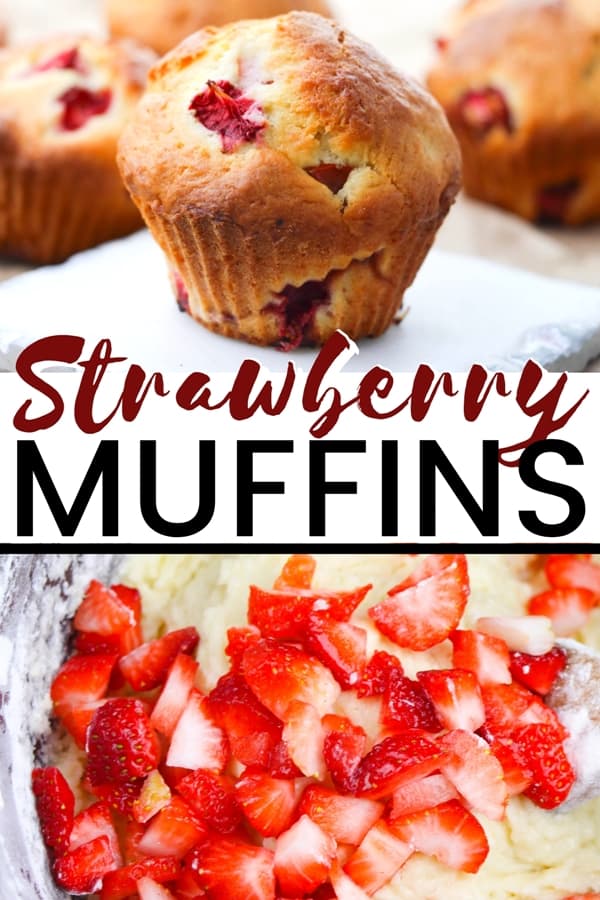 Shared on Meal Plan Monday.