This easy DIY tea gift basket makes a terrific gift for the tea lover in your life. It is perfect for birthdays, Mother's Day, other holidays, or just because.
This shop has been compensated by Collective Bias, Inc. and its advertiser. All opinions are mine alone. #LiptonNewLook #CollectiveBias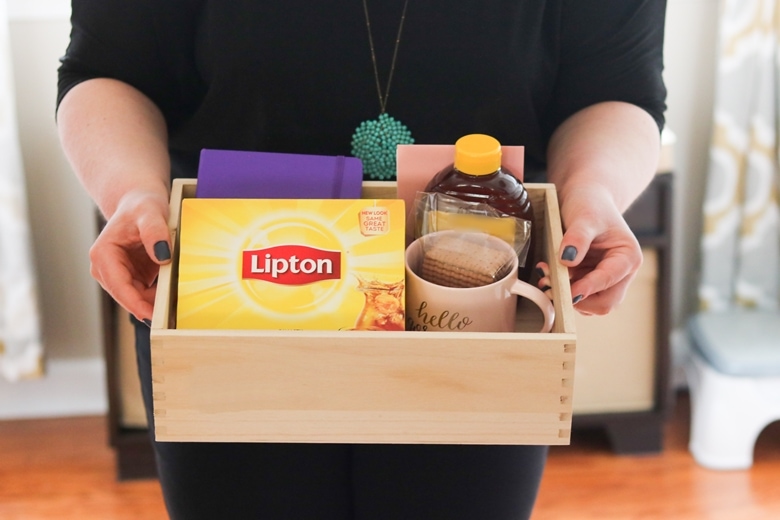 Tea Gift Basket
Since my mother is a total tea lover, I knew that she would love a tea themed gift basket. There isn't any holiday or special occasion, but I wanted to do a little something sweet for my mother just because she is amazing.
I knew I had to include a box of Lipton 100% Natural Tea Black Tea Bags in my mother's gift basket. So on my weekly Walmart shopping trip I picked up a few boxes.
Hover over the image to start shopping for your tea time gift basket!
My mother is the ultimate Lipton Tea lover — I don't think that she has had a day without a cup of Lipton Black Tea in the past 30 or so years.
She even carries Lipton 100% Natural Tea Black Tea Bags in her purse with her so she is prepared wherever she goes. If she is out at a restaurant and they don't serve Lipton, she is grateful for her little Lipton stash in her purse.
While I may not carry tea bags in my purse, I have become quite the Lipton-lover myself.
I love sitting down and enjoying a nice hot cup of Lipton 100% Natural Tea Black Tea, just as I grew up watching my mother do each afternoon.
DIY Tea Gift Basket Ideas
While Lipton 100% Natural Tea Black Tea Bags is the star of this gift basket, I also included some other goodies to help my mom enjoy tea time to the max.
I wanted to share a list of all the items that I included in my gift basket with you all, so that you would have an easy time recreating this great tea gift for the tea lover's in your life.
Lipton 100% Natural Tea Black Tea Bags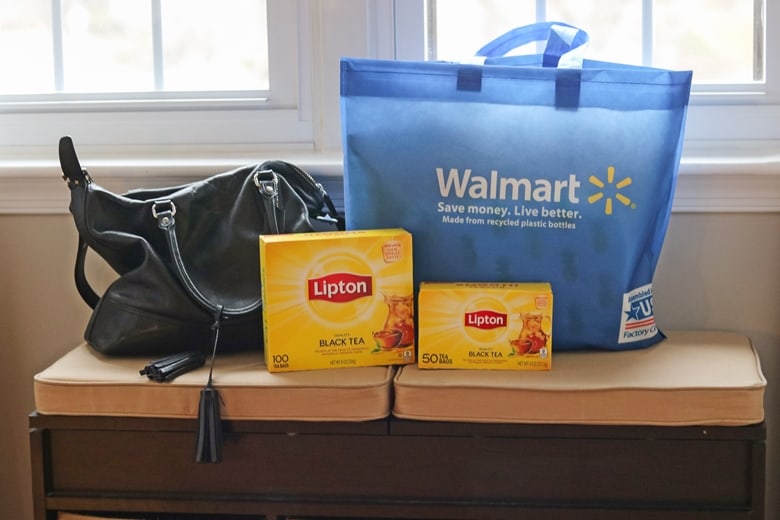 Available at Walmart and on Walmart.com, Lipton 100% Natural Black Tea Bags are a must-have in any tea themed gift basket.
Lipton is not only my mother and I's favorite tea, but it is America's Favorite Tea as well.
New look, same great taste!
You may notice that Lipton's packaging has gotten a new look. Don't worry though, it is still the classic Lipton 100% Natural Black Tea that we all know and love.
A Cute Mug
Any tea lover will appreciate a nice new mug. I choose this beautiful hello gorgeous mug to include in my gift basket, as I love the color and the positive message. It is the kind of mug that makes you smile each time you use it.
Honey
A spoonful of honey is a delicious way to sweeten a cup of tea.
Tea Biscuits
A light snack for your recipient to enjoy along with their cup of tea.
Tea Bag Holders
These tiny plates are designed to hold tea bags after they have been removed from your mug.
I have found that their size also makes them perfect for serving a few tea biscuits on as well.
This 3-piece tea bag holder set has cute little tea-themed puns on each one, such as "You're Tea-riffic!" They are so much fun!
A Journal / Notebook
A journal or notebook for the recipient to write their thoughts, to-do lists, or whatever they would like.
Handwritten Card
A little handwritten card for the gift recipient, with a little note letting them know who the gift is from.
Storage Container
Rather than using a traditional basket, I opted to use a nice wooden reusable storage crate that could be used for the storage of magazines or other items after being gifted.
That sums up all of the items that I included in my gift basket, but some other items that would make a good addition to a tea time basket are: tea kettle, teapot, novel, coasters, cozy socks, tea bag tongs, and a travel mug.
Regardless of what you include, as long as the star of your gift basket is Lipton 100% Natural Tea Black Tea Bags, I am sure your recipient will love their gift.
This easy DIY tea time gift basket would make a great gift for everything from Mother's Day and birthdays to housewarmings and teacher's appreciation day. The basket would be great as a donation to a tricky tray or another fundraiser as well.
Pin for Later: