Strawberry Yogurt Pound Cake
Posts may contain affiliate links, meaning that I may earn a commission if you use a link provided.
This easy homemade strawberry yogurt pound cake with a sweet strawberry glaze will have everyone asking for a second slice.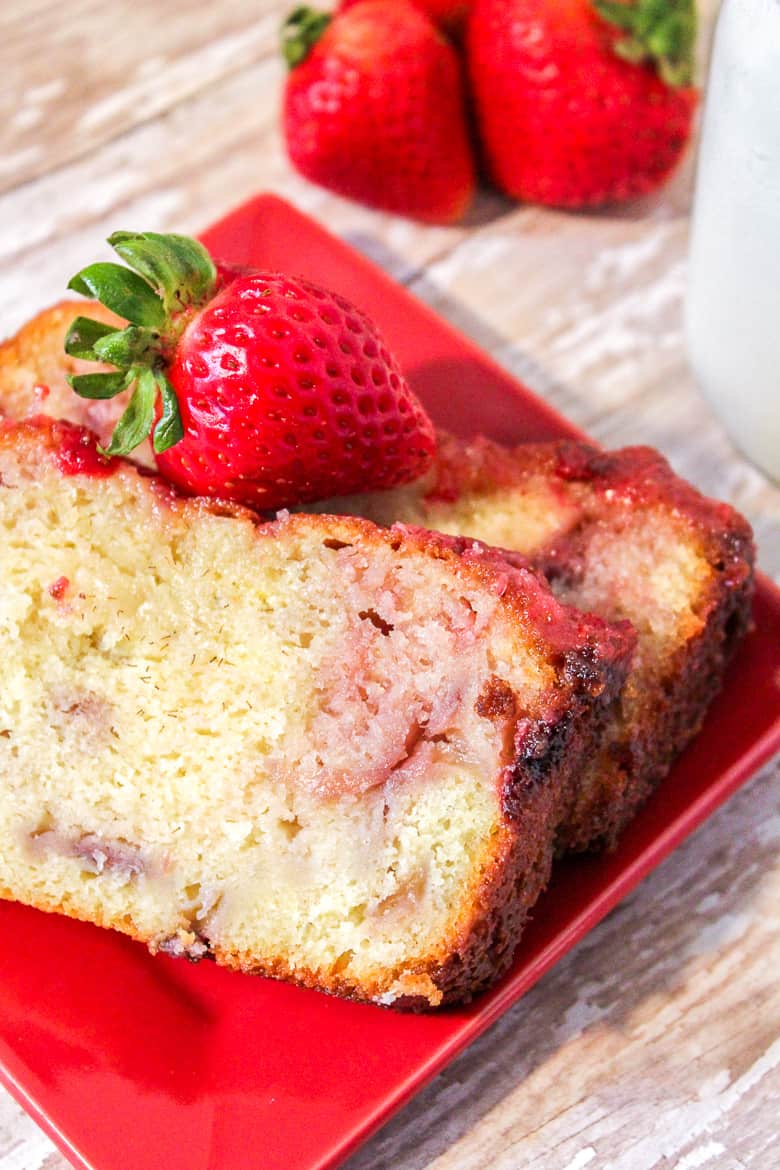 Who doesn't love a nice pound cake? It's amazing in the summer to top with fresh strawberries and whipped cream.
But what if you added the strawberries to the pound cake itself?
Better yet, what if the recipe was super easy to make?
That's exactly what you'll get from this recipe – an easy & delicious strawberry pound cake.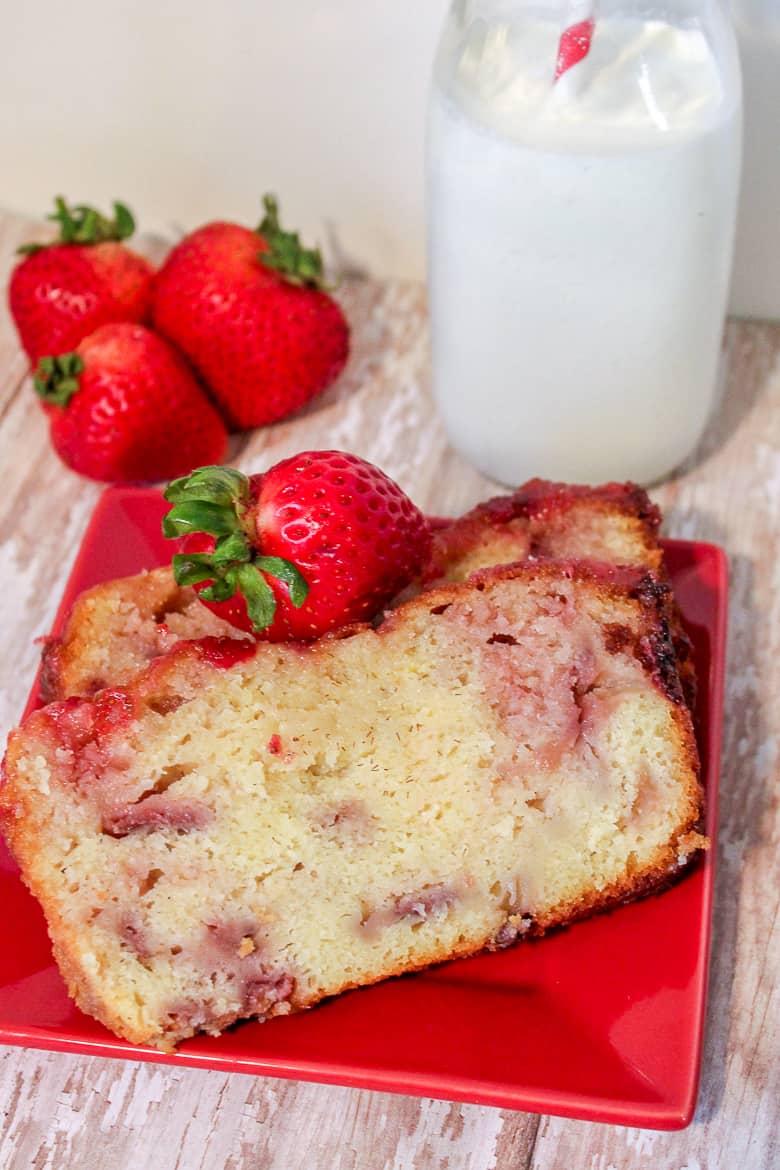 Not a fan of strawberries? No problem. Try this blueberry lemon pound cake or this lemon bundt cake instead.
Strawberry Yogurt Pound Cake
Strawberry pound cake meets strawberry yogurt cake with this tasty recipe.
The Greek yogurt combines with bits of fresh strawberries to give this homemade strawberry pound cake it's moist texture and delicious flavor.
If you love strawberries, you are going to love this pound cake.
Perfect for Dessert or Breakfast
Serve with a dollop of whipped cream or a scoop of vanilla bean ice cream for a delicious dessert. I especially love to serve this sweet treat up as a Mother's Day dessert.
Or, enjoy a slice in the morning with some fresh berries and a cup of tea
Either way, you are going to love this easy strawberry cake recipe.
Next time I make this strawberry pound cake I think I will add about 1/4 cup white chocolate chips to the batter. White chocolate compliments strawberry so well, I think it would truly be amazing.
But, hey, if one of you wants to try adding some white chocolate chips before then, go for it. Then, be sure to come back and let us know how it comes out.
Have extra strawberries? Make a batch of these homemade strawberry muffins, strawberry scones, or mini strawberry trifles as well — you will not be disappointed!
Recipe
Recipe
Strawberry Yogurt Pound Cake
Greek yogurt combines with bits of fresh strawberries to give this homemade strawberry pound cake its moist texture and delicious flavor.
Ingredients
1 1/2 cup all-purpose flour
2 teaspoon baking powder
1/2 teaspoon salt
1 cup plain Greek yogurt
1 cup granulated sugar
3 large eggs
1/2 cup vegetable oil
1 1/2 teaspoon vanilla extract
1 cup strawberries diced
Glaze:
2 cups confectioners' sugar
1/2 cup strawberries mashed
Instructions
Preheat the oven to 350. Prep a loaf pan with a coat of non-stick spray and set aside.

In a medium bowl, whisk together flour, baking powder, and salt.

In a large bowl, mix together the wet ingredients: greek yogurt, sugar, eggs, oil, and vanilla.

Slowly add the dry ingredients to the wet, mixing until just combined.

Fold in diced strawberries.

Pour batter into loaf pan and bake until a toothpick inserted in the the center comes out clean, about 50 minutes.

Allow to cool for a 2-3 minutes on the countertop, then turn cake over on a cooling rack and allow to cool fully.

Combine powdered sugar and strawberries to form the glaze.

Pour glaze over cooled pound cake. Allow glaze to set before slicing and serving.
Did You Make This Recipe?
Share it with me on Instagram @crayonsandcravings and follow on Pinterest @crayonsandcravings for even more!