Orange Creamsicle Cocktail
Posts may contain affiliate links, meaning that I may earn a commission if you use a link provided.
The orange creamsicle cocktail is a bright, bold, and refreshing drink, perfect for hot summer days. Made with whipped cream vodka, orange soda, and whipped cream, the sweet cocktail tastes just like the classic frozen dessert!
It's one of those treats you loved as a child that we've crafted into a delicious drink for you to enjoy all those childhood happy memories with. A simple raspberry vodka lemonade will do the same trick, a nice quick trip down memory lane.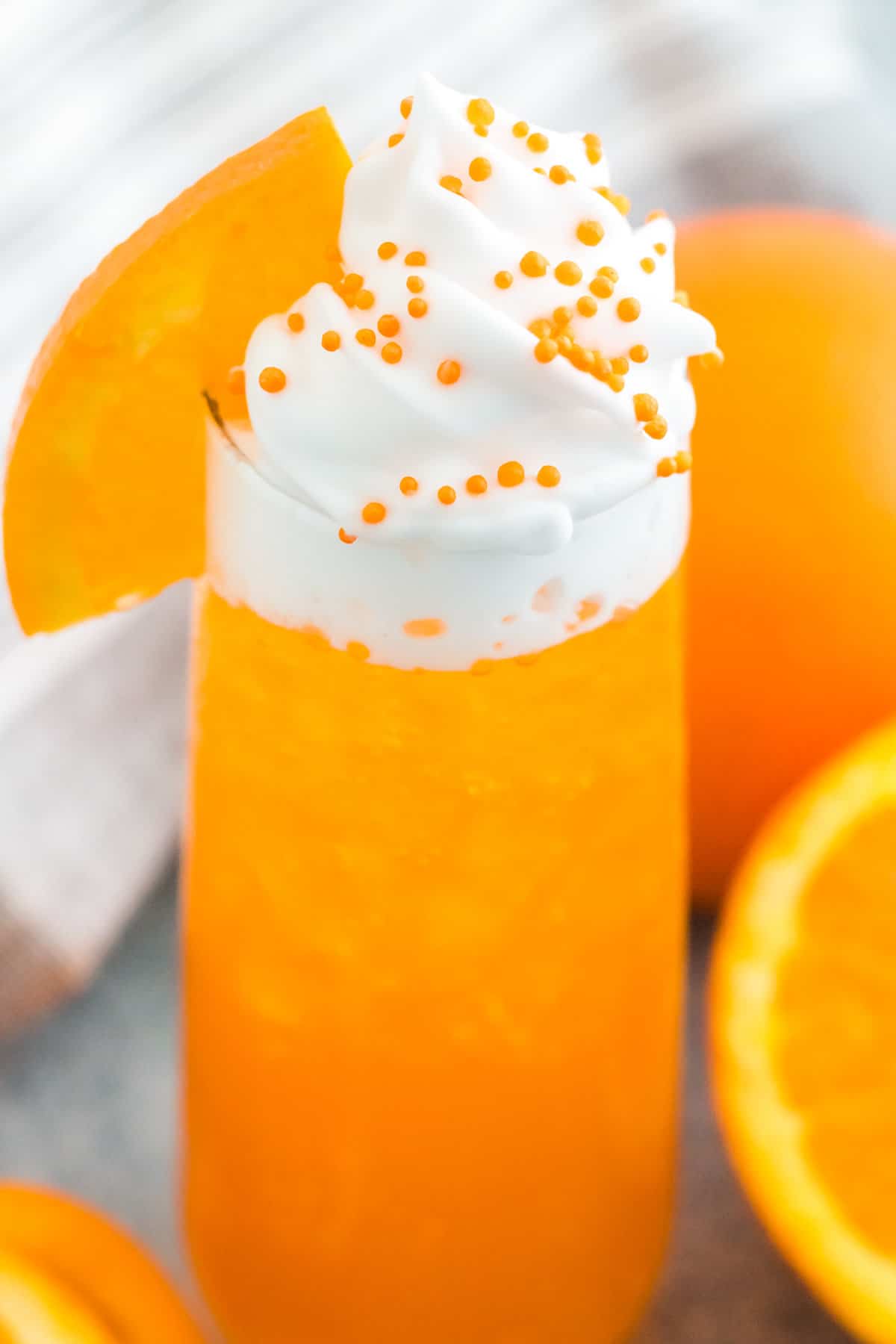 Have you ever heard the saying, "you eat with your eyes first"? Well, it's the same thing with your drinks, you enjoy your drinks first with your eyes.
When your drink looks gorgeous, it instinctively tells your taste buds that it's going to be a delicious cocktail. If you think this delicious orange creamsicle cocktail is beautiful, you gotta check out this caribbean rum punch! It's just as magnificent.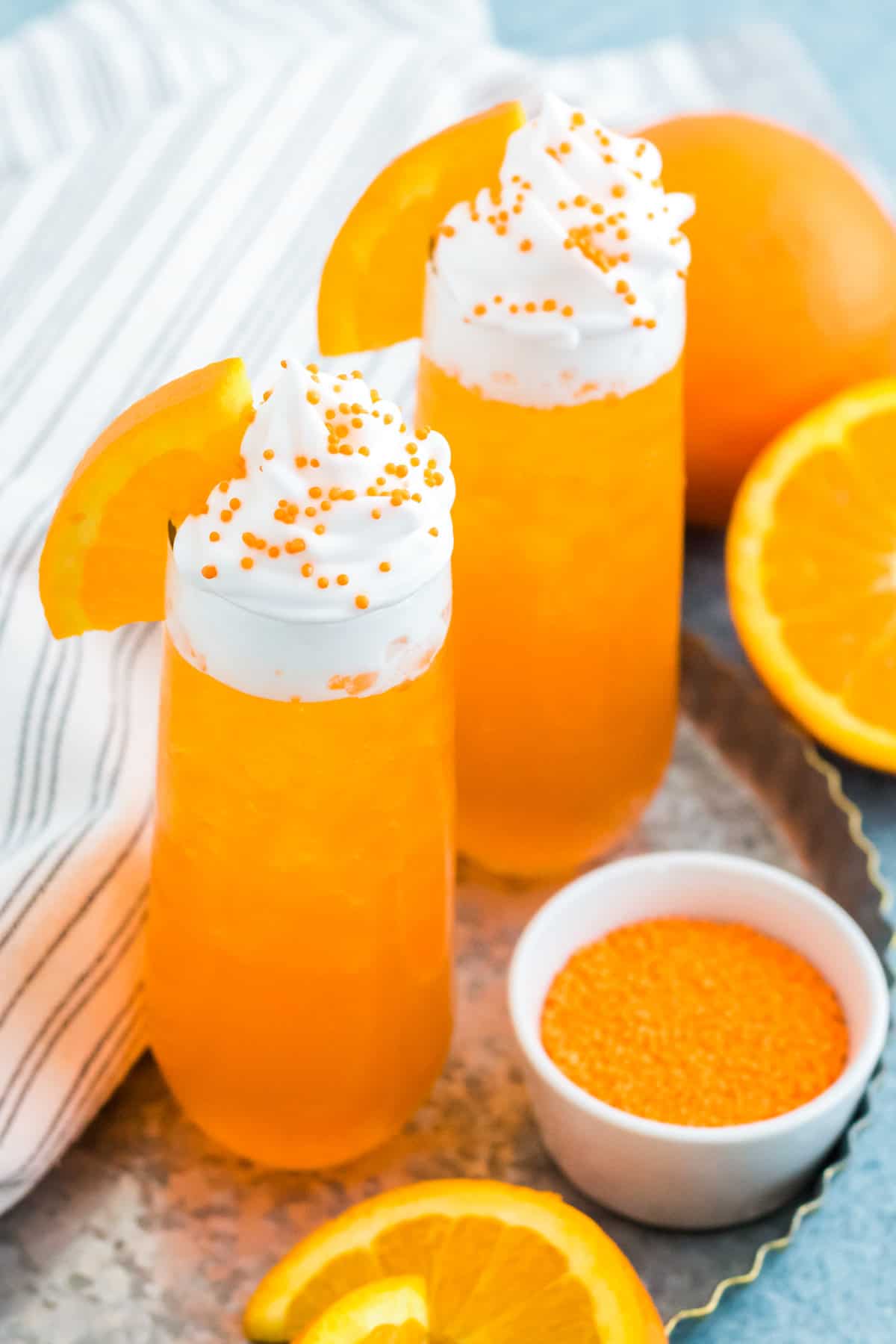 Grab a few friends and whip up these tasty orange creamsicles to enjoy around the pool on a hot summer day while you reminisce about all the fun things you did during the summer as a kid. Or sip on your orange creamsicle drink while the kids are waiting in line at the ice cream truck like you used to!
Whenever you choose to enjoy it, this simple but tasty cocktail is sure to be a hit!
If you want another quick and easy summer cocktail recipe, try this Hawaiian Margarita– another 5-minute cocktail!
Ingredients
This section includes ingredient notes and substitution options. Get all measurements, ingredients, and instructions in the printable recipe card at the end of this post.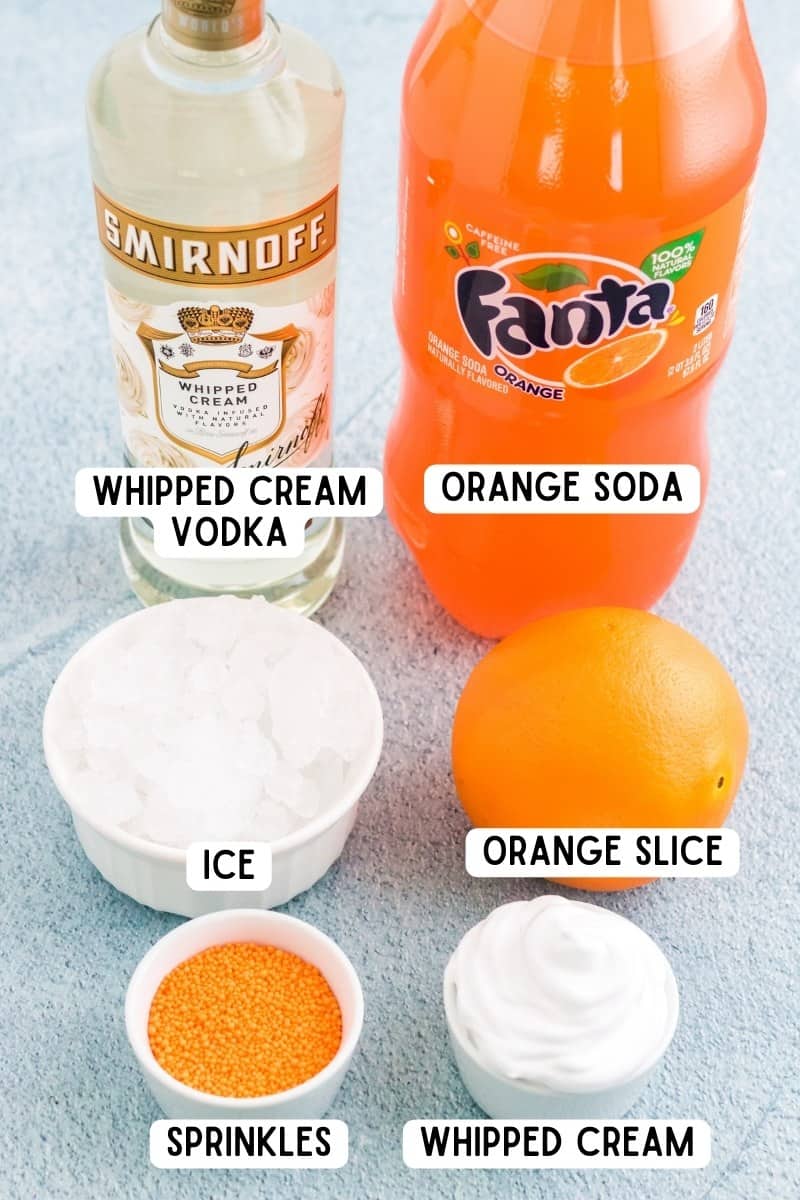 Ice— Crushed ice is ideal but any ice will do the trick.
Whipped Cream Vodka— Vanilla vodka is a good alternative. Find more options shared below.
Orange flavored soda— While some creamsicle cocktail recipes call for orange juice, I prefer to use orange soda for a sparkling creamsicle cocktail.
Whipped topping— adds a nice topping touch to your adult beverage.
Garnish— Orange wheels, slices, or wedges are a go-to garnish choice. You may also use orange sprinkles if desired.
Supplies
How to Make a Creamsicle Cocktail
This section shows you how to make the recipe with step-by-step photos and instructions. For the full printable recipe, see the recipe card below.
Step 1: The first step is to pour your vodka into a glass filled with ice.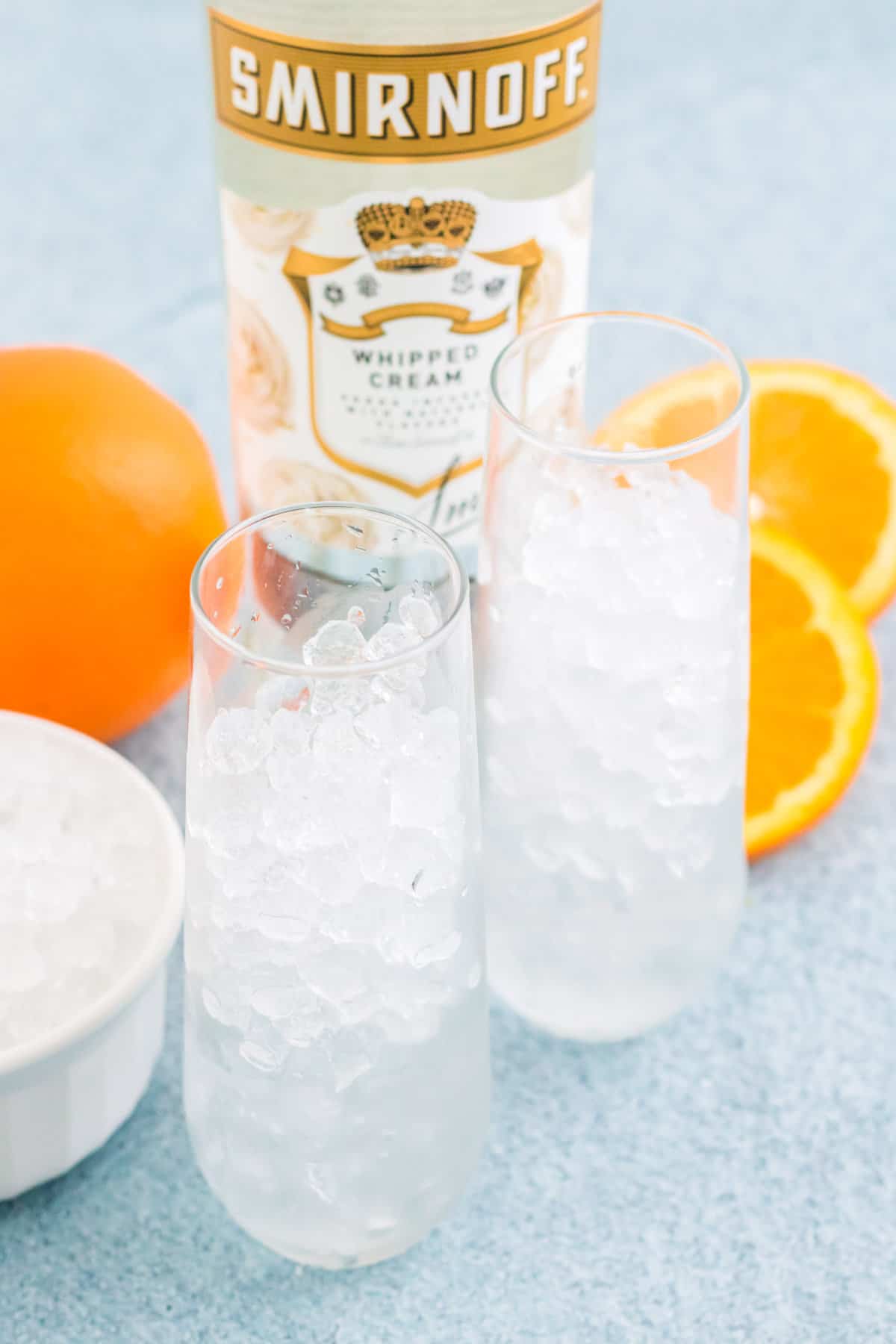 Step 2: Add orange soda and stir.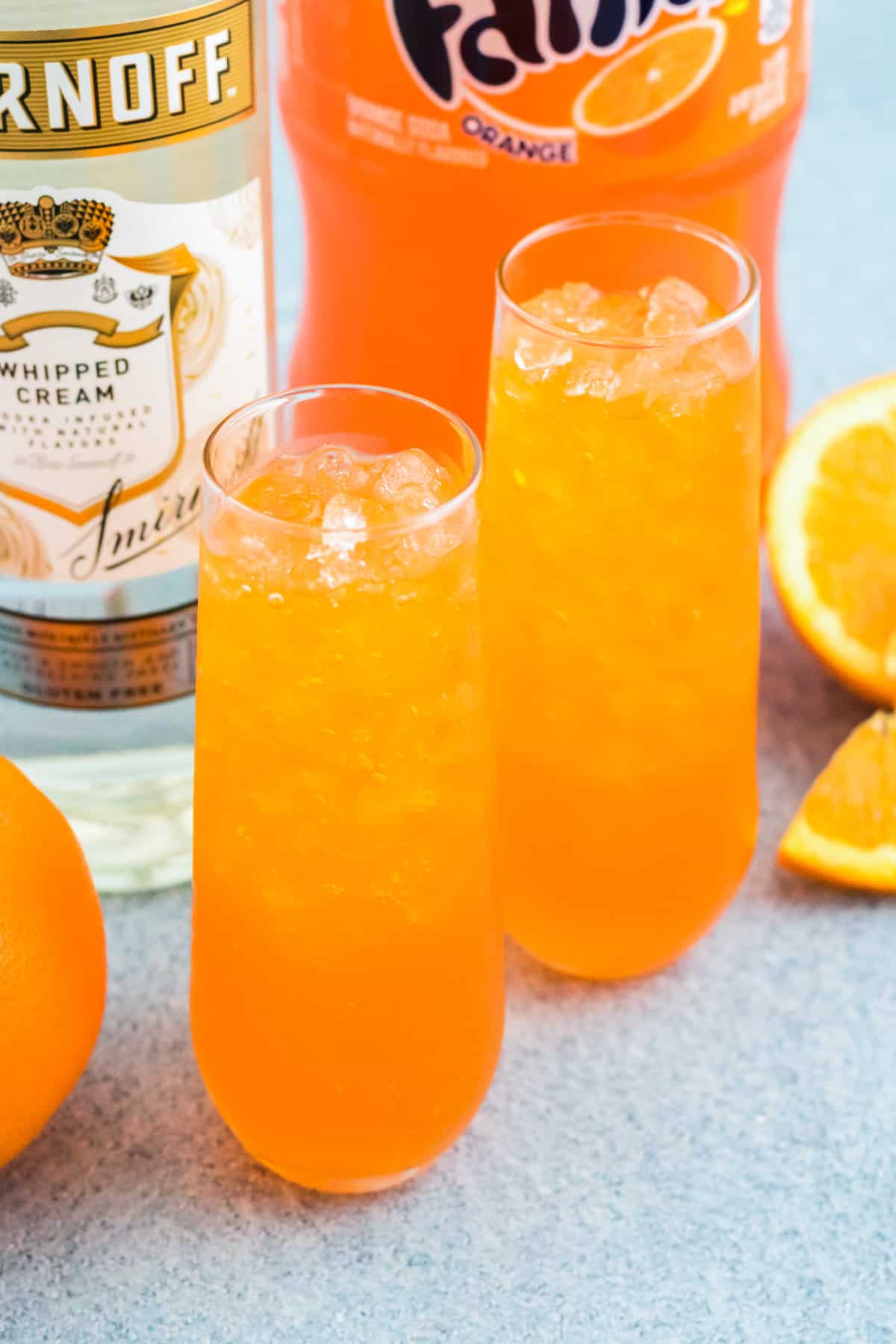 Step 3: Top with whipped cream and garnish with orange sugar sprinkles or slices of orange.
Serve and enjoy!
For another delicious orange creamsicle-flavored treat try my orange fluff salad recipe.
Storage
For best results serve this carbonated cocktail immediately. If you're making a big batch and making it earlier than when you plan to drink it I recommend waiting to add the ice cubes or you'll have a watered-down batch of drinks.
Expert Tips and Tricks
Make them creamier. If you're looking for a creamier drink, mix in the whipped cream or add a dash of heavy cream to your creamsicle cocktail recipe to make them a little more reminiscent of those orange creamsicle popsicles you used to devour as a kid.
Make a boozy float. Add a scoop of vanilla ice cream or orange sherbet to make a boozy orange creamsicle float.
Make them kid-friendly. You can make a non-alcoholic creamsicle mocktail by omitting the vodka and just adding some more whipped topping. It would be great if you mixed the whipped topping and soda together in a cocktail shaker for a fun treat for the kids. Or, you could make a kids creamsicle float by adding a scoop of ice cream and blending it with the orange soda pop.
Don't forget about the holidays. This bright orange drink would make a great festive drink to serve during the winter holidays. So, don't forget about it when everyone is normally sippin' on Bailey's or other cocktails.
Use crushed ice. Crushed ice gives the sweet cocktail almost a slushie effect but ice nuggets are also a great option.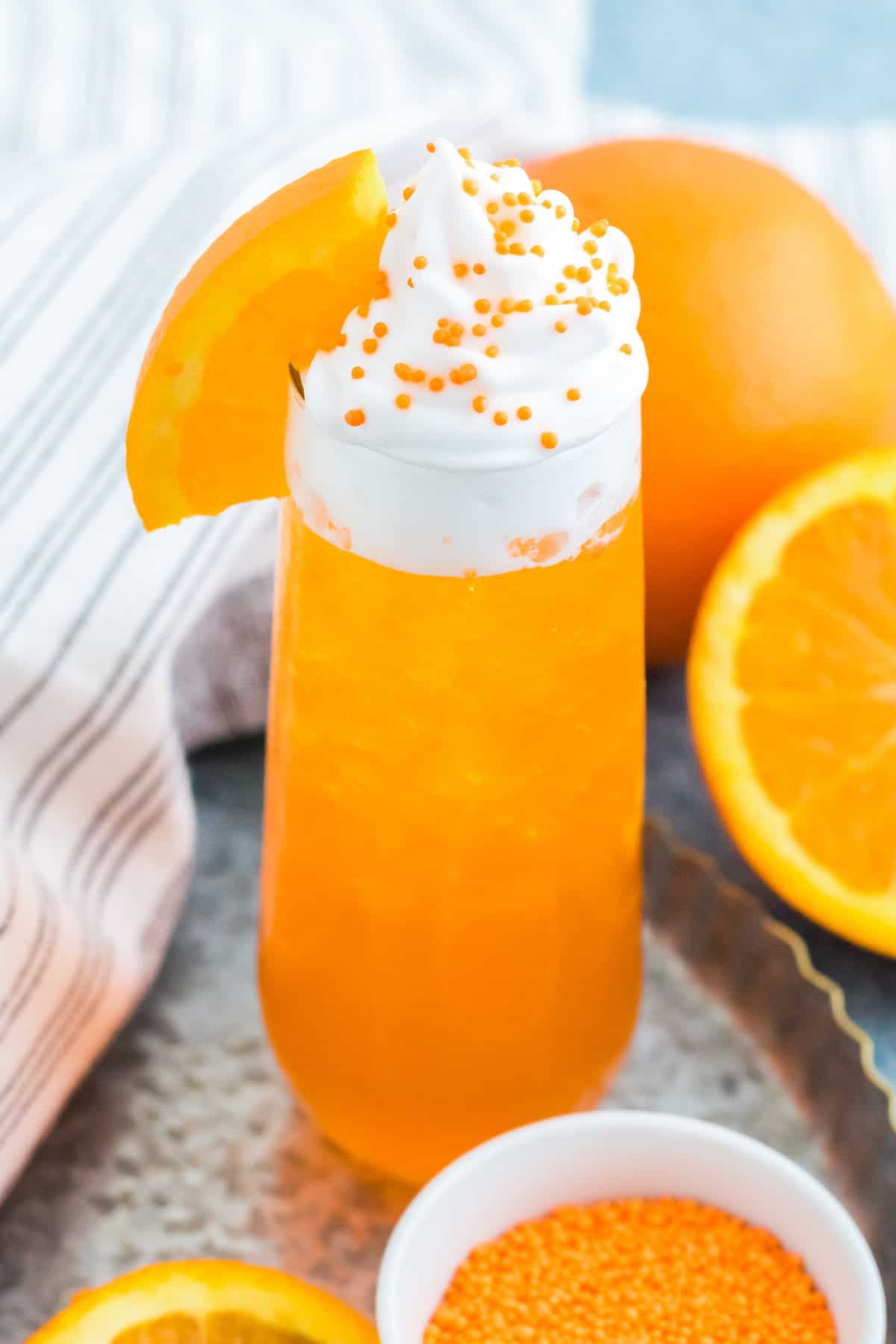 Creamsicle Cocktail: Frequently Asked Questions
What can I use instead of whipped cream vodka?
I think this creamsicle cocktail pairs wonderfully with whipped cream vodka, however, if you're having trouble finding it or looking for something different, there are a few other options you can try.
You can simply swap the whipped cream vodka out for vanilla vodka or your favorite regular vodka. Or, Malibu makes an orange float flavored rum that I think would pair very nicely with this drink. You could also try using any white rum or even a spiced rum.
How can I make these for a crowd?
Keep the ingredients the same and simply double, triple, or quadruple as necessary to make a larger batch. Mix the cocktails in a large pitcher and then pour into individual glasses and top with whipped cream.
What garnishes can I use?
Usually, this cocktail is garnished with your whipped topping, you can use Cool Whip, Reddi-Whip, or make your own! Then I like to add a slice of orange, but you could also use a grapefruit slice, some orange sprinkles, orange zest, or a pineapple chunk or cherry for a change of pace.
More Easy Cocktail Recipes
Recipe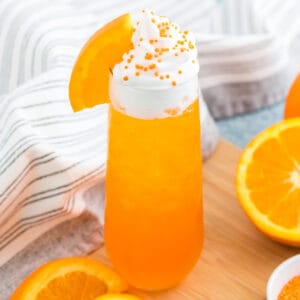 Recipe
Orange Creamsicle Cocktail
The orange creamsicle cocktail is a bright, bold, and refreshing drink made with orange soda and whipped cream or vanilla-flavored vodka.
Ingredients
Ice cubes
2 ounces whipped cream or vanilla flavored vodka ¼ cup
4 ounces orange flavored soda ½ cup
Whipped cream for topping
Orange sprinkles and/or orange wedge for garnish
Instructions
Pour vodka into a glass filled with ice.

Add orange soda and stir.

Top with whipped cream and garnish with sprinkles or slices of orange, if desired.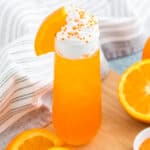 Did You Make This Recipe?
Share it with me on Instagram @crayonsandcravings and follow on Pinterest @crayonsandcravings for even more!