TikTok Cinnamon Rolls With Heavy Cream
Posts may contain affiliate links, meaning that I may earn a commission if you use a link provided.
These TikTok Cinnamon Rolls are going viral right now! You start with big canned cinnamon rolls and pour heavy whipping cream over them. Then a mixture of butter and brown sugar gets drizzled on top. Once baked up they get topped with a luscious cream cheese icing that is sure to please.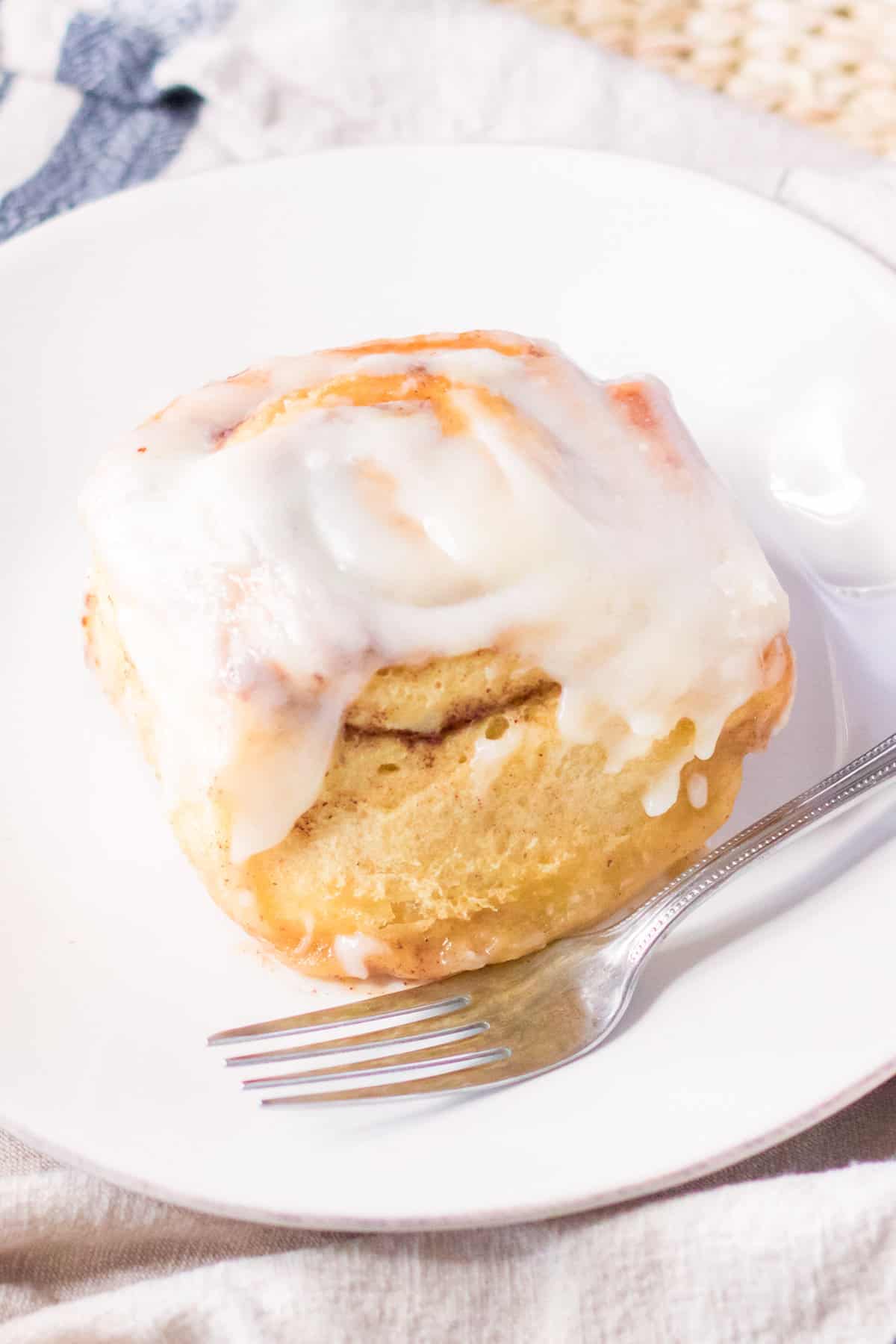 These are decadent and bake up nice and fluffy, each one tastes like that coveted middle bite. Try this easy recipe and you will never make cinnamon rolls any other way!
The best part about these big, soft cinnamon rolls is that they're good even when they're reheated. Have you ever microwaved a cinnamon roll only to get a tough, chewy bite of disappointment? That doesn't happen here. They're just as soft, fluffy, and delicious as they are on the first day.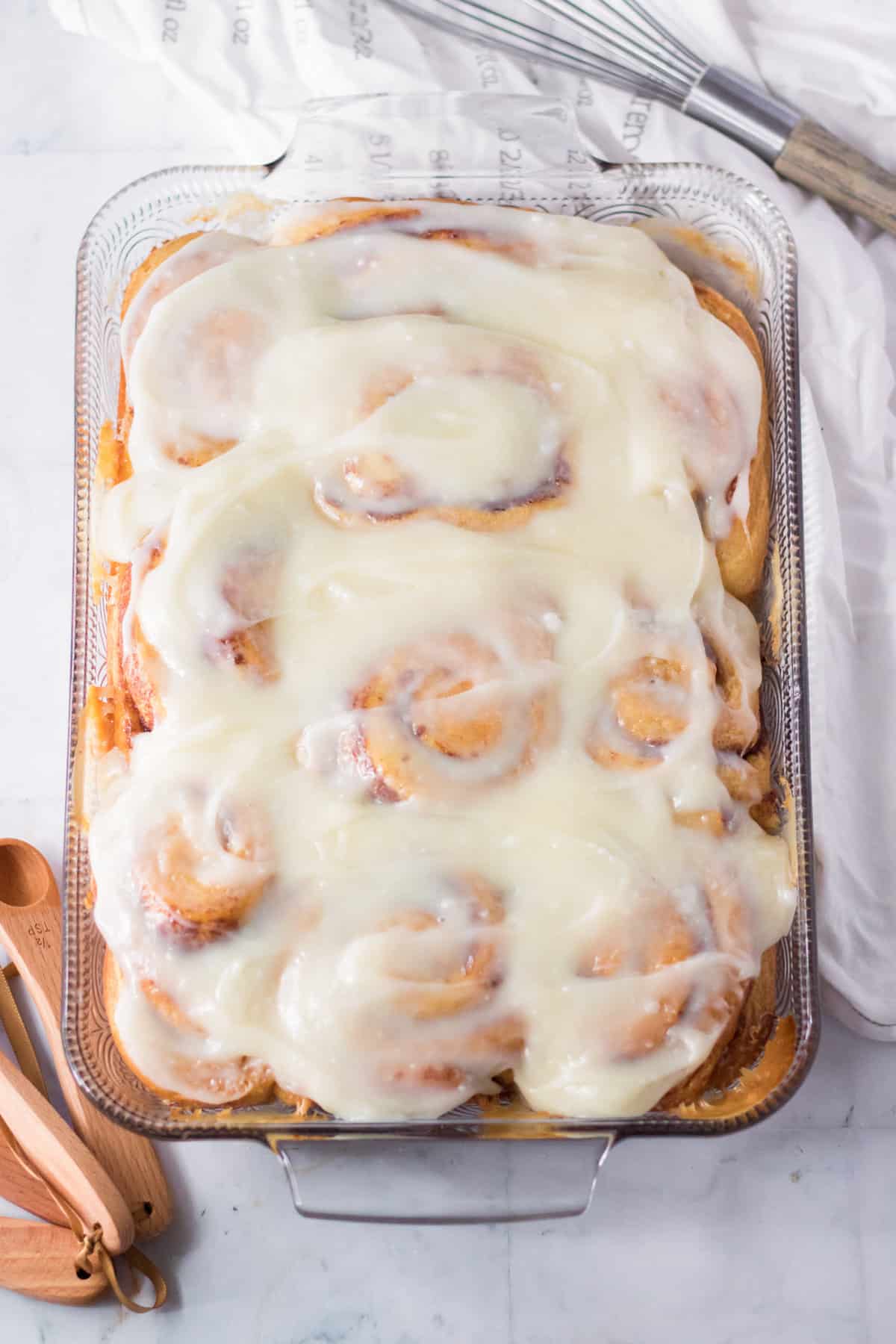 Fellow Cinnabon fanatics will love these semi-homemade cinnamon rolls as well as this giant cinnamon roll in the air fryer which is air fried to perfection and then topped with a homemade cream cheese frosting similar to this recipe. For another sweet breakfast that's sticky, lick-your-fingers good give my easy monkey bread recipe a try.
Or for the perfect fall dessert, try my cinnamon roll apple upside-down cake. It tastes like a decadent cinnamon roll topped with caramel apples.
But if you're here, you're craving those viral TikTok cinnamon rolls, and we aim to please. Here are all the details (including that viral TikTok cinnamon roll hack) you need to make the tastiest and easiest cinnamon rolls ever.
Ingredients
This section includes ingredient notes and substitution options. Get all measurements, ingredients, and instructions in the printable recipe card at the end of this post.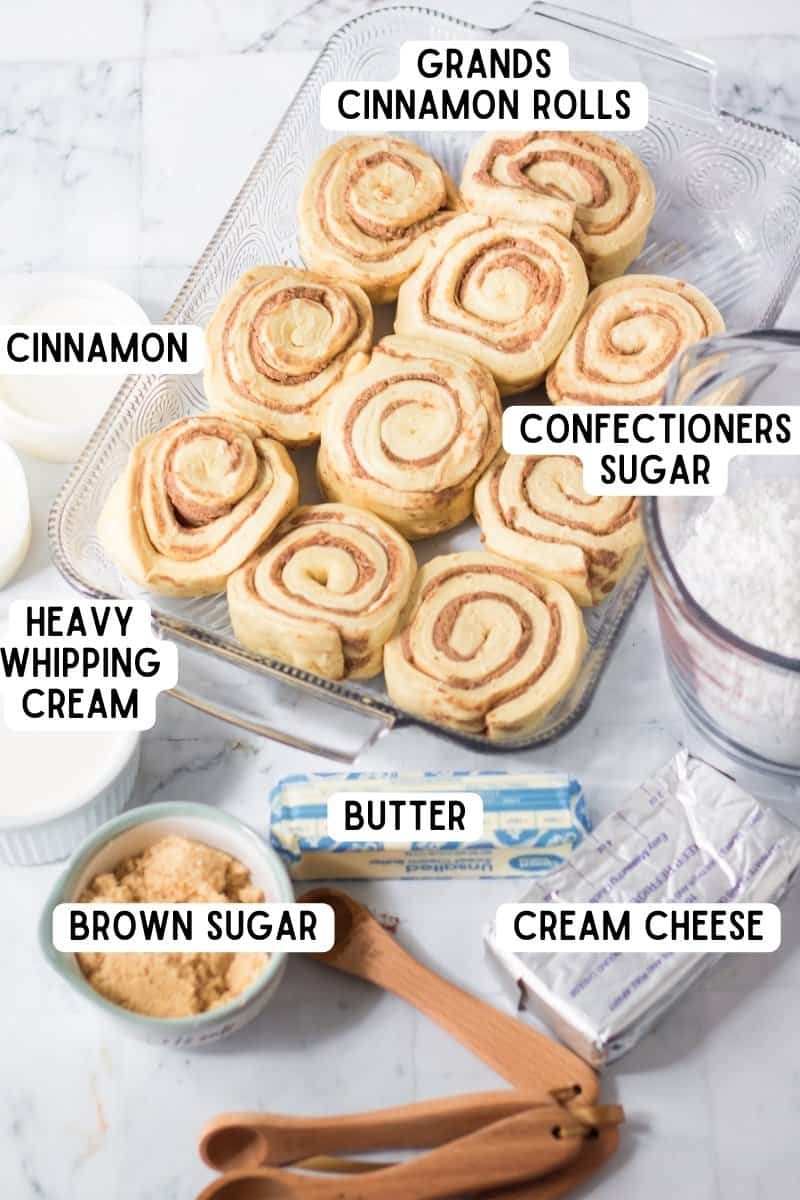 Grands Cinnamon Rolls— You'll start with these big, refrigerated cans of cinnamon rolls to make this process super fast. Use any flavor you like! Any kind of pre-made cinnamon roll dough works, though, so use your favorite brand, adjusting the cooking time as needed.
Heavy Whipping Cream— A cup of heavy cream is the SECRET INGREDIENT in the trending Tik Tok recipe. This simple cinnamon roll hack makes the fluffiest rolls you've ever bitten into.
Butter— Unsalted butter is best for baked goods. Let it soften to room temperature.
Brown Sugar— I used light brown sugar, but dark brown sugar will work, too. It just has a deeper molasses flavor but won't make much of a difference in this recipe.
Cinnamon— Amp up the cinnamon flavor!
Cream Cheese— Soften the cream cheese to room temperature for easy mixing.
Confectioners Sugar— Also called powdered sugar, this powdery stuff will be used to make even more icing for your delicious baked buns.
Equipment you'll need
Here are a few basic kitchen tools you'll need to make the latest craze — TikTok's heavy cream cinnamon rolls:
9×13 baking dish
measuring cups and spoons
small mixing bowl
whisk
spatula
How to make viral TikTok cinnamon rolls
This section shows you how to make the recipe with step-by-step photos and instructions. For the full printable recipe, see the recipe card below.
Step 1: Preheat the oven to 350º F and lightly grease a large baking dish.
Tip: You can use butter or cooking spray for this step. Butter adds even more rich flavor to the cinnamon rolls!
Step 2: Place the cinnamon rolls in the dish. Set aside the cream cheese icing that comes with them for later.
Step 3: Pour a cup of cream over the top of the rolls, ensuring that you get some liquid between each of the rolls, too. They'll absorb the cream while they're baking, making them so light and fluffy.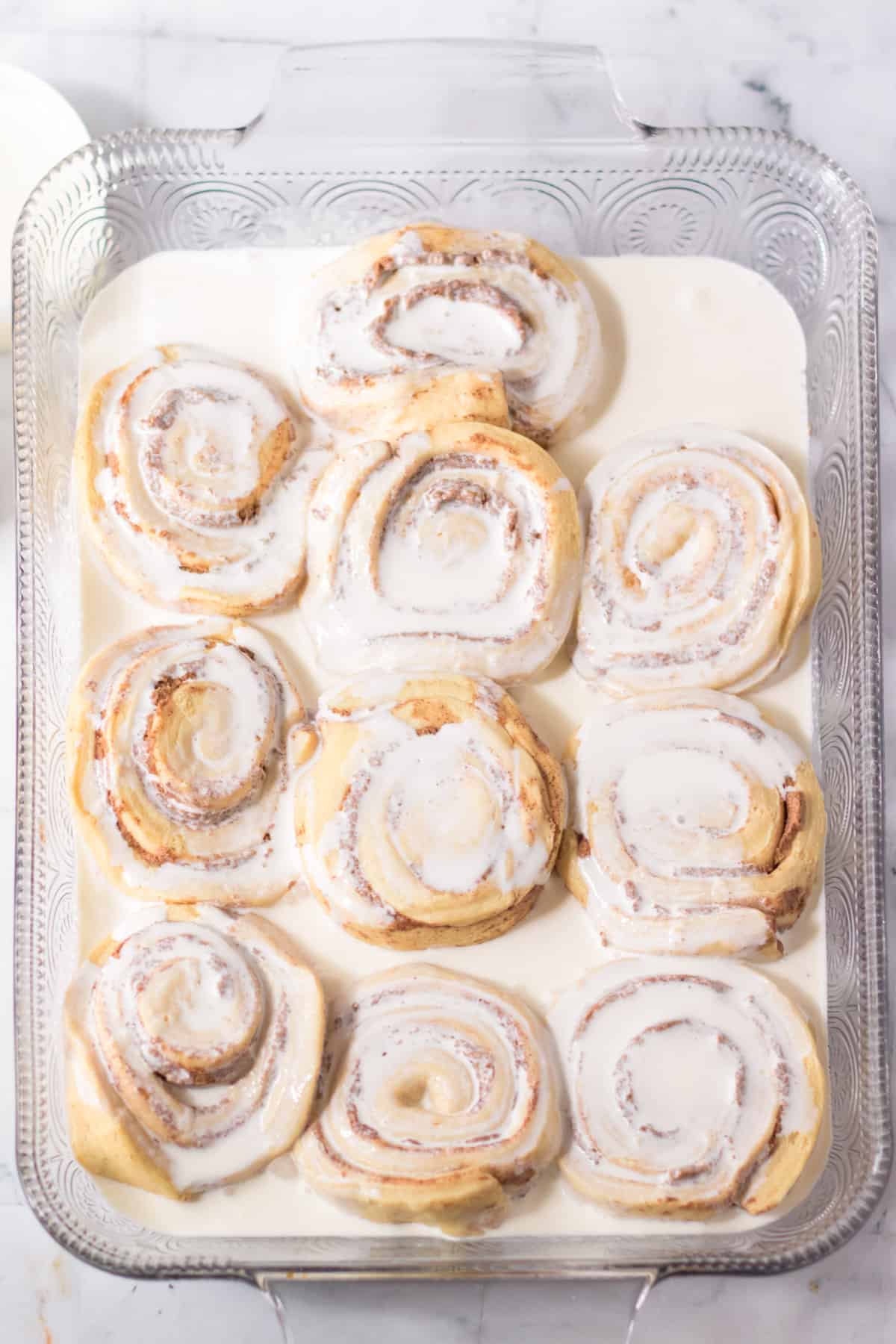 Step 4: Add half the butter to a small bowl and microwave it to melt the butter in 15-second increments, stirring after each. Once the butter is completely melted, stir in the brown sugar and cinnamon.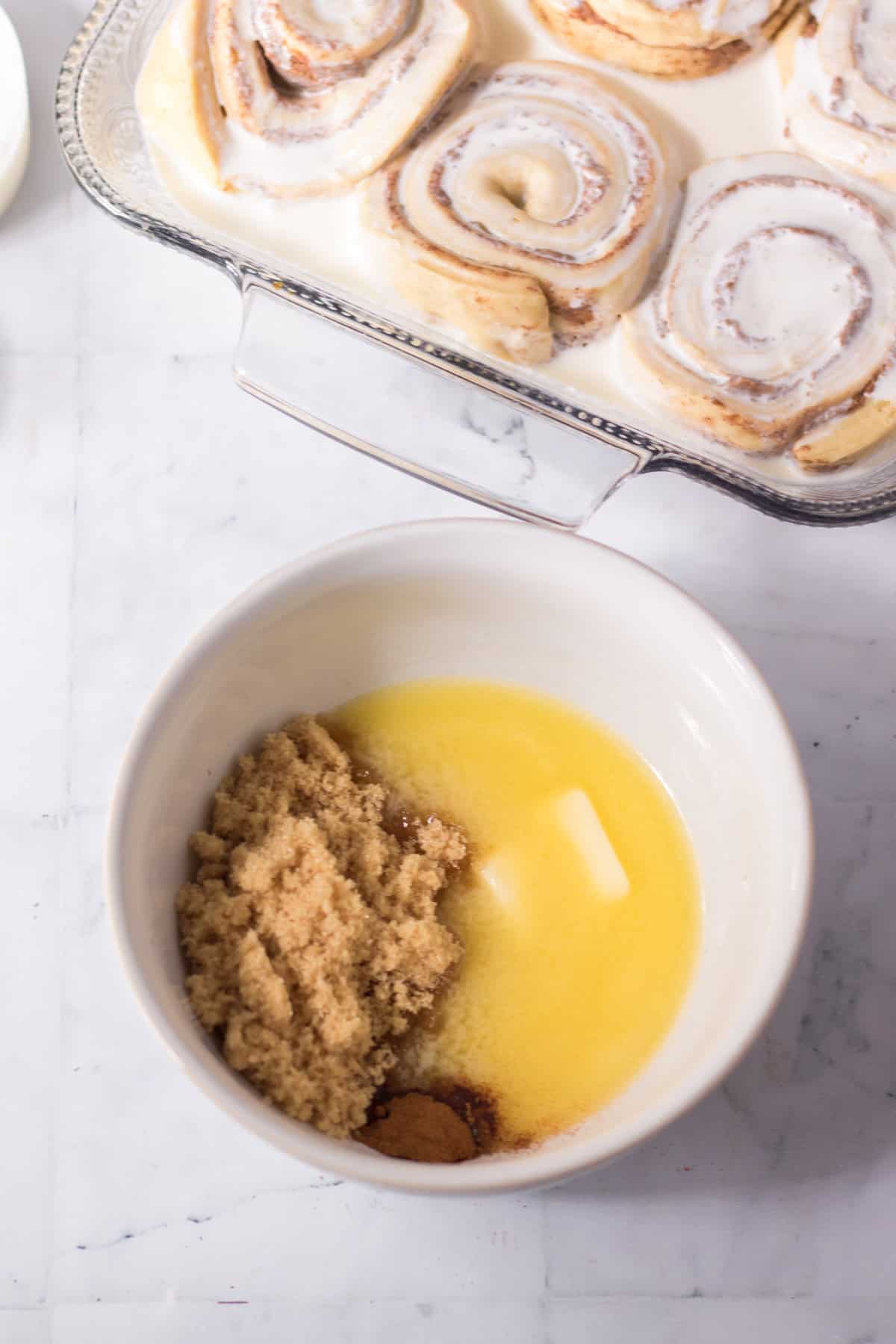 Step 5: Pour or spoon the brown sugar mixture over all of the cinnamon rolls.
Step 6: Cover the baking pan with aluminum foil, and place it in the preheated oven. Bake the cinnamon rolls for 30 minutes.
Tip: It is important to cover the rolls with foil before baking to be sure the cinnamon rolls cook through and don't get too brown.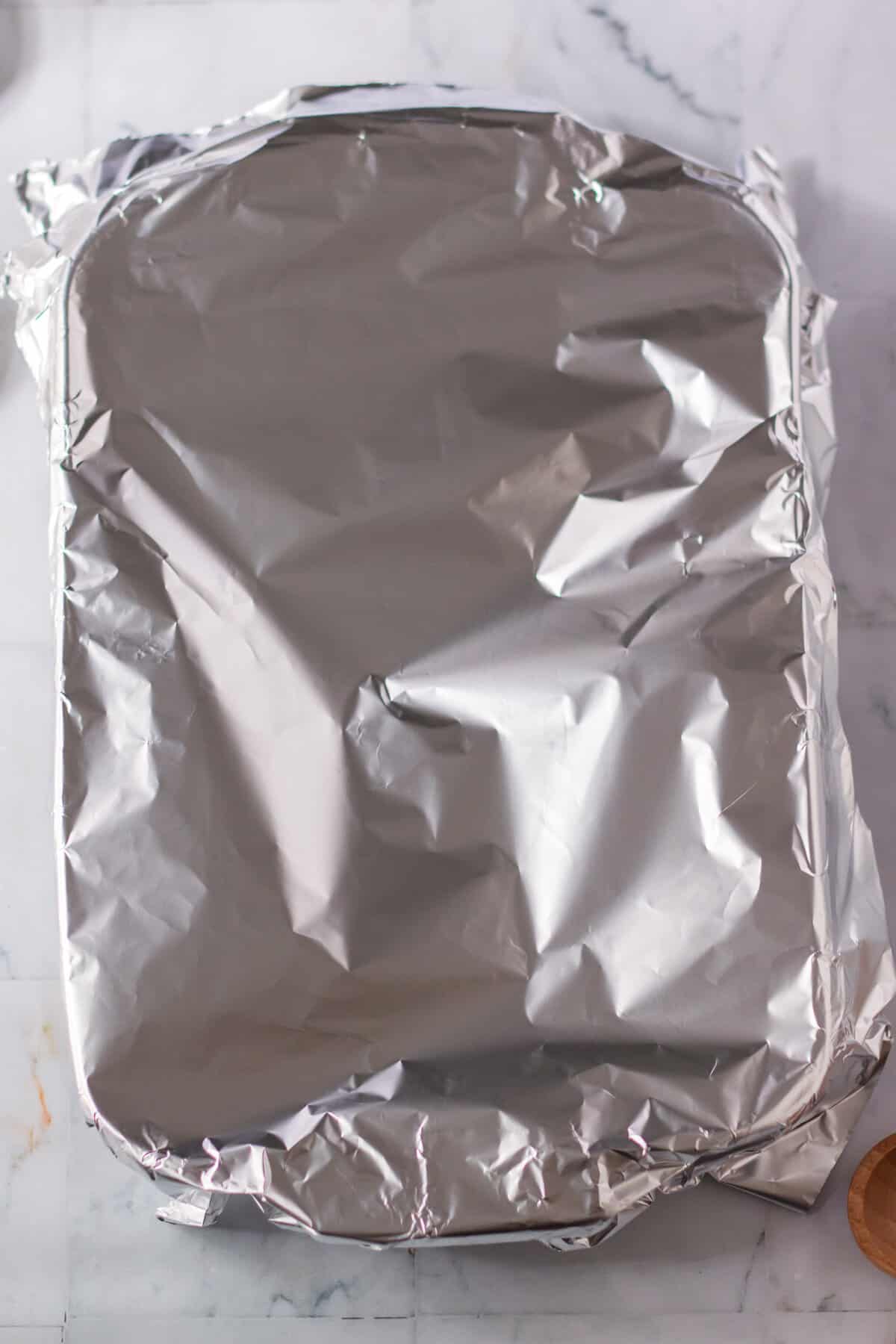 Step 7: Take the rolls out of the oven and set them aside while you make the icing. Yes, you're going to make extra icing for slathering these easy cinnamon rolls!
Step 8: Add the remaining butter and the cream cheese to a medium bowl. Microwave the butter and cream cheese for 30 seconds, just until they get very soft. Whisk together until smooth. There should be no lumps.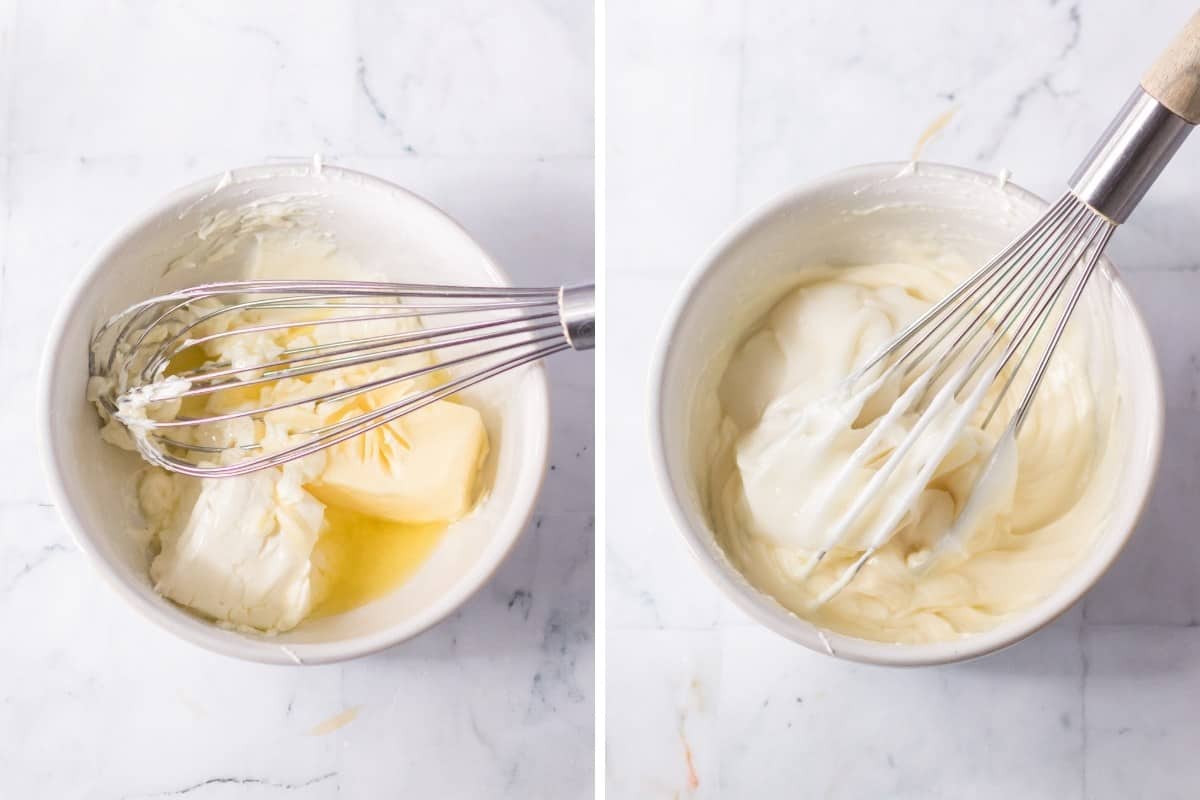 Step 9: Add the confectioner's sugar and the 2 containers of icing that come with the Grands cinnamon rolls to the butter and cream cheese mixture, stirring until well combined. It will have a glassy appearance.
Step 10: Spread the icing over all the cinnamon rolls. Serve and enjoy your fluffy cinnamon roll!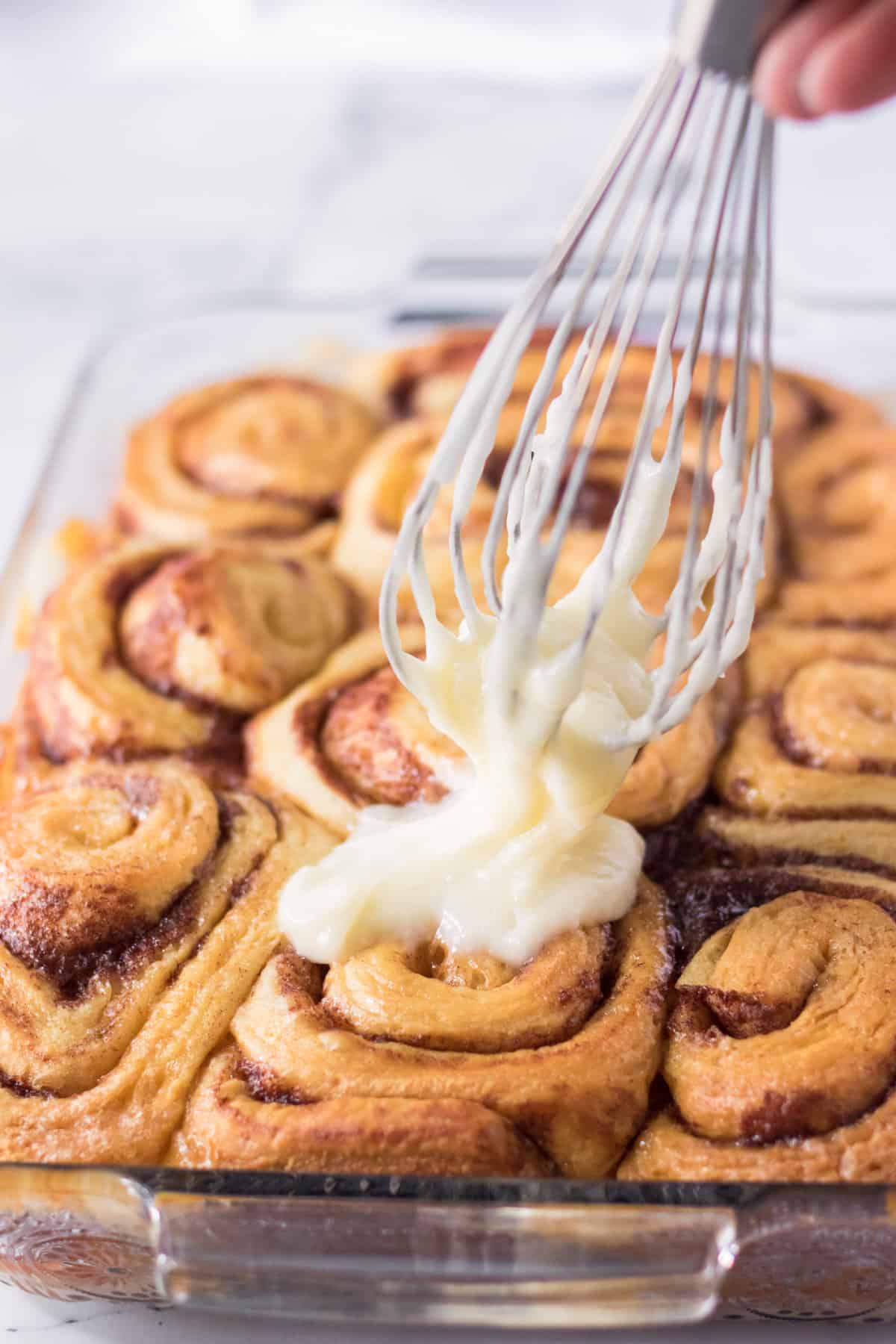 Serving suggestions
Since these viral cinnamon rolls are super sweet, how about pairing them with some savory breakfast foods? Try this sheet pan breakfast pizza if you're looking for a fun, kid-friendly morning meal. My Instant Pot egg bites are a terrific option for brunch, along with these cinnamon buns. Sausage squares are another crowd-pleasing breakfast dish.
Storage and freezing
Store leftover cinnamon rolls at room temperature for 1-2 days or in the fridge for 3-5 days. Reheat in the microwave in 15-second increments until warmed through.
You can freeze these delicious cinnamon rolls without the icing for 2 to 3 months. When you're ready to serve them, thaw them, and then make the frosting fresh.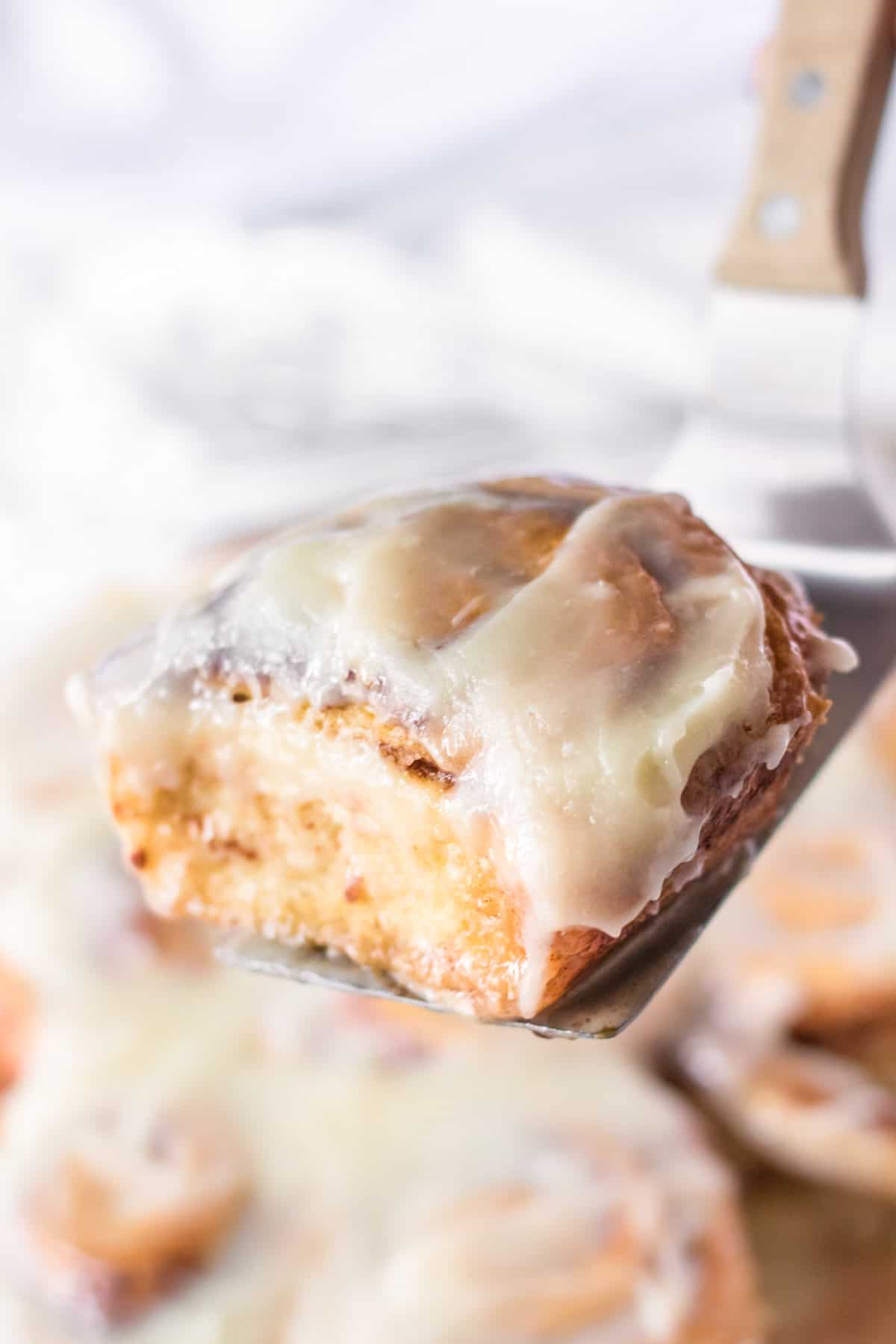 Recipe tips and tricks
While you don't have to let the rolls touch each other while baking, it makes it easier to apply the icing and keeps them moist while baking.
Make sure you cover the rolls with aluminum foil before baking to help them cook through without getting too brown. This also helps lock in the moisture.
If you're only making one can of cinnamon rolls, remember to half the other ingredients. But don't be afraid to make the entire batch of 10 rolls. Unlike other cinnamon rolls, these reheat beautifully in the microwave.
Having trouble opening the can of refrigerated cinnamon rolls? Hold a spoon against the seam after you've peeled the paper off to pop them open in a jiffy.
Additions and variations
Add nuts: Mix chopped walnuts or pecans with the brown sugar and butter mixture to add crunch and nutty flavor to the rolls.
Make them chocolatey: Sprinkle some mini chocolate chips over top of the cinnamon rolls before covering and baking them. The chocolate will melt and will drizzle down into the coil, working its way through the rolls. What a delicious treat!
Try pumpkin pie spice: Feeling those fall vibes? Substitute pumpkin pie spice (or apple pie spice) for the cinnamon in this recipe to get even more warmth and flavor and create different variations for autumn.
Maple bacon cinnamon rolls: Go crazy with a really decadent version! Add a teaspoon of maple extract to your cream cheese frosting and then sprinkle the iced cinnamon rolls with crispy, crumbled bacon.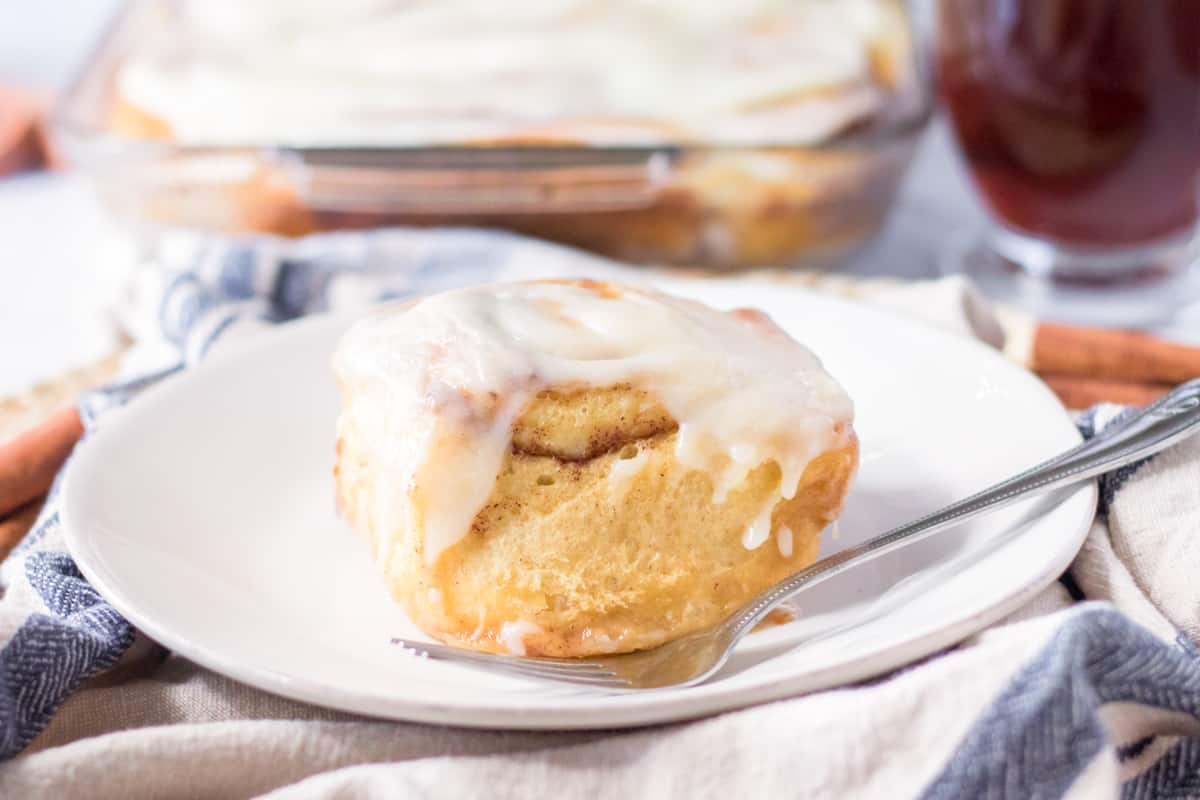 Cinnamon roll recipe FAQ
How Do I Make Pillsbury Cinnamon Rolls Better?
As you see with this recipe, there are several ways to make them better. Add heavy cream to make them moist and fluffy. Get even more cinnamon goodness by adding a mixture of butter, brown sugar, and cinnamon. And finally, you can jazz up the icing with butter, cream cheese, and powdered sugar.
How Do You Make Store Bought Cinnamon Rolls Gooey?
This viral hack! Pouring heavy whipping cream over your rolls and covering them while they bake helps get them moist and gooey, just the way you like.
What Is the Frosting on Cinnamon Rolls Made Of?
Cinnamon roll frosting is typically a combination of powdered sugar, butter, and cream cheese, but some recipes may omit the cream cheese.
Should Cinnamon Rolls Be Covered While Baking?
Yes! This will help the cinnamon rolls retain their moisture and aid in the absorption of the heavy whipping cream at the bottom of the pan.
Can You Cook Cinnamon Rolls in a Glass Pan?
Yes, you can cook cinnamon rolls in a glass pan. They make take a couple of extra minutes to cook since glass doesn't conduct heat as well as metal, so keep that in mind. Remember to butter or grease your pan before adding the cinnamon rolls.
More sweet breakfast recipes
Recipe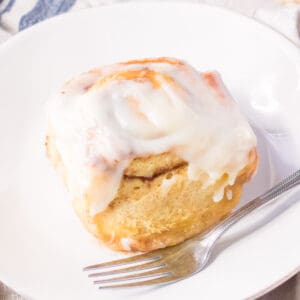 Recipe
TikTok Cinnamon Rolls
Jump on the viral trend and make these TikTok cinnamon rolls today! They're so easy. Start with canned cinnamon rolls that are jazzed up to make them even more decadent. Every single bite will taste like the middle of a cinnamon roll — the best part!
Ingredients
2 5 count cans of refrigerated grands cinnamon rolls
1 cup heavy whipping cream
½ cup butter room temperature, divided
⅓ cup brown sugar
½ teaspoon cinnamon
4 ounces cream cheese room temperature
1 cup confectioners' sugar
Instructions
Preheat your oven to 350ºF.

Lightly grease a 9×13 baking dish and place the cinnamon rolls into the dish.

Pour the heavy cream over and in-between the cinnamon rolls.

In a small microwavable bowl, melt 4 Tablespoons of butter in 15-second increments, stirring after each. Once melted, stir in the brown sugar and cinnamon. Pour or spoon the mixture over the cinnamon rolls.

Cover the pan with foil and bake for 30 minutes.

Remove from oven and set aside while preparing the icing.

In a medium-sized microwavable bowl add the remaining 4 Tablespoons of butter and the 4 ounces of cream cheese. Microwave for 30 seconds or until the butter and cream cheese are very soft but not melted. Whisk the butter and cream cheese together until well combined.

Add the confectioner's sugar and 2 containers of icing that come with the Grands cinnamon rolls to the butter and cream cheese mixture, whisking until smooth and combined.

Spread the icing all over the top of the cinnamon rolls.

Serve warm and enjoy!
Notes
The cinnamon rolls are best served warm but can be warmed up later for a few seconds in the microwave beautifully. Store in an airtight container at room temperature for 1-2 days. Store in the fridge for 3-5 days. This recipe works best with the Grands-style cinnamon rolls. You can use any flavor of them for this recipe. If you're short on time, you can just use the frosting the rolls come with. We prefer the jazzed-up version above. Add some chopped pecans or walnuts to the brown sugar butter mixture for a great crunch.
Nutrition
Serving: 1g | Calories: 572kcal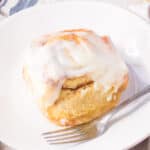 Did You Make This Recipe?
Share it with me on Instagram @crayonsandcravings and follow on Pinterest @crayonsandcravings for even more!