Air Fryer Cinnamon Rolls (Cinnabon Copycat)
Posts may contain affiliate links, meaning that I may earn a commission if you use a link provided.
Skip the can and make the best air fryer cinnamon rolls from scratch with this delicious Cinnabon copycat recipe.
These giant copycat Cinnabon cinnamon rolls are absolutely irresistible–filled with cinnamon sugar, air fried to golden brown perfection, and topped with cream cheese frosting.
Looking for an easier cinnamon roll recipe? Thy this viral TikTok hack for canned cinnamon rolls!
Like air fryer doughnuts, these air fryer cinnamon buns are perfect for breakfast, yet sweet enough for dessert!
Copycat Cinnabon Cinnamon Rolls in the Air Fryer
Cinnamon rolls–particularly Cinnabon cinnamon rolls–have a special place in my heart. From when I was a little girl I can remember catching a whiff of the incredible scent of freshly baked cinnamon rolls wafting from the Cinnabon in our mall's food court. It's absolutely one of my favorite scents ever.
Today I want to share with you an air fryer cinnamon roll recipe that is right up there with Cinnabon. Only bigger. These bad boys are huge!
For another huge cinnamon bun recipe try these Oreo cookies and cream cinnamon rolls— so yummy!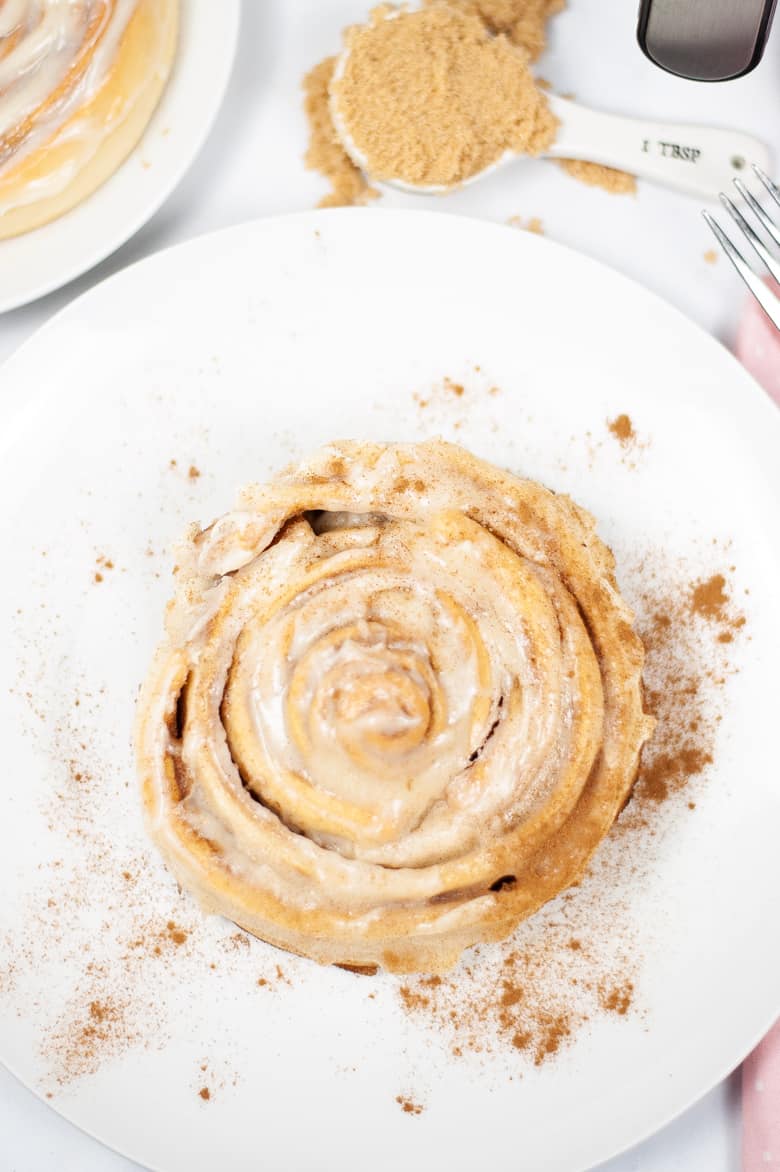 Ingredient Notes
warm milk: Whole milk or 2% milk works best. To warm the milk you can microwave it for 30 seconds, then test to make sure it isn't too hot. 100-110°F is ideal. If too hot be sure to let it cool a bit so that it won't kill the yeast.
yeast: This recipe calls for active yeast, although you could also use instant / quick rise yeast instead. See tips on using yeast below.
brown sugar: I typically use light brown sugar but dark brown works as well.
cinnamon: I recommend using high-quality cinnamon like this Korintije cinnamon.
Tips for using yeast
Not sure how to tell if your yeast is activated or not? If you are using active yeast, you need to add it to warm milk, add a pinch of sugar, and gently stir. Then let it sit for 5-10 minutes. You will see the yeast will begin to bubble and foam. This means the yeast is activated and you can then move on to the next steps in the recipe.
If you are using instant yeast, you do not have to let it sit and activate.
How to Make Cinnamon Rolls in the Air Fryer
Prep the dough as directed in the recipe card at the bottom of the post.
Then cover with a clean towel or plastic wrap and allow to rise for 90 minutes. The dough should double in size.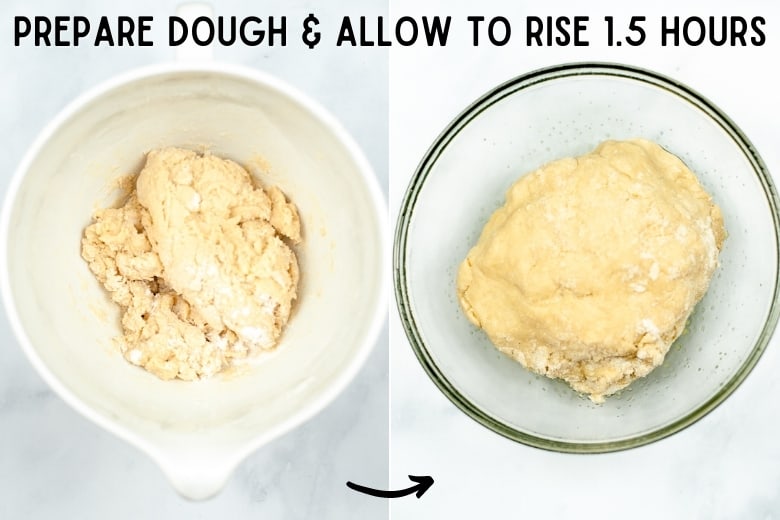 Separate the dough into two sections.
Roll one section of the dough out on a floured surface until about 12″ in size.
Spread butter on the dough, leaving the edge unbuttered.
Combine cinnamon and brown sugar for the filling then sprinkle it over the dough. Use your (clean) hands to press it down a little bit so that it sticks.
Now grab a pizza cutter or large knife and slice your dough into strips. Roll the strips together to form a large cinnamon roll.
Place into a greased springform pan and let it rest for 15 minutes.
Pop the pan in the air fryer for 20 minutes.
Meanwhile, repeat the process with the other section of dough so that you can cook it when this one is finished.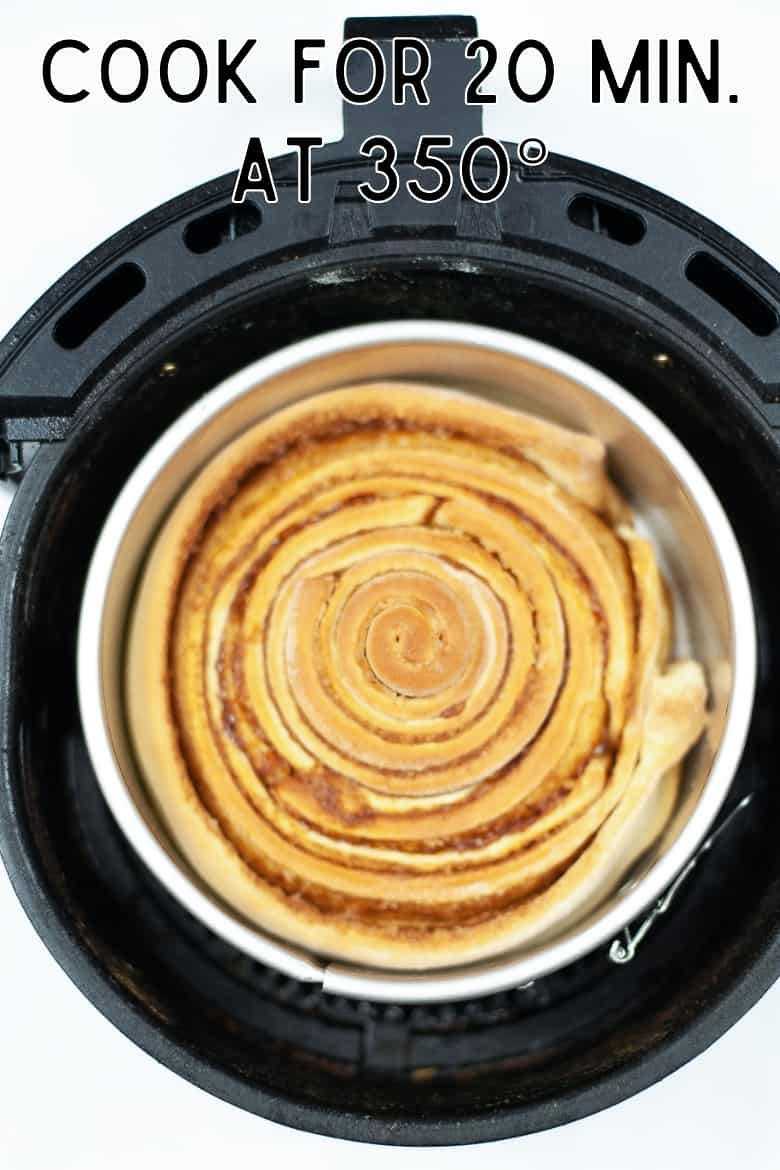 Mix up cream cheese, vanilla, powdered sugar, and butter to make the delicious cream cheese icing.
Spread the icing on top of the cinnamon rolls and enjoy!
Looking for more air fryer desserts? Try these crispy on the outside, chewy on the inside chocolate chip air fryer cookies. Or these delicious air fryer cinnamon sugar pretzel bites.
How to Store
In the fridge: Cover homemade cinnamon rolls with plastic wrap or place in an airtight container and refrigerate for up to 2 days. Microwave 20-30 seconds for a quick reheat.
In the freezer: Ideally, you should freeze your cinnamon rolls before icing them. Then whip up the icing when ready to serve. To freeze let the cooked cinnamon rolls come to room temperature then place in a freezer baggie or other freezer-safe container. Freeze for up to 3 months. Thaw in the refrigerator overnight then reheat in the microwave for 20-30 seconds before topping with icing.
More breakfast favorites
Recipe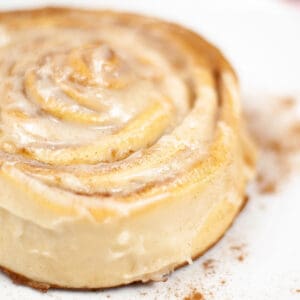 Recipe
Air Fryer Cinnamon Rolls
Skip the can and make the best air fryer cinnamon rolls from scratch with this Cinnabon copycat recipe.
Ingredients
For the dough:
¾ cup warm milk 100-110°F
2 ¼ teaspoons active yeast
¼ cup granulated sugar
1 egg + 1 egg yolk room tempterature
¼ cup unsalted butter melted
3 cups all-purpose flour plus extra for dusting
¾ teaspoon salt
For the filling:
⅔ cup light brown sugar
1 ½ Tablespoon ground cinnamon
¼ cup unsalted butter room temperature
For the cream cheese frosting:
4 ounces cream cheese room temperature
4 Tablespoons unsalted butter room temperature
¾ cup confectioners' sugar
1 teaspoon vanilla extract
Instructions
Pour warm milk into a mixing bowl and add yeast. Stir and let sit for 5 minutes. Mix in eggs, sugar, and melted butter until well combined. Stir in flour and salt until dough begins to form.

Using a stand mixer, attach a dough hook and mix on medium until dough forms into a ball and is not sticking to the bowl. Add some flour if too sticky. If using hands to knead, knead the dough for 10 minutes on a floured surface until the dough is no longer sticky.

Place the dough ball in a well-oiled bowl. Cover with plastic wrap and a warm towel. Place the bowl on the counter for an hour and a half to allow for the dough to double in size.

Separate dough into two sections. Place one section of the dough on a floured surface and flatten with a rolling pin until the dough is roughly a square foot of surface.

Rub room temperature butter over the dough, leaving a slight margin around the dough. Combine the cinnamon and sugar for the filling in a small bowl and sprinkle on top of buttered dough. Press it into the dough gently with your hands.

Using a sharp knife or pizza cutter, cut the dough into inch and a half wide strips. Roll the strips into a spiral, with each strip building on the one before. Place dough wheel into spring mold pan that fits the air fryer basket. Cover the pan with a cloth and allow the dough to sit for 15 minutes.

Cook in an air fryer for 20 minutes at 350°F. Meanwhile, prepare the second dough section into another cinnamon roll that you will cook when this one has finished in the air fryer.

When done cooking, remove from air fryer and allow to cool before releasing from pan.

In a medium bowl, beat to combine the frosting ingredients until smooth. Top the cinnamon roll with the frosting and enjoy!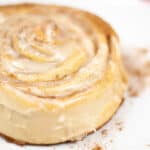 Did You Make This Recipe?
Share it with me on Instagram @crayonsandcravings and follow on Pinterest @crayonsandcravings for even more!
Pin for Later: