A hearty southern-style biscuits and gravy casserole recipe made with a rich, creamy homemade sausage gravy and fluffy buttermilk biscuits (from refrigerated biscuit dough).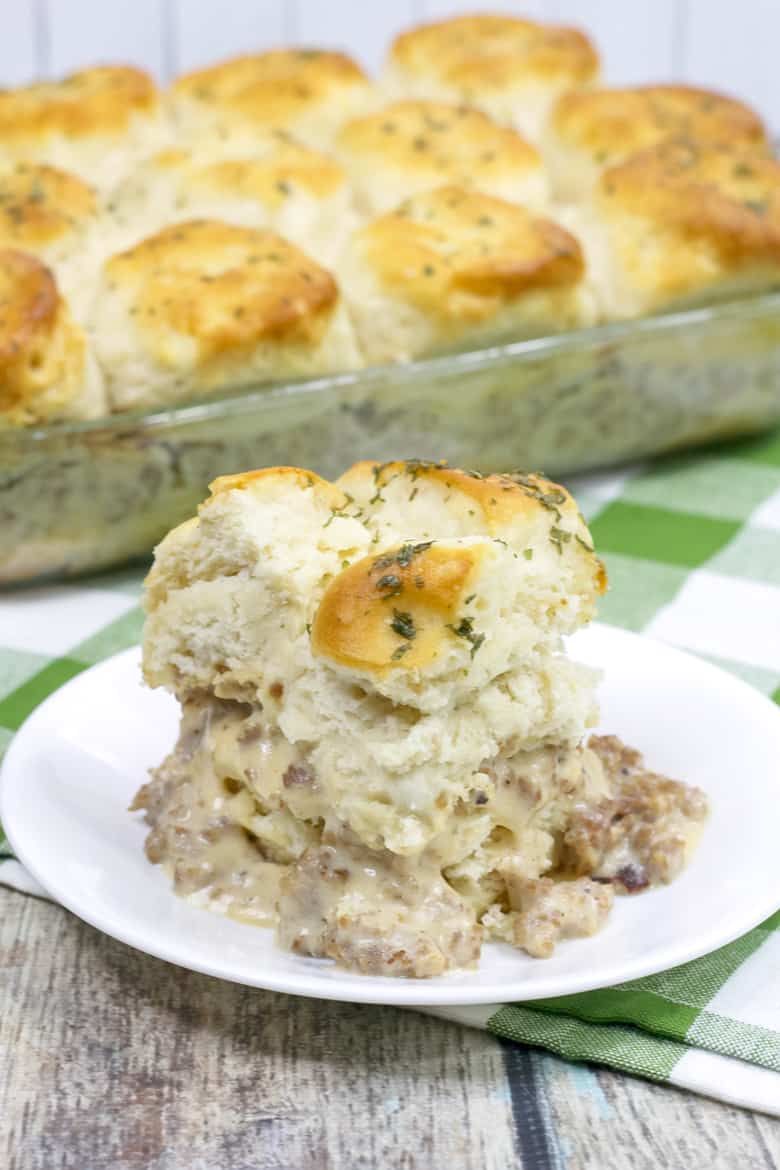 The Best Biscuits and Gravy Casserole
Whip up this easy breakfast casserole for the family this weekend and I can guarantee you will not be disappointed. Our family loves it!
It really is one of the best breakfast casserole recipes out there.
Plus, with only 4 simple ingredients (plus salt and pepper) you will not find an easier breakfast bake recipe.
Like my overnight blueberry French toast casserole, I have found that my biscuit and gravy bake is also a terrific choice to serve overnight guests. With 12 servings, it is more than enough to feed a hungry crowd.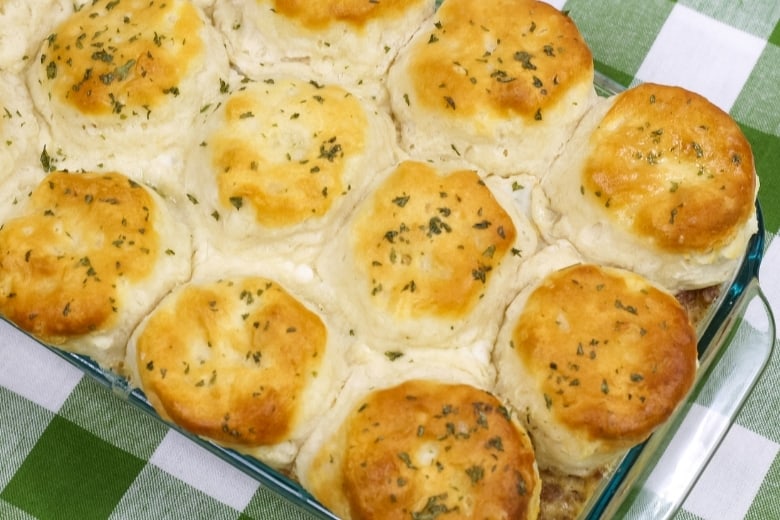 If you have out-of-town guests for the holidays this biscuits and gravy breakfast casserole a great choice as well. We have enjoyed it on many a Christmas morning.
Here is what you will need:
breakfast sausage – regular or hot, your choice
refrigerated biscuits – I usually grab the buttermilk variety of Pillsbury Grands. You could also use homemade buttermilk biscuits if you prefer.
milk – I recommend using whole milk for best results (nice thick gravy), but you can use milk with a lower fat ratio if you prefer.
flour – regular ol' all-purpose flour
salt and pepper – we use about 1/2 teaspoon of each but you can add salt and pepper to taste
How to Make Biscuit and Gravy Casserole
First, open one package of biscuits and cut each into quarters. Place the biscuit pieces in the bottom of a prepared 9 x 13 inch casserole dish.
Bake for 10 minutes then set aside.
Meanwhile, brown the breakfast sausage in a large skillet over medium heat.
Once the sausage is fully cooked you can drain off excess fat, if needed. I tend to leave the fat to help flavor the sausage gravy unless there is too much of it.
Then add flour and cook for a minute or two, stirring continuously until it is well mixed.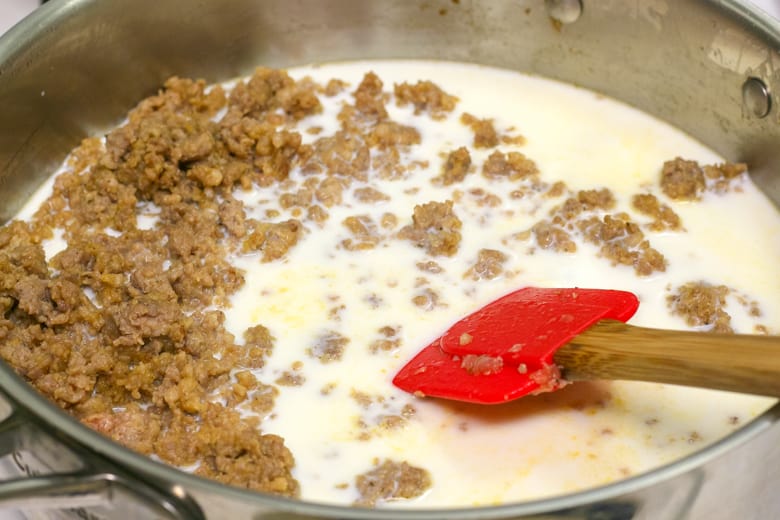 Next, pour in the milk slowly. Continue cooking and stirring until it comes to a low boil. Then reduce the heat to a simmer and continue cooking until the gravy has thickened. It takes a bit for it to thicken, but just keep stirring to prevent lumps from developing.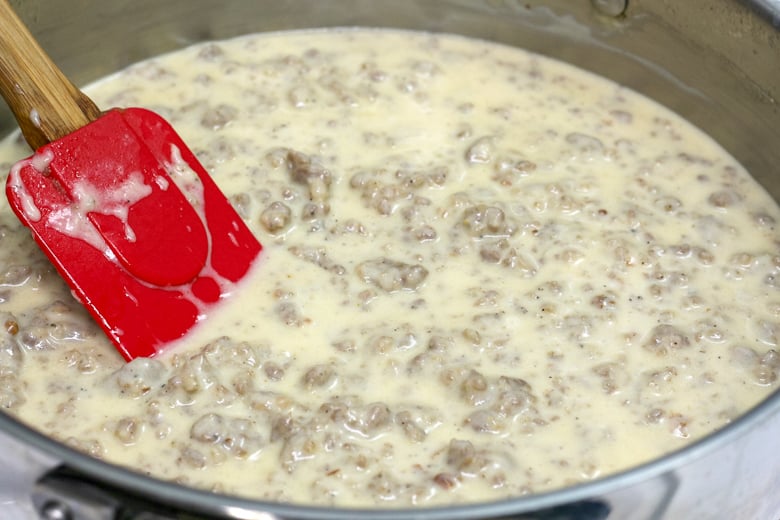 Once your gravy is nice and thick you can give it a quick taste. Then add salt and pepper to taste if needed.
Tip: If your gravy is not thickening turn the heat up just a bit and give it a bit more time to thicken. Don't forget to keep stirring!
Pour the sausage gravy into the pan and top with your remaining biscuits.
Bake until the biscuits are golden brown, about 20 minutes.
Allow to rest for about 5 minutes then serve and enjoy.
How to Store
Cover the casserole dish in plastic wrap or transfer the leftover portion to an airtight container. Store in the refrigerator for up to three days.
When ready to enjoy transfer an individual portion to a microwave-safe plate and heat in the microwave for about 90 seconds.
If you prefer to use the oven, transfer the casserole to a baking dish, tent with foil, and heat in the oven until warmed through. The foil will help the casserole from overcooking.
What goes with biscuits and gravy?
Potatoes | Potatoes are always a great addition to breakfast. You can pair this breakfast bake with a side of hashbrowns, home fries, etc.
Fruit Salad | Serve with a cold fruit salad or some fresh berries for a lighter side dish.
Cheesy grits | Top off this southern breakfast casserole with a nice side of cheesy grits.
Coffee | No breakfast is complete with a nice hot cup of coffee (or tea!)

Can I Use Packet Gravy?
You can use packet gravy instead of homemade for this sausage biscuit and gravy casserole if you prefer. It works just as well and will give you a bit of a different flavor due to added ingredients and spices.
To use packet gravy, grab 2 packets of peppered gravy or county gravy mix and add to the cooked sausage along with milk as called for on the gravy packets. Stir well and pour the prepared mixture into the casserole pan just the same as your would with the homemade gravy.
More Breakfast Favorites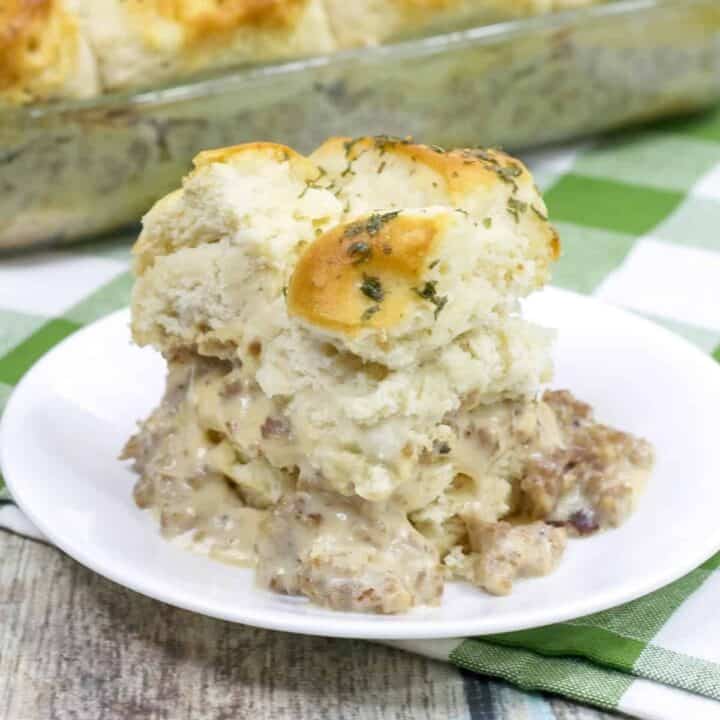 Biscuits and Gravy Casserole
A hearty southern-style biscuits and gravy casserole recipe with a rich, creamy homemade sausage gravy and fluffy buttermilk biscuits (made from refrigerated biscuit dough).
Ingredients
2 (16 oz.) cans refrigerated buttermilk biscuits
1 pound breakfast sausage
3 Tablespoons all-purpose flour
3 cups whole milk
salt and pepper, to taste
Instructions
Preheat oven to 350 degrees. Coat a 9 x 13 in. baking dish with non-stick spray.
Cut half of the biscuits (one package) into 4 pieces. Place the quartered biscuits on the bottom of the baking dish. Bake for 10 minutes or until the biscuits are slightly golden brown.
Brown sausage in a large skillet over medium-high heat, using a spoon to crumble the sausage as it cooks.
Sprinkle sausage with flour, stir and cook until combined (about 1-2 minutes).
Slowly stir in the milk. Cook, stirring constantly, until gravy comes to a low boil. Reduce heat and continue to simmer and stir until thickened (about 5-6 minutes). Season with salt and pepper, to taste.
Pour gravy into the baking dish over the bottom layer of biscuits. Top with the remaining uncooked biscuits.
Bake for 20-25 minutes, or until the tops of the biscuits are a nice golden brown. Serve warm.
Nutrition Information:
Yield:

12
Serving Size:

1
Amount Per Serving:
Calories:

185
The nutritional information provided is automatically calculated by a third party and intended to serve as an estimate only. The accuracy of nutritional information is not guaranteed.
Pin for Later: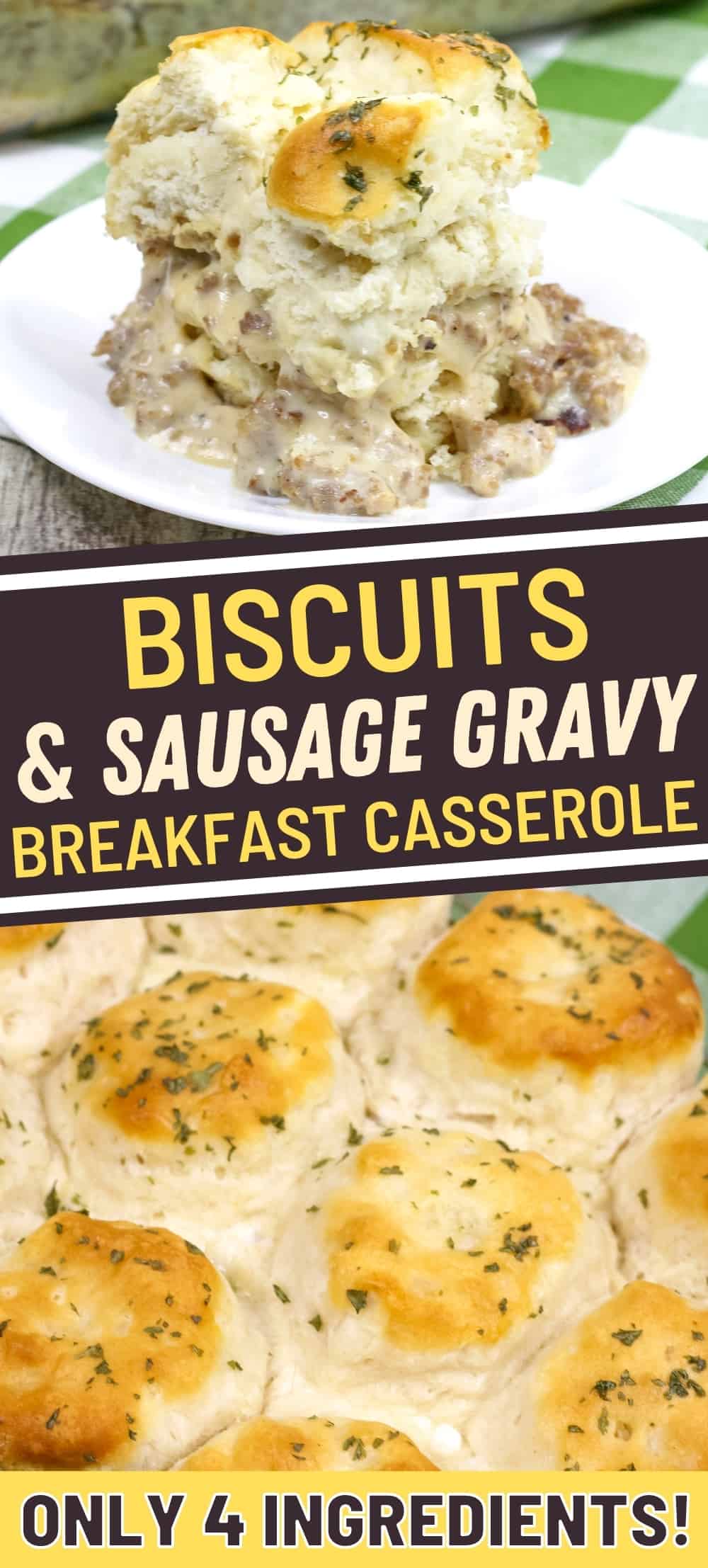 This recipe was shared on Meal Plan Monday and The Weekend Potluck.