Blueberry French Toast Casserole
Posts may contain affiliate links, meaning that I may earn a commission if you use a link provided.
Blueberry French toast casserole is a fun and fast way to feed a classic dish to a crowd. Packed with fresh blueberries, brown sugar, cinnamon, a rich egg custard, and crusty French bread, this easy overnight French toast casserole is sure to be everyone's new favorite breakfast treat!
Long gone are the days of cooking over a hot stove in the morning to make a batch of rich and crispy classic French toast.
This simple blueberry French toast casserole recipe allows you to make enough sweet and cinnamony French toast to feed a crowd in under an hour!
For more breakfast recipes with blueberries check out my lemon blueberry muffins, banana blueberry oatmeal breakfast cookies, and breakfast yogurt popsicles.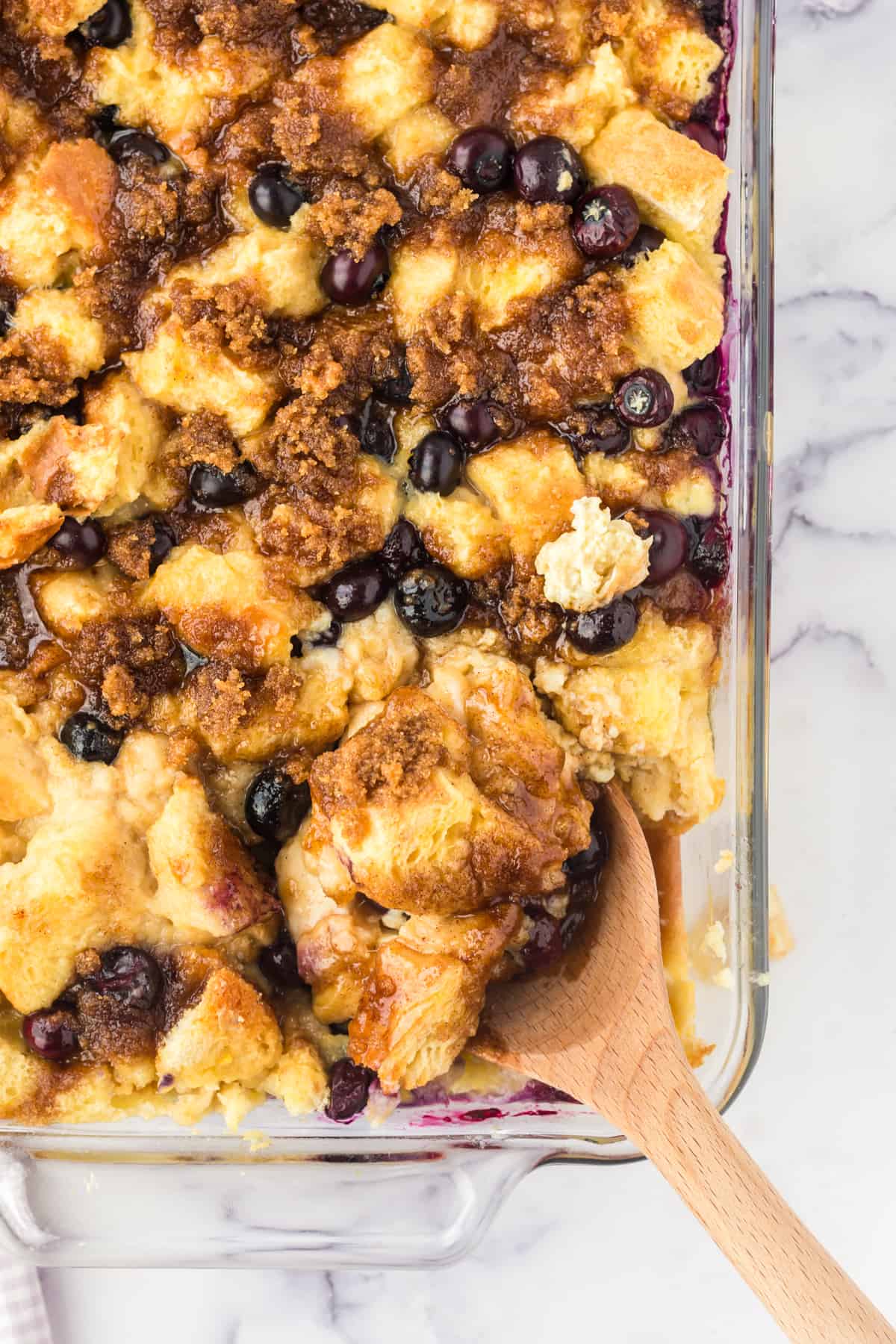 Made with common ingredients and virtually any bread you have available, this blueberry casserole french toast can be whipped up in a pinch. Or made ahead and baked up in the morning like this classic french toast casserole or blueberry croissant breakfast bake.
Not to mention that it's always a huge hit at birthday breakfasts, brunches, showers, and other early morning get-togethers!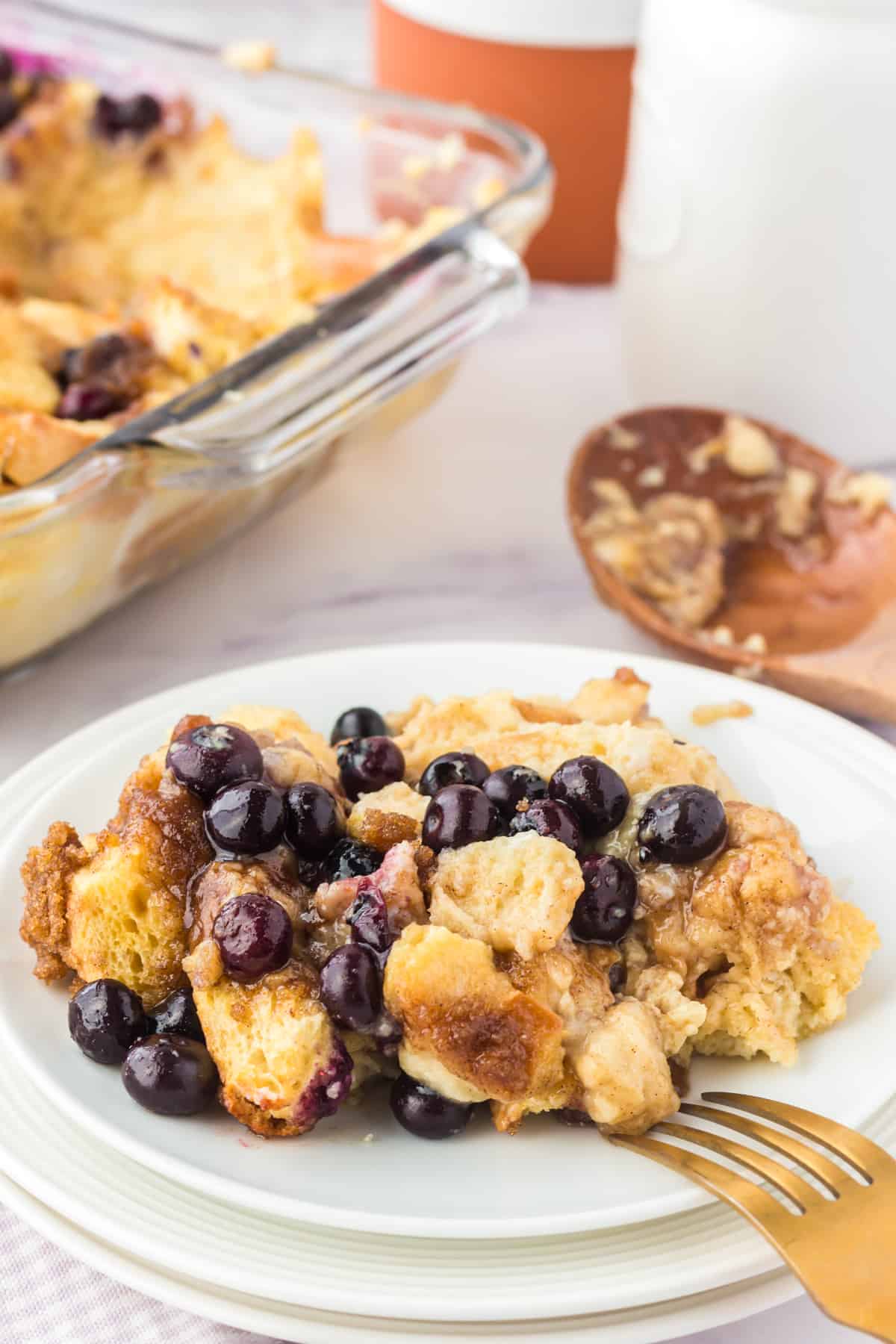 I also like to make the tasty casserole anytime we have overnight guests. It saves me time from prepping breakfast in the morning since I can prep it the night before. Plus, it easily feeds up to 8 guests!
Ingredients
This section includes ingredient notes and substitution options. Get all measurements, ingredients, and instructions in the printable recipe card at the end of this post.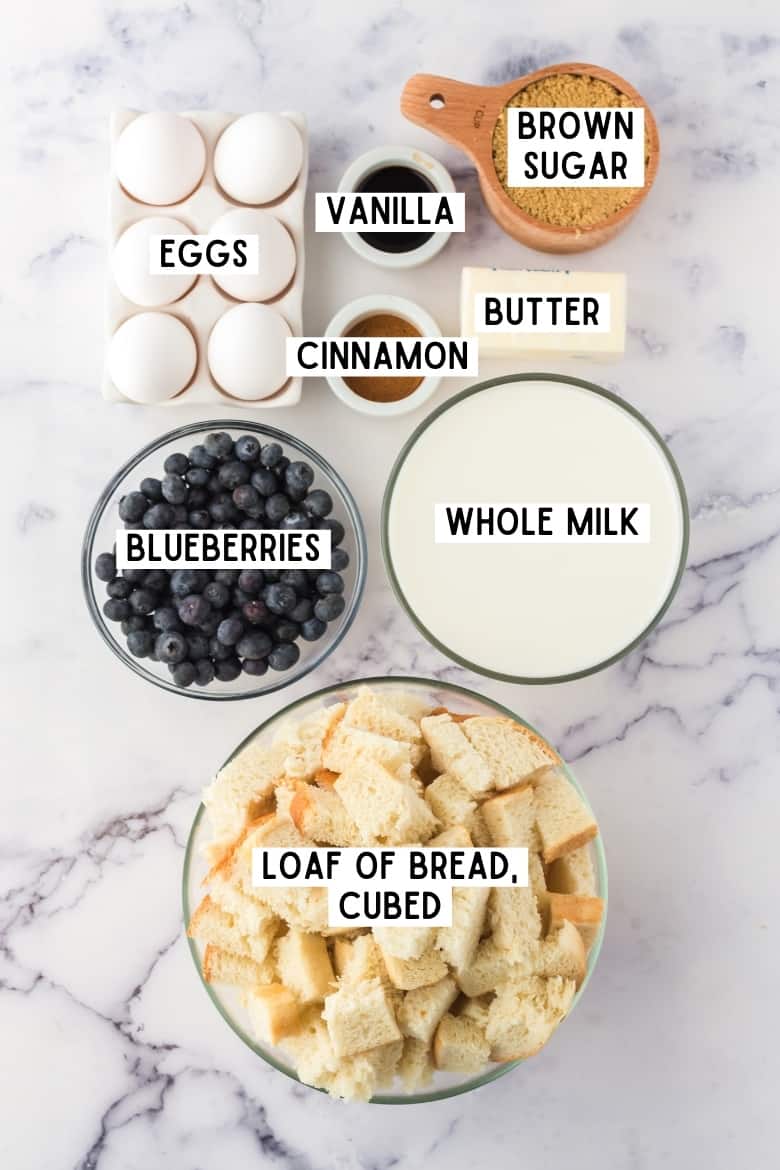 Bread—French bread, white bread, brioche, sourdough, challah, etc… can all be used for this recipe. Keep in mind that thicker varieties of bread will soak up the custard base a bit better.
Blueberries—Fresh tend to be juicier and more flavorful, but frozen will also work in a pinch.
Whole Milk—Combines with the eggs to create a flavorful custard base for this French toast casserole.
Eggs—Gives your finished french toast breakfast casserole a nice bouncy texture.
Butter—A bit of salted butter gives the casserole's brown sugar cinnamon topping tons of flavor.
Light Brown Sugar—Adds a rich, caramelly sweetness to this fun breakfast dish.
Cinnamon—Because what's a good French toast without a little bit of cinnamon?
Vanilla—Helps to round out the other sweet, fruity, and cinnamony flavors in this dish.
Substitutions and Variations
For a deeper caramel flavor, try using dark brown sugar instead of light.
To create a slightly healthier version of this dish, try replacing the white bread with wheat and the brown sugar with maple or coconut sugar.
If you love warm spices, try adding a bit of nutmeg and ginger along with the cinnamon.
Not a fan of blueberries? You can use chopped strawberries, bananas, blackberries, peaches, cherries, or raspberries instead.
Easily make this casserole gluten-free by using your favorite gluten-free bread.
Equipment You'll Need
Blueberry overnight french toast casserole is a quick and easy spin on a classic breakfast. All you need is a few simple pieces of kitchen equipment and roughly 10 minutes to prep this sweet and filling breakfast. Make sure that you have a 9×13 inch baking dish, a set of mixing bowls, a whisk, a bread knife, and a rubber spatula.
How to Make Blueberry French Toast Casserole
This section shows you how to make the recipe with step-by-step photos and instructions. For the full printable recipe, see the recipe card below.
Step 1: Cut bread into 1-inch cubes and place in a greased 9 x 13 baking dish. Set aside.
Step 2: Use a whisk to thoroughly combine the milk, eggs, and vanilla.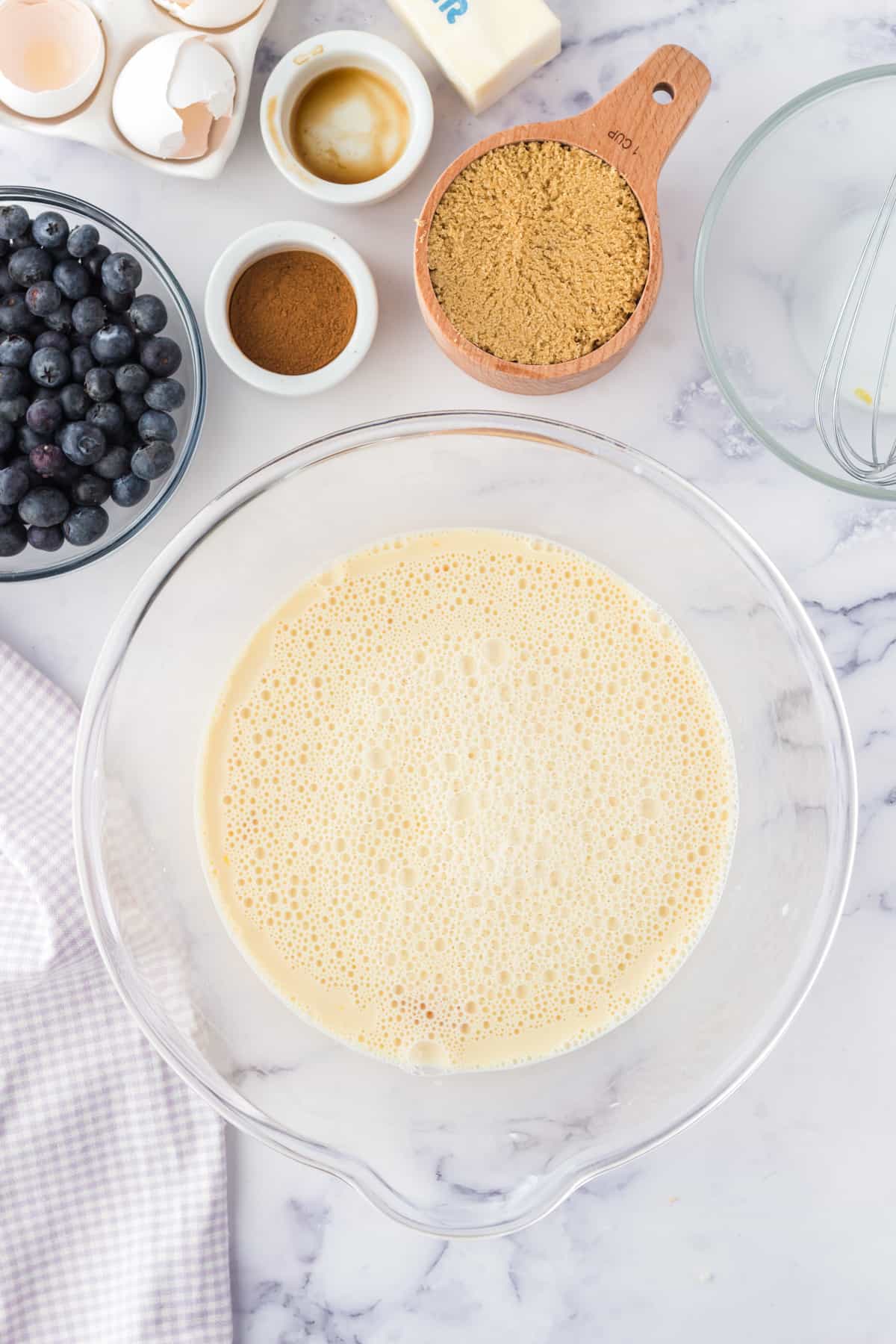 Step 3: Pour the egg custard over the bread and fold gently to make sure that each cube has been well-coated in the mixture.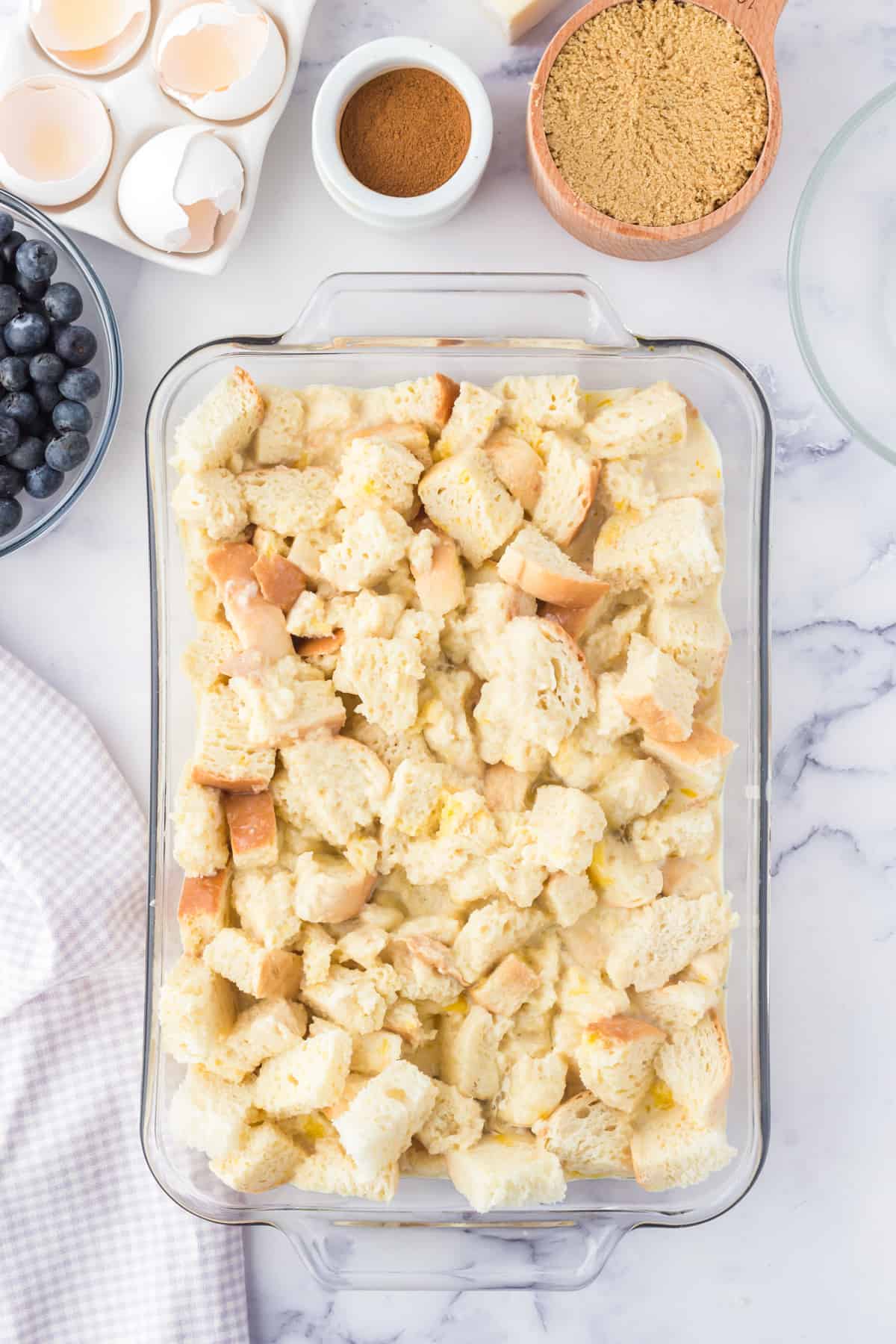 Step 4: Sprinkle the blueberries over the bread cubes and give everything a gentle mix to evenly distribute the berries.
Step 5: If making ahead, cover and refrigerate until ready to bake. (You can also bake immediately)
Step 6: When ready to bake, preheat the oven to 350°F.
Step 7: In a small mixing bowl, use a fork to mix to combine the softened butter, brown sugar, and cinnamon. The resulting mixture should resemble wet sand. Sprinkle the brown sugar mixture evenly over the bread and blueberries.
Step 8: Bake as directed in the recipe card below.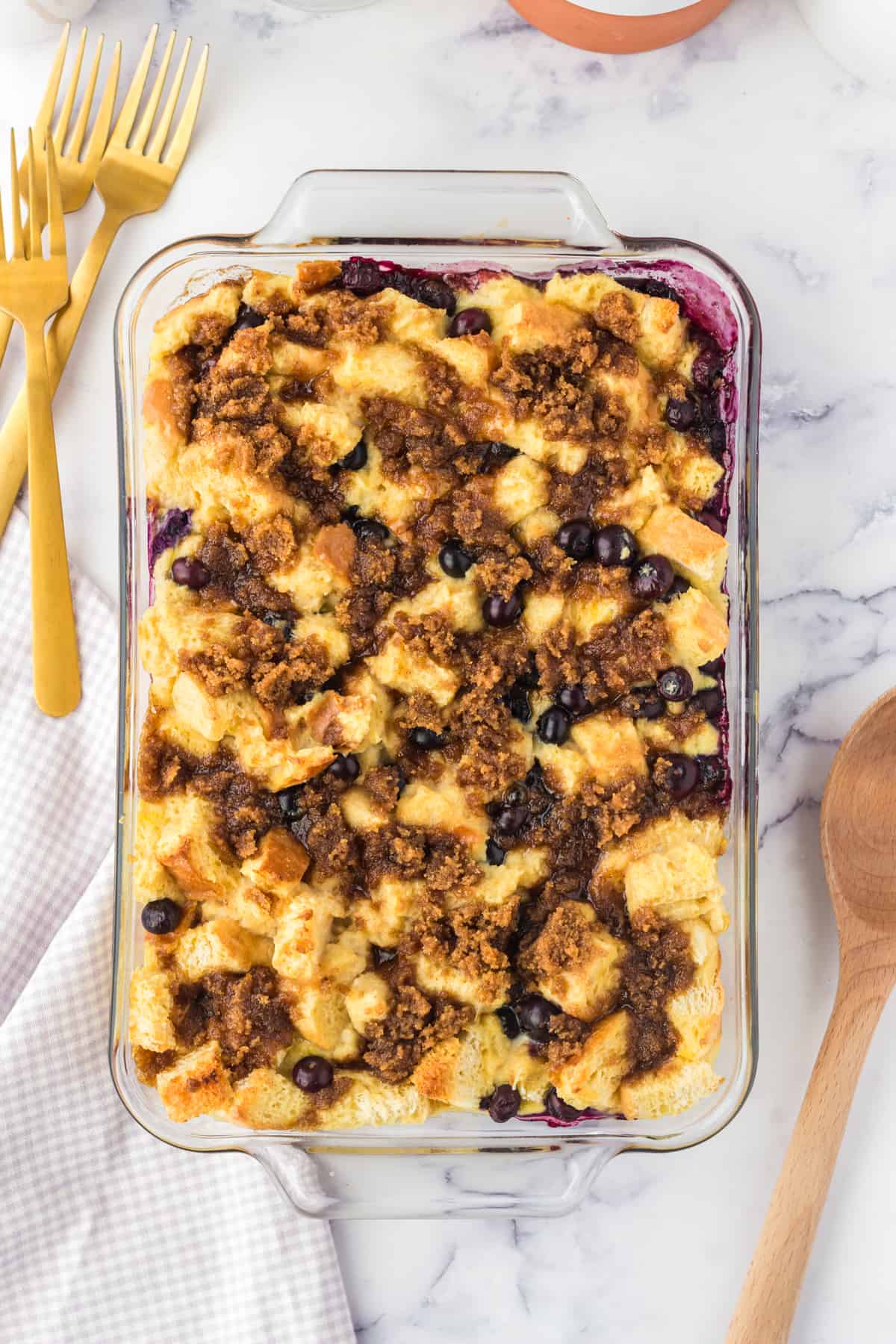 Serve warm and enjoy!
Drizzle with maple syrup, if desired.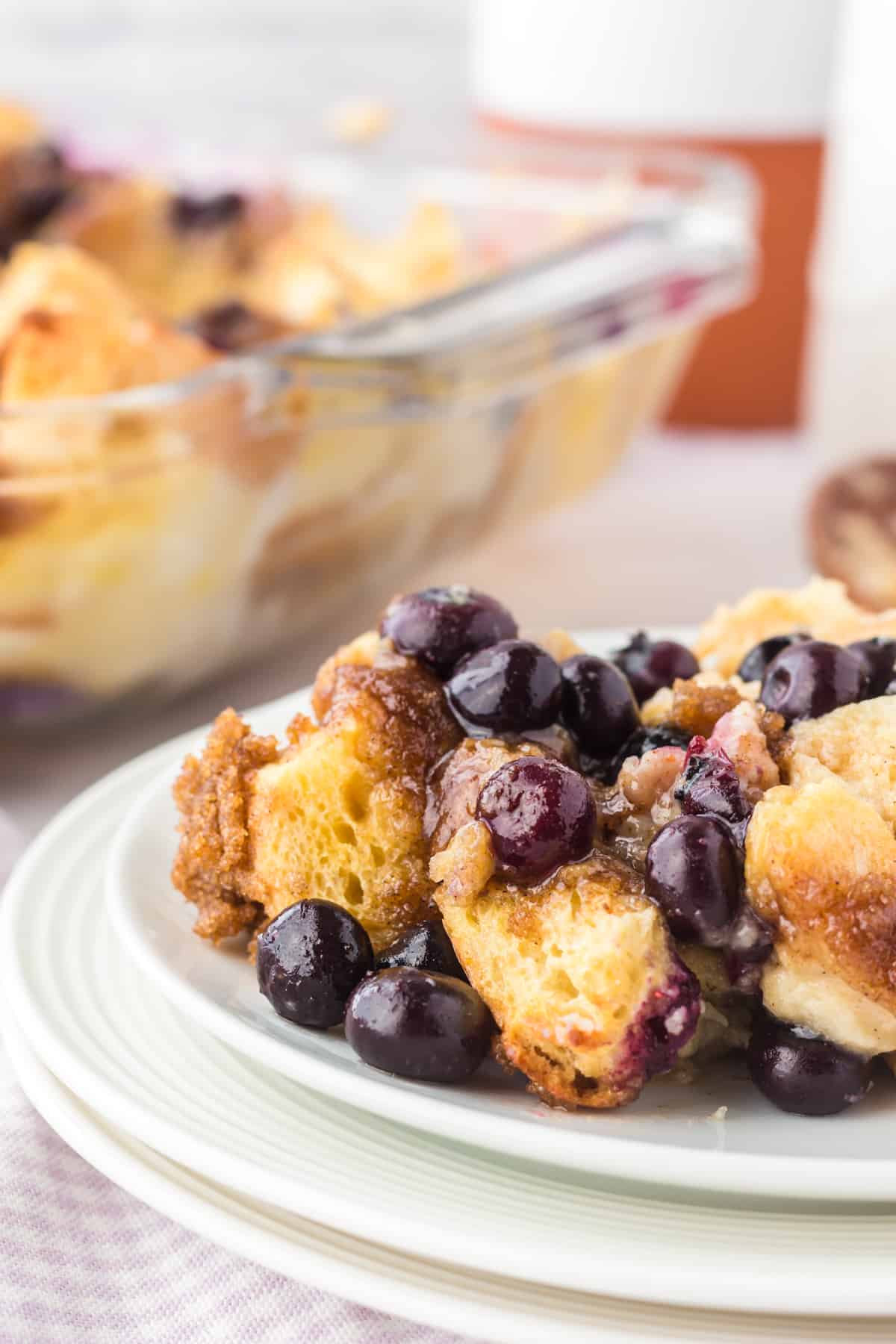 Storage
To Refrigerate: Place any leftover french toast casserole with blueberries into an airtight container or wrap tightly with plastic wrap and store in the fridge for up to 4 days.
To Freeze: Allow the casserole to cool completely before slicing and placing in a food-safe container or ziplock bag. Store in the freezer for up to 2 months and thaw in the refrigerator overnight before reheating.
To Reheat: Cover with foil and bake in a 350°F oven until warmed through.
Expert Tips and Tricks
Save time in the morning and prep your blueberry breakfast bake the night before.
In a hurry? No need to wait. You can bake up your casserole right away instead of refrigerating overnight.
Have slightly stale bread lying around? Use it to make this breakfast bake. Stale bread is perfect for this recipe as it absorbs the egg custard well without getting soggy. If I have a fresh loaf of bread I like to leave the bag open overnight or for a few hours before preparing the casserole to help it firm up a bit.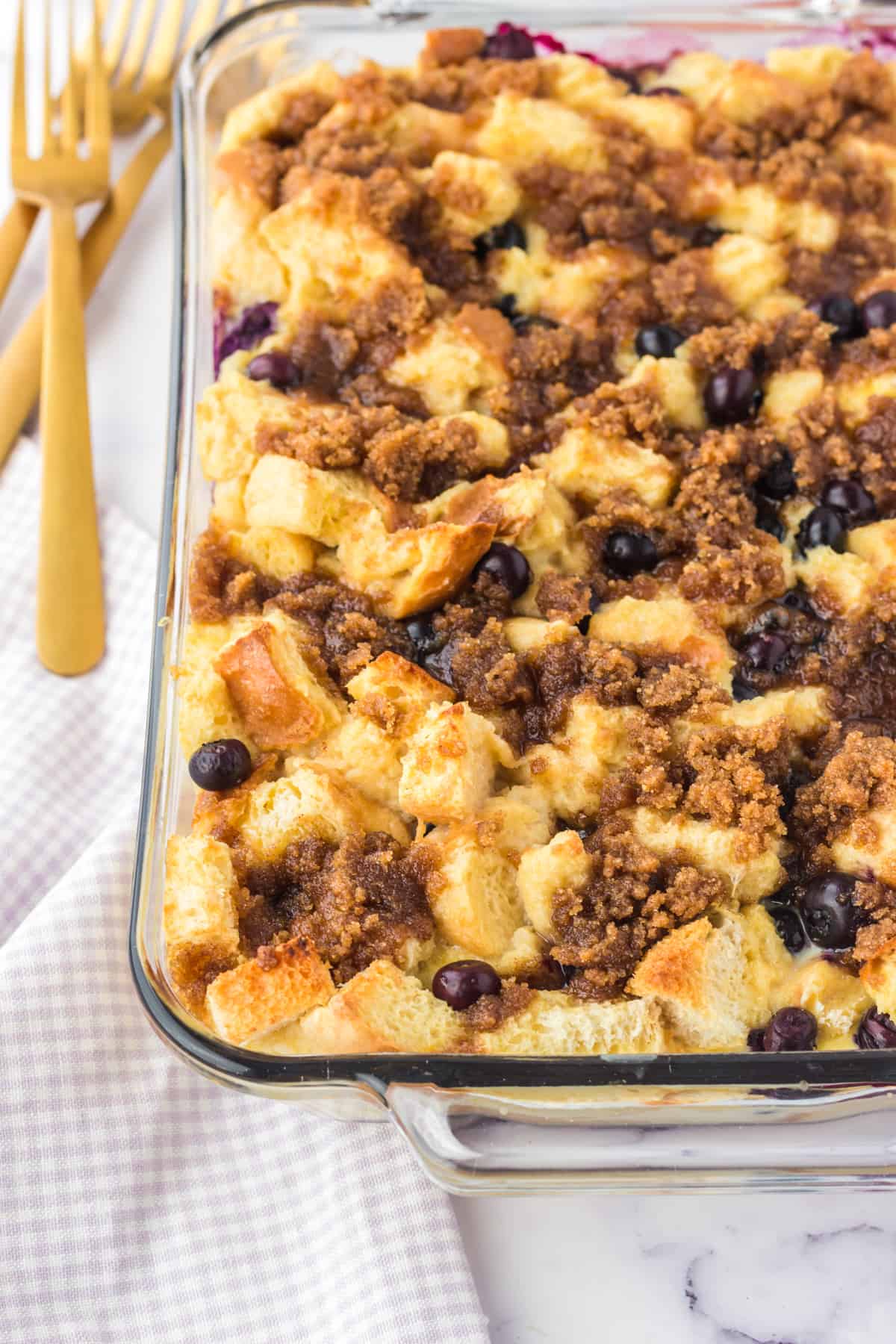 Frequently Asked Questions
What type of bread is best for French toast casserole?
I prefer to use a nice crusty loaf of French bread but white bread, brioche, challah bread, Kings Hawaiin rolls, sourdough, or other bread loaves/baguettes will also work for this recipe. Thicker, crustier kinds of bread work best as they will soak up the egg custard without getting soggy.
Why is my blueberry French toast casserole soggy?
This is likely because your casserole did not bake long enough. A finished French toast bake should be slightly crispy on the edges and moist, but not soggy in the middle. If you're really concerned, you can check if the casserole is done by inserting a toothpick into the center. If it comes out clean, your blueberry casserole French toast is ready to be enjoyed!
What goes well with French toast casserole?
French toast breakfast casserole is a sweet and indulgent breakfast dish that is best paired with protein-packed, healthier side dishes. Fresh fruit, Greek yogurt, any type of egg, bacon, or sausage would be great sides to pair with this dish.
More Breakfast and Brunch Favorites
Recipe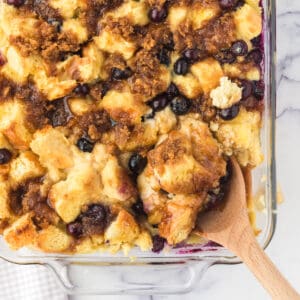 Recipe
Blueberry French Toast Casserole
Blueberry French toast casserole is an easy breakfast bake made with blueberries, french bread, brown sugar, cinnamon, and a rich egg custard.
Ingredients
1 loaf of french bread* cut into cubes
2 ½ cups whole milk
6 large eggs room temperature
1 ½ teaspoon vanilla
1 ½ cup blueberries
¼ cup salted butter softened
1 cup light brown sugar
1 ½ teaspoon ground cinnamon
Instructions
Coat a 9×13-inch baking dish with non-stick cooking spray. Add cubed bread in an even layer.

In a large bowl, whisk together the milk, eggs, and vanilla until smooth and well combined.

Pour the egg mixture over the bread. Fold the bread a few times to ensure it is evenly coated in the egg mixture.

Sprinkle the blueberries over the bread mixture and fold again to ensure the blueberries are evenly distributed throughout the casserole.

Cover and refrigerate overnight (or bake immediately if desired).

The next morning, remove the casserole dish from the refrigerator and preheat the oven to 350°F.

In a small bowl, combine the softened butter, brown sugar, and cinnamon until a wet, sandy mixture forms. Sprinkle the brown sugar mixture over the casserole.

Bake the casserole for 40 minutes, or until the top of the casserole is lightly golden.

Let sit for 5-10 minutes before serving. Serve warm, topped with maple syrup, if desired.
Notes
*You can use French bread, white bread, brioche, challah bread, Texas toast, sourdough, Kings Hawaiin rolls, or any other bread for this recipe. I have found that day-old or slightly stale bread works best to absorb the egg custard without getting soggy. Leftovers can be refrigerated for up to 4 days.
Nutrition
Serving: 1g | Calories: 417kcal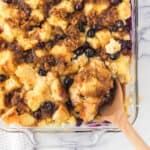 Did You Make This Recipe?
Share it with me on Instagram @crayonsandcravings and follow on Pinterest @crayonsandcravings for even more!