Cinnamon Roll Apple Upside Down Cake
Posts may contain affiliate links, meaning that I may earn a commission if you use a link provided.
This Cinnamon Roll Apple Upside Down Cake is basically a giant cinnamon roll loaded with cream cheese filling and topped with caramel and fresh apple slices.
For another sweet cinnamon sugar treat give this cinnamon sugar chex mix recipe a try.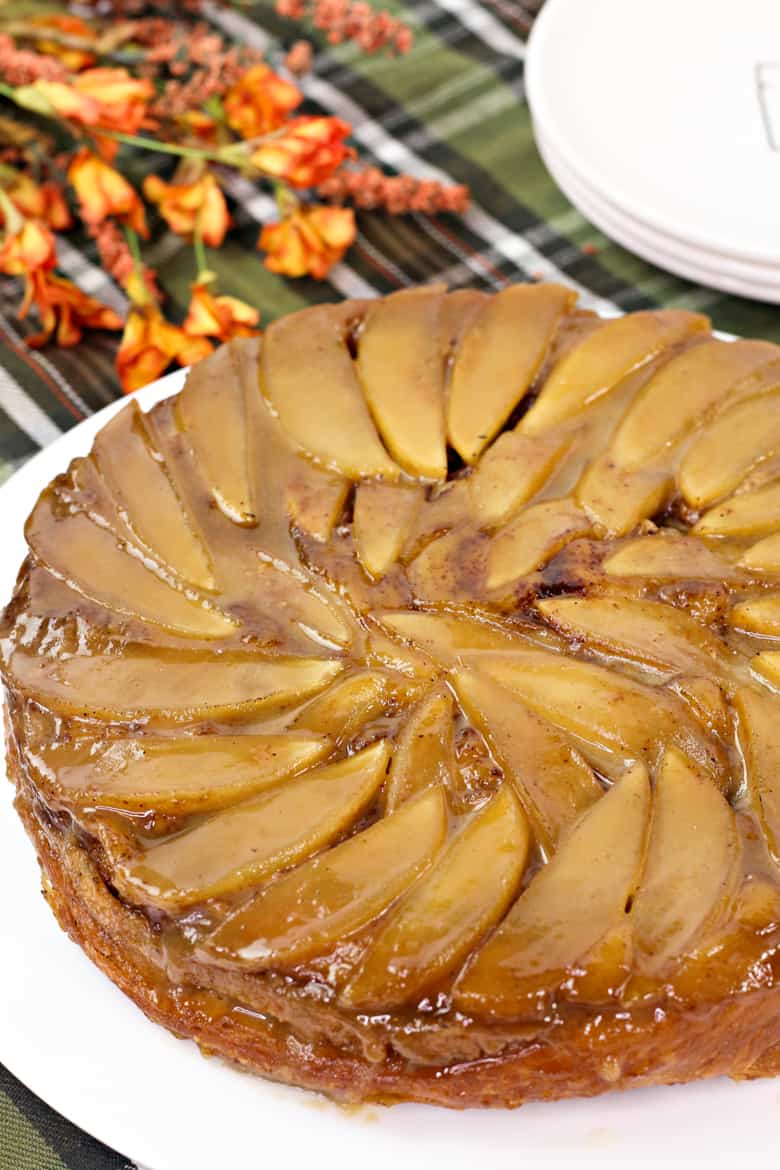 Talk about indulging Fall desserts… this apple upside down cinnamon roll cake is out of this world.
With cinnamon sugar, cream cheese, caramel, and fresh apples, this cinnamon roll apple cake is simply packed full of sweet and savory autumn flavors.
While this cake is a little more complex than most of the recipes I share here on Crayons & Cravings, it really isn't that difficult to make. It just takes a bit more time on your part. If you are looking for a more traditional apple cake recipe, try this amazing apple cider bundt cake.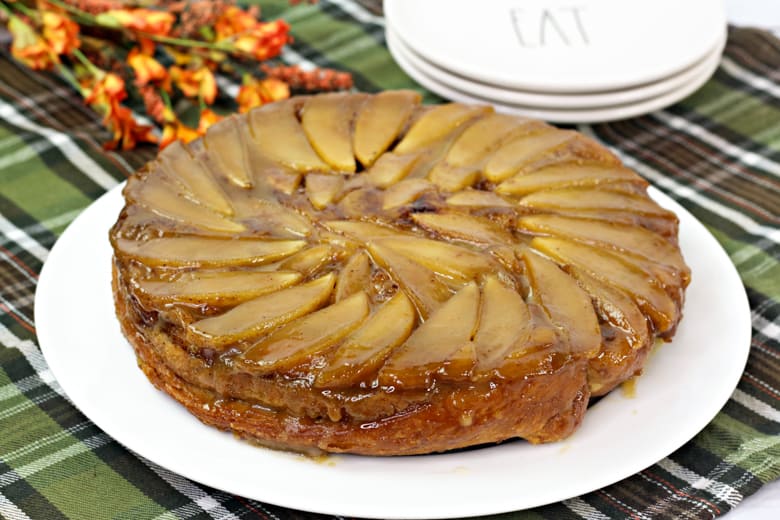 How to Make Upside Down Apple Cinnamon Roll Cake
Start by gathering your ingredients. For this recipe, you will need:
3 apples
2 crescent dough sheets
unsalted butter
cream cheese
salt
light brown sugar
light corn syrup
heavy cream
cinnamon (or apple pie spice)
sugar
vanilla
You will also need the following kitchen supplies and tools:
You can print out a detailed recipe card with a full ingredient list and instructions at the bottom of this page.
First, you will prepare the caramel sauce on your stovetop and pour half of it into the bottom of your cake pan.
Then, add apple slices to the caramel sauce at the bottom of the cake pan.

Next, mix together the ingredients for the cinnamon sugar and for the cream cheese filling.
Now it is time to prepare the cinnamon roll by spreading the cream cheese filling onto a crescent dough sheet and topping it with the other dough sheet (like a cream cheese sandwich).
Cut the dough into strips and added to the pan in a spiral pattern. It is important to form loose spirals, as making them too tight will prevent the dough for expanding and cooking properly.
Finally, the cake is baked, cooled, and topped with more caramel sauce just before serving.
Yum!
If you enjoy this upside-down apple cake you will also love our apple cookies, salted caramel apple crumb cake, apple pie filled cupcakes, and slow cooker fried apples.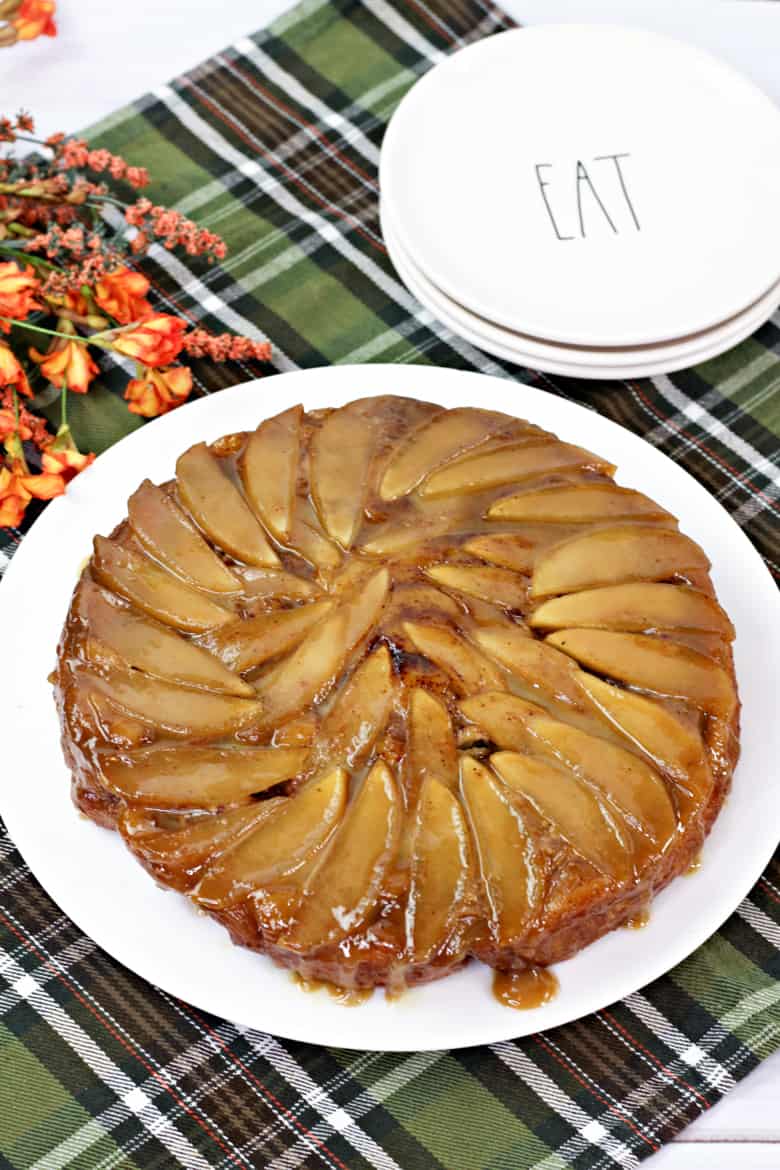 >> Don't miss this list of 100+ apple dessert recipes for Fall!
Recipe
Recipe
Apple Upside Down Cinnamon Roll Cake
A giant cinnamon roll loaded with a cream cheese filling and topped with caramel and fresh apple slices.
Ingredients
Caramel Sauce
3/4 cup unsalted butter
1 tsp salt
1 cup brown sugar
2 tsp light corn syrup
1/4 cup heavy cream
2-3 apples peeled and cut into 1/4 in slices
Cake
2 8 oz Crescent Dough Sheets
2 Tablespoons unsalted butter melted but slightly cooled
1/3 cup light brown sugar
2 tsp cinnamon
1 package 8 oz cream cheese, softened
1/4 cup granulated sugar
1 tsp vanilla
Instructions
Prep

Line a baking sheet with parchment paper and set aside.

Prep cake pan with a layer of non-stick spray. Line the bottom of the pan with parchment paper and then give the paper a coating of non-stick spray as well.

Make the Caramel Sauce

Melt butter in a saucepan on medium heat. Slowly add heavy cream and then stir in the sugar, salt, corn syrup, and vanilla. Continue to stir until the sugar dissolves. Allow it to boil for 2-3 minutes, until it begins to thicken.

Pour half of the caramel sauce in the bottom of the cake pan and set aside the remaining half for later.

Make the Cake

Preheat oven to 350 degrees.

Melt 2 tablespoons of butter. Set aside.

In a small bowl, whisk the brown sugar and cinnamon together; set aside.

In a medium bowl, mix cream cheese, sugar, and vanilla together and then set aside.

Place the apple slices in the bottom of the cake pan.

Lightly dust 2 sheets of parchment paper with flour. Carefully spread each crescent dough sheet out onto the parchment paper.

Spread the cream cheese mixture evenly onto one of the sheets of dough. Then, top with the other sheet of dough. Brush with melted butter and sprinkle with the cinnamon-sugar mixture. Using your hands, gently press the cinnamon sugar into the dough to make sure it sticks well.

Using a pizza cutter, cut dough into 1-inch wide strips.

Gently roll a strip into a loose spiral and place it in the center of the cake pan. Wrap a second strip loosely around the first. Continue building the cake by loosely adding a new strip where the previous one ended. (It is important to roll loosely so that the dough has room to expand during baking.)

Place the pan on lined baking sheet and bake for 60-75 minutes, until the center has baked completely.

Remove pan from oven and allow to cool for 30 minutes before inverting the cake onto a serving plate to cool completely. Reheat the remainder of the caramel sauce and drizzle it on top of the cake prior to serving.

Notes
You can use crescent roll dough instead of the crescent dough sheets, simply seal the perforation between the rolls to make it a large rectangular sheet.

If the cake starts to brown too much before the center has cooked through, remove from oven, cover the top of the cake with a tent made out of foil, and return to oven.
Nutrition
Serving: 1g | Calories: 500kcal
Did You Make This Recipe?
Share it with me on Instagram @crayonsandcravings and follow on Pinterest @crayonsandcravings for even more!
Pin for Later:
This delicious Fall dessert recipe was shared on Mean Plan Monday over at Julia's Simply Southern and The Weekend Potluck on Sweet Little Bluebird.