Posts may contain affiliate links, meaning that I may earn a commission if you use a link provided.
Polar bear paws are a sweet and chewy blend of caramel, peanuts, and white chocolate. This easy and delicious candy recipe is always a hit at Christmas parties or throughout the holiday season.
I love snacking on homemade candies around the holidays! It's always fun to have a wide variety of easy treats around for friends and family to enjoy. My crockpot candy, saltine toffee, peanut butter buckeyes with rice krispies, and these polar bear claws are some of my all-time favorite treats!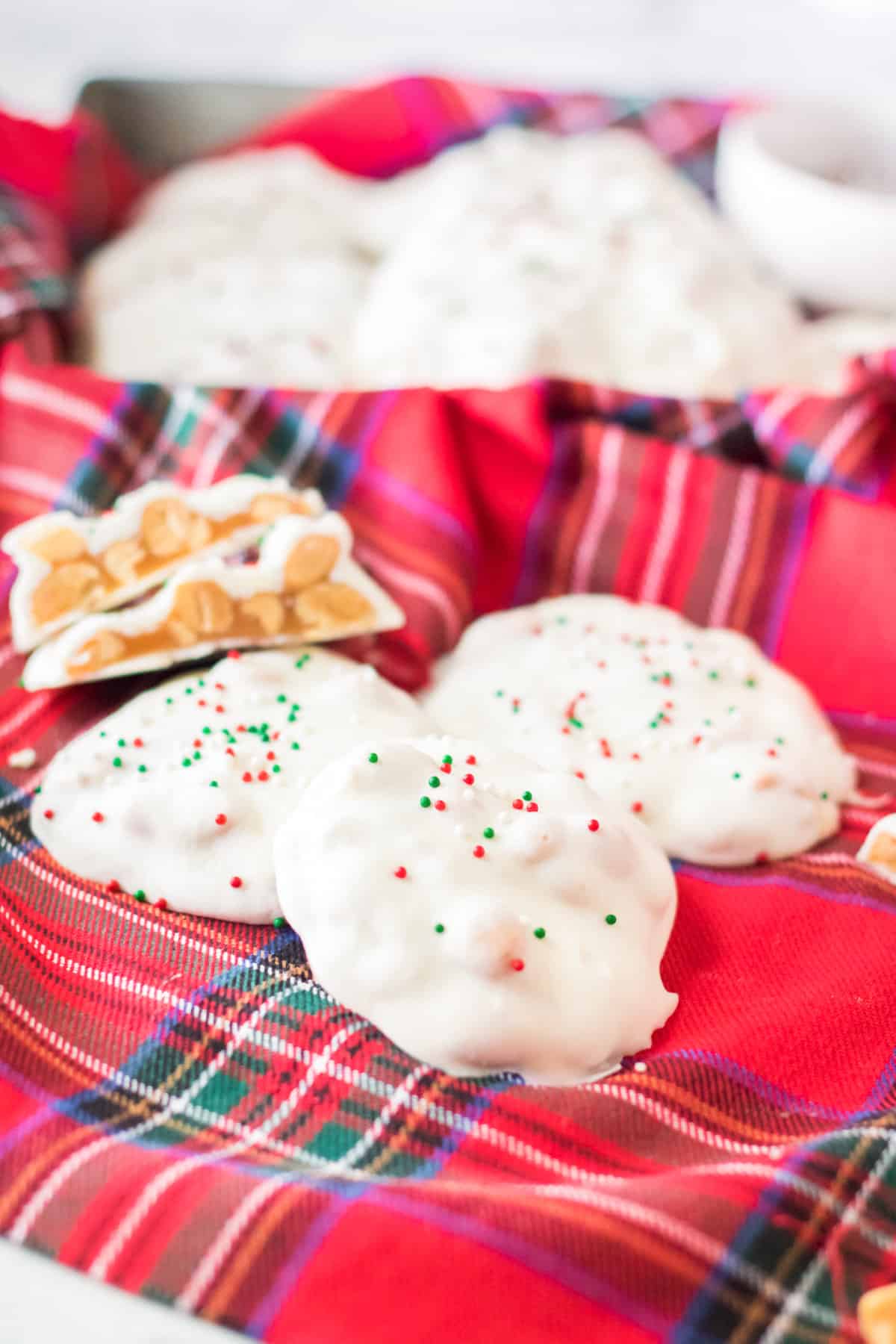 These creamy, peanutty, and chewy polar bear claws can be made in just 15 minutes and will store beautifully for weeks on the counter or in the freezer.
The best part about this easy polar bear paws candy recipe is that you don't have to turn on the oven to make them. Make them right on the stovetop in just a few minutes. You can even make these white chocolate peanut clusters completely in the microwave if you wanted to.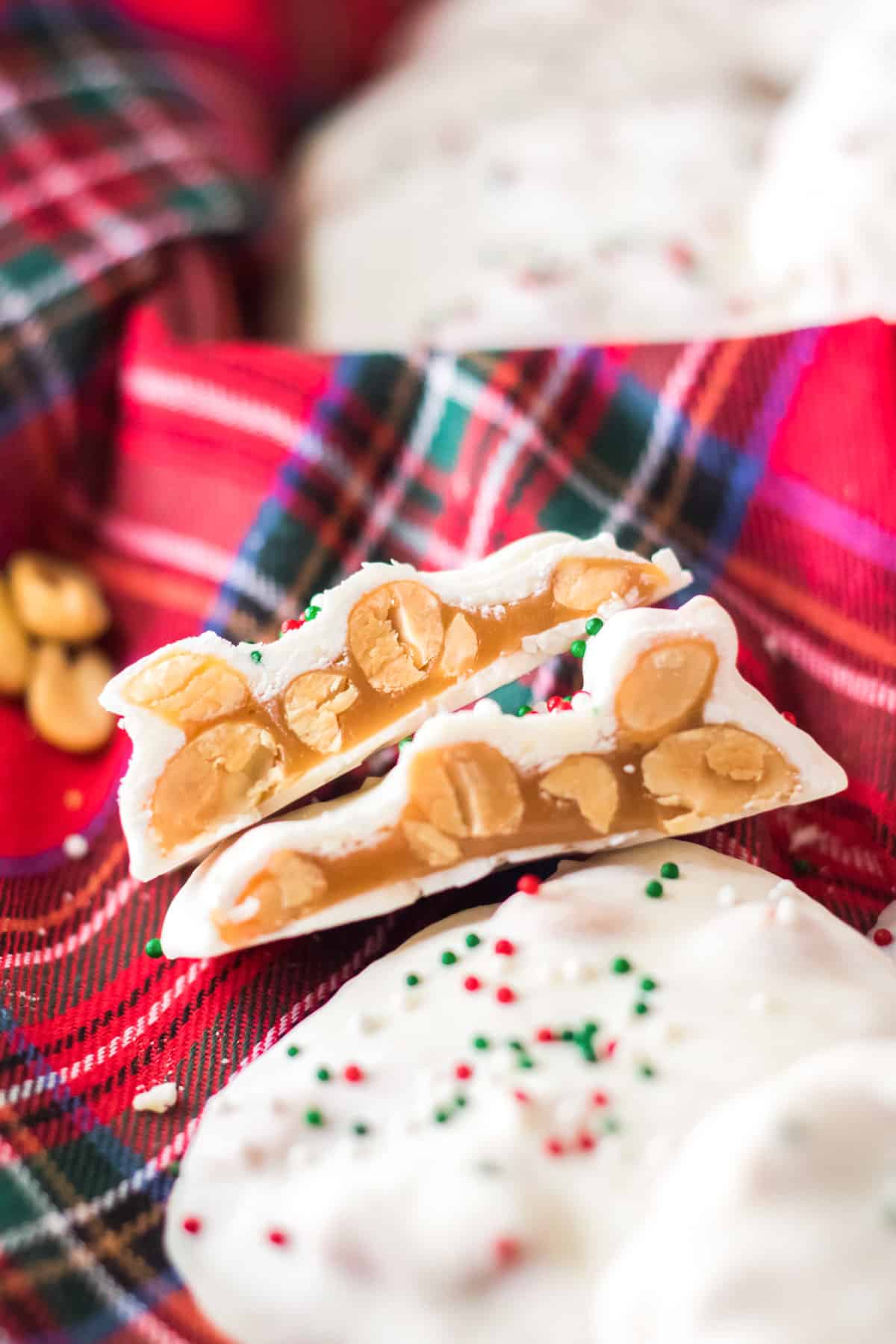 No need to mess with candy thermometers or homemade caramel—these are made by melting down store-bought caramels with a bit of butter and cream, mixing them with crunchy peanuts, dolloping them into clusters, and then coating those clusters in white chocolate almond bark.
When it comes to homemade Christmas candy, it truly doesn't get any easier than these polar bear paws!
We Love This Recipe Because It's…
Sweet, creamy, salty, nutty, and chewy.
A super easy, 15-minute holiday candy.
A homemade version of a popular See's Candy chocolate.
A fun holiday spin on classic chocolate turtles.
Ingredient Notes
This section includes ingredient notes and substitution options. Get all measurements, ingredients, and instructions in the printable recipe card at the end of this post.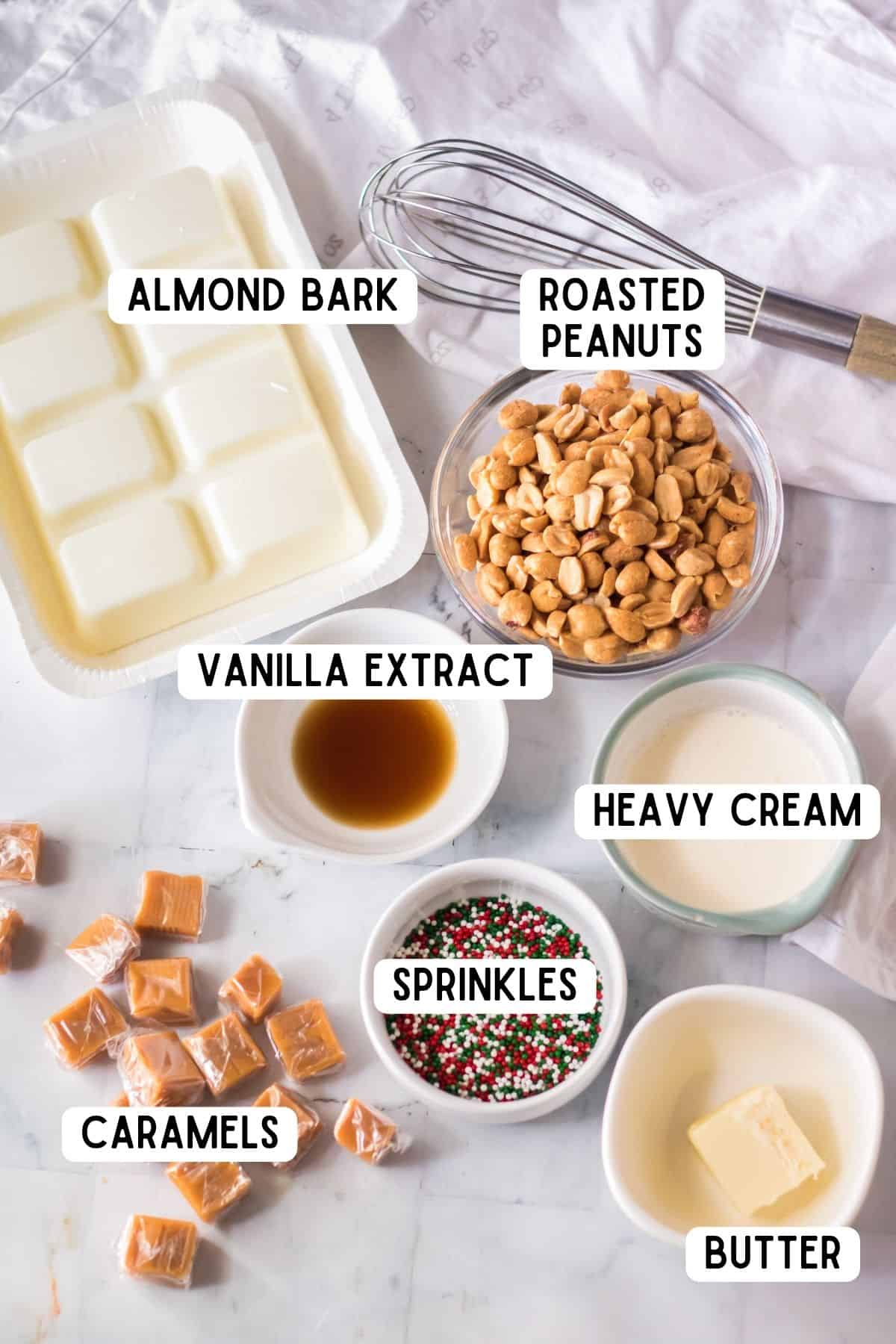 Peanuts — Roasted and salted will give the best flavor.
Caramel Squares — When melted, these soft caramels are an easy alternative to making homemade caramel.
Butter — Adds richness and tons of flavor to this tasty Christmas treat.
Heavy Whipping Cream — Just a little bit of heavy cream will help your caramels stay smooth as they melt. Caramel bits will work too.
Vanilla Extract— I love the flavor of Mexican vanilla, but you can use any pure vanilla extract.
Vanilla Almond Bark — To coat the buttery caramel nut clusters.
Sprinkles— Optional, for giving the candies a festive holiday vibe
Equipment You'll Need
Don't be intimidated by this polar bear paws recipe! This homemade candy is one of the easiest ones to make. All you need are a few basic kitchen supplies:
heavy-bottomed saucepan
wooden spoon
microwave-safe bowl
parchment paper
baking sheet
How to Make Polar Bear Candy
This section shows you how to make the recipe with step-by-step photos and instructions. For the full printable recipe, see the recipe card below.
Step 1: In a pot over medium heat, melt together the unwrapped caramels, heavy cream, butter, and vanilla.
Step 2: Once the caramels are melted and smooth, stir in the peanuts.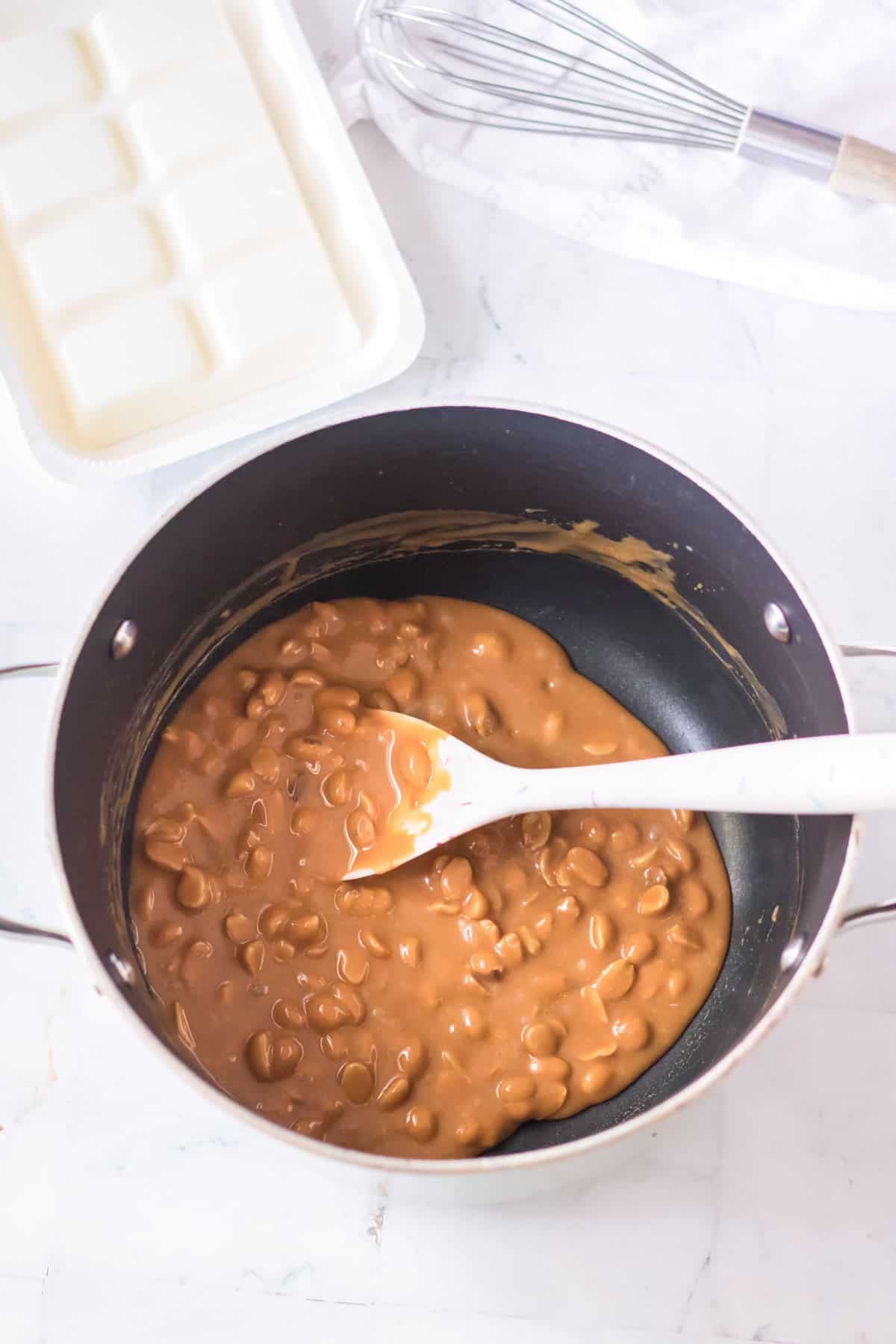 Step 3: Spoon the melted caramel and peanut mixture onto the surface of a parchment-lined baking sheet. Allow them to set in the fridge (or freezer if you are in a hurry).
Step 4: Once the candies have set, melt the almond bark in the microwave.
Step 5: Dip each caramel cluster into the almond bark and tap off the excess. Place clusters on parchment paper and top with holiday sprinkles, if desired. Return to the fridge to set, then enjoy!
Storage
Store in an airtight container at room temperature for about a week. Place a piece of parchment paper or wax paper in between each layer to keep the polar bear candy from sticking to one another.
For longer storage, freeze the candies for up to 2 months. Thaw in the refrigerator then set out on the countertop to come to room temperature before enjoying.
Tips & Tricks
When dipping, I find it helpful to remove just a few of the candies from the fridge at a time so that they don't sit out at room temperature and start to warm up.
For best results, use almond bark or white melting wafers and not white chocolate chips in this recipe. Once melted, white chocolate chips won't harden and set back up properly.
Not a fan of vanilla almond bark? You can dip these polar bear candy in milk chocolate or dark chocolate almond bark instead.
If you're in a rush, you can melt the caramel mixture in the microwave instead of on the stovetop. Do this in 30-second increments, mixing thoroughly and frequently.
Although they are perfect for Christmas, polar bear paw candies aren't just for the holiday season. Decorate these candies with different colored sprinkles for different holidays and events!
Frequently Asked Questions
Who makes polar bear paws candy?
White chocolate polar bear paws are commonly found at See's Candies around the holidays. Like this recipe, See's polar bear candy is made by dipping caramel peanut clusters into white chocolate. This homemade version is just as tasty and super easy to make!
Can you make polar bear paws candy with different nuts?
Of course! You can use walnuts, cashews, almonds, macadamia nuts, or even pecans to give these polar bear claws a more turtle-esque flavor!
More homemade candy recipes
Recipe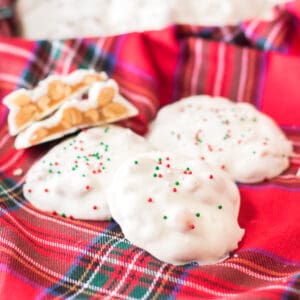 Recipe
Polar Bear Paws Candy
Polar bear paws take buttery caramel and salty peanuts, combine them, and dip them in sweet white chocolate for an irresistible treat.
Ingredients
11 ounce bag caramel squares unwrapped
3 Tablespoons heavy whipping cream
1 Tablespoon butter
1 teaspoon vanilla extract
1 cup roasted salted peanuts
1 pound white almond bark
sprinkles optional
Instructions
Line a baking sheet with parchment paper. Set aside.

To a medium pot, add your caramels, heavy whipping cream, butter, and vanilla extract. Heat and stir over medium heat until melted and smooth.

Add in your peanuts and stir to combine.

Spoon Tablespoon-sized mounds onto the parchment paper.

Chill in the refrigerator until set, about 1 hour.

In a microwave-safe bowl, melt the almond bark in the microwave in 30-second intervals until melted and smooth.

Dip each caramel nut cluster into the melted white chocolate, allowing any excess to drop off. Place the coated candies back on the parchment paper to set. If using sprinkles, top each candy with sprinkles immediately after dipping.

Return the candies to the refrigerator to chill for 30-60 minutes until fully set.
Notes
You have to move quickly to get all of the candies dipped in the melted almond bark before it begins to harden and before the caramel peanut clusters start to get soft from sitting at room temperature. I find it helpful to remove the candies from the fridge in two or three batches so that they do not sit out too long and begin to soften up. Store your delicious candies at room temperature for 7-10 days. Place a piece of parchment paper between each layer to prevent the candies from sticking together.
Nutrition
Serving: 1g | Calories: 267kcal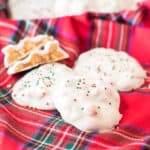 Did You Make This Recipe?
Share it with me on Instagram @crayonsandcravings and follow on Pinterest @crayonsandcravings for even more!