Christmas Jello Poke Cake
Posts may contain affiliate links, meaning that I may earn a commission if you use a link provided.
Christmas jello poke cake is a sweet and colorful holiday treat that's just as much a feast for the eyes as it is for the palate. Infuse your favorite boxed cake mix with pockets of strawberry and lime jello to create a moist and delicious cake that's the perfect dessert for the holiday season.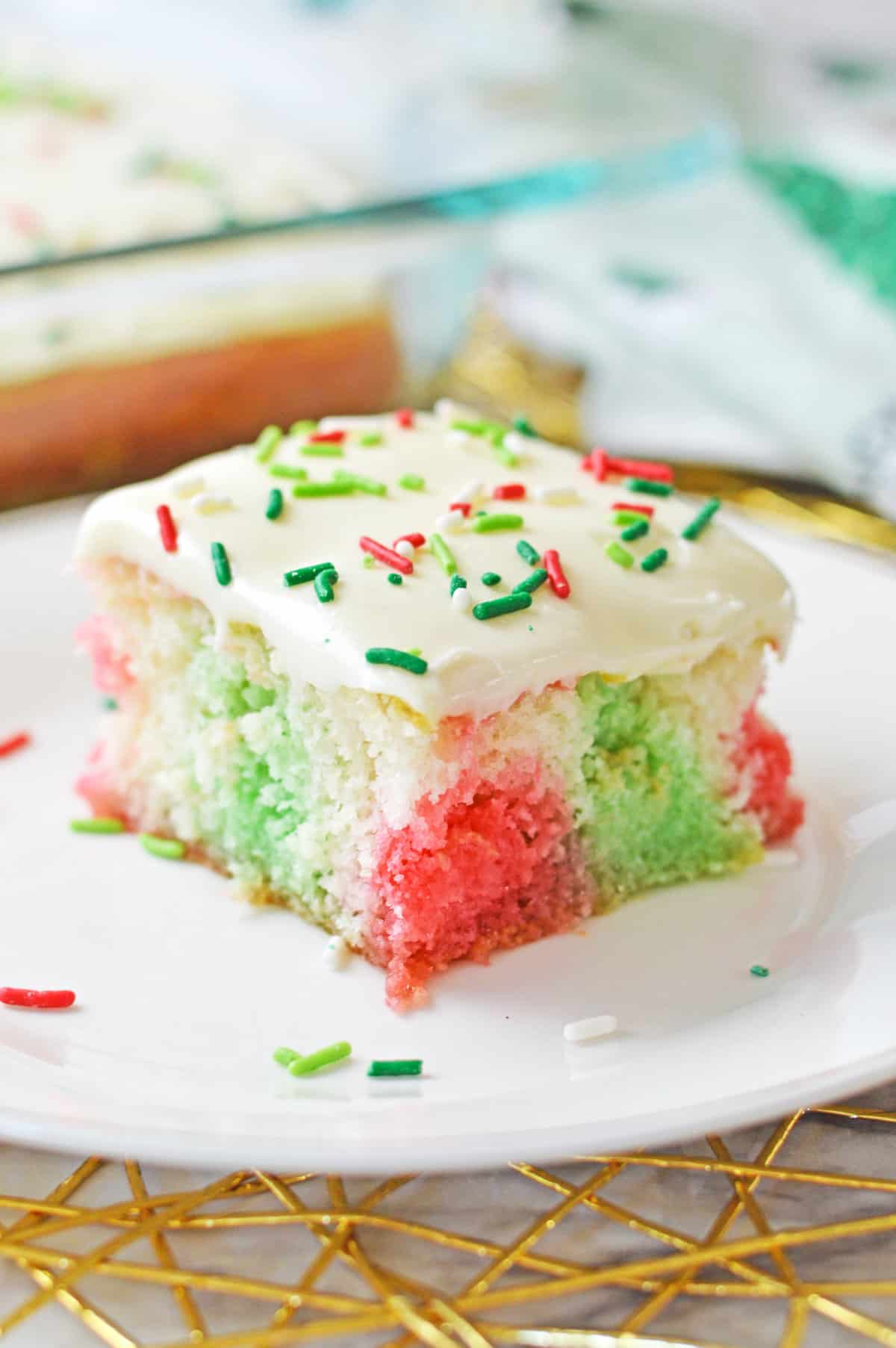 One of the easiest ways to doctor up a bland and boring box cake mix is to turn it into a poke cake! Like my strawberry jello poke cake, Baileys poke cake, and chocolate Oreo poke cake, this Christmas jello poke cake is a moist, tasty, and super easy dessert that is always a crowd favorite.
This Christmas jello poke cake recipe is no-stress holiday baking at its finest. You can prep and bake this festive dessert in under an hour and then allow it to set in the fridge overnight so you won't have to worry about baking your Christmas dessert on the day of your holiday party.
Ingredients
This section includes ingredient notes and substitution options. Get all measurements, ingredients, and instructions in the printable recipe card at the end of this post.
White Cake Mix—Plus all the water, oil, and eggs you need to prepare the box mix.
Strawberry Jello Mix—Or another red jello flavor such as raspberry or cherry.
Lime Jello Mix—Or any other flavor of jello mix that's green.
White Frosting—Your favorite store-bought or homemade white frosting. Vanilla frosting, cream cheese frosting, or holiday funfetti frosting are all great options. Cool whip whipped topping would be yummy too!
Christmas Sprinkles—Anything red and green will add a pop of festivity to this colorful cake.
Water—Some boiling, some cold. You'll need this to properly set your jello.
How to a Make Christmas Poke Cake with Jello
This section shows you how to make the recipe with step-by-step photos and instructions. For the full printable recipe, see the recipe card below.
Step 1: In a large bowl, prepare the white cake mix according to the package directions. Bake until the cake is golden and passes the toothpick test.
Step 2: While the cake is cooling, combine the strawberry jello powder and 1 cup of boiling water. Once the powder has completely dissolved, whisk in ½ cup of cold water. Set aside and prepare the lime jello the same way.
Step 3: Use the end of a wooden spoon to poke holes all throughout the top of the whole cake. Pour the prepared gelatin mixture into the holes, alternating colors as you go. Then chill the cake in the refrigerator until the jello has fully set.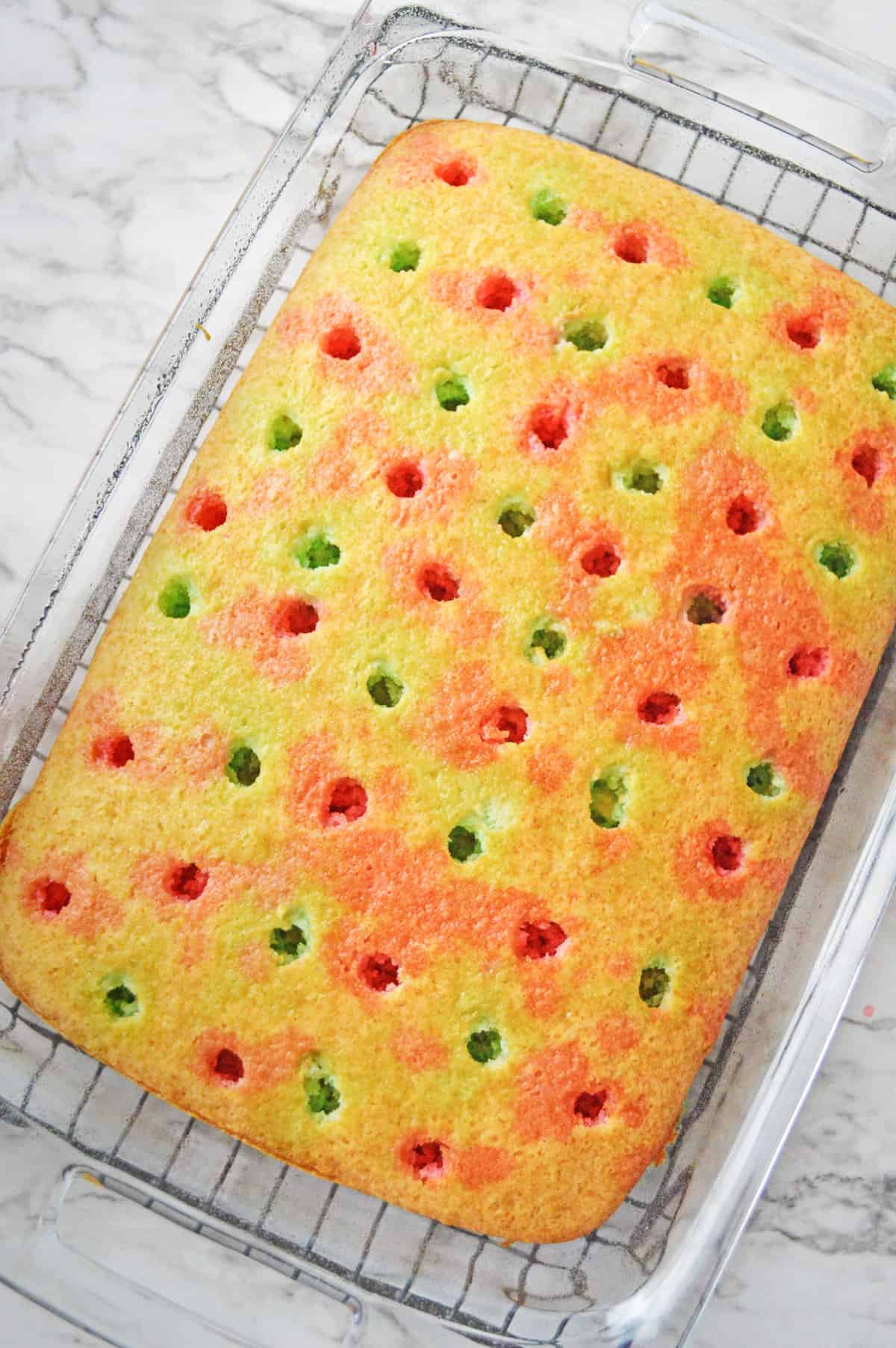 Step 4: Frost and garnish the cake with Christmas sprinkles before slicing, serving, and enjoying!
Storage
This Christmas jello poke cake will stay good in an airtight container or covered with plastic wrap in the fridge for up to 4 days. It's best enjoyed chilled but can also be eaten at room temperature.
Recipe Variations
There are lots of ways that you can put your own spin on this easy jello poke cake recipe! Switch up the frosting, base cake flavor, or jello colors. Below are a few ideas to get you started.
Yellow cake mix can be used instead of white, but the red and green colors won't pop as much.
Did you know that this holiday poke cake can be made for any special occasion —not just Christmas? Simply swap out cake flavor and the red and green jello for colors that coordinate with your event like we did with this Fourth of July poke cake and Halloween poke cake. Get creative!
Although I love the clean and elegant look that a white frosting gives to this Christmas poke cake with jello, you can swap it out for your favorite flavor of frosting! Chocolate, lime, and strawberry frosting would all pair nicely with this colorful cake!
Expert Tips and Tricks
Add some freshness to this super sweet cake by garnishing it with some strawberry and lime slices!
Baking this easy cake is a great way to get your kids involved in the kitchen. They'll love pouring the jello into the poke cake and will be amazed to see the beautiful colors when you slice into the finished dessert.
Jello poke Christmas cake is a great dessert to make ahead of time! You can bake and fill the cake as normal, then allow it to set up in the fridge overnight. When it's time to serve, pull it out of the fridge, top it with frosting and some sprinkles, and enjoy!
If you have a food syringe it makes filling holes with jello super neat and easy. Otherwise, a measuring cup with a spout or large spoon works well.
Frequently Asked Questions
What is the best way to poke holes in a poke cake?
I like using the end of a wooden spoon to poke large, deep holes into this poke cake. However, you could also use a chopstick, skewer, or even a large fork. Just keep in mind that the bigger your holes are, the more vibrant and concentrated the colors will be.
Can I bake this poke cake into other shapes and sizes?
Absolutely! I usually bake this cake in a 9×13 pan, but you could also use a couple of round cake pans, a bundt pan, or even a cupcake tin! Just be sure to adjust your bake time according to the cake mix package instructions.
How do you make a box cake taste like it came from a bakery?
You can elevate this recipe by doctoring your cake mix up with a few special ingredients. Try swapping out the oil for melted butter, the water for milk, and add an extra egg. This will give you a cake that is moist, rich, and delicious!
I hope that you and your family enjoyed this easy recipe and have a very Merry Christmas!
More Delicious Holiday Cake Recipes
Check out our entire collection of Christmas recipes here!
Recipe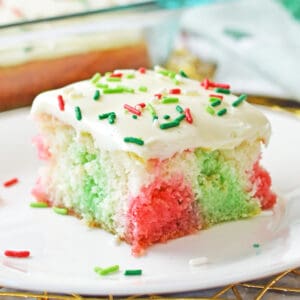 Recipe
Christmas Jello Poke Cake
Christmas jello poke cake is the perfect dessert for holiday parties and is easy to make with a boxed cake mix and red and green jello.
Ingredients
16.25 ounce white cake mix + ingredients called for on box
3 ounce strawberry jello mix
3 ounce lime jello mix
2 cups boiling water divided
1 cup cold water divided
16 ounce white frosting
christmas sprinkles
Instructions
Prepare the cake mix in a 9×13 pan as per the instructions on the box. Bake until golden and a toothpick inserted in the center comes out with only a few crumbs (not wet batter). Allow the cake to cool for 15 minutes after removing it from the oven.

In a medium-sized bowl, combine the strawberry jello mix with 1 cup of boiling water. Whisk for 2 minutes, or until the powder is completely dissolved. Whisk in 1/2 cup of cold water and set aside.

Repeat the process in a second bowl to prepare the lime jello.

Using the handle of a wooden spoon, poke holes throughout the top of the cake.

Spoon or pour the prepared jello mixtures into each of the holes, alternating the colors as you go.

Refrigerate the cake for at least 3 hours to allow the jello to set.

Frost the cake and top with sprinkles before slicing and serving.
Notes
Store leftovers covered in the refrigerator for up to 3 days.
Nutrition
Serving: 1g | Calories: 141kcal
Did You Make This Recipe?
Share it with me on Instagram @crayonsandcravings and follow on Pinterest @crayonsandcravings for even more!