Posts may contain affiliate links, meaning that I may earn a commission if you use a link provided.
This peppermint mocha bundt cake recipe takes a rich chocolate peppermint cake and pours a generous amount of homemade espresso ganache over the top for a Christmas cake that is full of holiday flavor.
Are you looking for an easy but delicious holiday bundt cake? You will love this peppermint mocha cake! Grab a fork and dive in for a crave-worthy Christmas cake that is so simple to make.
If you are on the hunt for more holiday cake recipes, try our old-fashioned gingerbread cake, chocolate and coconut bundt cake, and sugar cookie snack cake.
Chocolate, coffee, and peppermint are the ultimate trio when it comes to flavor.
This cake is gorgeous and will win over everyone from young and old. Even our preschooler was a huge fan!
Slice and serve alone, or add a scoop of vanilla or peppermint ice cream to the side.
As a bonus, your home will smell incredible as it bakes up!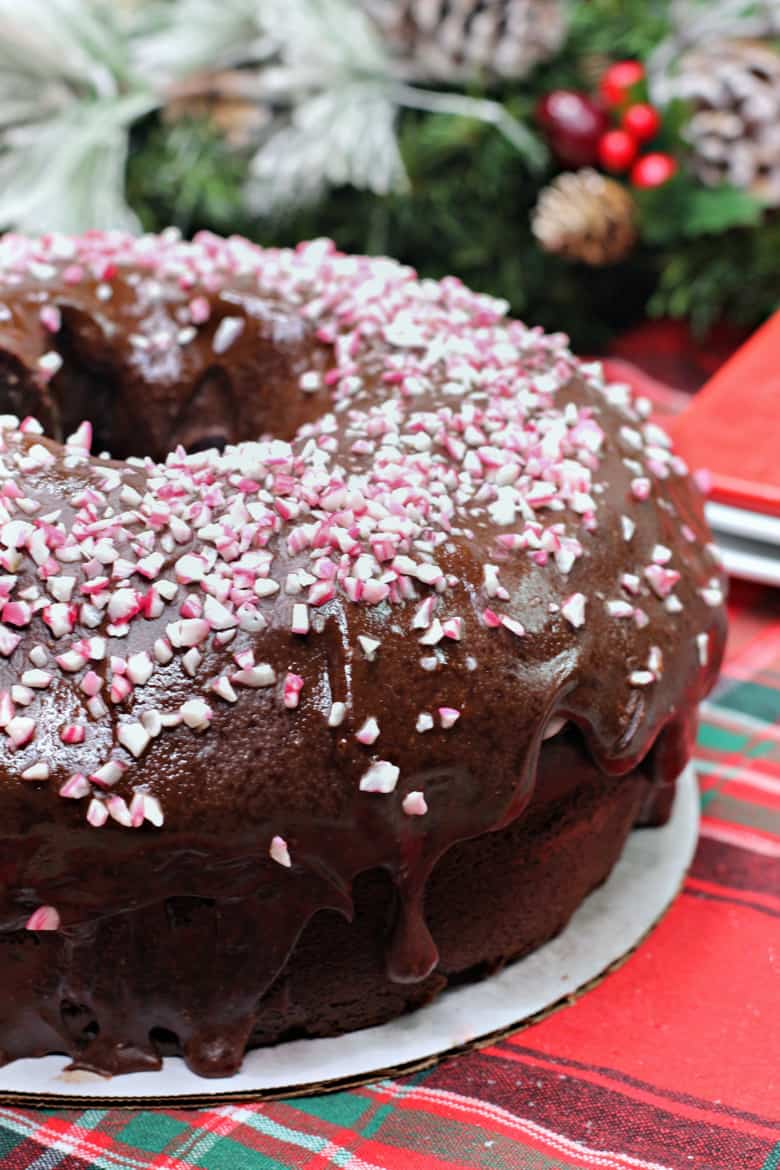 Peppermint Mocha Bundt Cake
Boxed Cake Mix | I used triple chocolate cake mix for an extra rich cake. It works great and with the ganache on top it really dressed up the flavor. Dark chocolate cake mix would work great as well. No one will ever know it was a box cake mix.
You will add other ingredients to the mix to give it a delicious flavor. Then add a splash of peppermint extract for a minty chocolate cake.
Chocolate Mocha Ganache | Heavy cream, espresso powder, semi-sweet chocolate, and crushed peppermint are going to be the rich chocolate glaze you pour over your cake.
It really adds so much flavor, and the mint and espresso help to balance out the rich chocolate.
Best Way To Store
If serving the same day you can leave the cake out on the countertop.
To store the cake overnight, cover your peppermint mocha cake and refrigerate for up to 5 days. You will find that as each day passes it will dry out a bit. So I do recommend eating the cake within the first few days of making it.
Go right ahead and freeze any cake you don't plan to eat right away. Just place in an airtight container and freeze for up to three months. Then thaw on the counter or in the fridge overnight.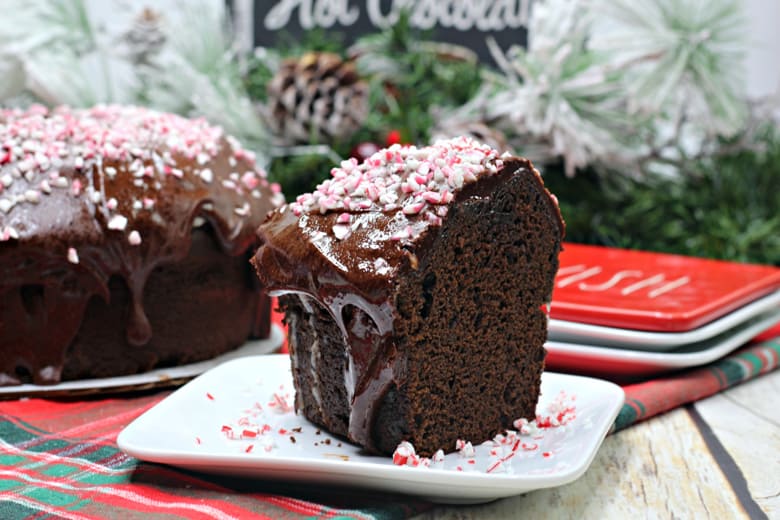 Expert Tips
Go right ahead and use a homemade chocolate cake to replace the boxed if you would like. Just add in the peppermint to ensure you get that mint in the cake.
Candy canes crushed up are awesome to sprinkle on top of the cake, just be sure to crush them up rather fine or you will have large crunchy pieces that can be hard to eat.
You can put your mints in a bag and then use a rolling pin to hit gently to crush them up (or use these to make things even easier!)
Go ahead and make a regular cake instead of a bundt cake if you would like. Just adjust the cooking time to make sure to not overbake the cake.
Sticking a toothpick in the center of the cake to see it comes out clean without batter means the cake is done.
Recipe FAQ
How is Bundt Cake different from regular cake?
Bundt cakes often have a richer and moister texture than a classic cake that is make in a 9 x 13 cake pan. Most bundt cakes will cook larger than a traditional cake, as it is a lot thicker in the pan.
What Can I Use Instead of Espresso powder?
You could use instant coffee to replace the espresso powder if you would like. The espresso will of course add a richer texture, but instant coffee is a great substitute.
How do you get a stuck bundt cake out of the pan?
Your bundt cake shouldn't stick to the pan if you grease the pan well. However, if your cake does stick to the pan after turning it over you can try banging the bottom and edges of the pan a few times and giving it a few gentle shakes to help it release. If that doesn't do the trick, leave the pan upside on a wire rack to allow it to cool some more then try again in 10 minutes.

More Desserts for Mint Lovers
Recipe
Recipe
Peppermint Mocha Bundt Cake
A rich peppermint chocolate cake topped with a mocha ganache and crushed peppermint candies. Perfect for Christmas or the holiday season in general.
Ingredients
Ganache ingredients:
¾ cups heavy whipping cream
1 ½ teaspoons espresso powder
1 ½ cups semi-sweet chocolate chips
¼ cup crushed candy canes or peppermint candies for topping
Instructions
For the cake:
Preheat the oven to 350 degrees and coat a

9-inch bundt pan

with non-stick baking spray.

In a large bowl, mix together the cake mix, milk, eggs, butter, and peppermint extract until smooth and smooth.

Pour the batter into the bundt cake pan and bake for 35-45 minutes, or until a toothpick inserted near the center comes out clean.

Allow the cake to cool in the cake pan for 15-20 minutes. Then, carefully transfer the cake to a plate or cake stand and allow it to cool fully.
For the ganache:
In a small pot, bring the heavy whipping cream and espresso powder to a slow simmer, stirring often.

Using a strainer, strain the heavy whipping cream into a heat-safe bowl (to ensure there are no clumps of espresso powder remaining).

Add the chocolate chips. Allow to sit for 1 minute, then whisk until smooth.

Pour the ganache evenly over the top of the cooled cake, allowing it to drip down the sides.

Sprinkle with crushed peppermints.
Notes
Can't find a triple chocolate cake mix? Dark chocolate cake mix works well too! Feel free to use your favorite homemade chocolate cake recipe instead of a boxed mix. Just be sure to add the peppermint extract to the cake batter. Store cake covered at room temperate if serving the same day, or in the fridge for up to 3-5 days.
Nutrition
Serving: 1g | Calories: 272kcal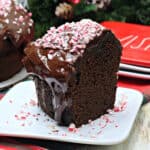 Did You Make This Recipe?
Share it with me on Instagram @crayonsandcravings and follow on Pinterest @crayonsandcravings for even more!