Posts may contain affiliate links, meaning that I may earn a commission if you use a link provided.
Ritz cracker thin mints are delicious homemade minty treats for the holidays–or for any time of the year. It really doesn't get much easier than these 2-ingredient no-bake treats!
For another easy Ritz recipe try these 4-ingredient cinnamon sugar Ritz crackers.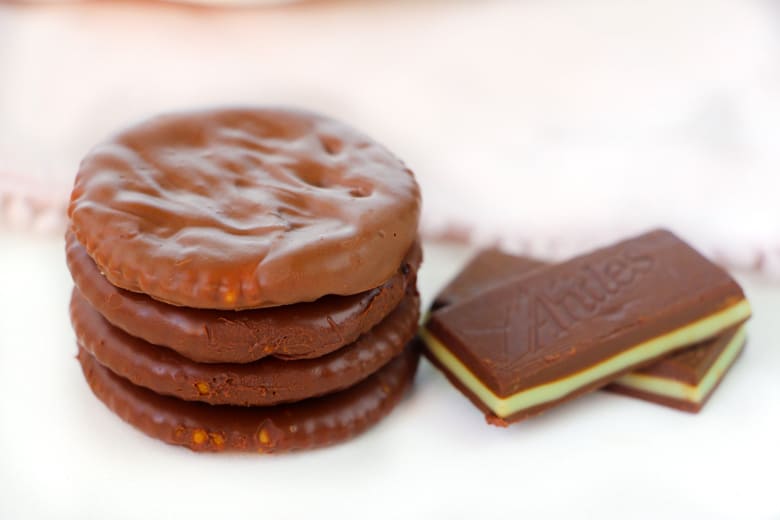 If you haven't tried this thin mint cookie recipe using Ritz crackers and Andes Mints, you are in for a treat. They truly remind me of Thin Mint Girl Scout Cookies. Tasty, delicious, and addictive!
Ritz Cracker Thin Mints
You are going to love this sweet and salty no-bake dessert.
The copycat thin mint cookies are quick and easy to make (just two ingredients!!!) and the minty flavor makes them a real holiday favorite like our peppermint mocha cake.

Ingredients
Ritz Crackers | Reach for a box of classic Ritz crackers.
Andes Mints | Either the mint chocolate candies or Andes baking chips are perfect for this recipe. Or if you prefer you could use semi-sweet melting chocolate and some peppermint extract instead. Both of these methods will give you a chocolate minty flavor, I just prefer the easy 2-ingredient route because it is, well, easier!
How To Make Ritz Cracker Thin Mints
Start by laying out wax paper, parchment paper, or silicone baking mats on cookies sheets so that you have a non-stick surface for your chocolate covered crackers.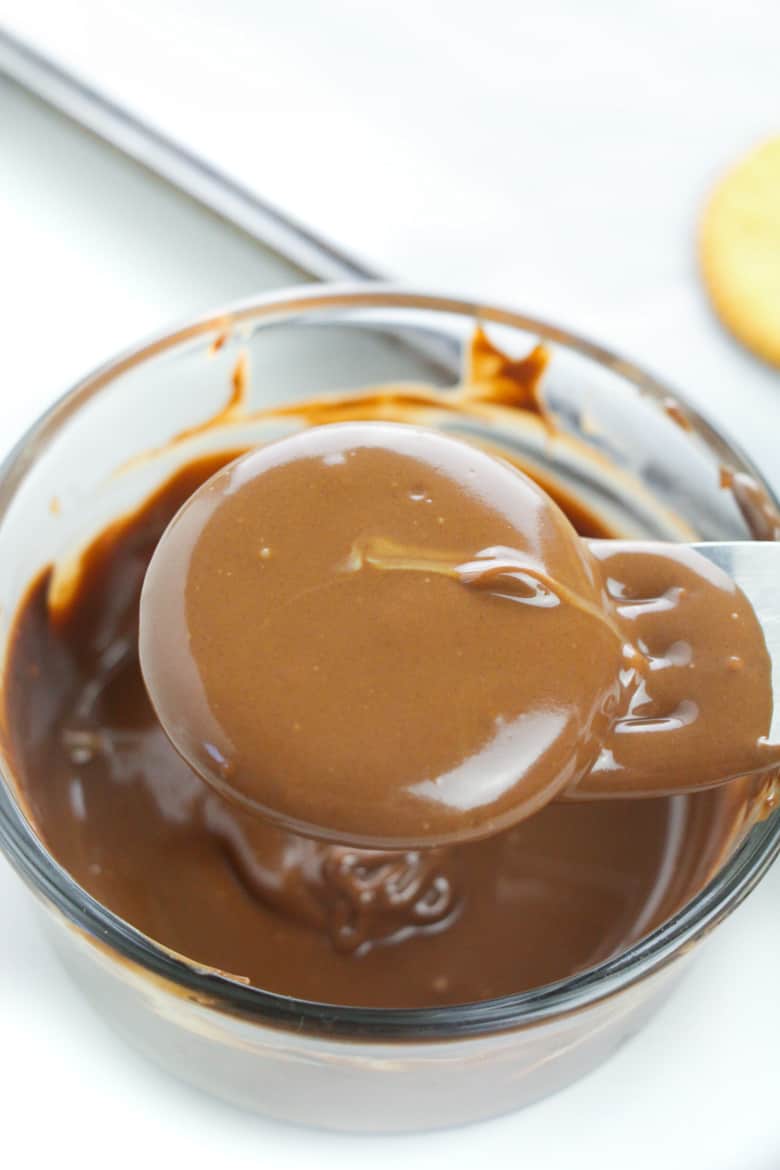 Next, melt the Andes Mints in a bowl in the microwave. Or use a double boiler if you prefer.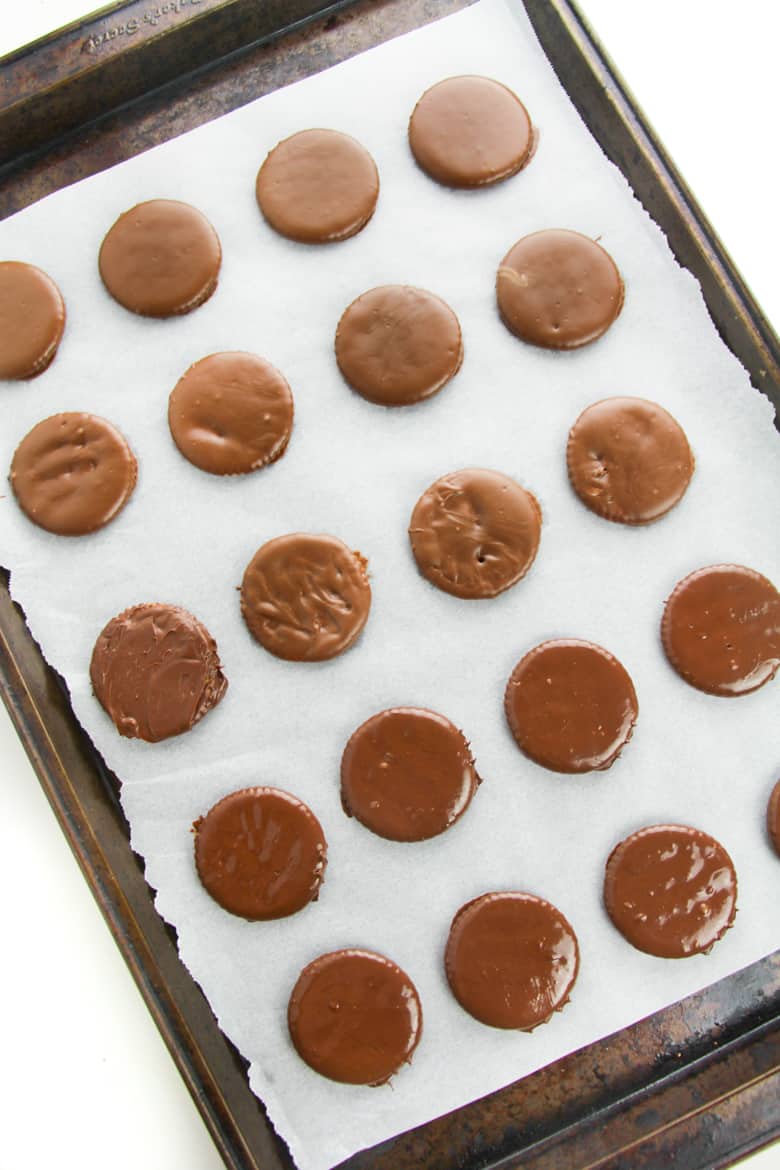 Then, use a fork to dip one cracker at a time in the melted candy. Shake off any excess then place it on the parchment paper.
Allow the chocolate to sit until it is fully set, about 15-30 minutes. You can speed up the setting process by placing the treats in the fridge.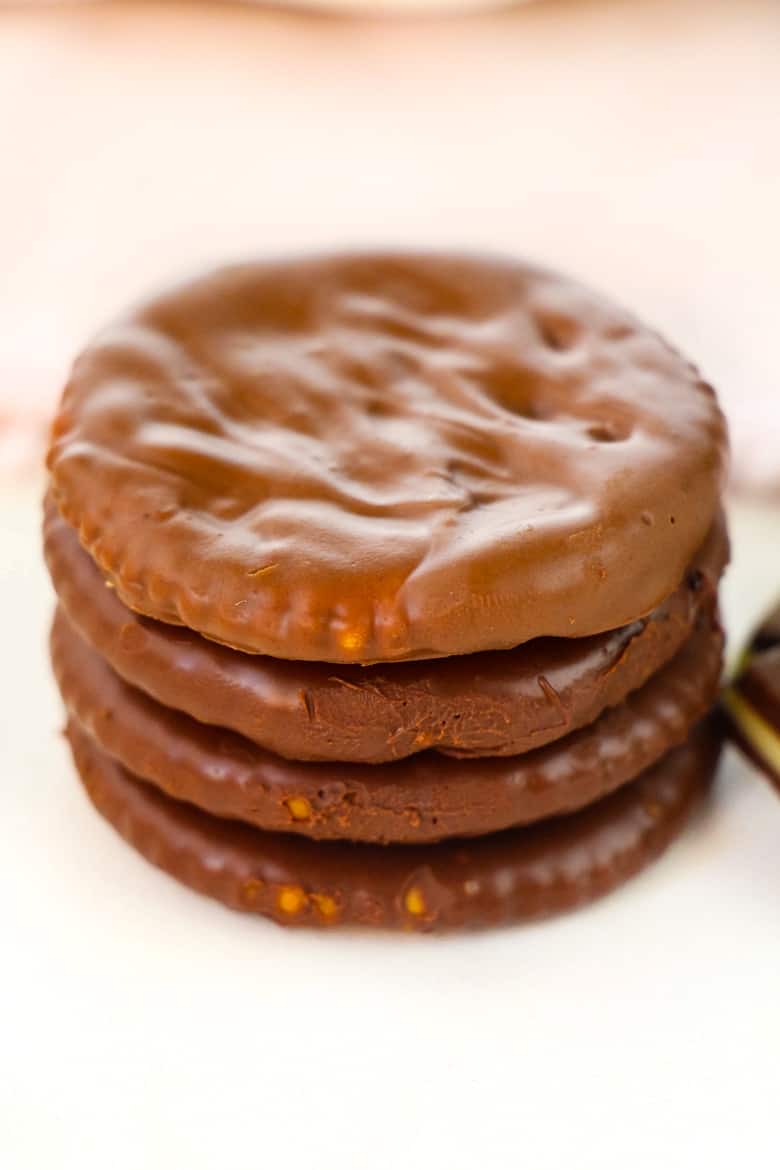 Have leftover Andes Mints? Make a batch of Andes Mint fudge, Andes Mint cookies, or peppermint patty cookies.
Storing and Freezing Homemade Thin Mint Cookies
To store, place the 2-ingredient thin mints in an airtight container with sheets of parchment paper between layers to prevent the cookies from sticking together. They will keep for up to 5 days at room temperature. Just be sure to place the container in a cool place, out of direct sunlight.
Or better yet, store them in the fridge to be extra safe. They should keep for up to 2 weeks in the refrigerator. Personally, I find that I enjoy these copycat thin mint cookies most straight from the fridge with a bit of a chill!
If you want to store them for longer, you can freeze these mint chocolate Ritz in a freezer baggie for up to three months. Enjoy straight from the freezer or thaw on the counter if you prefer them at room temperature.
Can I Use Gluten-Free Crackers?
I don't see why you couldn't use a gluten-free cracker. Of course, it will vary a bit in flavor, but it should work just the same. Feel free to leave a comment and let me know which cracker you used.
Recipe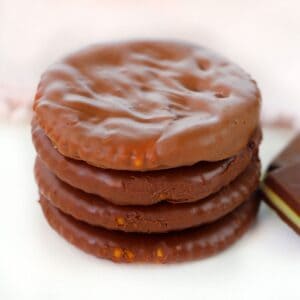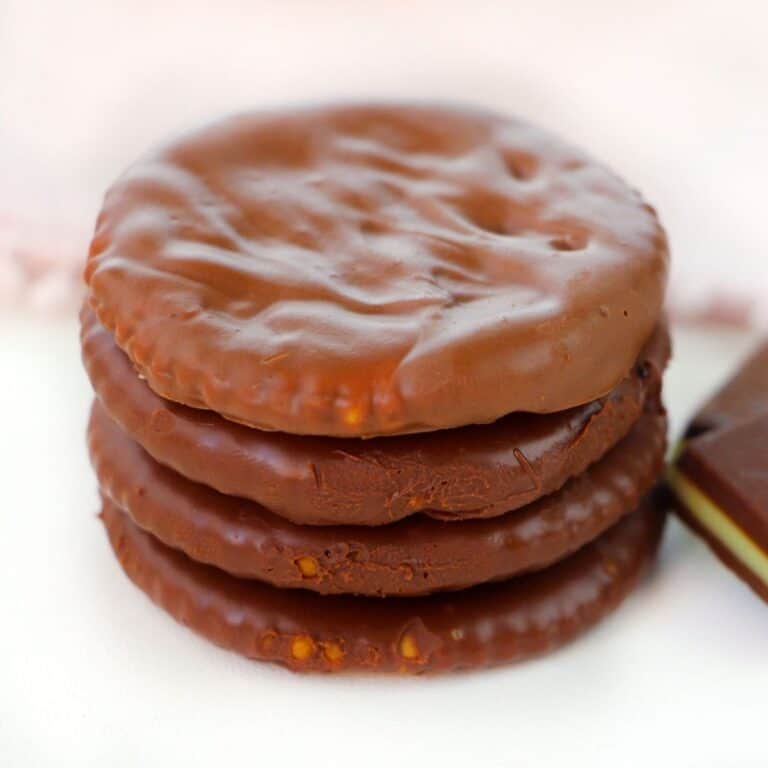 Recipe
Ritz Cracker Thin Mints
2-ingredient Ritz cracker thin mints are quick and easy mint chocolate no-bake treats, made with Andes Mints and Ritz crackers.
Ingredients
35 Ritz crackers about one sleeve
2 cups Andes Mints or baking chips*
Instructions
Line two cookie sheets with parchment paper and set aside.

Place the Andes mints in a microwave-safe bowl and heat for 30 seconds. Stir well and reheat 15 more seconds if needed. Continue stirring and heating in 15-second increments until melted.

Working with one cracker at a time, use a fork to dip each cracker in the melted chocolate and then allow the excess chocolate to drain off. Place the chocolate-covered cracker on the prepared cookie sheets.

Allow to set for 15-30 minutes before enjoying, or for 2 hours before storing.
Nutrition
Serving: 2g | Calories: 187kcal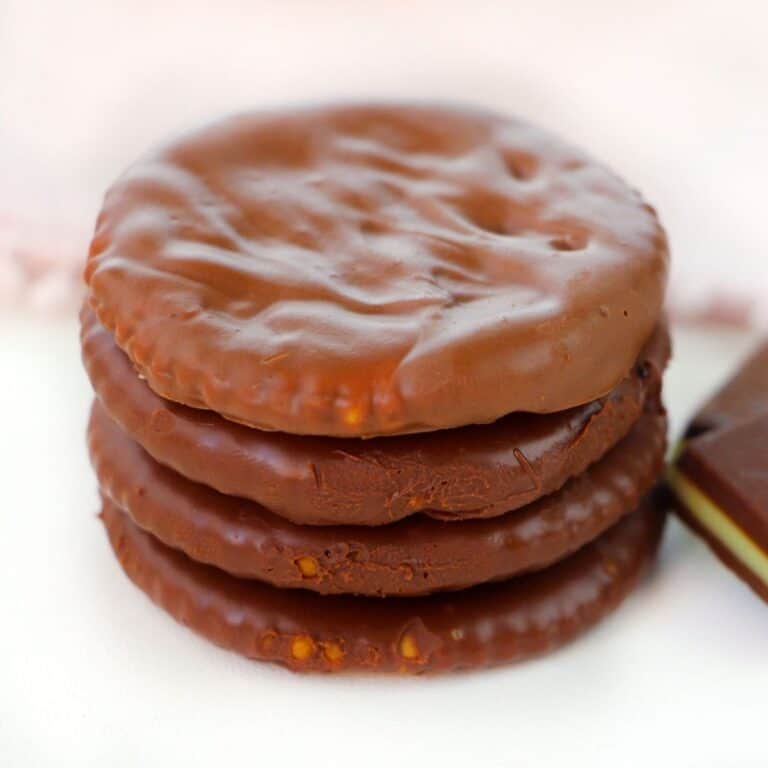 Did You Make This Recipe?
Share it with me on Instagram @crayonsandcravings and follow on Pinterest @crayonsandcravings for even more!
Pin for Later: