Wood Block Snowman Ornaments
Posts may contain affiliate links, meaning that I may earn a commission if you use a link provided.
These adorable wood block DIY snowman ornaments are easy and inexpensive to make using supplies from the Dollar Tree.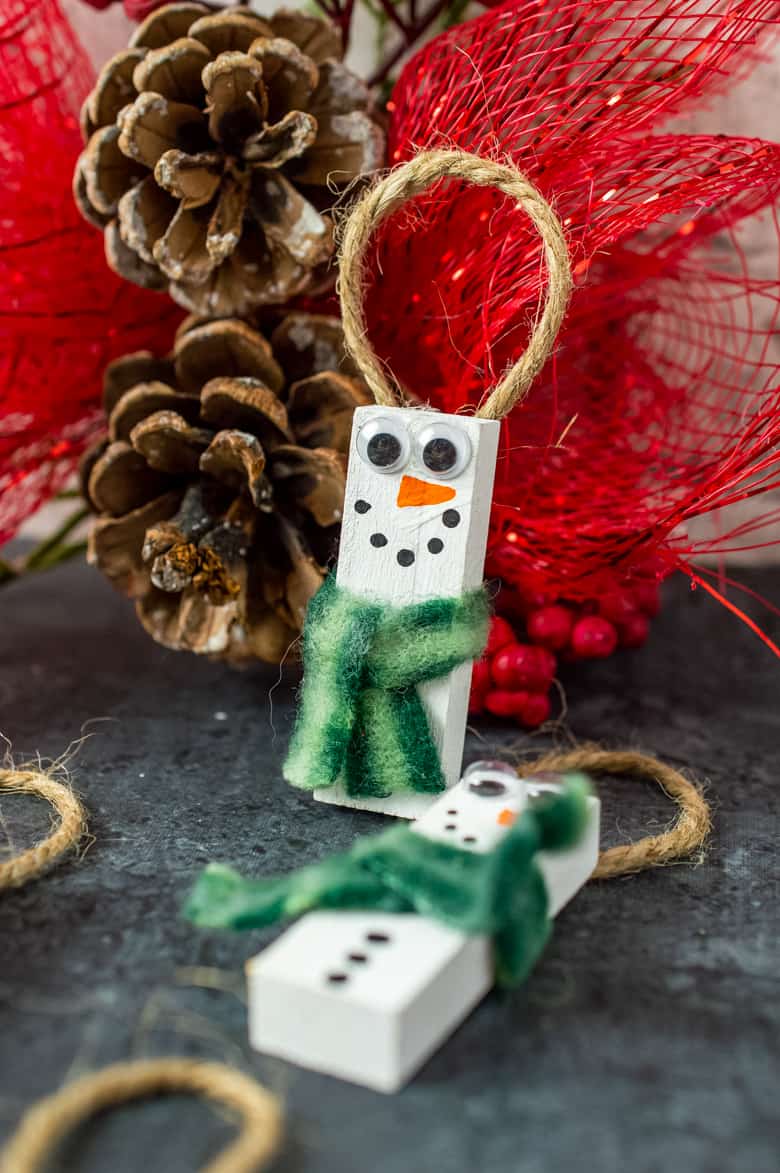 We have so much fun making DIY Christmas ornaments every year in the weeks leading up to Christmas.
This year I have falling in love this this DIY snowman ornament craft. Not only are the wood block ornaments easy to make, but they are sooooo cute. I can't get enough of them!
DIY Dollar Tree Snowman Ornaments
Like plastic ball snowman ornaments and wine cork snowmen ornaments, these wood block snowman ornaments make a great holiday craft project to make on your own or with the kids.
However, if you will be crafting with the kids, just be sure to assist with the hot glue and scissor steps, or complete those steps yourself.
The adorable snowman ornaments are also a cheap handmade Christmas gift idea. Gift them on their own or use ribbon to attach them to your Christmas gifts to dress up the packages with the cute snowmen ornaments.
Craft Materials and Supplies
Head to your local Dollar Tree and pick up the following items:
Tumbling Tower game
plaid scarf
twine
small googly eyes
foam paint brush
Note: Stock can vary from store to store and not every location may carry all the items. If your location doesn't have one of the items you may want to visit another nearby store to see if they have it.
You will also need a few items that you likely have in your craft stash:
hot glue gun and a glue stick
small paintbrush
scissors
white, black, and orange paint
Time to get crafty!
Now that you have everything that you need it is time to make these easy snowman Christmas ornaments.
Paint: Paint wood blocks white and allow to dry.
Cut scarf: Cut the scarf into small strips, approximately the length of 2 blocks and width of the skinny side of a block.
Add details: Glue on eyes and paint nose, mouth, and buttons.
Attach Scarf: Wrap scarf around the snowman and use hot glue to secure.
Hang: Glue a loop of twine to hack of ornament for hanging.
Craft Tips
Experiment with gluing the scarf on in different ways. Try tying it, gluing to a different side, or other ways of tying scarves.
No black paint? You can use a sharpie instead.
This craft calls for materials to make 8 ornaments, but feel free to make as many as you like. Each package of the tumbling tower game has 36 wood blocks in it so you can make a whole of ornaments on the cheap.
Can't find the tumbling tower game at the dollar store? Order it here or use mini jenga blocks.
Have extra wood blocks and twine after making these dollar tree jenga block ornaments? Use them to make these beautiful gift box ornaments!
How-To
How-To
Wood Block Snowman Ornaments
These adorable wood block DIY snowman ornaments are easy and inexpensive to make using supplies from the Dollar Tree.
Equipment
small foam paintbrush

small detail paintbrush

Scissors

hot glue gun with a glue stick
Instructions
Using the small foam brush, paint the blocks white. Let dry. Paint two coats if needed, drying in between coats.

While they are drying, cut 8 small pieces of the scarf to the size you would like. (About the length of 2 blocks and the width of the skinner side of a block.)

Glue the eyes at the top of the block. Using the detail brush, paint a small orange triangle for the nose and small black dots for the mouth. At the bottom, paint 3 dots for the buttons. Let dry.

After the blocks have dried, add a dot of glue to the middle of the back of the ornament and secure the scarf. Wrap around and glue in the front. Fold the scarf and secure with glue.

Cut 8 pieces of twine about 2 inches. Make a loop and glue to the top of the back of the ornament.
Notes
You can use a black marker instead of paint to add the buttons and a mouth. If you have trouble finding the tumbling tower blocks you can use mini jenga game blocks instead.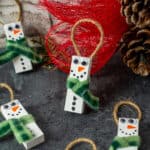 Did You Make This Craft?
Share it with me on Instagram @crayonsandcravings and follow on Pinterest @crayonsandcravings for even more!
Pin for Later: