Posts may contain affiliate links, meaning that I may earn a commission if you use a link provided.
Make light and crisp peanut brittle in minutes! This microwave peanut brittle recipe melts in your mouth, and the caramel flavor with a hint of salt is just scrumptious. It makes the perfect holiday gift for friends and family!
Peanut Brittle is always a favorite around the holidays and this microwave version is my favorite! It comes together quickly in the microwave with no standing over a stove stirring, and no need for a candy thermometer. This is so good and I love making lots of batches for gifts!
This Microwave Peanut Brittle melts in your mouth. It is lighter and crispier than traditional peanut brittle. The peanuts taste nice and roasted, and the brittle has a nice caramel flavor with a hint of salt. It all comes together to make the perfect candy.
Even if making homemade candy isn't normally your forte, this recipe is foolproof and so much easier than old fashioned peanut brittle. Plus, you only need 6 basic ingredients, many of which you already have on hand.
Peanut butter fanatics will also love my traditional homemade nut brittle made with both peanuts and almonds. Or try these crockpot peanut clusters— perfect if you're craving that classic chocolate and peanut butter flavor. Polar bear claws are a great option as well!
For now, let's get started on the ultimate sweet, salty, crunchy peanut brittle recipe. It's sure to become a family favorite.
Ingredients
This section includes ingredient notes and substitution options. Get all measurements, ingredients, and instructions in the printable recipe card at the end of this post.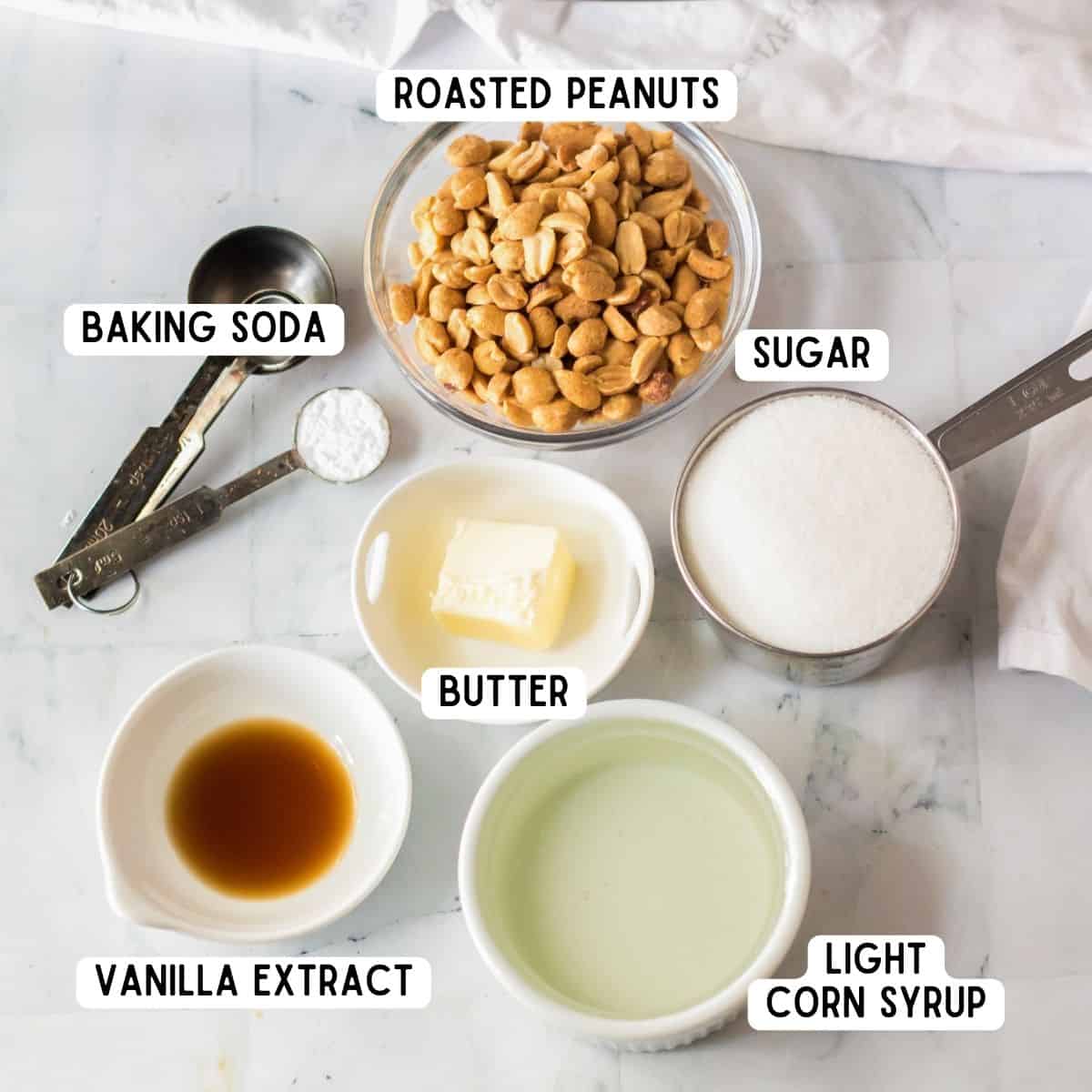 Salty Peanuts — Dry roasted peanuts or cocktail peanuts are fine, but you have to make sure they're salted for that classic sweet and salty flavor combo. If you only have unsalted peanuts on hand, add 1/4 teaspoon salt at the end when you add the baking soda.
Sugar — Use regular granulated white sugar to sweeten things up and make the sugar syrup required for hard candy.
Corn Syrup — Light corn syrup works best. Dark corn syrup is fine, too, but it has a more robust molasses flavor.
Butter — Salted or unsalted butter works great because your nuts are already salted. However, if your butter and nuts are unsalted, read the note above about adding salt along with the baking soda at the end of cooking.
Vanilla — Pure vanilla extract adds sweetness and flavor complexity.
Baking Soda — Believe it or not, this is one of the key ingredients! The air bubbles created by the baking soda help peanut brittle get airy and crispy for the perfect texture.
Equipment You'll Need to Make Microwavable Peanut Brittle
Gather your kitchen tools to get started on this easy candy recipe! Grab the following:
Rimmed baking sheet
Parchment paper
Measuring cups and spoons
Wooden spoon
Large microwave-safe glass bowl
Airtight container for storage
How to Make Peanut Brittle in the Microwave
This section shows you how to make the recipe with step-by-step photos and instructions. For the full printable recipe, see the recipe card below.
Important Safety Tip: Dishes can get very hot in the microwave, so take extra care and precaution when making this microwave candy. Use pot holders or oven mitts to remove the bowl from the microwave each time to avoid burning your fingers. Also, make sure the bowl you're using is safe for the microwave.
Step 1: Line a rimmed cookie sheet with parchment paper and set it aside.
Step 2: Grab a large glass microwave-safe bowl, and add the sugar and corn syrup. Stir to combine. Microwave the sugar mixture for 3 minutes. Do not stir during the cooking time.
Step 3: Stir in the peanuts, and put the bowl back in the microwave for another 3 minutes.
Step 4: Remove the bowl, add the butter and vanilla extract, and stir. Microwave again for 2 minutes.
Step 5: Remove the bowl carefully, and immediately stir in the baking soda. The mixture will become foamy, which is exactly what you want!
Step 6: Pour the foamy brittle mixture onto the prepared baking sheet. Do not try to spread it. Let the brittle spread on its own.
Step 7: Let it sit at room temperature for 1 hour or until set. Once the peanut brittle is set, break the candy into pieces using your hands or a sharp knife. Enjoy!
Serving Suggestions
This delicious treat goes beautifully with any of our Christmas cookies for the perfect homemade holiday gift. Put them in a pretty holiday tin like these disposable cookie tins that are just the right size for individual gift giving this Christmas season.
Storage and Freezing
Room temperature: Store peanut brittle in an airtight container at room temperature for up to 2 months. It'll get sticky if left out too long exposed to the air.
Freezer: Place pieces of the candy in a freezer-safe container or bag and freeze for up to 3 months. Thaw in the refrigerator overnight, and then let it come to room temperature for an hour or so before serving.
Peanut Brittle Tips and Tricks
Cooking times may vary slightly depending on the wattage of your microwave. The recipe works perfectly using my 1000-watt Whirlpool microwave. Lower-wattage microwaves may need a little additional time, while higher-wattage microwaves may need less. Try a test run to determine the perfect settings for your particular microwave.
If you're tempted to spread the peanut brittle, don't! 🙂 Just pour it out onto the parchment paper. This leaves most of the air bubbles intact, making it light and crispy.
For thinner peanut brittle without spreading and ruining the air bubbles, keep your cookie sheet warm in the oven at around 200°F. This will help the brittle mixture spread on its own.
To prevent the mixture from sticking to your bowl and spoon or spatula, spray them lightly with cooking spray before you start.
Use a greased baking sheet if you don't have parchment paper.
Additions and Variations
Swap out the peanuts. Instead of peanuts, try cashews or almonds in this easy recipe!
Dip in chocolate. Have you ever had chocolate-covered peanut brittle? It's heavenly! You'll love making this treat extra sweet.
Chop the nuts. If you don't like large pieces of nuts in your brittle candy, chop the nuts instead. It'll make it easier to distribute them more evenly throughout the candy.
Peanut Brittle Microwave Recipe FAQ
Why is my microwave peanut brittle too hard?
The temperature may have gotten too high during cooking. Next time, reduce the time for each cooking step by about 15-30 seconds next time to see if that helps.
Why did my peanut brittle turn out chewy?
This happens if the sugar syrup doesn't reach the hard crack stage, which occurs at 300°F – 310°F. If you're using a small microwave, you may need to add 30 seconds or so to each cooking segment and/or make sure the microwave is on high power.
How long does it take for peanut brittle to harden?
While it usually takes only 20-30 minutes, I recommend letting it sit for about 60 minutes just in case, especially if you're in a more humid climate. This peanut brittle recipe is ready to enjoy in about an hour.
How long does homemade peanut brittle last at room temperature?
If stored in an airtight container, it'll last for up to 2 months. Do not store until the candy has completely cooled and set up.
Why do you add baking soda to peanut brittle?
The baking soda reacts to create lots of tiny air bubbles in the sugar syrup mixture. This creates a light and crispy porous texture without being too hard to eat. Make sure you're using baking soda and not baking powder.
Why is my peanut brittle so dark?
The sugar turns a light golden brown or amber color as it cooks, which is the point when it's done. If yours has turned a dark brown, this means the sugar has burned.
Can I make peanut brittle on a humid day?
If you can avoid humid days, I recommend waiting for a dry, sunny day because peanut brittle tends to draw moisture from the environment.
More Easy Peanut Butter Treats
Looking for more yummy peanut butter goodies to go with this microwave peanut brittle recipe for the holiday season? Try these!
Recipe
Recipe
Microwave Peanut Brittle
Crispy, crunchy microwave peanut brittle is the perfect treat for gift-giving. You only need 6 simple ingredients for this classic sweet and salty flavor combo.
Ingredients
1 ½ cups dry roasted or cocktail peanuts
1 cup granulated sugar
½ cup light corn syrup
1 Tablespoon butter
1 teaspoon vanilla extract
1 teaspoon baking soda
Instructions
Line a baking sheet with parchment paper and set aside.

In a large, microwave-safe glass bowl combine the sugar and corn syrup. Microwave for 3 minutes.

Stir in the peanuts and microwave for another 3 minutes.

Add the butter and vanilla extract; stir. Microwave for 2 minutes.

Remove carefully and immediately stir in the baking soda. It will become foamy.

Pour out onto the parchment-lined cookie sheet. Do not try to spread.

Let sit at room temperature for 1 hour, or until set.

Once set, break the candy into pieces and enjoy.
Notes
Dry roasted or cocktail peanuts work in this recipe — just make sure they're salted.
Since microwave wattage and temperatures vary, you may need to experiment with yours to find out if you need to cook your peanut brittle for a longer or shorter time. This recipe was made using a 1000W microwave.
You can try subbing any nut for the peanuts, such as cashews or almonds. Just chop larger nuts into bite-sized pieces.
Store in an airtight container at room temperature.
Nutrition
Serving: 1g | Calories: 171kcal
Did You Make This Recipe?
Share it with me on Instagram @crayonsandcravings and follow on Pinterest @crayonsandcravings for even more!