Posts may contain affiliate links, meaning that I may earn a commission if you use a link provided.
These adorable reindeer brownies are an easy, festive way to doctor up your favorite brownie mix for Christmas. With pretzel antlers and a red candy nose, they're so much fun to make and even more fun to eat!
Like reindeer bark, reindeer cupcakes, reindeer peanut butter cookies, and reindeer celery sticks, this easy brownie reindeer recipe is the perfect treat to make this holiday season. Whether you want to serve them at a holiday party or even leave some out for Santa, these Rudolph brownies are sure to put a smile on every face that takes a bite!
What I love most about these holiday reindeer brownies is how easy they are to make. With just a boxed brownie mix and a couple of ingredients for decorations, you are ready to start baking. And with only 15 minutes of prep, you'll be enjoying the delicious holiday treats in no time!
The kids can absolutely help in the kitchen with this Christmas brownie recipe. They can add ingredients to the bowl, stir the brownie batter, and–the best part–help decorate the brownies to look like Rudolph the Red-Nosed Reindeer!
You'll Love This Recipe Because It's…
Quick and easy to make.
Made with simple, everyday household ingredients.
Completely customizable.
Versatile—serve at a Christmas party, to your family, or even to Santa
Ingredient Notes
This section includes ingredient notes and substitution options. Get all measurements, ingredients, and instructions in the printable recipe card at the end of this post.
Chocolate Brownie Mix — I like to take the easy way and use a box mix to make super easy brownies. Of course, if you're feeling fancy, you can make your brownies from scratch– there is no denying homemade brownies taste better!
Ingredients called for on box of brownies — Usually vegetable oil and egg.
Pretzel Twists — Add a nice salty crunch and act as the antlers for the reindeer.
M&Ms — Red M&Ms will look like Rudolph's red nose. You can use brown M&Ms too, to represent Santa's other reindeer.
Candy Eyes — Bring these brownies to life!
Chocolate Chips — Your favorite chocolate chips, melted, act as the "glue" for all your decorations. Chocolate frosting could be used as well.
How to Make Christmas Reindeer Brownies
This section shows you how to make the recipe with step-by-step photos and instructions. For the full printable recipe, see the recipe card below.
Step 1: Preheat the oven. Prepare your brownie mix according to the box's instructions.
Step 2: Use non-stick cooking spray to grease a 9-inch springform. Be sure to grease the bottom of the pan and up the sides of pan.
Step 3: Pour batter into the prepared pan and bake according to the package instructions. Let the brownies completely cool in the pan. Then, release the brownies from the pan.
Step 4: Use a sharp knife to slice the brownies into 8 equal triangular slices.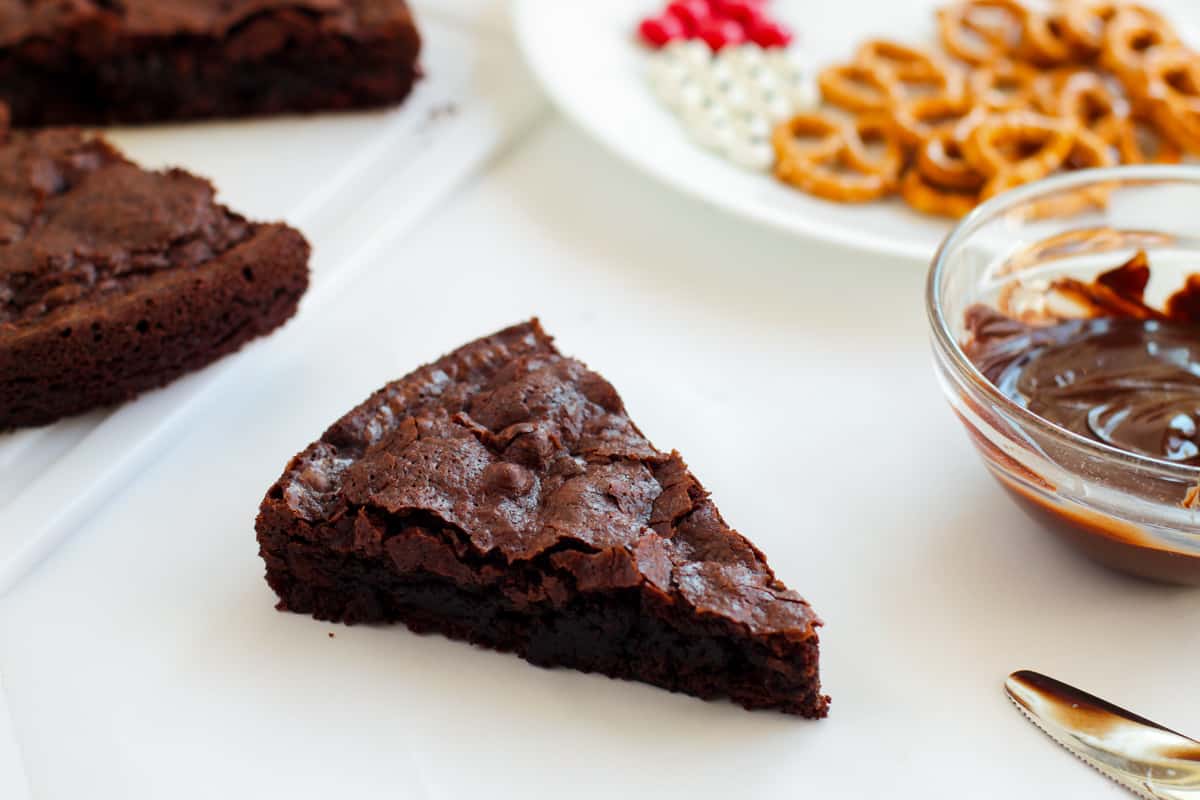 Step 5: In a heat-safe bowl, melt the chocolate chips in 30-second increments, stirring after each.
Step 6: Use the melted chocolate as the "glue" to attach the pretzels, edible eyes, and M&Ms onto the brownies to create each reindeer face.
Step 7: Let the chocolate harden before serving and enjoying!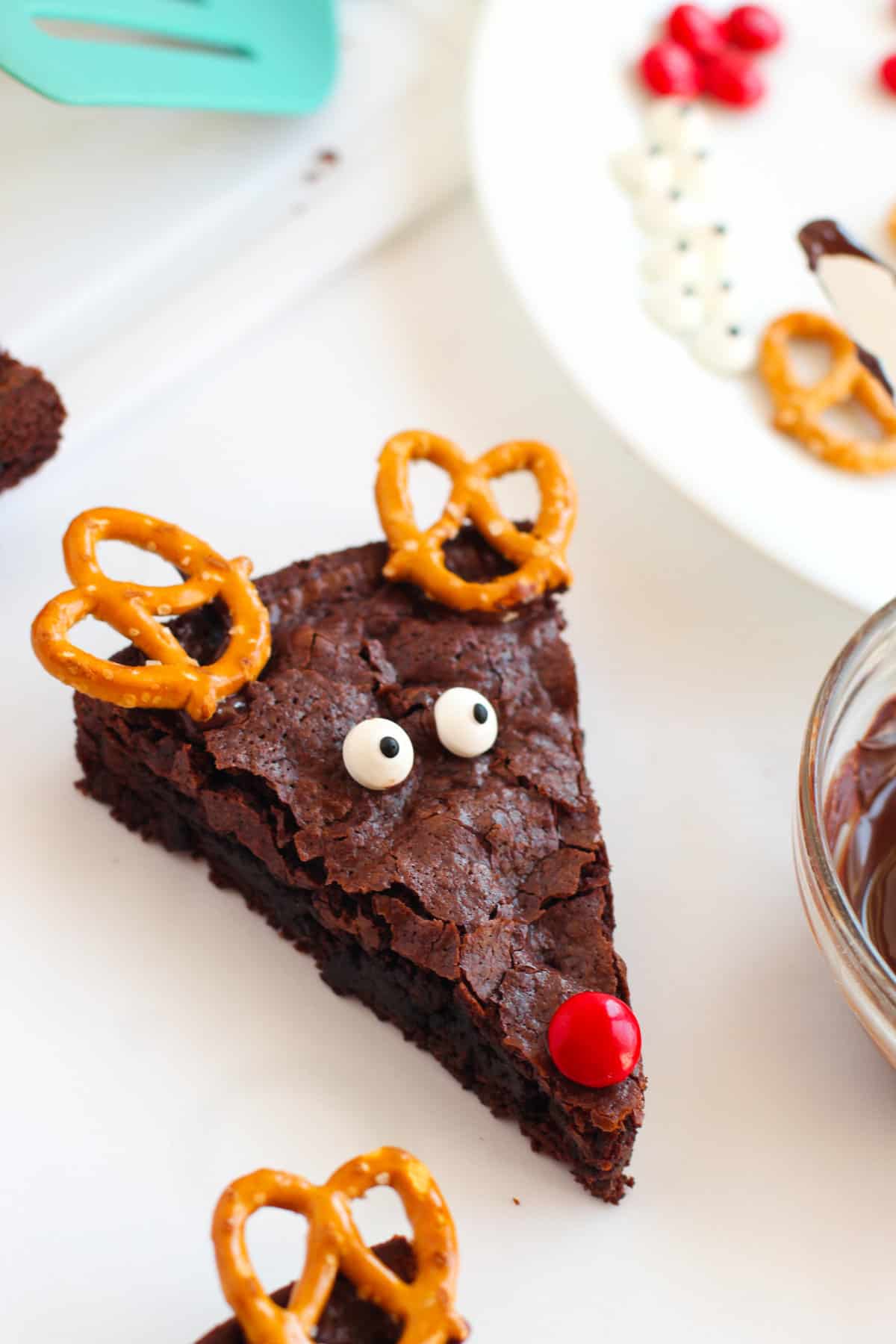 Storage
Leftover Rudolph brownies can be stored covered or in an airtight container at room temperature for up to 4 days. If storing them in layers, separate each layer of brownies with parchment paper or wax paper. For longer storage, refrigerate the brownies for up to 1 week.
Brownies freeze really well when wrapped tightly with plastic wrap. However, once cut into triangles and decorated it would be difficult to properly wrap these specific brownies. If you want to freeze the brownies I suggest freezing the entire batch of brownies before slicing and decorating. Wrap the brownies rightly with plastic wrap and freeze for up to 3 months.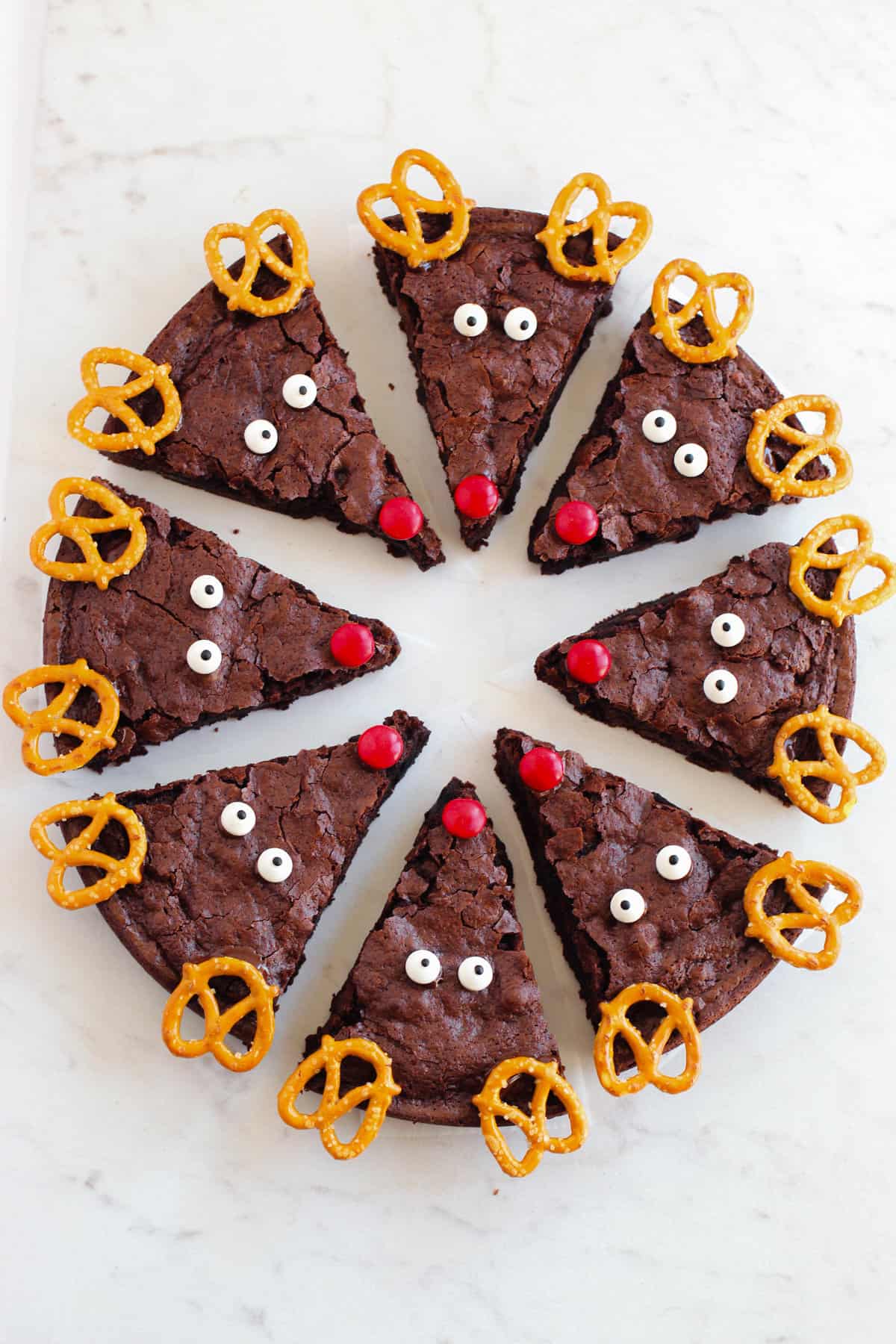 Expert Tips and Tricks
If you can't find candy eyes at your local grocery store, you can make candy eyeballs at home by adding a small dot of chocolate frosting to white M&Ms.
To get the cleanest cuts for your reindeer brownies, use a sharp chef's knife, chill the brownies, and wipe off the knife between each cut.
Use a colored frosting to give your reindeer a scarf or a collar.
Frequently Asked Questions
How can you doctor up a brownie mix for Christmas?
Try adding a few drops of peppermint extract to the batter for peppermint flavored brownies. Or, stir some chocolate chips, chopped walnuts, chopped pecans, or crushed Andes mints into the batter for the perfect Christmas brownies.
Is it better to cut brownies when they're hot or cold?
Cold! Always allow your brownies to cool fully before cutting them. Better yet, place the brownies in the fridge to chill for a bit before slicing. Cold brownies will have even cleaner cuts.
What can be used besides a springform pan?
If you don't have a springform pan, try using a nonstick 9" pan or a scone pan.
More Fun Christmas Treats for Kids
Recipe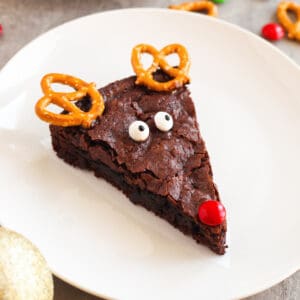 Recipe
Reindeer Brownies
Reindeer brownies are a quick, easy, and festive way to dress up brownies from a boxed mix for Christmas.
Ingredients
1 box of brownie mix plus required oil, water, and eggs
16 pretzel twists
16 candy eyes
8 red M&M candies
1 Tablespoon chocolate chips
Instructions
Preheat the oven according to the directions on the box of brownie mix. Spray a round springform pan with non-stick cooking spray and set aside.

Prepare the brownie batter and bake according to the directions on the box and until a toothpick inserted into the center of the pan comes out clean or with a few crumbs (not with wet batter). Place the brownie pan on a wire rack and allow the brownies to cool completely.

Once cooled, carefully run a thin knife or rubber spatula around the edge of the pan before releasing the brownies. Use a sharp knife to slice the brownies into 8 equal slices (like a pie).

Place the chocolate chips in a microwave-safe bowl. Microwave for 30 seconds, stir, and microwave for an additional 30 seconds as needed, until the chocolate is smooth and melted.

Use a butter knife to dab a bit of melted chocolate onto the back of two candy eyes and place them on a brownie slice.

Spread a bit of melted chocolate onto the bottoms of two pretzel twists and place them onto the top corners of the brownie slice to at as the reindeer's antlers.

For the reindeer's nose, add a small dot of chocolate to each m&m and place them on the tip of the brownie slices.

Allow all the chocolate to set then serve and enjoy.
Notes
Store tightly covered or in an airtight container at room temperature for up to 4 days. If storing in layers, separate each layer with parchment or wax paper. For longer storage, refrigerate the brownies for up to 1 week. To get the cleanest cuts possible, chill the brownies in the fridge for an hour or two before slicing, use a sharp chef's knife, and wipe off the knife between each cut.
Nutrition
Serving: 1g | Calories: 423kcal
Did You Make This Recipe?
Share it with me on Instagram @crayonsandcravings and follow on Pinterest @crayonsandcravings for even more!