Fruit Cocktail Cake Recipe
Posts may contain affiliate links, meaning that I may earn a commission if you use a link provided.
This easy fruit cocktail cake recipe is a total blast from the past! Just like Grandma used to make, this easy dessert is packed with coconut, pecans, and sweet fruit cocktail.
Vintage recipe lovers, you have to try this homemade fruit cocktail cake. It's straight out of grandma's recipe box and will bring back a flood of childhood memories with your first bite.
And while this cake is made from scratch, it's not intimidating at all. You'll use super simple ingredients to create a super moist, delicious cake that everyone loves.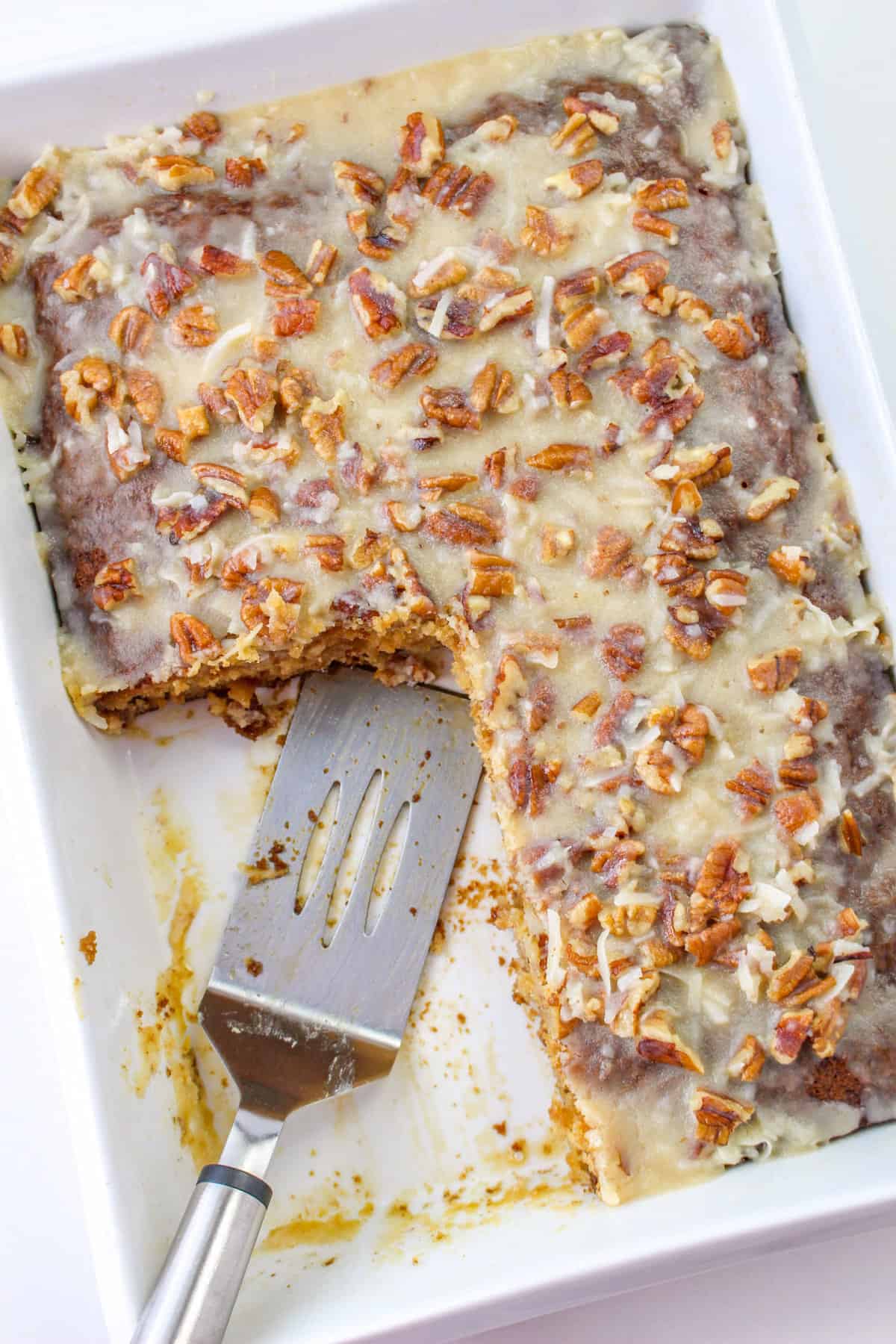 Fruit cocktail cake is even better the next day and the next. Serve it warmed up, chilled, or at room temperature. You really can't go wrong. It's the perfect dessert to take along to a potluck, a family reunion, or a church event.
For more foolproof old-fashioned recipes, try my Strawberry Pretzel Salad. It's such a refreshing treat for spring and summer! Or how about a batch of Old Fashioned Peanut Butter Cookies for the church bake sale? They'll go fast!
For now, let's make a vintage fruit cocktail cake.
Ingredients
This section includes ingredient notes and substitution options. Get all measurements, ingredients, and instructions in the printable recipe card at the end of this post.
Cake Ingredients:
Flour — I use all-purpose flour for this recipe. If you're using self-rising flour, omit the baking soda and salt because self-rising flour already has those components.
Granulated Sugar — To sweeten things up. You can use all brown sugar if you prefer.
Brown Sugar — Light brown sugar gives the cake a little bit of that molasses flavor. Dark brown sugar works, too.
Baking Soda — This ingredient is important if you're using all-purpose flour. It helps the cake rise.
Salt — Salt reacts with the baking soda to leaven the cake.
Vanilla Extract — adds a hint of sweet vanilla flavor
Eggs — You'll need two large eggs; they help provide structure for baked goods. You may substitute applesauce for the eggs if your family is egg-free.
Fruit Cocktail — Grab a can of fruit cocktail in heavy syrup, not the kind in fruit juices. The syrup is important to the baking process.
Shredded Coconut — I use sweetened shredded coconut, but you can use unsweetened if you want to dial back the sweetness a little.
Frosting ingredients:
Butter — Use unsalted butter (real butter — not margarine) for the frosting. It doesn't matter if it isn't softened; you'll be cooking it along with the sugar and evaporated milk anyway.
Granulated Sugar — To sweeten up the frosting.
Evaporated Milk — This makes the glaze creamy and delicious!
Vanilla Extract — Pure vanilla extract provides richness and flavor to this simple frosting.
Pecans — Chopped pecans are delicious when paired with the glaze. Sub walnuts if you like them better.
Shredded Coconut — Yes, you need more coconut here! It adds sweetness, texture, and looks so pretty on top of the cake.
Equipment You'll Need
Mixing bowl
9×13 cake pan
2-qt saucepan
Whisk
Wire rack
Wooden spoon
How to Make Canned Fruit Cocktail Cake
This section shows you how to make the recipe with step-by-step photos and instructions. For the full printable recipe, see the recipe card below.
Step 1: Set your oven to 350°F to preheat. Spray a 9×13 cake pan with cooking spray, and set it aside.
Step 2: Grab a large bowl, and whisk together the dry ingredients for the cake (flour, granulated sugar, brown sugar, baking soda, and salt).
Step 3: Add the wet ingredients (vanilla, eggs, and fruit cocktail with the syrup) to the bowl. Stir everything until it's completely blended.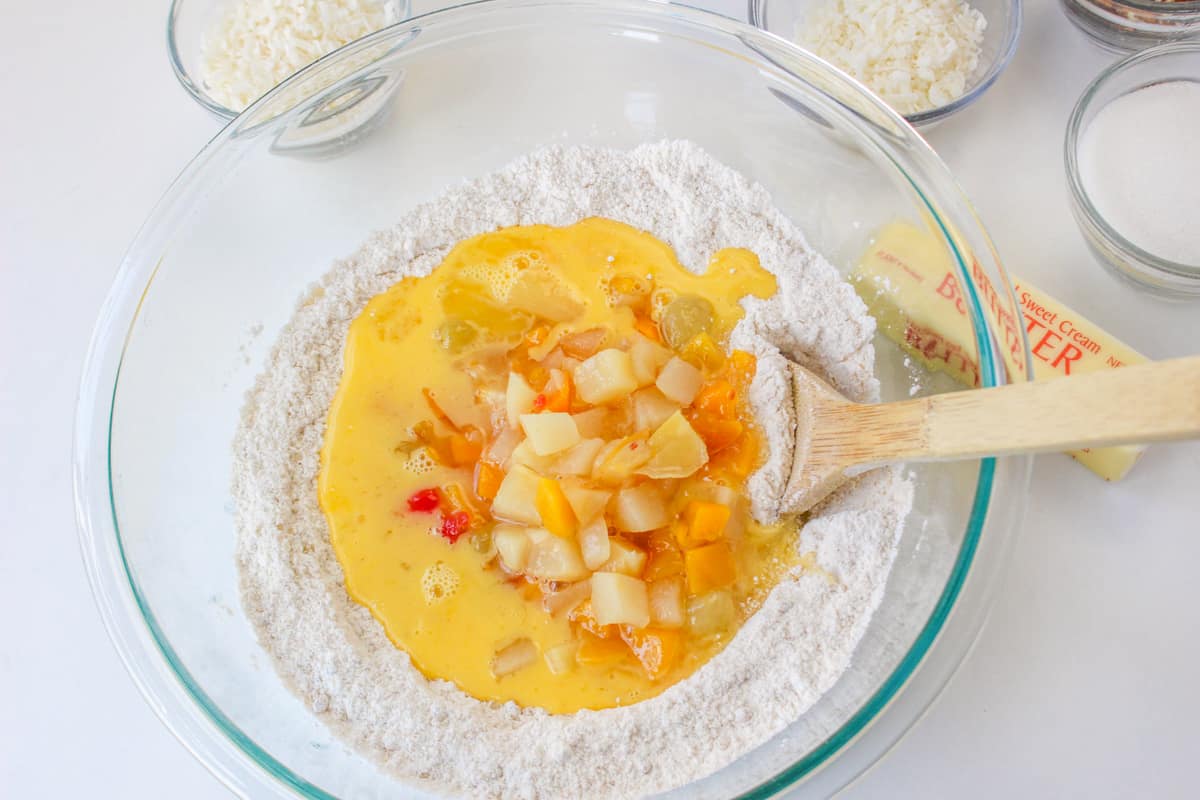 Step 4: Gently fold in the shredded coconut.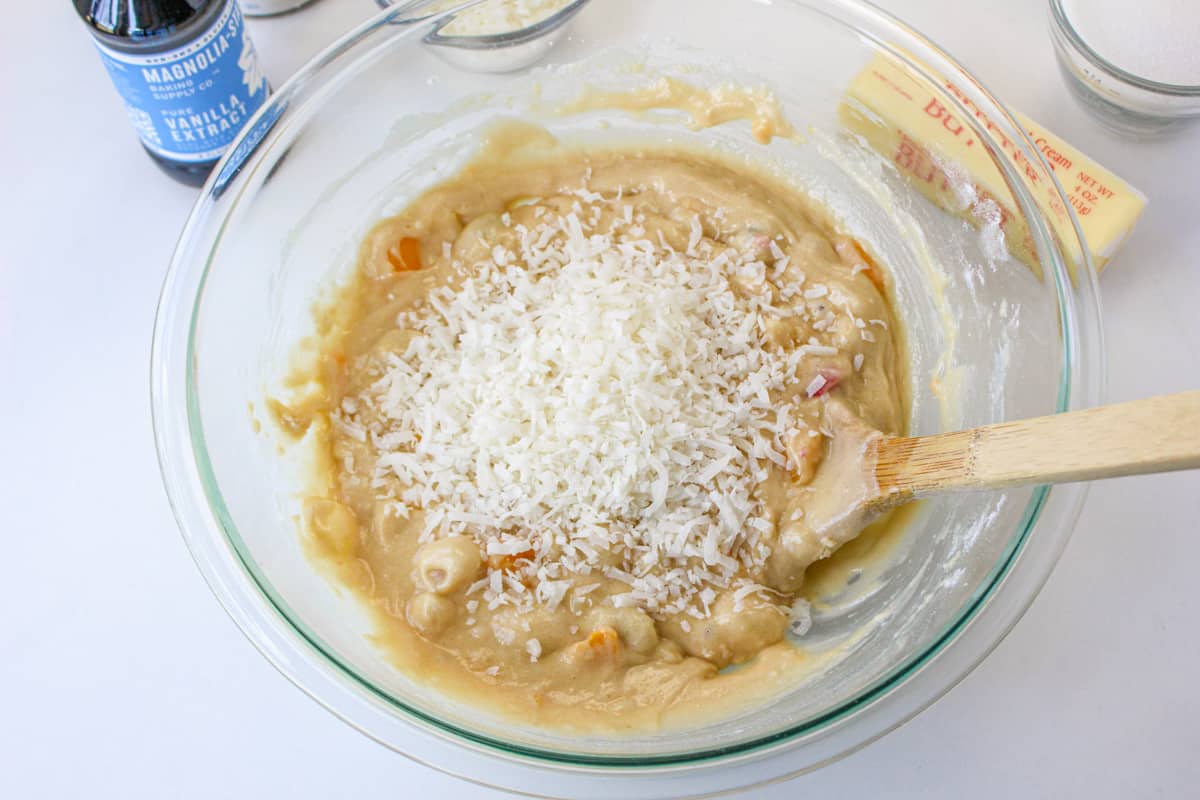 Step 5: Pour batter into the greased baking dish, spreading the batter evenly. Bake the cake for 30 minutes or until golden brown and a toothpick inserted into the center comes out clean or with a few crumbs.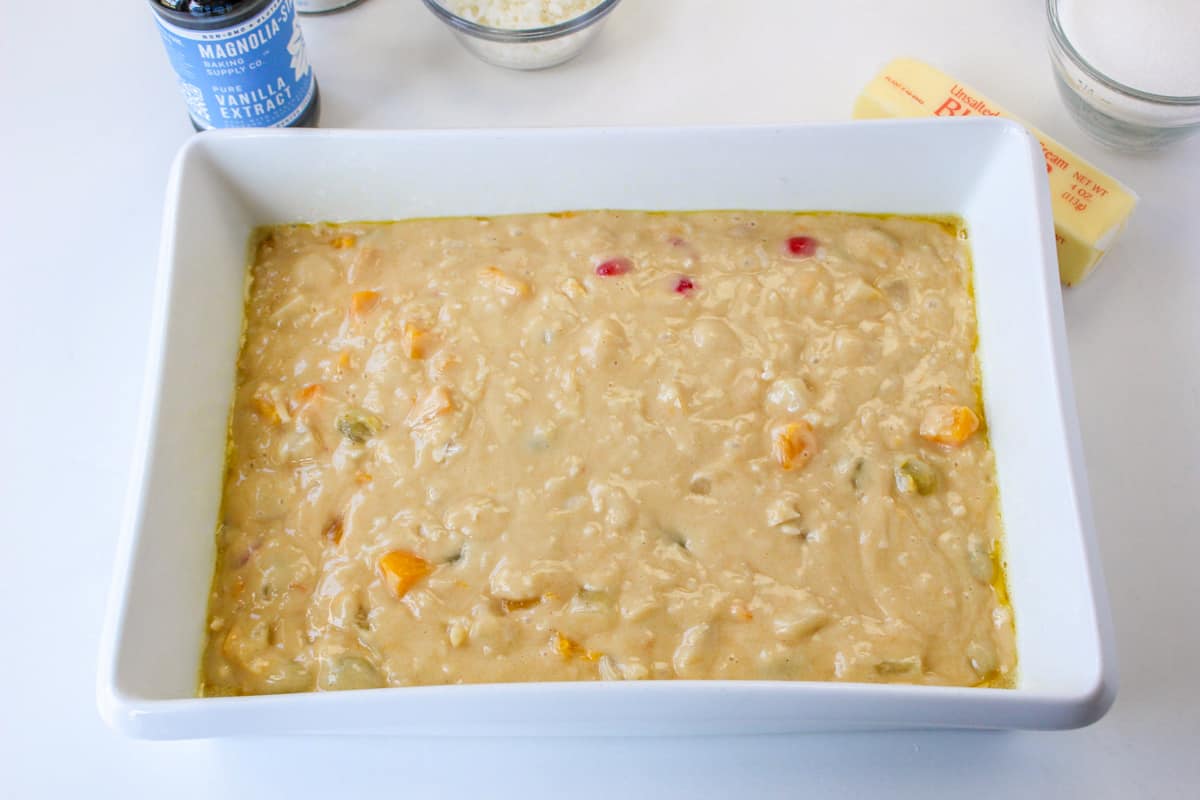 Step 6: Remove the cake from the oven and place it on a wire rack to cool.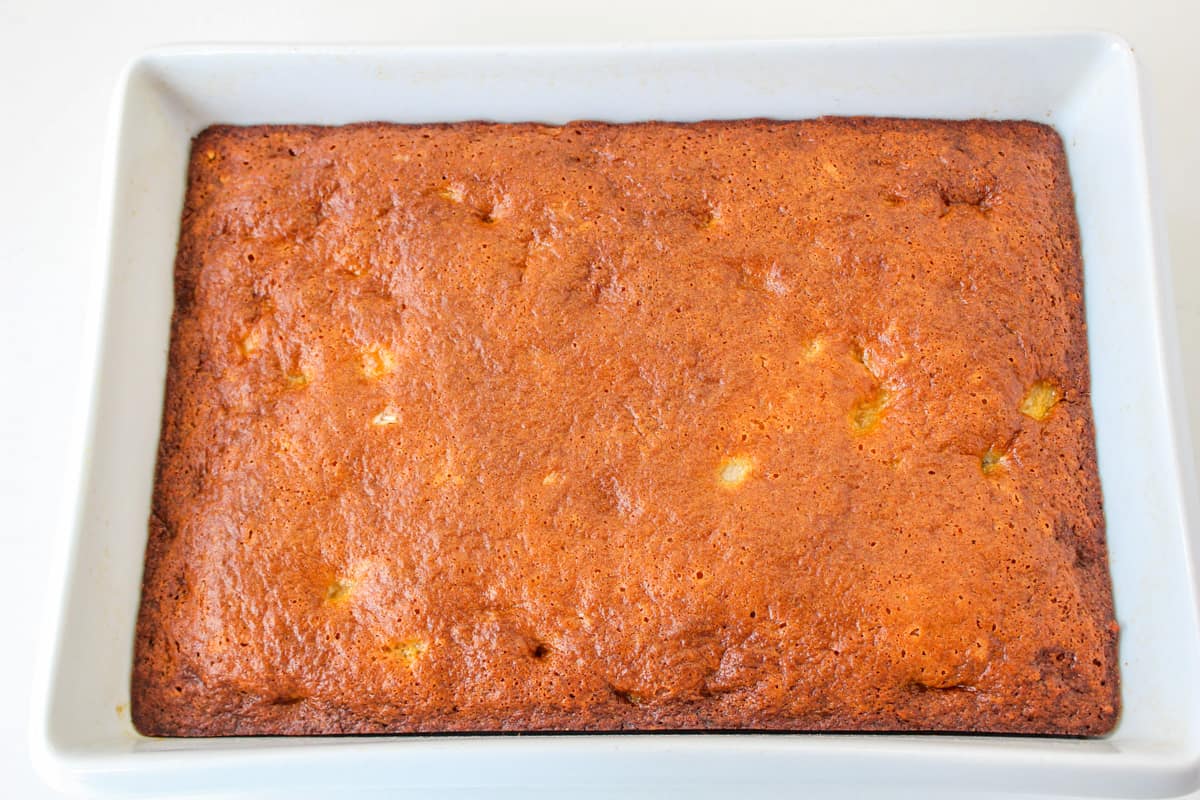 Step 7: To make the frosting, add the butter, sugar, and evaporated milk to a 2-quart saucepan. Bring the mixture to a boil over medium heat, stirring frequently. Continue boiling for two minutes. Remove the frosting from the heat and stir in the vanilla extract. Add the pecans and coconut, stirring until just combined.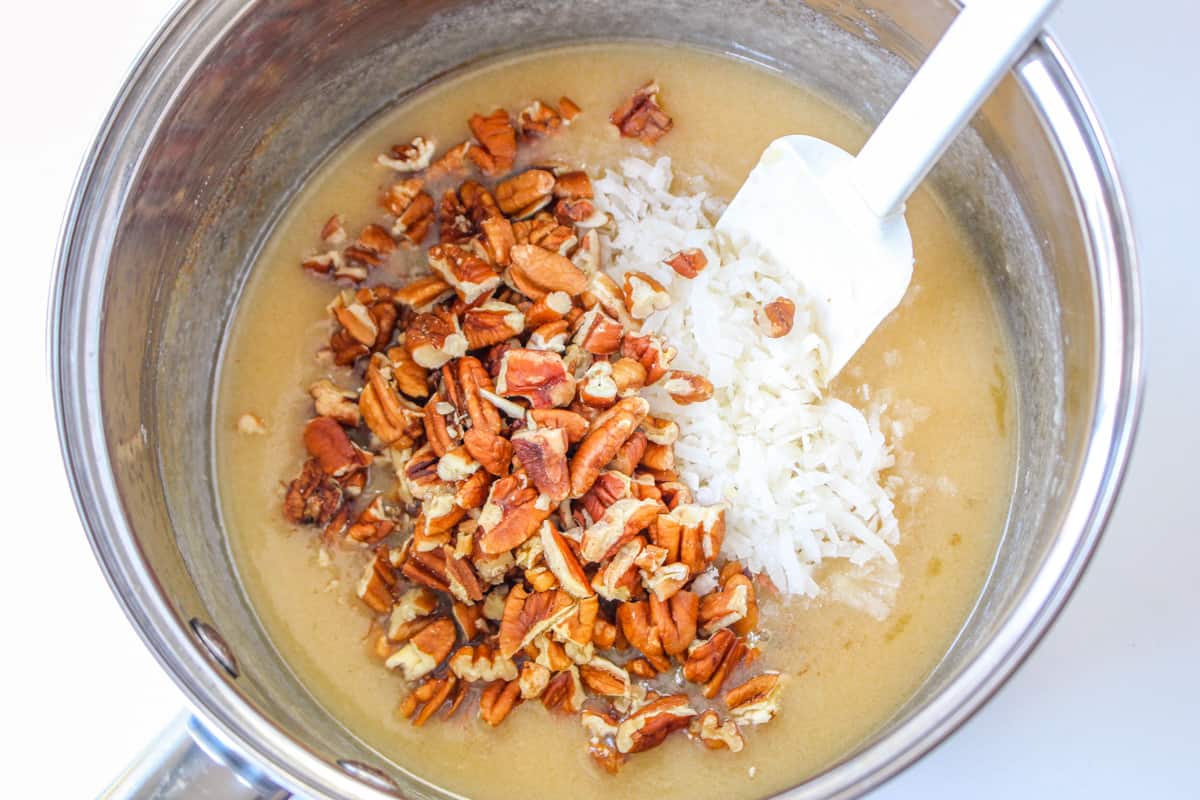 Step 8: Pour the frosting over the warm cake, spreading evenly.
Step 9: Let the cake cool to room temperature, about 2-3 hours. Then cover the cake and refrigerate until serving.
Step 10: Slice the cake and serve it with whipped cream, an extra sprinkle of shredded coconut, more chopped pecans, and/or a couple of maraschino cherries, if desired.
Serving Suggestions
The great thing about fruit cocktail coconut cake is that you can serve it chilled, at room temperature, or warmed up. It's great any way you slice it (pun intended). Pour yourself a cup of coffee and enjoy a big slice.
It's delicious just as it is, but feel free to add whipped cream, extra coconut or pecans, or maraschino cherries. Some like the cake warm with vanilla ice cream or custard on the side. Yum!
Storage and Freezing
Refrigerator: Keep this old fashioned fruit cocktail cake in the refrigerator tightly covered with plastic wrap or in an airtight container for up to 3 days.
Freezer: You can freeze this easy cake recipe for up to 3 months or longer. Make sure it's tightly wrapped or sealed in a freezer-safe container to prevent freezer burn.
Thawing: Thaw cake slices in the refrigerator overnight. You can heat it in the microwave once thawed if you prefer your 1960's fruit cocktail cake warm.
Fruit Cocktail Cake Recipe Tips and Tricks
Ditch the mixer for this fruit cake recipe. You don't need a hand mixer or stand mixer. In fact, stirring the ingredients too much may make the cake too dense. Just use your whisk or spoon and a little elbow grease to get the texture of this moist cake just right!
Toast the pecans to elevate the flavor of this cake even more. Toast them before chopping in a single layer in a 350°F oven for about 7 to 10 minutes. Watch them carefully to prevent burning.
Reduce the cooking time by about 5 minutes if you're using a dark cake pan. Check it with a toothpick about 25 minutes into baking.
Pour the frosting over the cake while it's still warm. It's more of a glaze that's packed with pecans and coconut. Spread it evenly and then let it finish cooling with the cake.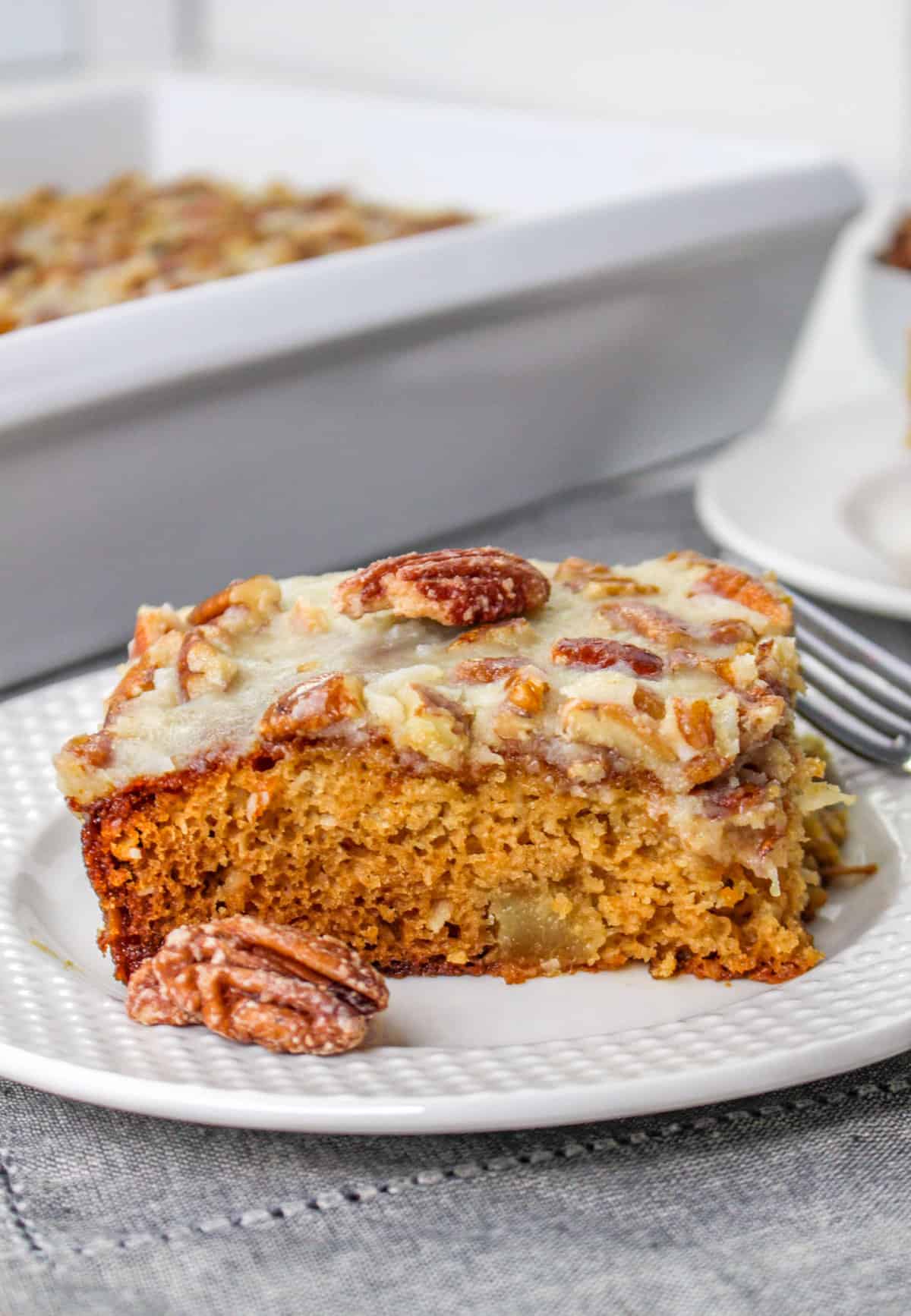 Additions and Variations
Add grated carrots. The sweetness of carrots goes perfectly with this fruit cocktail cake. Plus, if you're not a fan of coconut, this can make a tasty substitute.
Go egg-less. If you need to omit eggs, replace each egg with 1/4 cup applesauce instead.
Use all white sugar in the cake batter. You can substitute th brown sugar with extra granulated sugar if you prefer.
Swap out the nuts. Don't like pecans? No problem! Try chopped walnuts instead.
Serve warm cake. While I prefer it chilled, many enjoy this cake warmed up in the microwave.
Homemade Fruit Cocktail Cake FAQ
Can I make fruit cocktail cake without coconut?
Yes, you can. While most recipes call for coconut, you can easily omit it from the cake batter and the frosting if it's not your thing.
Can I use fruit cocktail in juice instead of heavy syrup?
No, unfortunately you can't. The fruit cocktail goes in undrained, and the heavy syrup is important for the texture of the cake.
Do I have to refrigerate fruit cocktail cake?
Some like fruit cocktail cake at room temperature while others (like me) prefer it kept in the refrigerator. I have heard of people storing the cake at room temperature for a couple of days.
Can I use box cake mix instead of making this from scratch?
You probably could use a boxed cake mix (like a yellow cake mix), but why would you want to? This isn't a finicky cake recipe that requires you lugging out your stand mixer. It only takes a few minutes to combine the simple ingredients and get the cake batter ready. You'll be glad you put in the extra effort to make it from scratch!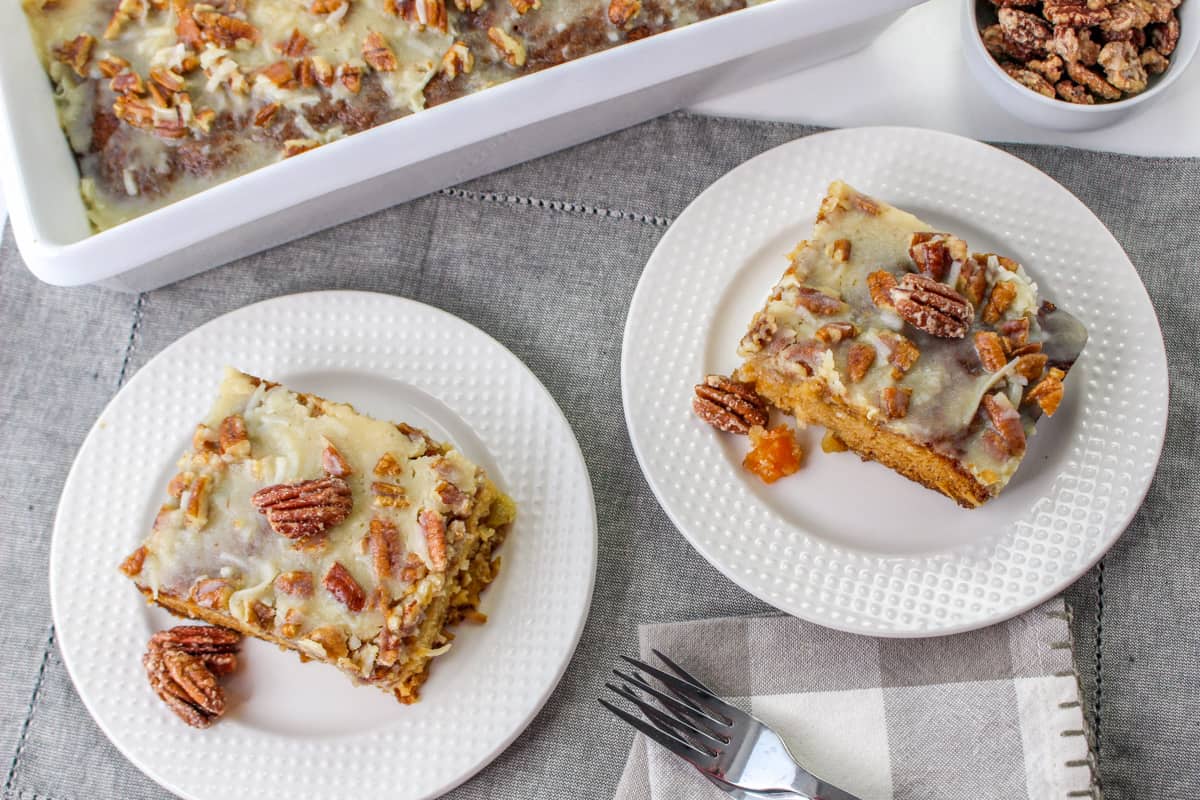 More Vintage Dessert Recipes
Recipe
Recipe
Fruit Cocktail Cake
A total blast from the past, this easy fruit cocktail cake recipe is delicious nostalgia in every bite. You'll love the combination of sweet coconut, crunchy pecans, and classic fruit cocktail.
Ingredients
For the cake:
2 cups all-purpose flour
1 ½ cups granulated sugar
¼ cup light brown sugar
2 teaspoons baking soda
1 teaspoon salt
2 large eggs beaten
1 teaspoon vanilla extract
1 15 ounce can fruit cocktail in heavy syrup, not drained
¼ cup shredded coconut
For the frosting:
½ cup unsalted butter
¾ cup granulated sugar
½ cup evaporated milk
1 teaspoon vanilla extract
¾ cup chopped pecans
½ cup coconut
Instructions
Preheat the oven to 350°F. Coat a 9×13 baking dish with nonstick cooking spray and set aside.

In a large bowl, whisk together the flour, sugar, brown sugar, baking soda, and salt.

To the bowl, add the fruit cocktail, eggs, and vanilla. Stir together until completely blended.

Fold in the coconut.

Transfer the batter to the prepared baking dish, spreading evenly. Bake for 30 minutes or until a toothpick inserted comes out clean.

Remove the cake from the oven and place on a wire rack to cool.

For the frosting, place the butter, sugar, and evaporated milk into a 2 quart sauce pan. Bring the mixture to a boil over medium heat, stirring often. Continue to boil for two minutes. Remove the frosting from heat and stir in the vanilla. Add the pecans and coconut, stirring just until mixed.

Pour the hot frosting evenly over the top of the cake.

Allow the cake to cool completely to room temperature. Cover the cake and refrigerate overnight.

Slice and serve topped with whipped cream, additional coconut, chopped pecans, and/or a maraschino cherry, if desired.
Nutrition
Serving: 1g | Calories: 327kcal
Did You Make This Recipe?
Share it with me on Instagram @crayonsandcravings and follow on Pinterest @crayonsandcravings for even more!