Posts may contain affiliate links, meaning that I may earn a commission if you use a link provided.
This vintage crazy cake recipe is made without any eggs, milk, or butter. The result is a rich, moist, fudgy, and absolutely delicious chocolate cake.
Like these old-fashioned no-bake cookies and this fruit cocktail coconut cake recipe, this is the kind of recipe you are likely to find in your grandma's cookbook. You might have even made the depression era wacky cake recipe with her as a child!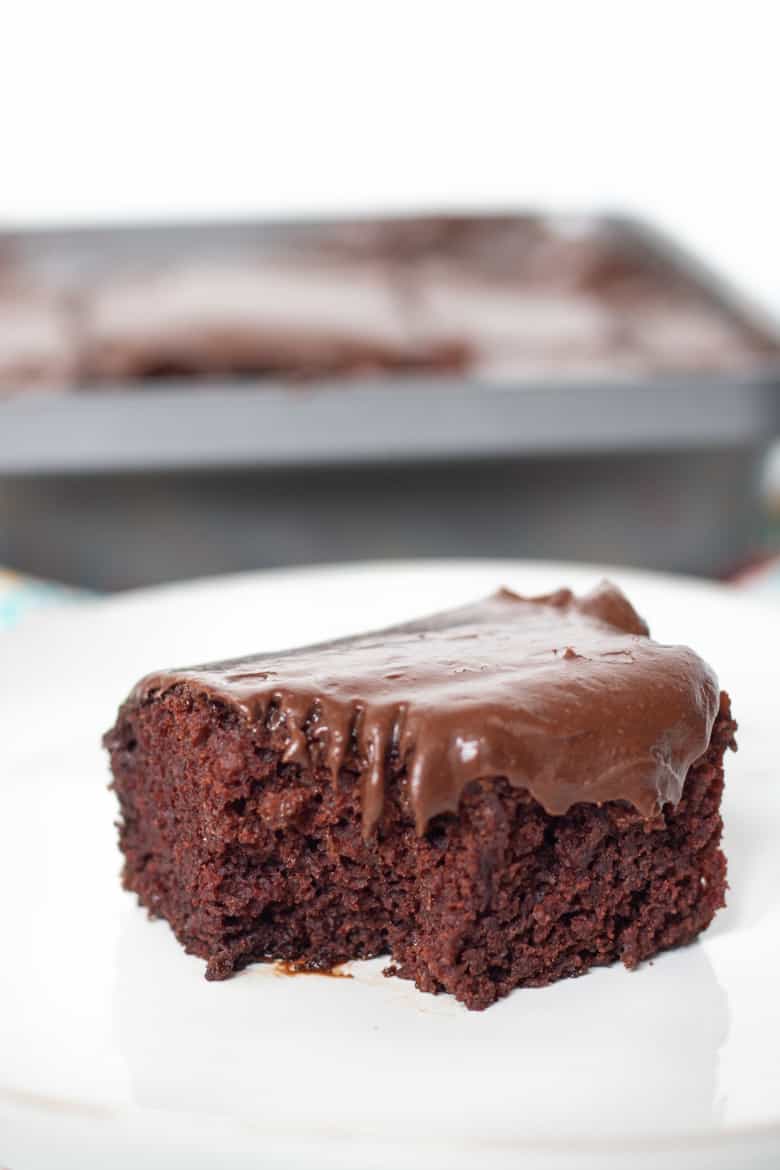 Also known as wacky chocolate cake, the dessert became popular during the great depression and the 1940s when some common cake ingredients were expensive and difficult to come by. The innovative bakers went to work to make a cake with affordable ingredients that they had in their pantry and the crazy chocolate cake was created.
The budget-friendly recipe calls for just a few simple pantry ingredients and no dairy. That is right–no eggs, no milk, and no butter!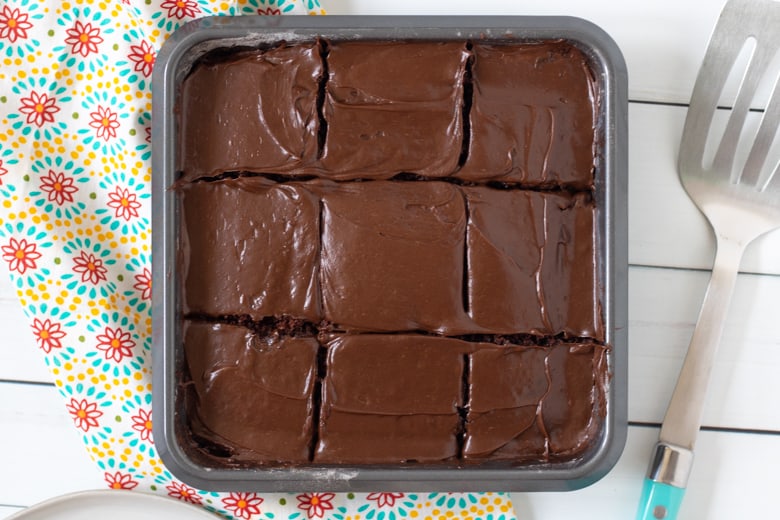 Since the depression-era cake is made without eggs or dairy, it makes the cake naturally egg-free, dairy-free, and vegan.
The simplicity of this old-fashioned cake recipe makes it a fun recipe to make with the kids, too.
And if you thought one-bowl desserts were amazing, wait until you try this no-bowl dessert. Everything is mixed right in the cake pan, making clean-up a breeze.
Ingredients
This section includes ingredient notes and substitution options. Get all measurements, ingredients, and instructions in the printable recipe card at the end of this post.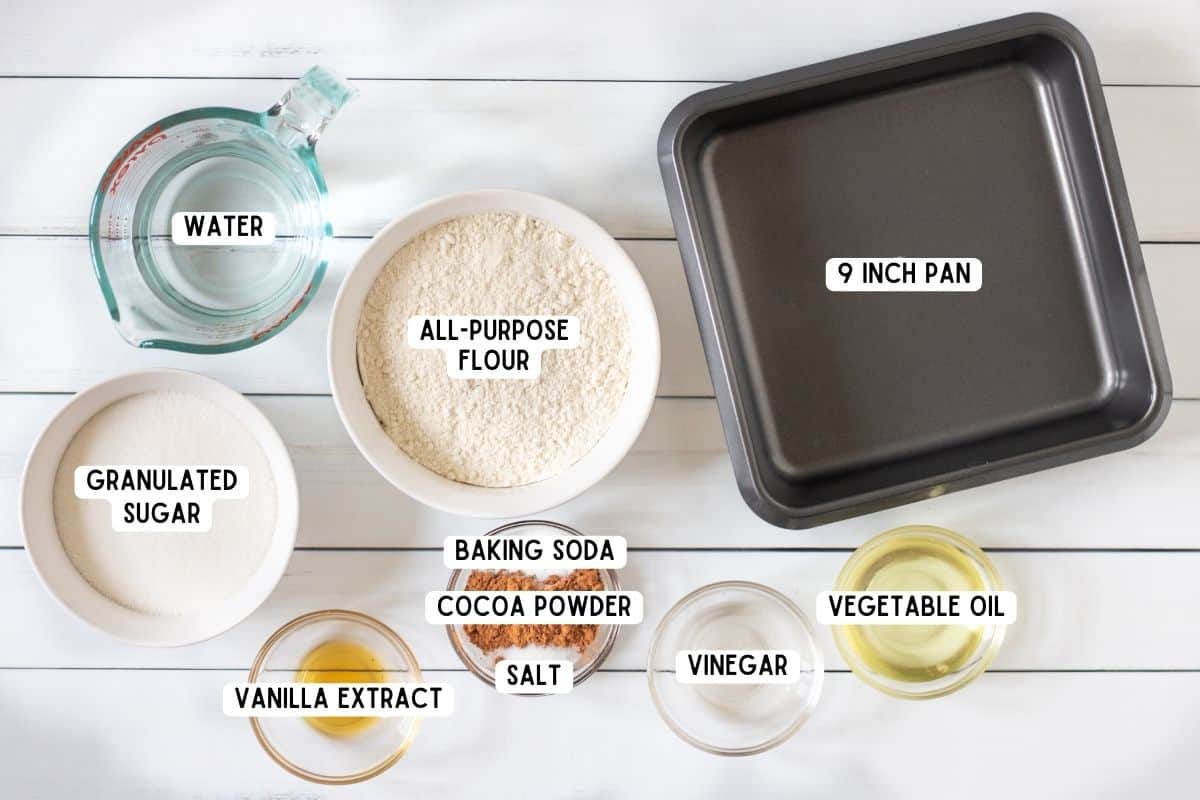 For this easy cake recipe you will need a handful of basic pantry staples:
all-purpose flour
granulated sugar (white sugar)
unsweetened cocoa powder
baking soda
salt
vegetable oil- canola oil would work, too.
white vinegar- apple cider vinegar can be used instead if you prefer.
vanilla extract
water
How to Make Crazy Cake
This section shows you how to make the recipe with step-by-step photos and instructions. For the full printable recipe, see the recipe card below.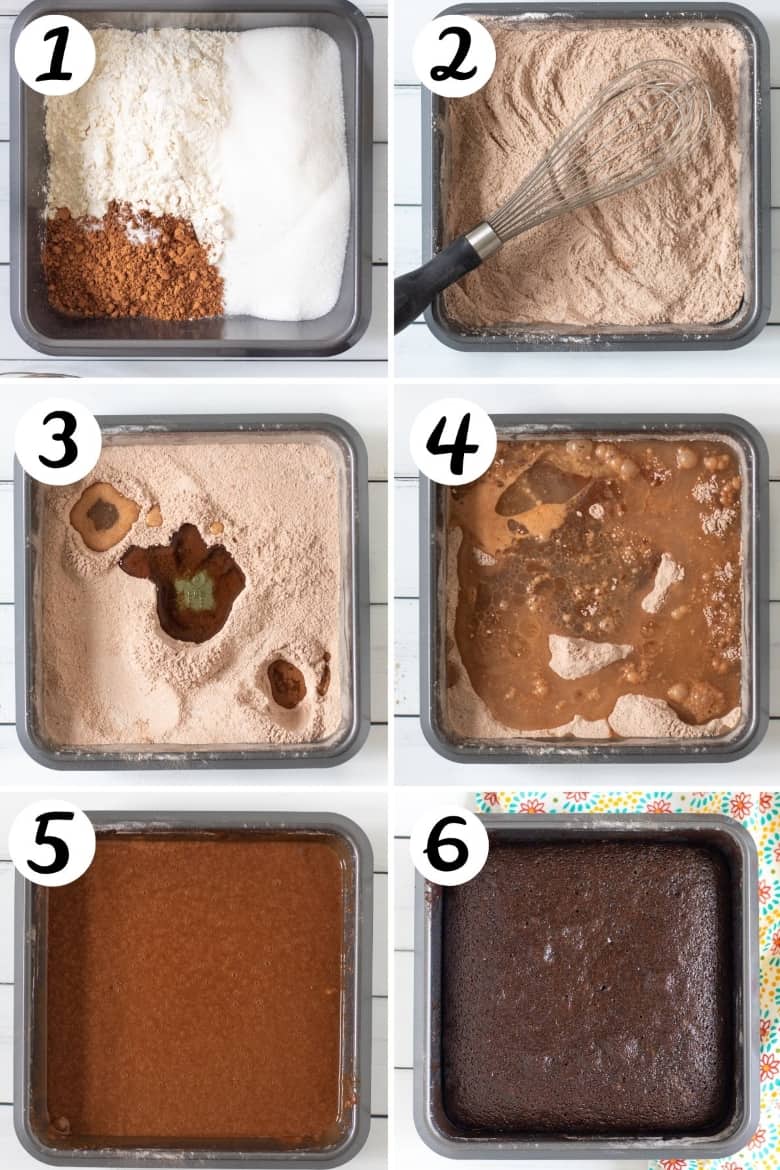 Add the dry ingredients to an ungreased 8″ square or round baking pan.
Gently whisk the ingredients together.
Create 3 wells in the mixture for the wet ingredients. Pour the oil, vinegar, and vanilla into the wells.
Pour water over the top of the cake.
Mix until well combined.
Bake for 25-30 minutes.
Serve the rich chocolate cake plain, with your favorite frosting, or topped with powdered sugar or a scoop of vanilla ice cream. I often just use a tub of pre-made chocolate frosting from the store.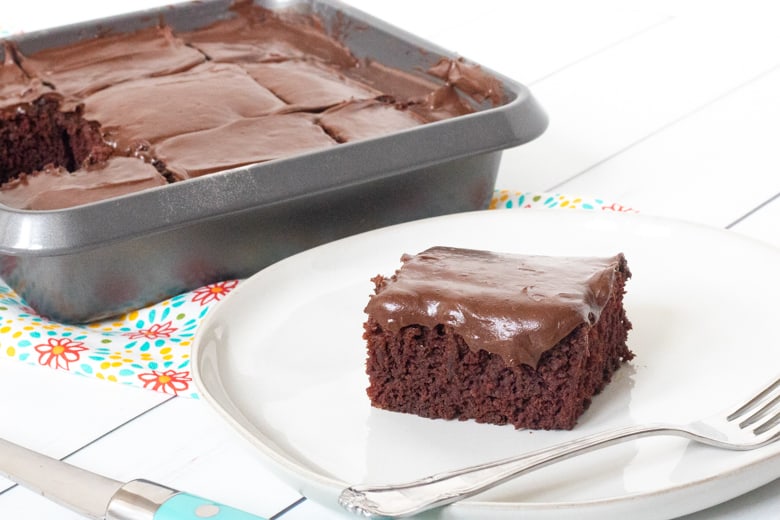 Storage
Unfrosted cake: Cover with plastic wrap and keep at room temperature for up to 3 days.
Frosted cake: Depending on the frosting you use you may need to refrigerate the cake. In the fridge the cake will keep for up to 4 days.
Baking Tips and Variations
Don't be tempted to try to skip the vinegar. Vinegar is a necessary ingredient in this simple chocolate cake recipe. It interacts with the baking soda to cause the cake batter to rise as it bakes.
Make a vanilla cake instead by omitting the cocoa powder and adding 1/2 teaspoon more vanilla.
Double the using a 9 x 13 pan and increase the baking time to 35 minutes.
Use the batter to make "Wacky Cupcakes". Watch them in the oven because the baking time will be reduced.
Try subbing brewed coffee for the water called for in the recipe to enhance the chocolate flavor. You can substitute the entire cup of water for coffee or do 1/2 cup coffee and 1/2 cup water.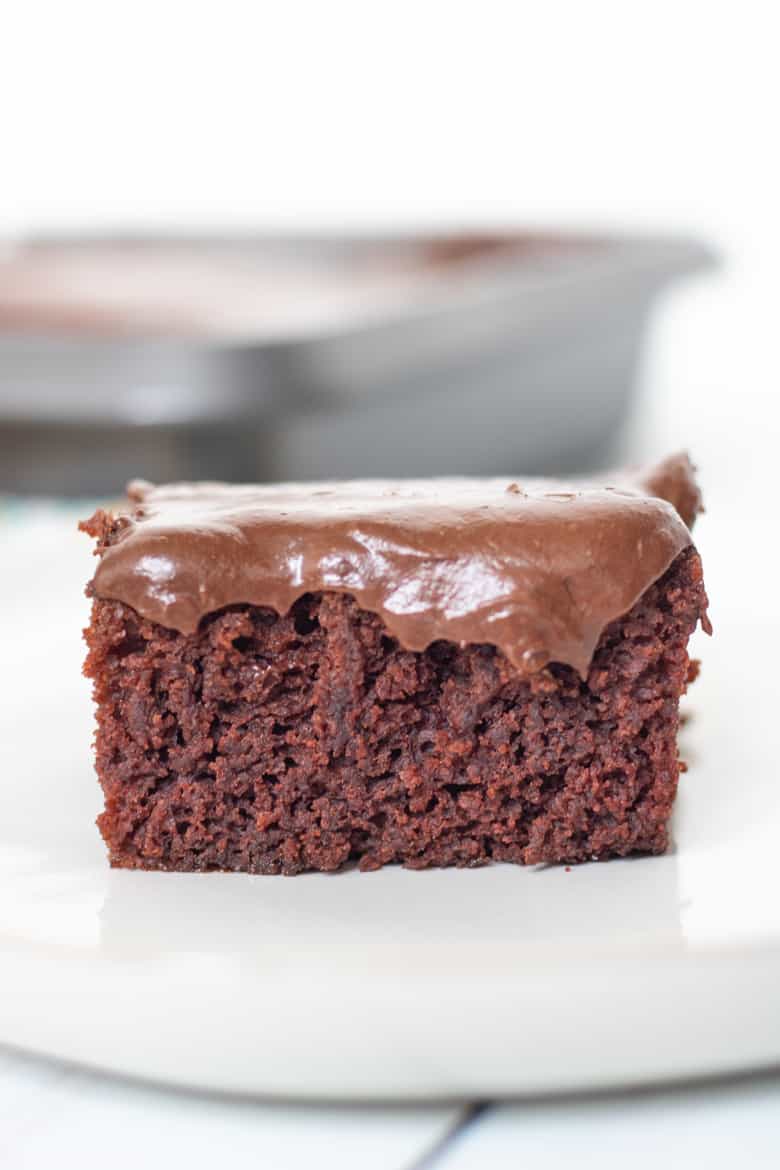 Recipe FAQ
Is crazy cake the same as wacky cake?
Yes, this World War II era cake goes by several names. I have heard it referred to as crazy cake, wacky cake, three-hole cake, chocolate depression cake, and war cake.
Does crazy cake freeze well?
Yes, this delicious cake freezes beautifully!
Can you skip the vinegar?
No. Vinegar is a necessary ingredient for making wacky cake. Without it the cake won't rise or have the right texture. Don't worry, the cake does not taste like vinegar at all!
Can I use olive oil instead of vegetable oil to make the cake?
While you could use olive oil I recommend against it as it will likely alter the taste of the cake. I know some of my readers swear by using olive oil in cake recipes so you can definitely give it a try if you would like.
Does crazy cake have to be mixed in the cake pan?
No. You can mix the ingredients together in a mixing bowl and then transfer the wet batter to your baking pan.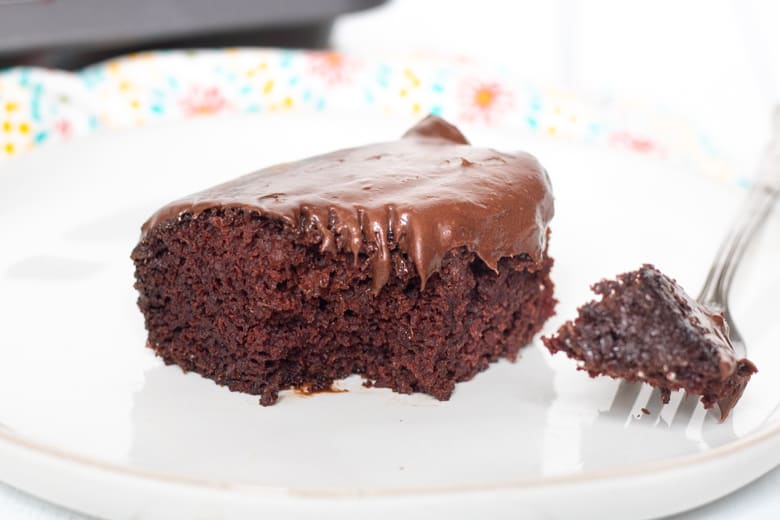 More Easy Dessert Recipes
Recipe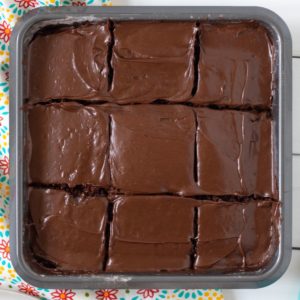 Recipe
Crazy Cake
This easy crazy cake recipe is made without eggs, milk, or butter. The result is a rich, fudgy, and moist chocolate cake with a tender crumb.
Ingredients
1 ½ cups all-purpose flour
1 cup granulated sugar
3 Tablespoons unsweetened cocoa powder
1 teaspoon baking soda
½ teaspoon salt
5 Tablespoons vegetable oil
1 Tablespoon white vinegar
1 teaspoon vanilla extract
1 cup cold water
Instructions
Preheat oven to 350 F.

Add flour, sugar, cocoa powder, baking soda, and salt to an ungreased 8-inch round or square baking pan. Whisk to combine.

Make 3 wells in the mixture. One larger hole and 2 smaller (see image). Pour oil, vinegar, and vanilla into the wells.

Pour water over all of the ingredients. Mix well with a fork, making sure to get all the dry mix that gets stuck in the corners.

Before baking, give the pan a couple of taps on the counter to help release any bubbles. Bake for 25-30 minutes, or until a toothpick or cake tester inserted in the center comes out mostly clean.

Serve plain, topped with powdered sugar, or topped with your favorite frosting. If frosting, allow the cake to cool to room temperate first.
Notes
You could also combine the ingredients in a mixing bowl and then pour into the 9 inch pan. To store, cover the cake with plastic wrap or place it in an airtight container. Unfrosted cake can be stored at room temperature for up to 3 days. If frosted, store covered in the refrigerator for up to 3 days. The unfrosted cake also freezes well. You can double the crazy chocolate cake recipe using a 9 x 13 pan and upping the baking time to about 35 minutes.
Nutrition
Serving: 1g | Calories: 234kcal | Carbohydrates: 39g | Protein: 2g | Fat: 8g | Saturated Fat: 1g | Polyunsaturated Fat: 4g | Monounsaturated Fat: 2g | Trans Fat: 0.1g | Sodium: 252mg | Potassium: 49mg | Fiber: 1g | Sugar: 22g | Calcium: 6mg | Iron: 1mg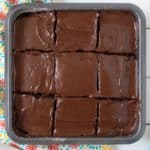 Did You Make This Recipe?
Share it with me on Instagram @crayonsandcravings and follow on Pinterest @crayonsandcravings for even more!