Posts may contain affiliate links, meaning that I may earn a commission if you use a link provided.
Cute bunny pancakes are the perfect way to wake up on Easter morning. Use your favorite boxed pancake mix and these decorating tips to whip them up in a jiffy!
Hippity, hoppity, Easter's on its way! If you're looking for an easy Easter breakfast the kids will love, look no further. These Easter bunny pancakes are one of the cutest breakfasts you'll ever make for the kids. Bonus for mom: they're super easy, too. You don't have to worry about making pancakes from scratch — a boxed mix is just fine.
You'll make a large pancake for each kid and then add pieces of fresh fruit to create the eyes, ears, nose, and an adorable little bowtie. It's a sweet breakfast with some healthy elements, too. What more could a mom ask for? Easy recipes that are cute and nutritious are a total win!
For another fun Easter breakfast, try my Bunny Butt Pancakes! You don't need to wait for a special occasion like Easter to make bunny butts or rabbit pancakes, though. They're perfect for anytime during the spring.
If you're looking for a cute Easter treat to send to school, try making these Bunny Pudding Cups. They're totally adorable and so easy to put together with a little glue and some simple craft supplies. The kids can help you make them for their classmates.
Now let's get to the bunny-shaped pancakes so you'll know how to make them for a holiday morning surprise. Put their bunny pancakes by their Easter baskets before waking the kids on Easter morning.
Ingredients
This section includes ingredient notes and substitution options. Get all measurements, ingredients, and instructions in the printable recipe card at the end of this post.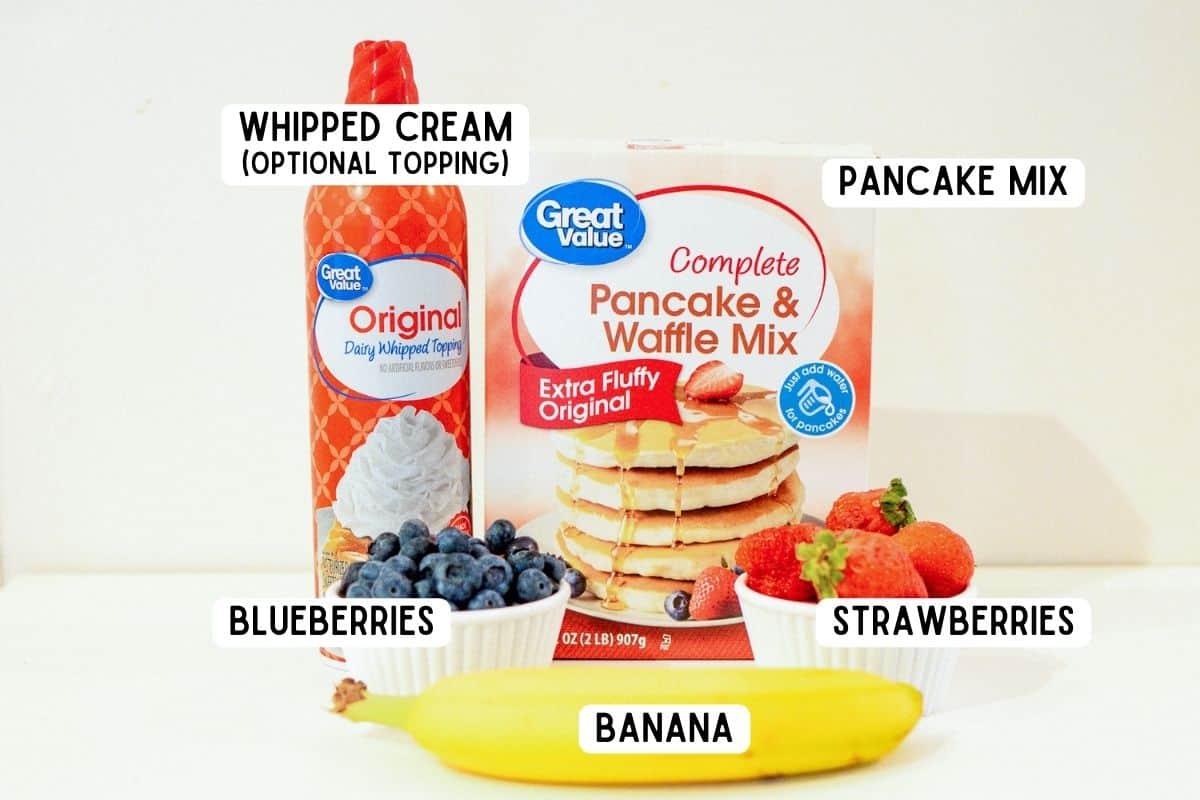 Pancake Mix — Use your favorite boxed pancake mix or homemade pancake batter to make the pancakes. I like to use complete pancake mix, which only requires water.
Strawberries — You'll use halved strawberries to make the bunny's cute little bowtie.
Blueberries — Blueberries are used to make the eyes, nose, and center of the bowtie. Blueberries are packed with antioxidants, so feel free to serve your pancakes with even more blueberries on the side.
Bananas — Bananas are used to make the bunny ears and muzzle. They are a great source of potassium in this fun Easter breakfast.
Chocolate Syrup — Use chocolate syrup, frosting, or a food coloring pen to draw on the bunny's mouth.
Whipped Cream and Pancake Syrup — They're optional, but they make these adorable pancakes so much yummier!
Equipment You'll Need to Make Easter Pancakes
Get ready to make the cutest Easter bunny pancakes ever by gathering these kitchen tools:
mixing bowl
whisk
pan or griddle
knife
cutting board
How to Make Bunny Pancakes
This section shows you how to make the recipe with step-by-step photos and instructions. For the full printable recipe, see the recipe card below.
Step 1: Mix your pancake mix according to the package directions to make about 1 cup of batter. Use a large bowl if you plan on making several bunny pancakes. You can also whip up your favorite pancake recipe if you want to make a homemade batter.
Step 2: Cook the pancakes in a skillet or on a hot griddle over medium heat. Pour batter in a large round circle for the bunny head.
Step 3: Cut a strawberry in half to make the bunny's bowtie.
Step 4: Place the pancake on a flat plate. Add a blueberry below the pancake in the center. Place the two strawberry slices on the sides to form the bowtie.
Step 5: Cut a banana in half. Take one of the halves and cut it lengthwise to make the ears. Cut a round slice off of the remaining banana half to make the bunny's muzzle. Place ears at the top on either side of the bunny's head. Place the round banana slice on the pancake towards the bottom.
Step 6: Place two large blueberries on the pancake to make the bunny's eyes and another blueberry on the muzzle for its nose.
Step 7: Draw the bunny's mouth using chocolate syrup, an edible marker, or icing. If using chocolate syrup, put it in a squeeze bottle with a small tip. Serve the bunny pancake with a little butter, syrup, and whipped cream, if desired. Enjoy!
Serving Suggestions
Serve the finished pancakes with your favorite toppings. Here are some of mine, and I usually enjoy a side of bacon with them, too.
Pancake Toppings
Fresh fruit
Maple syrup
Powdered sugar
Butter (especially cinnamon butter)
Jam
Nutella
Peanut Butter
Chocolate syrup
Whipped cream
Sprinkles
Chocolate shavings
Chocolate chips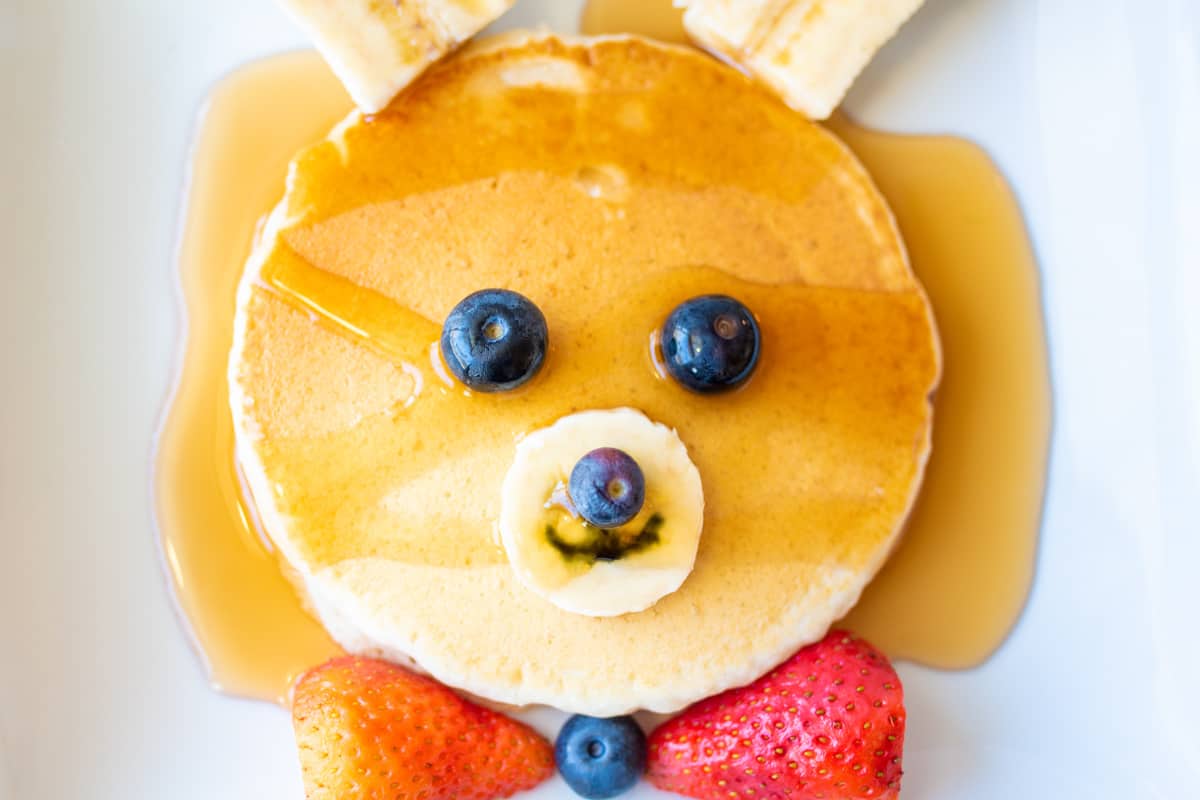 Pancake Storage and Freezing
In the fridge: Store leftover pancakes in the refrigerator in an airtight container for up to 3 days.
In the freezer: For a large number of leftover pancakes, let them cool completely and place in freezer-safe bags for up to up to 2 months.
Thawing: Thaw frozen pancakes in the refrigerator overnight to reheat in a skillet or air fryer. Alternatively, you can place frozen pancakes in the toaster for quick reheating.
Bunny Pancakes Tips and Tricks
Make sure the pan is hot before adding your pancake batter. Turn the pan to medium heat for a minute or two before cooking. You can sprinkle a drop of water on the pan to see if it's ready. If it sizzles, you're ready to add the batter.
Flip pancakes when the top is covered with bubbles that pop. Don't turn them before you see bubbles, or you'll end up with a messy flapjack!
Make a girl bunny. Instead of a bowtie, move the strawberry bow up to the top at one of the ears to turn it into a hairbow.
Additions and Variations
Add vanilla. Stir in a half a teaspoon of vanilla extract (or almond extract) to add flavor to the pancake batter.
Make bacon bunny ears. Instead of banana ears, add a savory element to your rabbit pancakes by making the bunny's ears out of strips of bacon instead.
Use different foods for the eyes and nose. You could try a mini marshmallow for the nose and chocolate chips for the eyes. You can find candy eyes in the baking aisle. Or make the blueberry eyes look larger by placing banana slices behind the blueberries.
Make chocolate bunny pancakes. Add some unsweetened cocoa powder and sugar to the pancake batter to make a chocolate version.
Try making whiskers with shredded coconut. Thin pieces of string cheese or carrots could also work.
Make bunny teeth with sliced almonds. It'll add a cute touch to the bunny's smile! Mini marshmallows may be used for the same purpose.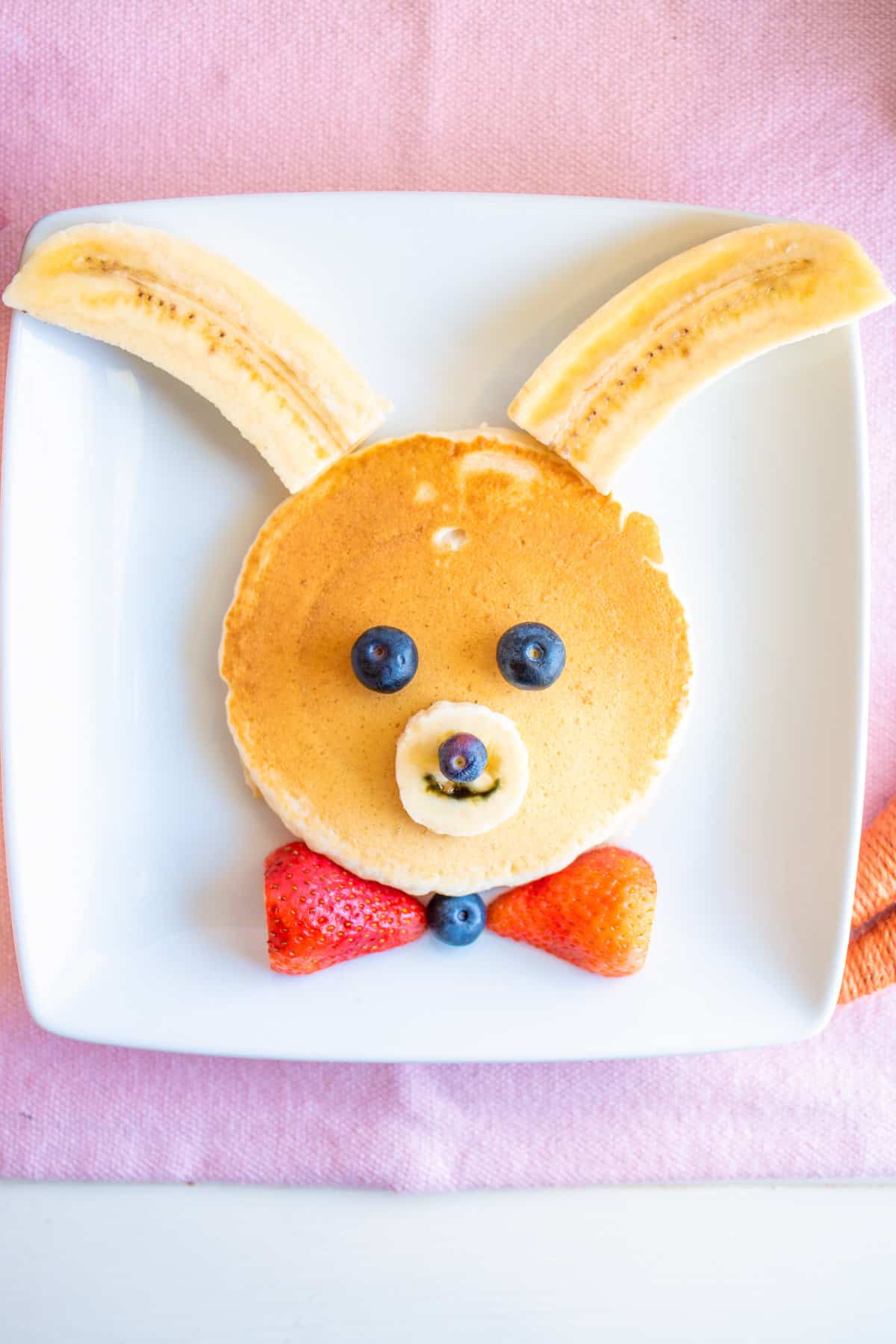 Bunny Face Pancakes FAQ
What's the best temperature for cooking pancakes?
According to the Great American Pancake Company, the best griddle temperature for perfectly-cooked golden brown pancakes is 375°F. When using a pan, start at medium heat and turn it down to medium low if your pancakes look burned around the edges.
How can I make boxed pancake mix taste better?
Substitute the water for milk! It'll add richness and will improve the texture of your pancakes. You can also add vanilla extract or spices like cinnamon or apple pie spice to improve the flavor.
How can I make fluffy pancakes with boxed pancake mix?
Sift the mix before adding the wet ingredients. You'll be surprised at how much fluffier this makes your pancakes. If your boxed mix is nearing the end of its lifespan, a pinch or two of extra baking powder can also help them rise better.
What's good on pancakes besides syrup?
Pancakes are the perfect blank canvas for a variety of toppings. Try fresh fruit, whipped cream, a dusting of powdered sugar, cinnamon butter, caramel sauce, jam, chocolate syrup, a drizzle of honey, or Nutella.
More Easter Bunny Recipes
Get in the Easter spirit with these fun bunny-themed recipes:
Bunny Bait – a delicious snack mix made with popcorn, marshmallows, pretzels, candy melts, wafers, and sprinkles.
Easter Bunny Bark – Melt the chocolate and then let the kids add the edible eyes, pretzel whiskers, and jellybean noses to help make this sweet treat.
Easter Bunny Cupcakes – Unlike most bunny cupcakes that are vanilla with white frosting, these are decadent chocolate cupcakes topped with rich chocolate frosting and your favorite candies to make the bunnies.
Recipe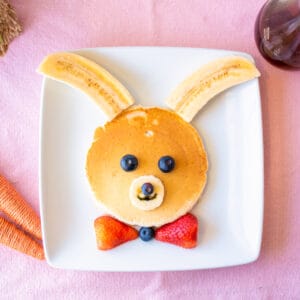 Recipe
Bunny Pancakes
What better way to wake up on Easter Sunday than to a plate of cute bunny pancakes? The kids will love this adorable breakfast made with pancakes and fresh fruit.
Ingredients
⅓ cup pancake batter
1 strawberry
4 blueberries
1 banana
edible marker or chocolate syrup
pancake syrup for serving
Instructions
Mix your chosen pancake mix as directed on the package to make about ⅓ cup of batter.

Cook pancake in a pan or on a griddle over medium heat. Pour a large round circle to make the bunny's face.

Put the pancake on a flat plate.

Cut one round slice of banana and place it near the bottom of the pancake for the bunny's muzzle.. Cut the remainder of the banana in half to create the bunny's ears. Place the ears on top, arching away from each other.

Slice a strawberry in half and place below the pancake with a blueberry in the center to make the bowtie.

Add two large blueberries to the pancake to make the eyes and one more blueberry on the banana slice to make the bunny's nose.

Draw a mouth on the bunny with a food coloring pen, melted chocolate, or chocolate syrup.

Serve bunny pancakes with pancake syrup and/or whipped cream and enjoy!
Nutrition
Calories: 213kcal | Carbohydrates: 42g | Protein: 4g | Fat: 4g | Saturated Fat: 1g | Polyunsaturated Fat: 1g | Monounsaturated Fat: 1g | Cholesterol: 32mg | Sodium: 239mg | Potassium: 320mg | Fiber: 3g | Sugar: 8g | Vitamin A: 163IU | Vitamin C: 13mg | Calcium: 99mg | Iron: 1mg
Did You Make This Recipe?
Share it with me on Instagram @crayonsandcravings and follow on Pinterest @crayonsandcravings for even more!