Buttery Pecan Snowball Cookies
Posts may contain affiliate links, meaning that I may earn a commission if you use a link provided.
It doesn't get more festive than these buttery pecan snowball cookies! They're so delicious — full of buttery, nutty flavor and rolled in powdered sugar to make them nice and sweet. They're perfect for adding to holiday tins because you can store them at room temperature.
Have you ever had snowball cookies? You may know them as snowdrop cookies, Mexican Wedding Cookies, butter balls, or Russian Tea Cakes. They're absolutely yummy no matter what you call them.
For a different take on this classic Christmas cookie, try my Christmas Snowball Cookies, Candy Cane Snowball Cookies, and Double Chocolate Snowball Cookies for your cookie exchange.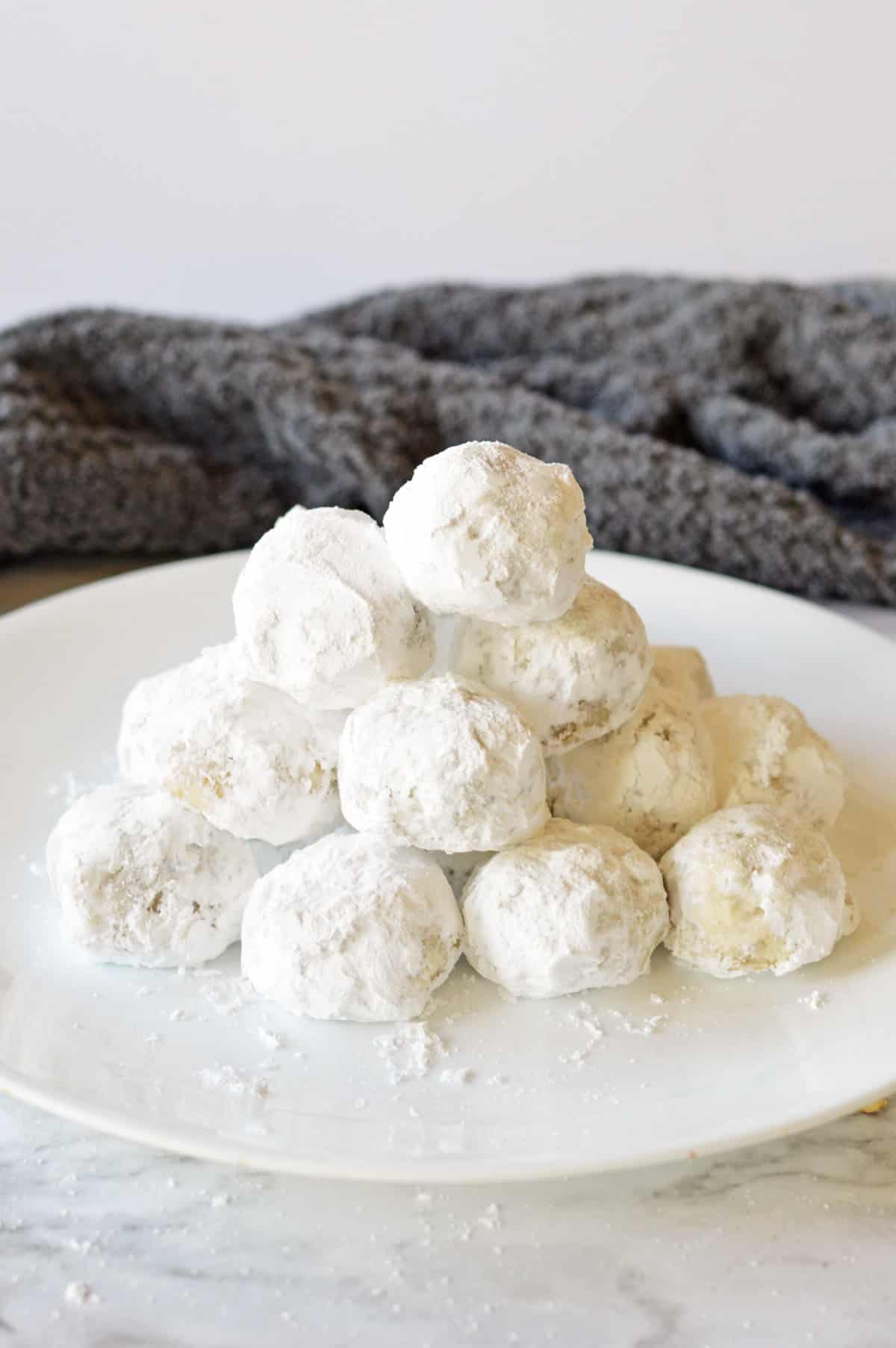 These buttery, sugary cookies just melt in your mouth, but the pecans give them a nice crunchy factor and nutty flavor.
This recipe calls for 7 super simple ingredients — you probably have everything you need to whip up a batch right now!
The best part? They look like actual little snowballs, so they're absolutely perfect for the holiday season. Plus, you can make them ahead and freeze them so all the baking doesn't pile up on you at once.
Ingredients for Buttery Snowball Cookies
This section includes ingredient notes and substitution options. Get all measurements, ingredients, and instructions in the printable recipe card at the end of this post.
Unsalted Butter — Soften the butter to room temperature before making the cookie dough. It's important to use real butter here (not margarine) to get that authentic butterball cookie flavor and texture.
Confectioners' Sugar — Also called powdered sugar, you'll use this to make the cookie dough and to roll the cookies in once they're done baking.
Vanilla and Almond Extracts — The extract helps add flavor to the cookies. I used a combination of vanilla and almond extracts, but you can use one or the other, if you prefer.
Flour — Use all-purpose flour and measure it precisely by sweeping the top of the cup with a flat edge.
Salt — All baked goods need a little salt to balance the flavors.
Pecans — Finely chopped pecans add crunch and nutty flavor to snowball cookies. Buy them finely chopped or pulse them a few times in the food processor to get the job done.
Equipment You'll Need
Measuring cups and spoons
Cookie sheets
Parchment paper or silicone liners
Mixing bowl
Electric mixer
Cooling rack
Spatula
Cookie scoop
Airtight containers for storage
How to Make Buttery Pecan Snowball Cookies
This section shows you how to make the recipe with in-process photos and instructions. For the full printable recipe, see the recipe card below.
Step 1: Prepare the cookie batter. Beat to combine the butter, sugar, vanilla, and almond extract. Add the salt and slowly, with your mixer on low speed, mix in the flour. Fold in the chopped pecans.
Step 2: Roll and bake. Scoop out the dough, roll into 1-inch balls, and place the balls on prepared baking sheets at least 1 inch apart. Bake for 10 minutes, or until the bottom edges are light brown.
Tip: If the dough is difficult to work with, put it in the refrigerator to chill for 30 minutes or so.
Step 3: Roll in confectioners sugar. Once the cookies are cooled just enough to handle roll the warm cookies in powdered sugar and place them on a wire rack. For best results, roll them in the sugar once more after they are completely cooled.
Serving Suggestions
Enjoy a couple of these nutty pecan snowball cookies with a big mug of hot chocolate! Try White Hot Chocolate or Salted Caramel Hot Chocolate instead of the packaged stuff.
Storage and Freezing
Store Mexican wedding cookies at room temperature in an airtight container for up to 5 days.
You can freeze butter pecan snowball cookies in a freezer-safe container for up to 3 months. A container will work better than a freezer bag to ensure that the cookies maintain their round shape.
To thaw, remove the cookies from the container and thaw at room temperature on a platter in a single layer. This prevents the cookies from getting too wet while thawing.
Recipe Tips and Tricks
Toast the pecans first to make these cookies even more flavorful. To toast them, spread them evenly in a single layer on a baking sheet, and bake at 350°F for 7 to 10 minutes or until fragrant and lightly browned.
Rotate the pans halfway through to ensure even cooking. Put the cookies on the bottom rack on top, and put the cookies on the top rack on the bottom.
Want to freeze the dough? Roll it into balls and flash freeze them on baking sheets for about an hour before storing in a plastic container. To bake from frozen, add 2-3 extra minutes to the baking time.
Additions and Variations
Make them vegan. Substitute vegan butter for the dairy butter to make vegan snowball cookies.
Swap out the extract to vary the flavors. Use lemon extract and lemon zest or orange extract and orange zest to try out a new flavor. These cookies are never boring!
Add mini chocolate chips. Make these little balls of deliciousness even sweeter by adding some mini chocolate chips to the cookie dough.
Substitute different nuts. Instead of pecans, try almonds, pistachios, walnuts, or cashews.
Stuff them with mini peanut butter cups or Hershey's kisses. Wouldn't that make delectable cookies?
Recipe FAQ
Why are my snowball cookies spreading?
Typically, this happens when the butter gets too hot too fast. Make sure you start with butter at room temperature. It shouldn't be too soft and definitely shouldn't be melted.
Why did my snowball cookies turn out flat?
This happens when the cookie dough gets too warm before the cookies start baking. If you think yours are too warm (an indicator is that the dough is difficult to work with), chill the dough in the refrigerator for 30 minutes or so until rolling the balls is easier.
Can you freeze cookies that are rolled in powdered sugar?
Yes, these snowball cookies freeze beautifully for up to 3 months, so they're perfect Christmas cookies for making ahead of time. Freeze them in an airtight container or zip-top bag. Once the cookies thaw at room temperature, you may want to roll them in fresh powdered sugar again before serving or adding to your holiday tins.
What is the best container to freeze snowball cookies in?
To keep the pecan snowballs from getting crushed, place the cookies in a sturdy plastic container. Make sure the container is safe for the freezer.
Favorite Christmas Cookie Recipes
I have some of the Best Christmas Cookie Recipes here. Check out some of my favorites!
Recipe
Recipe
Buttery Pecan Snowball Cookies
This classic Christmas cookie is the perfect make-ahead treat for your holiday tins. Peacan snowball cookies are easy, quick to make, and packed with buttery, nutty, sugary flavor. Plus, they look like real snowballs!
Ingredients
1 cup unsalted butter room temperature
½ cup confectioners sugar
1 teaspoon vanilla extract
½ teaspoon almond extract
2 ¼ cup all-purpose flour
½ teaspoon salt
1 cup pecans finely chopped
Additional confectioners sugar for coating (about 1-2 cups)
Instructions
Preheat the oven to 350°F. Line two cookie sheets with parchment paper or silicone liners and set aside.

In a large bowl, beat the butter, ½ cup confectioners' sugar, vanilla extract, and almond extract until light and fluffy (about 3-5 minutes).

Add the flour and salt, mixing until a dough forms.

Fold in the chopped pecans.

Scoop out the dough, roll into 1-inch balls, and place on a cookie sheet at least 1 inch apart.

Bake for 10 minutes, or until bottoms are light brown. Do not overbake! Allow cookies to cool just until they can be handled, about 3-5 minutes. You want to roll them while still warm.

Add about 1 cup of confectioners' sugar to a shallow bowl and roll each cookie in it. Place rolled cookies on a cooling rack. Once cookies are fully cooled, roll in confectioners' sugar once more before storing or serving.
Notes
If the dough is too soft, chill in the refrigerator until you can work with it more easily.
If powdered sugar becomes clumpy while rolling the cookies, empty the bowl, and use fresh powdered sugar.
Store snowball cookies in an airtight container at room temperature for up to 5 days. Freeze for up to 3 months.
Nutrition
Serving: 1g | Calories: 170kcal
Did You Make This Recipe?
Share it with me on Instagram @crayonsandcravings and follow on Pinterest @crayonsandcravings for even more!