Slow Cooker Ranch Pork Chops
Posts may contain affiliate links, meaning that I may earn a commission if you use a link provided.
3 Ingredient Crock Pot Pork Chops are the ultimate easy weeknight meal! This recipe makes the most tender, juicy pork chops smothered in a tasty gravy. It's the kind of dinner that just screams "comfort food." Serve it up over some mashed potatoes, noodles, or rice for a delicious meal the whole family will love.
For more easy pork chops recipes, try making smothered pork chops in the oven. The garlic onion gravy is absolutely mouthwatering! Or, you could make French onion pork chops in the oven if you love your dishes topped with lots of gooey, melty cheese.
You're going to love this easy recipe. It's perfect for those crazy busy weeknights when you just need something simple and satisfying to feed the family.
These crockpot ranch pork chops are made with just 3 simple ingredients — pork chops, cream of chicken soup, and a packet of ranch mix. That's it! It's such a relief when you can pull off an amazing dinner with stuff you already have in your pantry.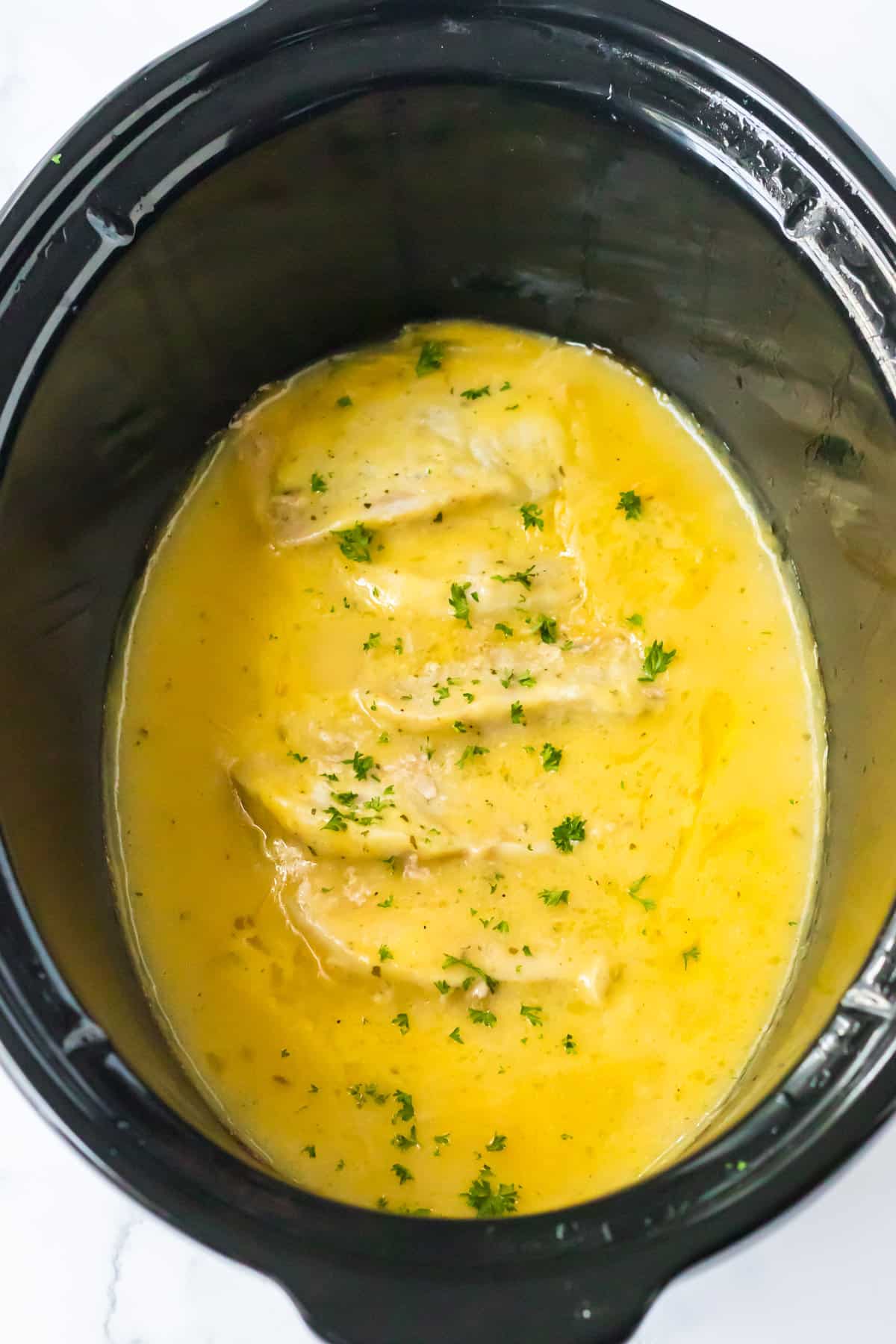 If you have 5 minutes, you can prep these slow cooker pork chops and be out the door ready to tackle the day and come home later to tender, juicy pork chops smothered in a creamy gravy.
This recipe is budget-friendly, too, so it's a win all around. Serve it over mashed potatoes, egg noodles, or rice for a meal even the pickiest kids will gobble up.
Ingredients for Crock Pot Ranch Pork Chops
This section includes ingredient notes and substitution options. Get all measurements, ingredients, and instructions in the printable recipe card at the end of this post.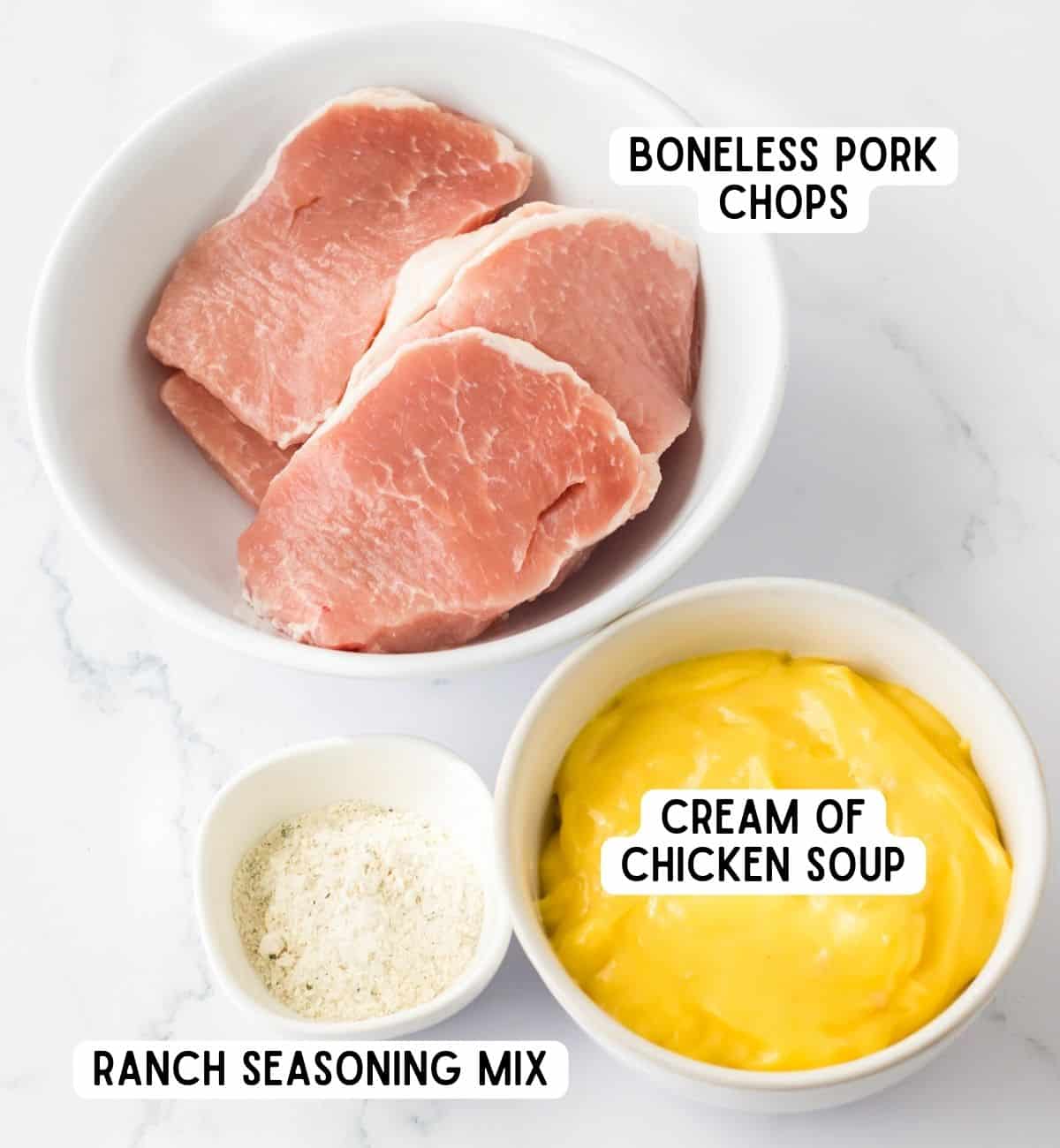 Boneless Pork Chops — Packed with protein, boneless chops are delicious and filling when smothered in this ranch-flavored gravy. Use thick-cut boneless chops because thin ones will dry out or fall apart. If you're using bone-in pork chops, you may need to adjust the cooking time.
Cream of Chicken Soup — This is the base for the creamy sauce the pork chops cook in. Substitute cream of mushroom soup instead, if you prefer.
Dry Ranch Mix — Get that delicious tangy, herby flavor with a packet of ranch dressing mix.
Equipment Needed
crock pot
mixing bowl
spoon or spatula
instant-read thermometer for meat (optional, but recommended)
crock pot liner (optional)
How to Make 3 Ingredient Crock Pot Pork Chops
This section shows you how to make the recipe with step-by-step photos and instructions. For the full printable recipe, see the recipe card below.
Step 1: Add your pork chops to the bottom of the crockpot. If you want, you can spray it with cooking spray first or add a crock pot liner to make cleanup easier after dinner.
Step 2: Pour the two cans of cream of mushroom soup (just the soup, no water) into a bowl, and add the ranch packet. Stir until well combined.
Step 3: Pour the ranch-soup mixture over the top of the pork chops.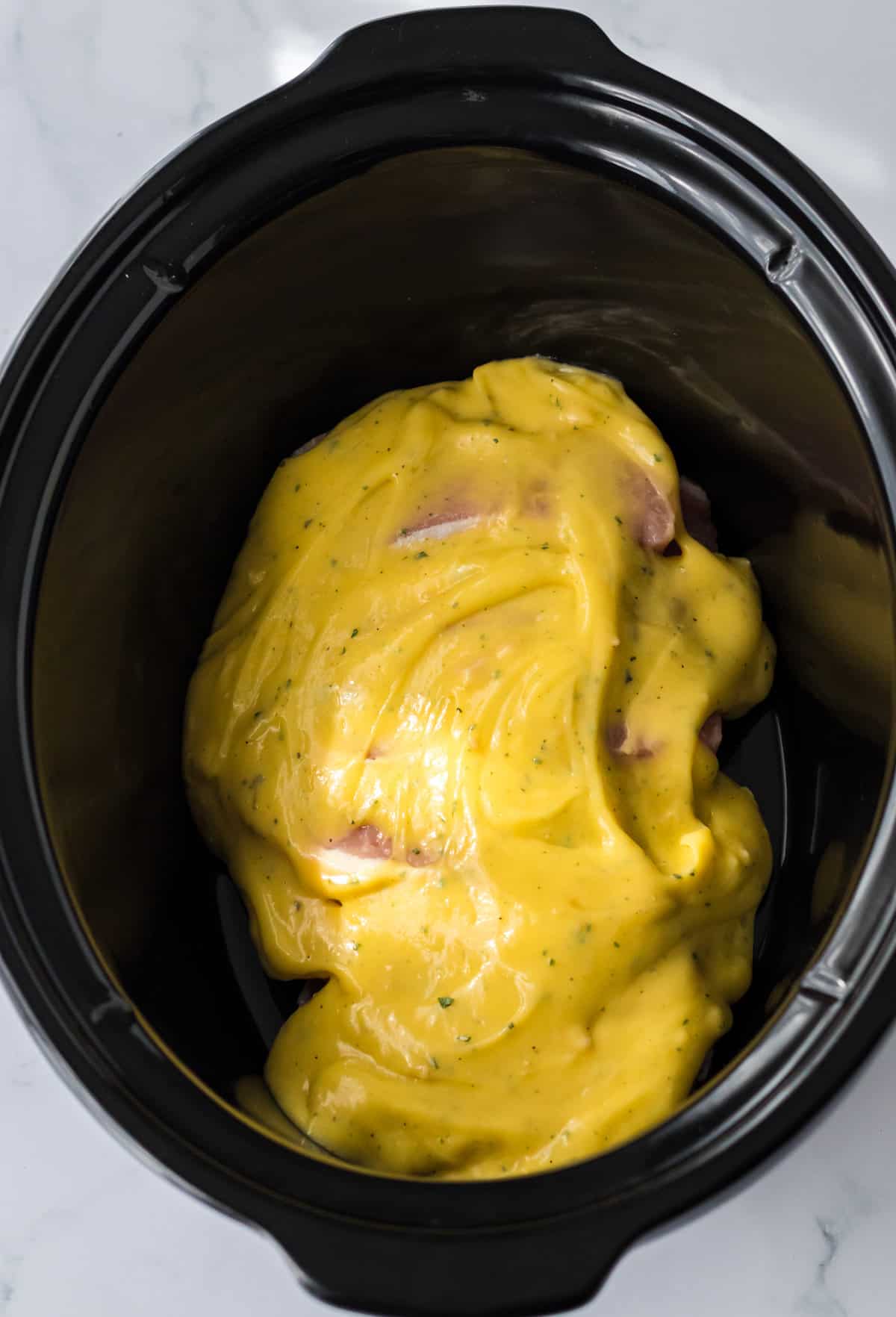 Step 4: Put the lid on the crock pot and set it to low heat for 4-6 hours or high heat for 2-3 hours until the pork chops are tender and cooked through to 145°F.
Step 5: Take the pork chops out of the slow cooker, and stir the sauce.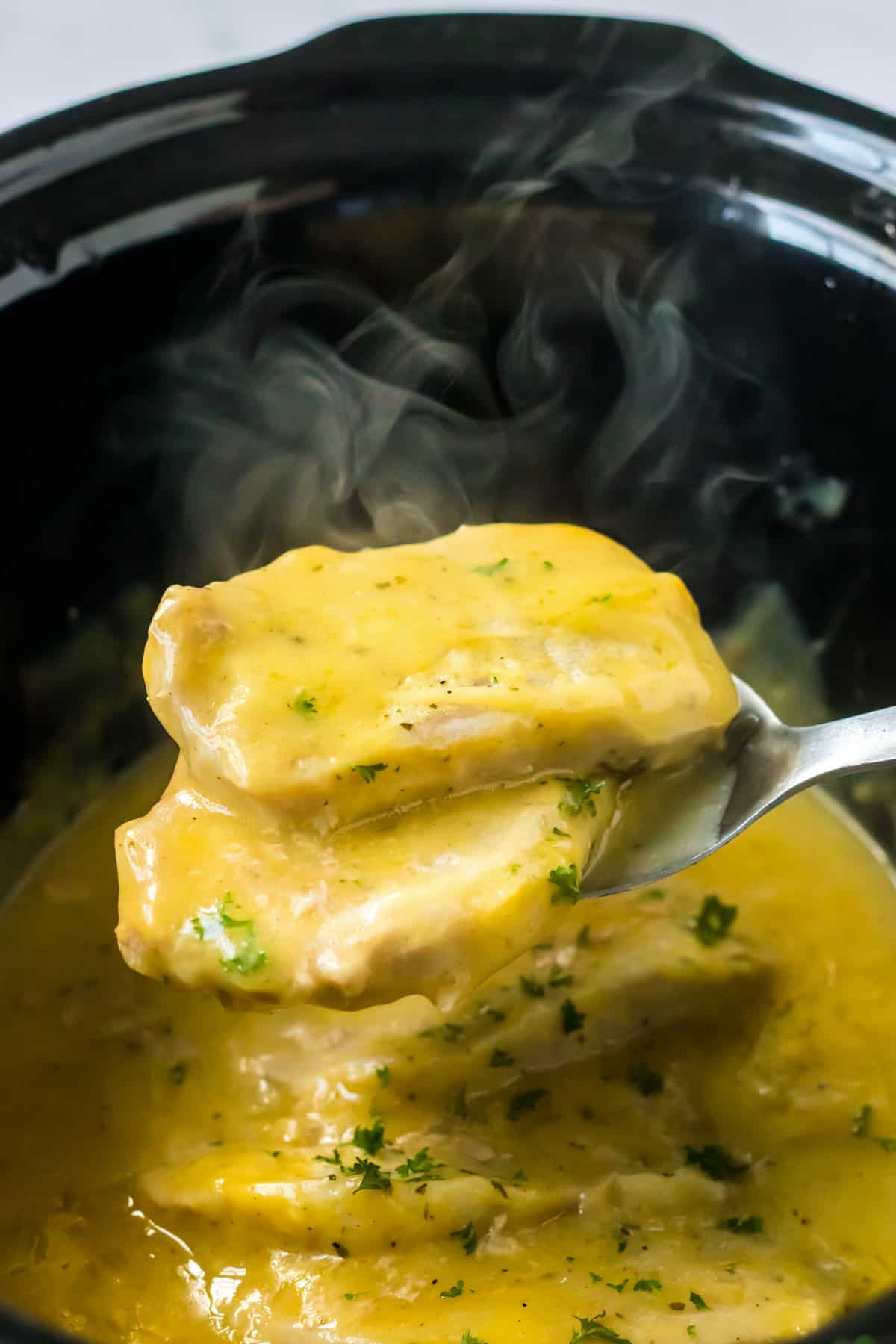 Step 6: Plate the pork chops over mashed potatoes, noodles, or rice. Spoon a generous amount of the sauce over the top. Garnish with fresh parsley, if desired.
Enjoy your easy dinner!
Serving Suggestions
For an easy side dish to go with your family dinner, you can't go wrong with serving these crockpot pork chops over mashed potatoes, egg noodles, or fluffy rice with a side of 7 up biscuits with bisquick.
But to balance things out, don't skimp out on the veggies. These Brussels sprouts with bacon would be amazing on the side, and so would a heaping spoonful of creamed spinach or glazed carrots. A simple green salad or some green beans are great options, too.
Storage and Freezing
Refrigerator: Store leftover pork chops in the fridge in an airtight container for up to 3 days.
Freezer: For longer storage, put the leftover pork chops in a freezer bag or freezer-safe container and freeze for up to 3 months. Thaw in the refrigerator overnight and reheat as directed below.
Reheating: When ready to eat, reheat leftovers gently on the stove or in the microwave, stirring occasionally to keep the sauce nice and smooth.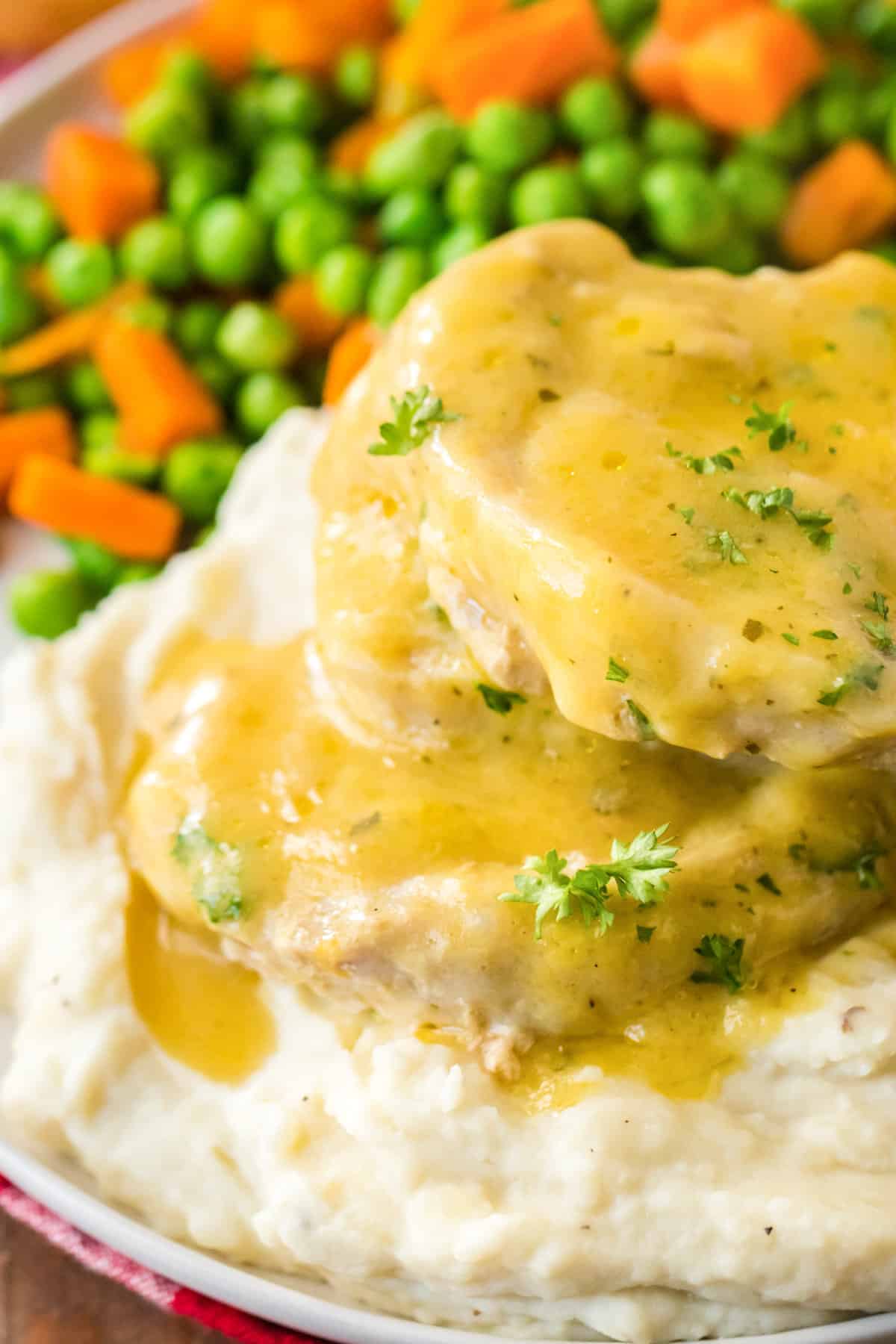 Tips and Tricks for Slow Cooker Ranch Pork Chops
Make sure your pork chops are cooked thoroughly using a meat thermometer. It should read 145°F when inserted into the thickest part of the meat, per USDA guidelines.
For extra yummy pork chops, sear the chops for a couple minutes on each side before adding them to the slow cooker.
Use a slow cooker liner to make cleanup super simple after dinner is done.
Be careful lifting the pork chops out of the pot. Use a serving spoon rather than a fork. They will be super tender and you don't want them to fall apart on you!
Additions and Variations
Swap the soup. Substitute the cream of chicken soup for cream of mushroom soup to add an earthy flavor and bits of tasty mushrooms to the delicious gravy. Or use a can of cream of chicken soup and a can of cream of mushroom soup for a delicious flavor combination.
Add veggies. Slice some onions or mushrooms and add them to the crock pot about an hour before the dish is finished cooking. Bell peppers or carrots would be delicious, too.
Spice it up. For a kick of heat, add a pinch or two of cayenne pepper or a couple of dashes of hot sauce.
Make it cheesy. Sprinkle in some grated cheddar or parmesan about 30 minutes before the end of the cooking time to get some yummy cheese flavor in there.
Get rid of the gluten. Make this dish gluten free by using a gluten-free ranch mix and gluten-free cream of chicken soup. And instead of regular noodles or rice, choose a grain-free pasta or mashed potatoes made with all gluten-free ingredients.
Reduce the carbs. If you're watching your carbohydrate intake, use a keto-friendly ranch powder and soup for this recipe. You can serve the pork chops over cauliflower rice or zoodles.
FAQ for Ranch Pork Chops in Crock Pot
How do you cook pork chops so they are tender and not tough?
Slow cooking pork chops, like we do in this recipe, breaks down the fibers in the meat, making it super tender and juicy. The low and slow method allows the pork chops to gradually reach the perfect internal temperature without drying out. Adding sauce or liquid helps keep moisture in, too.
Is it better to cook pork chops fast or slow?
Generally, slow is the way to go for the best pork chops. Cooking pork chops quickly can sometimes make meat tougher because the high heat dries them out. Slow cooking gives the meat time to become tender and absorb all the flavors and moisture of your sauce or seasoning.
How do you keep pork chops moist when cooking?
A couple of things can help here. One is using a slow cooker, which traps the moisture during the cooking process, keeping the meat nice and juicy. Another tip is to cook your pork chops in some kind of sauce or liquid. In this recipe, for example, the pork chops are cooked in a creamy soup mixture which keeps them moist while adding tons of flavor.
What if I don't like ranch?
Instead of ranch seasoning packets, use a different flavor packet instead. Italian seasoning or onion soup mix are fantastic substitutes, but those seasonings will change the flavor of the gravy.
More Crock Pot Dinner Ideas
Slow cookers can save the day on busy weeknights! If you're looking for more easy crockpot meals like these 3 ingredient pork chops, try one of these:
Recipe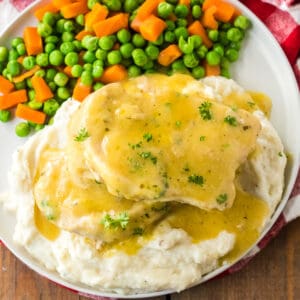 Recipe
3 Ingredient Crockpot Pork Chops
This easy 3 ingredient crock pot pork chops recipe with ranch seasoning and cream of chicken soup is one of the best easy slow cooker dinners, perfect for busy weeknights.
Ingredients
6 boneless pork chops
2 cans cream of chicken soup 10.5 ounces each
1 packet ranch seasoning mix 1 ounce
Instructions
Place pork chops in the bottom of the slow cooker.

In a mixing bowl, combine the cans of cream of chicken soup and the ranch packet and stir until well mixed.

Pour the soup mixture over the pork chops.

Place lid on the slow cooker and cook on low for 4-6 hours or high for 2-3 hours, until the pork chops are tender and cooked through.

Remove the pork chops and give the sauce a stir.

Serve the pork chops with the flavorful gravy spooned over the top. Serve over mashed potatoes, rice, or noodles, if desired.
Notes
For easier clean up coat your slow cooker with nonstick cooking spray.
For extra tasty pork chops, sear them for a couple minutes on each side before adding them to the slow cooker.
Bone-in chops can be used if you prefer.
Cream of mushroom soup can be used instead of cream of chicken. Or use 1 can of each.
Pork is cooked through when it reaches an internal temperature of 145°F.
These are very tender pork chops. I recommend using a spoon rather than a fork to remove them from the crockpot to prevent them falling apo
Store leftover pork chops in the refrigerator for up to 3 days.
Nutrition
Calories: 312kcal | Carbohydrates: 10g | Protein: 31g | Fat: 15g | Saturated Fat: 5g | Polyunsaturated Fat: 2g | Monounsaturated Fat: 6g | Trans Fat: 0.1g | Cholesterol: 98mg | Sodium: 1128mg | Potassium: 550mg | Sugar: 1g | Vitamin A: 190IU | Vitamin C: 0.1mg | Calcium: 24mg | Iron: 2mg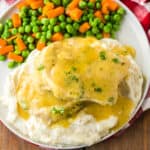 Did You Make This Recipe?
Share it with me on Instagram @crayonsandcravings and follow on Pinterest @crayonsandcravings for even more!