Posts may contain affiliate links, meaning that I may earn a commission if you use a link provided.
A pan-seared smothered pork chops recipe with a flavorful garlic onion gravy. You will love this quick and easy one-pan dinner!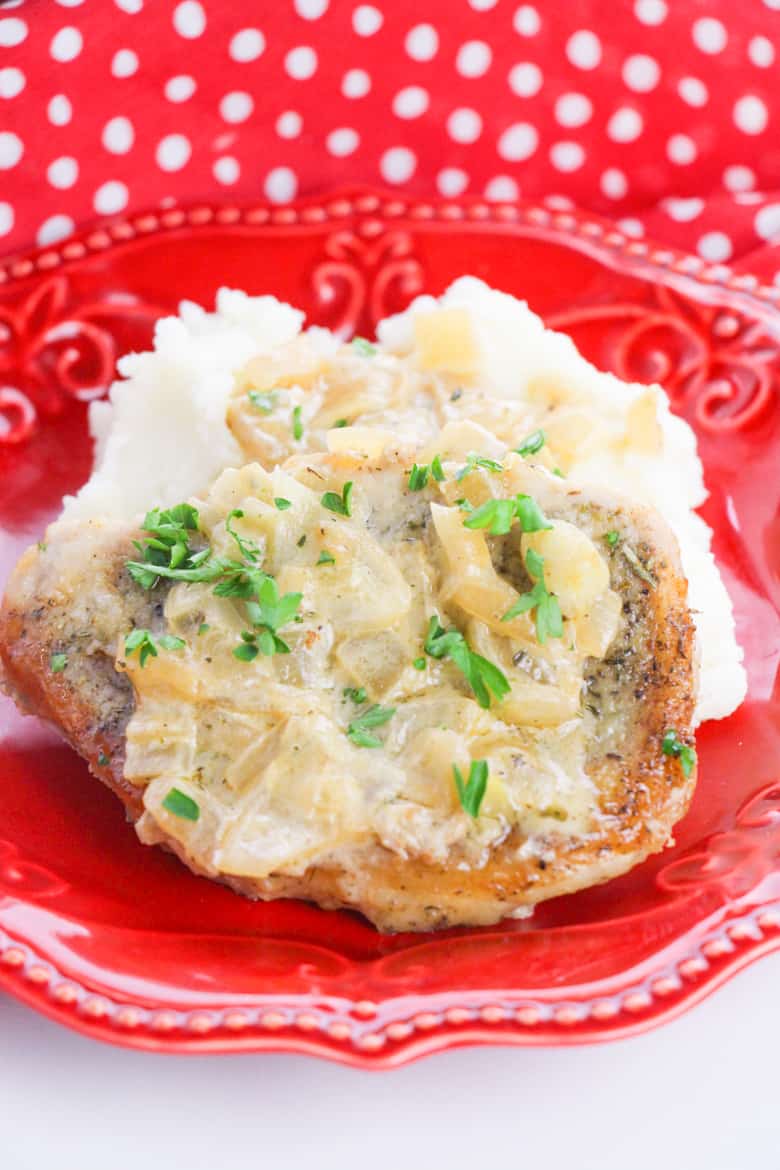 Smothered Pork Chops
Like smothered chicken breasts, this smothered pork chops with gravy recipe is not only packed full of flavor, but the pork is so moist and tender. No dried out pork chops here.
If your family loves pork, consider trying my recipes for 4 ingredient easy oven pork chops, roasted pork tenderloin, honey mustard pork chops, Mississippi pork roast, and French onion pork chops as well.
Best Pork Chops To Use
Honestly, you are welcome to use any cut of pork you want. Whether you want to do a bone-in pork chop or a boneless pork chop that is up to you. I prefer to reach for a medium-cut of pork chops.
I find that thinner pork chops tend to dry out really easily.
How to Make Smothered Pork Chops
6 simple steps are all it takes to make a homemade breaded pork chop smothered in gravy for dinner.
Season your pork chops.
Dredge in flour.
Pan Sear then remove from pan.
Create gravy.
Add pork back in and finish cooking
Serve!
Serve with potato rolls and mashed or roasted potatoes, homemade applesauce, creamed corn, or steamed veggies.
How to Tell When Pork Is Cooked
To know when your pork is done I recommend using a meat thermometer. You want the internal temperature to reach at least 145 degrees. Depending on the size of pork chops the cooking time will vary.
Also, remember when cooking with pork you need to allow your pork to rest for at least 5-10 minutes to help lock in moisture. Otherwise, you can find your pork chops dry out.
Storing Leftovers
If you don't eat all your pork right away, you are in luck. This is a delicious recipe to reheat later for lunch or dinner later in the week. Just take your leftover pork chops and gravy and place in an airtight container and store in the refrigerator for a few days.
Reheat in the microwave or even opt to heat up in the oven. If you do the oven make sure you cover the dish with aluminum foil or it will dry out your pork quite a bit.
In terms of freezing you could freeze leftovers as well. Just place in the proper container and freezer for 2-3 months. Then thaw in the fridge the night before you plan to reheat and eat.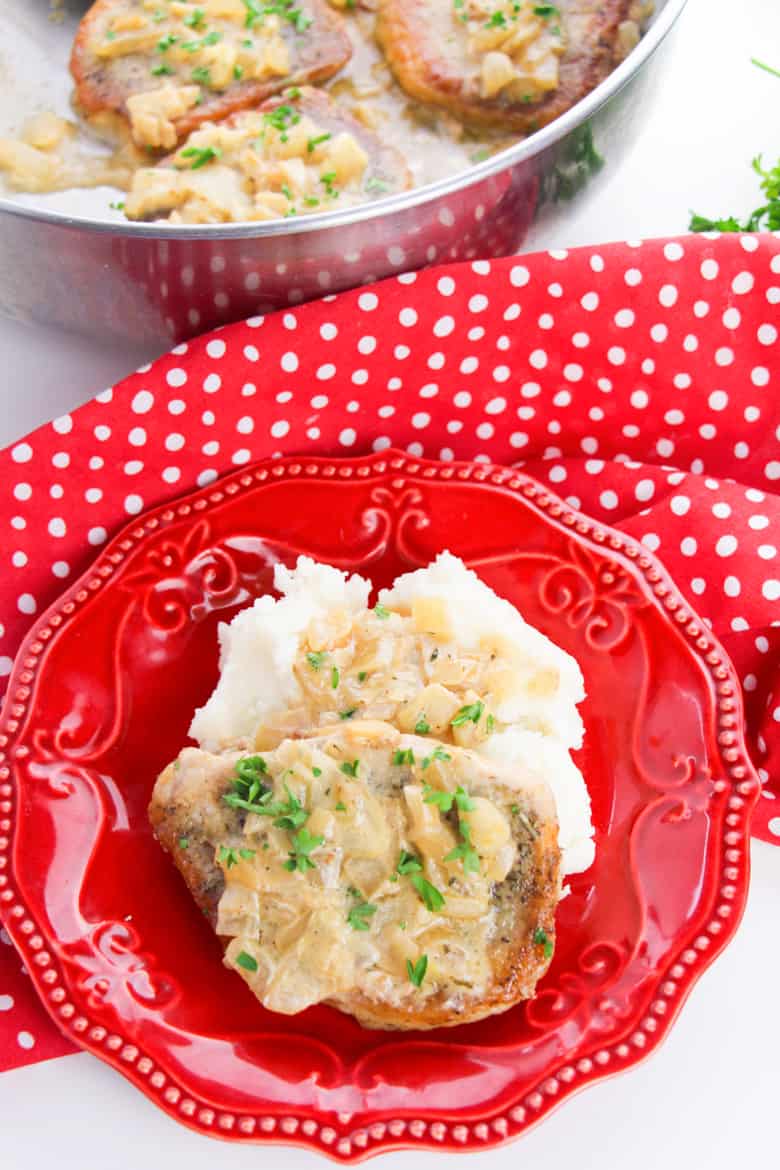 How to Thicken Gravy
If you want your gravy thicker than what it is, you can easily reach the desired texture. Take a tablespoon of cornstarch and two tablespoons of cold water. Mix well and then pour into the pan and stir continuously. This will help to thicken your gravy without affecting the flavor of the gravy.
When it reaches your desired texture then dish up and enjoy!
Craving more dinner inspiration?
Give these easy dinner ideas a try:
Recipe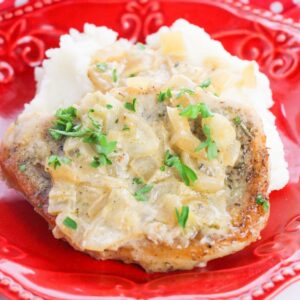 Recipe
Smothered Pork Chops
Pan-seared smothered pork chops with a flavorful garlic onion gravy.
Ingredients
4-6 boneless pork chops
1 Tablespoon poultry seasoning or to taste
Salt and pepper to taste
1/2 cup all-purpose flour
2 Tablespoons olive oil
3 Tablespoons butter divided
2 small onions diced
3 cloves garlic sliced
1/2 cup chicken stock
1/4 cup heavy cream
Instructions
Season pork chops with poultry seasoning, salt, and pepper.

Place the flour in a shallow bowl and dredge each seasoned pork chops in it, turning to coat each side and shaking off any excess.

Heat olive oil and 2 Tbsp butter in a skillet over medium heat. Add pork chops. Cook the pork chops for 4-5 minutes on each side, until well browned and an inserted thermometer reads 160 F. Transfer pork chops to a clean plate.

In the same pan, add the remaining Tbsp of butter. Once melted, add the onions and cook for 4-5 minutes, stirring often. Add a Tbsp of chicken broth as needed if the pan becomes too dry. Stir in the garlic and cook for 1-2 minutes. Add the remaining chicken broth and heavy cream. Bring the mixture to a boil, then reduce to low heat.

Return pork chops to skillet, spoon with gravy, and simmer for 3-4 minutes.

Serve warm and smothered in the onion gravy. Garnish with parsley, if desired.
Nutrition
Serving: 1g | Calories: 745kcal
Did You Make This Recipe?
Share it with me on Instagram @crayonsandcravings and follow on Pinterest @crayonsandcravings for even more!
Pin for Later: